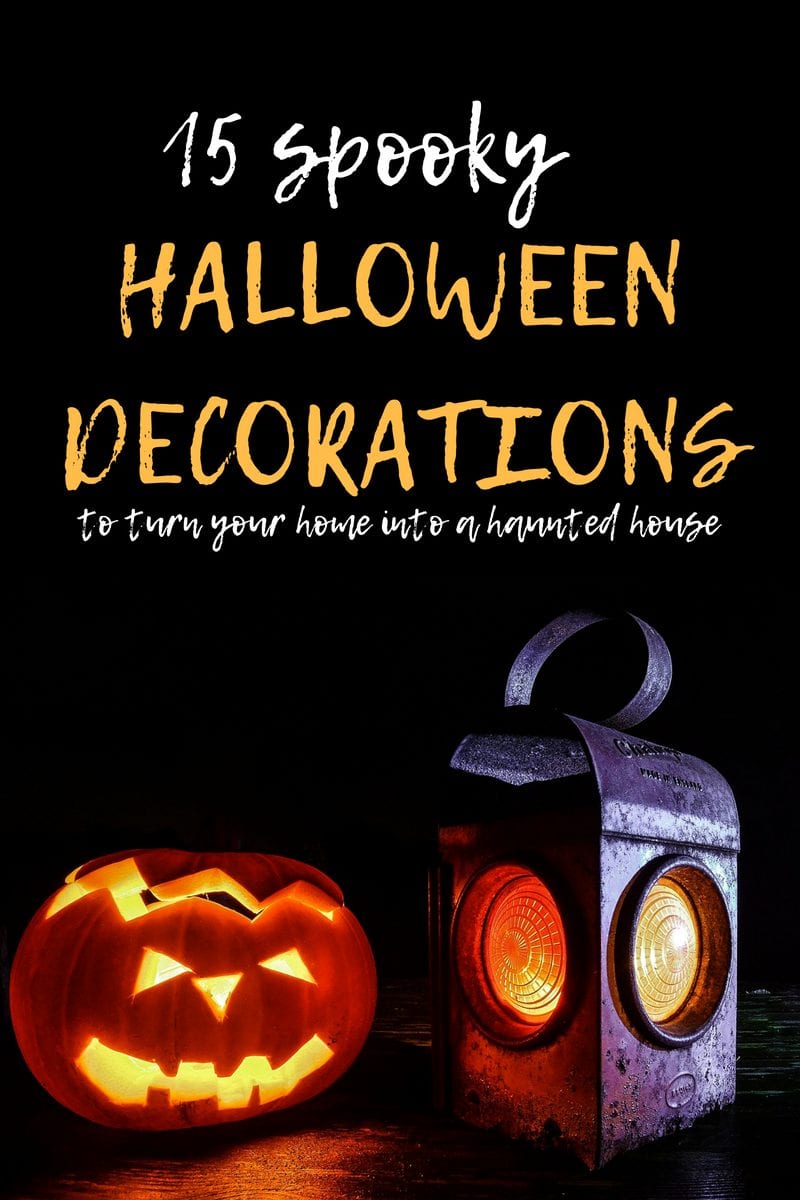 Spooky Halloween Decorations
Today I'm sharing some Halloween Inspiration! Avoid the "tricks" from trick-or-treaters this year by decorating your home for the holiday and letting them know you're open for business. While there are so many great options for Halloween decorating themes, my favorite is the haunted house. Not only is it a great, scary option perfect for the holiday, but it's also pretty easy to put together. Grab these 15 spooky Halloween decorations that will instantly turn your home into a haunted house.
Halloween Tombstones
No haunted house would be complete without a spooky cemetery in the yard. Put this set of Halloween tombstones in your yard for an instantly spooky setting that will surely give your visitors a fright.
Floating Witches Hats
Witches are quintessential Halloween characters, so incorporating them into your haunted house décor is a must. These spooky floating witch hats are the perfect option. They'll be a unique and ominous addition to your spooky Halloween decorations set-up.
Giant Spider



I can't think of anything scarier than a giant hairy spider crawling up the side of my house. Can you? This spooky critter is 50 inches wide, making it the perfect way to shock other arachnophobes in your neighborhood.
Hanging Phantom



With its tattered clothing, spindly skeletal fingers, and ghostly expression, this hanging phantom is a great choice for someone hoping to add some realistic ghouls to their haunted house décor. In addition to its scary expression, this phantom also has demonic light-up eyes and a motion-activated sound machine inside.
Feathered Crows
Crows are known to be common visitors to haunted houses, so adding a few faux feathered crows to your décor is probably a good idea. Not only will it give your décor some authenticity, it will also add to the spooky ambiance when combined with all your other spooky Halloween decorations.
Lighted Skull and Hands
What's spookier than a skeleton climbing out of the ground? One that's ominously glowing, of course. This set includes a glowing skull with two protruding hands, making it the perfect addition to your spooky Halloween decorations cemetery set-up.
Hanging Witch



While the witch hats are a spooky way to bring some sorcery to your décor, adding an actual witch to the mix will only make your house scarier. This scary green witch with long, skeletal fingers and a spooky grimace will fit the bill perfectly. And her motion-sensor-activated cackle will be the icing on the cake for those who love a good Halloween scare.
Zombie Flamingo
Sometimes its good to have a little spooky fun with your décor. Whether you have a haunted house on the beach or your ghostly homeowner just loves kitschy décor, this zombie flamingo is a great way to incorporate a little silliness into your Halloween display. It's very appropriate for Florida, where I live. There are also skeleton flamingos, if you prefer those for your spooky Halloween decorations instead.
Creepy Signs
Warn visitors of their impending doom with this set of creepy signs. Because what haunted house would be complete without signs reading "Beware," "Keep Out," and "Danger"? In addition to looking like realistically hand-painted wooden signs, these creepy Halloween decorations also feature ominous blood spatter across each of them. These spooky signs are fun!
Grim Reaper
Another creepy animated ghoul to add to your collection, this grim reaper features glowing red eyes and chains with shackles on its hands. His tattered robe will blow ominously in the breeze while he waits for passersby to set off his motion-activated screeches and moans. This is one of the spooky Halloween decorations classics!
Skeleton Bones
You can't really have a true haunted house without a collection of bones of the home's dearly departed visitors. Whether you add this set of skeleton bones to your spooky cemetery, or scatter them ominously across your yard, this decorative item is a must for any haunted-house-themed Halloween set-up.
Living Tree Decoration
If you have a large tree in your yard, you need this living tree decoration. It's the perfect, unexpectedly spooky accent to your outdoor Halloween decorations. The scary face and creepy outstretched arms will instantly turn a normal tree into a terrifying addition to your haunted house décor.
Gargoyle Statue
Most haunted mansions feature at least one scary gargoyle statue somewhere, so adding one of these solar-powered gargoyles to your décor is a great idea. During the day, the statue will collect the power it needs to make this scary gargoyle's eyes glow throughout the night. I love these spooky Halloween decorations so much! The gargoyle may or may not reside in my yard year round.
Fog Machine
Use this fog machine to create a creepy atmosphere around your house throughout the night. A fog machine is a great choice for haunted house décor because it allows you to easily give your home a layer of fog with the touch of a button.
Window Clings
Finish your haunted house décor with some spooky apparitions in each of your home's windows. Whether you opt for a scary hanging man in your bedroom window, a sharp-toothed monster in your living room, or a sinister witch in your dining room, these spooky Halloween decoration silhouette window clings are a simple way to add some spook to your home.
Which of these spooky Halloween Decorations will you use this year?
Halloween Costume Ideas