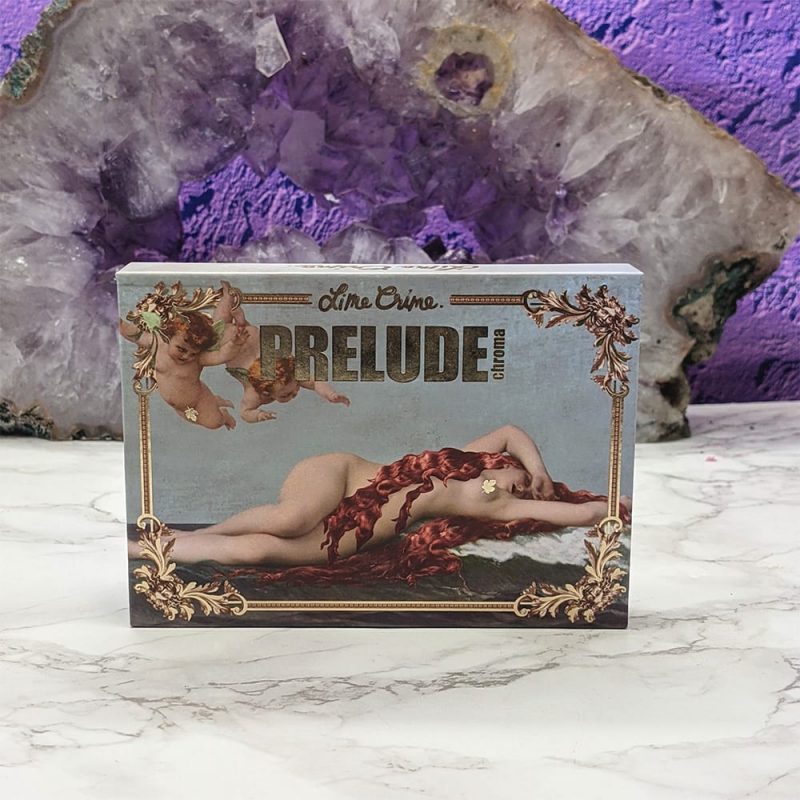 Lime Crime Prelude Chroma Palette
Hey friends, today I'm sharing my Lime Crime Prelude Chroma Palette review, swatches and looks with you. It was love at first sight with this vegan eyeshadow palette. For those of you who don't know, Lime Crime is a cruelty-free and vegan beauty brand. They are Leaping Bunny and PETA Certified cruelty-free. The Prelude Chroma eyeshadow palette is 100% vegan.
Where to Buy
Lime Crime, Ulta
Price
$38
Note:
Earlier this year, Xenia Vorotovoa (better known as Doe Deere) and her husband stepped down from their board of directors to offer those seats to BIPOC. Lime Crime has made a ton of mistakes since their beginning. However, Doe Deere has apologized for those mistakes and not repeated the same ones, unlike another very big makeup brand with the initials JS.
Lime Crime Prelude Chroma Palette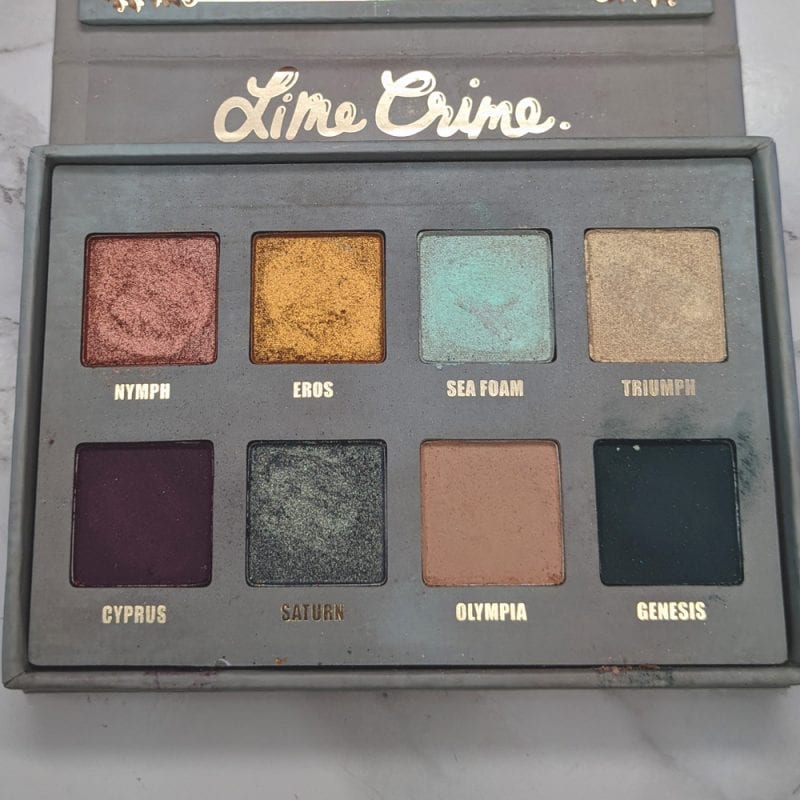 5 Finishes:
Matte: Buttery-smooth and totally matte
Sheer Matte: Translucent matte
Metallic: Ultra-shiny shimmer
Foil: High def and ultra-reflective
Iridescent: Opalescent lid topper
Shades:
Nymph (silvery copper – foil)
Eros (super gold – metallic)
Sea Foam (iridescent blue/green shift – iridescent)
Triumph (white silver gold – metallic)
Cyprus (royal purple – sheer matte)
Saturn (ocean blue – metallic)
Olympia (light beige nude – matte)
Genesis (deep turquoise – sheer matte)
Here's what Lime Crime Has to Say About It
From gilded golds to stunning bluish-greens, this palette transforms your looks into glimmering and wild masterpieces as monumental as the waves she created. Revel in beautiful jewel tones that are deserving of high-tide attention with rich-gold Eros or deep-sea teal Genesis. Go deep in plum Cyprus or starry Triumph for a perfectly posh look. Brighten up eyes with copper Nymph and iridescent blue-green Sea Foam.
Prelude Chroma Tutorials and Makeup Inspiration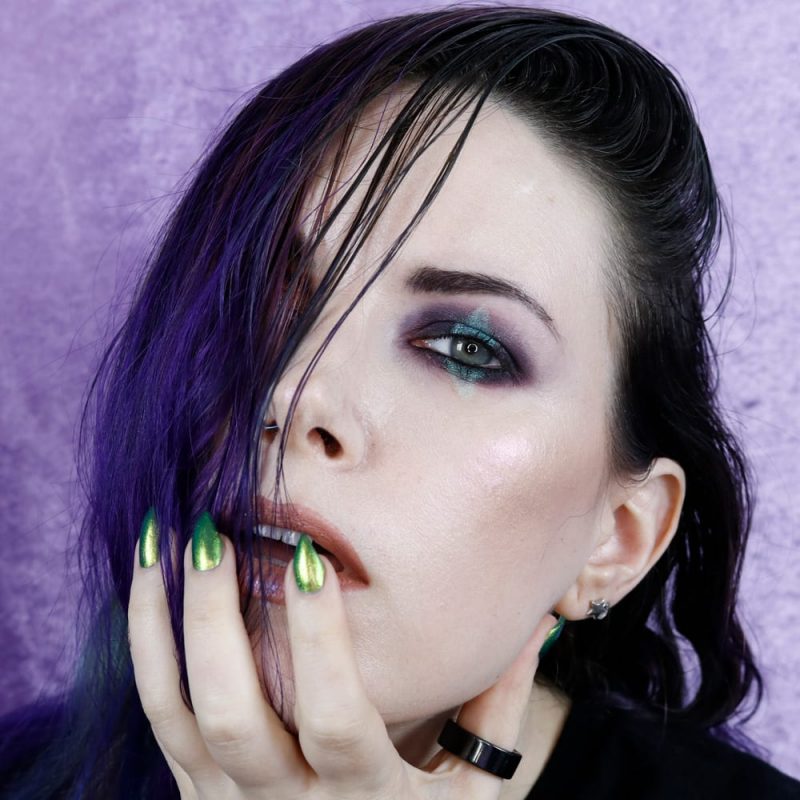 See my Dark Carnival Tutorial.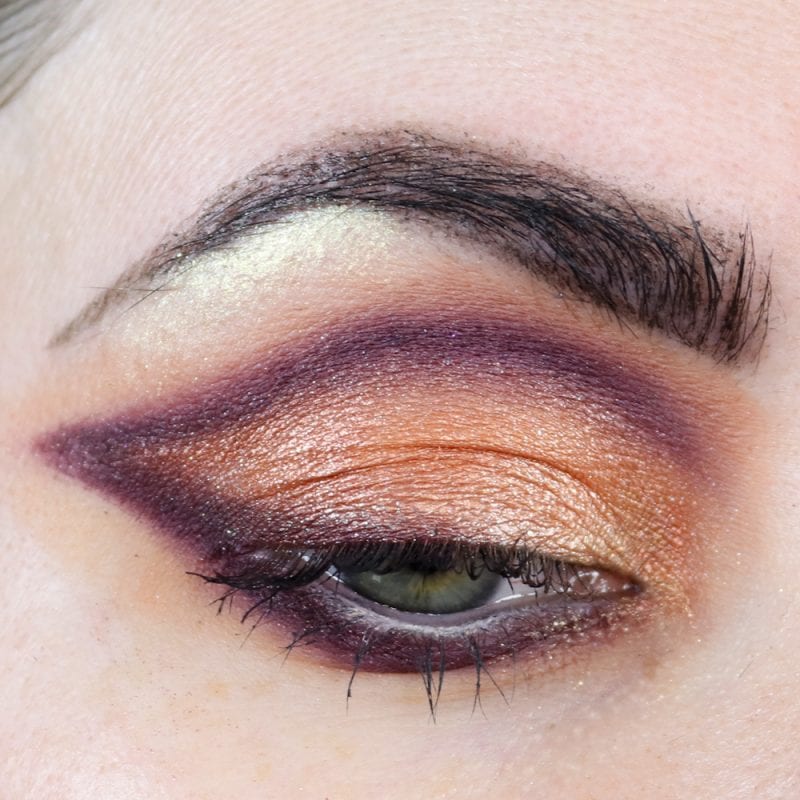 See my Graphic Eye Tutorial.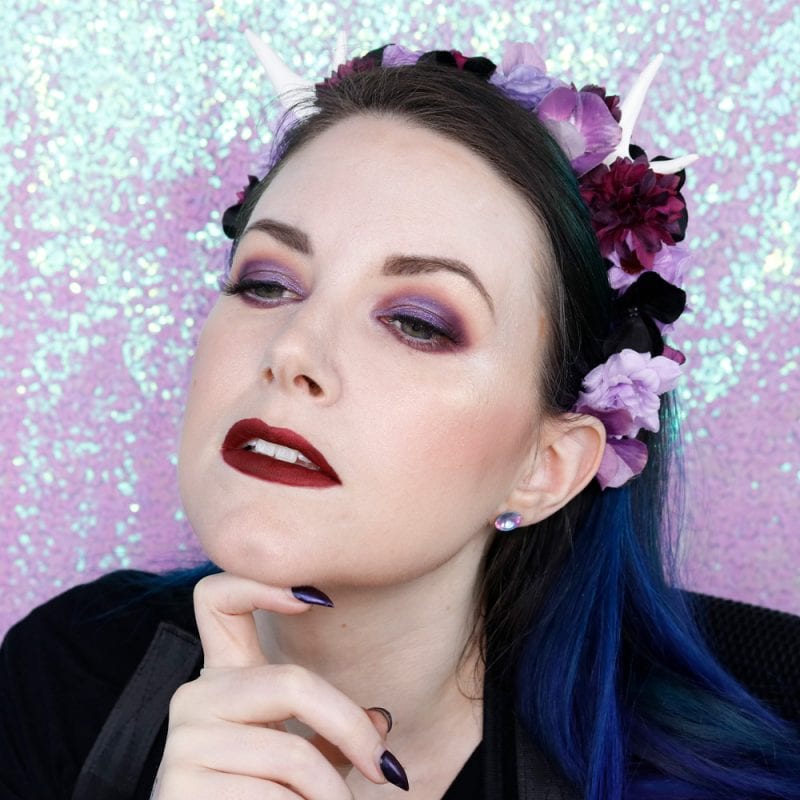 See my Majestic Prelude Tutorial.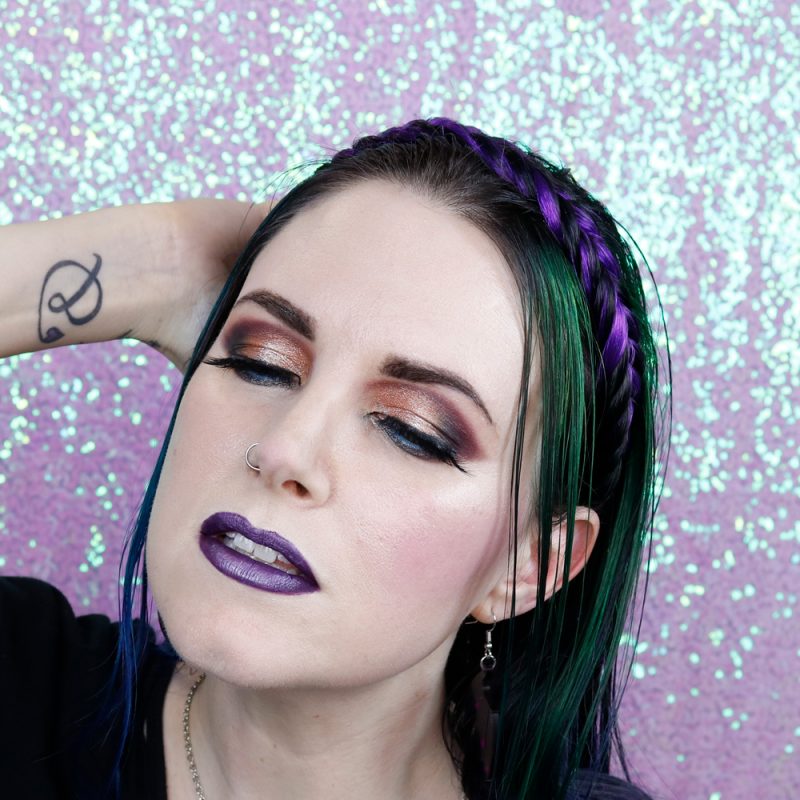 See my Sunset Tutorial.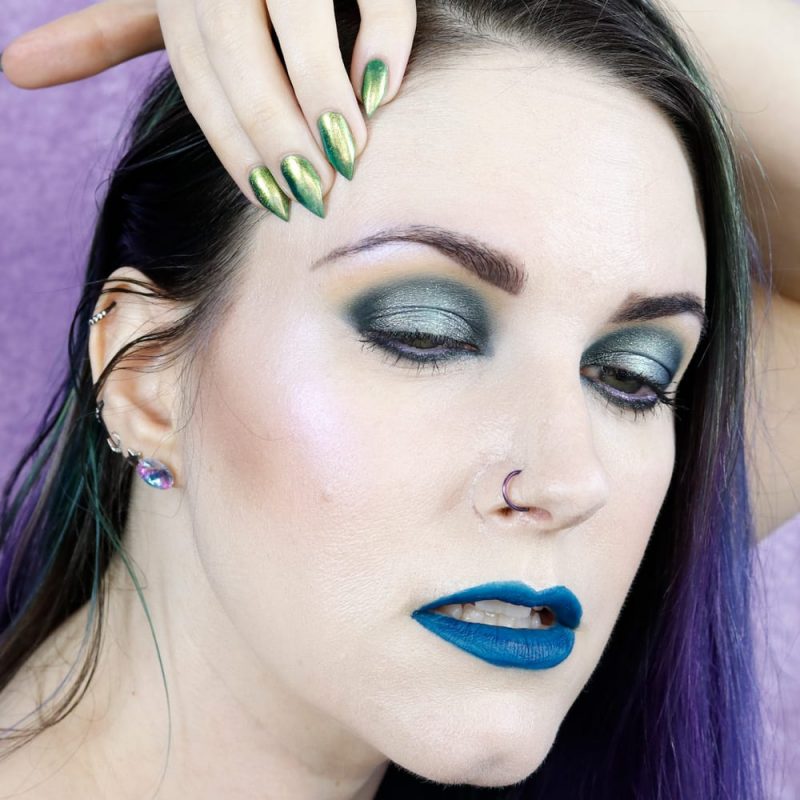 See my Teal Halo Eye Tutorial.
Lime Crime Prelude Chroma Palette Swatches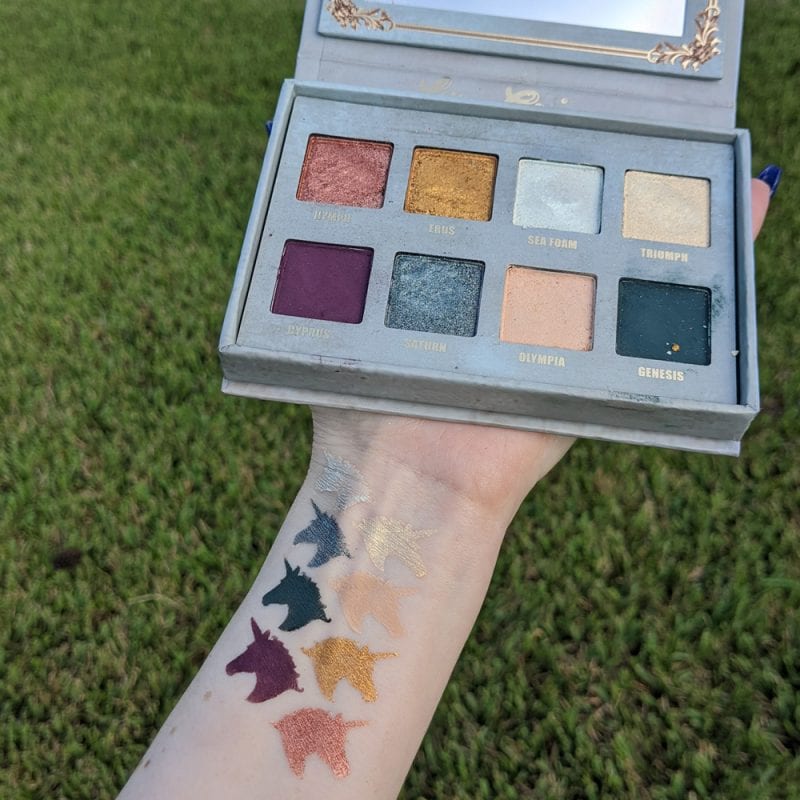 Taken when the sky was overcast outside.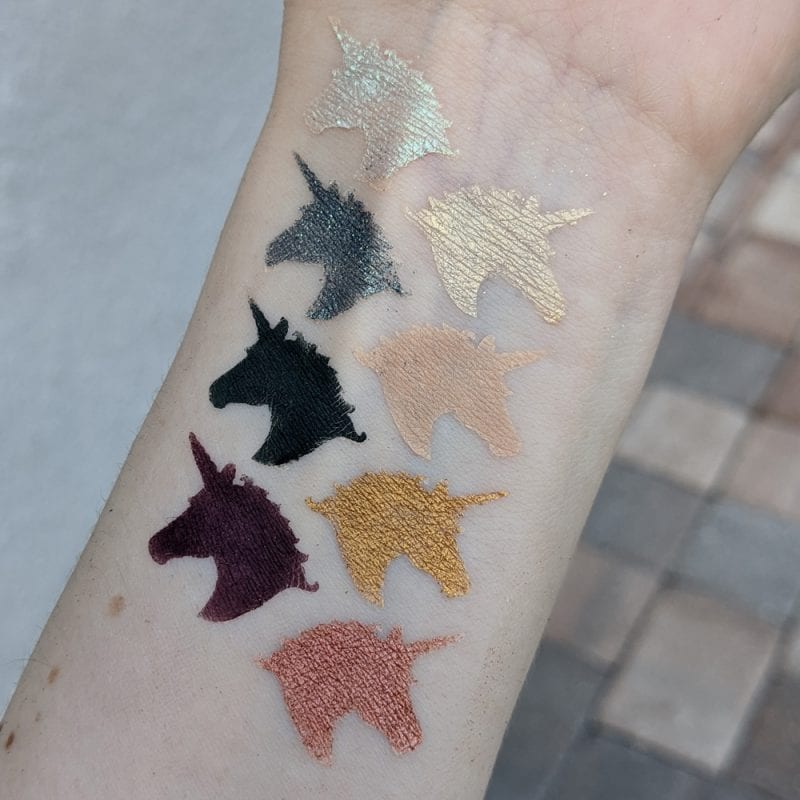 Taken in indirect sunlight when it was cloudy outside.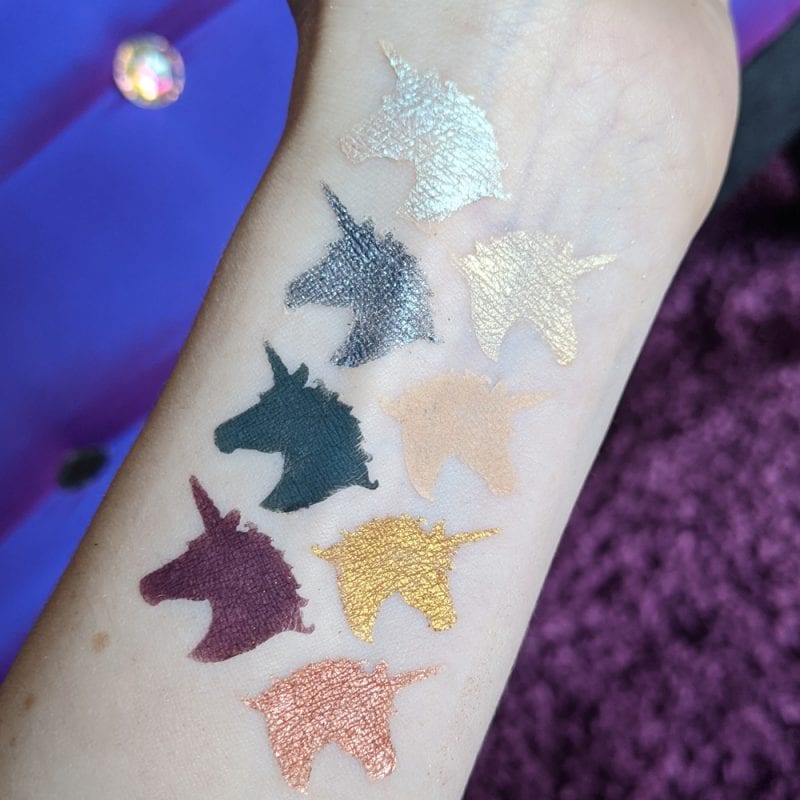 Indoors in indirect sunlight by my window in my bedroom.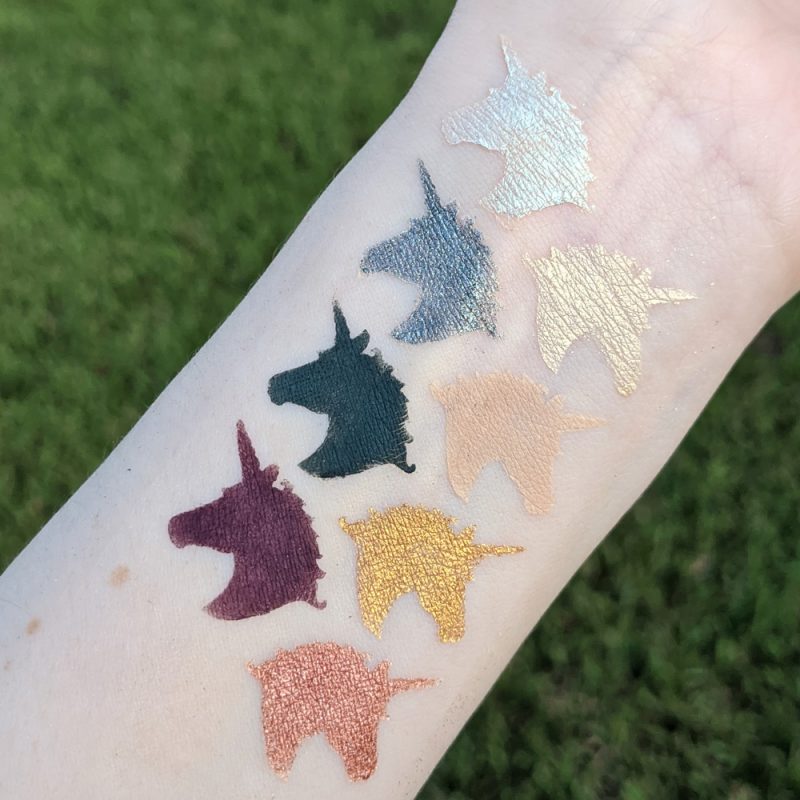 Swatches from top to bottom
Sea Foam – Triumph
Saturn – Olympia
Genesis – Eros
Cyprus – Nymph
Taken outside in direct, overcast sunlight.
Lime Crime Prelude Chroma Palette Review
I'm a fan of the Lime Crime eyeshadow formula ever since I fell in love with the Venus III Palette. While this palette contains 5 different finishes, I love the 'sheer matte' formula, which I find to be easy to build up and blend out, the best. I really like the metallics, foils, and iridescence as well. The regular matte formula is nice as well. I get all day wear on top of eyeshadow primer. Without primer, nothing lasts on my hooded eyes.
I love the color story for the Prelude Chroma palette so much! It's teals, purple, and fun metals. As soon as I saw it I knew I needed it. I love how easy it is to blend Genesis with with Cyprus to create a cool-toned purple.
Sea Foam and Triumph are nice inner corner highlights. They're also great shades to layer at the center of the eye for more dimension since they are pretty duochromes. Nymph and Eros do a nice job of making my blue-green eyes pop.
Olympia is a great base shade when applied with a fluffy brush and good as an 'eraser' shade to blend out mistakes. I can also use it as a soft transition.
Saturn, Genesis and Cyprus are my favorite shades in the palette. The first two because they're teal shades. The latter because it's a purple, of course.
One thing that was not clear when I bought the Lime Crime Prelude Chroma palette was that Cyprus (the purple) says it is meant for the face only, not the eyes. I've used this purple on the eyes plenty, without any issues. However, if you have sensitive eyes, use at your discretion. I'm really sick of brands putting products meant for the face in eye palettes. This wasn't noted anywhere I could see on the packaging or the palette when I bought it. I only found it by clicking on the ingredients list on Lime Crime's website. I believe that brands should only put eye safe eyeshadows in eyeshadow palettes. I'm sick of brands not being transparent. See more in my Pressed Pigments is Code.
What do you think about the Lime Crime Prelude Chroma Palette? Would you wear these colors?
More Lime Crime Features