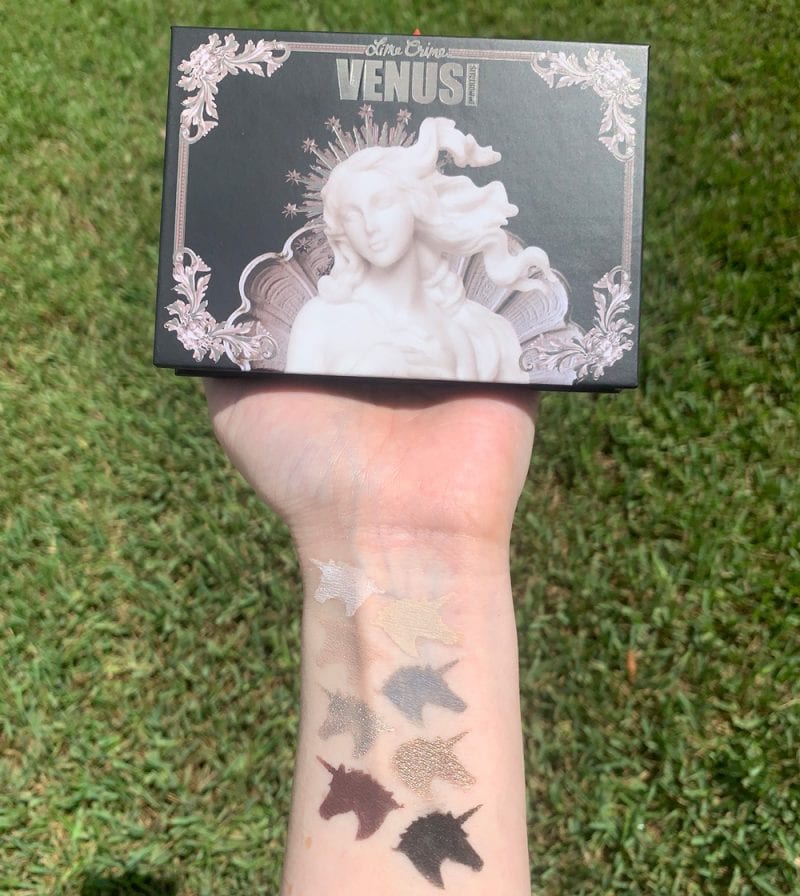 Lime Crime Venus Immortalis Palette Swatches
I was very excited to get my hands on the Lime Crime Venus Immortalis Palette. I wanted to share my Lime Crime Venus Immortalis Palette Swatches with you. When I first saw this palette I thought it was the cool toned goth palette of my dreams. It's not exactly that, but it's still very pretty! This isn't a review, per se, but I did want to get this up as soon as I could to share with you.
Where to Buy
Ulta, Lime Crime
Price
$38
Cruelty-Free & Leaping Bunny Certified
In case you don't know, Lime Crime is a Leaping Bunny Certified cruelty-free and vegan beauty brand. Lime Crime is a controversial brand and I've only been featuring them for about a year because for the previous 10.5 years that I've been blogging I actually boycotted the brand based on the behavior of Xenia (Doe Deere). Since she stepped away from the day to day at the company and they've kept themselves out of trouble, I felt comfortable enough to try the brand. You can see all my Lime Crime features from the past 11.5 years.
Lime Crime's official statement:
Lime Crime products are PETA verified vegan and Leaping Bunny certified cruelty free. Our products do not contain any animal-derived ingredients. As part of the Leaping Bunny pledge, our suppliers also certify that no animal testing is ever performed at any point in our supply chain.
Glowing in the Dark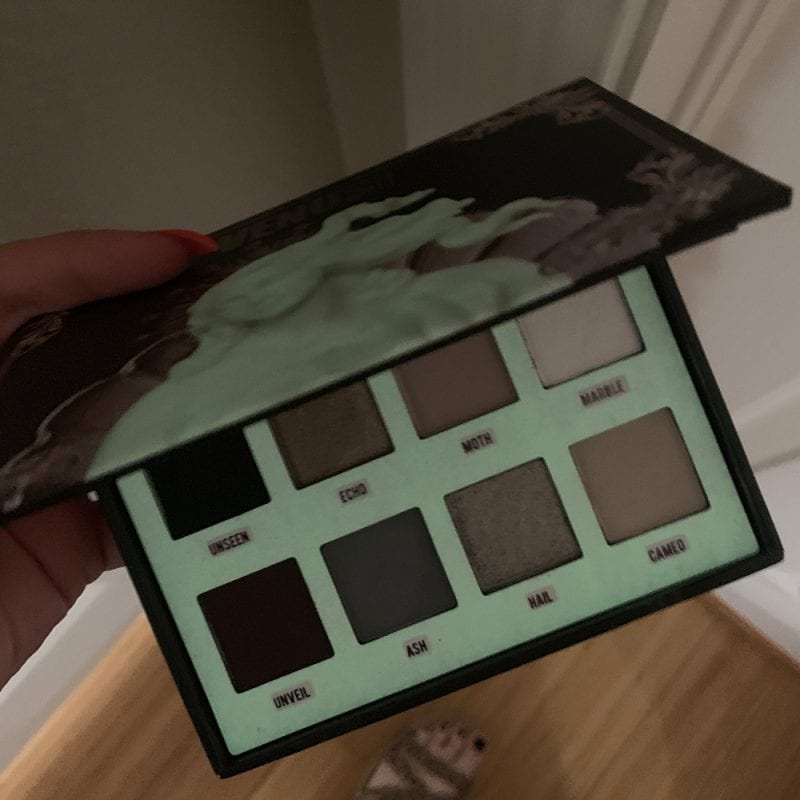 The white lady on the front of the Venus Immortalis palette, along with the inside of the palette, glow green in the dark.
Lime Crime Venus Immortalis Palette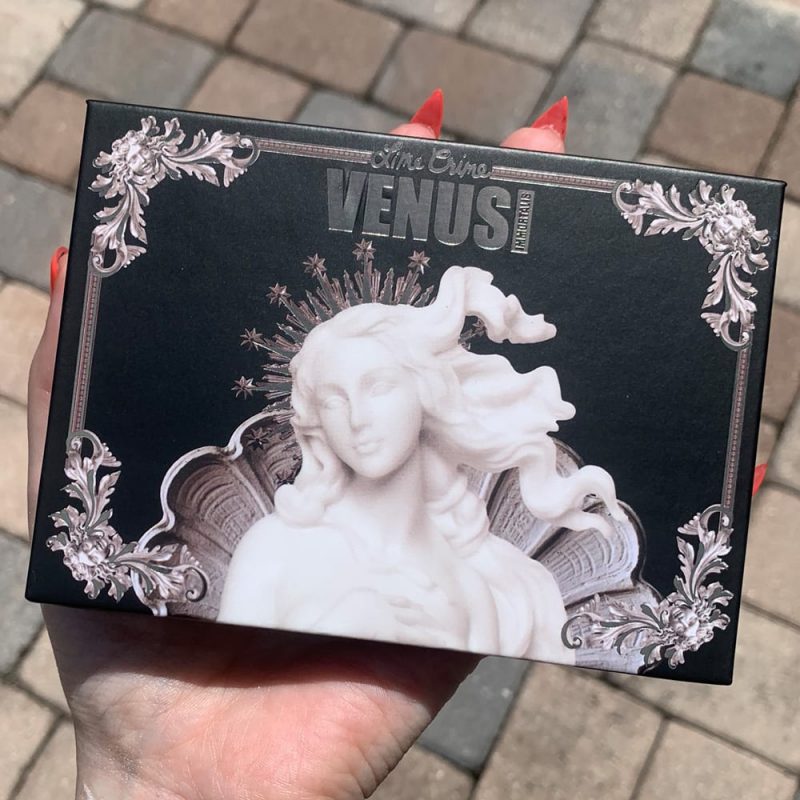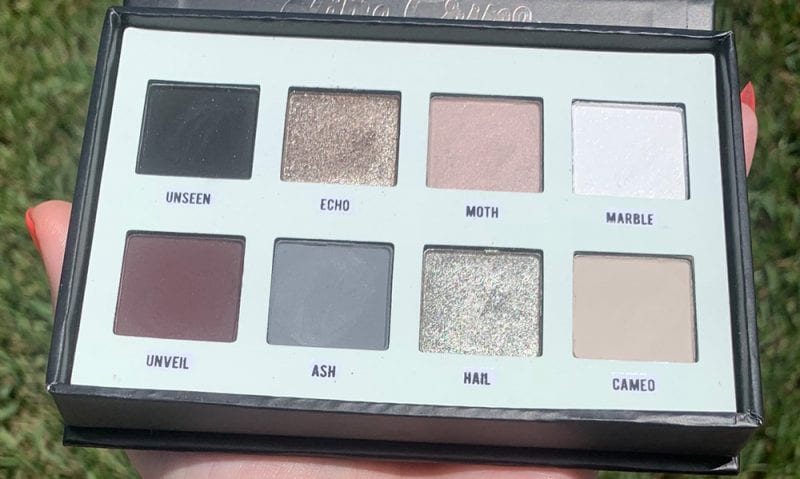 The reason that I say this is NOT QUITE the goth palette of my dreams is because the promo photos made Unveil look like a deep burgundy wine matte and it's a black brown. It's a nice enough color, but burgundy would be goth AF. Brown just makes me think steampunk.
I have a love hate relationship with the packaging. I love the art and layout and how the names are printed under each eyeshadow inside the palette. I hate how thick and bulky it is.
Lime Crime Venus Immortalis Palette Swatches
My swatches are on Too Faced Shadow Insurance eyeshadow primer. I have oily, hooded eyelids. If I don't use eyeshadow primer, my eyeshadow will be gone in 20 minutes or less.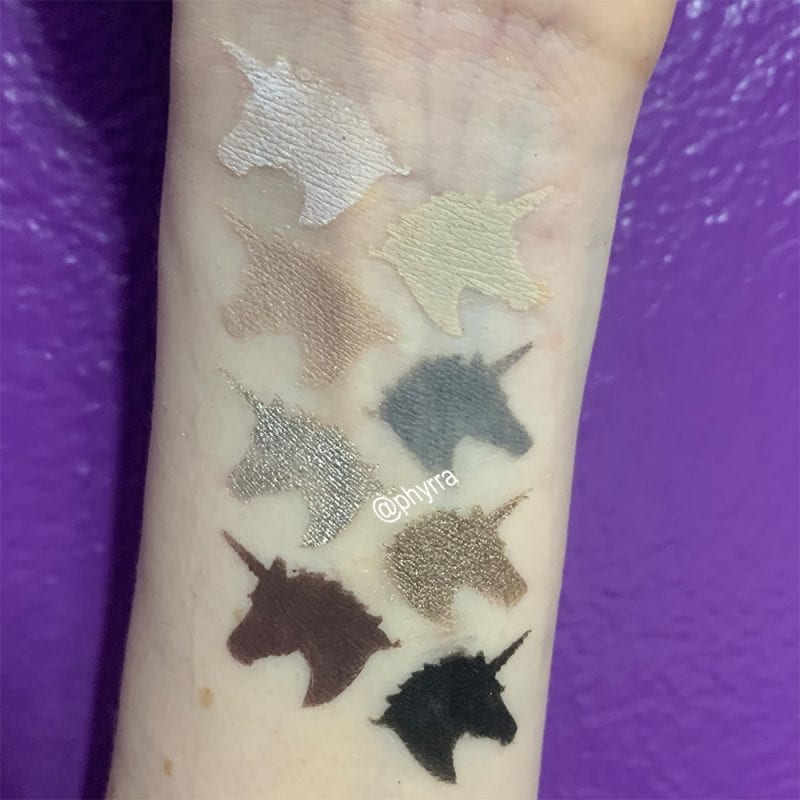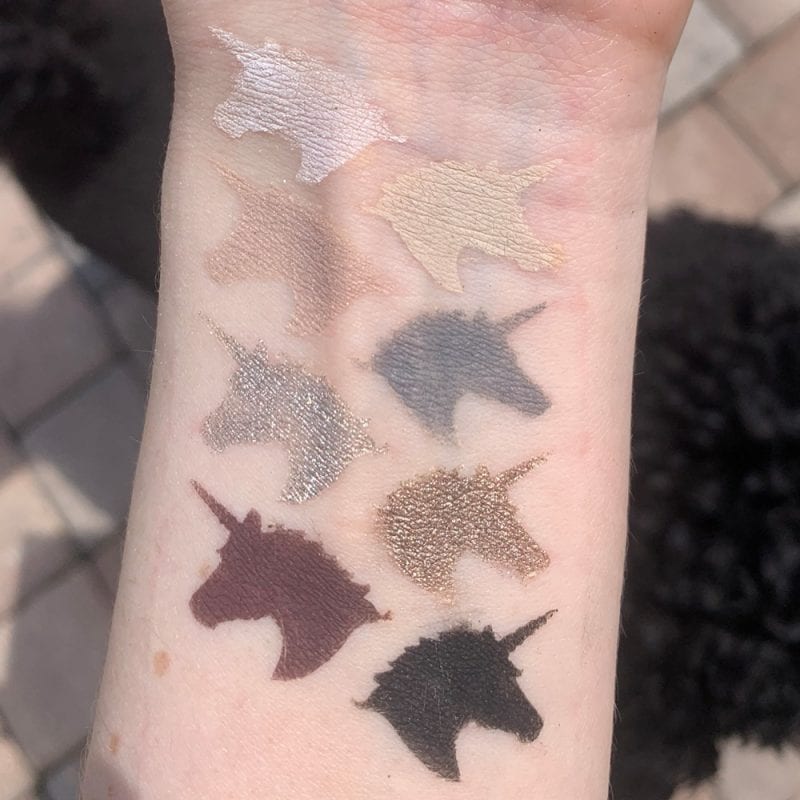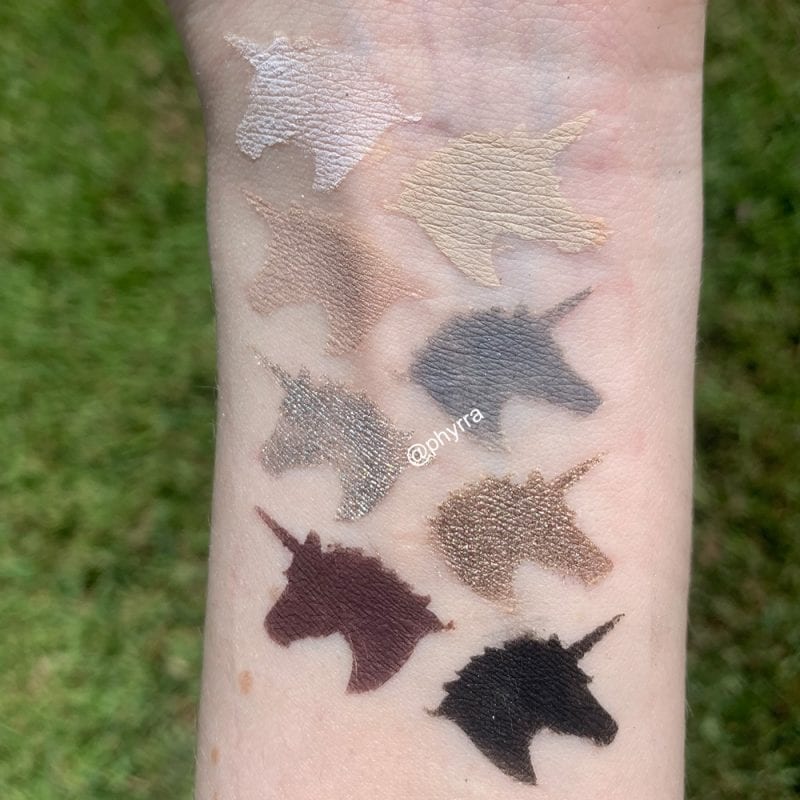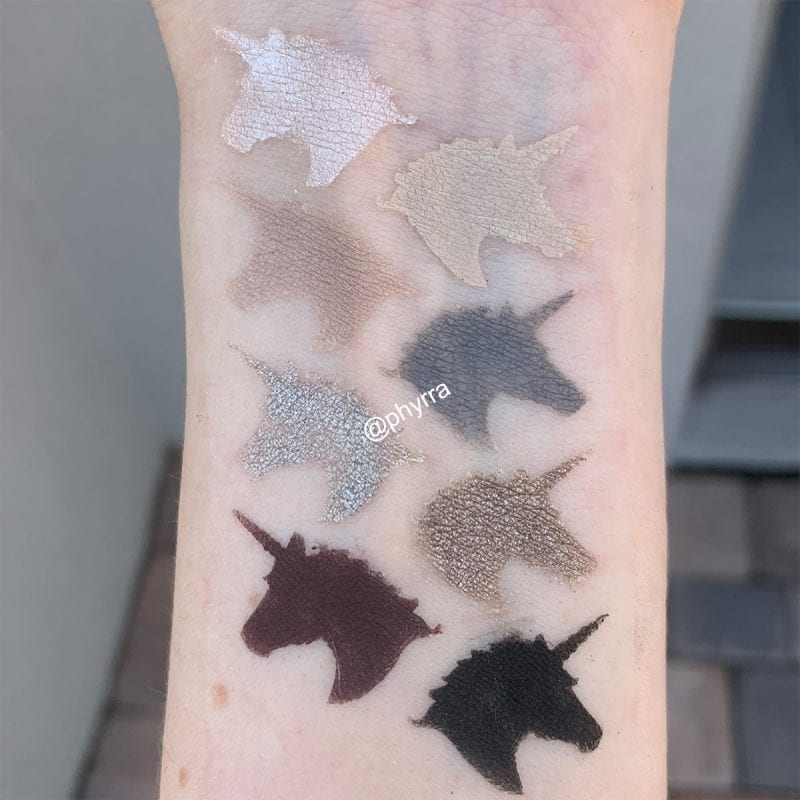 Left side – Marble, Moth, Hail, & Unveil
Right side – Cameo, Ash, Echo, Unseen
Venus Immortalis Shade Descriptions:
UNSEEN: Matte black
ECHO: Gunmetal silver foil (High def and ultra reflective)
MOTH: Shimmer gray with baby pink shift (Luminous highlight)
MARBLE: Sheer shimmer white (Translucent sheen)
UNVEIL: Matte black-brown
ASH: Matte slate gray
HAIL: Light silver foil (High def and ultra reflective)
CAMEO: Matte cool cream
I've been very happy with the Lime Crime Venus palettes I've purchased. I started with Venus III, which blew my mind with how much I loved it. I also have Venus Vivid, Venus XL, Venus XL 2,  XS Silver, & Pocket Candy Bubblegum. You can read my Venus III Review and see my Venus XL swatches.
I personally love cool tones, which is why I bought the Lime Crime Venus Immortalis Palette from Ulta with some of my Ulta points as soon as it went on sale. There aren't enough cool-toned eyeshadow palettes out there. I am happy to add Venus Immortalis to my collection.
Unveil is the only color I was disappointed with in this palette. I thought it was a vampy burgundy, but it's a blackened brown. It still is cool-toned to my eyes and on my skin, but I was so sad to open this up and see brown and not red. It definitely feels like a brown shade that Too Faced would try and pass off as a plum/purple though.
Unseen is an excellent black matte, great for liner or to deepen at the outer corner.
Marble is a great shade for layering at the center of a halo eye or to highlight at the inner corner or under the eyebrows.
Cameo is a good base shade for my skintone. It's also good for a matte highlight or to blend out the edges of other colors.
Ash is a beautiful blue-toned grey, great for a lid or crease shade.
Moth is the perfect depth for a light crease / transition color on me or to blend out the edges of a deeper shade.
I love silvers and Hail is a gorgeous super reflective silver, perfect for a lid color.
Echo is a beautiful dirty silver, great for a lid color.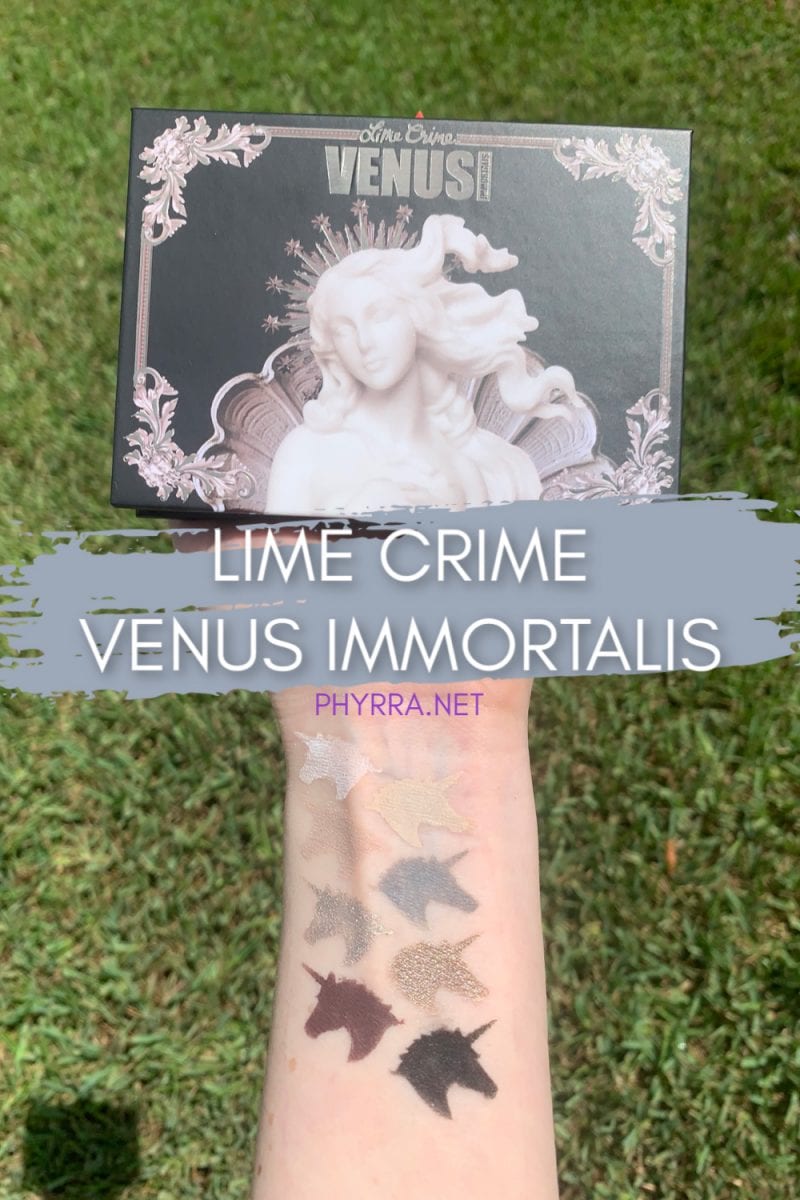 I can't wait until I have time to put a few looks together with this. If you're interested in seeing looks with this palette NOW, be sure to visit the PhyrraNyx Facebook group, where people are sharing their looks with this palette and others.
I definitely feel like the Lime Crime Venus Immortalis Palette is a gorgeous cool-toned gothic neutral palette, even if it's not the most perfect goth palette of my dreams. These colors work beautifully on my cool yellow olive skintone. If you're a cool eyeshadow fan, I think you'll love this palette. If you don't like cool tones or neutrals, definitely skip this one.