Lime Crime Venus III Palette
I never thought I'd see the day that I'd be doing this, but today I'm bringing you my Lime Crime Venus III palette review. As some of you know, I've been blogging for 10 years. I was around when Lime Crime first started and I'm aware of their sordid history. I'd always joked that if Voltaire (my favorite musician) couldn't get me to review Lime Crime, no one could.
I'd noticed the past few years that Lime Crime was trying to stay out of trouble. When I read this article that spoke about how Xenia Vorotova (better known as Doe Deere) had stepped away from the company, I finally felt comfortable enough to give them a try.
The Lime Crime Venus III palette is cruelty-free and vegan. Lime Crime is Leaping Bunny certified, which I know is very important to you and me. They're PETA certified too.
Price
$38 for .564 oz (.0705 oz x8)
I bought the Lime Crime Venus III palette at Ulta.com.
I'm not totally comfortable with the idea of buying directly from Lime Crime's website, but I did place an order there and pay via PayPal to see how good or bad their shipping and customer service is right now. I've emailed their customer service and received polite responses in return. My package claims to have shipped on Sept. 4, but as of Sept. 6 the tracking still hasn't updated.
Update – I do NOT recommend ordering through Lime Crime's website! I received notification that my package shipped on Sept. 4. It is now Sept. 13 and it's still not here. It hasn't updated since Sept. 11. I'm guessing I won't get my package until next week at this point.
Lime Crime Venus III Palette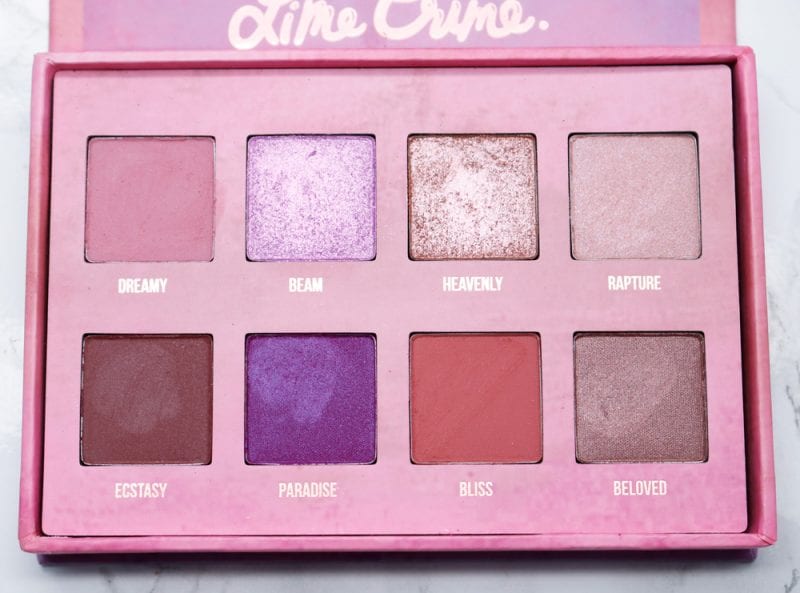 The Lime Crime Venus III palette is made up of 8 large eyeshadows.
Lime Crime Says:
The heavenly sister of the grunge palette has descended from above. Rapturous lilac, rose gold and mauve shades mix with earthly browns. Ultra-buttery formula sweeps on richly pigmented color that doesn't fade or fall out. The dreamy lavender and rose gold box is graced with Venus herself.
Lime Crime Venus III Palette Swatches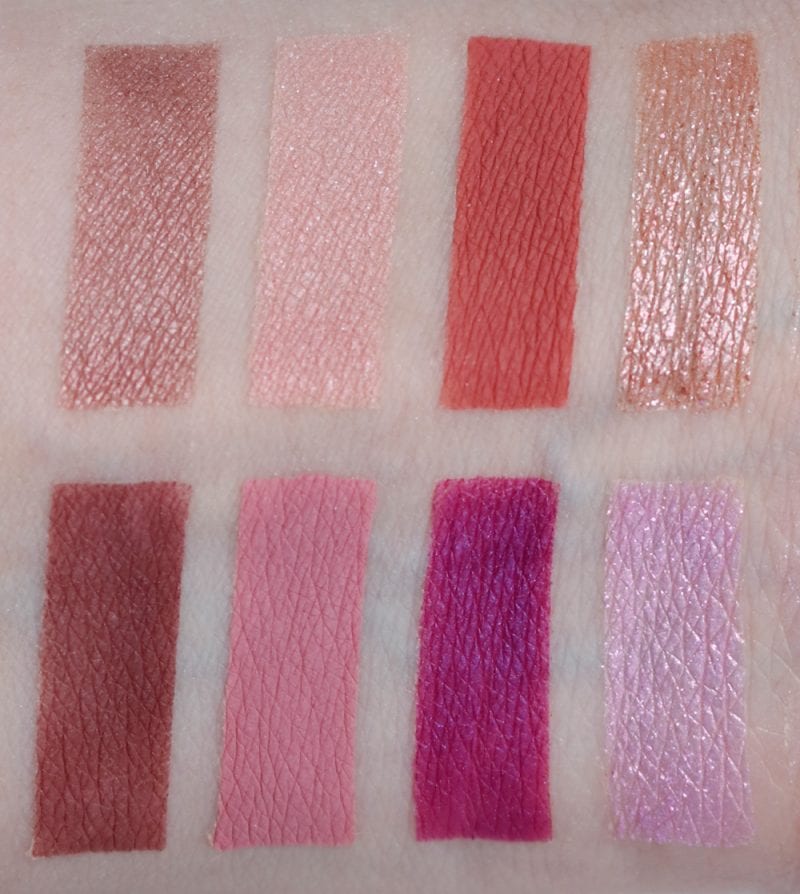 The above swatches were taken under studio lighting. You can see how warm Bliss looks on my skin. It pulls orange on my neutral to cool yellow skintone and I don't find that flattering at all.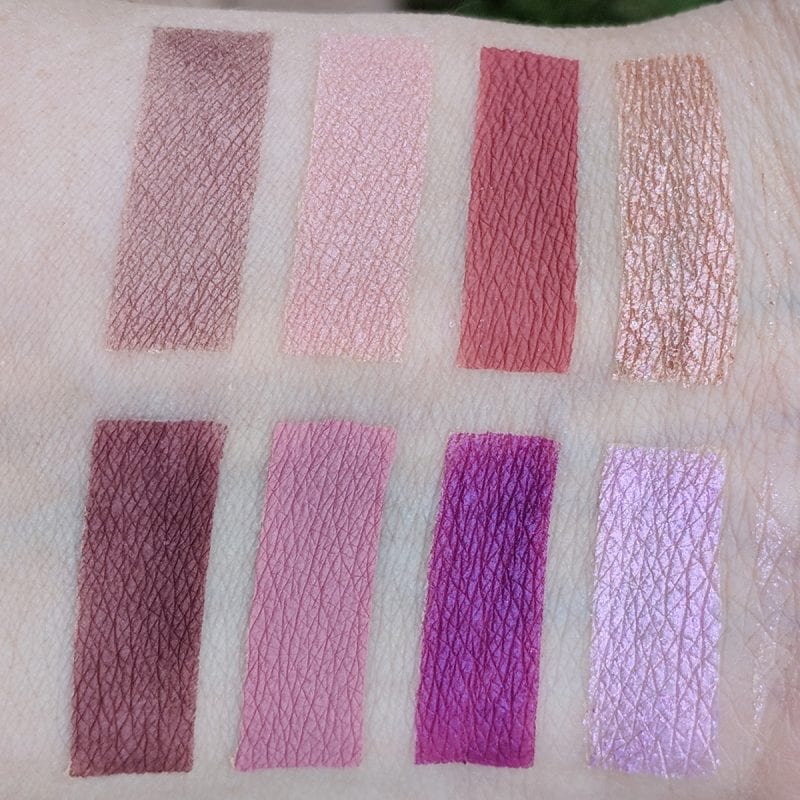 Top – Beloved – Rapture – Bliss – Heavenly
Bottom – Ecstasy – Dreamy – Paradise – Beam
Beloved is a minky lavender brown metallic. It's a lavender brown taupe with is a satin finish.
Rapture is a soft blush with blue flash shimmer. It's a light pink shimmer with subtle blue sparks.
Bliss is a rosewood matte. It's warm pinky matte on my skintone.
Heavenly is a rich rose gold with iridescent shimmer. It's a very pale rose gold with pretty pink sparks.
Ecstacy is a dried fig matte. It's a cool-toned burgundy wine brown. It's what I wanted KVD Lolita to look like.
Dreamy is a mauve matte. It's a medium cool pink.
Paradise is a bright fuchsia with blue glow. On me it's a bright magenta purple with a blue-violet shift.
Beam is a lit lilac with a pink shift and iridescent shimmer. It's a glowy lilac with pink shift.
I've never loved a neutral eyeshadow the way that I love Ecstasy. It's the most flattering burgundy brown I've ever put on my eyes.
Lime Crime Venus III Looks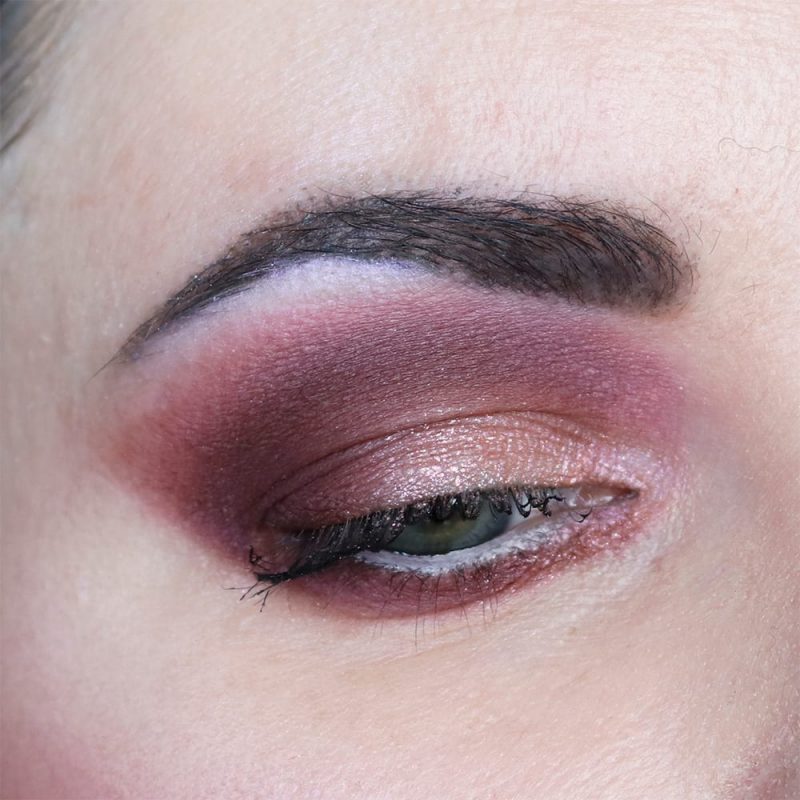 See the Lime Crime Venus III Tutorial.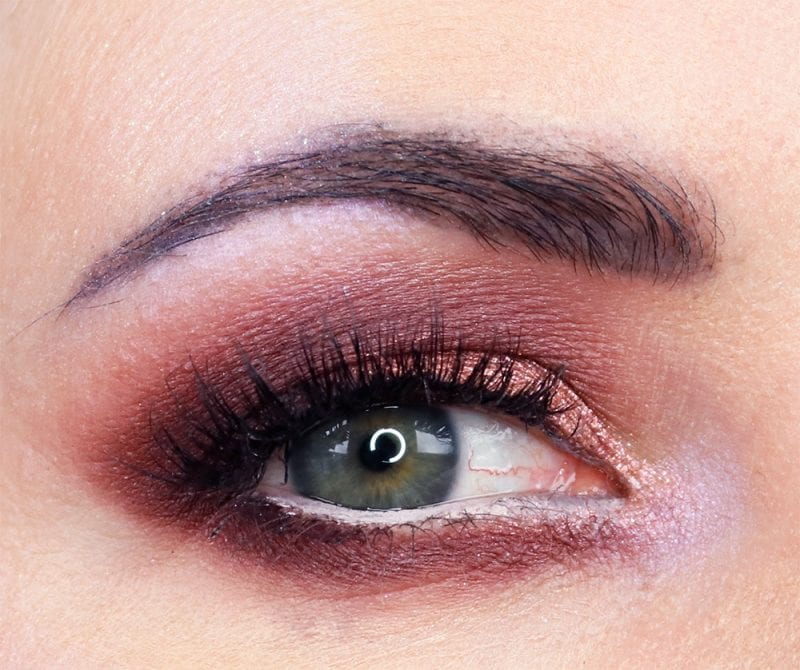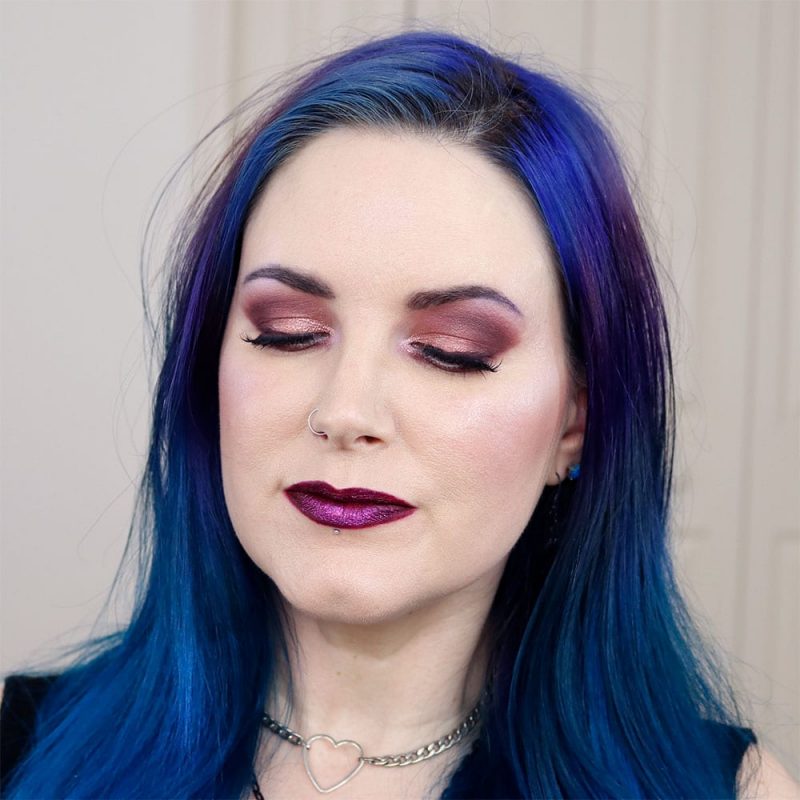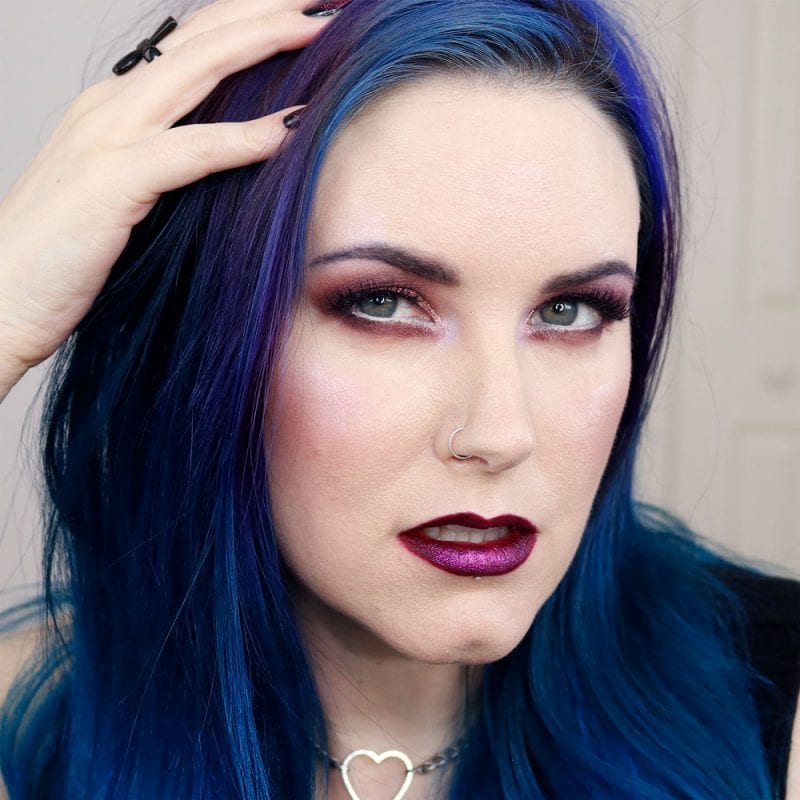 See the full details of this Venus III makeup look in my Best Cool Toned Eyeshadow Palettes Video.
If you follow me on Instagram, you'll know that I wore the Lime Crime Venus III palette almost every day that I was gone at Dragon Con (I did wear the Natasha Denona Mini Lila palette once and Makeup Geek eyeshadows twice), so I truly love it.
What I Hate About This Palette
I absolutely hate the big bulky packaging. It's not that I hate cardboard packaging, though I certainly prefer hard plastic or metal to cardboard. It's that the palette is unreasonably thick. It takes up way more room than it should for just 8 eyeshadows.
I'm also not fond of the color Bliss. It's one of those pinks that leans orange on my skintone, which I don't find flattering.
What I Love About This Palette
I really love the formula of the Lime Crime Venus III palette eyeshadows. They blend out incredibly smooth and easy. Many of the shades can double as blush. I've used Ecstasy and Dreamy as blush and I suppose I should see if Bliss is flattering as a blush color since I hate it on my eyes.
This eyeshadow formula is the sort that you build up to the opacity that you want. Because it's buildable, it blends out like a dream. I like the way Lime Crime balanced their pigmentation and blendability. If you've been practicing the Wayne Goss Hooded Eye tutorial like I have been, you'll see that Ecstasy is perfect for it.
Beam and Heavenly are the two glitter topper type shades. They look lit from within once applied to the skin. They work best when applied with my finger tip or a dense stiff brush like the Urban Decay Moondust brush.
Shades like Beloved, Ecstasy and Dreamy are perfect for a one and done everyday office friendly eyeshadow look. You can make creative and fun looks with Paradise, Beam, and Heavenly. Really, Bliss is the only shade that just doesn't belong, in my opinion.
I really love that you get a lot of bang for your buck with the Venus III palette. The palette is $38 and each eyeshadow is .0705 oz. That's larger than the average .05 oz. for an eyeshadow.
Lime Crime does state that this is a vegan eyeshadow palette, too.
I highly recommend buying the Venus III palette from Ulta over Lime Crime's site. If you're Diamond Status at Ulta (which I am) you'll get free shipping on orders over $25, which means this palette would ship for free. If you're Platinum or an Ulta Member, if you spend $50 you'll get free shipping with Ulta. Click Here to Buy the Lime Crime Venus III Palette!
However, if you're not a fan of Ulta and you have Amazon Prime membership, you can buy the Lime Crime Venus III palette there.
What do you think of the Lime Crime Venus III palette?