Lime Crime Venus XL Palette

Lime Crime Venus XL Palette
Today I'm bringing you my Lime Crime Venus XL Palette review and swatches on fair skin. I've had this palette for several months now and have thoroughly fallen in love. I am HERE for these reds, pinks and burgundy shades. These colors look great on my porcelain neutral to cool yellow olive skintone, too!
Where to Buy
Ulta, Lime Crime
Price
$58
Lime Crime is a 100% cruelty-free and 100% vegan beauty brand. They also are PETA & Leaping Bunny Certified. Leaping Bunny is the gold standard for cruelty-free certification.
Lime Crime Venus XL Palette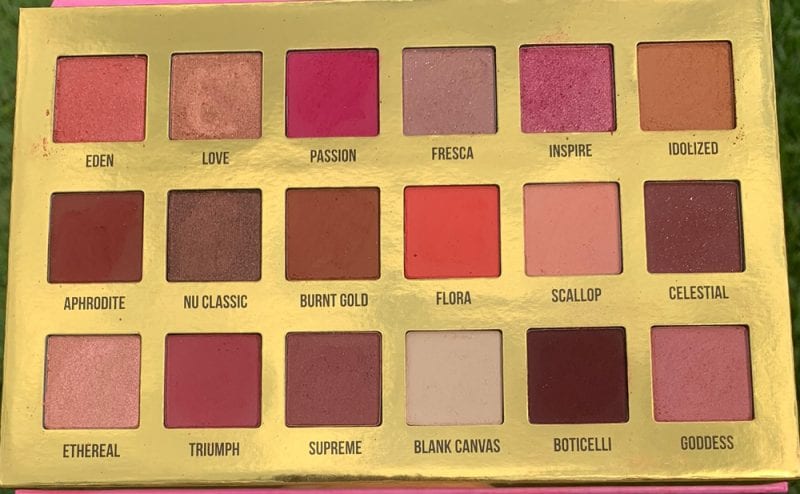 About the Lime Crime Venus XL Palette
The goddess-worthy palette Venus fans have been longing for. 18 long-wearing shadows, 4 unique finishes, 1 swipe coverage. Lime Crime's Venus XL Pressed Powder Eyeshadow Palette is an epic new take on the palette that started it all with shades ranging from rustic reds, golden roses, berries and pinks to bronzed neutrals. Highly pigmented, ultra-buttery formula lays down a supreme color payoff that doesn't fade or fall out. The instant cult classic arrives in a beautifully mirrored gilded pink box, idolizing Venus herself.
The ultimate grunge palette brings you the next Renaissance remix with 4 finishes and 18 shades:
Matte: Buttery smooth and totally matte.
Matte sparkle: Same matte formula you love but with sparkle!
Glow: Soft, luminous finish. Not satin, not shimmer. It's glow!
Metallic: Ultra-shiny shimmer!
Lime Crime Venus XL Palette Swatches
Row 1 – Eden, Fresca, Triumph, Inspire, Passion, Goddess, Burnt Gold, Supreme, Blank Canvas
Row 2 – Love, Idolized, Aphrodite, Celestial, Boticelli, Ethereal, Nu Classic, Flora, Scallop
EDEN: Rusty rose (metallic)
LOVE: Bronzed peach (metallic)
PASSION: Bright raspberry (matte)
FRESCA: Taupe with pink sparkle (sparkle matte)
INSPIRE: Metallic berry (metallic)
IDOLIZED: Toasted caramel (glow)
APHRODITE: Rich red-brown (glow)
NU CLASSIC: Bronzed brown (metallic)
BURNT GOLD: Dark terracotta (glow)
FLORA: Deep coral (matte)
SCALLOP: Softest warm pink (matte)
CELESTIAL: Brick with gold sparkle (sparkle matte)
ETHEREAL: Dusty blush (metallic)
TRIUMPH: Muted cranberry (matte)
SUPREME: Deep mauve (glow)
BLANK CANVAS: Cool beige (matte)
BOTICELLI: Midnight wine (glow)
GODDESS: Dusty rose (glow)
Lime Crime Venus XL Palette Look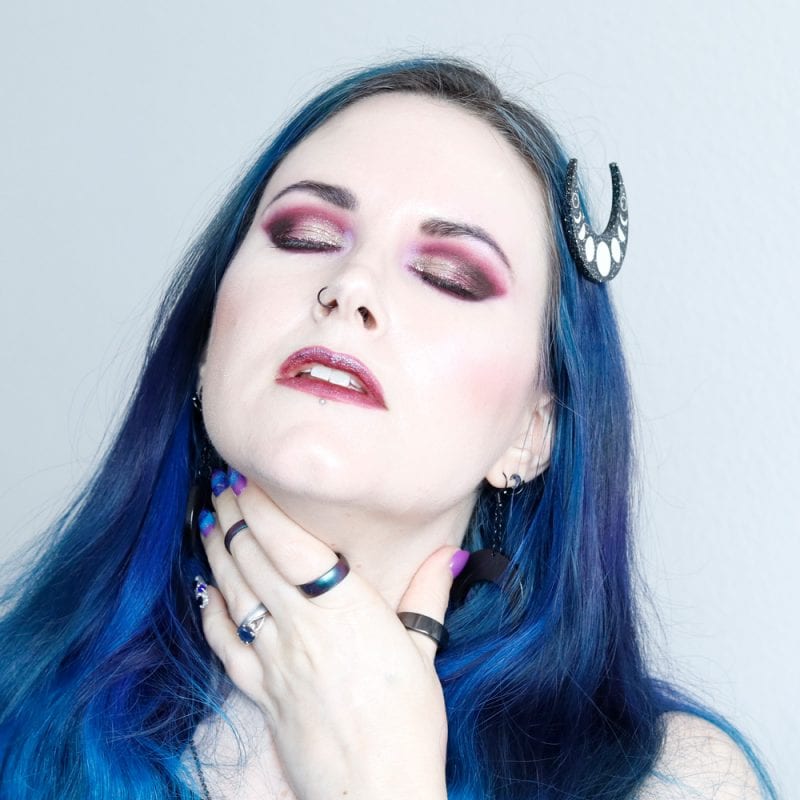 See the details on this Lime Crime Venus XL Palette Look.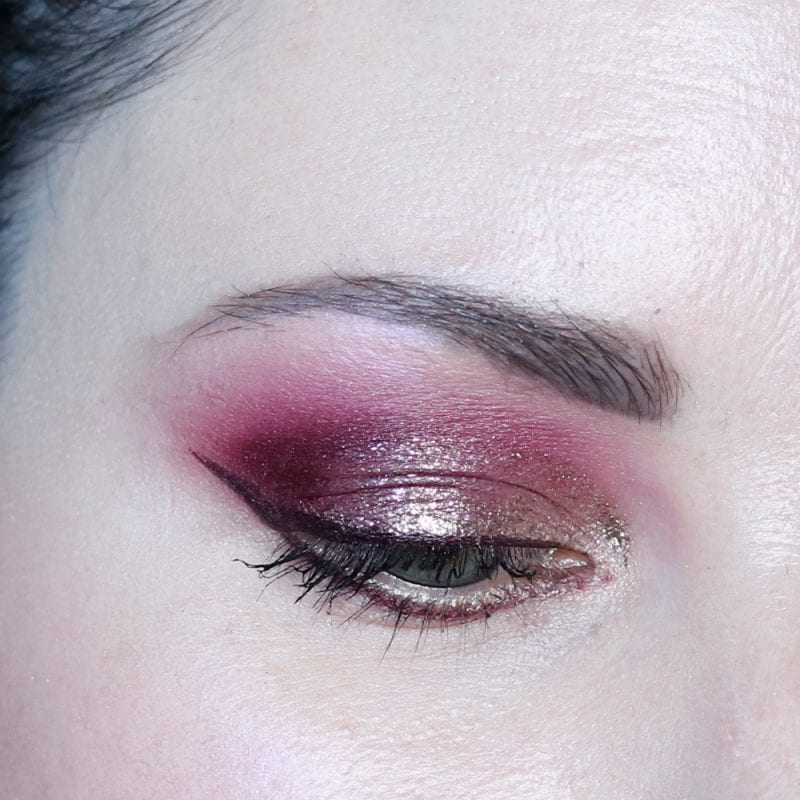 See the details on this Boticelli Look in my Girl's Night Out.
As someone with a very fair skintone, light eyes and dark hair, I'm high contrast. I enjoy using the shades in the Lime Crime Venus XL palette to create dramatic looks that make my blue-green eyes pop.
Lime Crime Venus XL Palette Review
Normally when I do reviews I start out with what I dislike about this palette. To be honest with you, I'm really struggling to find anything to dislike. I mean, the packaging is not to my personal taste, but it's practical and thin. Would I rather it be black and gothic? Hell yes. I do think the size makes it an unlikely travel companion. That's really all I've got for you on this one. I have zero regrets about this purchase based off of its quality.
I adore the shade selection in the Lime Crime Venus XL palette. I find it to be very flattering on my porcelain fair skin. However, I love to wear reds, berries and pinks. The few 'bronzed neutrals' in this palette are actually pretty flattering too. I'm glad that this isn't another boring neutrals palette stuffed with brown shades that don't work on me.
Boticelli is my most used shade in the palette. I love this deep wine burgundy matte. Shades like Celestial, Aphrodite, Love, Fresca, Passion, Goddess and Blank Canvas are all colors I enjoy playing with too.
I find this eyeshadow formula to be very buildable and easy to blend out. As I've mentioned before, I'm heavy handed with eyeshadow (even though I'm trying not to be!), so I do better with formulas that I have to build up to create my looks, rather than just swipe and go. I can't ever blend out eyeshadow formulas that are too pigmented. I need buildable formulas!
Do you need this palette? Well, do you already own these colors? If not, you might! But if you already have a lot of red themed palettes, you might have similar shades. Some of my similar (though none are exact) palettes are the Huda Beauty The New Nude Palette, my DIY Cool Berries Eyeshadow Palette, my DIY Jeffree Star Blood Sugar Palette, Anastasia Beverly Hills Modern Renaissance Palette, Too Faced Just Peachy Mattes Palette, and Urban Decay Naked Cherry.
If you don't have similar shades and you love reds like me, you might need this palette. I'm in love with the Venus XL Palette. I highly recommend buying Lime Crime from Ulta's website as opposed to Lime Crime's. I've experienced extremely slow shipping every time I've ordered directly from Lime Crime. What do you think of the Lime Crime Venus XL Palette?
More of my Lime Crime Features