Huda Beauty the New Nude Palette
Today I'm bringing you my Huda Beauty the New Nude Palette review and swatches on fair skin. I've had this palette for a few months and have thoroughly fallen in love with it. I am HERE for these new nudes. These colors look great on my neutral to cool yellow olive skintone, a million times better than most brown eyeshadows ever do.
Where to Buy
Sephora, Huda Beauty
Price
$65
Huda Beauty is cruelty-free. They have some vegan options in their lineup, including their FauxFilter Foundation. It also looks like the following Obsessions palettes are vegan: Mauve, Smokey, Electric and Warm Brown. Additionally, they sell faux mink lashes. Be aware, they also sell real mink lashes, which I abhor and are NOT cruelty-free.
Huda Beauty the New Nude Palette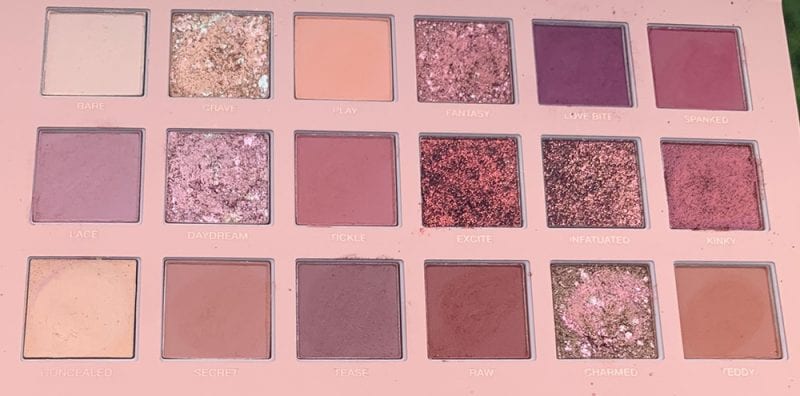 What Huda Says About This Palette
This all-in-one eyeshadow palette consists of 18 highly-pigmented shades, ranging from flattering mattes to shimmer-drenched hues, and has everything you need to transform your lids. The carefully-curated lineup is studded with easy-to-use combinations—from soft berry to dusty copper, and rosy pink to golden taupe tones. The New Nude Palette boasts a variety of game-changing textures and colors, balancing cool and warm tones to complement the best of both worlds.
10 Highly Pigmented Matte Eyeshadows, formulated with Aloe Vera and Coconut Oil for butter-like application
4 Reflective Shades, featuring shimmering pearl flecks for a gorgeous duo-chromatic finish
2 Glitter Formulas, infused with innovative silicones for advanced adherence, pigment dispersion and luminosity
One Pressed Pearl, combined with Acacia, Jojoba and Sunflower Wax for a high-shimmer finish that layers effortlessly on top of mattes, adding dreamy depth and dimension
One Concealer Base, for flawless application, and to boost eyeshadow
Huda Beauty the New Nude Palette Swatches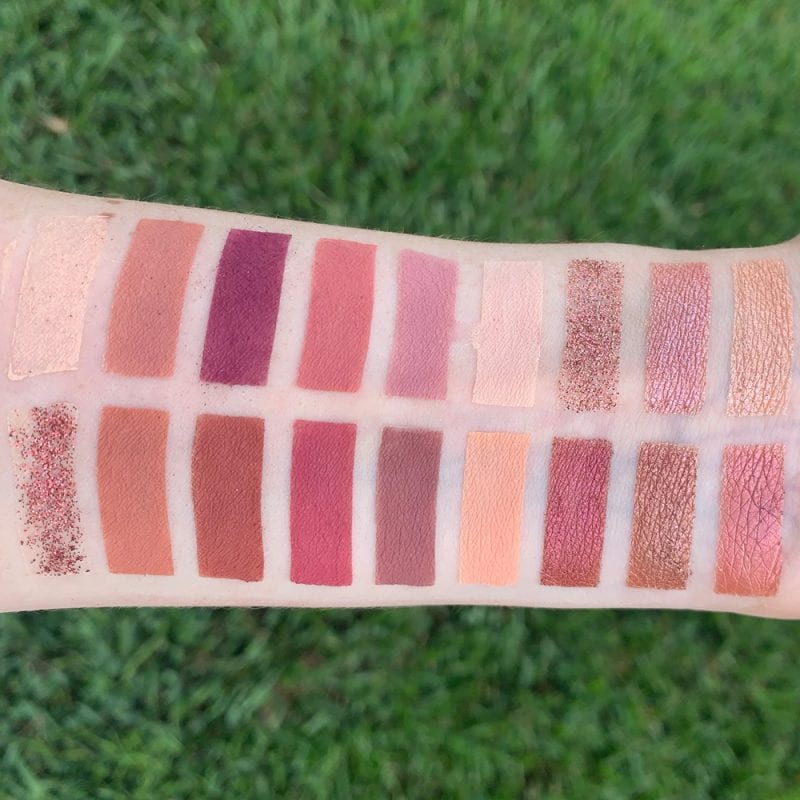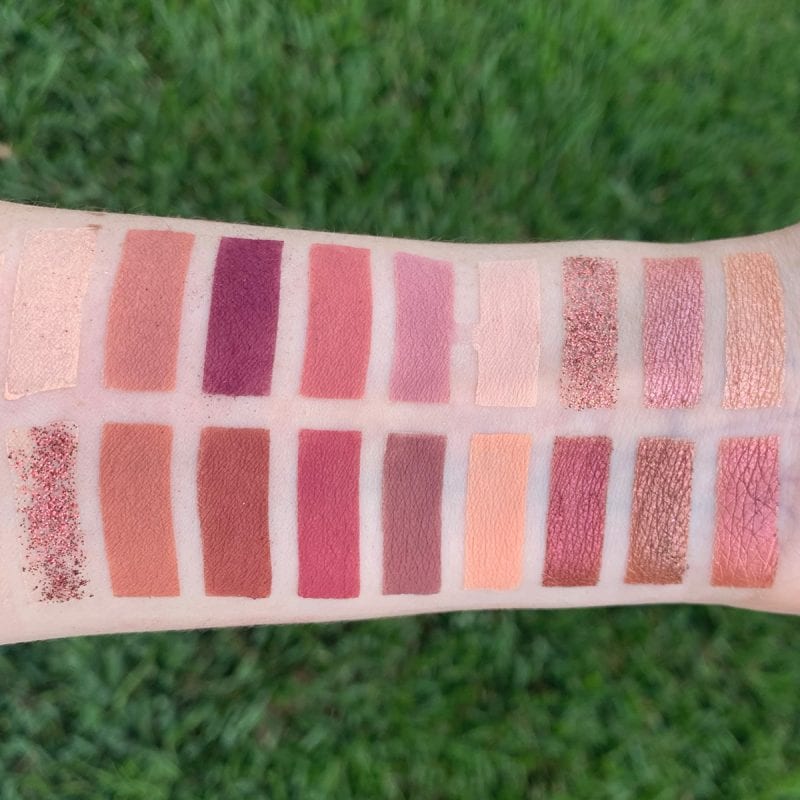 Row 1 –  Concealed – Secret – Love Bite – Tickle – Lace – Bare – Infatuated – Daydream – Crave
Row 2 – Excite – Teddy – Raw – Spanked – Tease – Play – Kinky – Charmed – Fantasy
Here is the Huda Beauty the New Nude Palette swatched on my fair skin, photo taken outside in the afternoon.
Huda Beauty New Nude Looks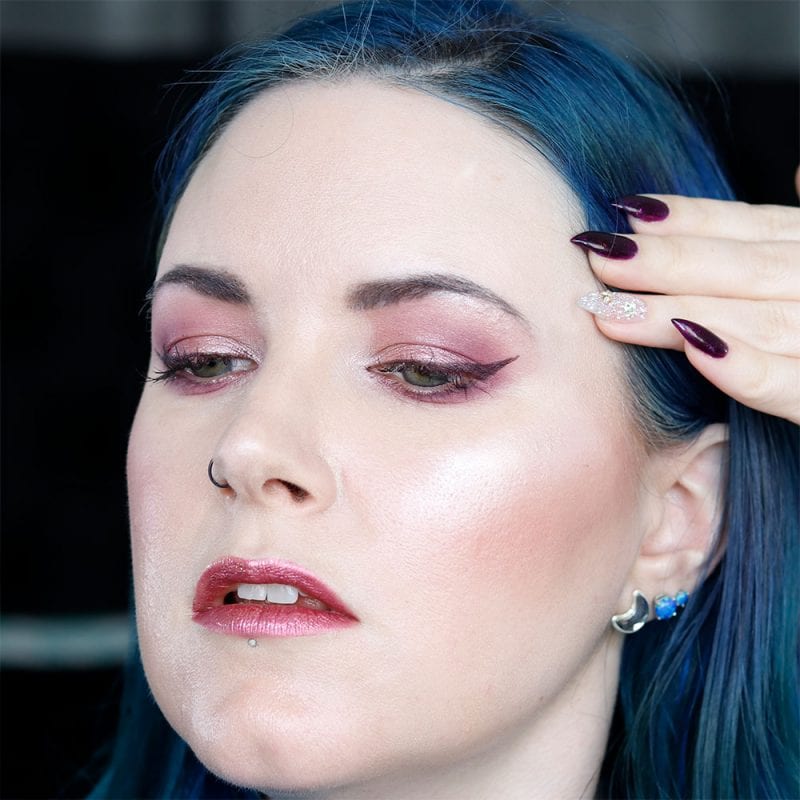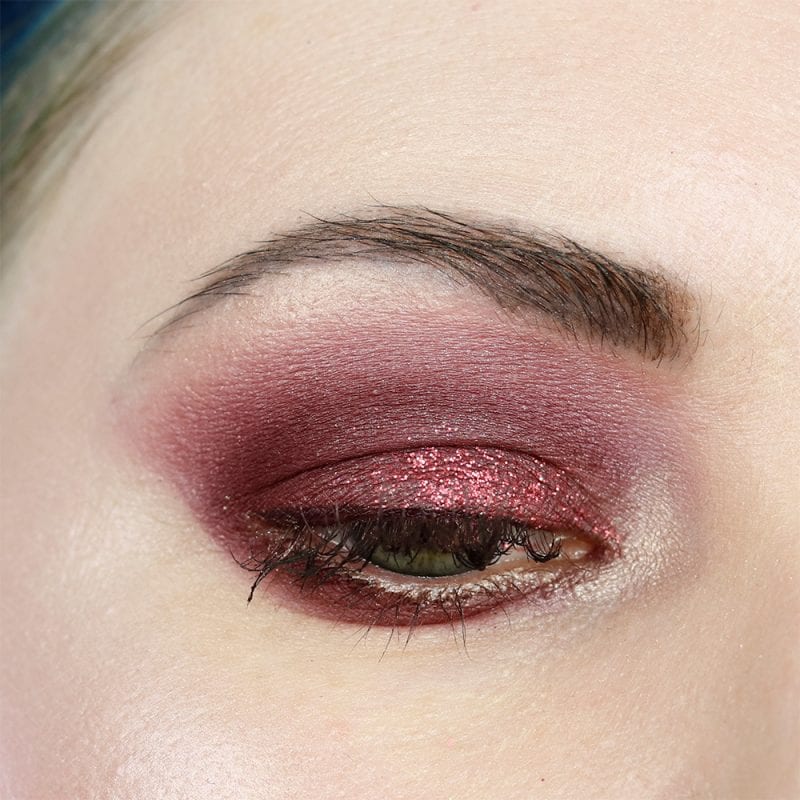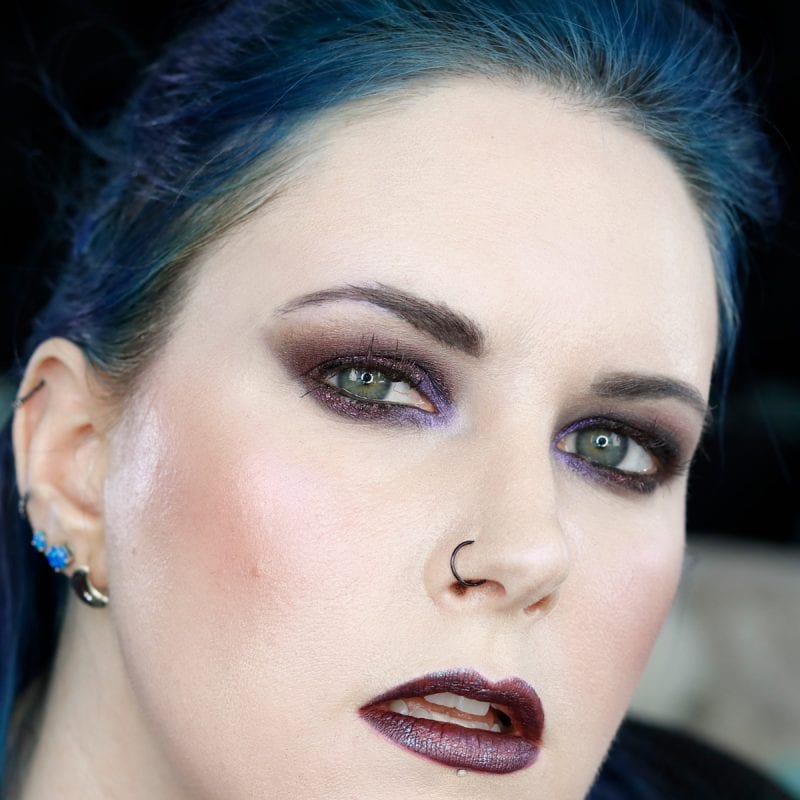 I love the reds in this palette the most. You can see how I've used this palette on my hooded eyes.
Huda Beauty the New Nude Palette Review
Let me tell you what I hate about this palette to begin. I don't like the cream product Concealed mixed in with all the powders. I also hate 1 of the 2 glitter shades, Excite, which is pretty awful. Infatuated, the other glitter shade, performs much better than Excite for some reason.
Bare (creamy ivory), Secret (pinky nude), Love Bite (deep burgundy wine), Tickle (warm pink), Lace (pinky mauve), Teddy (brown), Raw (warm reddish brown), Spanked (bright magenta), Tease (pinky taupe), and Play (light peach) are all excellent mattes. I particularly love Love Bite, Lace, and Tease. I find this matte formula extremely buildable and blendable. I prefer having to build up my color these days rather than just swiping it on and then being unable to blend it out.
Crave, Charmed, Daydream and Fantasy are all 4 gorgeous shades. I love the extra dimension and depth they add to a look. I love to pop these on the mobile lid or inner lid for extra shine.
One of the best things about the Huda Beauty the New Nude Palette is that the shade range in this palette is excellent and I believe it will work on a wide variety of skintones. Looking through the photos submitted on Sephora for the New Nude palette, you can see how beautiful this is on deep skintones, as well as medium skintones.
As I mentioned above, I feel like I can wear all of the colors in the Huda Beauty the New Nude Palette. All of the colors seem to work with my skintone. If you had told me years ago that these were nudes, I would have scoffed at the idea. I thought nude meant boring and brown. This palette is anything but that!
I love the pinks, peaches, burgundies and reds in this palette. They're definitely colors I reach for and gravitate towards. I sometimes get into a burgundy eyeshadow rut where it's the only thing I want to wear. I was on the burgundy train for a while, then I was on a deep green (thanks Melt Space Queen) kick, and most recently I've been into greys (the Smashbox x Hood Witch Crystalized).
If you're looking for a new nude palette and you're not married to brown, the Huda Beauty the New Nude Palette might be for you! I love the mix of colors in this one and I feel like I can get a ton of variety out of it, from mild to wild. I'm also a big fan of the eyeshadow formula. I fell in love with the Huda formula with my Amethyst Obsessions palette, which really sparked me buying a few other ones, including this  one. Skip this palette if you've already got a ton of nudes or these sorts of peaches, pinks and burgundies.
What do you think of the Huda Beauty New Nude Palette?