TheBalm The Lou Manizer's Quad
Recently I decided to buy TheBalm The Lou Manizer's Quad. I'd been dying to get my hands on Emma-Lou and Penny-Lou, which I thought would be gorgeous on my pale skin. I was right! I've also included theBalm Down Boy blush in this set. For those of you unfamiliar with the brand theBalm, they are cruelty-free. Surprisingly, they're not PETA certified. I'm hopeful they'll consider Leaping Bunny certification.
Not sure about theBalm? Be sure to bookmark my cruelty-free makeup brands list for over 1000 other cruelty-free brands!
Where to Buy TheBalm The Lou Manizer's Quad
TheBalm, Amazon
Price
$29.50 for .35 oz total
Where to Buy TheBalm Down Boy
TheBalm, Amazon
Price
$21 for .29 oz
What theBalm says about the Lou Manizer's Quad
Mary-Lou and Cindy-Lou have joined forces with their long lost cousins, Penny-Lou and Emma-Lou (available for the first time, exclusively in this quad), to form the most wanted palette of the century, The Lou-Manizer'sQuad. The 'relative'ly under the radar cousins ironically shine the brightest. Penny-Lou, AKA "the Penny Pincher", steals attention with her blatantly gold reflection while Emma-Lou, AKA "the Em-Bezzler" is a surprisingly subtle lilac – until she is is in the spotlight- then BAM! You can't escape her glow.
TheBalm The Lou Manizer's Quad Swatches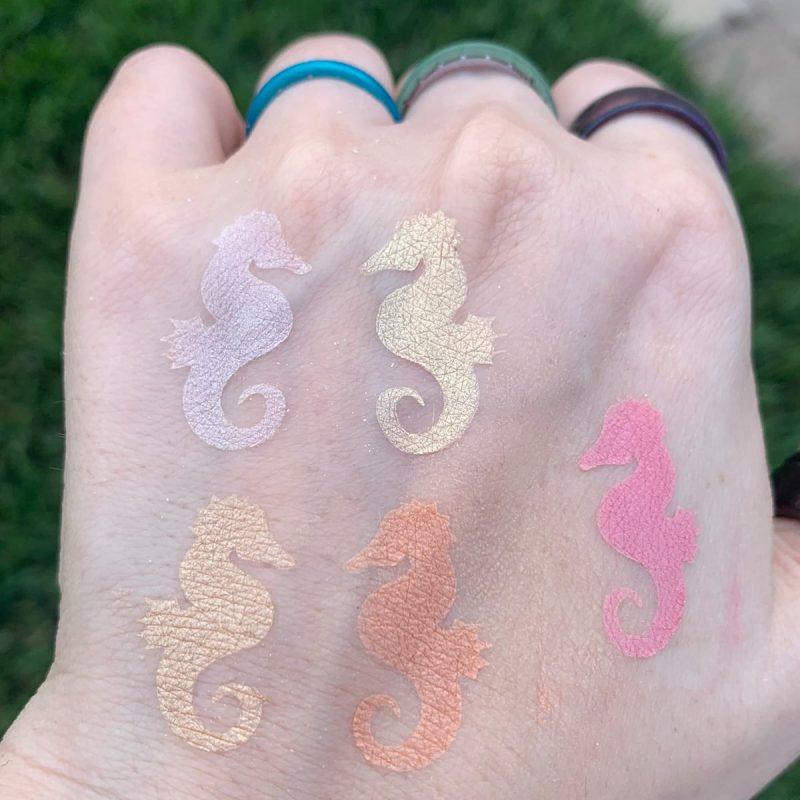 Row 1 – Emma-Lou – Penny-Lou
Row 2 – Down Boy
Row 3 – Mary-Lou – Cindy-Lou
Emma-Lou – white with pink-violet iridescence
Penny-Lou – white with gold iridescence
Mary-Lou – light gold
Cindy-Lou – pinky peach
Down Boy – sweet pink
I love that all of theBalm's blushes and bronzers also explicitly state that they're multi-purpose and can be used as eyeshadow too. TheBalm's blushes have always lasted well on me but I find their shade range lacking. The two colors I adore are Balm Beach & Down Boy. My all-time favorite blush from theBalm is theBalm Balm Beach (warm neutral pink).
What I love about theBalm's highlighters are that they give you a beautiful lit from within glow, as opposed to chunky glitter. Emma-Lou, Penny-Lou and Mary-Lou all look great on my fair skin tone. Cindy-Lou works as a highlighting blush for me. It's beautiful when layered with Down Boy. These highlighters are definitely on the subtle sheen side. So if you have a heavy hand, you'll like these because you really have to work to overdo them.
TheBalm The Lou Manizer's Quad is one of the few highlighter palettes I've seen where I can actually use all of the shades as highlighter or blush topper. If you have fair to medium skin and prefer a more subtle highlight, this is the perfect highlighter quad for you. It's also reasonably priced and very portable.
What do you think of theBalm The Lou Manizer's Quad and Down Boy blush?
You May Enjoy