Edgy Style Rocker Chic Outfit
I wanted to share my edgy style rocker chic outfit with you. I wore this outfit to the SevenDust & Clutch concert last night at Orlando's House of Blues. Mickey asked me to go to see SevenDust with him, as he's friends with the band. Corinne is also friends with the band, so I knew she would be there too.
Orlando House of Blues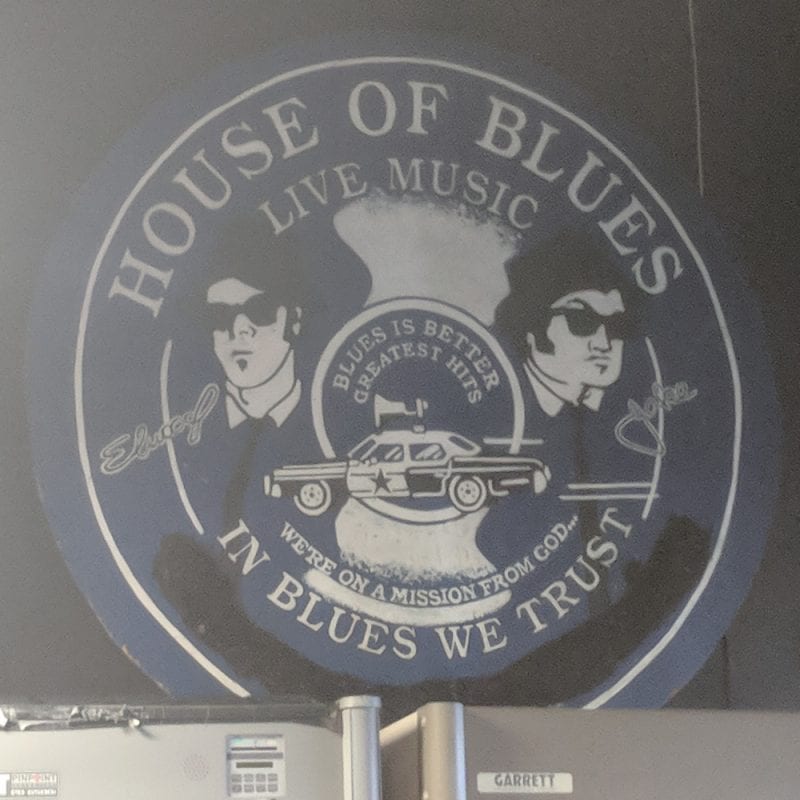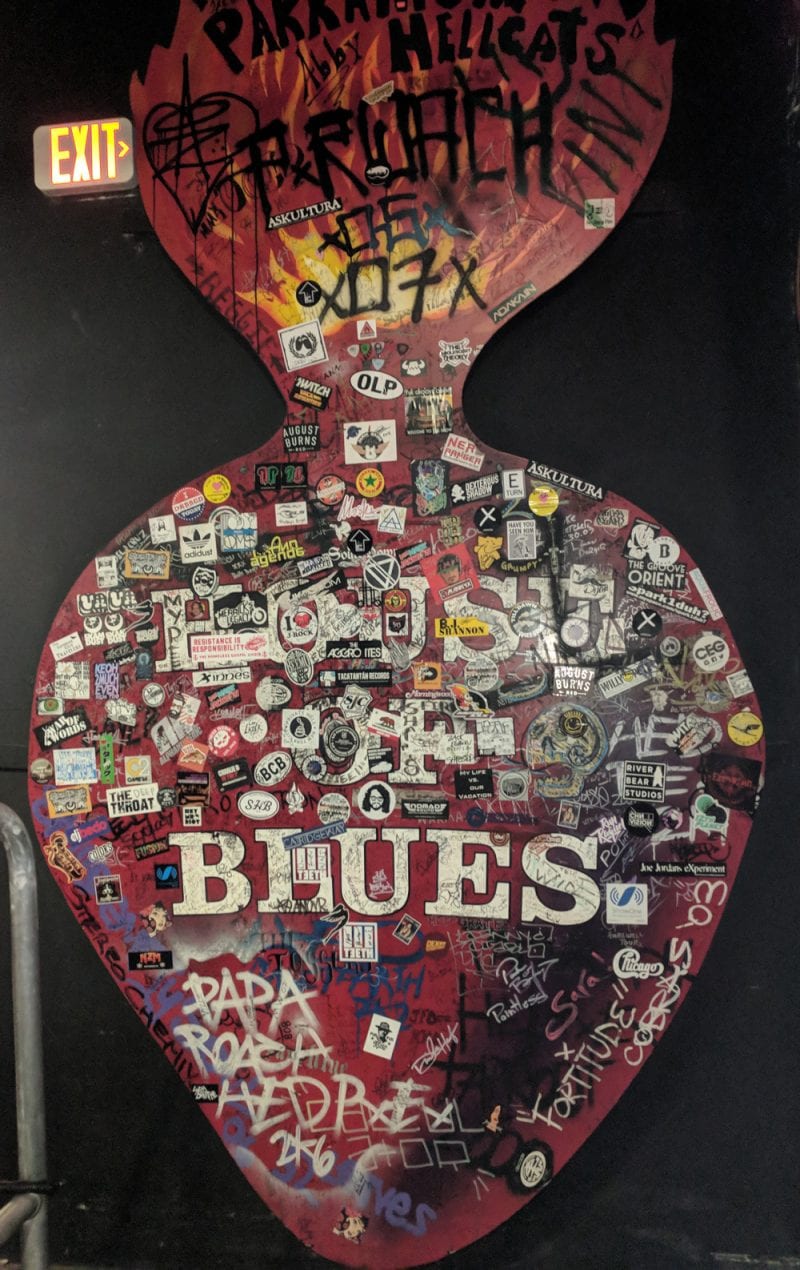 The above piece of art is covered in autographs from the bands who have played at the Orlando House of Blues.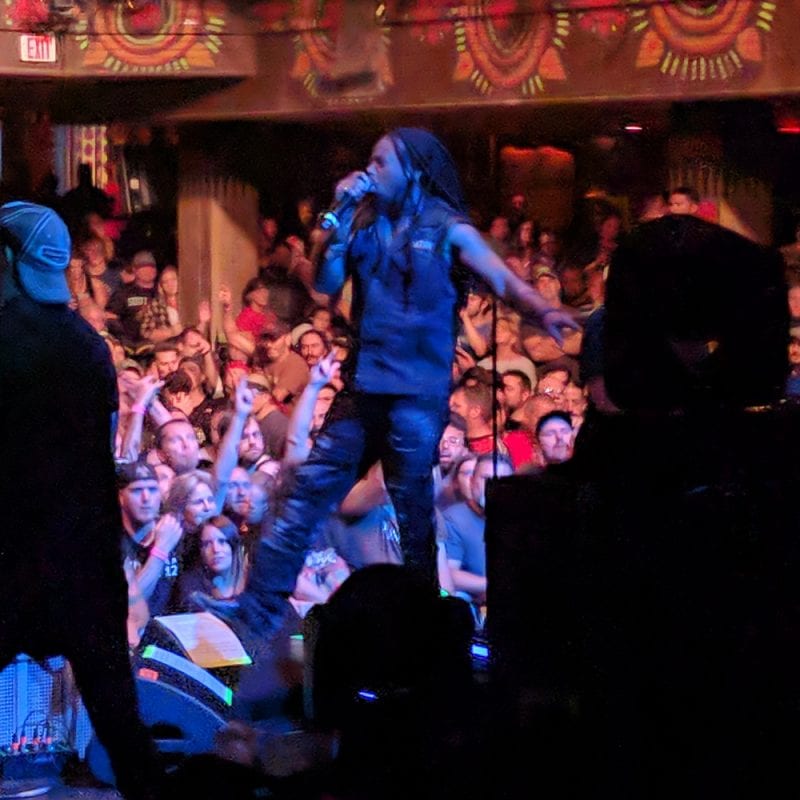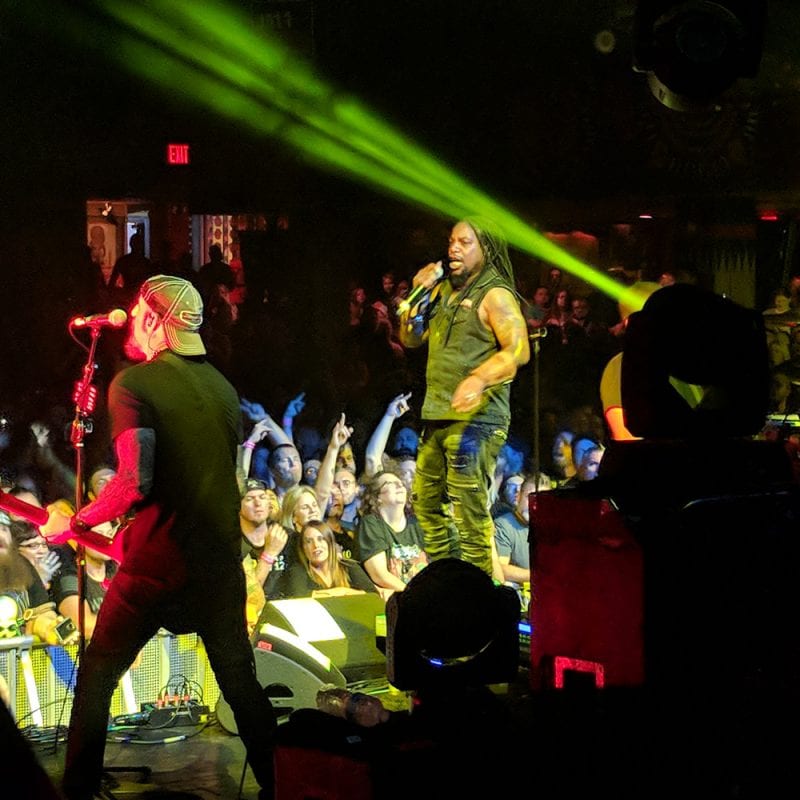 I'm normally not a fan of large, live shows but Orlando's House of Blues provides a more intimate space than other venues. We were invited to watch the show from back stage, which was perfect for me since that meant I wasn't crowded or getting bumped into by drunk people. Towards the end of SevenDust's set, LJ, the lead singer, pulled us on stage, which was really neat! If you follow me on Instagram, you'll have seen clips on my Instagram Stories and Instagram Live.
It was so cool to meet LJ in person! He's very sweet. He even gave me a hug!
How to Handle Concerts With Anxiety
To better manage my anxiety for a setting like this, where I'm likely to get sensory overload, I came prepared! I had my emergency Xanax XR in my purse. I took my daily medications as usual (Buspirone, CBD oil, medical marijuana). I wore ear plugs to help keep me from feeling overwhelmed. I always had a buddy with me – Corinne or Mickey.
For me, being able to get away from the crowds, having the volume of the music reduced (because of being back stage and wearing ear plugs), and feeling safe really help to alleviate my anxiety in this situation.
Mickey & Corinne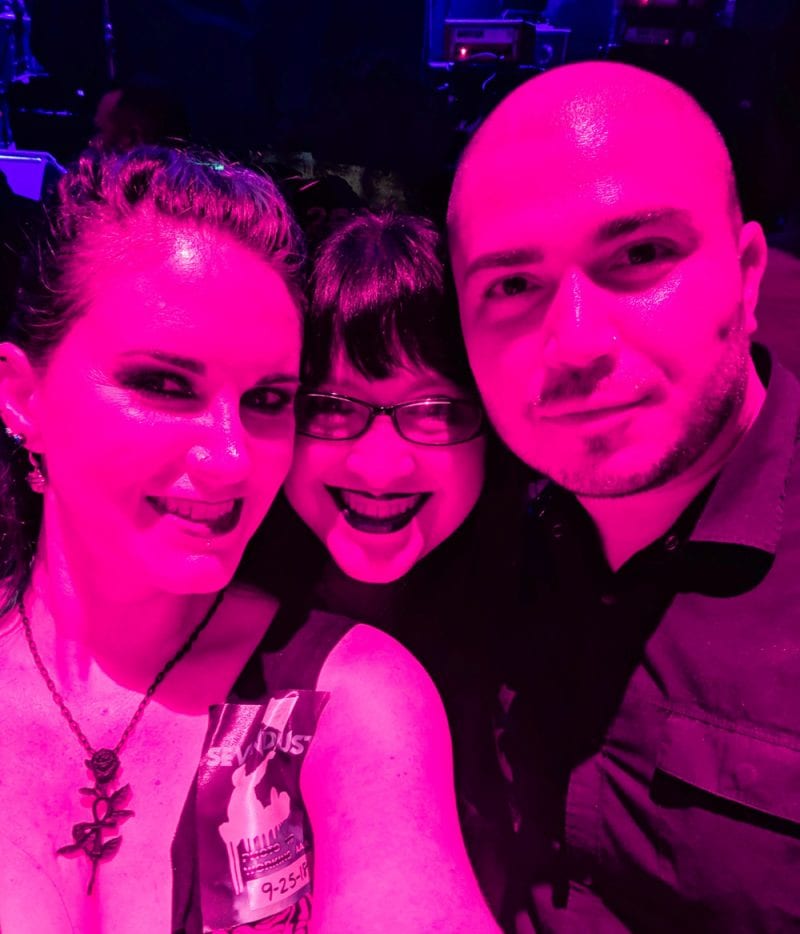 I was happy to be able to hang out with Mickey and Corinne together! I'm convinced that I could travel anywhere with Mickey or Corinne and have an awesome time.
Rocker Chic Makeup and Hair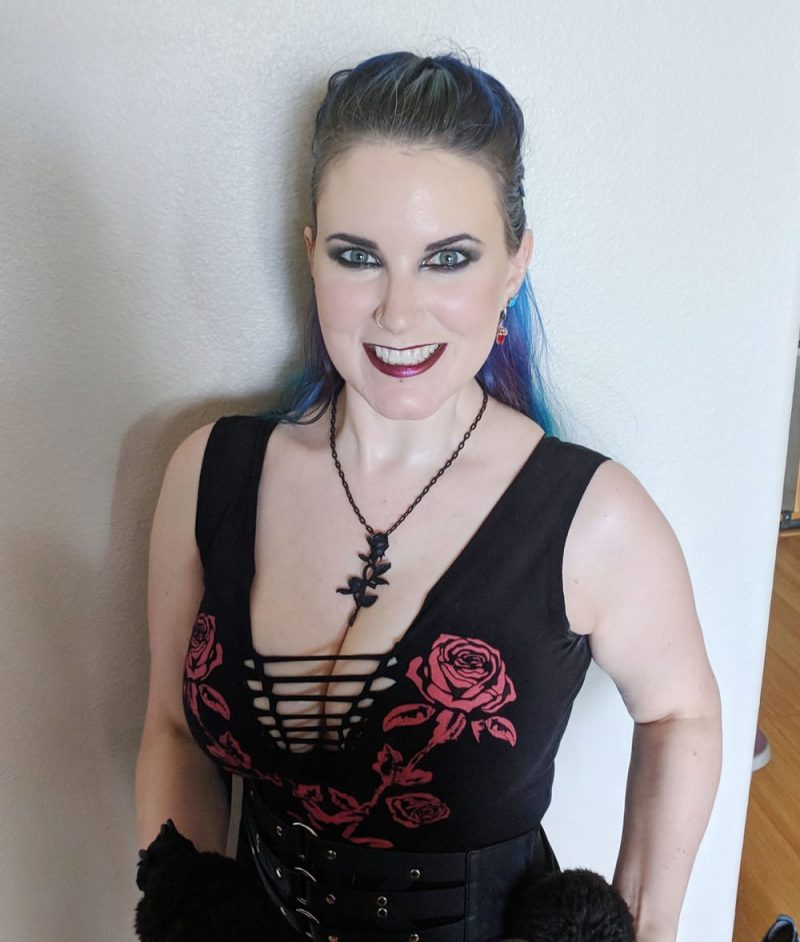 For my Rocker Chic Makeup and Hair I did my eyes and lips, while Mickey did my complexion. Mickey said this was one of his favorite looks from me ever. It's basically a 2 eyeshadow look. I used Cozzette Jet for a black smoky eye and then layered a duochrome glitter from Black Moon on top.
Mickey did my complexion very similarly to how he did it in the lit from within skin tutorial video. He did powder my face first with the Too Faced Born This Way Powder, which he also used throughout the complexion process. My face was flawless all night! It lasted over 13 hours. He used the barest hints of color on my cheeks with Black Moon Shroom and Hourglass Euphoric Fusion.
For my hair, I watched several different faux hawk videos to figure out how I wanted to try and do mine.  I almost followed this tutorial, but ended up doing a modified version of this and watching this for tips. I got tons of compliments on my hair from random strangers while walking around Disney Springs, so I'd say this style really works for me!
Eyes
Too Faced Shadow Insurance
Smashbox Under Eye Primer
Cozzette Beauty Essential Powder
Cozzette Beauty Jet eyeshadow
Black Moon Cosmos
Stila Monarch
Ofra Glazed Donut
Marc Jacobs Blacquer 42 pencil
Smashbox Super Fan Mascara
Colour Pop Jet Set Black brow pencil
Lips
Urban Decay 24/7 pencil in Blackmail
Lime Crime Metallic liquid lipstick in Eclipse
Kat Von D Dazzle & Razzle Glimmer Veils
Face
Danessa Myricks Smooth FX and Prism FX
Danessa Myricks Vision cover cream in N2
Danessa Myricks Vision cover wand in N4
Too Faced Born This Way Powder
LA Girl Just Because contour powder
Black Moon Shroom contouring blush
Hourglass Euphoric Fusion blush
Ofra Glazed Donut highlight
Smashbox So Chill Coconut Primer Water
Rocker Chic Outfit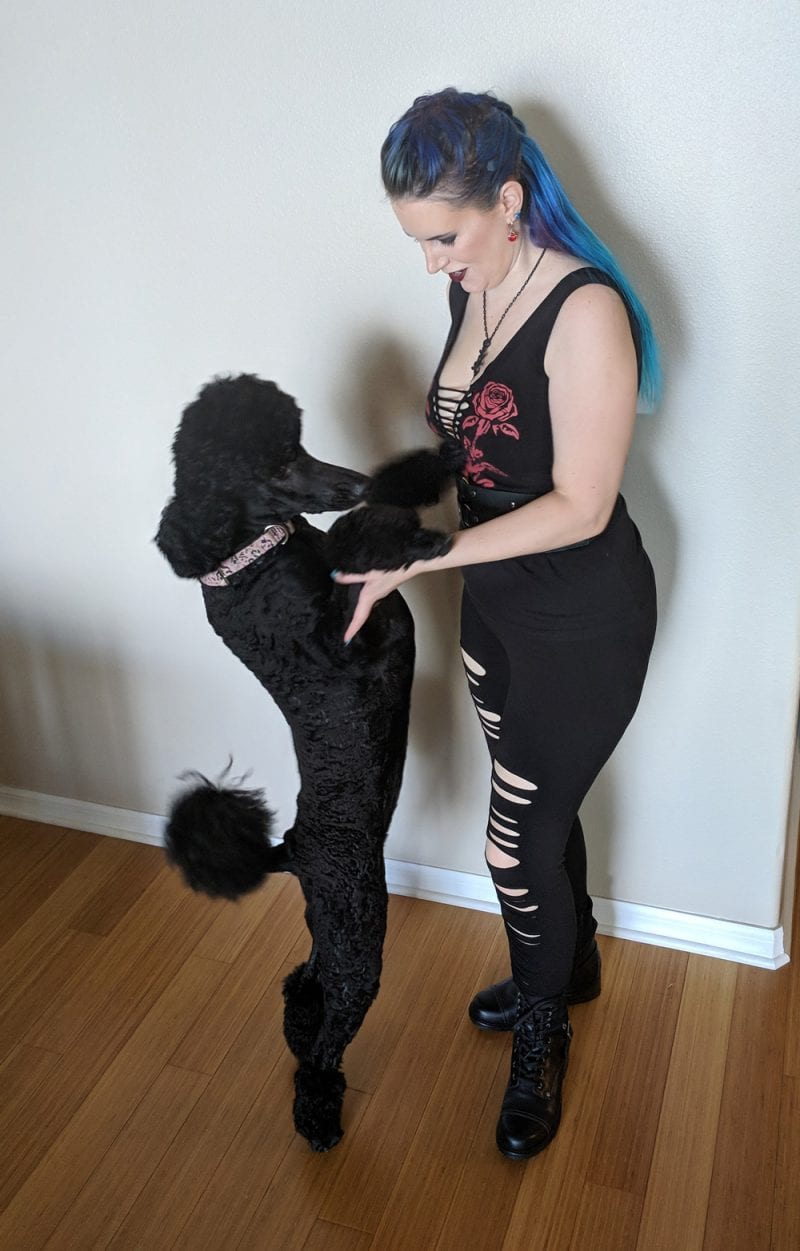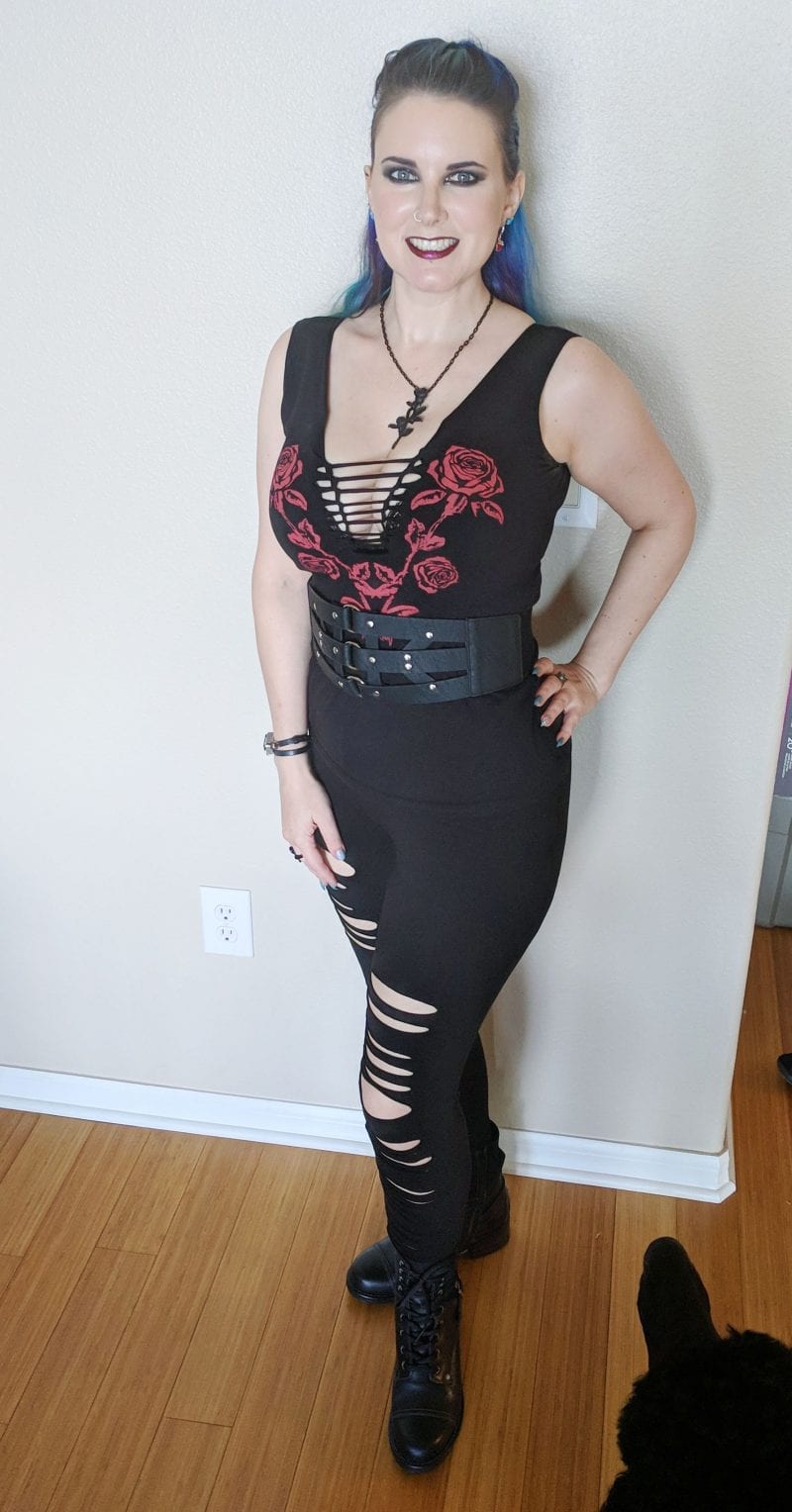 Shirt – Demi Loom Nashville Rose Top size L
Leggings – Ripped Cotton Leggings size L
Handbag – Widow Dark Dreaming Mini Backpack (see the backpack here)
Shoes – Taos Crave Combat Boots size 39
Belt – Torrid Studded Cage O-Ring belt size 00
Necklace – Restyle Black Ankh Rose Necklace
Earrings – Callura on Zulily
Rings – Bunny Paige Grey Cocktail Ring, Black Ankh Ring
Sunglasses – Bunny Paige Blood Money Sunglasses
Jacket – Witch Hoodie
You'll recognize the ripped leggings from my gothic lookbook video (and really, a lot of my accessories were in that video too). They're so comfortable and lightweight. It was too hot for jeans yesterday but these leggings were perfect! I also own them in burgundy.
I wore my Restyle Black Ankh Rose Necklace, Bunny Paige Grey Cocktail Ring, and my Black Ankh Ring, so they all kind of coordinated together. Burgundy sunglasses were a must, so I went with my Bunny Paige Blood Money Sunglasses. I always take a jacket with me when I go out and this time I took my Witch Hoodie.
My Torrid Studded Cage O-Ring belt is my go-to belt for when I need something to make an outfit look awesome. I'm going to have to sew some new snaps on it, because it's starting to get a bit loose.
I own 5 different tops from Demi Loon because I really like their style. I think this Nashville Rose top is my favorite of all of them. I also have this black slashed top, bat winged top, long sleeve slashed top and another top they no longer carry.
My Widow Dark Dreaming bag was the perfect purse to compliment this look. It's just big enough to hold everything I need to bring with me for an evening out.
I am in love with my new Taos Crave Combat Boots. I bought them for my upcoming trip to Scotland. They're highly recommended for everyday wear. I was standing on my feet most of the night and they weren't sore by the end of the night. They don't hurt at all today, which is a relief.
I really loved how this outfit turned out! What do you think of this edgy style rocker chic outfit?
Gothic Fashion Features