Amazing Fire Pits to Keep You Warm This Fall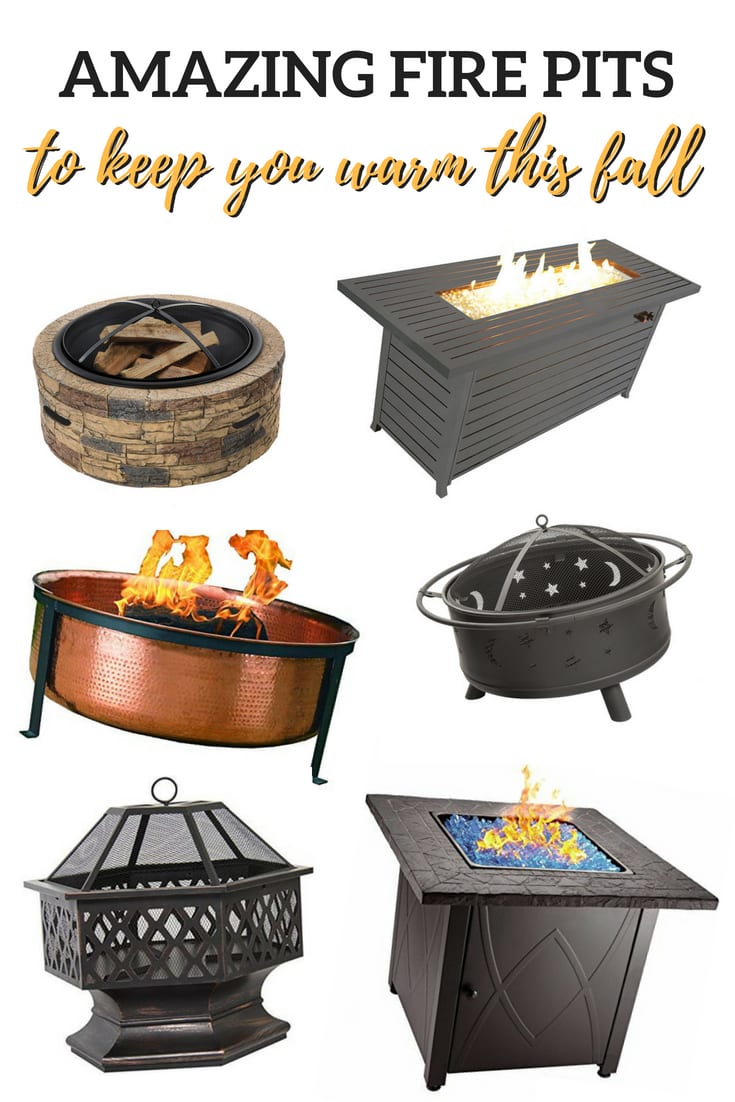 Fire Pits
I love Fall! With the changing leaves and cool crisp air, being outdoors in the fall is amazing. The only thing that would make a fall evening even better is a warm, cozy fire blazing in the backyard. These awesome fire pits are the perfect option for you to keep enjoying the outdoors as the weather cools.
Amazing Fire Pits to Keep You Warm This Fall
Hex Shaped Fire Pit
This stylish fire pit would be an elegant addition to your back yard this fall. The durable steel construction is accented with a rustic lattice design and a distressed bronze finish. The deep hexagon-shaped bowl is supported by a gorgeous metal base. And the fire-retardant lid will assist in keeping the flames contained and the fire's ash from traveling into the air. This awesome fire pit is also lightweight, making it easy to move around in your yard as you see fit. $74 on Amazon
Grilling Pit
Beautiful and practical, this fire pit is perfect for any fall gathering. Whether you and your guests want to enjoy a night around an open flame in your backyard or would rather eat a delicious grilled meal together at the campsite, this fire pit is the one for you. Its compact design makes it easy to transport from place to place, and the removeable grill top is perfect for cooking a yummy meal over the open flames. $108 on Amazon.
Moon and Stars Fire Pit



Adorned with a whimsical moon and stars design, this fun fire pit would make be a wonderful centerpiece to your family's fall gathering. Your kids will love sitting around the fire roasting marshmallows and watching the flames dance through the cute cutouts on the side of this lovely pit. This outdoor fire pit is easy to set up and constructed of powder coated steel to prevent rust, making it a great long-term option for your home's backyard. This sleek fire pit comes with a metal safety screen, weather-resistant cover, and log poke, to ensure your fire keeps burning long into the night. $100 on Amazon.
Fireglass Pit
Create a beautiful gathering space in your backyard this fall with a propane fire pit. This pit provides all the warmth and ambiance of a real fire, without the hassle and mess of ashes and wood. The bottom panels conceal the fire pit's propane tank with a sleek crosshatch design. The pit itself uses beautiful crystal blue fire glass surrounded by a faux stone border. It's also easy to operate – you can start and stop the fire with a push of a button on the hidden control panel. $218 on Amazon. This is so gorgeous!
Coffee Table Fire Pit



Accent your outdoor seating area with the warmth of a fire and the convenience of a coffee table with this multi-functional fire pit. Constructed of aluminum with a stainless steal burner, this sleek fire pit with a mocha finish would be the perfect finishing touch to your outdoor living room. The beautiful lava glass covering the flame area makes a lovely accent even when the flame is turned off. Keep your guest warm with the fire pit's propane flames in the evening and provide a place for them to set their drinks during the day by placing the tabletop cover over the fire pit area. $460 on Amazon.
Tabletop Fire Pit
You can enjoy the warmth of a fire pit even if you live in the city or have a small backyard thanks to this awesome tabletop fire pit. Simply connect the pit to a propane tank between your outdoor table through the table's umbrella hole, and you'll instantly have bouncing flames at your fingertips. This lovely fire bowl is filled with beautiful rocks, making it an interesting centerpiece for your outdoor table whether or not the flame is on. Now, you can gather in your outdoor dining area this fall and keep warm as you enjoy delicious food and drinks with your friends and family. $74 on Amazon.
Copper Fire Pit

This beautiful hand hammered copper fire pit will really make a statement in your backyard. The gorgeous sheen of the extra-large copper tub will instantly draw your guests to its warmth, making it a wonderful gathering space for all of your fall get-togethers. The lovely metal bowl is accented with a simple and modern black stand, allowing the copper to really make an impact. To add to this fire pit's rustic charm, the copper on the bowl is untreated, allowing it to patina with age. In addition to the bowl, this fire pit also includes a protective cover to prevent rain and leaves from gathering inside. $216 on Amazon.
Stone Fire Pit
Want the look of a classic stone fire pit without all the hard work and effort of building one yourself? This fire pit is the one for you. The beautiful cast stone design makes it appear as if the round pit was handmade but is much simpler to construct. The stone look will add a sense of rustic charm to your backyard, making it a great option to keep you warm this fall. $137 on Amazon.
What do you think of these fire pits? Do you love them as much as I do?
Fall Home and Living 
Fall Food
Fall Pet 
Fall Travel