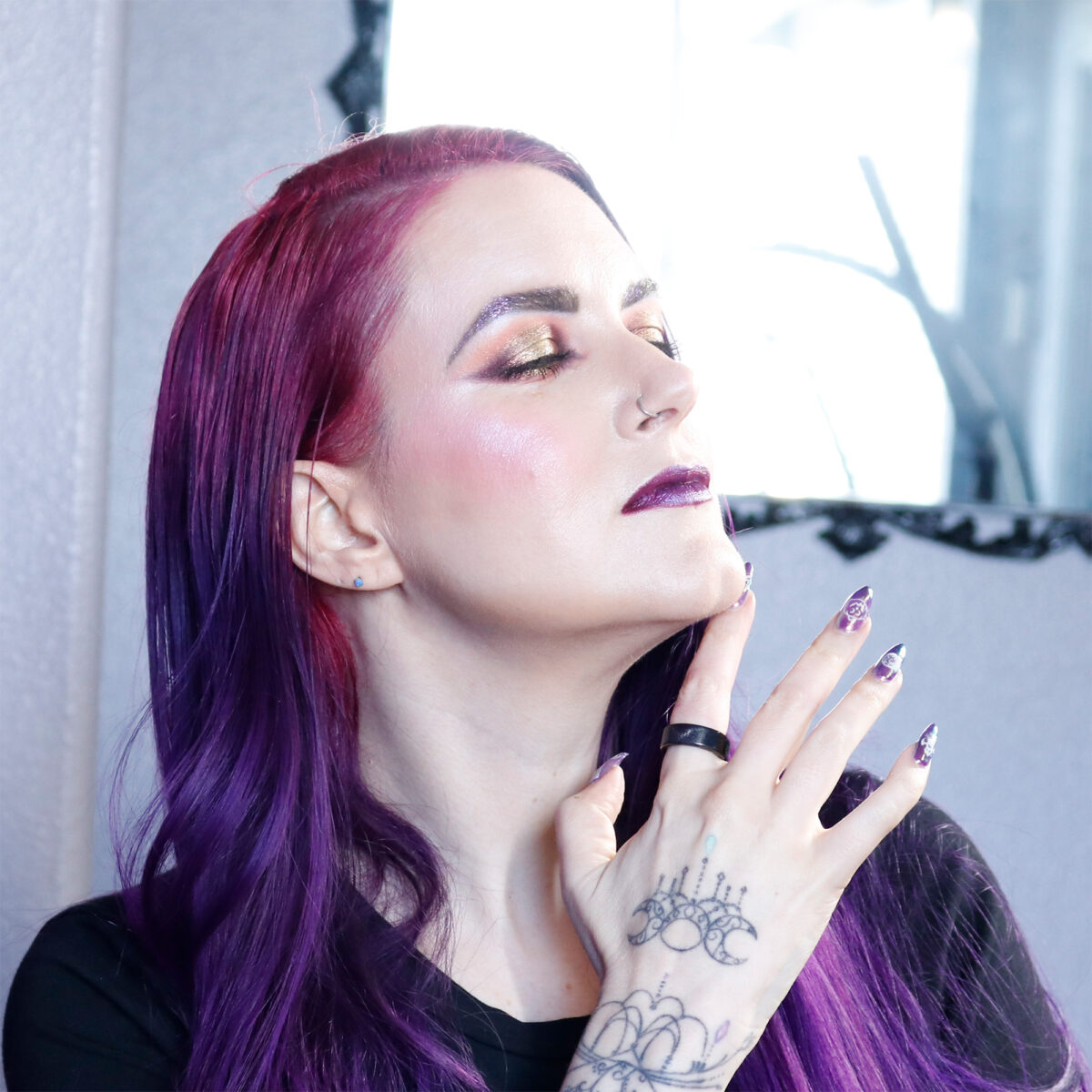 Hello, beautiful creatures! Today I'm sharing a gorgeous Autumn halo eyes makeup look that I did this weekend. 2022 is the year that I make orange more wearable and loved by me, so I created a look centered around Sugarpill Firestarter. To make an orange halo, I decided I needed a gold for the 'spotlight' section and I chose Silk Naturals Luster. And I wanted a deep burgundy red for the darkest corners, so I chose a mix of Lethal Unity and Lime Crime Boticelli.
Everything purchased by me. All opinions my own.
Autumn Halo Eyes Makeup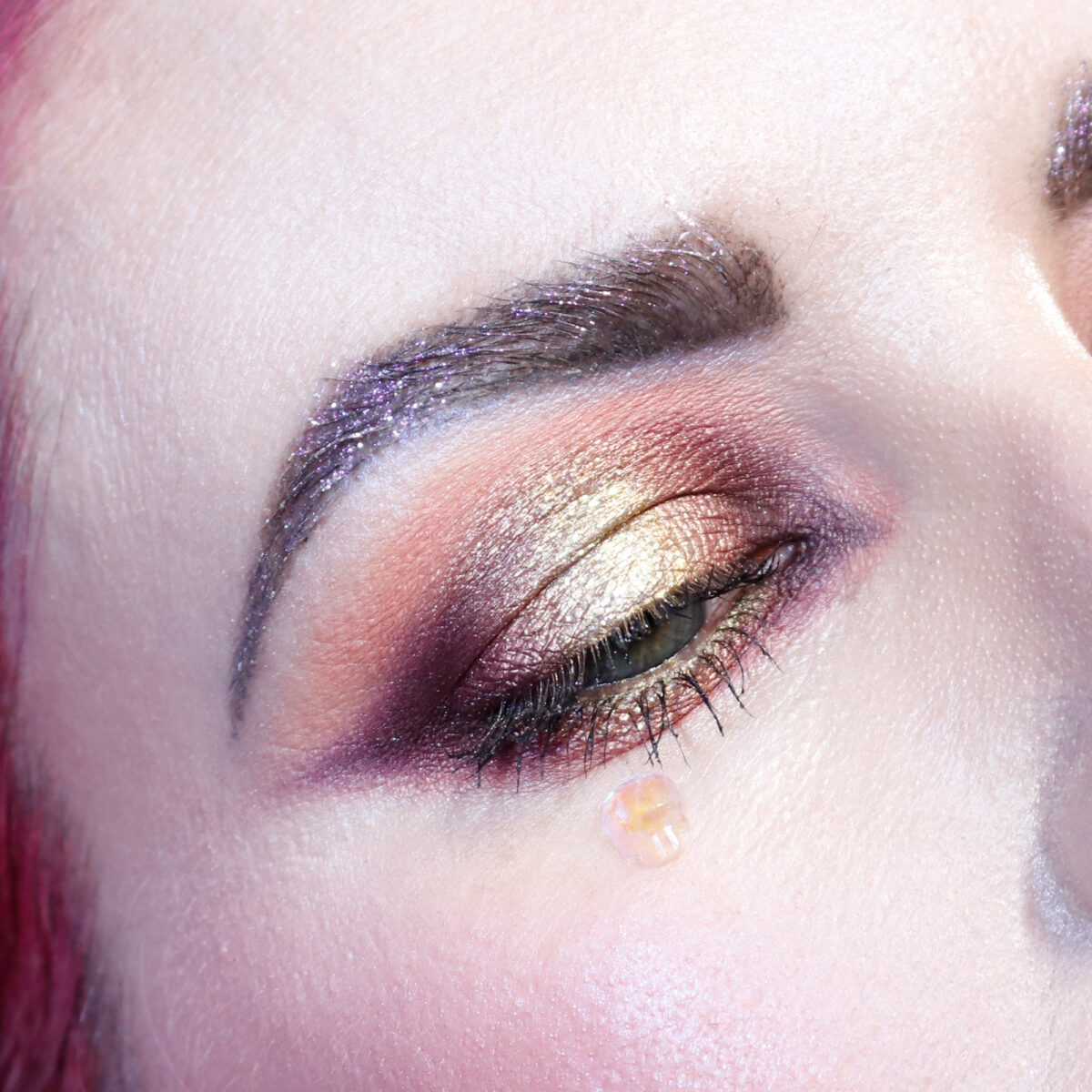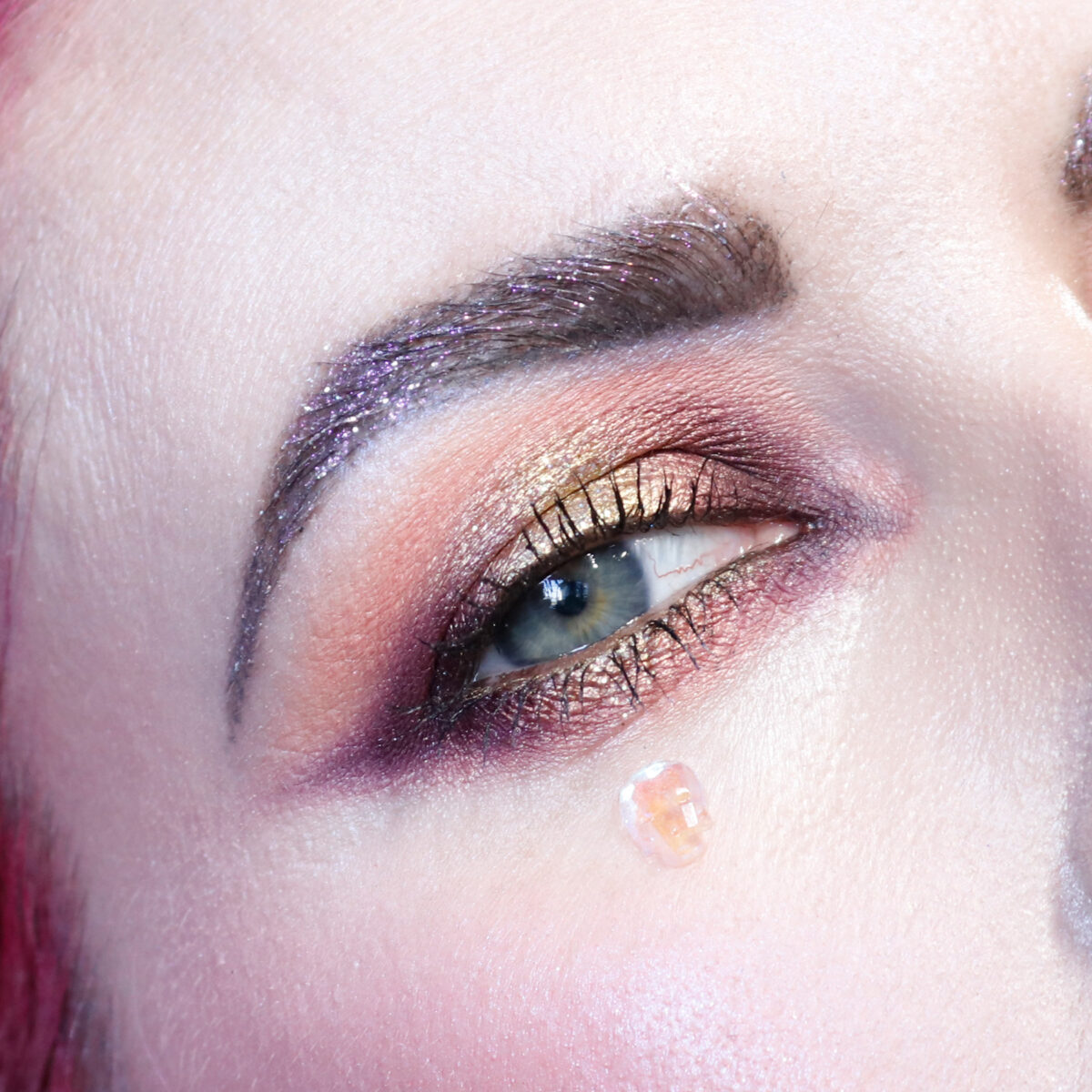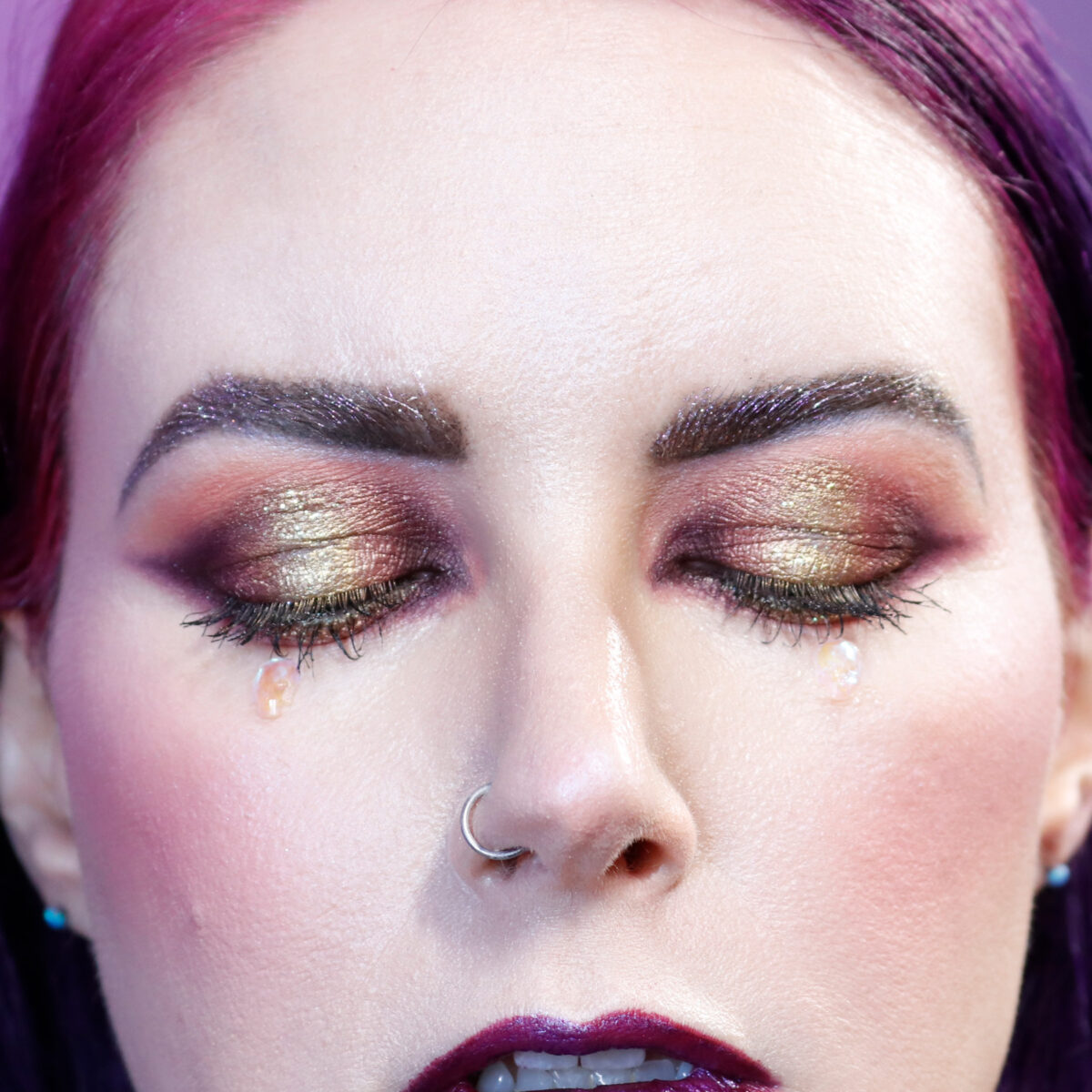 Brows
Lime Crime Sleek Black Bushy Brow pomade pencil
About Face Interlude glitter brow gel
Lime Crime Sleek Black Bushy Brow Pomade Pencil is the perfect natural color for my brows. While I typically prefer more cool-toned black hues for my brows when I have a shadow root, Sleek Black is easy to apply and go.
I'm in love with About Face Glitter Brow Gels, and Interlude is my favorite of the 3 colors I own. I love this gel formula for the way it holds my sparse brow hairs in place all day and the extra sparkle. I may be 44 but I love sparkles, glitter, shimmer, and multichromes!
Eyes
Urban Decay Sin Primer
Lime Crime Botticelli – inner and outer v
Lethal Unity  – blend out edge of Botticelli
Sugarpill Firestarter – crease and lower lid
Silk Naturals Luster – lid and center of lower lid
Melt Bela – to blend out edges of Firestarter
Fenty 105 Pro Filt'r powder – to blend out edges of Bela
Urban Decay Distortion glitter liner – on top of Luster
Urban Decay Reflect pencil (LE, discontinued, golden green iridescent) – waterline
Nabla 4 Cupid's Arrow – tightline
Terra Moons Blood Moon – inner and outer liner
Thrive Causemetics Liquid Lash Extensions Mascara
Black Moon Jellyfish highlight
AB Skull gems
Silk Naturals Luster is gorgeous, but it seems to have been recently discontinued. To amp up the shimmer on my 'spotlight' section of my halo eyes, I added extra glittter. Urban Decay Distortion glitter liner dabbed on top at the center of the eyes for extra dimension and sparkle.
Autumn Cheeks and Lips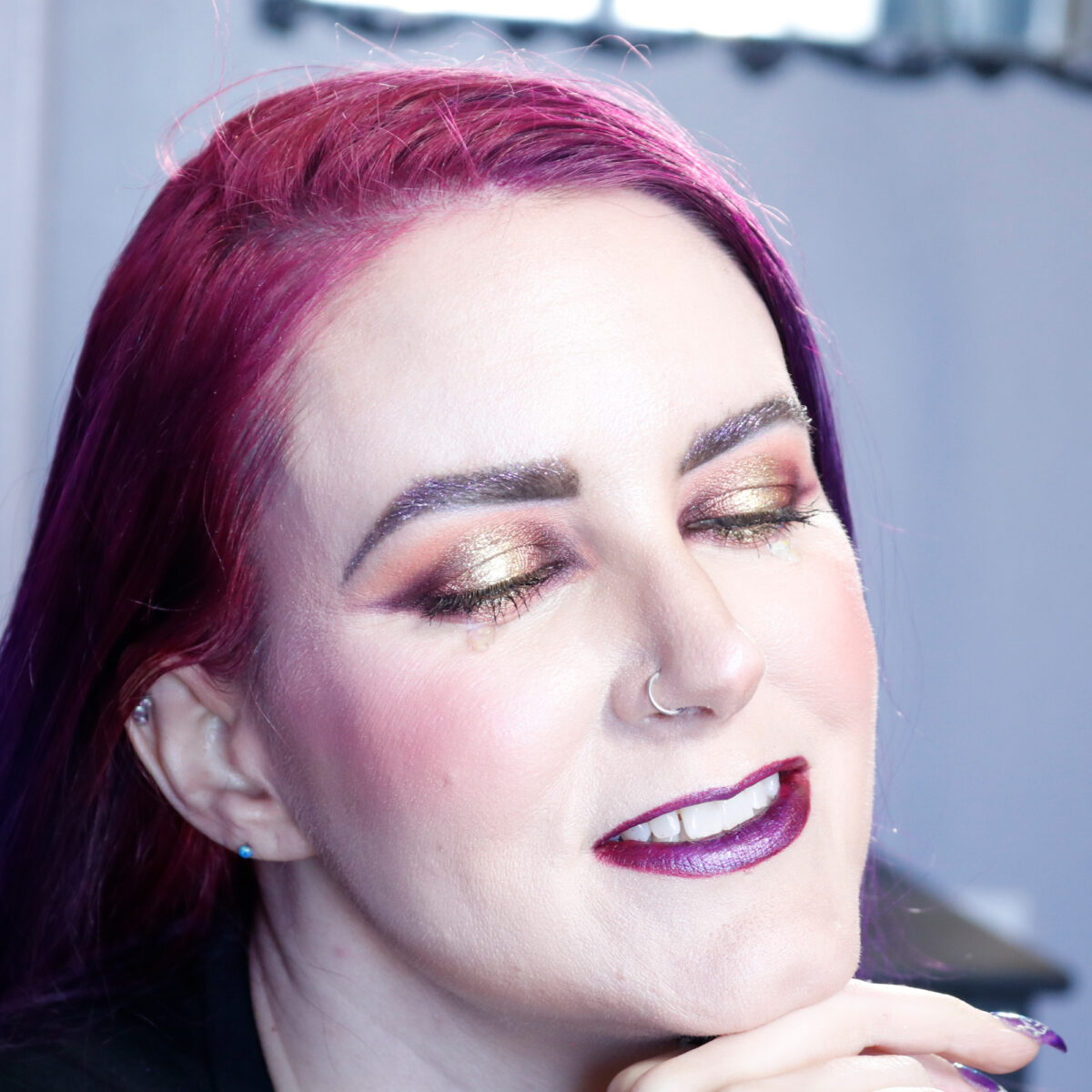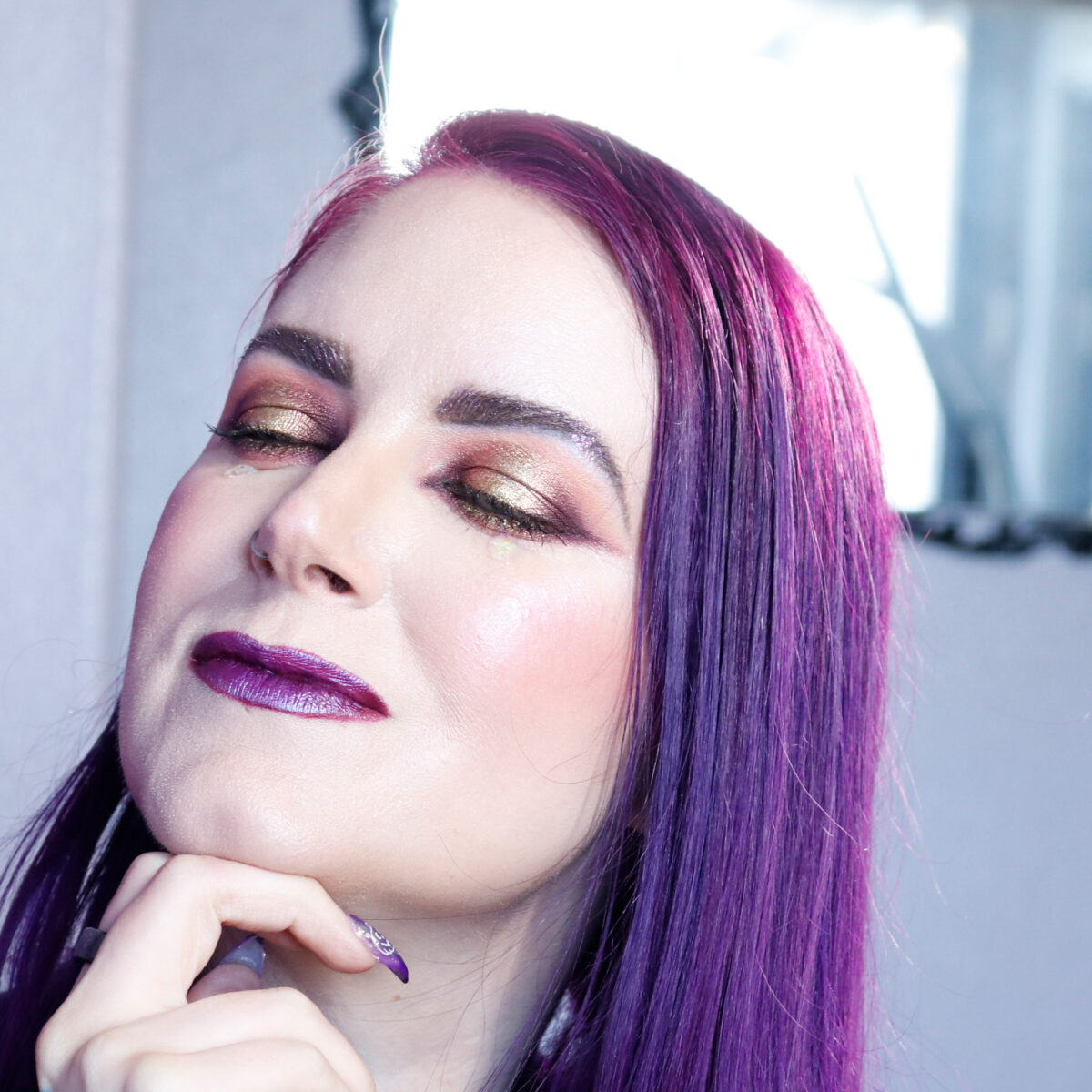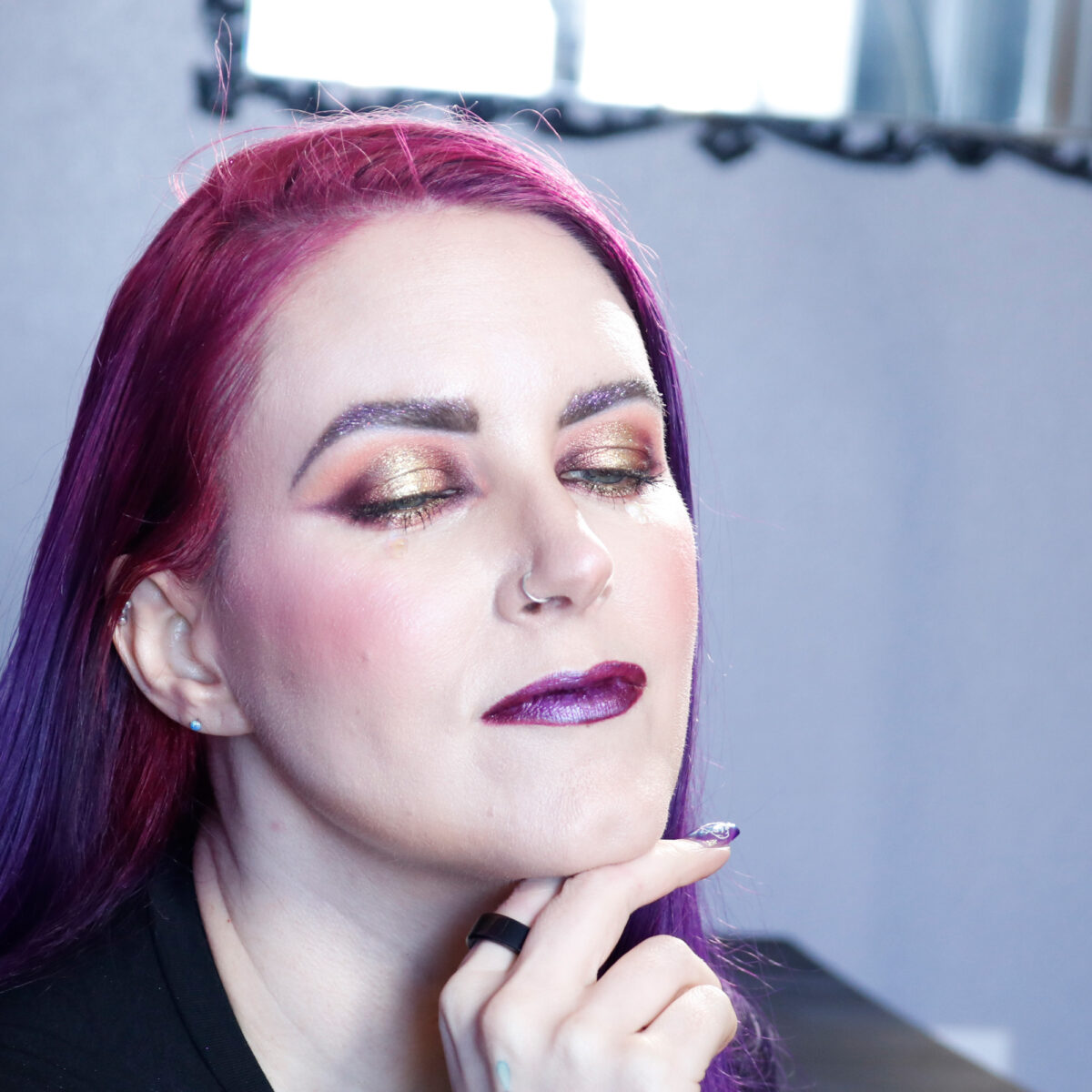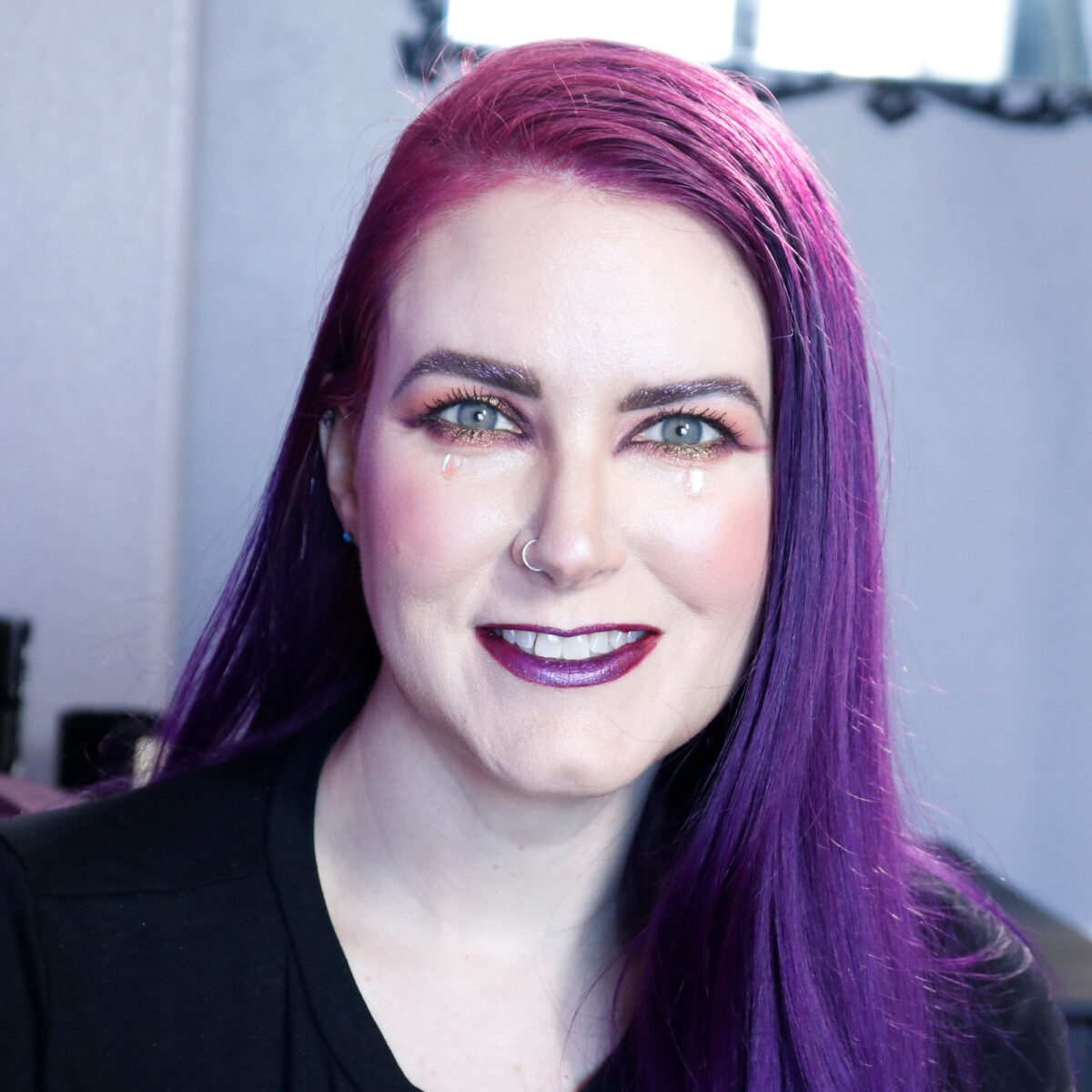 Face
Auric Glow Lust in Morganite 2.0 radiant luminizer
Rituel de Fille Galatea – conceal
Danessa Myricks Yummy Skin Blurring Balm in Shade 1
Sugarpill Superstitious – blush
Lethal Nectar – blush
Melt Kill – blush
Mario Softsculpt Light
Fenty 105 Pro Filt'r powder
Black Moon Jellyfish highlight
Lips
About Face Lost Time pencil
Sugarpill Obscura (Discontinued, deep red berry wine with sparkles)
Black Moon Jellyfish highlight
For my autumn cheeks, I used Sugarpill Superstitious as the main color. I diffused the edges with Lethal Nectar. I used a light hand with a duo fiber brush to add some Melt Kill into the mix too.
I don't know why it took me years to think of blush similarly to eyeshadow, but lately when I've been playing with more than a simple wash of blush, I've started diffusing the edges differently. I already tend to lean towards lighter washes of blush colors these days, but I will choose an even lighter shade of the same blush family, or a color that is in between the blush hue and my skin tone, to help add more dimension.
Black Moon Jellyfish highlight is an ethereally, gorgeous highlighter that is perfect all over my face. I love the glow it adds to my cheeks and lips.
Autumn Halo Eyes Secret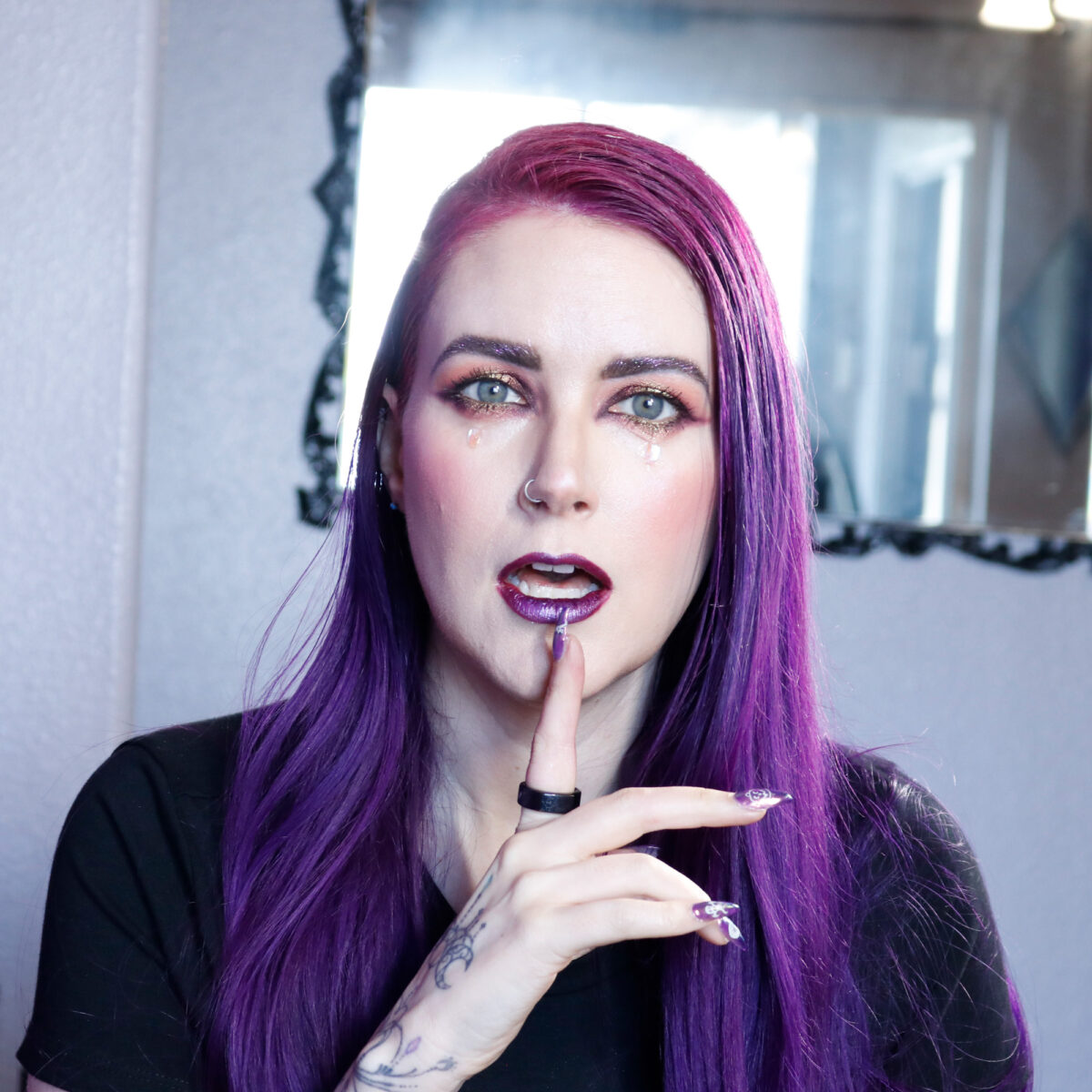 When you're thinking about creating your own Autumn halo eyes, I recommend you pick a central color, as I did with orange, and determine your lighter and deeper colors. In my case because the orange was shimmery, I chose a metallic gold for the highlight and a matte burgundy to ground. As someone with hooded eyes, I really like having a matte to contour at least part of my eyes to help add shape and structure.
If you have issues with blending, try monochromatic hues. Want to learn more about matching colors? Check out this cool article I found on Tertiary Colors and Intermediate Colors. Those are apparently my favorites!
Autumn Makeup Thoughts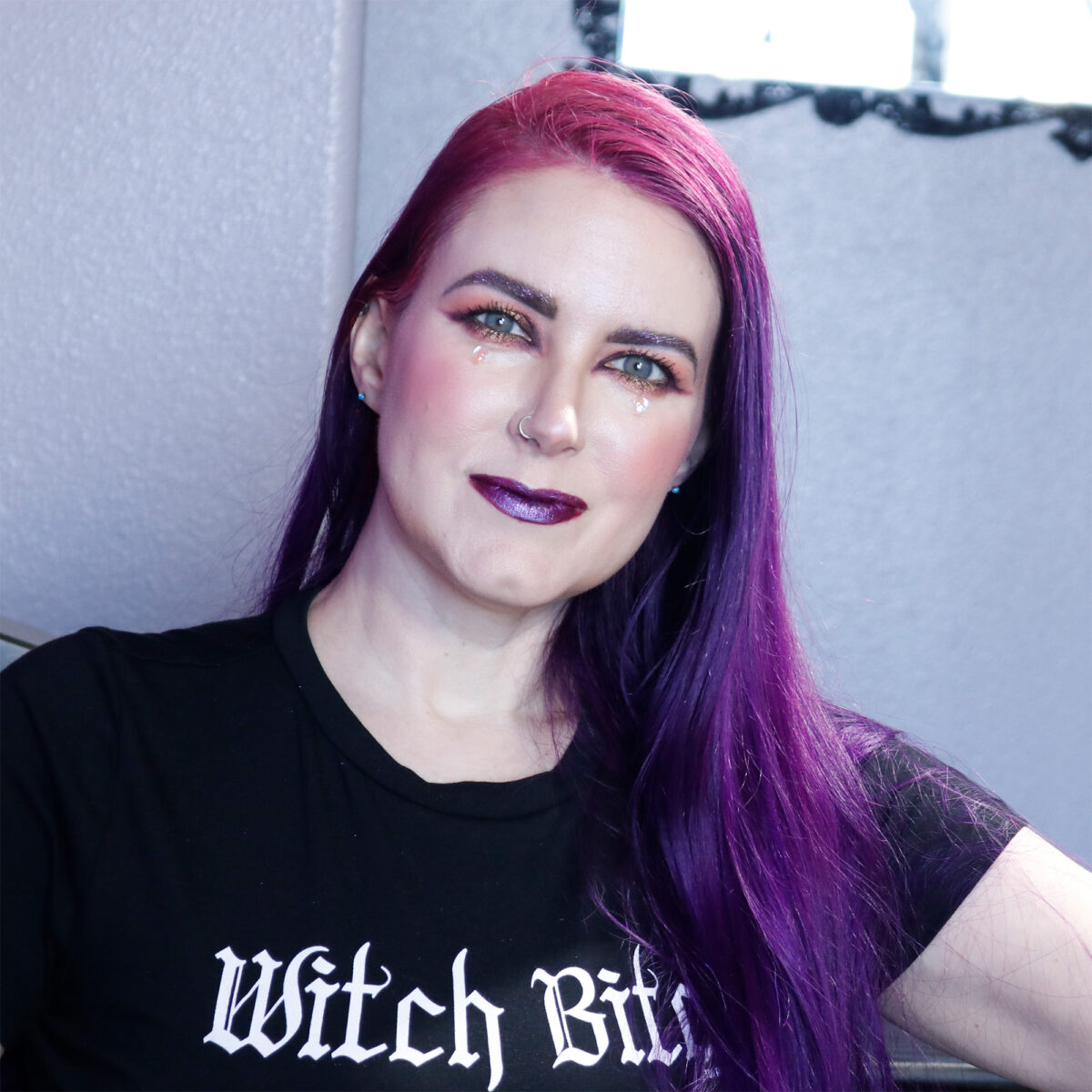 About Face Lost Time pencil is the ideal hue of red wine matte for my taste. Lost Time pairs beautifully with Sugarpill Obscura. I was so saddened to find out that Obscura had been discontinued. I absolutely loved the glitter/sparkle Sugarpill bullet formula. I'm grateful I still have over half this tube of Obscura left, as well as Hydro and Bliss.
A deep red wine lip is one of my favorites for Autumn (in addition to pure black or black with iridescence). Obscura on top of my wine pencil looks amazing, especially when topped with a bit of iridescent blue from Black Moon Jellyfish. I would love to see Kaleidos create this deep red wine with blue-violet iridescent glow in their cloud lab lip clay formula..
Speaking of an awesome lip color formula, my favorite black lip color these days is Kaleidos Scorpion Fruit. It's a purple-based black that looks amazing!
Autumn Halo Eyes Makeup Final Thoughts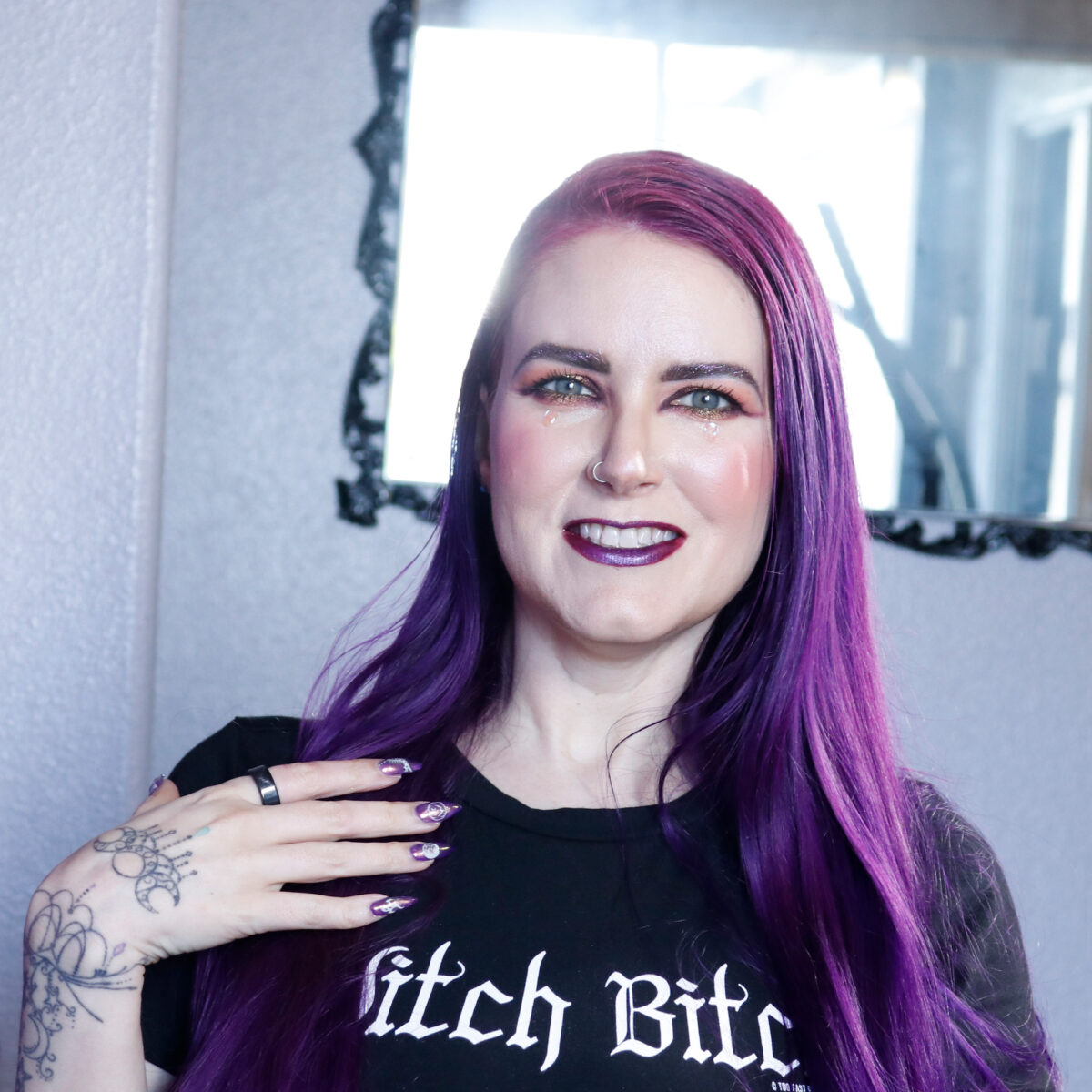 I hope that Autumn is off to a wonderful start for you. I've been slammed at work, but trying to film an Autumn Fashion Inspiration video for you, sharing my favorite staple outfits. I've tried twice so far but hated how the footage turned out. I will be sharing more Autumn makeup and nail looks with you.
What are you excited for this Autumn season?
More Autumn and Halloween Features