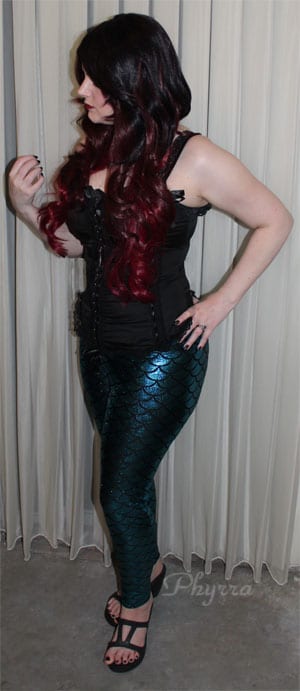 Saturday night was my friend's Halloween party. The theme this year was Circus of the Night. I didn't know what I was doing until the very last minute and this is the outfit that I threw together. I went as a mermaid whose tail had turned into legs, but she hadn't lost her scales. I figured that would fit for a freak show / circus.
Outfit
Funhouse corset top (not a real corset, though I think I'm going to take out the stupid plastic boning and replace it with real boning.)
Mermaid Leggings (from this amazing seller on Etsy, Alicia Zenobia)
Tokyo Crush Triflect Midnight Flames Wig
crocs heels (see a similar style here)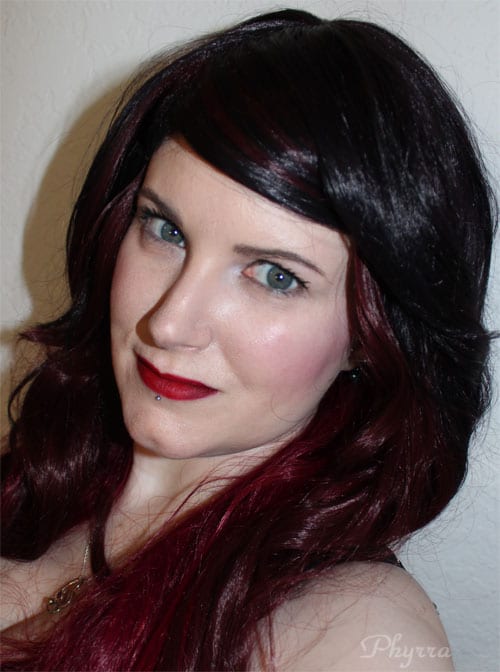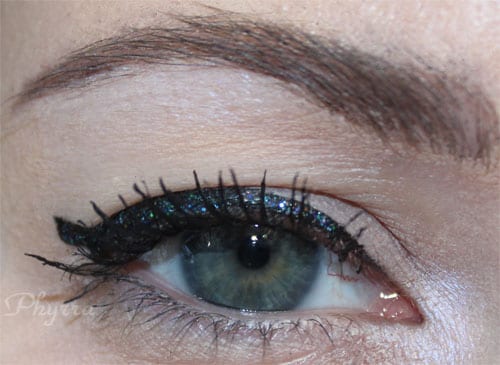 Eyes
Too Faced Shadow Insurance
Jesse's Girl Waterproof Liquid Eyeliner
Urban Decay Aura (blue side) – inner corner andunder brows
Urban Decay Spandex Glitter Eyeliner – on top of Jesse's Girl
Urban Decay Brown Sugar Brow Box (dark side) – outer brow
Anastasia Granite Tinted Brow Gel – inner brow
Ardency Inn Mascara
Face
Cover FX Mattifying Primer
Cover FX CC Cream in N Light
Illamasqua Crush Blush
Illamasqua White Light Skin Base Lift
bareMinerals Stroke of Light Eye Brightener in I
NARS Light Reflecting Loose Setting Powder
Urban Decay All Nighter Long-Lasting Makeup Spray
Lips
Too Faced Lip Insurance Primer
Urban Decay 24/7 Glide-on Lip Pencil in 69
Melt Cosmetics 6six6 Lipstick – outer corners of lips
Melt Cosmetics Belladonna Lipstick – inner lips

Nails
Cult Nails Get It On Base Coat
Zoya Storm (2 coats)
KBShimmer Clearly On Top Quick Dry Top Coat

If I'd had time, I would have done a gradient from Zoya Storm to piCture pOlish O'Hara (black to red gradient) on my nails.
My makeup lasted all night, thanks to the UD All Nighter. My lipstick didn't budge at all. I really did expect it to stay in place between the primer, lip pencil and matte formula that I chose. The Melt Cosmetics lipsticks are really good with sticking around and not coming off on your teeth! We didn't get home until after 3am so I was really pleased with the results. I always love Halloween and this was a great party.
What did you do last night? What are you planning on wearing for Halloween?