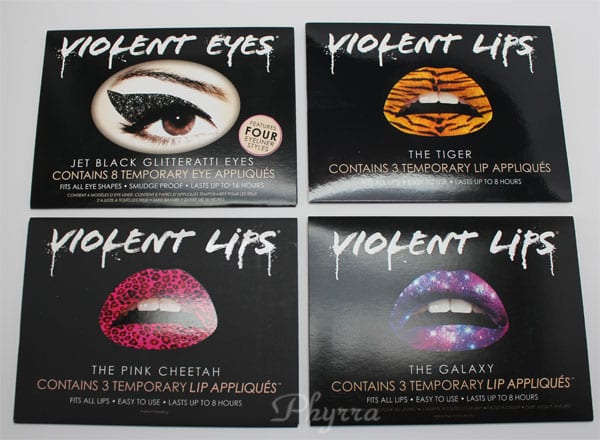 I just wanted to tell you about Violent Lips for Halloween. Violent Lips is a great way to glam up your look. They've got a ton of different eyeshadow stickers and lip stickers available. You can see their Halloween suggestions.
PR sample.
Violent Lips for Halloween

If you like this video please give it a thumbs up!
About Violent Lips
The ultimate form of self-expression, the Violent Lips Collection offers a statement-making line of Lip patterns that range from bold animal prints and fun polka dots, to sexy fishnets and picture-perfect Glitteratti sparkle.
This innovative line of Temporary Lip Appliqués will keep the print and color on your lips for up to 8 hours. Vitamin enhanced with a smooth feel and glossy finish, the appliqués are easy to apply to lips of all sizes.
Violent Lips is cruelty free.
Price
$9.95 for a set of lips or eyes
This was my first time trying out Violent Lips and Eyes. The eyes take a bit of practice. You need to cut the shape down to your eye size, which is easy. However, the process to put it on your eyes is what was tricky for me. You have to moisten the paper backing enough that it's flexible and will let the sticky side fit to your eye shape, but you don't want it too wet where that paper slips off and then the eyeshadow sticks to your fingers, because that will cause it to rip. You can see the Violent Lips Eyeshadow Video tutorial here. Tips on applying the lips.
Anyway, this isn't a review, but I have one coming up.
What's your favorite Violent Lips or Eyes pattern? Do you like these? Let me know in the comments below!
Last Updated on