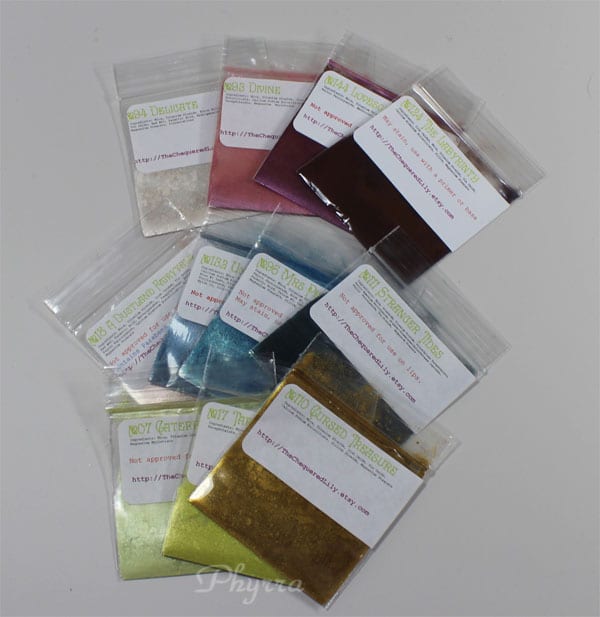 Several months ago I ordered eyeshadows from the Chequered Lily Apothecary on Etsy. I'm just now getting around to sharing this review. The Chequered Lily Apothecary is a cruelty free indie company, and many of the shades are vegan. The shop just recently came back from hiatus so I thought now would be a good time to share this review.
The Chequered Lily Apothecary Review
Price
$6.50 for full size
$5.50 for 10 samples
All colors swatched on Gosh primer.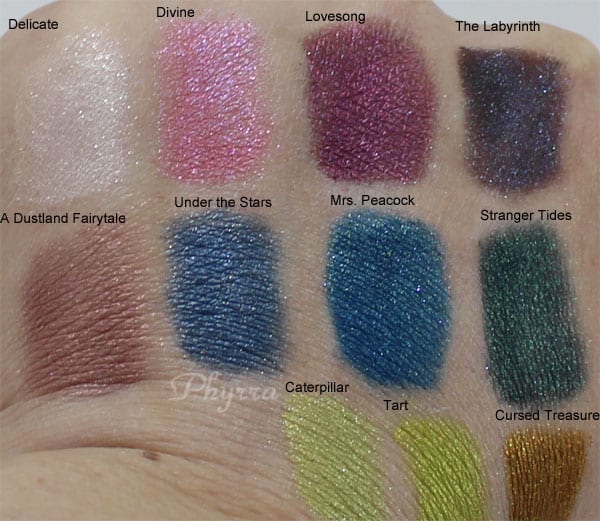 Delicate
Palest sparkling ivory
My Take
Pale ivory with pink undertones and rainbow sparkles. This is a gorgeous highlighter.
Divine
Warm flamingo pink with pink and blue reflect and pink glitter.
My Take
Midtone pink with pink and blue reflects.
Lovesong
Metallic burgundy-red with red pearl and blue glitter and iridescence.
My Take
Metallic burgundy with red and blue sparkles. This one is really gorgeous because of the red and blue sparkles.
Labyrinth
Muddy Deep Violet-Brown with Blue and Aqua Sparkle.
My Take
Deep purple with brown undertones and strong blue sparkles. Also, I love the movie Labyrinth. Gimme David Bowie any day <3
A Dustland Fairytale
Pale Dusty Rose with Gold and Copper Highlights.
My Take
Nude rose with gold and copper iridescence.
Under the Stars
Soft & Sheer Dirty Denim-Blue with Strong Gold Shimmer.
My Take
Pretty denim blue with gold shimmer.
Mrs. Peacock
Dark Golden Teal with Violet Sparkle.
My Take
Dark blue teal with golden iridescence and blue-violet sparkles. Another favorite of mine.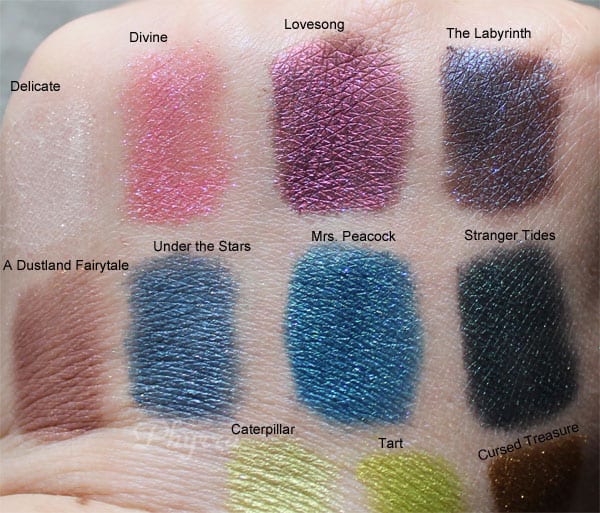 Stranger Tides
Deepest shimmery green/teal blue with teal glitter.
My Take
Dark teal blue on a blackened base with golden-teal iridescence.
Caterpillar
Pale, golden spring green with yellow shimmer.
My Take
Soft yellow-green with coordinating shimmer
Tart
Electric sour apple green with chartreuse glitter.
My Take
Bright Chartreuse.
Cursed Treasure
Richest metallic blackened gold with bronze reflect and green-gold glitter
My Take
Aged gold with bronze  tones and gold sparkles.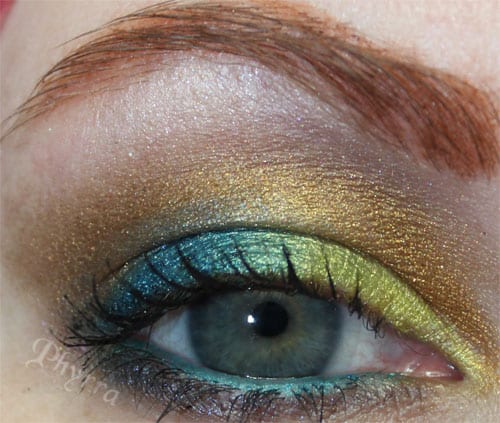 I think the colors are lovely and they're reasonably priced. I appreciate that many of the shades are vegan. I also like that in each individual eyeshadow listing the owner notes if items are paraben free, lip safe, etc.
Overall, if you're looking for a new indie to order from, I think the Chequered Lily Apothecary is a nice indie to check out.
What's your favorite new indie?
Last Updated on