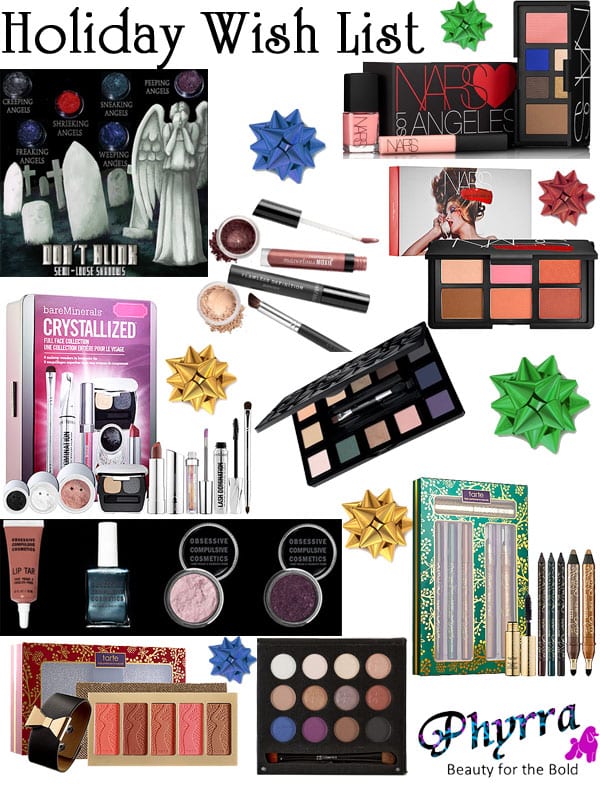 Many of you emailed to ask me to create a Holiday Wish List. It's still pretty early, but I put together a list of great cruelty free makeup sets that are on my wish list!
Pr + purchased by me.
Holiday Wish List
1. bareMinerals Crystallized set – $54
This set is made up of iridescent and holographic hues, which are my favorite! I love both! All things holographic or iridescent, please!
2. bareMinerals Smoky & Sultry – $25
(Available Dececember 2013). This nude and chocolate cherry set is super cute and who wouldn't want products named Sultry or Temptress?
3. bareMinerals Mixmaster – $48
I just love the whole concept for this palette! 12 shades included. You can pop out any 3 shades into the ready to go travel compact section of the palette. How cool is that?
4. NARS I Love Los Angeles Set – $75
This cute set comes with Outremer (bright true blue), Abyssinia (delicate pearl), Etrusque (antique gold), Bali )neutral brown), Deep Throat blush, Laguna bronzer, Turkish Delight gloss and Trouville Nial Polish. I really want it for the eyeshadows.
5. NARS One Night Stand Cheek Palette – $65
It's another nars cheek palette, like my beloved Danmari. It has Devotee (alabaster glow), Mistinguette (bright pink), Goulue (flreshy pink), Laguna Bronzer (brown with gold shimmer), Orgasm (peachy pink with gold shimmer), Deep Throat (sheer peach). This is really a steal for the price.
6. tarte Off the Cuff Cheek Palette – $42
This comes with 4 beautiful blushes including Dollface (light pink), Dazzled (soft rose), Darling (nude melon), and Crave (pink peach). It also comes with Park Ave Princess bronzer and a cute cuff.
7. tarte Stop & Stare 6-Piece Eyeliner & Lash Set – $39
This set comes with 2 of the smoldereyes pencils – one in Rose Gold (YAY) and the other in Taupe. It comes with liners in Onyx, Purple Garnet and Azurite Green. And it also comes with a mascara. I really love the smoldereyes pencils the formula is super long wearing.
8. It Cosmetics Luxe Eyeshadow Palette – $38
I've never tried any It Cosmetics eyeshadows, but if they're anything like the foundations and blushes, they're amazing.
9. Morgana Cryptoria Don't Blink Dr. Who Eyeshadow Collection – $30
It's Dr. Who inspired, of course I want it! Creeping Angels (sparkling champagne grey), Freaking Angels (purple duochrome), Peeping angels (deep mauve wine duochrome), Shrieking Angels (vivid red), Sneaking angels (green duochrome), and Weeping Angels (blue duochrome). Plus they're duochromes! <3 And did I mention cruelty free and vegan?
10. Obsessive Compulsive Cosmetics The Scream Queen Set – $42.50
This is an awesome vegan makeup set from OCC Makeup. It has Marion (rose beige neutral lip tar), Phantasm (metallic pastel blue nail polish), Datura (pink lavender duochrome eyeshadow), Overlook (deep purple eyeshadow).
What's on your wish list right now?