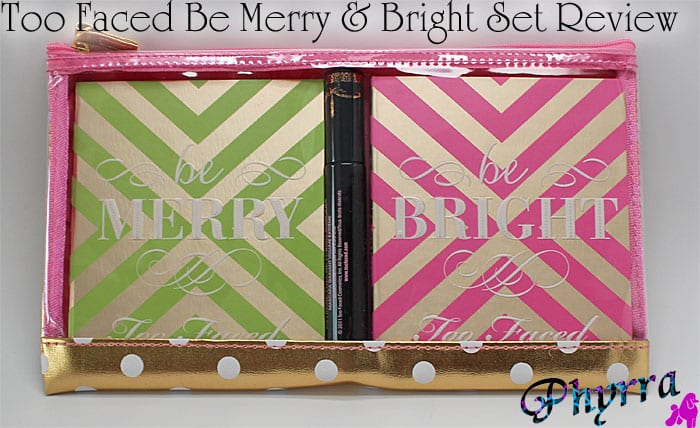 I'm so excited to share the Too Faced Be Merry & Bright Set with you! It's from the new Too Faced Joy to the Girls Holiday 2013 collection. Be Merry & Bright is my favorite from the Too Faced Holiday collection. It's a set of two eye and cheek palettes, mascara, and makeup bag. The makeup bag has been designed by celebrity designer Mary McDonald. This collection is a collaboration between Jerrod Blandino and Mary McDonald.
PR sample
Too Faced Be Merry & Bright Review

Please give this video a thumbs up if you like it and don't forget to subscribe to my channel!
The Website Says
These two individual palettes feature a total of 12 merry and bright shadows, 2 perfect blushes, 2 sexy bronzers and a volumizing Lash Injection mascara – to create a festive face for every Christmas party. Or break apart and give one palette away and keep one for yourself! The two palettes are all in a purse-friendly kit (inspired by celebrity decorator and TV personality Mary McDonald) with a full-size Lash Injection Mascara, so you can create your look morning, noon or night.
2 Palettes
6 Eye Shadows Each
1 Bronzer/Highlighter Each
1 Blush Each
1 Full-Size Lash Injection Mascara
Price for Too Faced Be Merry & Bright
$45 ($290 value)
Value Breakdown
Each eye shadow is .06 oz, each cheek color is .14 oz, and a full size mascara. The palette is valued at $290 with $216 in eyeshadow, $48 in cheek products, $21 in mascara and $5 for the makeup bag.
The Lash Injection Mascara is a tubing mascara. I've never had any luck with them on my lashes, but I know many people who swear by them. So while the mascara isn't for me, I'll stick to my Better Than Sex Mascara, it may be one you love.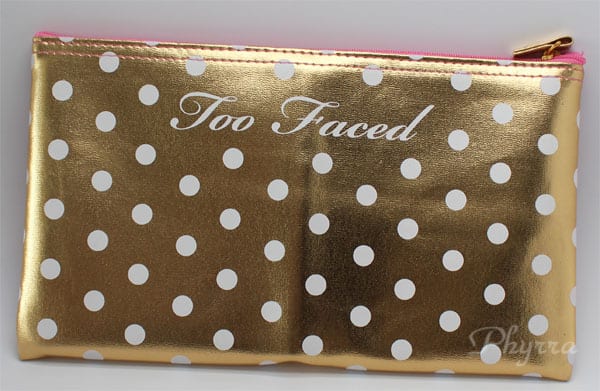 The makeup bag is super cute and festive with the gold and white polka dots.
Be Merry Palette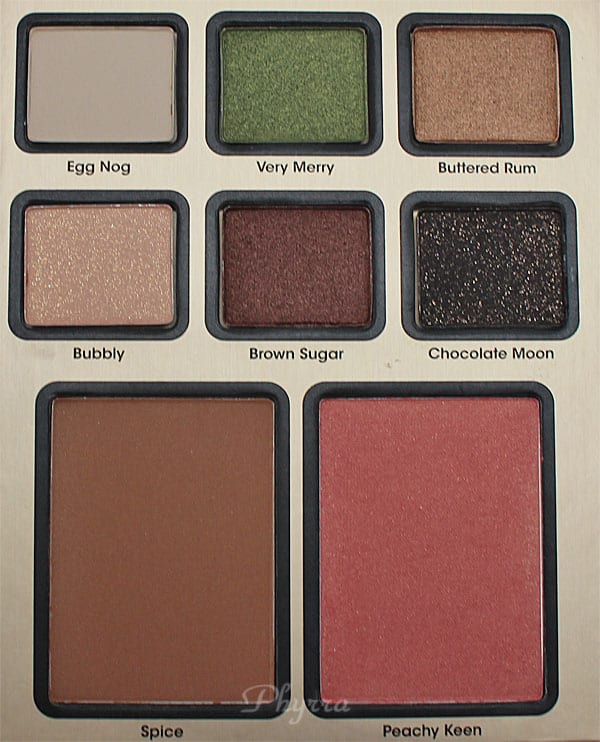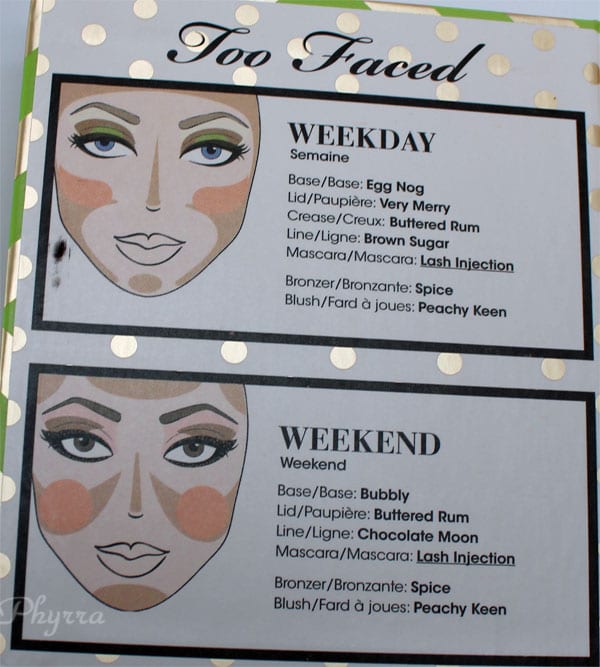 Egg Nog
pale creamy light beige matte
Very Merry
golden green with yellow tones
Buttered Rum
bronzey golden brown
Bubbly
Peachy nude with gold shimmer and gold iridescence. This reminded me of the old Too Faced eyeshadow duos Sexpresso & Peach Fuzz or Silk Teddy & Erotica.
Brown Sugar
dark chocolate brown
Chocolate Moon
Dark brown matte with gold shimmer (reminds me of 88% dark chocolate)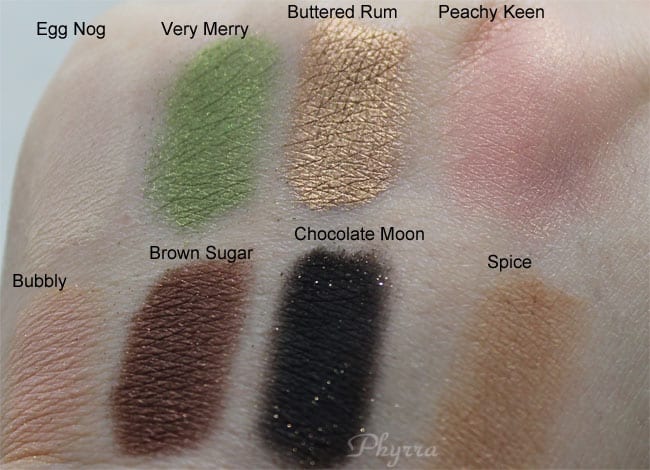 Spice
light tan
Peachy Keen
Peachy pink with gold shimmer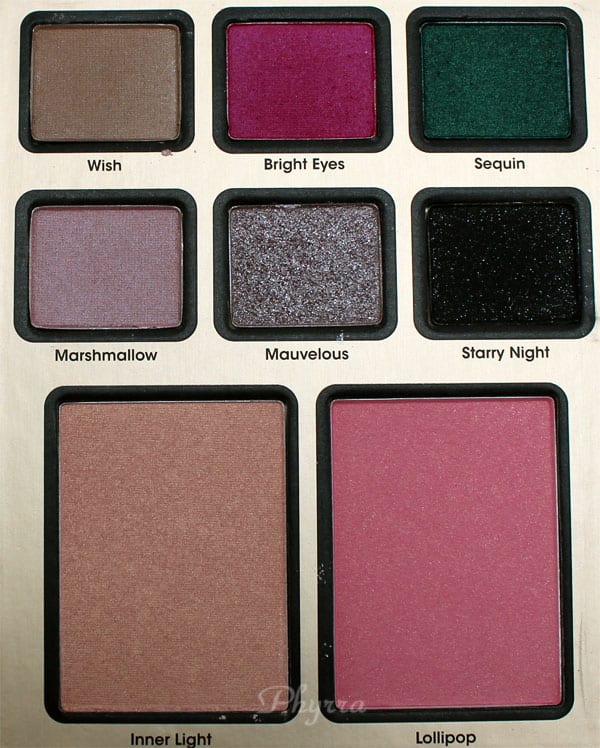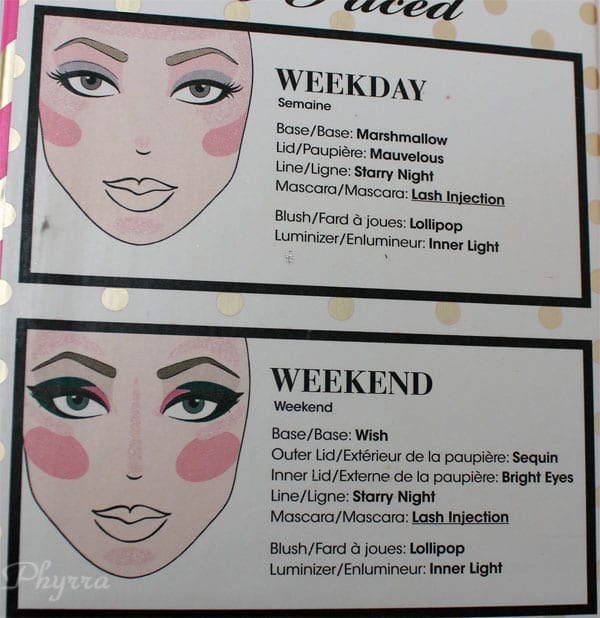 Wish
light fawn brown
Bright Eyes
vibrant hot pink
Sequin
teal green
Marshmallow
soft dusty baby pink
Mauvelous
Light pink with glitter fallout. I don't particularly like this shade. It's too close to Marshmallow, except it's not as good quality wise. I would have preferred to see a Silver, Deep purple, Burgundy/Wine or Gold instead of this shade.
Starry Night
matte black with silver shimmer.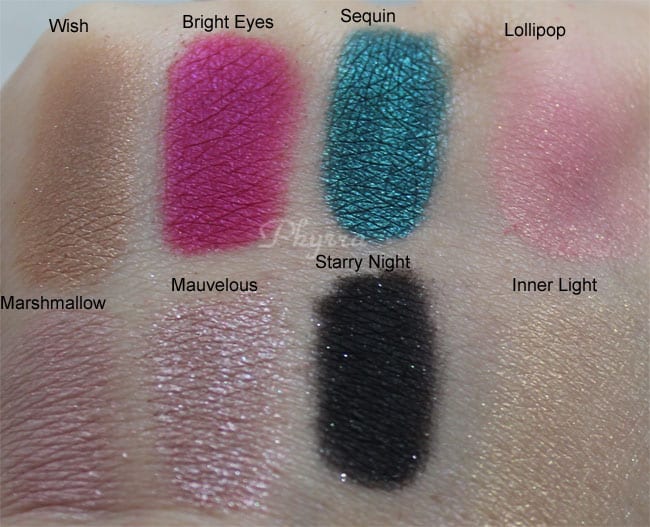 Inner Light
pale iridescent pink champagne with golden shimmer
Lollipop
pink with blue undertones and golden champagne shimmer
Overall I think this is a fantastic set of palettes for the price. There's only one eyeshadow in the entire palette that I felt had fallout and was out of place. Everything else is great. You're getting a ton of products.
What do you think of Too Faced Be Merry and Bright? Love it? Hate it? Gotta have it? Let me know in the comments below!
Last Updated on