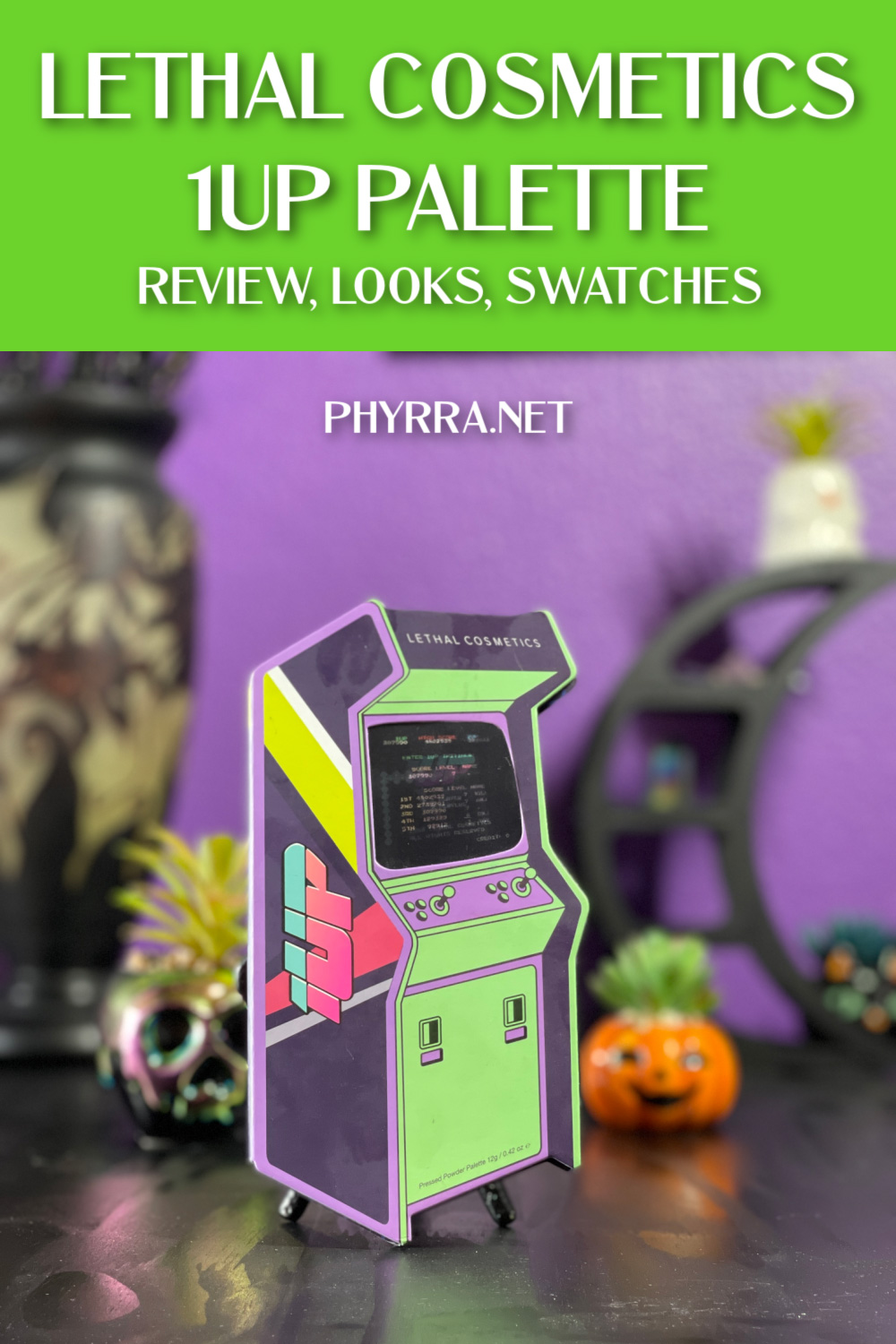 Hello, beautiful creatures! Today I'm sharing my Lethal Cosmetics 1UP Palette review. As you know, I'm a fan of the Berlin-based indie makeup brand and its eyeshadow formula. While I certainly need another eyeshadow palette as much as I need another piercing (i.e., I want it, but do I need it?), I decided I had to buy the Lethal Cosmetics 1UP Palette because it has UV-reactive eyeshadows, and I would wear every color.
Where to Buy
Lethal Cosmetics and Camera Ready Cosmetics
Price
$38 for 12 eyeshadows (3 neon mattes, 3 classic mattes, 3 trichromes, 3 duochromes) / 12 g / 0.42 oz
The last Palette I arguably bought from Lethal Cosmetics was the Nightflower Palette. I didn't buy it as a palette; I bought almost every color as a single because I didn't realize I'd actually want them all. Silly me! When I saw the 1UP Palette and that it had UV reactive shades, I realized I should pick it up because it would make me happy.
And yes, it's already been requested that I swatch my entire Lethal collection by color family, so that is in the works! I know you want to see all the cool and purple tones.
About Lethal Cosmetics
Lethal Cosmetics is an indie makeup company based in Berlin, Germany. Their products are 100% cruelty-free and 100% vegan. Lethal's mattes are excellent because I can build them up, and they blend out for me nicely.
Packaging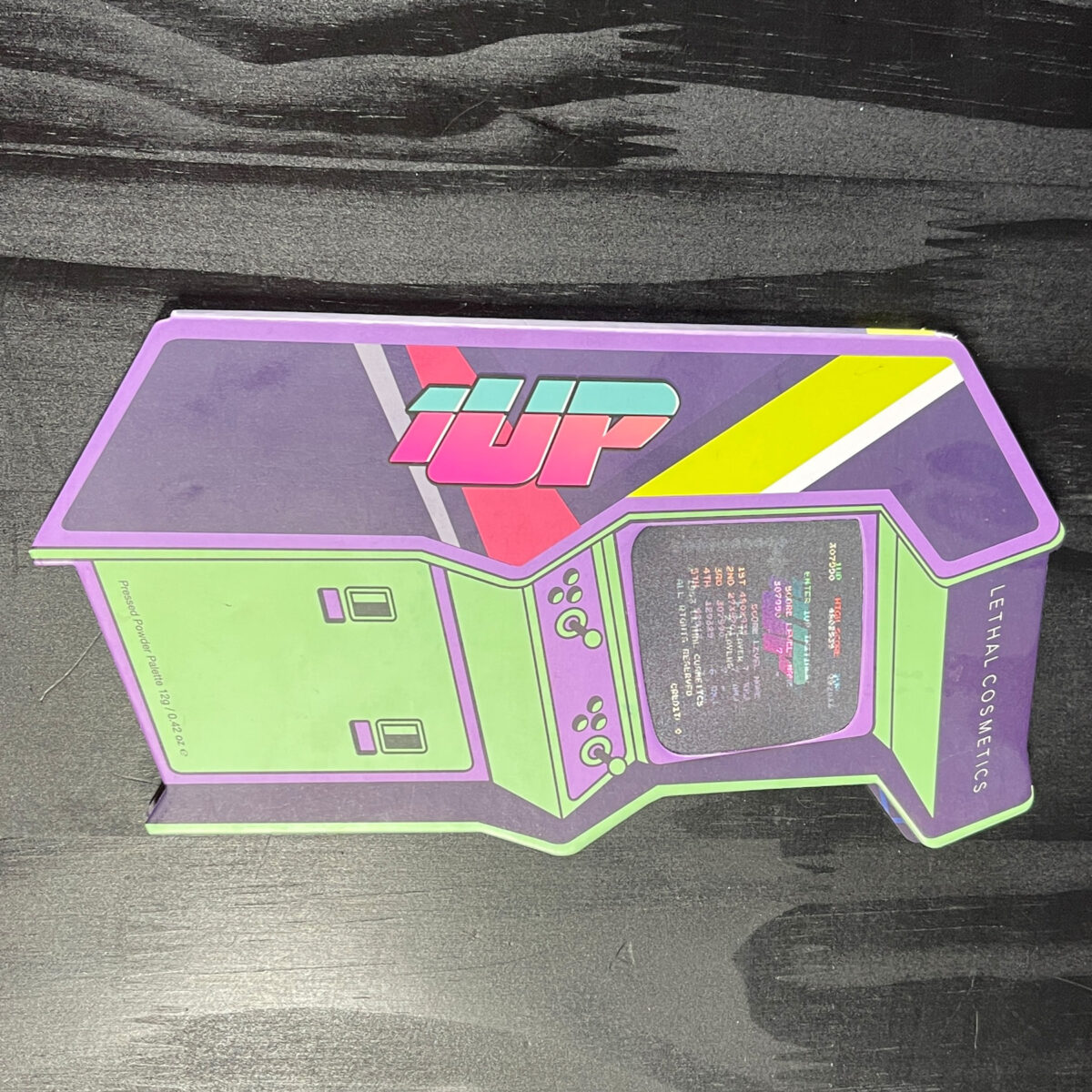 One of the things I love the most about the Lethal Cosmetics 1UP Palette is the thin, sturdy packaging. It's in the unique shape of a classic 80s arcade machine. The 'screen' on the arcade machine changes between 1UP and high scores.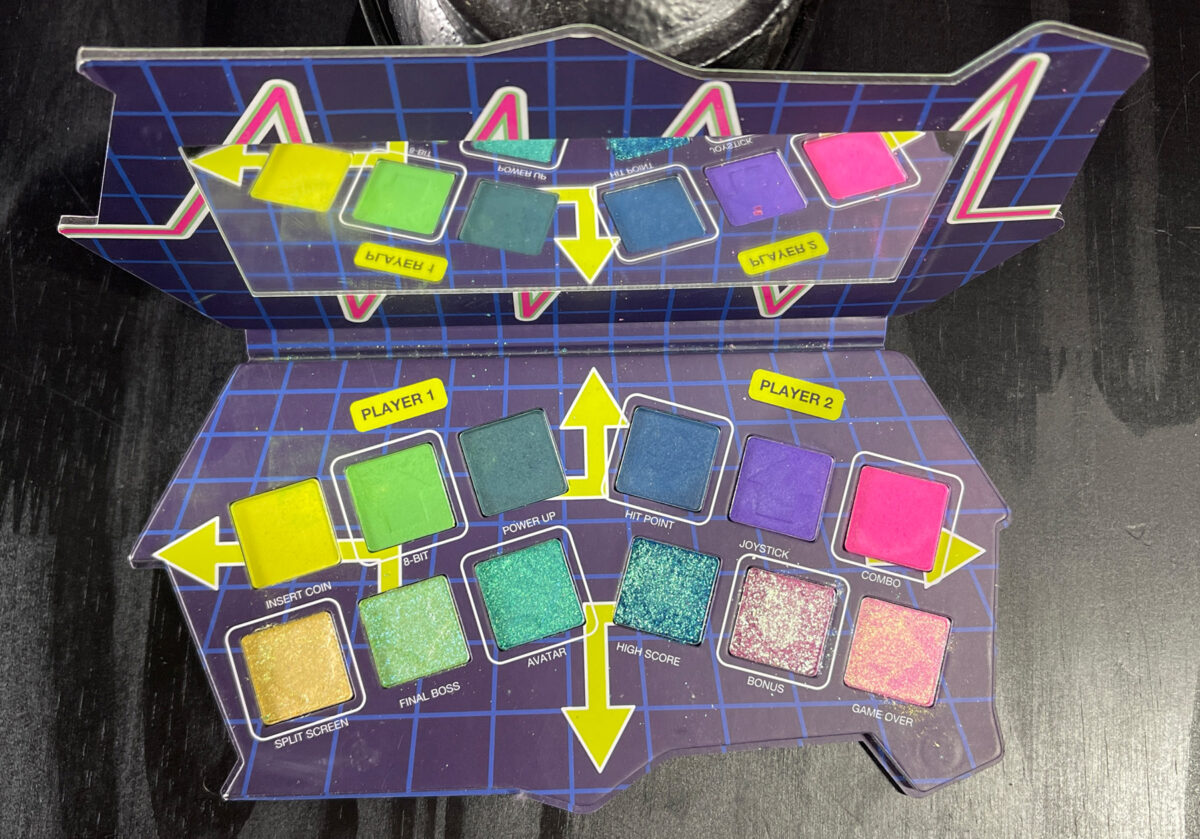 Inside the 1UP Palette is a mirror on one side. The shadow side looks like a 2-player arcade machine, with yellows and greens on Player 1 and blues, pinks, and purples on Player 2. It's such a well-thought-out, fantastic palette.
About the Lethal Cosmetics 1UP Palette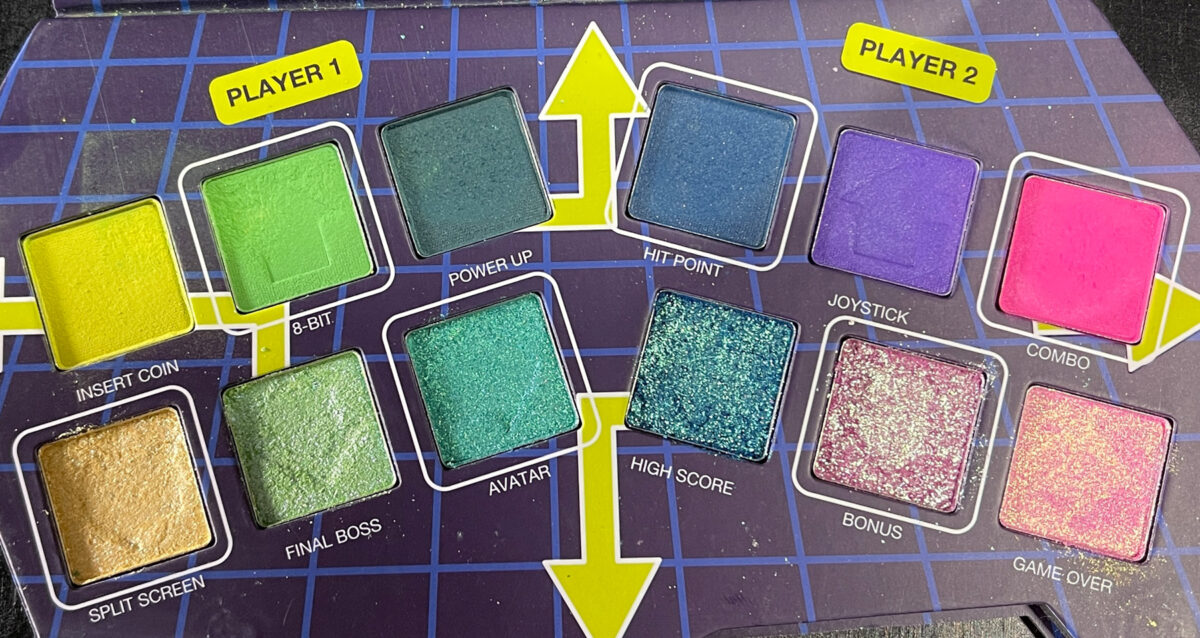 Shade Descriptions of the Lethal Cosmetics 1UP Palette
Insert Coin – lemon yellow neon matte (UV reactive)⁠
Split Screen – sparkly trichrome with yellow/green/red shift⁠
8-BIT – harlequin green neon matte (UV reactive)⁠
Final Boss – metallic trichrome with spring green/blue/pink shift⁠
Power Up – deep teal matte
⁠Avatar – metallic emerald green/pink duo-chrome⁠
Hit Point – deep indigo blue matte⁠
High Score – sparkly petrol blue/green duo chrome⁠
Joystick – medium violet matte⁠
Bonus – sparkly trichrome with mauve/blue/green shift⁠
Combo – bubblegum pink neon matte (UV reactive)⁠
Game Over – metallic pink/gold duo-chrome⁠
Lethal 1UP Palette Swatches
I took these swatch photos in different lighting conditions – in direct sunlight outdoors, in indirect sunlight (shade), and indoors under artificial light. I have a very fair neutral to cool yellow skin tone that turns olive when sun exposure.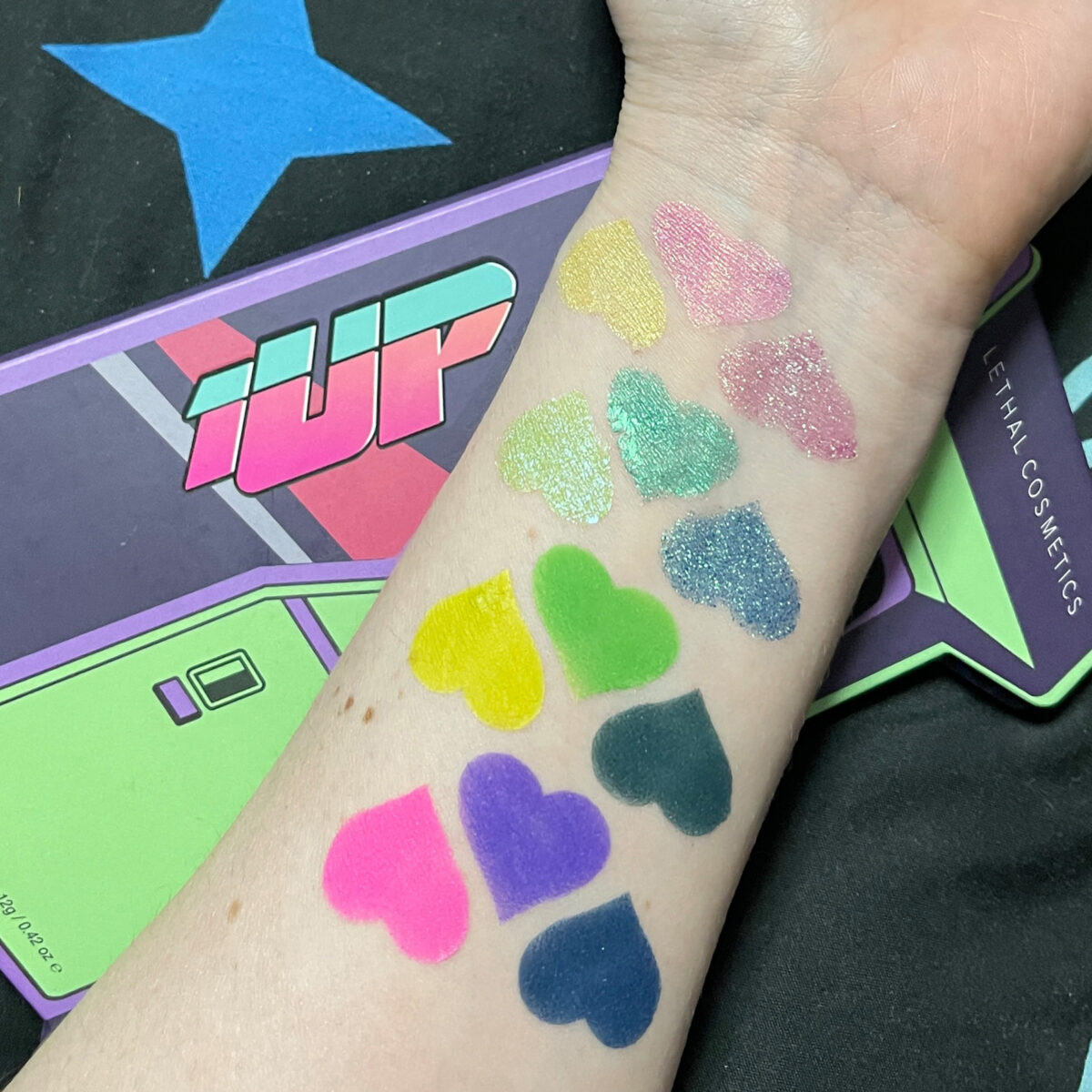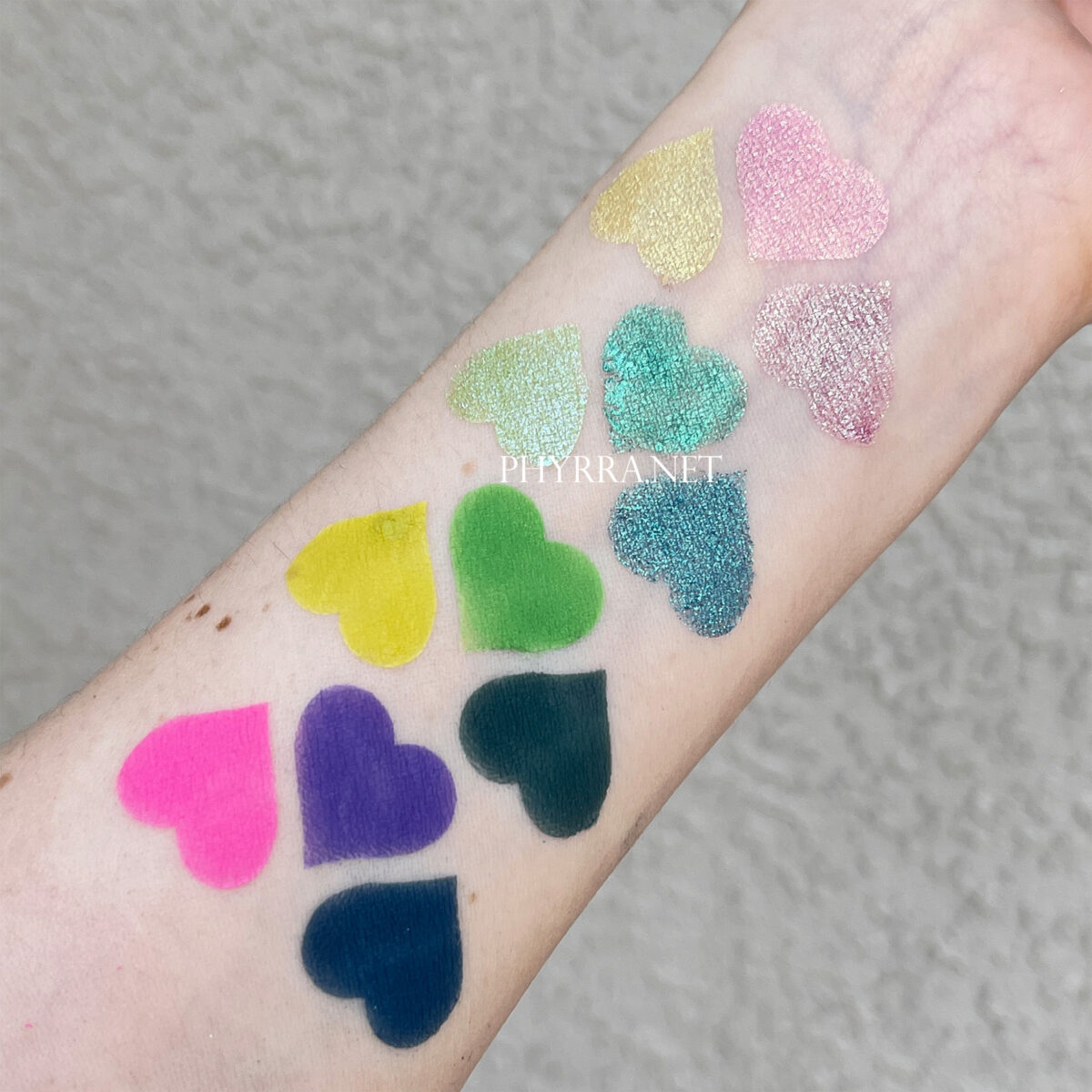 Get your 1UP Palette here!
Row 1 – Split Screen, Game over, Bonus
Row 2 – Final Boss, Avatar, High Score
Row 3 – Insert Coin, 8-Bit, Power Up
Row 4 – Combo, Joystick, Hit Point
Video Swatches
Indie Makeup Eyeshadow Thoughts
Insert Coin is a stunning neon yellow with a green undertone UV reactive matte. 8-Bit is a chartreuse leaning green UV reactive matte. Combo is a vibrant neon pink UV reactive matte. Blame my Cyber Goth side; I love all things UV reactive.
Power Up is a beautiful balanced deep teal, Hit Point is a rich deep blue, and Joystick is a dramatic violet matte. I love playing with these delightful matte colors!
Final Boss is a magnetic spring green with a yellow undertone and an ethereal glow. I can easily see the pink and blue shift in Final Boss. Game Over is a bubblegum candy pink base with a celestial golden pink iridescence. Both of these radiant colors give my eyes a glow. Dave says this is his favorite color in the entire Palette, and he usually doesn't care for green eyeshadow.
Avatar is an emerald green with a blue undertone and eye-catching green sparkles. I barely see a soft pink shift if I hold a light source away from it, the same one that makes Final Boss's pink and blue very visible.
High Score is a dazzling sparkly teal blue. From certain angles, the blue almost looks like it has a purple tone. The surface glitters with blue and green sparkles, which can practically look golden green in some light.
Split Screen is a sparkly yellow with blue and green sparkles. I occasionally see a pink in there, but it's very subtle. Worn on its own as a wash of color, it looks great and brightens the eyes. I consider this more of a duo chrome than a triochrome. I love it with Insert Coin, 8-Bit, and Power Up.
Bonus is a delicate pinky mauve base with a blue-golden-green shift on top. It's great as a wash on its own or layered on top of any other color. It's like… the Targaryen version of Colour Pop Glass Bull or Urban Decay Solstice. It's incredibly versatile, beautiful, and definitely the prettiest incarnation of this color!
UV Reactive Eyeshadows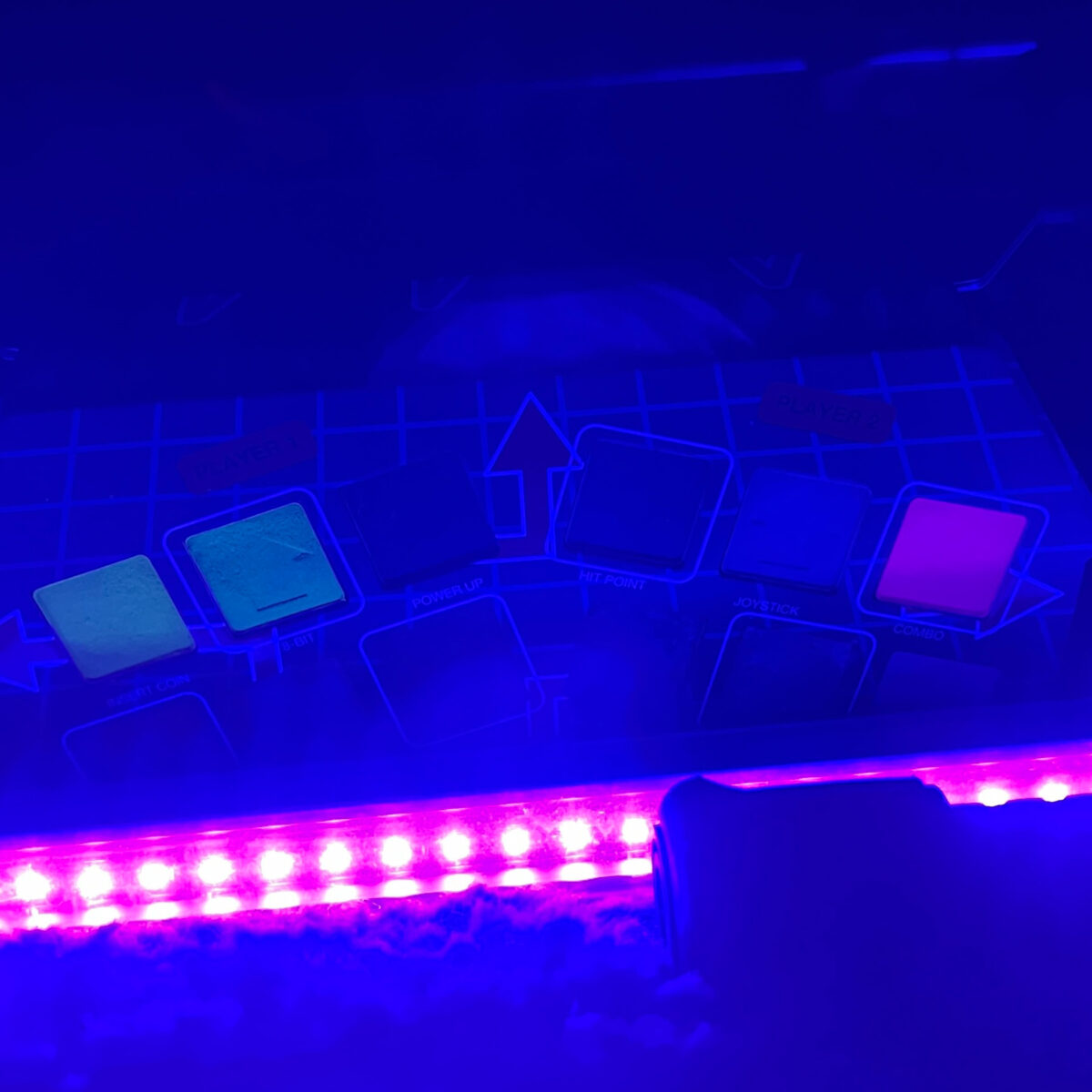 I forgot to take photos of my fabulous green graphic look from Shop My Stash For Autumn under my blacklights. I took a quick picture of the 1UP Palette with my blacklights to see the 3 UV reactive shades.
Lethal 1UP Palette Looks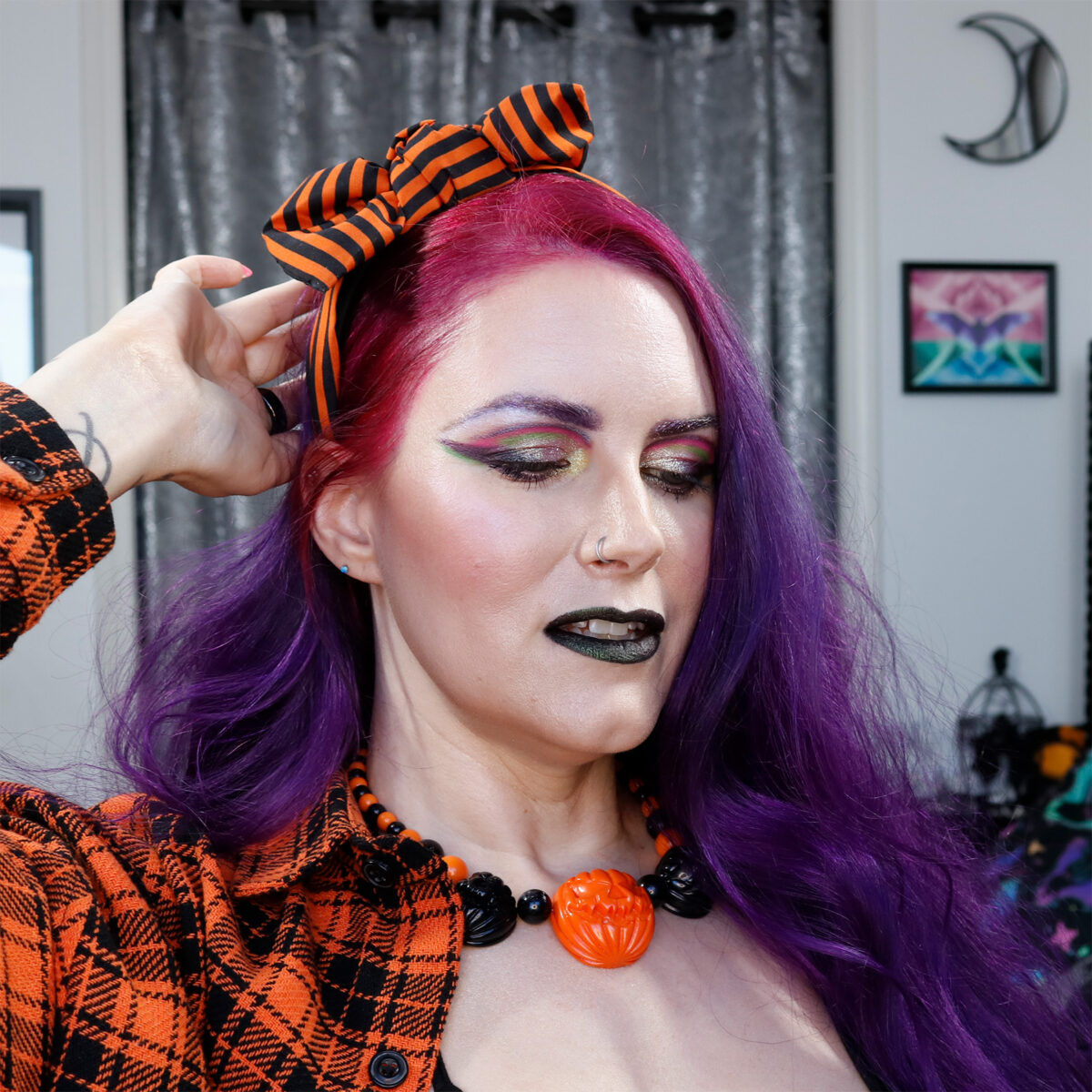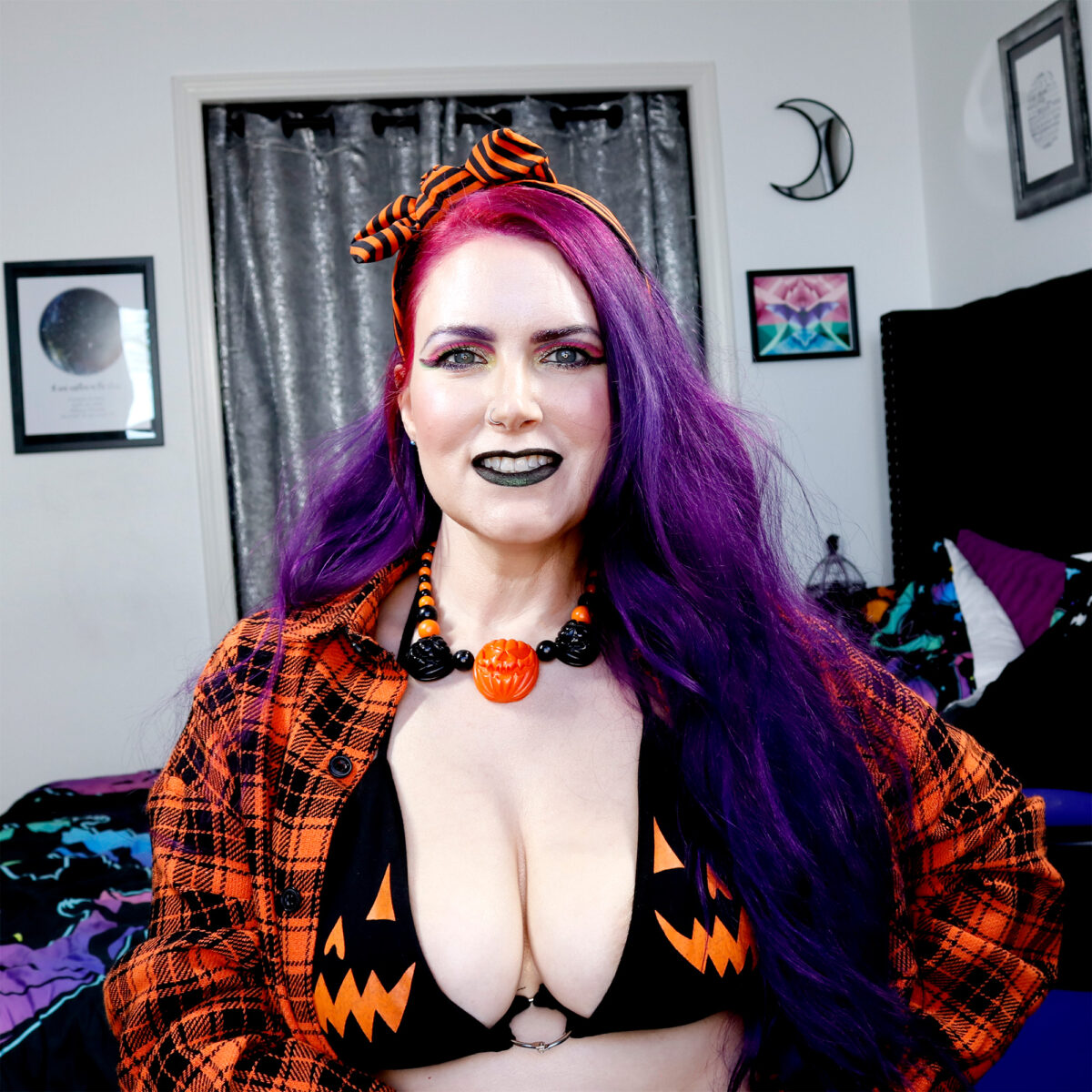 One of my 1UP Palette looks features Bonus, 8-Bit, Insert Coin, Combo, and Split Screen.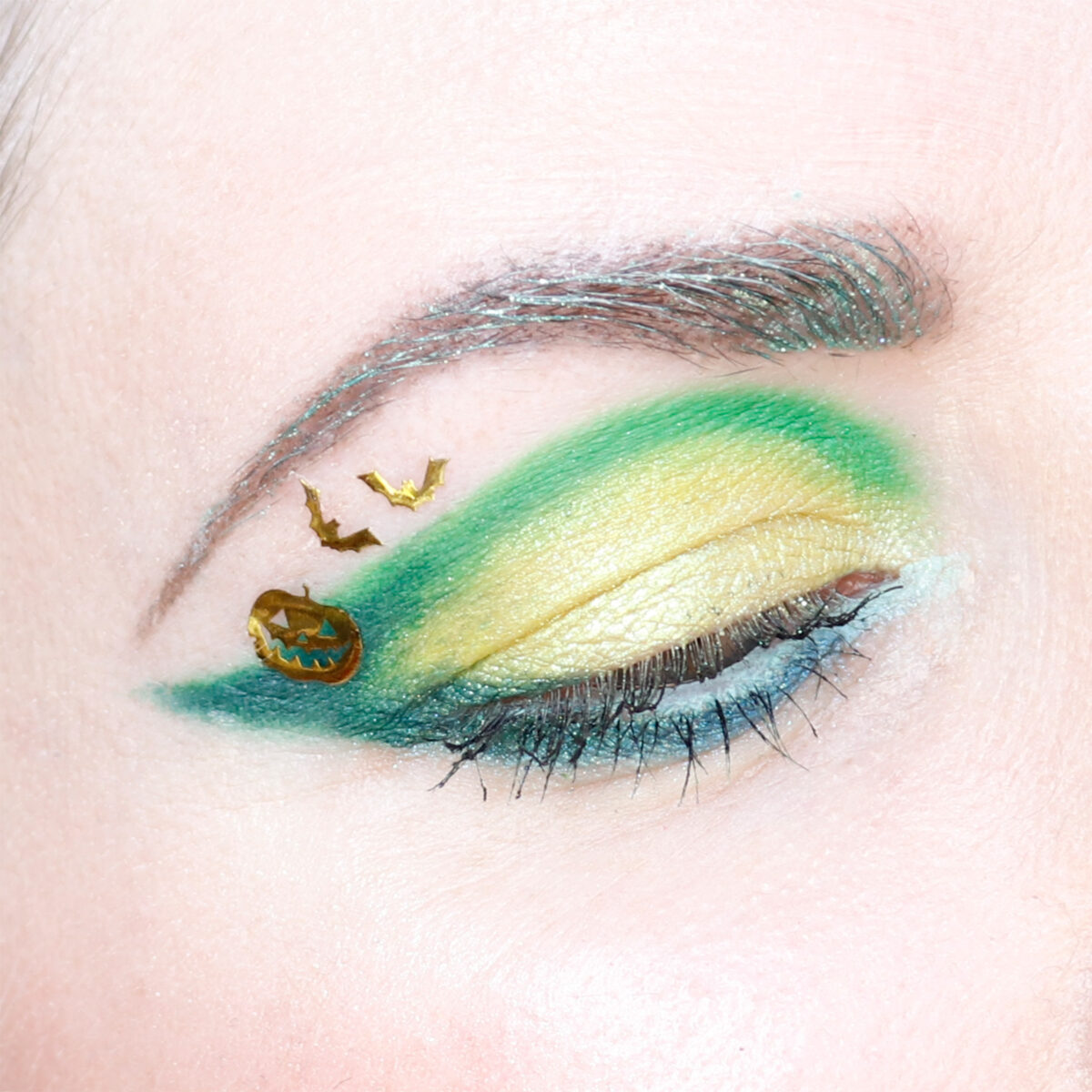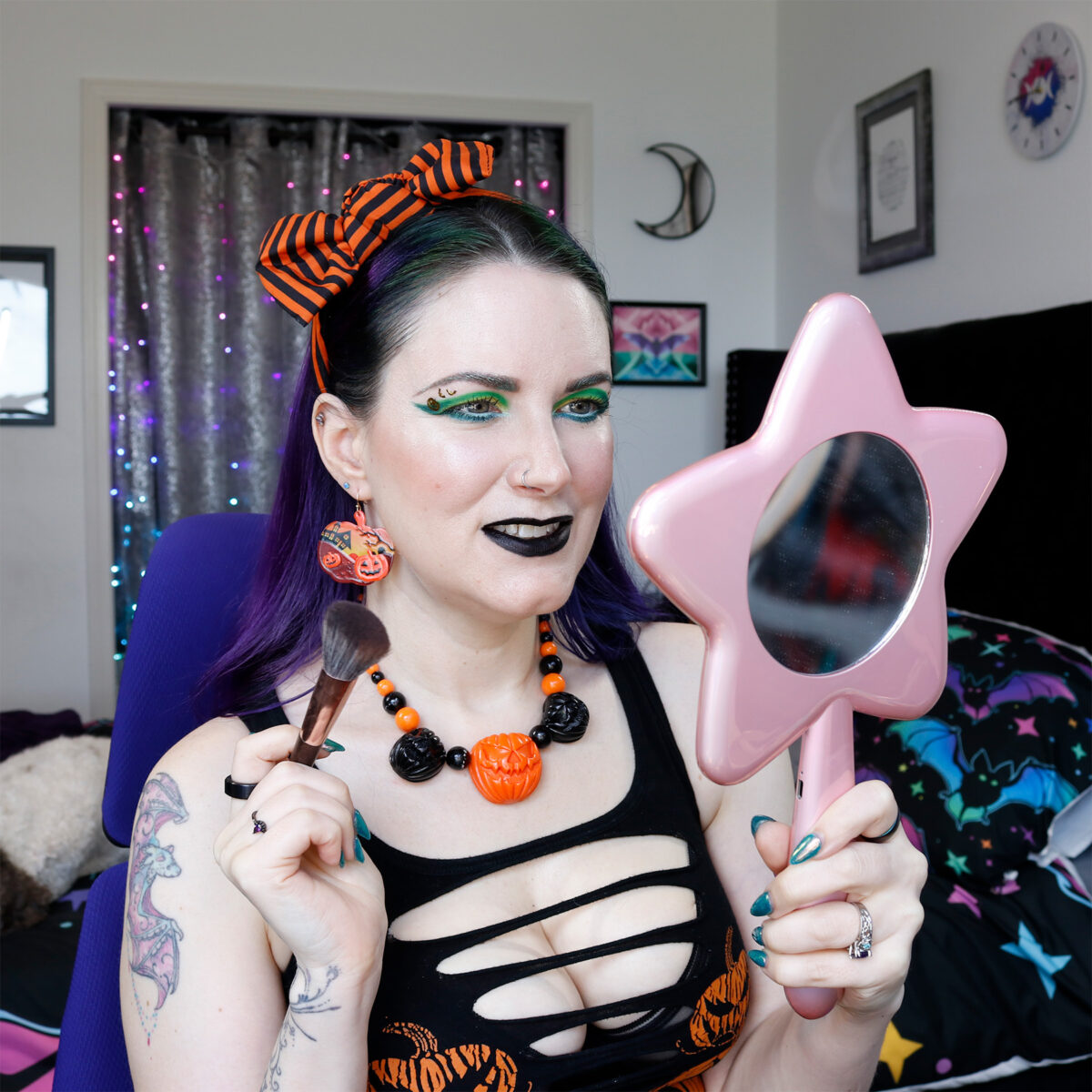 A spooky green graphic look I did for my Shop My Stash For Autumn video! I believe I used Insert Coin, 8-Bit, Split Screen, and High Score.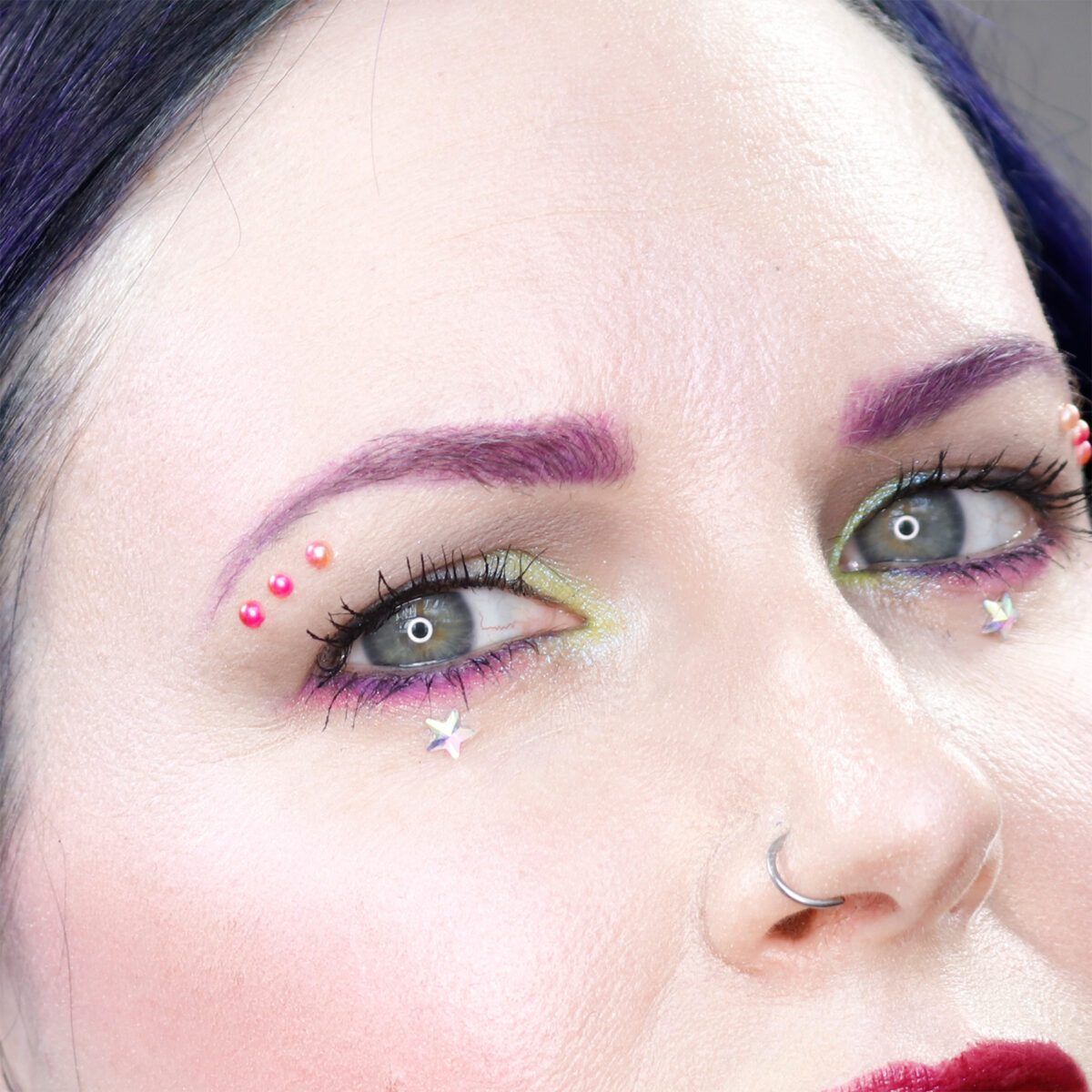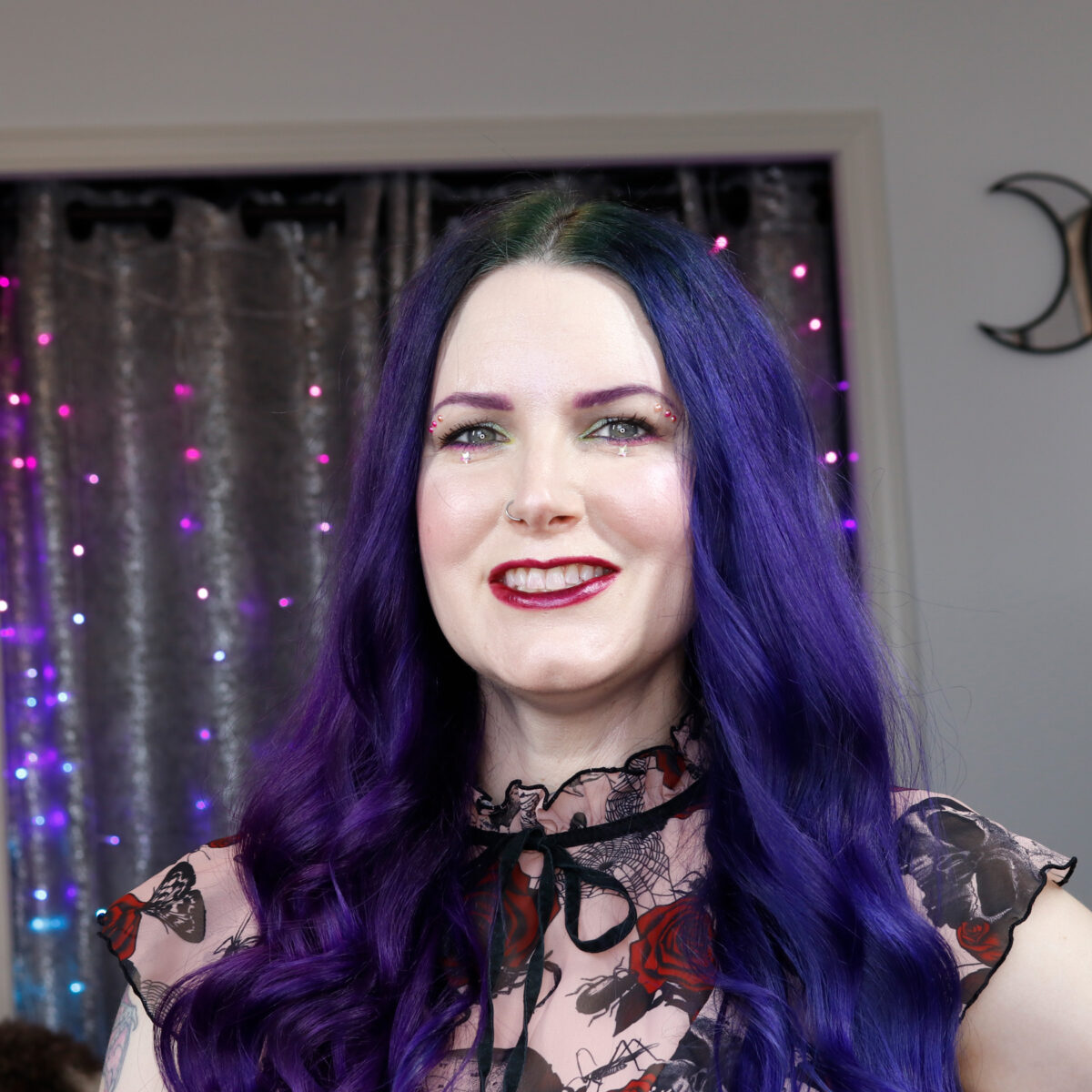 For this look, I used Lethal Unearthed all over, then Joystick, Insert Coin, Final Boss, and Game Over from the 1UP Palette. I wore this for an ad I created for Beachwaver.
Why I Bought the 1UP Palette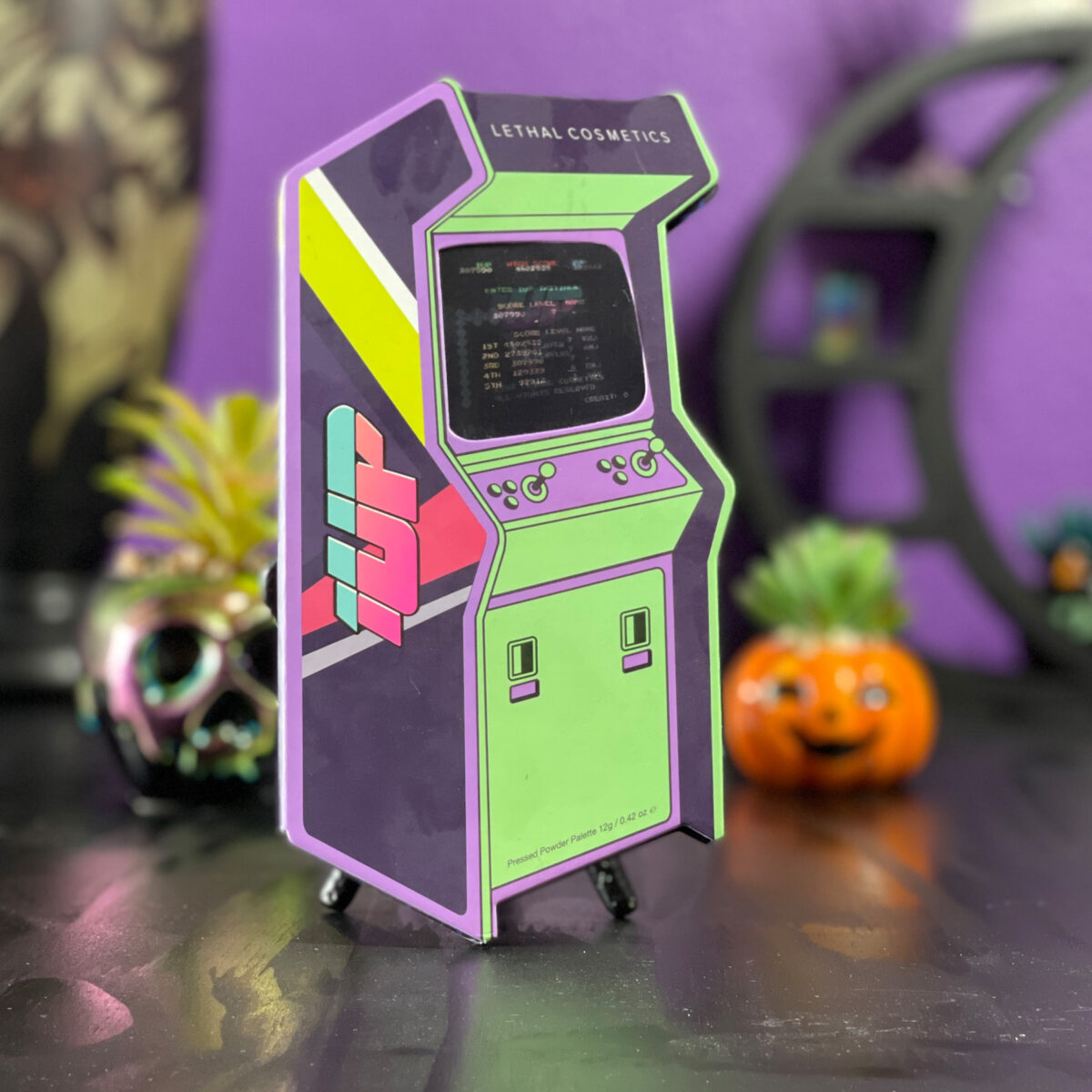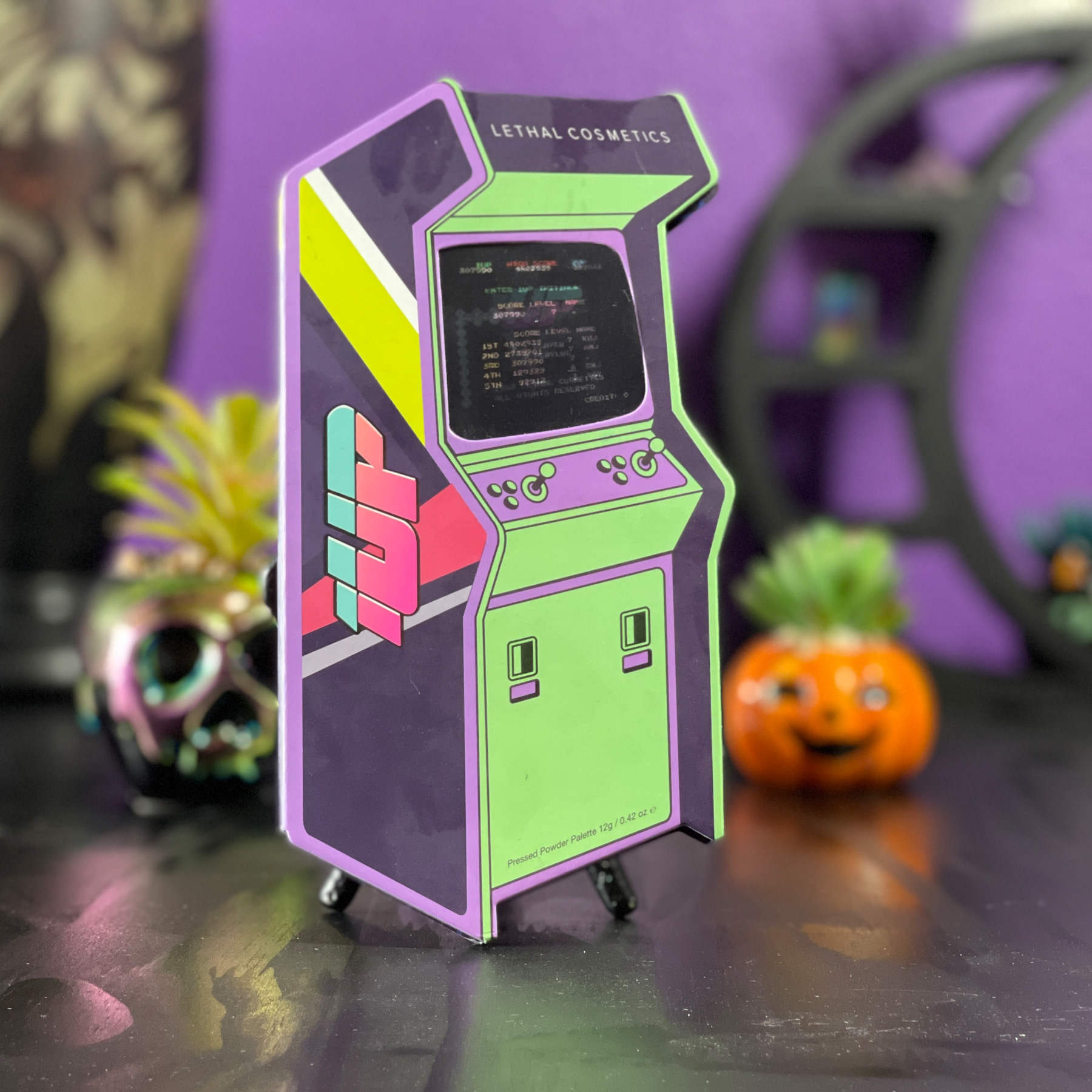 I bought the Lethal Cosmetics 1UP Palette because I thought I would love it and wear every color, and I wasn't wrong. I love them and wear them all, and there's not a single dud in the Palette! I love to layer the shimmer shades on top of the mattes for quick and easy monochromatic looks. But I've also done some stunning gradients with them.
I can't choose just one favorite from the Lethal 1UP Palette; I love them all!
What do you think of the Lethal Cosmetics 1UP Palette?
Personal Note
On a personal note, I wanted to let you know that I put my notice in at my full time job this week, though I'll still be doing my consulting work with friends. This means you'll see more content from me for October!
More Lethal Love