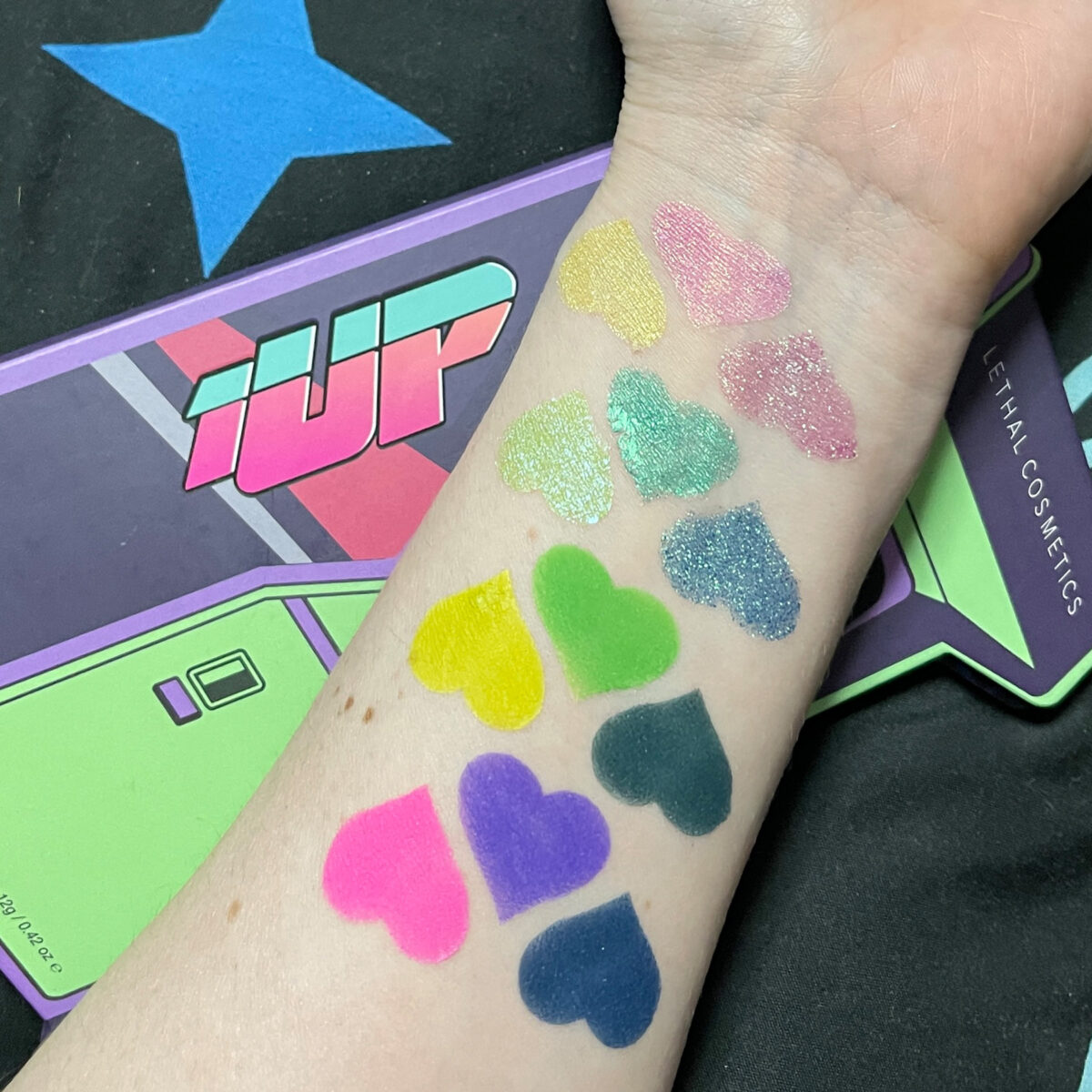 Hello, beautiful creatures! I wanted to share this creative Lethal Cosmetics 1Up Palette makeup look with you. I know I should be playing with more Autumn hues, but I felt drawn to wine, hot pink, and lime green, so this is what I ended up with.
1UP Palette Makeup Look Products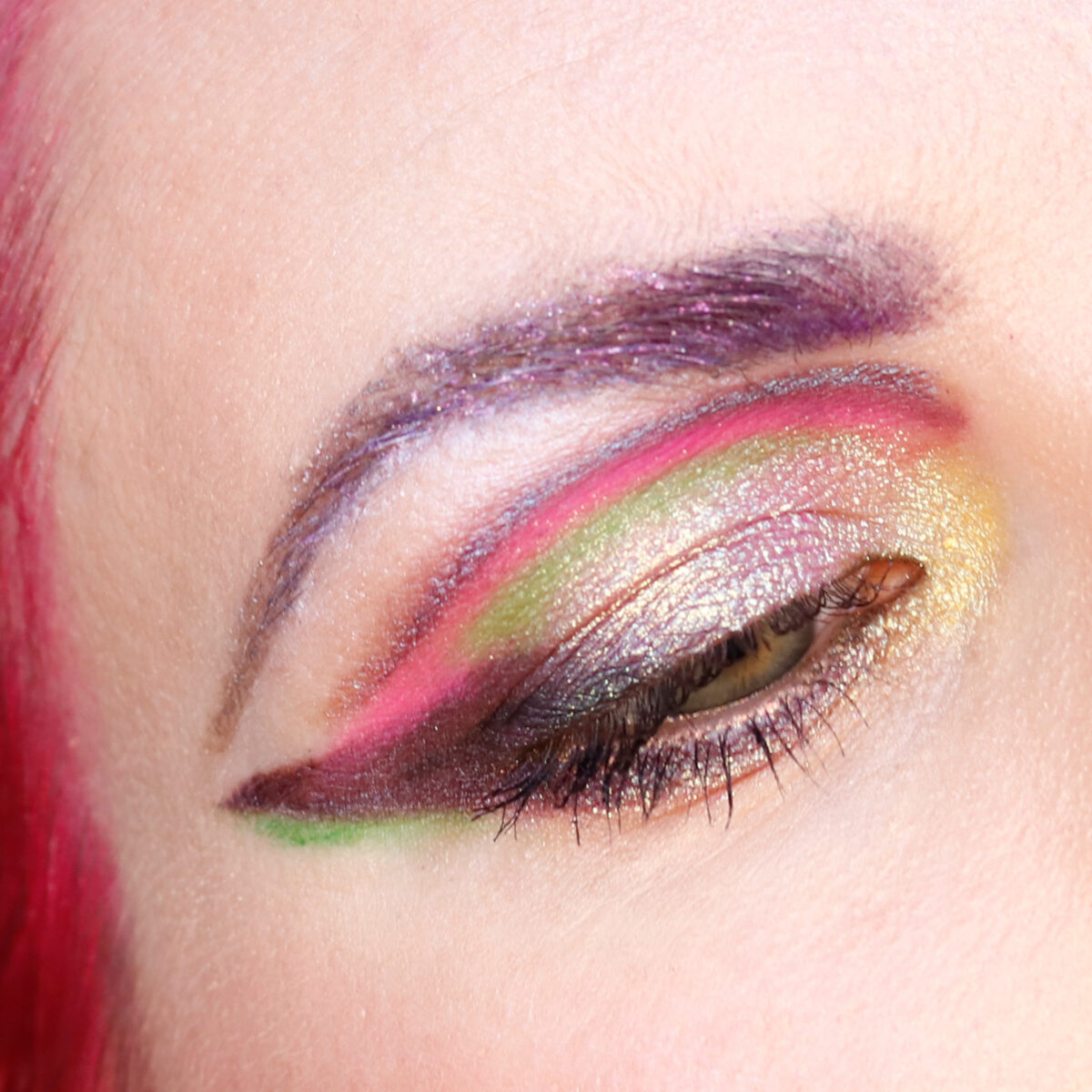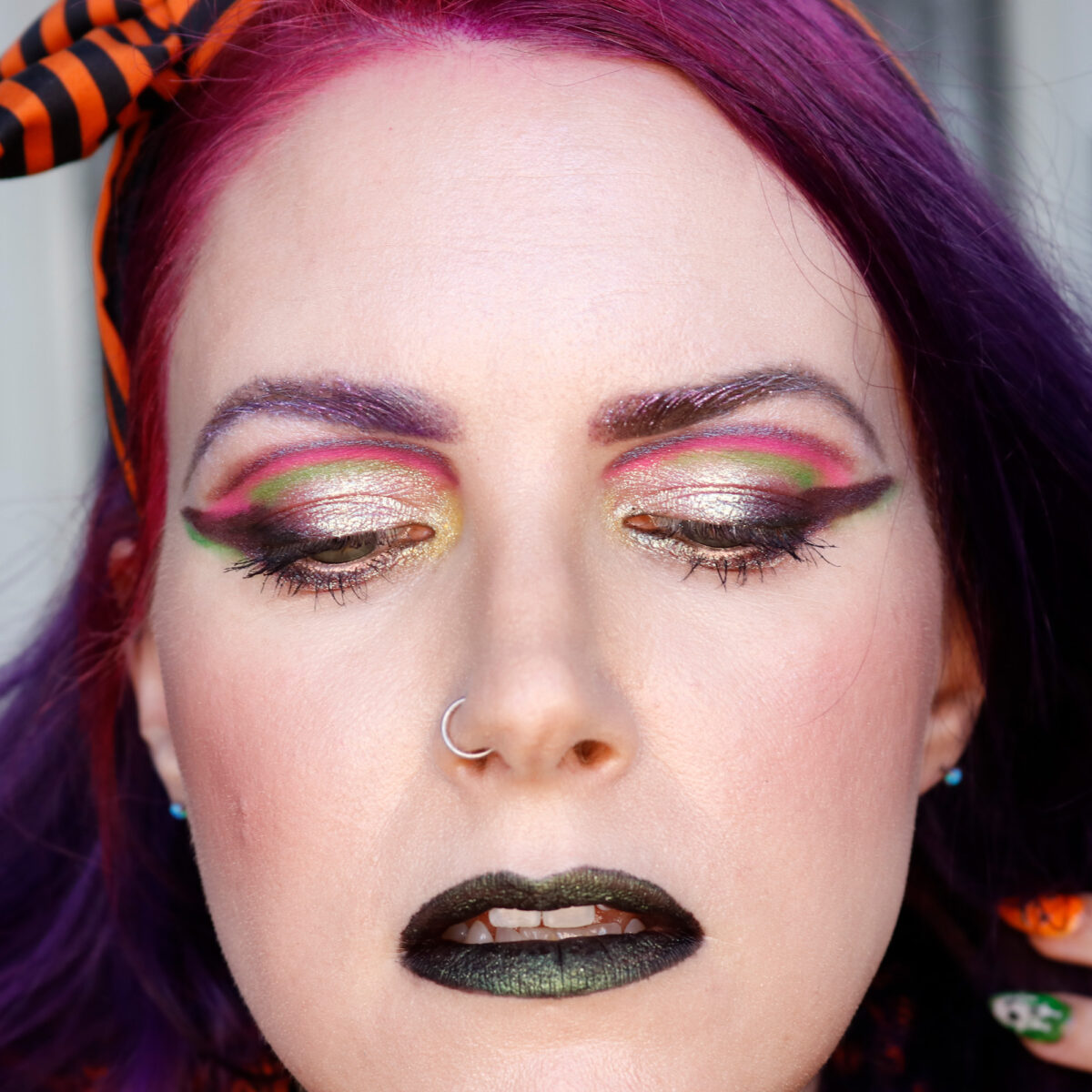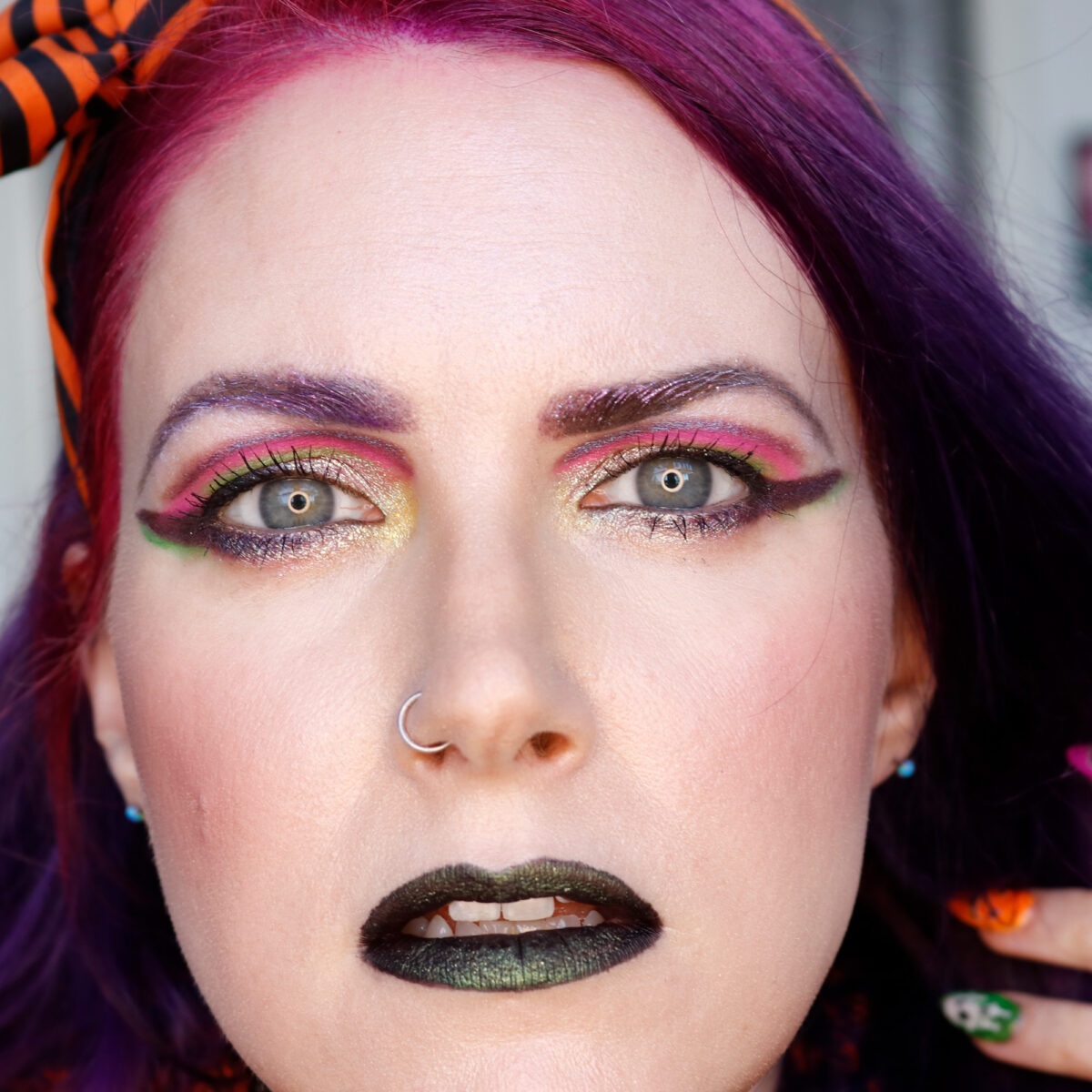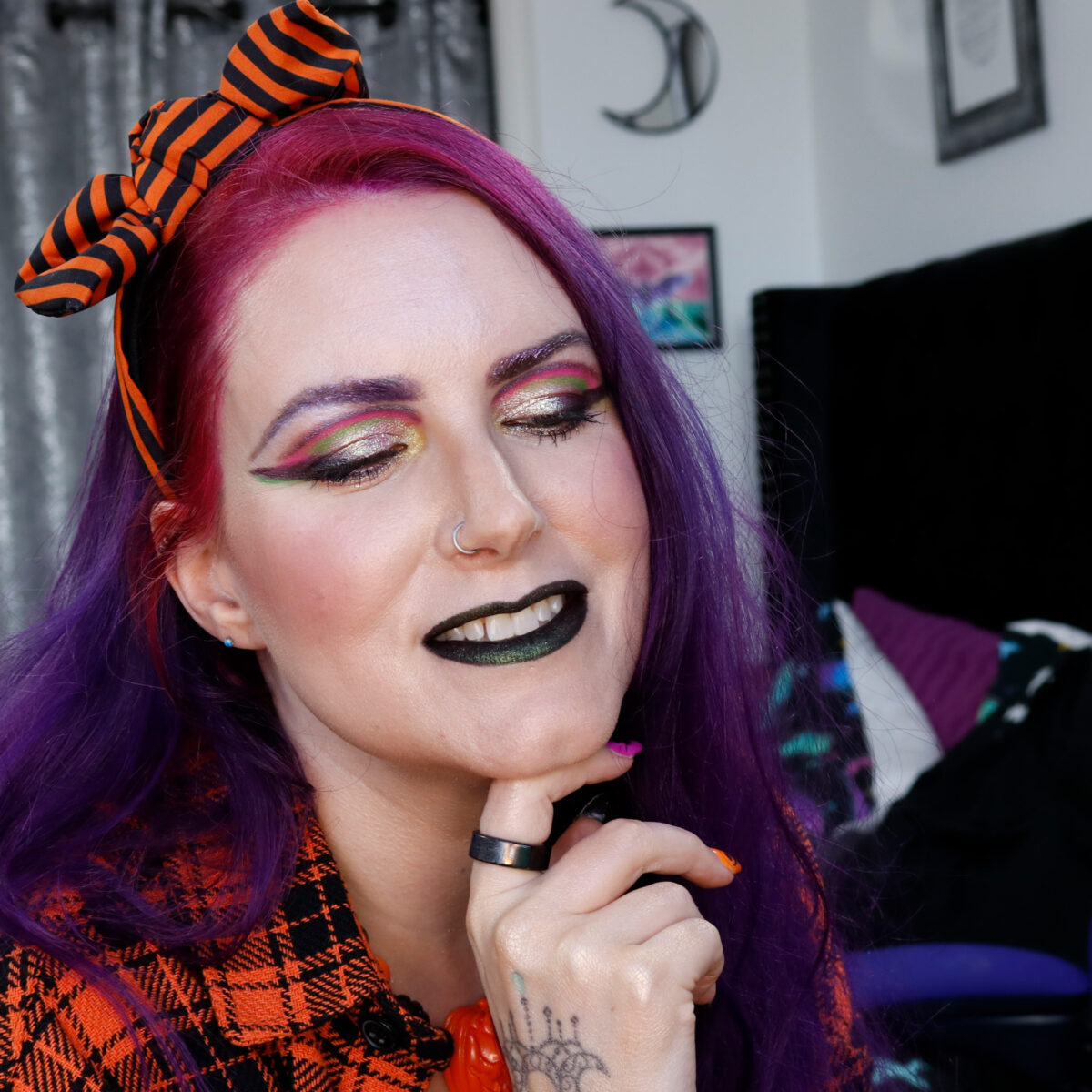 Eyes
Urban Decay Sin primer
Lethal Cosmetics 1UP palette (Bonus all over, 8-Bit & Insert Coin as crease and liner accents, Combo to cut crease, Split Screen inner corner
Nabla Wine and Black cupid's arrows (wine to sketch out wing, black to tight line)
Fyrinnae Aphrodite's Evening Gown loose eyeshadow
Lime Crime As If & Mega electric slide eyeshadow sticks (As If filling inside the lid and inner crease from Wine, Mega at the inner corner)
Danessa Myricks Opal pencil
MBA Cosmetics Vandal pencil (discontinued)
Black Moon Jellyfish highlighter
Thrive Causemetics Liquid Lash Extensions mascara
Brows
Lime Crime Sleek Black & Pony pomade sticks
About Face Interlude Glitter brow gel
Face
Auric Glow Lust in Morganite 2.0 radiant luminizer
Rituel de Fille Galatea Ethereal Veil conceal and cover
Danessa Myricks shade 1 Yummy Skin blurring balm
Makeup by Mario Light SoftSculpt transforming skin enhancer
Patrick Ta She's Seductive blush
Lethal Blossom blush
Laura Mercier Ginger blush
Fenty 105 pro filter powder
Black Moon Jellyfish highlighter
Lips
KVD Beauty Skully lip pencil
Kaleidos Scorpion Fruit Cloud Lab lip color
Black Moon Glow Worm highlighter
Alternative Gothic Fashion Pieces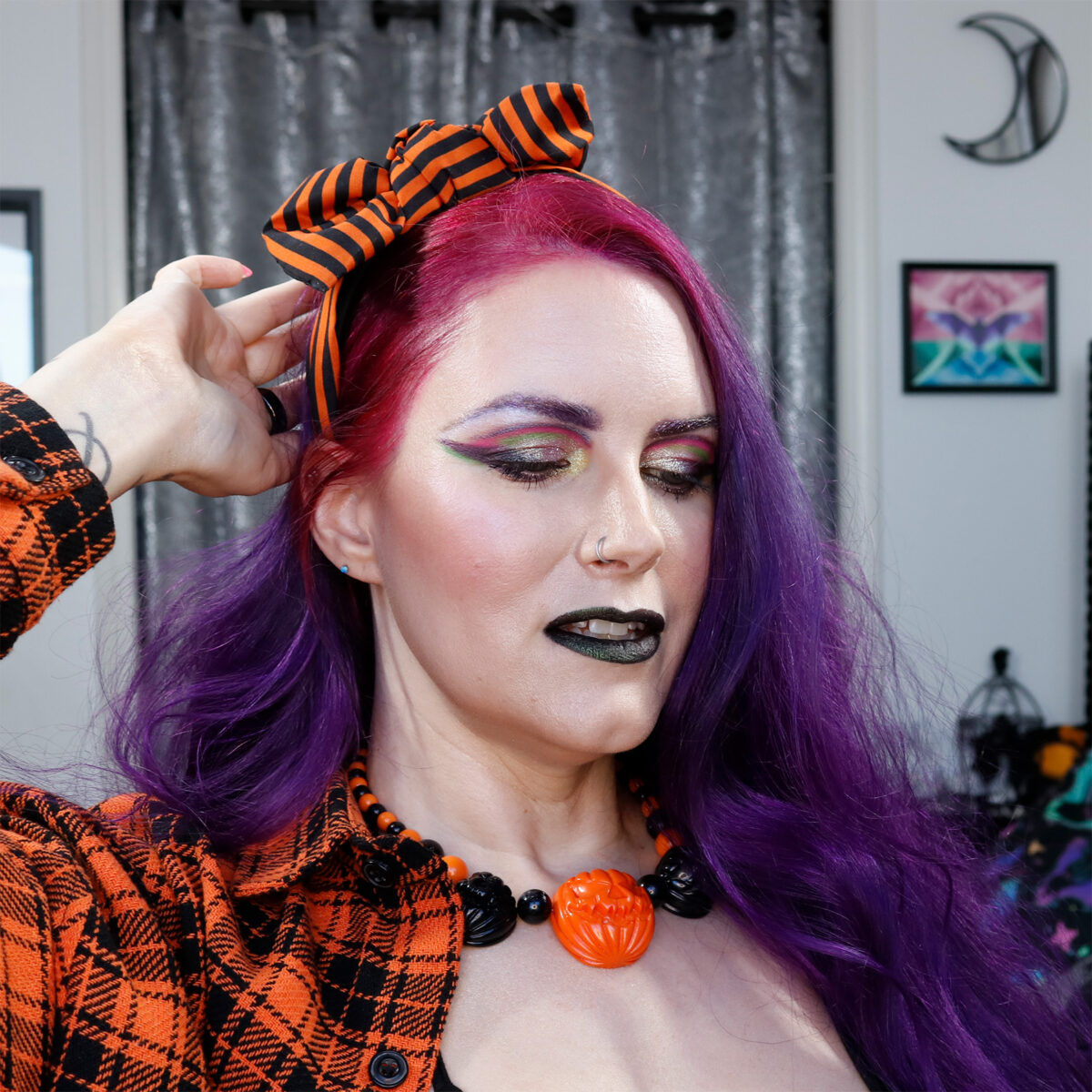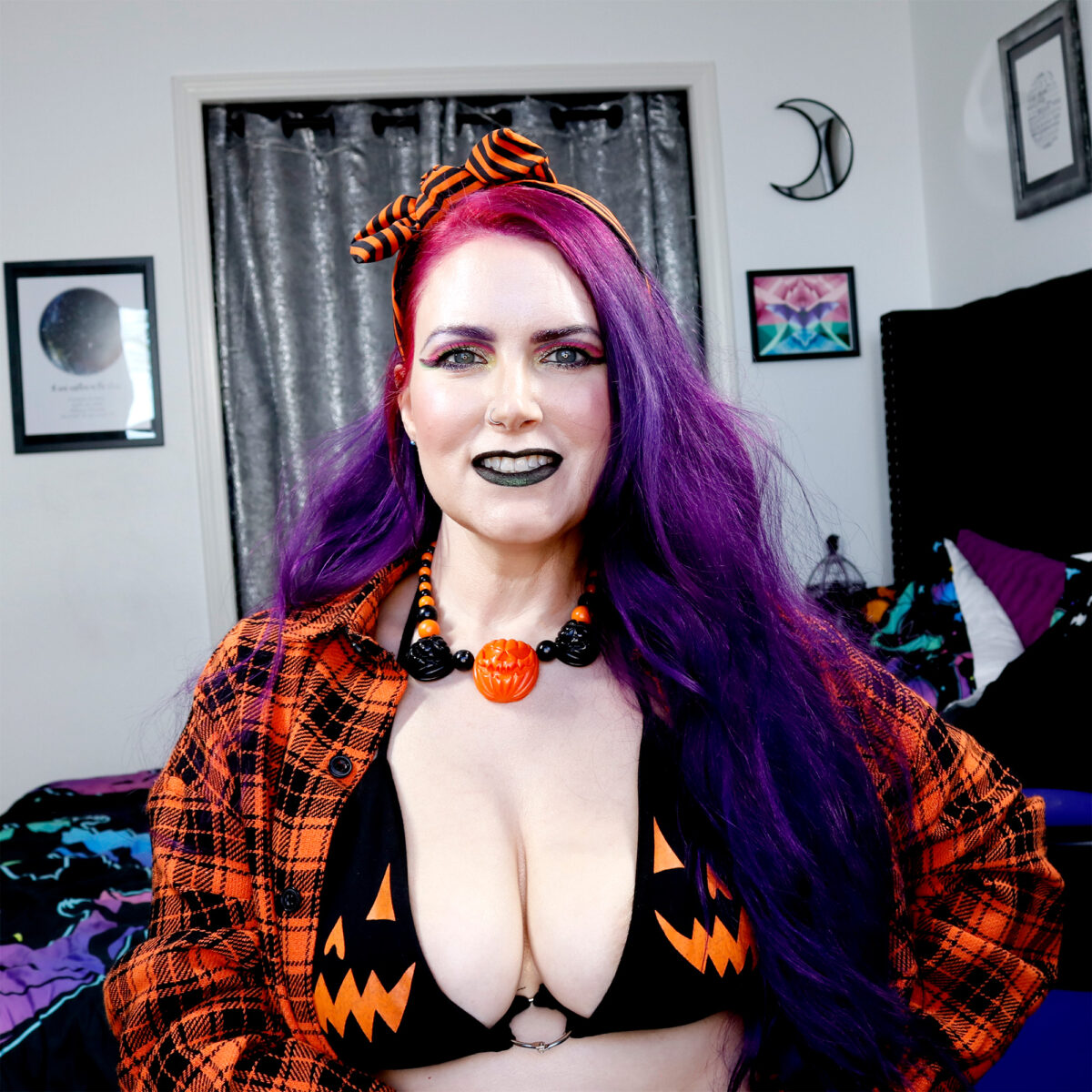 Fashion
Forest Ink Pumpkin Lounge top
Foxblood Pumpkin Patch Plaid button down shirt
Foxblood Signature drop crotch joggers
Foxblood Recently Deceased orange headband
Orange & Black pumpkin necklace
Foxblood makes wonderful, comfortable gothic basics and lounge wear. I love supporting small gothic indie fashion brands like Foxblood!
Nabla Cupid's Arrow Longwear Stylo Swatches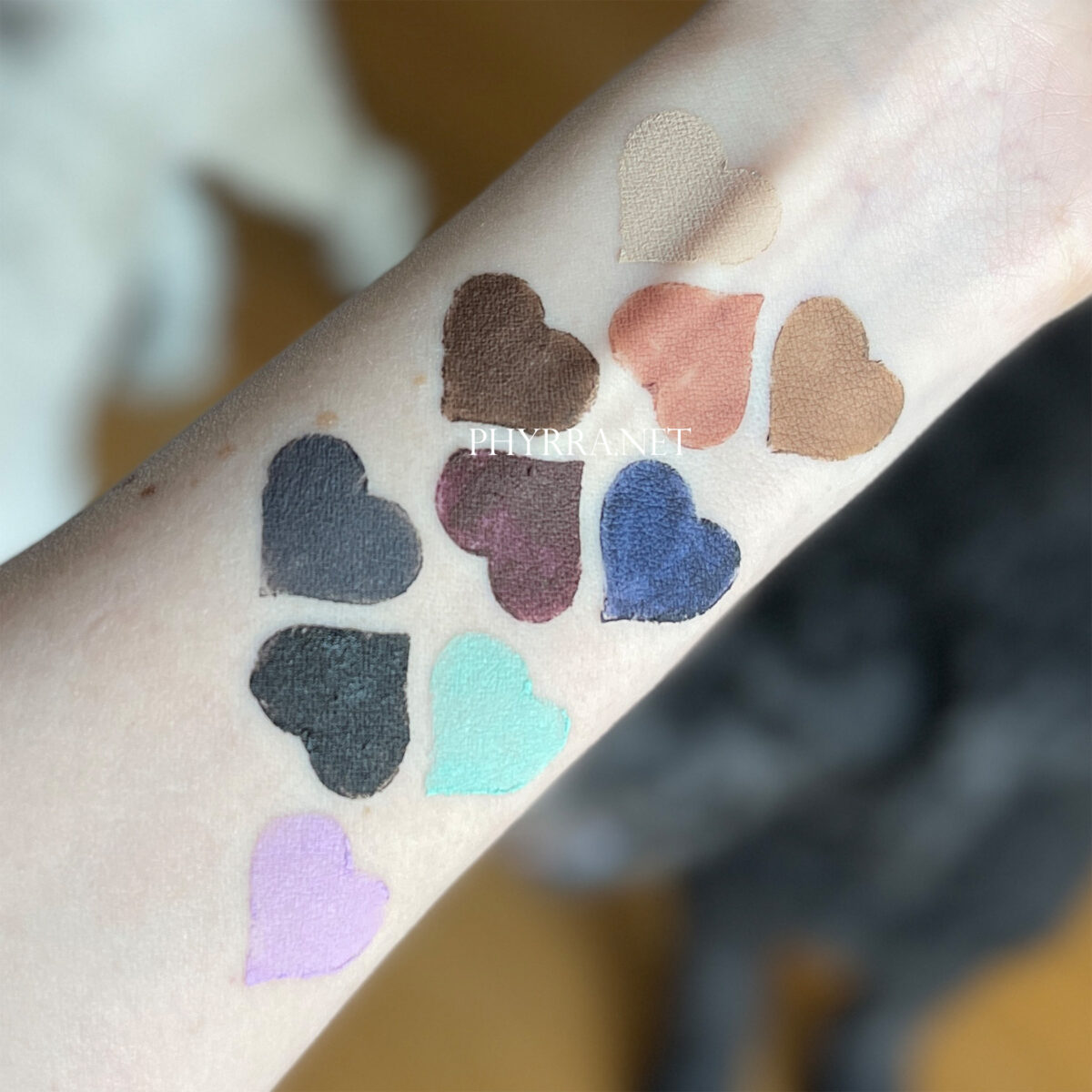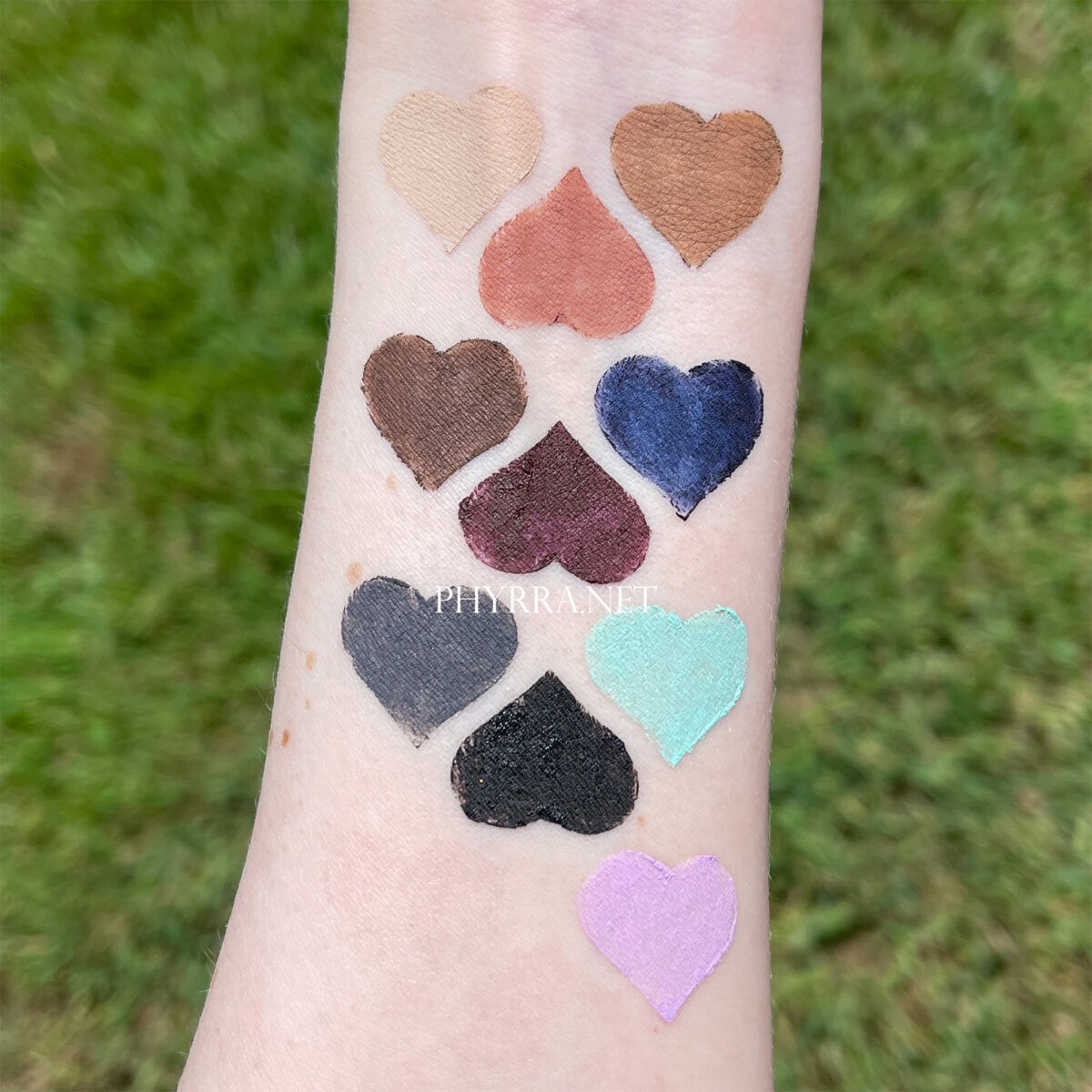 Swatches
Row 1 – 8, 1, 9
Row 2 – 2, 3, 6
Row 3 – 10, 4, Mint
Row 4 – Lavender
Shade Descriptions
1 – hazelnut nude
2 – chestnut brown
3 – berry
4 – intense black
6 – midnight blue
8 – ivory
9 – cappucino
10 – midnight gray
Arrow Pop Lavender – lavender
Arrow Pop Mint – mint green
The Nabla Cupid's Arrow Longwear Stylos are fantastic on my oily, hooded eyes! They wear well on my watery waterline. They're awesome as liners or as eyeshadows. They blend out easily. I would recommend working one eye at a time.
Lime Crime Electric Slide Eyeshadow Sticks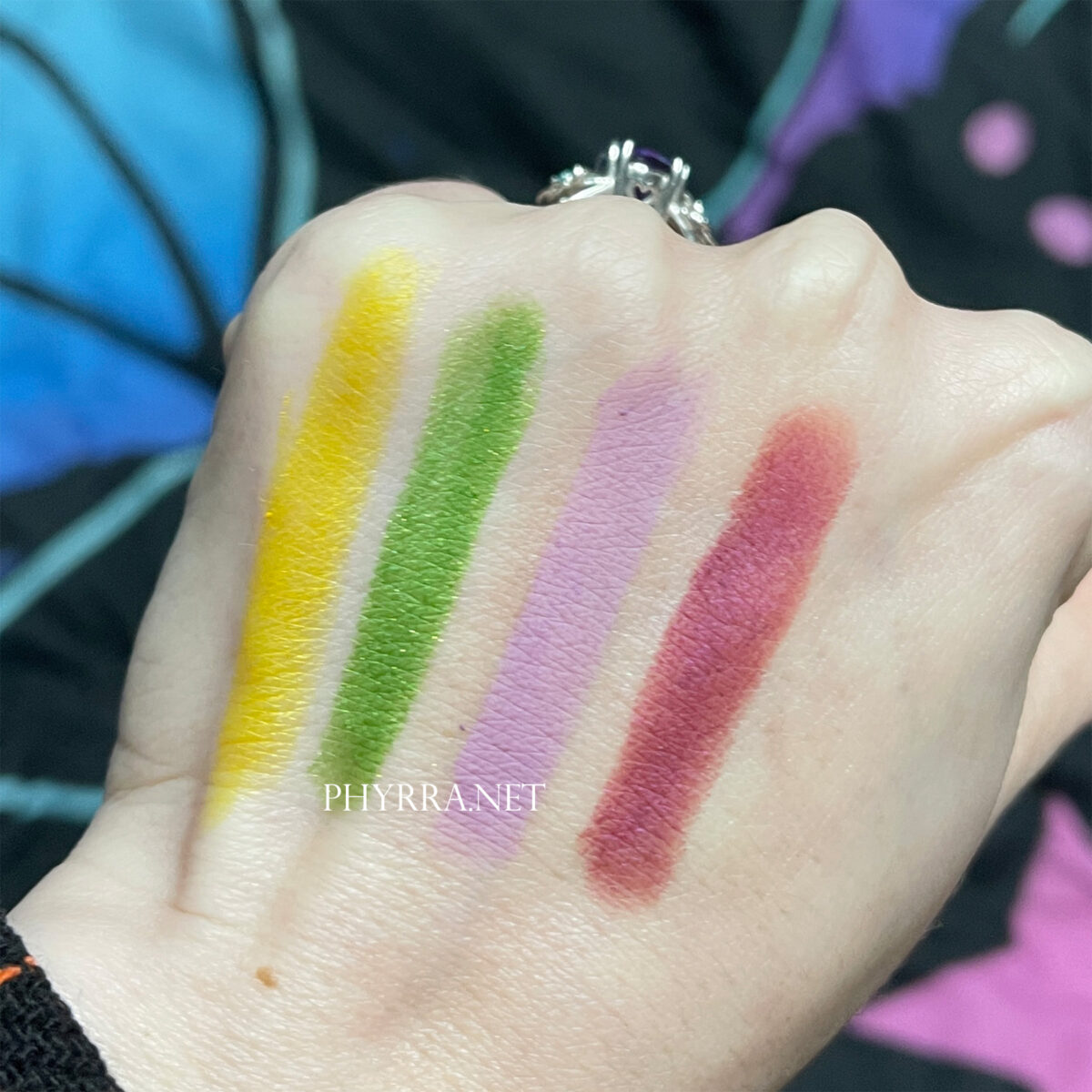 Unfortunately, there's a hurricane barreling down on Florida today, so no outdoor photos for some of these swatches, sorry.
The Lime Crime Electric Slide eyeshadow sticks have a great formula and they're super easy to work with. I enjoyed using them with my Nabla's cupid's arrows. If you're looking to try new cream products, I would check them out!
About Face Shadowsticks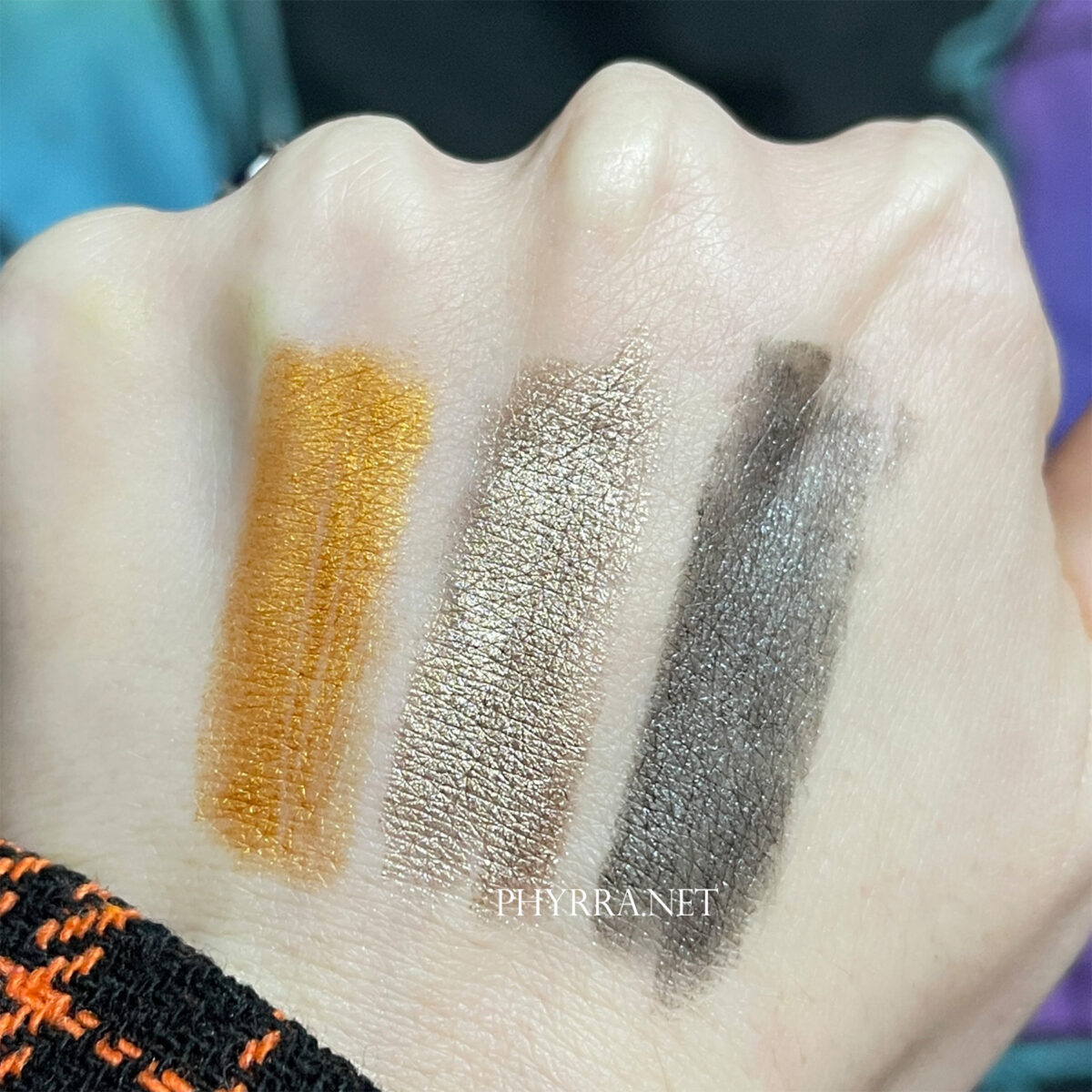 Shade Descriptions
Inferno – pearly ginger
Actual Ambrosia – pearly soft taupe
Dream Syndicate – pearly black brown
I figured I might as well include swatches of my About Face Shadowsticks. These have an interesting formula that does not want to budge! After washing my hands twice, I had to use my Vike makeup remover spray to get these three shadowsticks off.
Silver Eyeshadow Sticks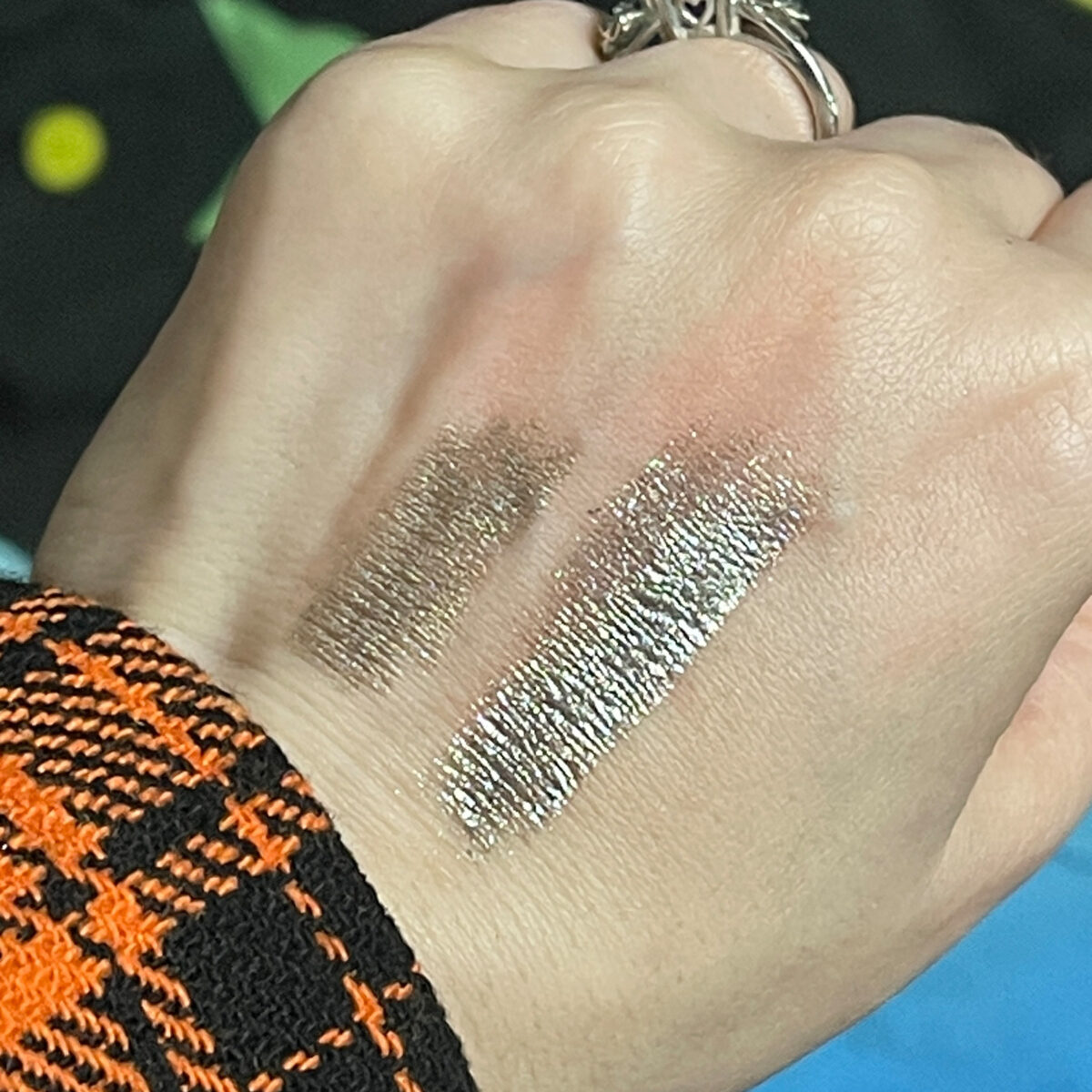 I have two lovely silver eyeshadow sticks to share! The first is By Terry Ombre Blackstar N15 Ombre Mercure, which is a shimmery warm silver. KVD Thundercloud Dazzle Long-wear eyeshadow stick is a gorgeous, but sadly discontinued silver with multi-colored sparkles. KVD did release 2 new shades though, a red and a green. They're both very pretty.
Lethal Cosmetics 1Up Palette Swatches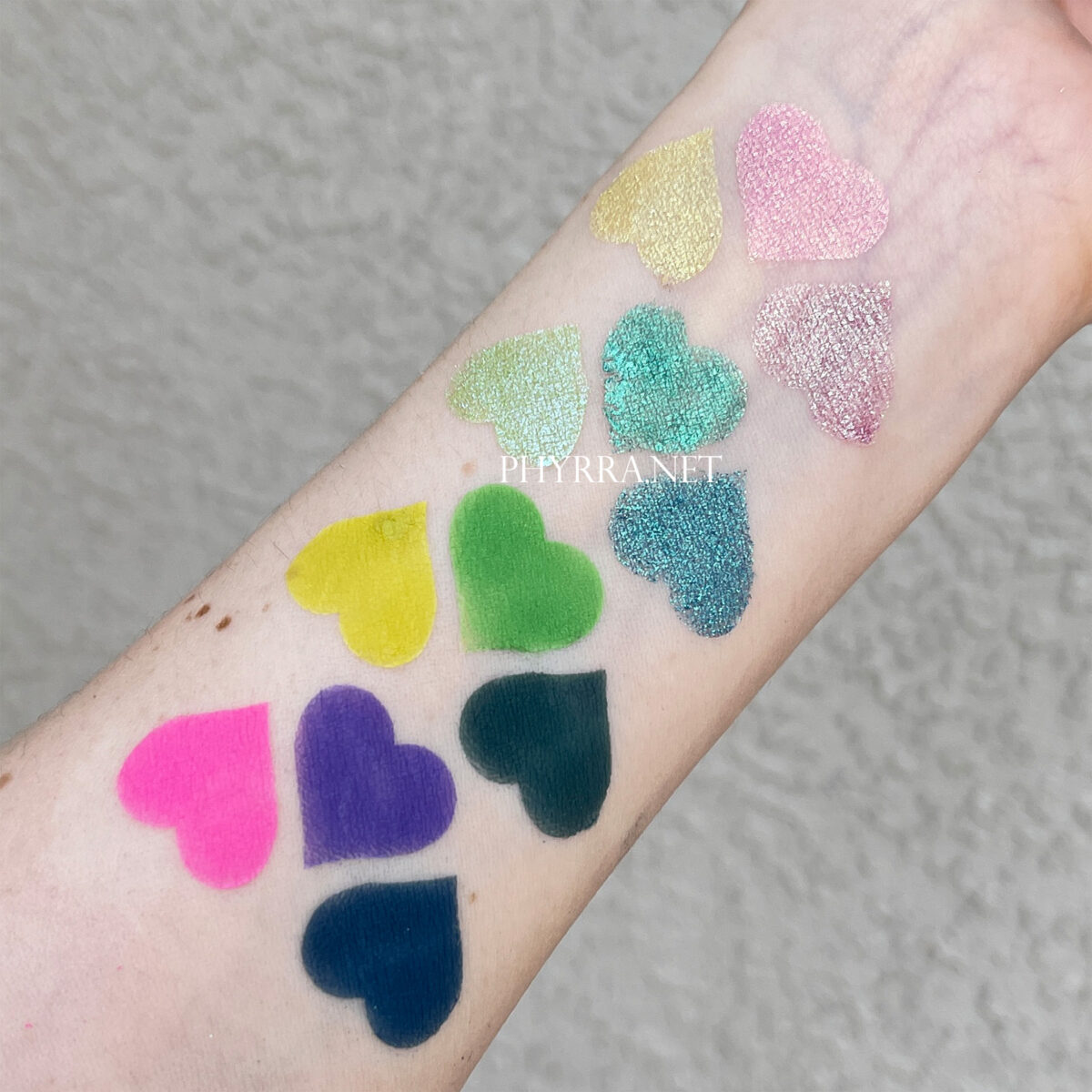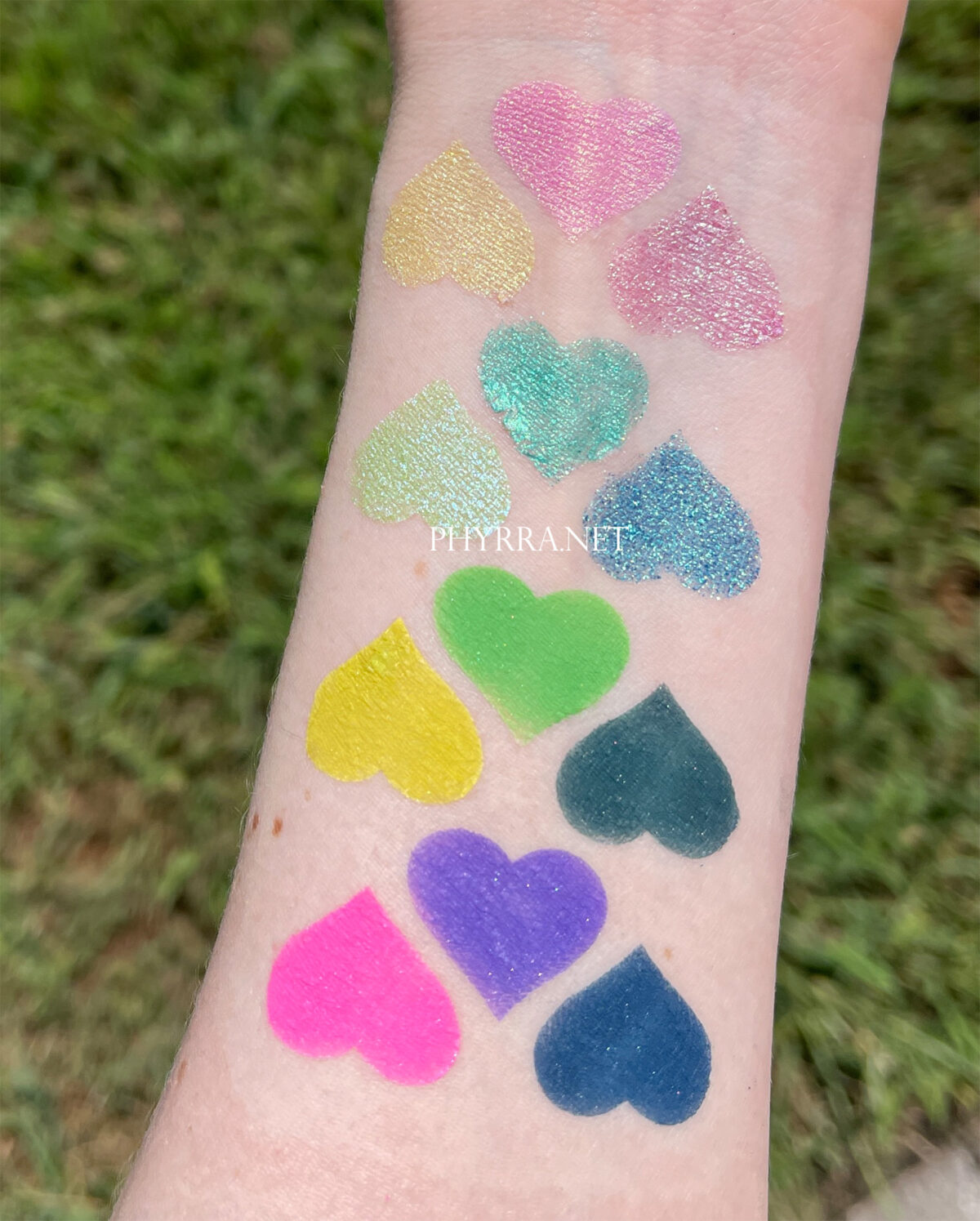 Since I am unsure as to when I'll get up a review on this, I wanted to share my swatches of the Lethal Cosmetics 1UP Palette. I love this palette. I'm glad I bought it despite being on a low buy. I LOVE having blacklight reactive makeup to play with!
Final Thoughts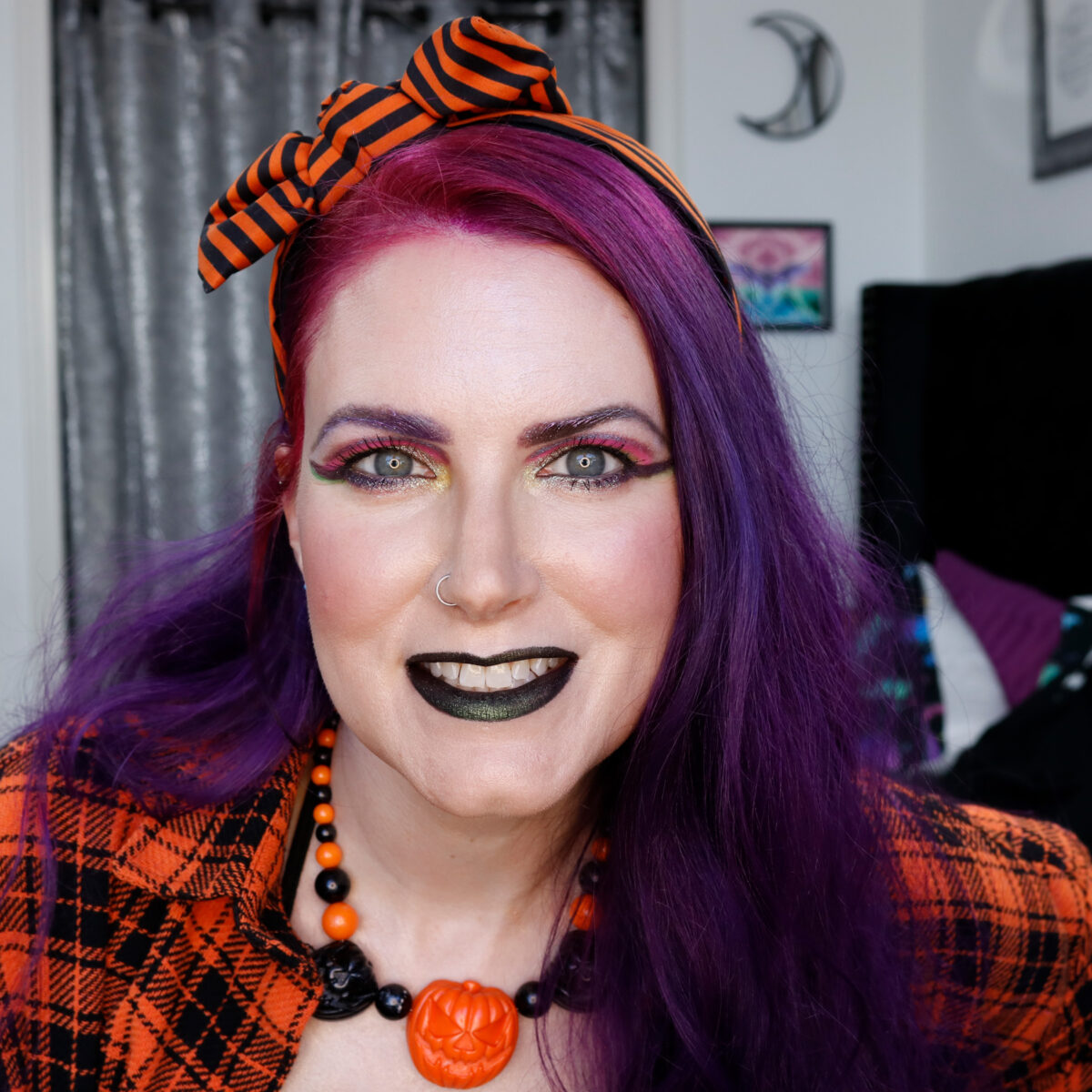 I love Autumn and its hues, even if I'm still feeling the call of brights with Lethal Cosmetics 1UP palette. These beautiful colors appeal to me year round. I love their matte formula, as I find it buildable and blendable. Their duochromes and multichromes are pretty too! Thanks to the jewel tones included in the Lethal 1UP palette, much of this palette is Fall friendly.
Shop my stash for Autumn palette inspiration!
If you're looking for longwearing eyeliners or colored eyeshadow bases, definitely try Nabla cupid's arrows.  The only other thing that wears remotely close to as long as Nabla's Black cupid's arrow for me is Melt Onyx gel liner.
What palette are you using the most lately? For me it's been the Lethal Cosmetics 1UP palette and the DIY Gothic Charm School Palette that I built with Lethal and Terra Moons.