Hello beautiful creatures and happy Sunday! Today I'm sharing swatches of the Lime Crime Aura palette with you. Lime Crime sent me this palette as a PR sample. Aura is described as a cool-toned metallic and matte eyeshadow palette. On LC's website this is labeled an eye and face palette.
Price
$30 for a 9 pan palette.
Where to Buy
Lime Crime, Ulta
About Lime Crime
Lime Crime is a 100% cruelty-free and vegan beauty brand that is Leaping Bunny Certified as well as PETA's Beauty Without Bunnies Program certified. Their start in the makeup community was not great because their founder Xenia Vorotova, aka Doe Deere, did a lot of awful things. She also apologized for her mistakes and has not repeated them, unlike some controversial brand owners. In 2018 Xenia sold the company, which is why I gave them a try. In 2020, Xenia and her husband left Lime Crime's board of directors to make room for BIPOC on the board.
Packaging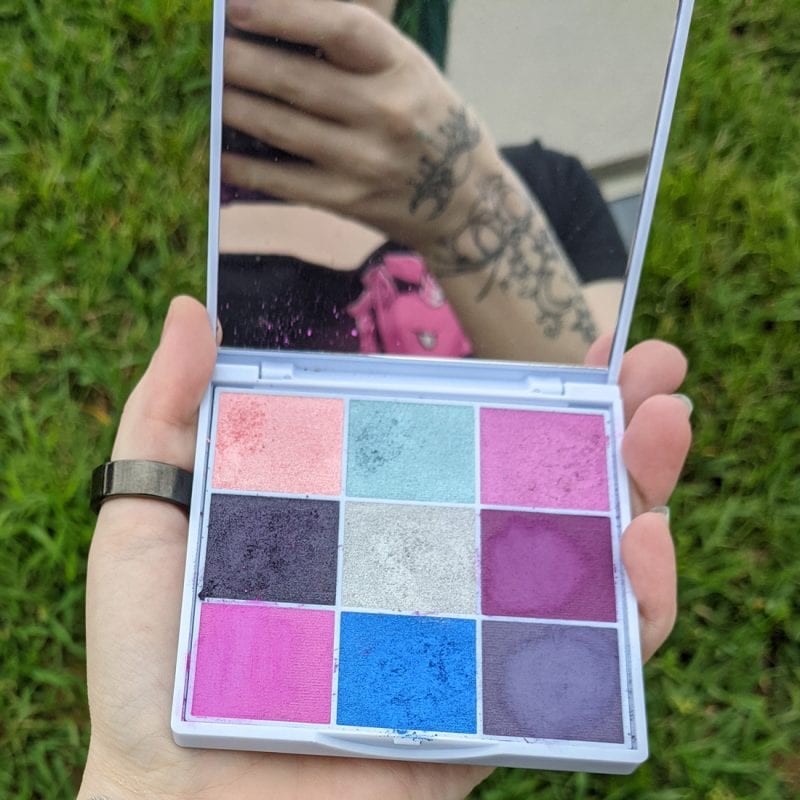 The Lime Crime Aura Palette packaging is very minimal and sleek. It's just hard plastic with no metal pans in the palette. It fits into the palm of my hands and has a large mirror. One of the colors in my palette, Luna, popped out in transit and I had to carefully press it back into place. While the size is perfect for travel, because of the soft press of the palette I received, I would not travel with this item.
Lime Crime Aura Palette Swatches
I swatched these eyeshadows on Urban Decay Primer Potion. It's my go-to primer for swatching. My skintone is a very fair neutral to cool yellow undertone. My current best foundation matches are Milk Makeup Flex Stick Foundation in Porcelain, Urban Decay Hydromaniac Tinted Glow Hydrator in 10 Ultra-Fair Neutral, Supergoop! CC Screen SPF 50 in 105N, Nyx Born to Glow! Naturally Radiant Foundation in Pale, and Juvia's Place 3-in-1 Shade Stick Foundation in Tokyo.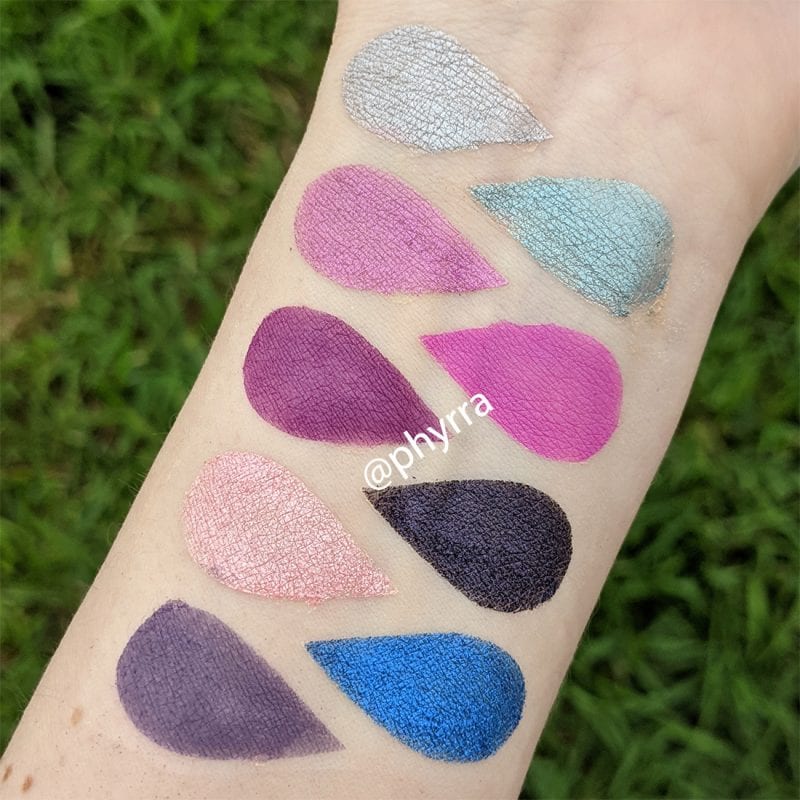 I took the above photo of swatches outdoors in direct sunlight on a cloudy day.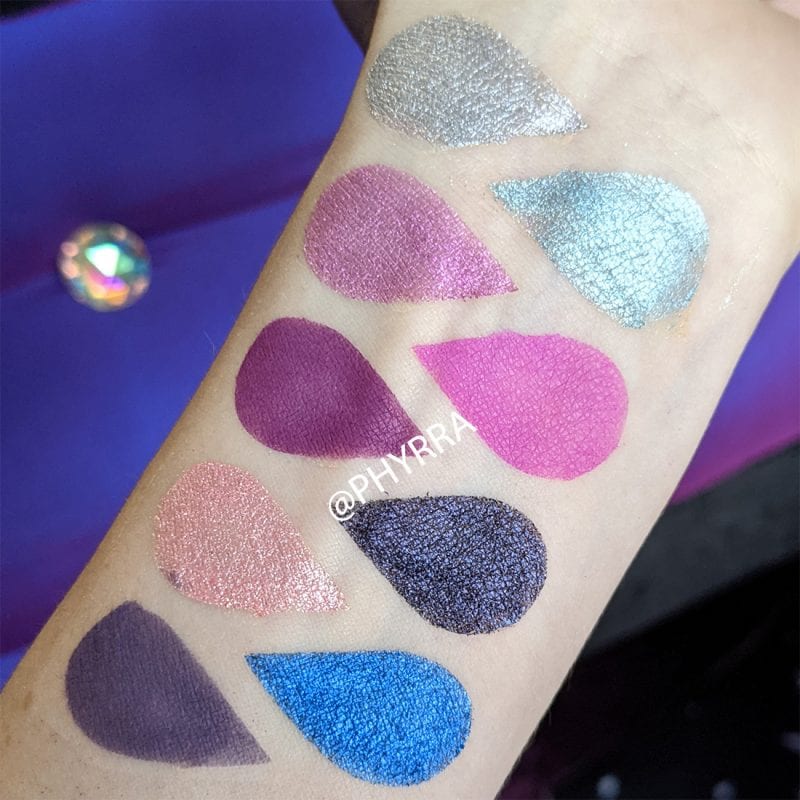 The Lime Crime Aura Palette swatches above were taken indoors next to a window with indirect sunlight.
From the top left to the bottom left you see Crescent, Orbit, Luna, Stellar, and Nova. From the top right to the bottom right you see Starry, Pink Moon, Midnight, and Super Moon.
Stellar – metallic baby pink (face)
Starry – metallic baby blue
Orbit – metallic lilac (face)
Midnight – metallic deep plum
Crescent – metallic silver
Super Moon – metallic cobalt
Pink Moon – fuchsia matte (face)
Luna – deep purple matte (face)
Nova – indigo matte (face)
The colors Stellar, Orbit, Luna, Pink Moon and Nova state that they are for the face, while the rest of the colors are for the eyes. I personally think this looks like an eyeshadow palette and it is being marketed as an eyeshadow palette. It irks me a bit that there are shades included that aren't considered eye safe.
Eyeshadow Inspiration
Here are two quick looks that I put together featuring the Lime Crime Aura Palette. Please note that while I took a chance and used these colors on my eyes, that they may cause irritation for others. I used Urban Decay Primer Potion for my eyeshadow base.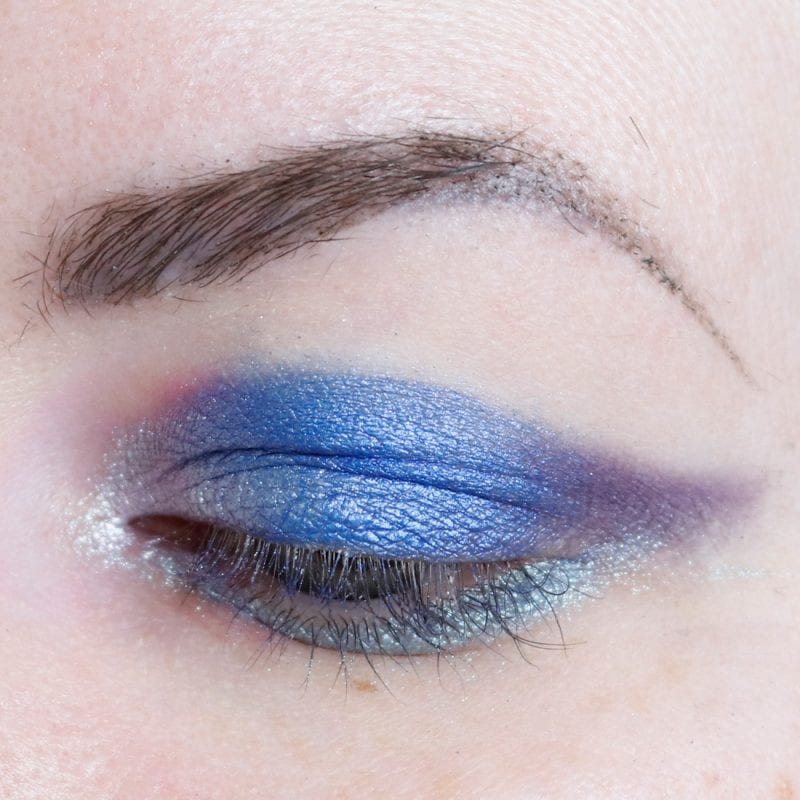 For this quick blue look I put Super Moon on the lid and Starry on the lower lid. I added a pop of Pink Moon at the inner crease, Crescent at the inner corner, and Nova at the outer lid.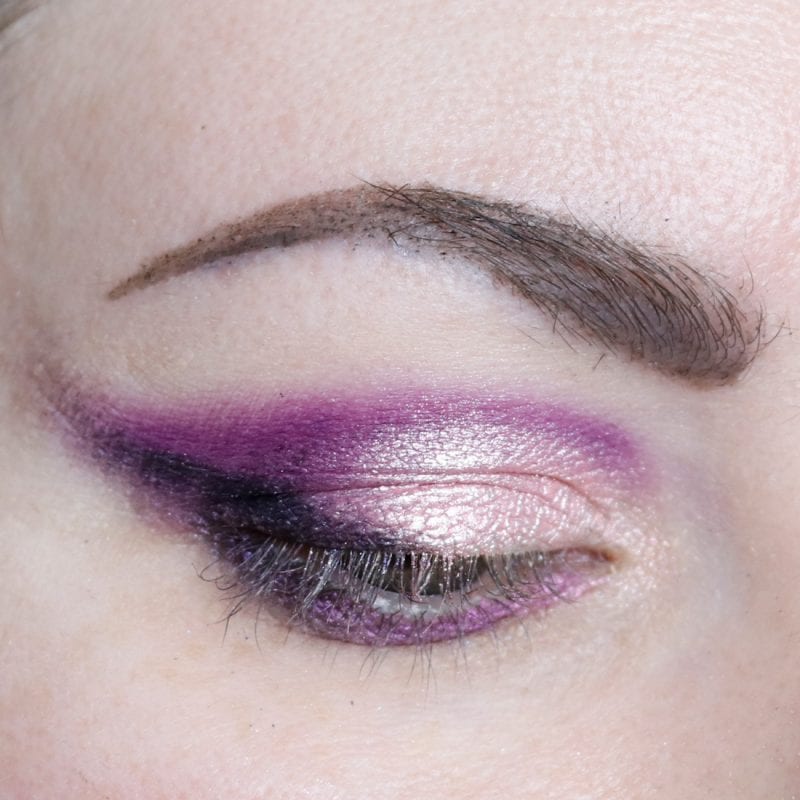 For my quick purple look I put Stellar on the lid. I used Luna through the crease and outer corner of the lid. I put Orbit on the lower lid and used Midnight as liner.
Other Lime Crime Features
Lime Crime Aura Palette Review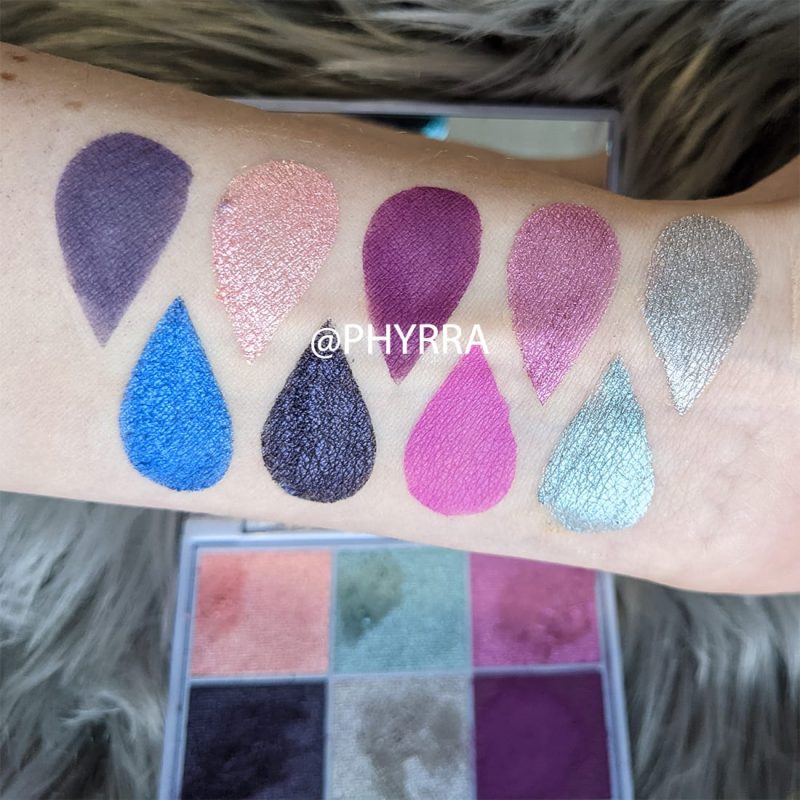 I'm into super bright and cool-toned eyeshadows, so I love the mix of colors in the Lime Crime Aura Palette. I absolutely love that Lime Crime released an all cool-toned palette. I love the ultra-shiny shimmer metallic formula. The mattes are easy to blend out and build up.
While I used to like super bright blush on me, I've since moved to softer washes of blush. I could see me attempting to use Pink Moon as a blush with a duo fiber brush and a light hand. I might be able to use Stellar as a highlighter, again if I used a duo fiber brush and a light hand.
My favorite shades in the Lime Crime Aura Palette are Orbit, Luna, Stellar, Nova, Midnight, Crescent,  and Starry.
If you are looking for a standalone eyeshadow palette, this might not be for you. I personally need to pull in more eyeshadow shades, such as a transition shade, to create a complete look on my hooded eyes.
If you are looking for a cool-toned eyeshadow palette with pinks, purples and blues, you might love this palette. Just keep in mind that not all shades are intended to be worn on the eyes. I recommend spot testing to see if your eyes can tolerate the formula.
What do you think of the 100% vegan, cool-toned Lime Crime Aura Palette?