Hello beautiful creatures! Today I'm sharing some of the jewels from the KBShimmer Enchanted Forest Collection. This collection launched at the end of February 2021. Thank you so much to KBShimmer for sending me the nail polishes that I'm featuring today. KBShimmer nail polishes ranges in price from $10 for cremes to $11 for other formulas. They are one of the most affordable nail polish brands out there and they make some of the most unique polish I've ever found.
Where to Buy
Amazon, KBShimmer, Etsy
About KBShimmer
For those of who you don't know, KBShimmer is a 100% cruelty-free, 100% vegan indie beauty brand. They make some of the most beautiful multichromes in existance! KBShimmer also makes wonderful bath and body products. I use their Pink Sugar Body Lotion, I swear by their tri-level cuticle oil, and Dave is now hopelessly addicted to their matte cuticle balm.
Enchanted Forest Collection
The KBShimmer Enchanted Forest Collection is made up of 9 polishes. Frequent Flyer, a white-based multichrome that has all the hues of the rainbow. Amanita Moment, a green crelly with color shifting flakies. Mist Me, a slate blue with rose gold hues. Dawn to Earth, paying homage to the sun with a cobalt blue base and pink shimmer. Hidden Potential is a warm violet with golden green shift. No Illusions is a stunning multichrome that shifts from teal to emerald to purple and magenta. Branching Out is a tri-thermal that ranges from navy to dusty periwinkle to mint. I'd Pick You is a pastel orchid crelly with color changing flakies. What the Fudge is a milk chocolate creme polish.
In addition to showing you my favorites from the Enchanted Forest collection today, I'm also featuring Obsidian and White Here White Now.
Dawn to Earth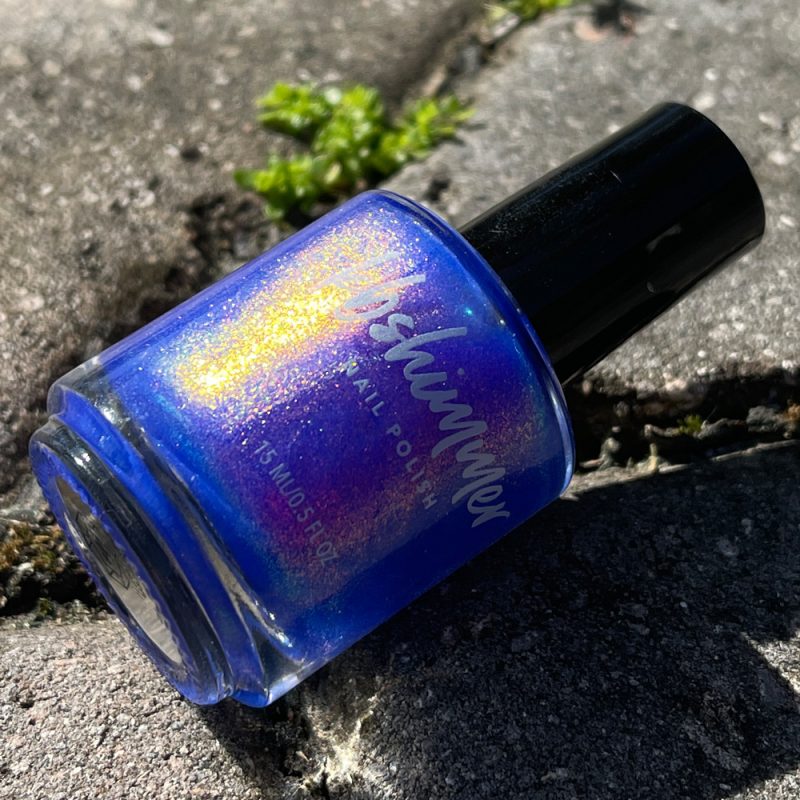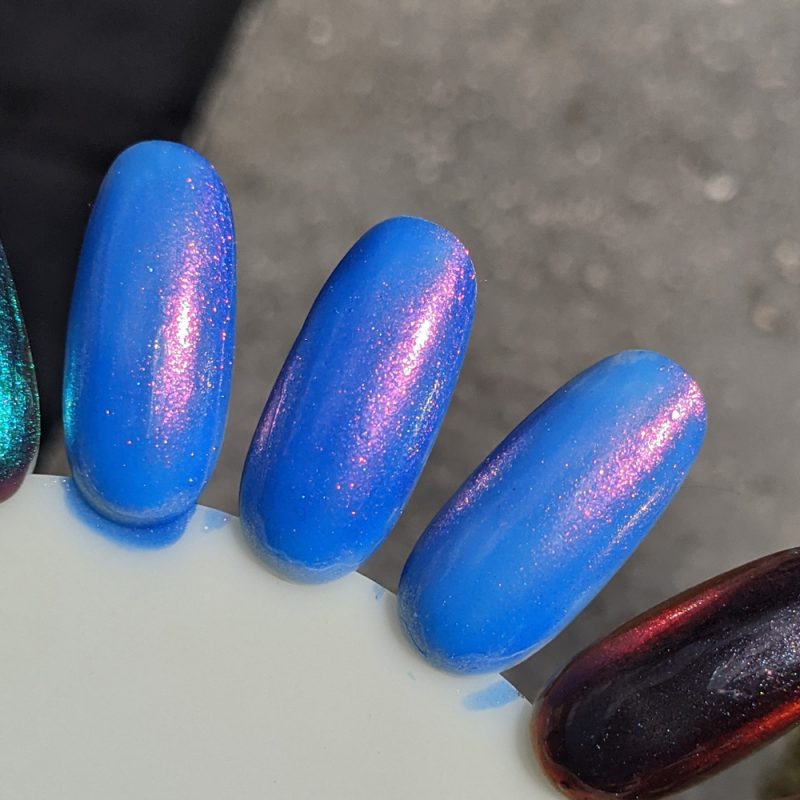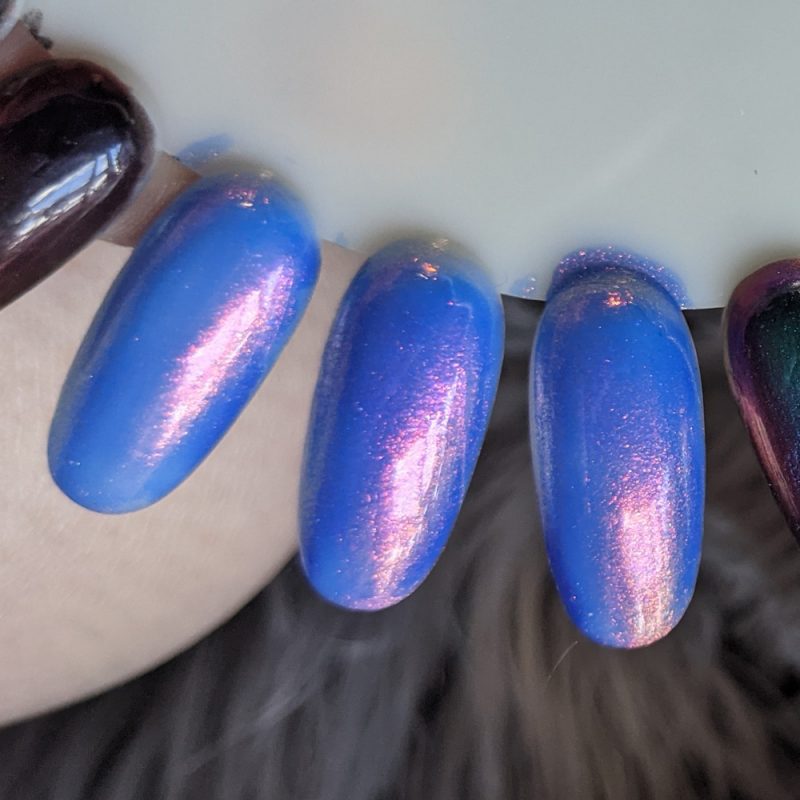 The top photo of Dawn to Earth was taken outdoors, while the bottom photo was taken indoors. Dawn to Earth is a gorgeous bright cobalt blue jelly. It has a strong pink shift that hits hues of rose, fuschia, peach and gold.
Frequent Flyer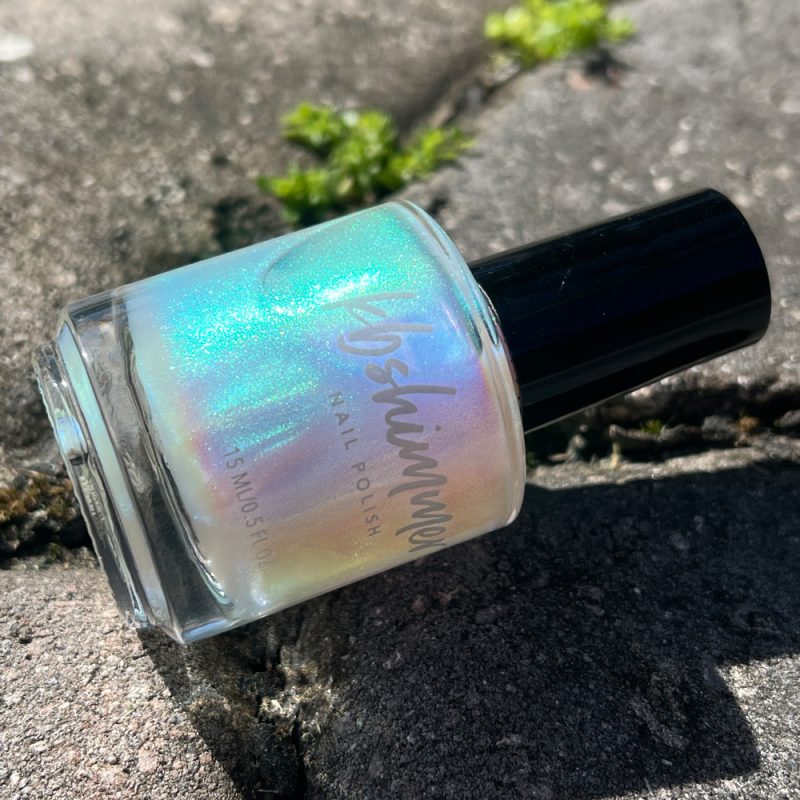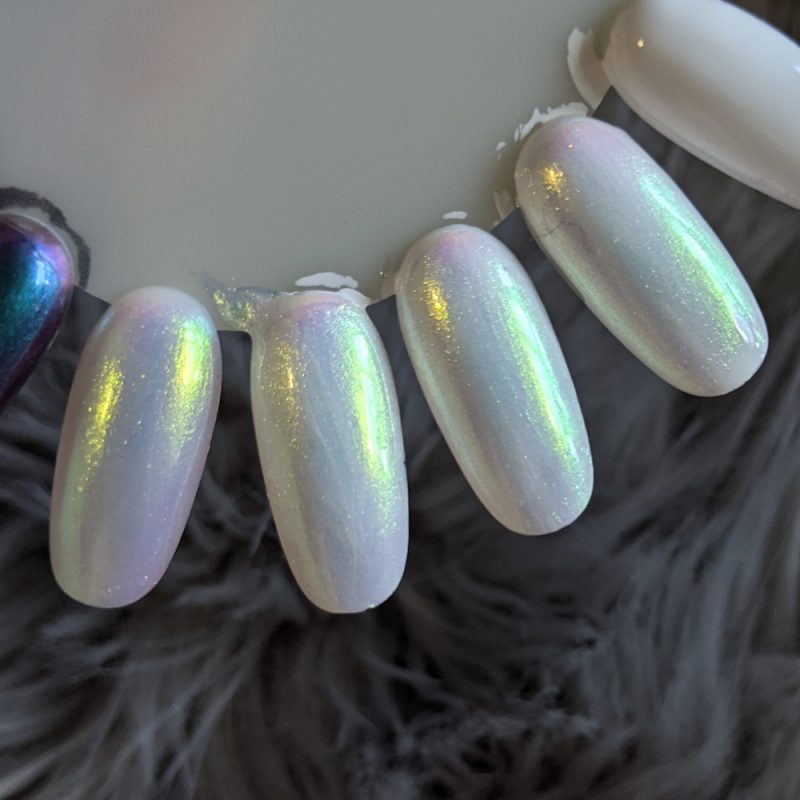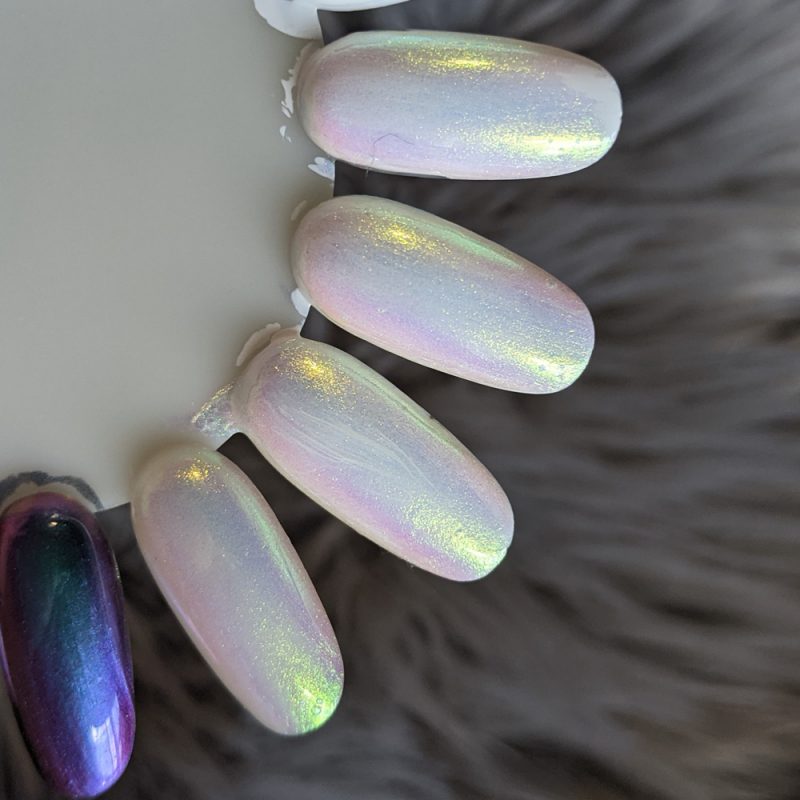 The two photos below of KBShimmer Frequent Flyer were taken outdoors in sunlight. above the photos were taken indoors in natural light next to a window.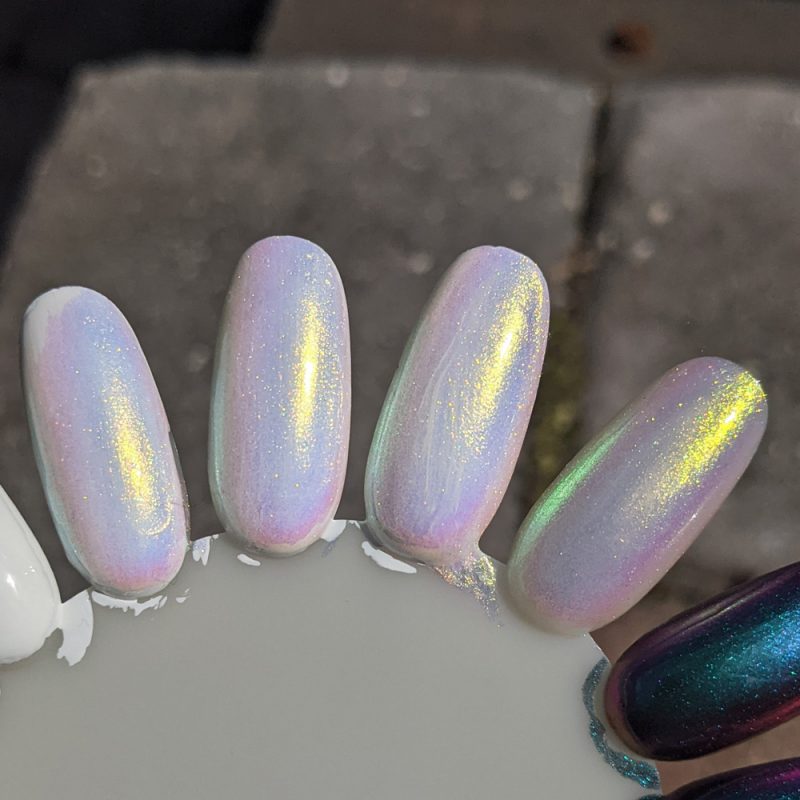 For the 3 nails on the left above I used 1 layer of KBShimmer White Here White Now as a base and two coats of Frequent Flyer. For the 1 nail to the right I used 3 coats of Frequent Flyer. The difference I noticed between the two is that without a white base Frequent Flyer leans more pink. With the white base, the pastel tones really pop!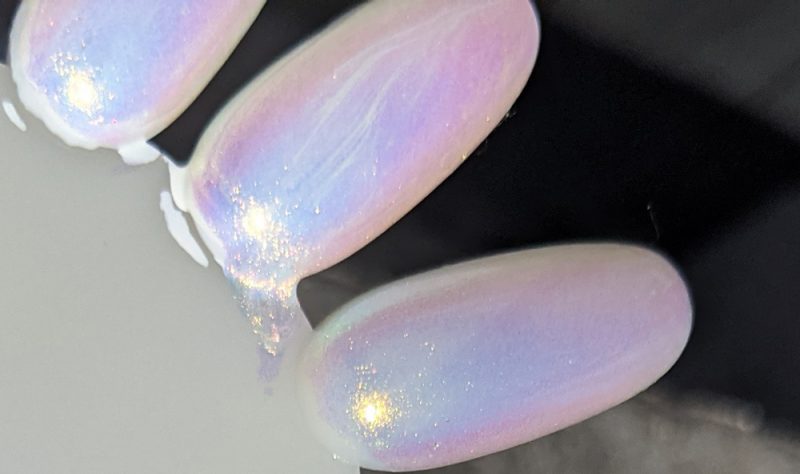 KBShimmer describes Frequent Flyer as shimmering shades of golden champagne that shift to spring green. You'll see tones of aqua, blue, peach, rose, and violet. Worn on its own or layered over a white or neutral base the pastel rainbow hues come to life. On top of black you will see jewel rainbow tones of gold, green and aqua.
I love how Frequent Flyer looks on top of White Here White Now when paired with a stiletto nail shape. So pretty!
No Illusions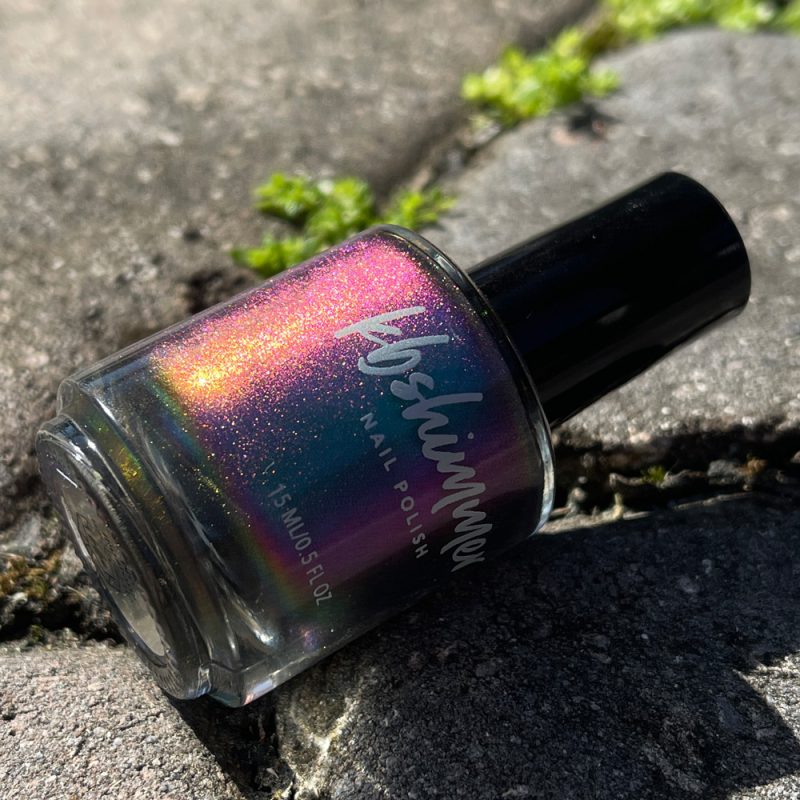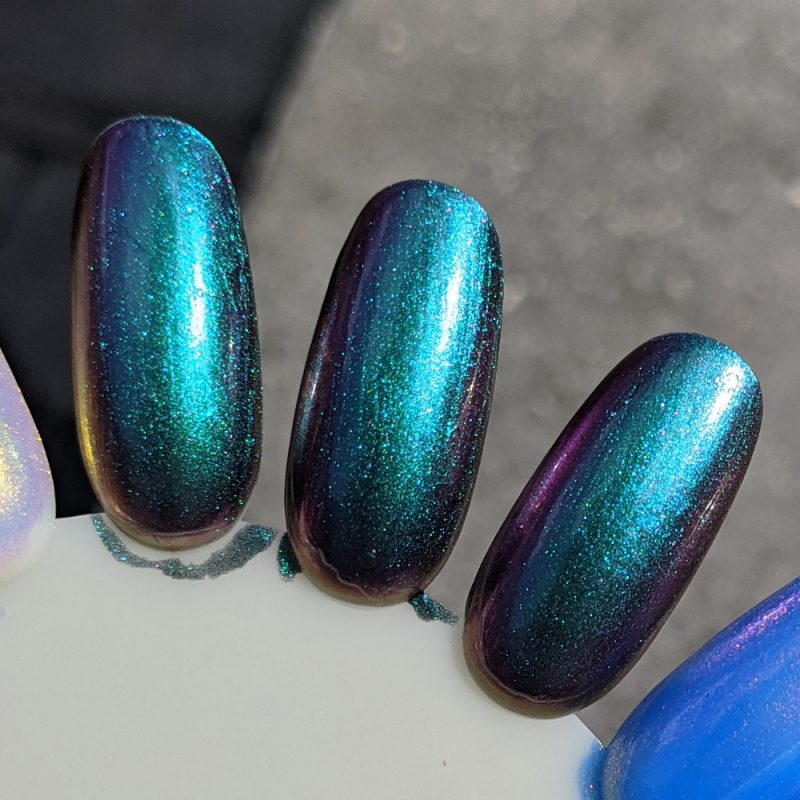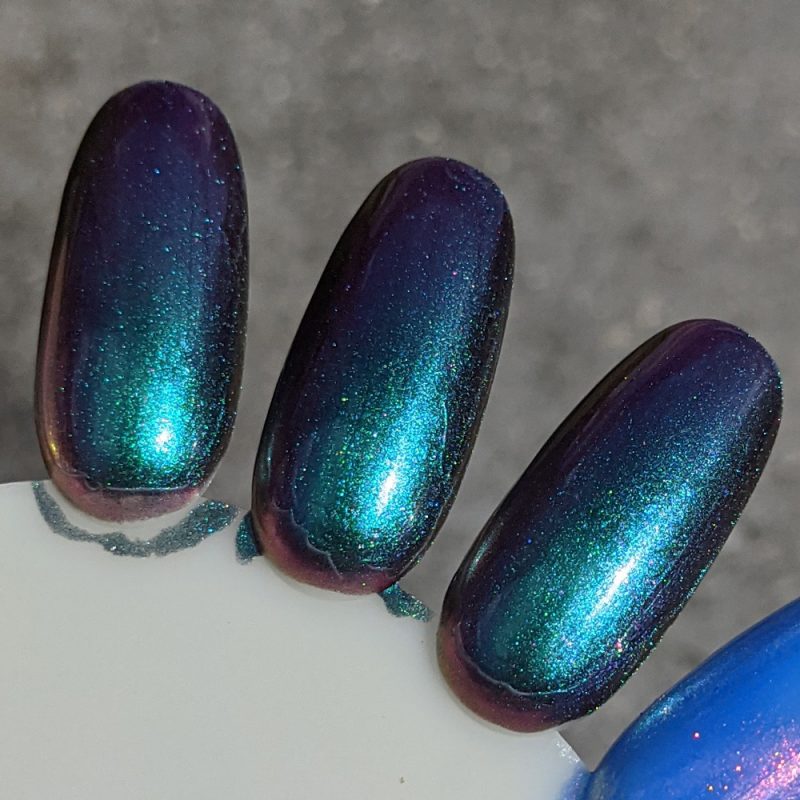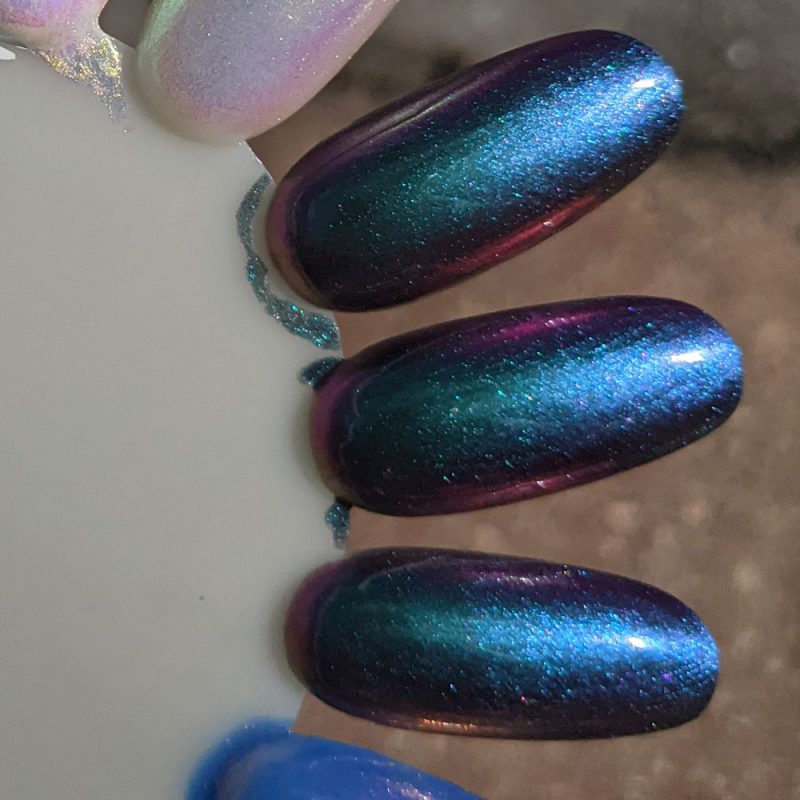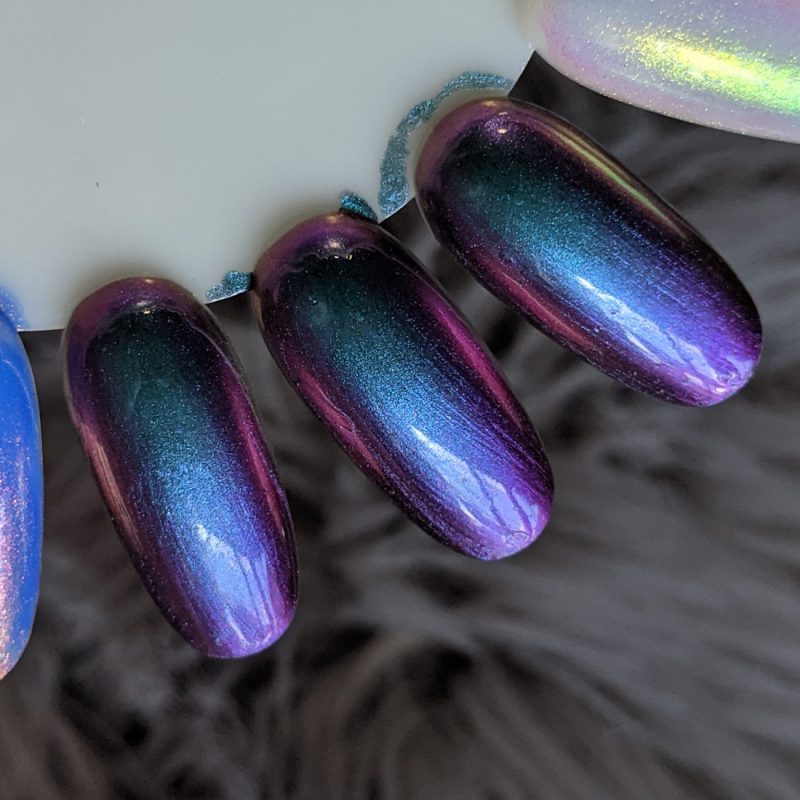 The above photos of No Illusions were taken outdoors except for the bottom photo, which was taken indoors next to indirect sunlight. I love that last photo so much! No Illusions is a jaw dropping multichrome. Starting as a bright teal that shifts into emerald with hints of blue, it quickly morphs into grape and magenta purples. No Illusions is absolutely one of the shiftiest multichromes I've ever seen.
Obsidian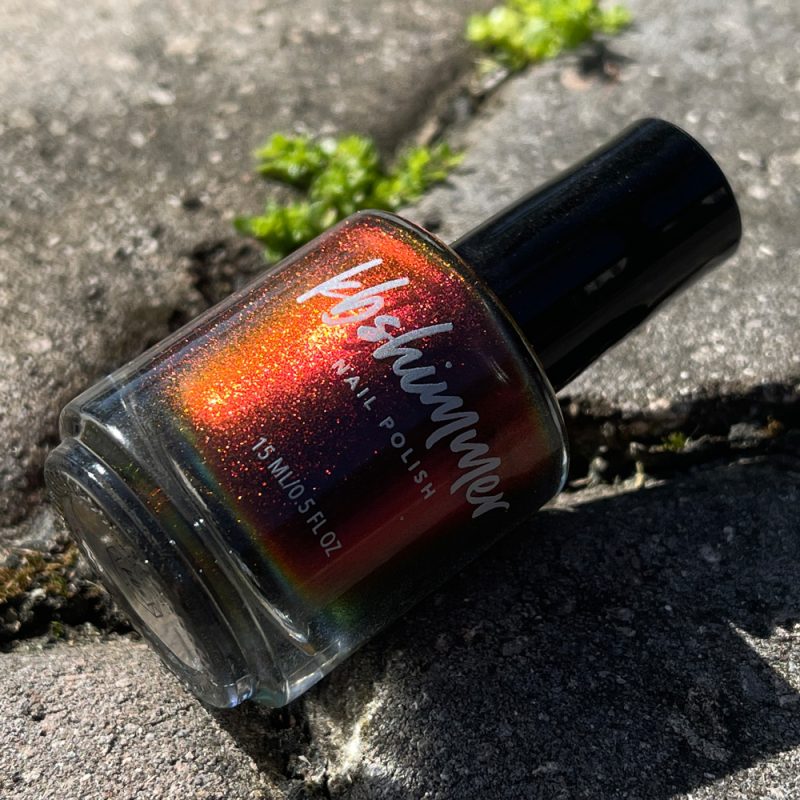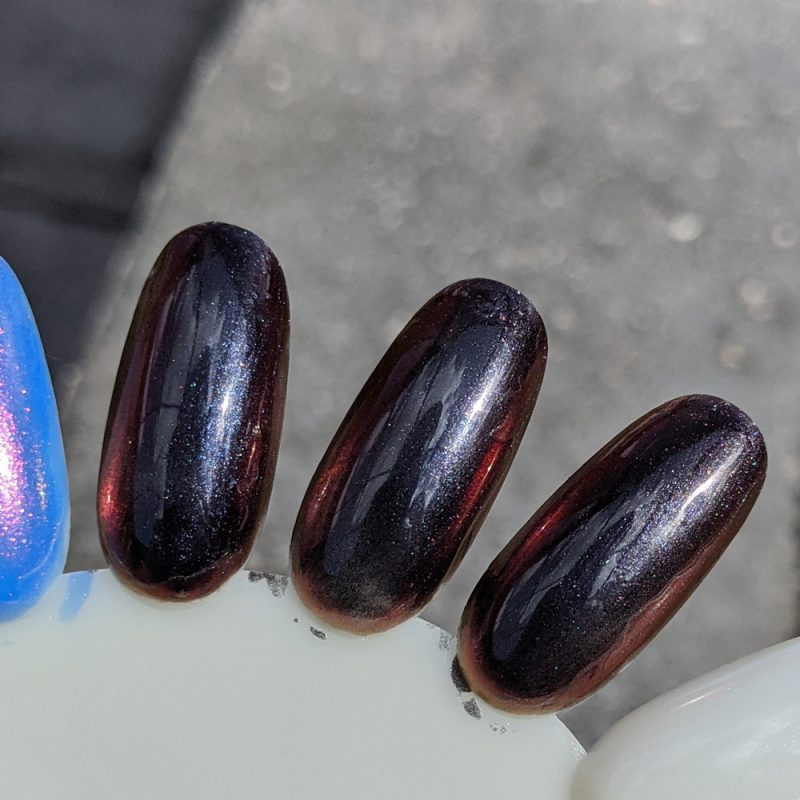 For the photo above, Obsidian was photographed outside. Below, Obsidian is shown indoors next to natural light by a window.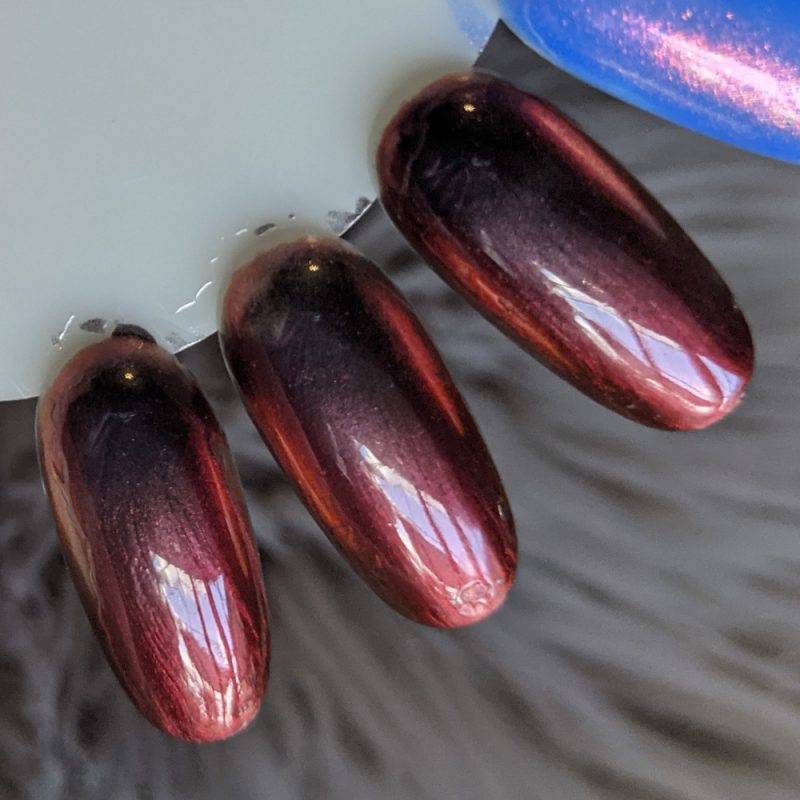 Obsidian is not part of the KBShimmer Enchanted Forest Collection, but I wanted to make sure you saw this color if you're a fan of multichromes and you like darker colors. Obsidian is a black multichrome that shifts to shades of umber, crimson, orange and gold. It is so stunning!
KBShimmer Enchanted Forest Collection Final Thoughts
Frequent Flyer and No Illusions are my absolute favorites from the KBShimmer Enchanted Forest Collection. I can't choose between them! If you only want to pick up 1 or 2, they are my top recommendations. They're too beautiful!
If you love thermal nail polish, I recommend the shade Branching Out, as it is a beautiful navy to aqua. I've still got my eye on Hidden Potential, as I may pick that one up!
Many apologies for my absense here on the blog as well as on my YouTube channel. I have been struggling in my personal life. If you've missed chatting with me and seeing my posts, please visit the PhyrraNyx Facebook Group, as I pop in there at least once a day to say hello, comment on people's gorgeous makeup looks, and offer makeup advice.
Want to learn how to do your own nails at home like I do? Check out my How to DIY Gel Nails at Home! You can also get ideas for your nail desk by checking out my nail polish work station.