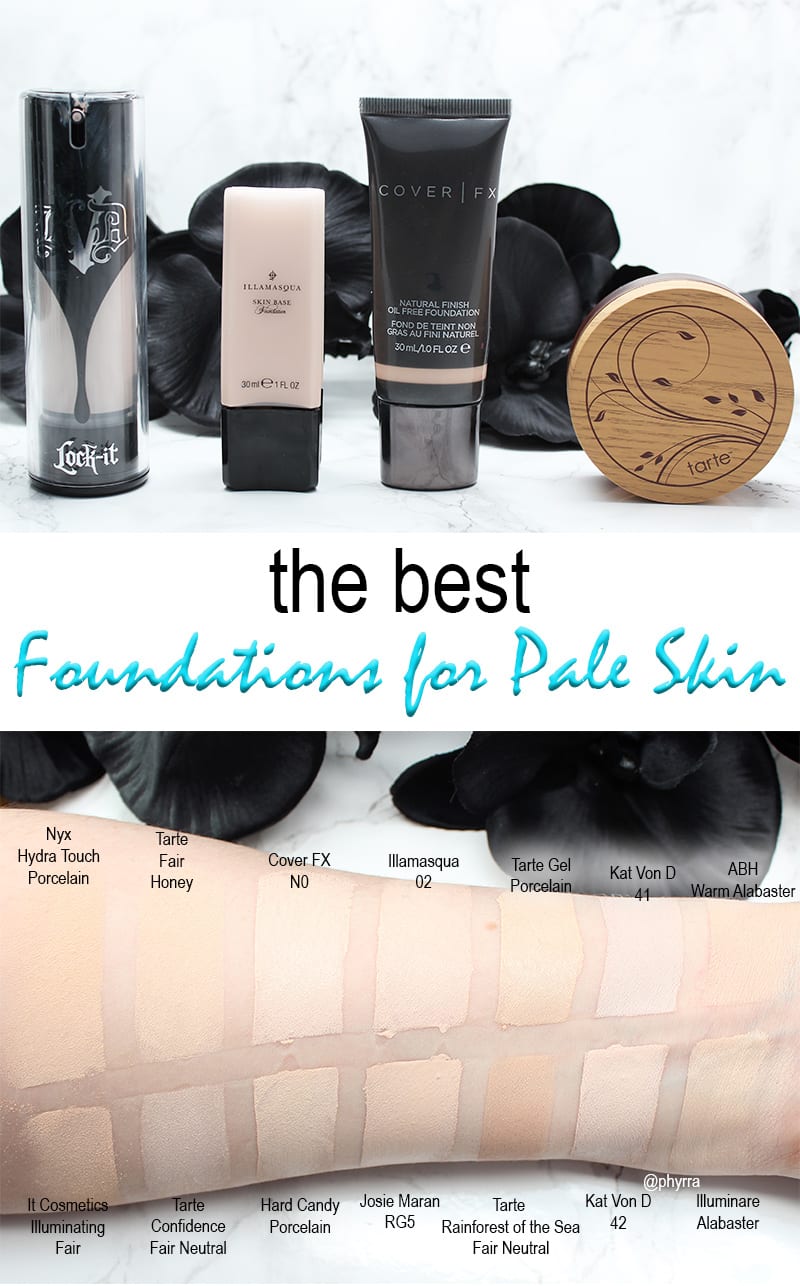 When you're pale, it's hard to find the perfect foundation. It seems like the lightest shade in most foundation lines leave me orange or pink, not a good look! So today I'm sharing the best foundations for pale skin. These foundations are all cruelty free and many are vegan.
You don't want to miss my 49 face swatches of pale and fair skin foundations.
Best Foundations for Pale Skin
Pr + purchased by me.
Of course, you can always add white to any liquid or cream foundation to make it a better match for your skintone, but sometimes it's just nice to not have to mix. I hate having to mix my foundation to match my skintone daily. Most of the time I just want to put on my foundation and go.
What I'm looking for in a foundation is one that will hide my redness from rosacea, even out my skintone, and last at least 8 hours. I'd like it to be hydrating, or at least not emphasize my dry skin and fine lines. And of course, I want it to match my pale skin, as opposed to be too dark for me.
Oily to Normal Skin Types
Kat Von D Lock-It Foundation (vegan)
Kat Von D Lock-It Foundation has a lot going for it. In addition to offering 2 shades pale enough for me – 41 Light Neutral & 42 Light Neutral – she also has all global shades of beauty, too. There are 32 different shades. Lock-It foundation is ultra full coverage and has a matte finish.
Now, if you have oily skin Lock-It will be your best friend. If you have dry skin, like me, you're going to have to put in extra products to make it work for you. Right now, I'm mixing in Nyx Pro Foundation Mixer in Opalescent and Paula's Choice Hyaluronic Acid Booster when I want to wear Lock-It. You can also add a few drops of Josie Maran Argan Oil to it too.
Anastasia Beverly Hills Stick Foundation (vegan)
ABH says this is a light to full coverage cream foundation stick with a natural-looking demi-matte finish. It currently comes in 24 shades. I bought the shade Warm Alabaster (for pale, warm toned skin). There are several other shades for pale skin, such as Alabaster (for pale skin with cool tones), Porcelain (deeper than Alabaster) and Warm Porcelain (deeper than Warm Alabaster). I think this is probably best for oily skin, though I'm still experimenting to see if I can make it work with my dry skin. Currently Alabaster and Warm Alabaster are only available at Anastasia's website.
Cover FX Pressed Mineral Foundation (vegan)
Pressed Mineral Foundation is available in 40 shades. I wear shade N0. It's best suited for oily skin, as it is infused with kaolin clay.
Geek Chic Cutie Foundation (vegan)
Cutie Foundation comes in 6 shades. Kahlan is the pale neutral. This is especially good for sensitive, oily skin.
Meow Cosmetics Foundations (vegan)
Meow Cosmetics will blow you away with their shade range. It comes in a staggering 86 different shades, plus multiple formulas for normal to oily skin. It's been too drying for me to wear for the past several years, but I do love the colors. I wore Inquisitive Siamese and Inquisitive Sphynx, but I did mix in Snow Lynx to lighten it to match.
The All Natural Face Pressed Powder Foundation (vegan)
This pressed powder foundation is available in 50 shades. When I last wore it, I wore Porcelain Kissed by Honey.  This is good for normal to oily skin.
Urban Decay All Nighter Foundation
Available in 24 shades, this is ideal for oily skin. Beware, as it oxidizes pretty dark. I have shades .5 and 1.0, but I have to add a lot of white to them to make them match me. They need a .25 – ultra pale neutral.
Hard Candy Glamoflauge Foundation
I've had many people tell me that this is their holy grail drugstore foundation for pale skin. It only comes in light to medium shades. I have Porcelain. It's oil free, too.
Dry to Normal Skin Types
Illuminare Moisturizing Mineral Foundation (vegan)
This comes in a very small shade range of about 5 colors. Alabaster is a great match for me. This foundation is fragrance free, gluten free, salicylate-free, bismuth oxychloride free, talc free, mica free, dye free, and oil free. It's great for dry, sensitive skin. See my wear test video.
Tarte Amazonian Clay Airbrush Foundation (vegan)
The Amazonian Clay airbrush foundation is like a loose mineral foundation. It comes in 16 different shades, mostly light to medium tones. It does have bismuth oxychloride in it, which can cause irritation in some sensitive skin types. I have the shade Fair Honey, which is a good match for my pale skin. It does a good job of covering up my redness from rosacea. This is my favorite foundation from tarte.
Tarte Confidence Creamy Powder Foundation (vegan)
The Tarte Confidence Powder Foundation is only available in 10 shades – from light to light medium. It claims to be a 2-in-1 foundation with makeup and skincare benefits. It's supposed to be medium to full coverage. I have Fair Neutral, which is a good match for my skintone. You can apply this wet or dry. It's good at evening out my skintone and masking redness.
Illamasqua Skin Base (vegan)
Illamasqua Skin Base is supposed to provide a realistic skin effect. It comes in 26 different shades from light to dark. I wear 02, which is described as pink with yellow. See my review.
Cover FX Total Cover Cream Foundation (vegan)
Available in 40 shades, Total Cover Cream is perfect for dry skin. N0 is a great match for my pale skin. Because it's a cream you can sheer it out for light coverage, apply it for medium coverage or build it up for full coverage.
Cover FX Natural Finish Foundation (vegan)
Natural Finish Liquid Foundation is also available in 40 shades. This is a water-based liquid foundation that is ideal for dry skin. I wear shade N0. Lately I've found that to get it to look the way I want it to look I need to mix in a little bit of Nyx Opalescent.
Lucy Minerals Original Foundation (vegan)
So this loose foundation is completely customizable. I use a mix, Courtney, which is 50% Snow White / 50% Light. You just need to order a try me size of the shades closest to you and figure out how much white vs. how much of the correct undertone. Light is light neutral. Pale Olive is for pale olive skin, Fair is for pale cool toned skin, and Cream is for pale yellow toned skin. While I love this foundation, I do get tired of having to press it myself.
The All Natural Face Vegan Cream Foundation (vegan)
Available in 50 shades. I wear Porcelain Kissed by Honey. Cream foundation made with organic jojoba oil, organic argan oil, candelilla wax, mica, oxides, titanium dioxide and zinc oxide. This is great for normal to dry skin.
Urban Decay Naked Skin Foundation (vegan)
Available in 24 shades, this is a great foundation for dry skin. Beware, as it does oxidize darker. I have shade .5, which I have to add white to if I want to wear it. They need to make .25 – an ultra pale neutral.
Urban Decay One & Done Foundation
Available in 6 shades, this is ideal for dry skin as it's very moisturizing. Beware, the shades run very dark. I literally mix 50% or more white foundation mixer with Light, the palest shade. They need an ultra pale neutral color.
It Cosmetics Celebration Illumination Foundation
This is only available in light to medium tones, which is unfortunate. The shade Fair is a bit dark for me, but it does a great job of covering up my redness from rosacea. This is a good powder foundation for fair, dry skin. I really hope they offer a paler neutral shade soon! I've emailed the company to request it.
Josie Maran Vibrancy Argan Oil Foundation Fluid
Vibrancy Argan Oil Foundation Fluid comes in 14 different shades. Dynamic RG5 is a good match for my pale skin. It's their palest neutral. This is best for dry to very dry sensitive skin.
NARS Sheer Glow Foundation
NARS Sheer Glow was my go-to foundation for a long time. It comes in 18 different shades. Siberia is what I wear in this line. It's a pale neutral that leans yellow.
bareMinerals BarePro Foundation
With 30 shades available, bareMinerals barePRO powder foundation works for a lot of skintones. The lightest shade is Fair 01, which is too pink for me. I wear Dawn 02, which is more neutral toned, though it's a bit darker than me. If you're pale and yellow toned, you may want to look at Champagne. I like it because it's my quick and easy go-to foundation. It covers up my redness and evens out my complexion. See my review of Fair, Dawn and Champagne.
Tarte Empowered Hybrid Gel Foundation
Tarte recently expanded this foundation to 16 shades, from Porcelain to Mahogany. I bought the shade Porcelain, which is supposed to be for very fair skin. It's best suited to ultra dry skin. I'm mixed on this foundation. The packaging is absolutely horrible. I had to depot mine into an airless pump because the jar packaging is such a mess. The shade Porcelain does match my skintone decently. It's really moisturizing for dry to very dry skin types. It does not work well with a primer, such as Hourglass Veil Mineral Primer. It just sits on top of it.
Hourglass Vanish Seamless Finish Foundation Stick
The Vanish Foundation Stick is an ultra luxury foundation and concealer in one that promises to provide 12 hour coverage. It comes in 26 shades. It says it applies with the ease of a liquid and melds into your skin. The shade Blanc is a good match for pale, cool-toned skin.
Buxom Show Some Skin SPF 30
This is a light coverage hydrating foundation suited for dry skin. It comes in 12 different shades, with Tickle the Ivory being the closest shade I can wear. It's still a bit dark but it's doable.
Nyx Hydra Touch Powder Foundation
Nyx Hydra Touch Powder Foundation comes in 20 different shades. Porcelain is for fair skin with neutral undertones. This is a delicate powder. My pan cracked when I touched it with a brush. It's still one of the better options available at the drugstore.
How to Fix a Foundation That's Too Dark for Pale Skin
The easiest way to fix a foundation that's the right undertone but too dark for you is to use a white foundation mixer. There are quite a few available these days.
How to Make a Foundation Work for Dry Skin
The number one thing that you can do to make a foundation work better for dry skin is to add a drop or two of oil to it. Oils will  help it to meld with the skin and not cling to dry patches. I also like to prep my skin by applying a beauty oil in the morning before I put on my SPF.
See me swatch and wear 49 foundations for pale skin!
What are your picks for the best foundations for pale skin? Is your skin type dry or oily? Let me know!
The Pale Girl's Guide to Beauty