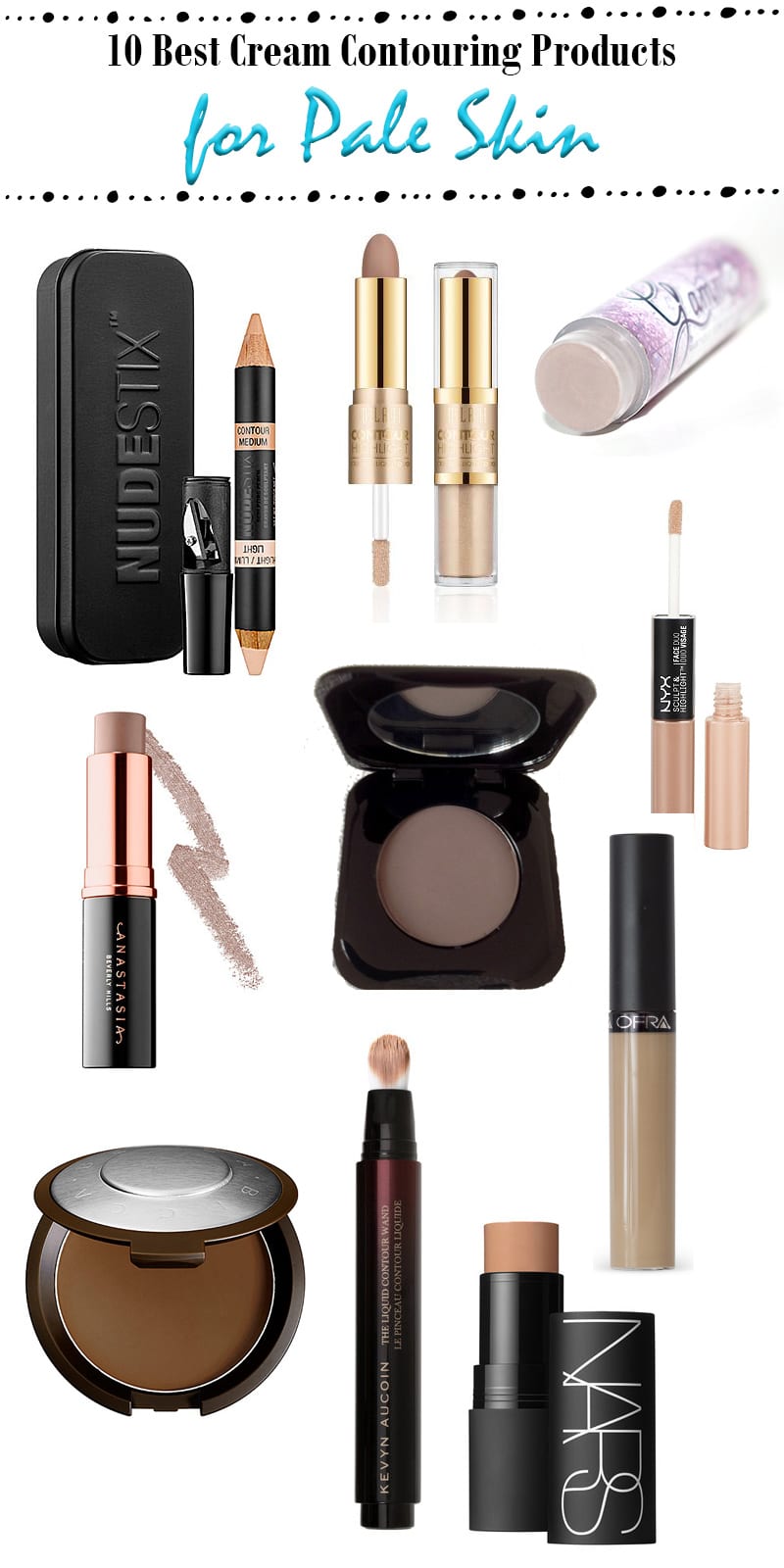 Top 10 Cream Contouring Products for Pale Skin
I wanted to share my picks for the top 10 cream contouring products for pale skin. I've got options for every budget, from affordable drugstore and indie brands to department store and luxury brands. I was sad to see that OCC John Doe Colour Cream doesn't seem to exist anymore, because it was one of my favorite options for pale skin.
PR + purchased by me.
First and foremost, many people prefer cream contours because they are easier to apply and blend out. It's harder to overdo a cream contour. You just swipe the cream contour  into the hollows of your cheeks and blend. If you have dry skin, you may prefer cream contours since they will work well with liquid foundation and look more natural. If you have oily skin, you may prefer a powder contour. While I have dry skin, I tend to prefer powder contours because I find them easier to work with.
However, many contour shades are just too dark to work on pale skin. So I've hunted down the best shades to check out. I know I'd rather not waste time lusting over a product only to find out it's the wrong shade for my skintone. All options are cruelty free and some are vegan.
Another interesting thing to try is only using highlighting and contouring cream products around the face. This is actually what Maskara created with her IIID palettes. To do this you apply the darker contour product around your face – the hollows of the cheeks, the sides of the nose, the hairline around the temples and forehead, and the bottom of the jawline. Then you apply the highlighting shade to the tops of the cheekbones, the center of the forehead, above the brows, down the center of the nose, the chin, and the sides of the face next to the nose. Then you blend the two shades together around the face. A beauty blender is indispensable if you're going to try this method.
Finally, if you're going to try cream contouring, a good primer is an absolute must. You need one that will help the product glide across your skin and blend out smoothly. I'm currently obsessed with the Urban Decay Optical Illusion Primer. It makes my skin look amazing. Before I got hooked on UD's primer, I was devoted to Hourglass Veil Mineral Primer. Nyx Angel Veil is a more affordable dupe of that one.
Cream Contouring Product Swatches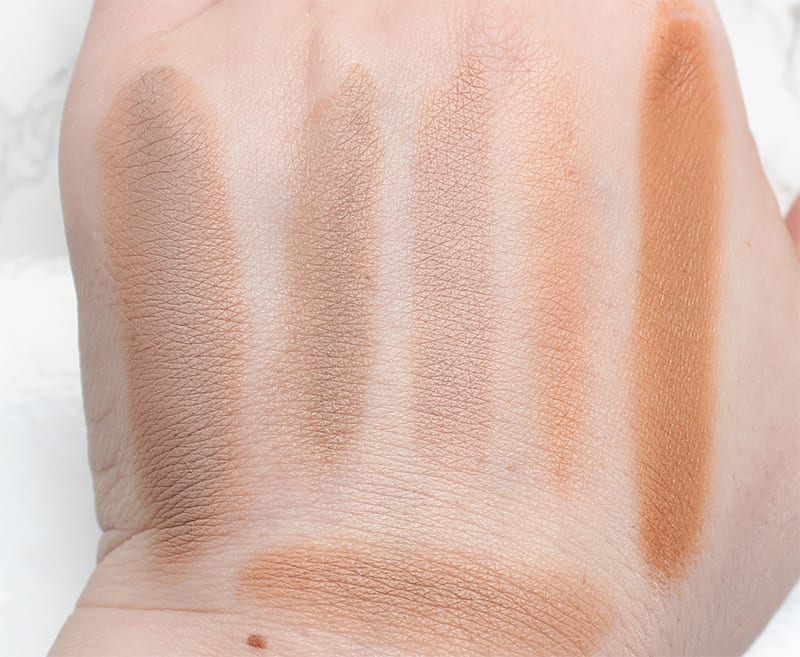 From Left to Right – OCC John Done – Life's Entropy Alpha – Life's Entropy Proton – NARS Altai – Kat Von D D35 Neutral
Bottom – Maskcara Walnut HAC foundation
I don't have a lot of cream contouring products, since I normally use powders, but I thought you would find these swatches helpful. John Doe is a pale, ash-toned taupe. Alpha is a grey beige. Proton is a light golden ashy brown. Altai is a rose bronze. D35 is a deep clay with neutral undertone. Walnut – fair to medium skintone.
Top 10 Cream Contouring Products for Pale Skin
1. BECCA Lowlight Sculpting Perfector
BECCA Lowlight Sculpting Perfector is a slightly greyed brown cream that blends seamlessly into your skin. (luxury)
2. Life's Entropy Particle Contour Sticks
Life's Entropy Particle Contour Sticks are a great option with a ton of shades available. Proton (a light golden ashy brown) and Alpha (a true grey beige) are perfect for pale skin. Proton is best for pale warm toned skin, while Alpha is best for pale neutral or cool toned skin. (indie)(vegan)
3. Nudestix Sculpting Pencil in Light / Medium 1
Nudestix has an easy to use contouring option for pale skin. Light / Medium 1 has a cool porcelain side for highlighting and a soft neutral brown taupe side for contouring.(department)
4. Nyx Sculpt and Highlight Face Duo in Ivory Taupe
The Nyx Sculpt and Highlight Face Duo is an affordable drugstore option. It has a neutral taupe side for sculpting and an ivory with a pink undertone for highlighting. Nyx also has the Wonder Stick for contouring. (drugstore)
5. Milani Contour & Highlight Cream & Liquid Duo
The Milani Contour & Highlight Cream & Liquid Duo just launched and it contains a matte cream contour shade on one side and a liquid illuminator on the other side. The shade Fair/Light is good for pale skin. I just ordered this and will be reviewing it once I receive it. Sadly none of the stores that carry Milani near me ever carry any of the pale shades so I'm always relegated to ordering online. (drugstore)
6. Pumpkin & Poppy Michelle Cream Contour
Pumpkin & Poppy's powder contour for pale skin, Oak Bark, is a cult hit. Kristy created a cream version of it for pale skin called Michelle. (indie)(vegan)
7. Anastasia Beverly Hills Stick in Fawn
If you use Anastasia Beverly Hills Fawn with a light hand, it's workable for pale skin. (department)(vegan)
8. NARS Matte Multiple in Altai
For pale skin with neutral to warm tones, NARS Altai is a good contouring option.(luxury)
9. Ofra Skin Sculpting Wand in Sunset
The Skin Sculpting Wand in Sunset is a subtle taupe shade for contouring pale skin. (department)(vegan)
10. Kevyn Aucoin The Liquid Contour Wand in Light
The Liquid Contour Wand has a light-weight, silky serum formula to sculpt around the face. (luxury)
Pale Girl's Guide to Beauty Series