A while back I won a Twitter contest from Illamasqua and received the limited edition Skin Base in Au. I loved the formula but figured I should try a color that would better match me, so I ordered Skin Base in 4 from the UK. 4 is a bit darker and more color than I'm used to, so I purchased Skin Base in 1. My lovely friend Cin also sent me a sample of Skin Base in 2.

This is, of course, a picture heavy post. I compare Illamasqua Skin Base 1, 2, 4, Au and a 50/50 mix of 1 and 4 all together.
The Website Claims:
Inspired by the cult Asian market Beauty Balm creams, Skin Base Foundation is a brand new, refined formula unlike anything on the UK market. Easily blendable, it effortlessly creates a perfect complexion, and like the entire Illamasqua foundation range, is undetectable in a professional HD environment. Suitable for all skin types, it smoothes, softens and conditions your skin whilst providing natural, buildable coverage.
This is taken under my daybulb light with no flash. Yes you can easily see my veins and my skin looks a bit blue. It's just how my skin looks.


This is taken with flash.

The dots on the back of my hand, while small, are extremely pigmented. I can apply 1, 2 and 4 sheerly and they will work ok with my skintone. Au makes me look like I have a tan.
Illamasqua Skin Base Foundation Shade Descriptions:
1 – White – ideal as a highlighter
2 – Pink undertone
4 – Yellow / Pink Undertone
Au – metallic shimmer (golden)
In retrospect, I've become a bit complacent about my foundation. I can make most of the shades I own work for me, either by color correcting with powder or by mixing. However, it's nice not to have to mix!

This is 1, unblended. A little bit goes a long way.

This is 1, blended out, covering the entire back of my hand.

Remember the tiny dots from before? This is me blending them just upwards and downwards, into a more solid line of color. This is the daybulb version.

This was taken with flash.

These are the lines, blended in a straight line, as much as possible. This picture was taken with flash. You can see how they do sort of meld with my skin.

This is taken with the daybulb, no flash. I think the Skin Base shades 1 and 2 work and can be blended out sheerly on my skintone, though as you can see 4 on its own is a bit dark for me and Au is definitely dark.

So because I thought it would be useful, I striped the Skin Base foundation along my jawline for you to check out. You can see how my cheeks have a natural pink overtone.

Honestly, I was worried 2 would be too pink for me, but I think it looks pretty good. The Skin Base 1 & 4 mixture look good to me as well. In the swatch, 4 looks too dark (as is Au).

I did try blending these out for you, in as straight of lines as I could manage.

You can see how the Skin Base really does cover imperfections in my skin.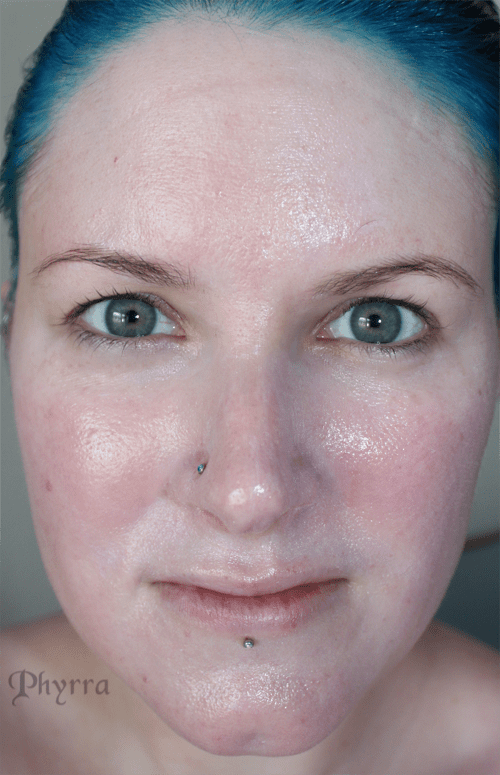 For reference, my naked face. This is right after I've cleansed it and put on moisturizer.
Ingredients:
AQUA (WATER), CYCLOPENTASILOXANE, BUTYLENE GLYCOL, GLYCERIN, HYDROGENATED POLYISOBUTENE, PARAFFINUM LIQUIDUM (MINERAL OIL), PHENYL TRIMETHICONE, TALC, PEG-10 DIMETHICONE, MICA, DIMETHICONE, SILICA, CETYL PEG/PPG-10/1 DIMETHICONE, POLYMETHYL METHACRYLATE, DISTEARDIMONIUM HECTORITE, CYCLOMETHICONE, PHENOXYETHANOL, ISOSTEARIC ACID, STEARIC ACID, PEG/PPG-18/18 DIMETHICONE, METHYLPARABEN, DIMETHICONE CROSSPOLYMER, NIACINAMIDE, SODIUM ASCORBYL PHOSPHATE, TOCOPHERYL ACETATE, DIMETHICONE/METHICONE COPOLYMER, SODIUM HYALURONATE,PARFUM (FRAGRANCE) [+/- MAY CONTAIN: CI 77491 (IRON OXIDES), CI 77492 (IRON OXIDES), CI 77499 (IRON OXIDES), CI 77891 (TITANIUM DIOXIDE), CI 77002 (ALUMINUM HYDROXIDE)].
Price:
$39.68 / £25.00 from Illamasqua.com $42 from Sephora.com 30ml 1FL OZ price per 10ml £8.22
Illamasqua Skin Base Foundation Shade Descriptions:
1 – White – ideal as a highlighter
2 – Pink undertone
4 – Yellow / Pink Undertone
Au – metallic shimmer (golden)
For the golden color Au:
Gold is a chemical element with the symbol Au.
Use to create a neutral sculpted and sunkissed complexion.
Can be used as a tan neutral blush or bronze effect
Beautiful golden caramel highlight for Asian and Black Beauty tones.
Use as an eyelid base and create a dramatic look with the Neutral Eye Shadow Palette.
Based upon Skin Base Foundation 11 with added golden shimmer.
Does it live up to its claims?
Yes, I think it lives up to its claims. It's easily blendable on my skin. It's got buildable coverage. It's got a wide shade range of 26 shades.  1 would make a very natural highlight on most people. It really doesn't feel like I'm wearing makeup. It didn't break me out or irritate my skin.
The shades are very forgiving, which is why I feel like 1, 2, 4 and a mix of 1 & 4 work on my skintone when applied sheerly. When applied heavier, I think a mix of 1 & 4, and 2 would work best on my skintone.
I really like the small dispenser for the product, because it allows you to get out a very small, controlled amount of product. This is ideal if you're custom blending a shade. The colors blend together easily. I really think the pigmentation is amazing. While I prefer to apply it sheerly, you can easily build it up. I don't tend to even conceal under my eyes when I'm using this because I feel like it gives me the right amount of color.
For me, this lasts 6 hours or more on my skin. If I apply primer it easily lasts 12 hours. I also apply a finishing powder, which I think helps set the product. Because of how pigmented this is, if I have any zits or funky looking spots, after I apply the foundation, I can just dab a bit on top of the spot and this will cover it. In fact, typically the only place I ever see wear is if I'm wearing my sunglasses, as they rest on the bridge of my nose and they'll leave a tell-tale sign.
Typically I apply this with my finger tips, though I've used a pointed foundation brush and that's nice, too. I think either of those methods work well, but if you're used to using a flat top brush, you could try that and buff it in. Or you may prefer a sponge, but I haven't yet tried that method. I do work with a section of my face at a time. I use a small dot and apply it to my right cheek, blending it upwards and downwards, then I do my nose and chin, then my forehead, and then my left cheek. This is definitely a less is more product, so start with a small amount and work it in.
Would I purchase again?
Yes, since I already have purchased 2 of these, once I run out I would purchase Skin Base again. I think for a high-end foundation, this is a pretty great product. I love how it looks on my skin. I'll likely purchase shade 2 whenever I run out of my 1 & 4 mixture, as I feel 2 is a pretty good match on me. Additionally, I think it will take me a long time to go through this foundation, since I only have to use a small amount to cover my face.
Rating:



Some products purchased by me. Some were gifts. All opinions are my own.