KVD Everlasting Hyperlight Liquid Lipstick Review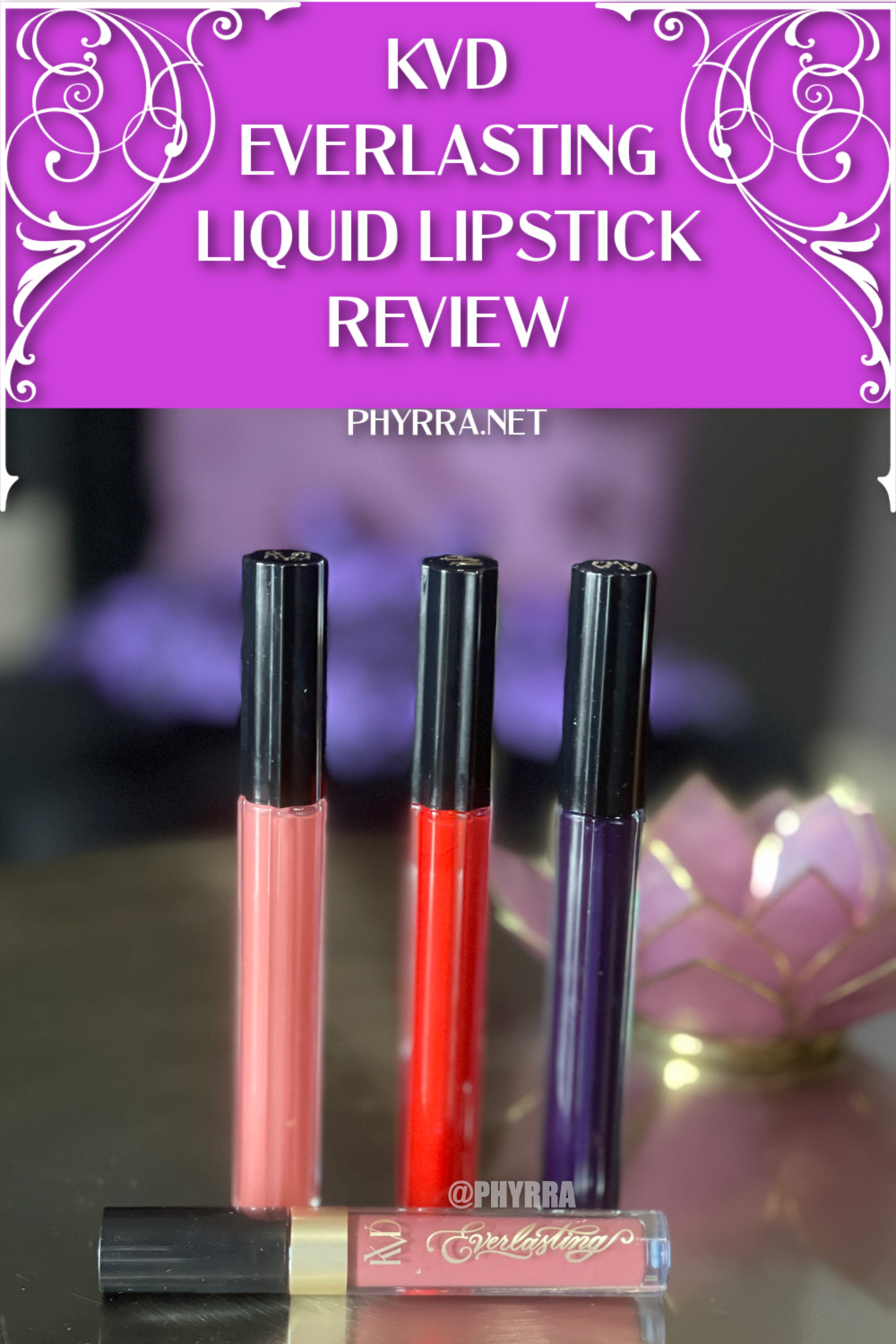 Hello, beautiful people! Today I'm sharing my KVD Everlasting Hyperlight Liquid Lipstick review with you. The KVD brand has completely parted ways with Kat Von D and now proudly embraces its new identity: Tattoo-Inspired Vegan Beauty! As a tattoo lover who adores wearable art, I'm thrilled about this transformation. Let's celebrate this change towards a more inclusive and compassionate brand! And yay, no more anti-Semitic or anti-vaxx owners.
Where to Buy
KVD, Ulta, Sephora
Price
$23 for 7ml / 0.23fl.oz
Apologies for the ridiculusly large watermarks. Unfortunately, scammers have been stealing my photos.
Looking for more lip features? Check out all of my lip features.
Who owns KVD Beauty?
KVD Beauty is owned by Kendo.
About KVD Everlasting Hyperlight Liquid Lipsticks
The KVD Everlasting Hyperlight Liquid Lipstick makes the following claims:
All-day, transfer-proof wear
Evolved hyper-lightweight comfortable formula
Non-drying feel
Feather-resistant matte finish
About the Packaging
The KVD Everlasting Hyperlight Liquid Lipstick packaging is an ultra thin, extra long tube. I don't like how long it is, as it does not fit into my lipstick makeup storage. It does fit into most makeup bags without any issues. I prefer the size of the mini-lipstick tube vs. the full size.
About the Lipstick Formula
To talk about the Everlasting Hyperlight liquid lipstick formula, I need to explain what the original KVD liquid lipstick formula was like for me. The colors were beautiful, thick, and opaque. The formula would dry out my lips terribly. My lips would often peel off in strips from the drying formula. So while the colors were perfect, I struggled with how uncomfortable it would make my lips.
The new Everlasting Hyperlight Liquid Lipstick is much better! It's a thinner formula, more similar to the Lime Crime Plushie liquid lipstick formula. I find it very comfortable to wear, it's not drying at all, and it doesn't feel like I have thick, cakey, crumbly lips.
Liquid Lipstick Formulas I Like
To give you an idea on the liquid lipstick formulas for me, below are the ones I like best. They don't dry out my lips, are long wearing, comfortable, have great colors, and are transfer-resistent.
About my Skin Tone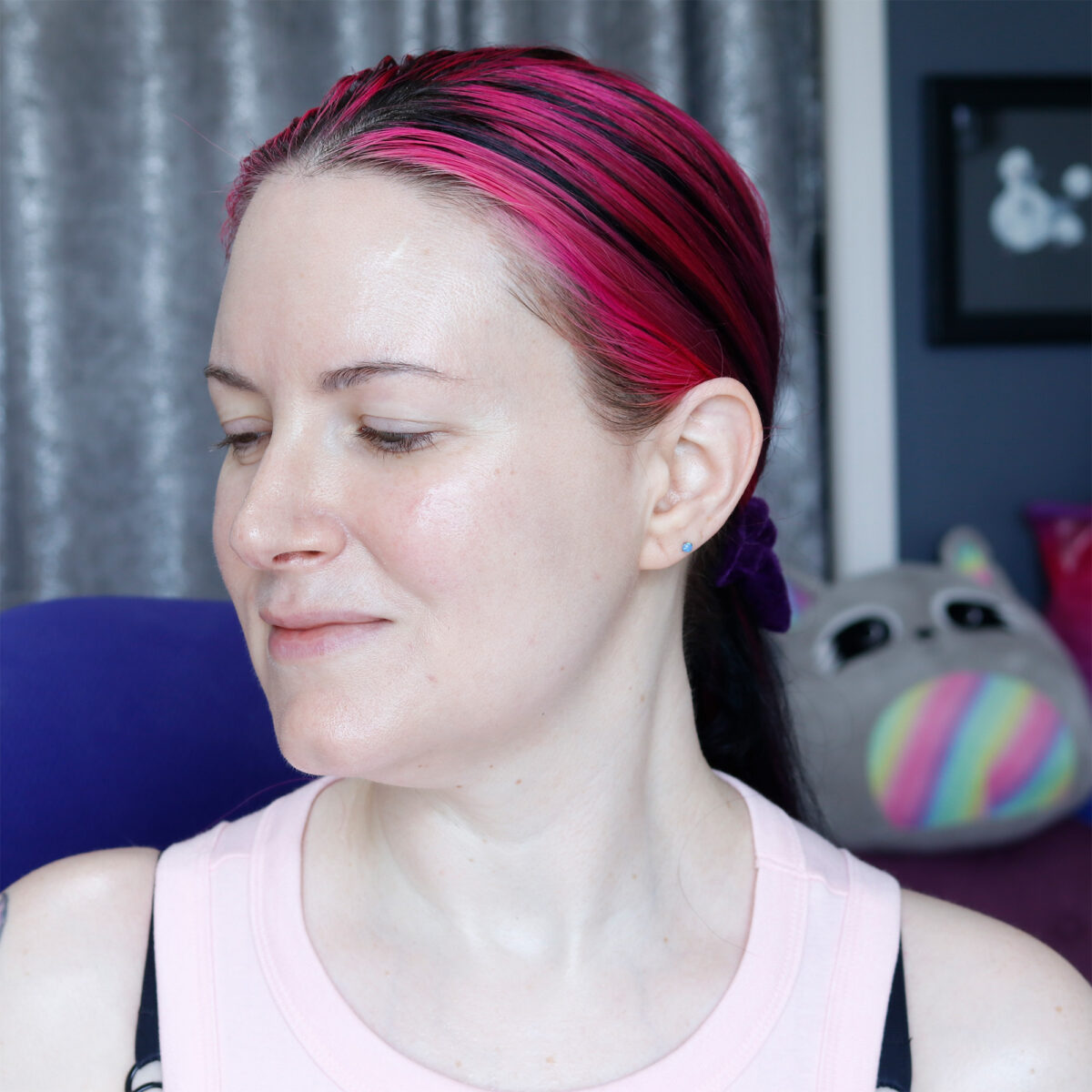 I'm 45 years old with sensitive dry skin and rosacea. I have pink overtones to my face. My skin tone is a very fair neutral cool with muted yellow olive undertones. I look best in neutral, neutral cool, neutral leaning yellow, and muted yellow foundations. Basically, muted undertones are almost always the best for me.
My matches in KVD Beauty are:
My current best foundation matches are:
See fair skin foundation swatches!
KVD Everlasting Hyperlight Liquid Lipstick Swatches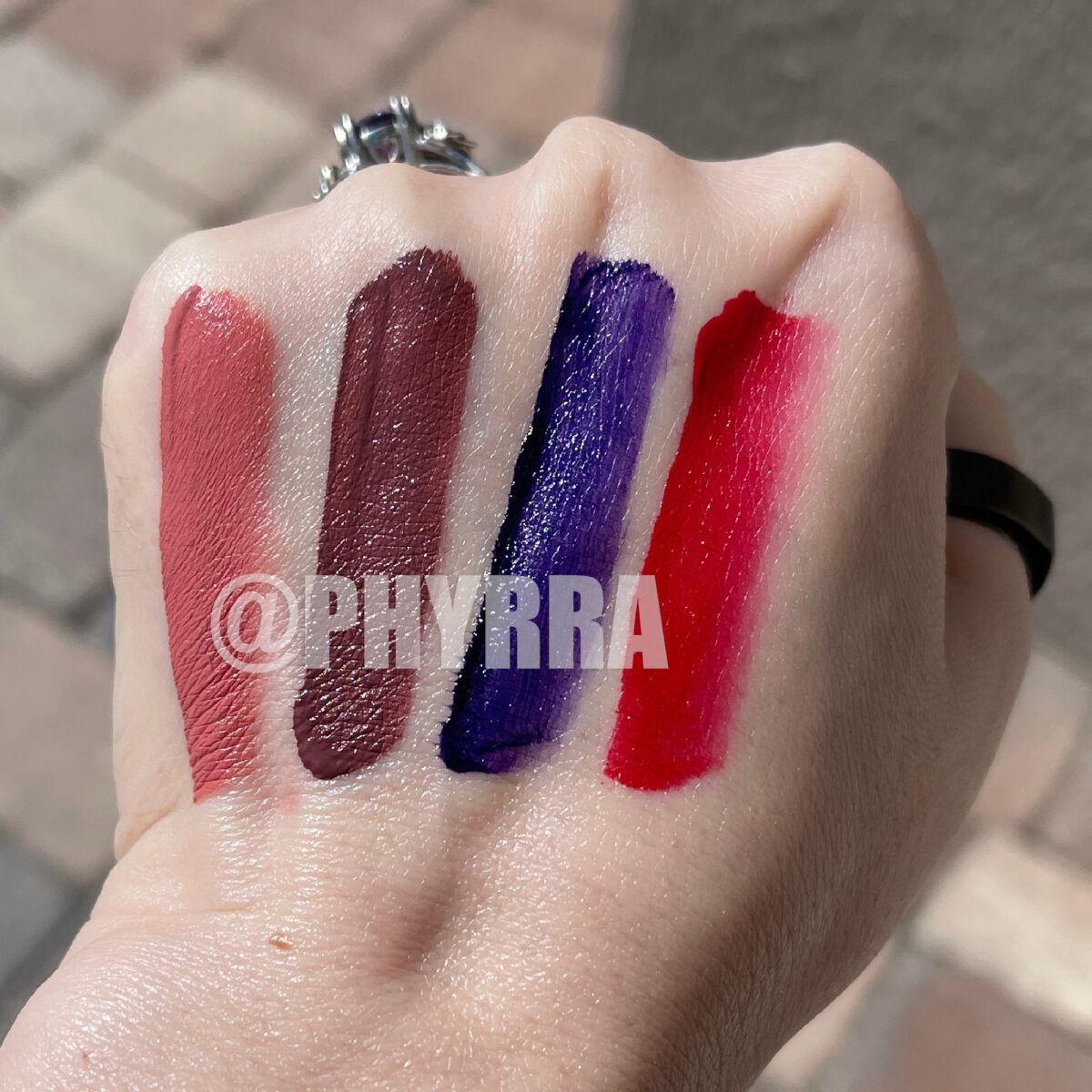 The above swatch photo was taken outdoors in direct morning sunlight.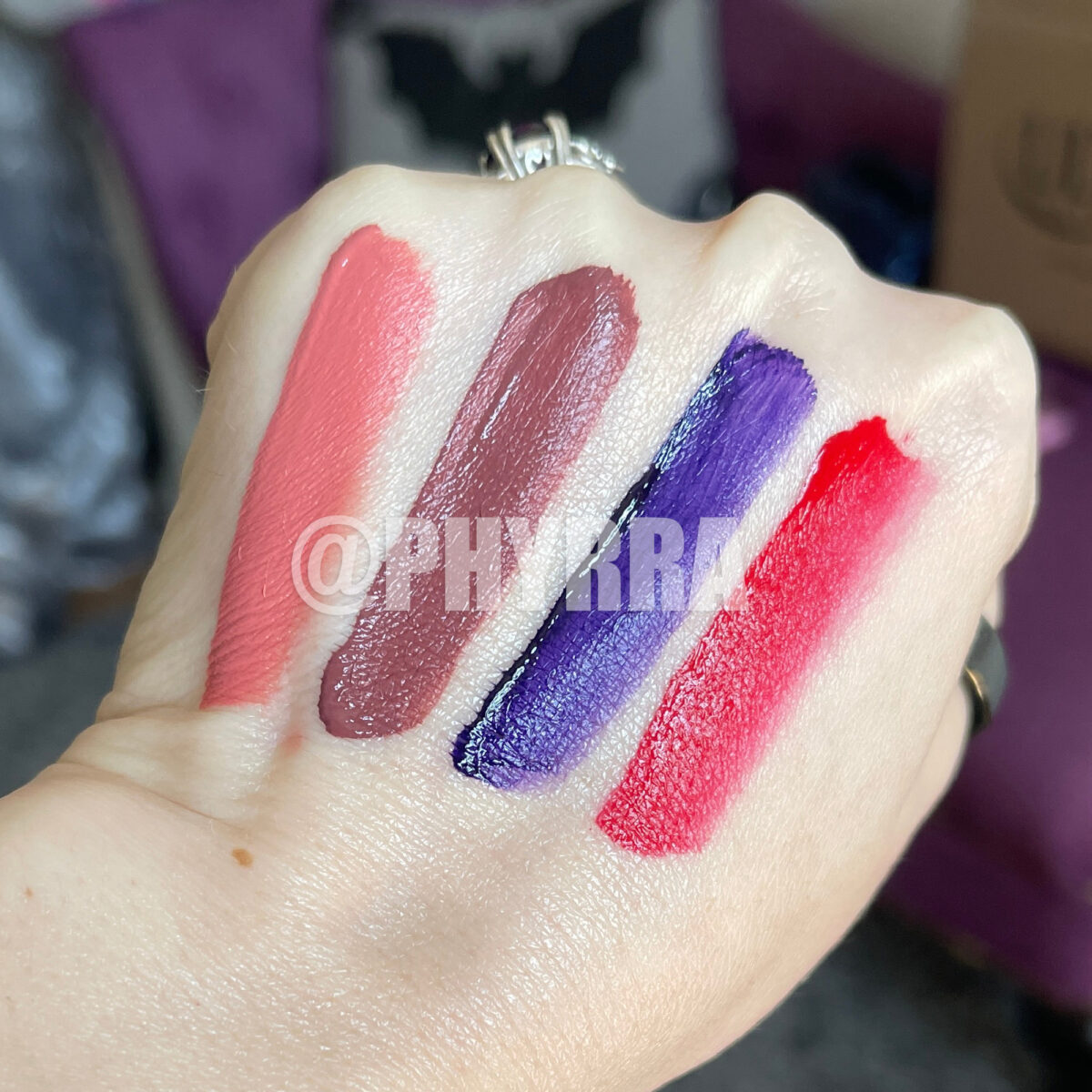 The photo above was taken indoors in natural light next to a window.
From left to right we have Moth Orchid, Queen of Poisons, Wolfsbane, and Bloodflower Everlasting Hyperlight liquid lipstick swatches.
Queen of Poisons
View this post on Instagram
See me wearing Queen of Poisons in my Makeup for Zoom Meetings video. Get Queen of Poisons here!
Wolfsbane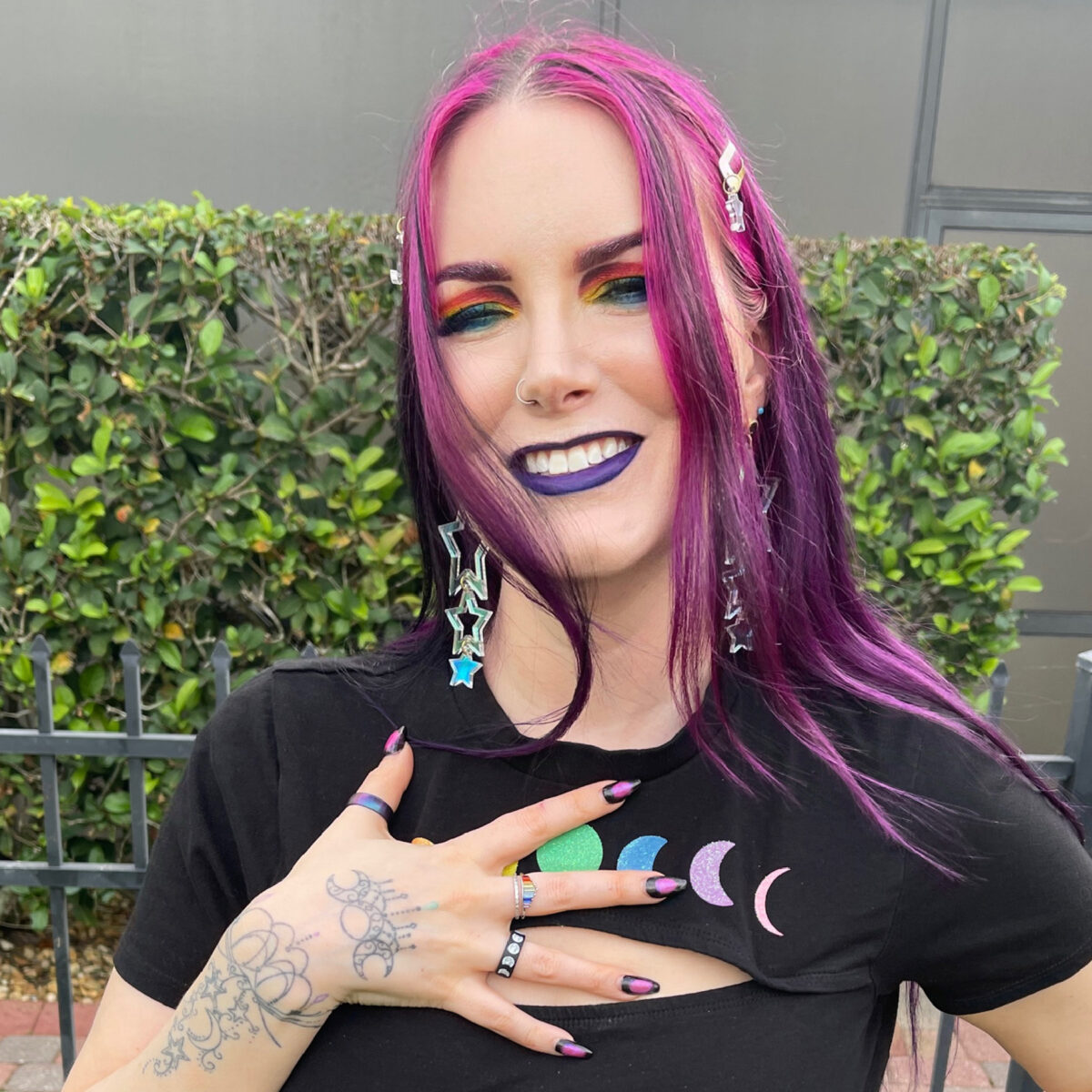 See me wearing Wolfsbane in my Rainbow Pride makeup tutorial. Get Wolfsbane here!
Apologies, but I can't find the photos of me wearing Moth Orchid and Bloodflower Everlasting Hyperlight liquid lipsticks, and I'm still recovering from major surgery.
Thoughts about the Colors
Queen of Poisons (chestnut rose) looks nice on my very fair neutral to cool muted yellow olive skin tone. The old version of this, Lolita, pulled more orange and wasn't nearly as flattering. Queen of Poisons is a muted rosy brown. I find Queen of Poisons to be something of a statement 'nude' on me, as it's a very rich neutral.
Wolfsbane (intense blue-purple) is one of the most delightful blue-toned purple lipsticks I've ever seen and I adore it. It is such a brilliant lip color for me! It's great for gorgeous purple goth makeup.
Bloodflower (blue-toned red) is absolutely stunning on me! I love blue-toned reds for how flattering they can be. It's a great power red if you love to wear red. And in case you haven't heard, blue-toned reds make your teeth look whiter.
Moth Orchid (soft pink) is a bit of a disappointment for me. It pulls more warm toned than I expected or prefer. I'm not giving up on it yet though, I've got a few more looks and ideas to try with it before I decide it's a dud. I expected Moth Orchid to be cool toned, or at least neutral-ish.
I prefer cool-toned and bright neon lipsticks.
KVD Everlasting Hyperlight Liquid Lipstick Review
KVD Everlasting Hyperlight Liquid Lipstick is an excellent, long wearing liquid lipstick. You control the opacity of the color by applying one thin layer for a semi-sheer look or two thicker layers for an opaque look.
It's transfer-resistant for me, meaning if I give Dave a kiss on the cheek, he might have a tiny bit of color around the edge of where I kissed instead of a distinct lipstick mark.
I love the nomenclature for the lipstick color names! They chose poisonous plants and other cool blooms for their names, which is a nice change and very fitting for all the cottage core and swamp witches out there! These are much more interesting than overused sexual innuendo or drug related names.
Does KVD Everlasting Hyperlight Liquid Lipstick Live Up to its Claims?
In my experience, the Everlasting Hyperlight Liquid Lipstick lives up to about 75% of its claims.
No matter how I apply it, I can't get all-day, transfer-proof wear.
I do get long wearing, transfer-resistant wear. But it's not 100% transfer proof for me. Nor is it 100% all-day wear. I benefit from doing a touch up after food because it will sometimes wear away at the inner rim of my lips. And no heavy makeout sessions with Dave unless I want to take everything off and reapply.
The formula is very thin and lightweight, non-drying, and beautiful. The feather-resistant matte finish is fantastic for the four colors that I own.
The KVD Everlasting Everlasting Hyperlight Liquid Lipstick requires minimal touch ups after eating, but gave me no issues with all the water I drink daily.
I started with just Queen of Poisons, as I wasn't sure if this would be like the old formula or if it would be improved. When I was happy with how Queen of Poisons looked on me and wore, I then picked up Wolfsbane. From there I tried Bloodflower, and last but not least was Moth Orchid.
I give KVD Everlasting Everlasting Hyperlight Liquid Lipsticks a 4 out of 5 stars because I love the formula, 3 of the 4 colors I purchased, and I love how it feels on my lips when I'm wearing it. If it was 100% transfer proof and/or 100% all-day, I'd give it 5 stars, but it's not quite there for me.
How to Apply KVD Everlasting Hyperlight Liquid Lipstick
Before applying any lipstick, I like to use a lip scrub and warm wash cloth to make sure my lips are as smooth as possible. I put on my la la lips cbd lip balm during the day to help my lips stay smooth and I use my Silk Naturals Super Fruit Lip Mask at night before bed.
The best way I've found to apply the KVD Everlasting Hyperlight Liquid Lipstick is to, at the very least, outline my lips with a lip pencil. I prefer to outline my lips and fill them in with a lip pencil. Then I apply the KVD Everlasting Hyperlight Liquid Lipstick. I often will top these lipsticks with a multichrome eyeshadow from Karla Cosmetics.
I use a lip pencil because that allows me to even out my uneven lip line and helps me create a more symmetrical, pleasing shape for my lips. The lip pencil helps the lipstick to last longer, too. And you end up using less of the lipstick because of the lip pencil.
It makes me sad that KVD discontinued Poe and several of their other fun pops of color lip pencils. The KVD lip pencil formula is excellent and I love it. I wish they'd release new pencils for colors like Wolfsbane and Medusa's Head.
Final Thoughts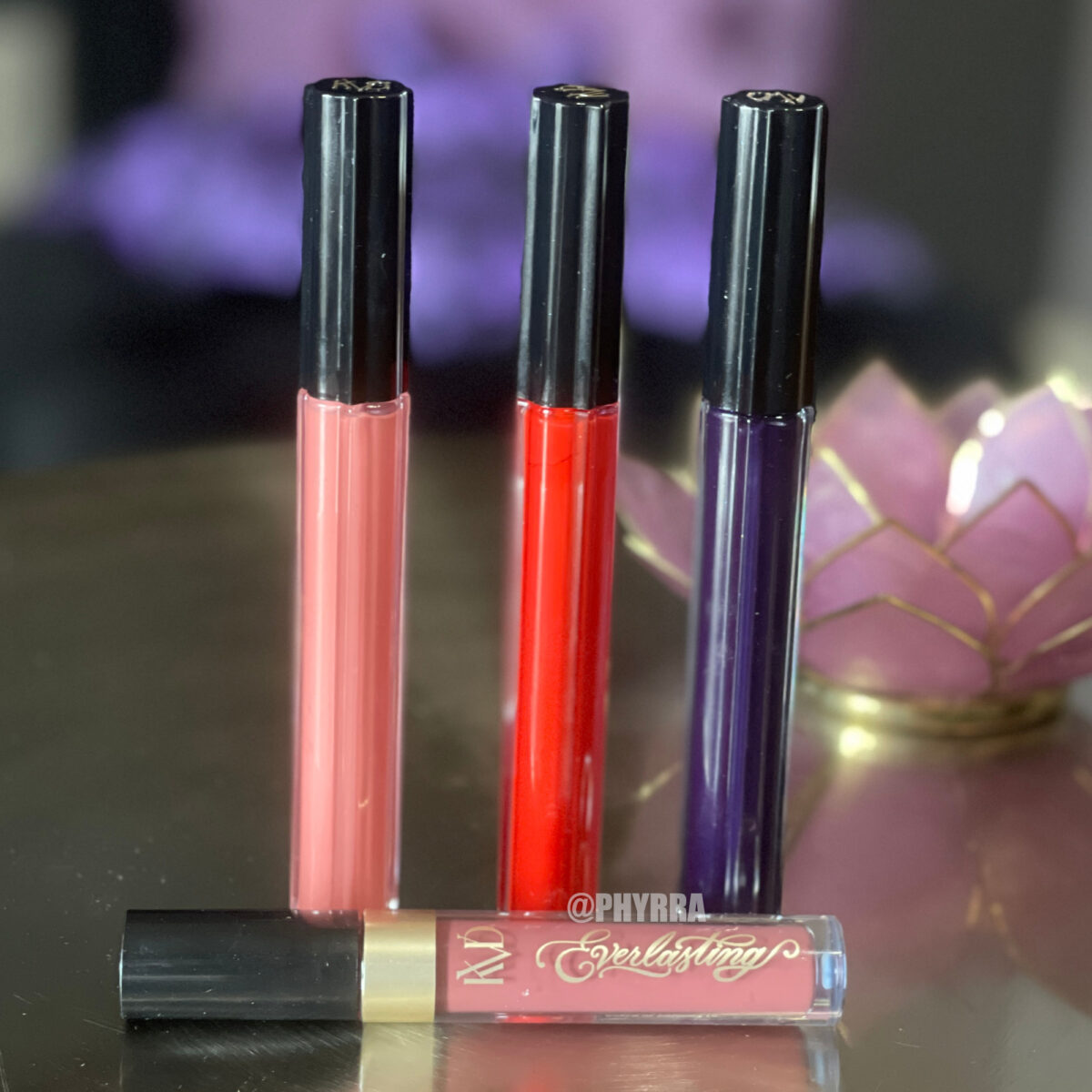 I love the KVD Everlasting Hyperlight Liquid Lipsticks and I hope you enjoyed learning more about them from me! I'm still recovering from major surgery and I'm incredibly puffy right now, channeling Jigglypuff, so unfortunately no new face shots of me wearing the lipsticks.
Other shades I'm interested in trying in the future are Dark Wisteria (purple blackberry), Medusa's Head (moss green), Milk Thistle (vivid magenta), and Scarlet Pearl (vibrant pink).
What do you think of the KVD Everlasting Hyperlight Liquid Lipsticks?
More to See