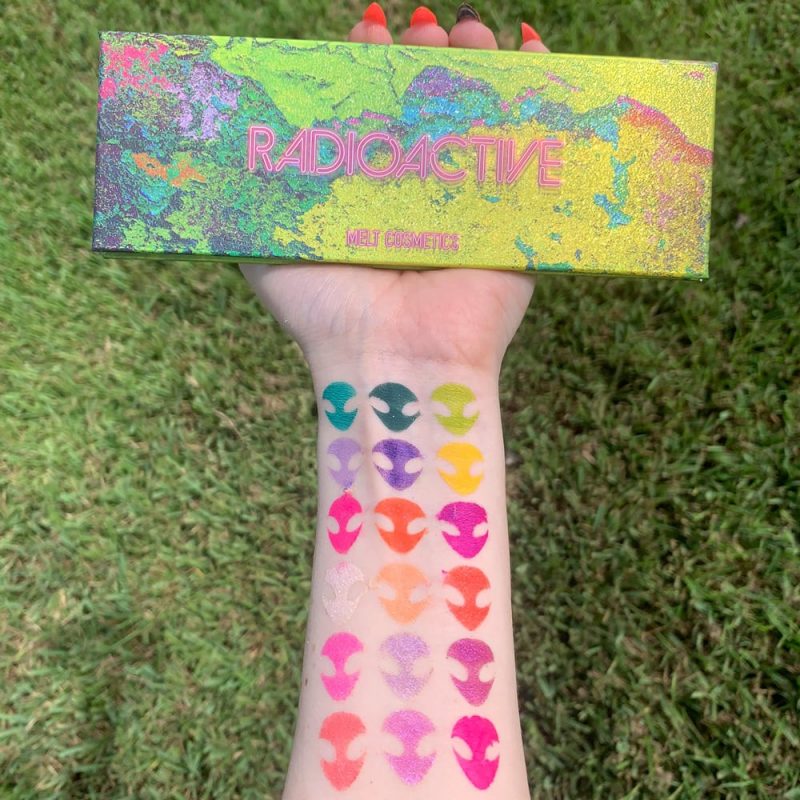 Melt Radioactive Collection
I wanted to share the Melt Radioactive Collection with you sooner, but I have been swamped between personal tragedies, work and health issues. This is a beautiful collection from Melt and I bought every single piece. Melt Cosmetics made Atomic and Superheat Liquid Lipsticks, along with Ultraviolet Blushlight, vegan. Everything else in the collection is not vegan. Melt Cosmetics is proudly Leaping Bunny Certified and cruelty-free.
Where to Buy
Sephora, Melt Cosmetics
The Melt Cosmetics website says:  Radioactive, Radon, and Hazmat contain ingredients that are not approved by the FDA and Melt Cosmetics for use on the eyes. See how I feel about this in my Pressed Pigments is Code video!
Melt Radioactive Collection Swatches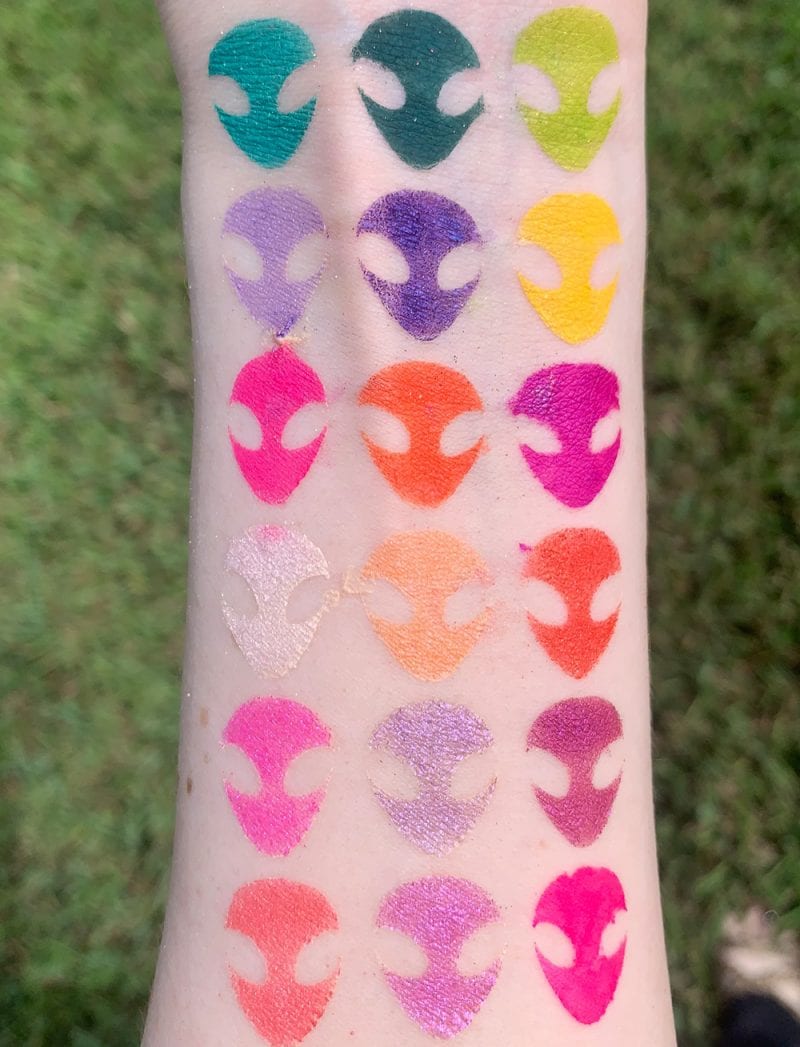 Row 1 – Arsenic, Meltdown, Xenon
Row 2 – Uranium, Hazmat, Neon
Row 3 – Radioactive, Radon, Atomic
Row 4 – Gamma Ray blushlight
Row 5 – Ultraviolet blushlight
Row 6 – Gamma Ray swirl, Ultraviolet swirl, Superheat
In the swatches above, I swatched the blushlights individually, as well as swirled together, to give you an idea of what those colors will look like. They're both so super shimmery that I have to use a VERY light hand if I try to wear them as blush. I think they may be best suited to eyeshadow on fair skin like mine. I hope you find my Melt Cosmetics Radioactive Collection Swatches on Fair skin helpful.
You can see my thoughts on the original Melt Radioactive Stack here.
Melt Radioactive Palette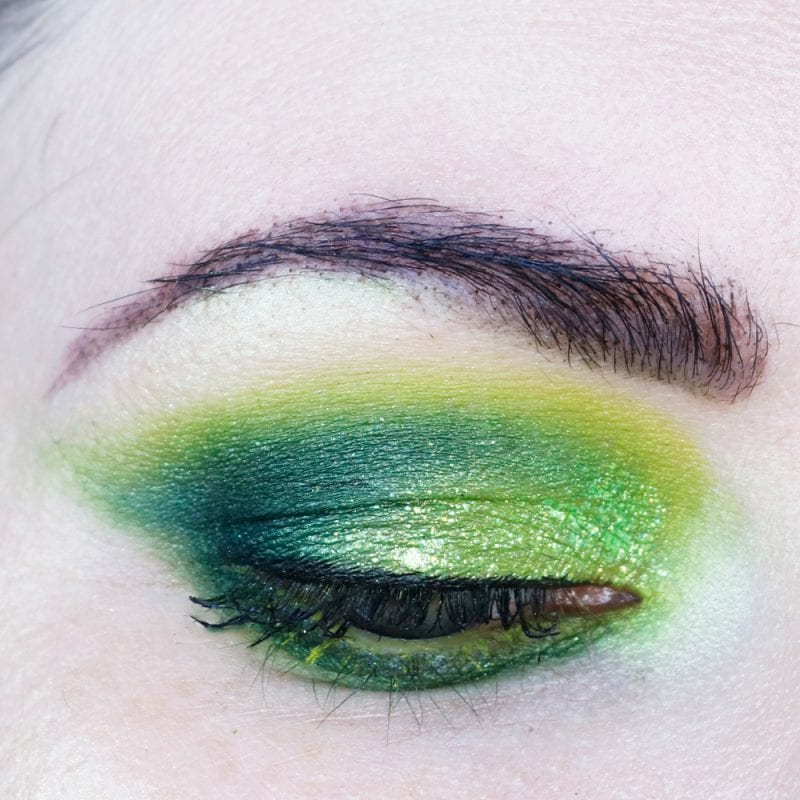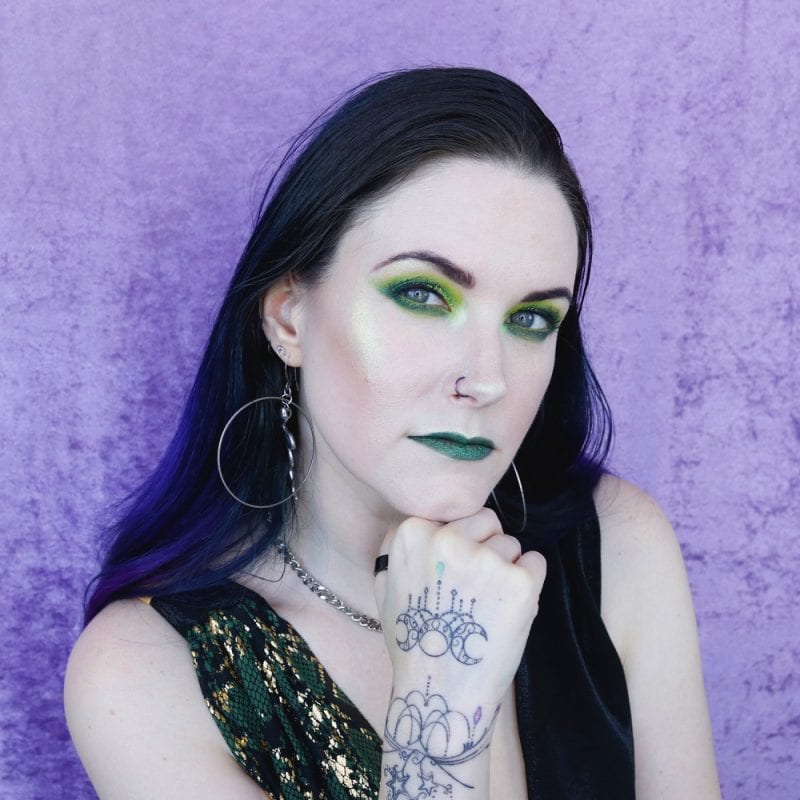 I used the Melt Radioactive Palette to create this eye look! Check out my Medusa Halloween Tutorial!
Melt Radioactive Lips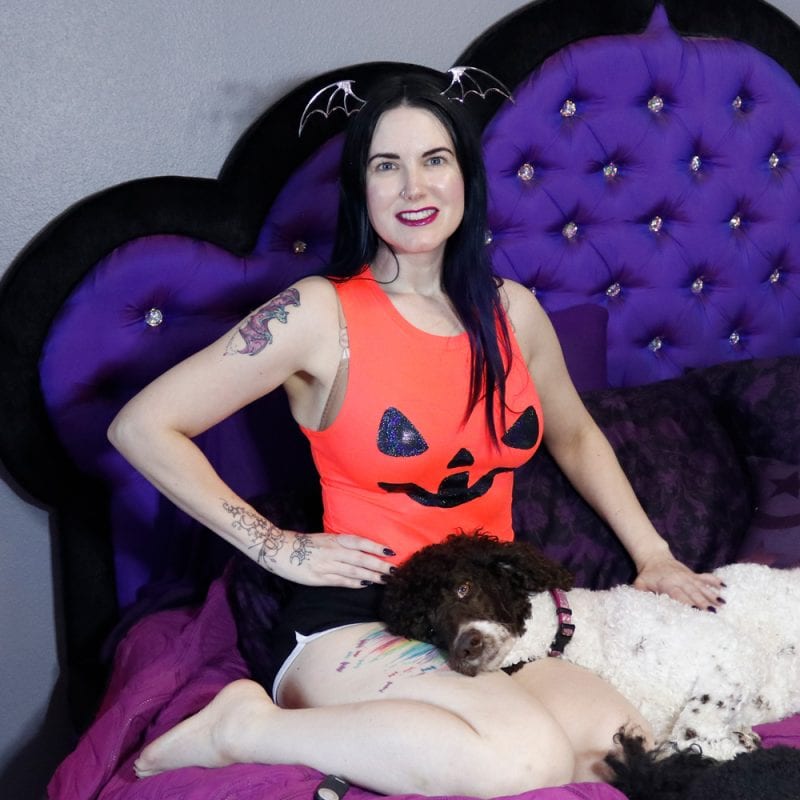 I'm wearing Melt Atomic liquid lipstick topped with Buxom Thunderbolt for a bit of shine in the photo above. Amaya is laying in my lap for love. The shirt is a Spellbound Stitches Neon Orange Pumpkin Crop Top with holographic black fabric inset. Love my spooky style? Shop Spellbound Stitches!
Superheat and Atomic are absolutely gorgeous liquid lipsticks. They are very comfortable to wear too.
Melt Cosmetics Amor Eterno Collection
As a Melt Cosmetics addict, I love their products! I'm very excited for the upcoming Melt Cosmetics Amor Eterno Collection. So if brights like Melt Radioactive aren't your style, you may swoon for the jewel tones I spy in Amor Eterno. I know I am!
More Melt Cosmetics Features