Melt Cosmetics Swatches
Melt Cosmetics has been a favorite indie brand of mine for years. I've been buying from them for about 6 years at this point. I was thrilled to hear that they will now be available at Sephora. I wanted to share my Melt Cosmetics collection with you. I've purchased a ton of Melt over the past few years.
For those of you who don't know, Melt Cosmetics is a Leaping Bunny Certified cruelty-free indie makeup brand. They also very clearly state which products are vegan or not vegan. Lora (from LA) & Dana (from Vegas) are two talented makeup and entertainment gals that got together and created Melt to make ultra-matte vibrant lipsticks.
All Melt Cosmetics products purchased by me because I enjoy flinging money at high-quality indie brands.
My Skintone
Since people always ask what my skintone is to determine how useful my swatches are, it's very fair neutral to cool olive yellow. Current foundation matches for me are:
All of these brands claim that their foundations are vegan. All are cruelty-free.
Melt Smoke Sessions Palette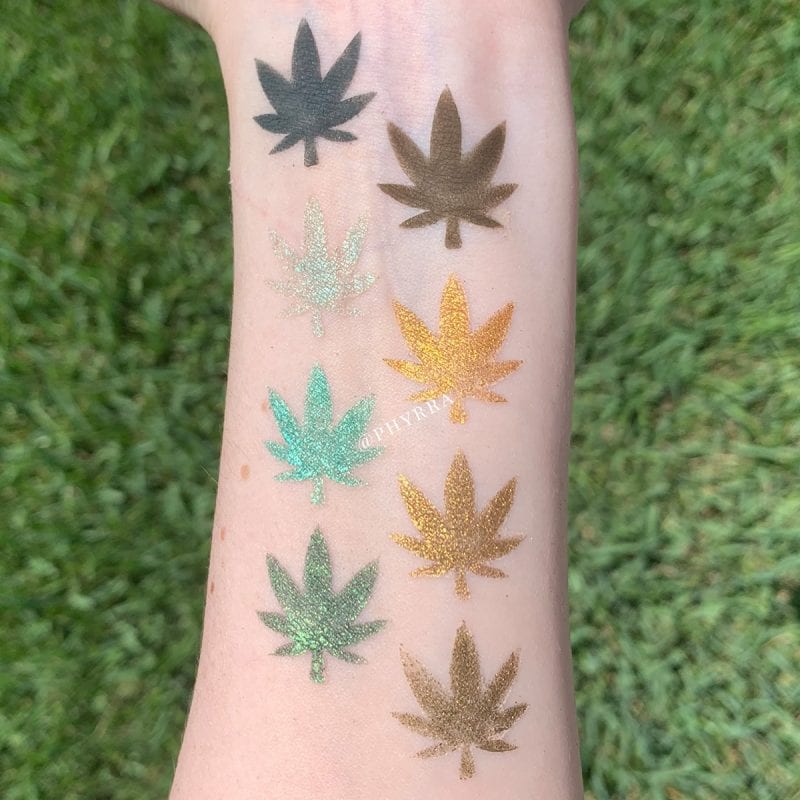 The Melt Smoke Sessions palette is solely responsible for my green eyeshadow addiction. Here it is swatched above. It's so freaking gorgeous! Smoke Sessions palette is 100% vegan. I love the buildable formula in this eyeshadow palette. It's my current favorite eyeshadow formula, tied with Saucebox.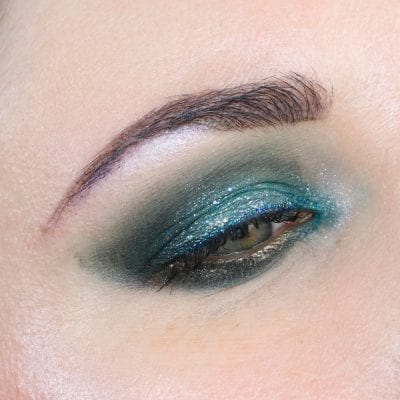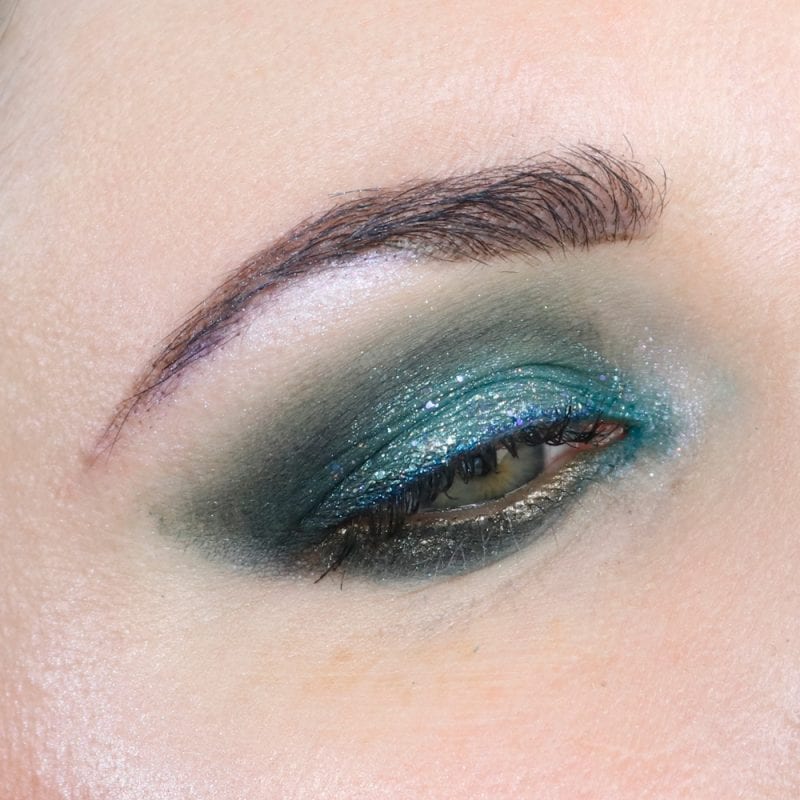 This is my Melt Space Queen look, created with Melt Smoke Sessions and Saucebox Secret Garden palettes. You can see how Space Queen just looks so good with teals!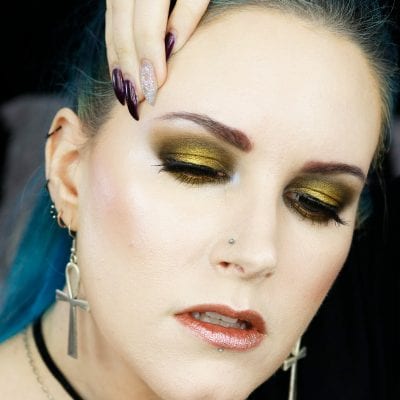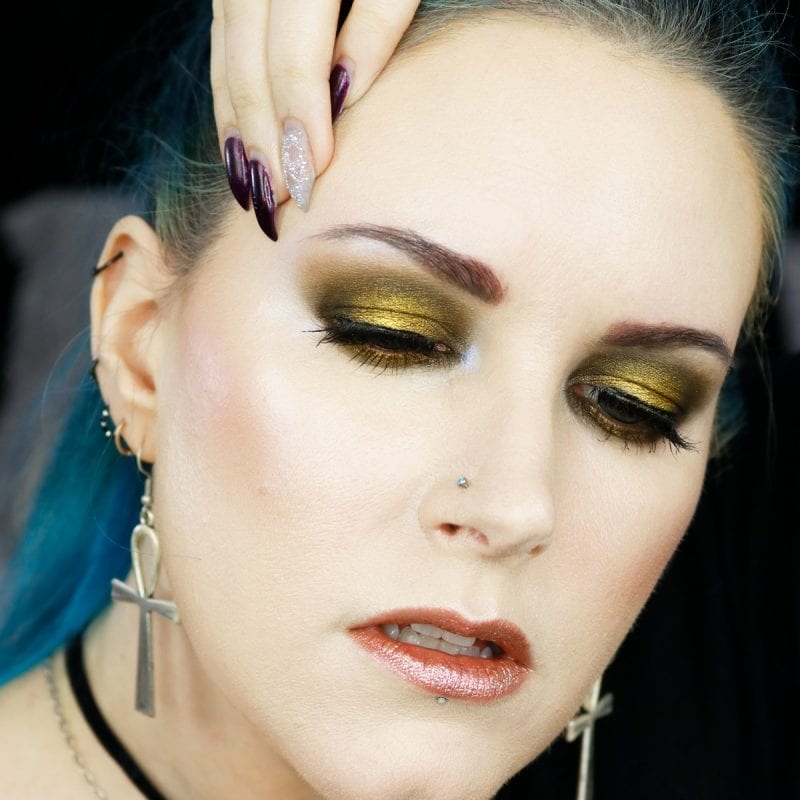 This is all Smoke Sessions in my warm golden green eyeshadow tutorial.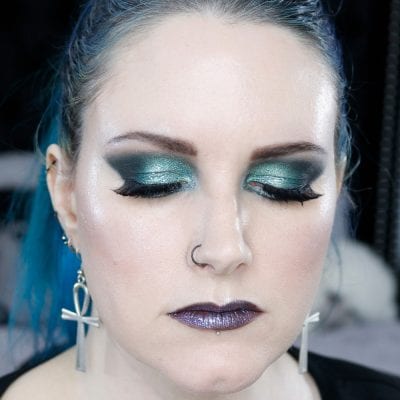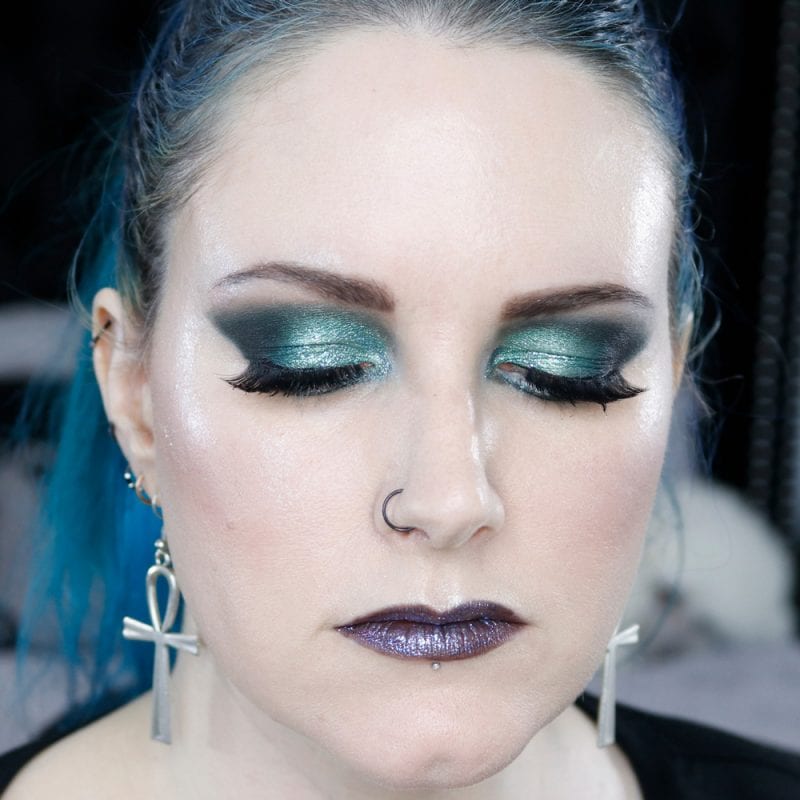 My favorite look ever with Smoke Sessions is this cool-toned green eyeshadow tutorial.
Buy the Melt Smoke Sessions Palette!
Melt Gun Metal Stack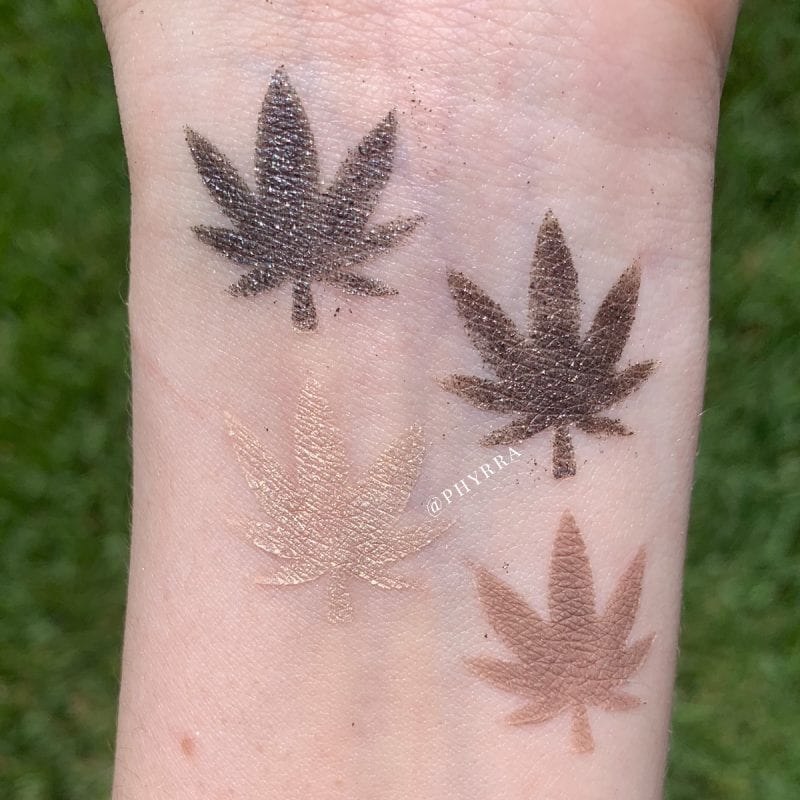 I love the Gun Metal stack but it does have a TON of fall out! Still, that bottom right taupe matte shade, Assimilate, looks amazing on fair skin like mine. The Gun Metal Stack is vegan.

I created a Melt Gun Metal Stack Tutorial when it first came out.
Melt Haze Stack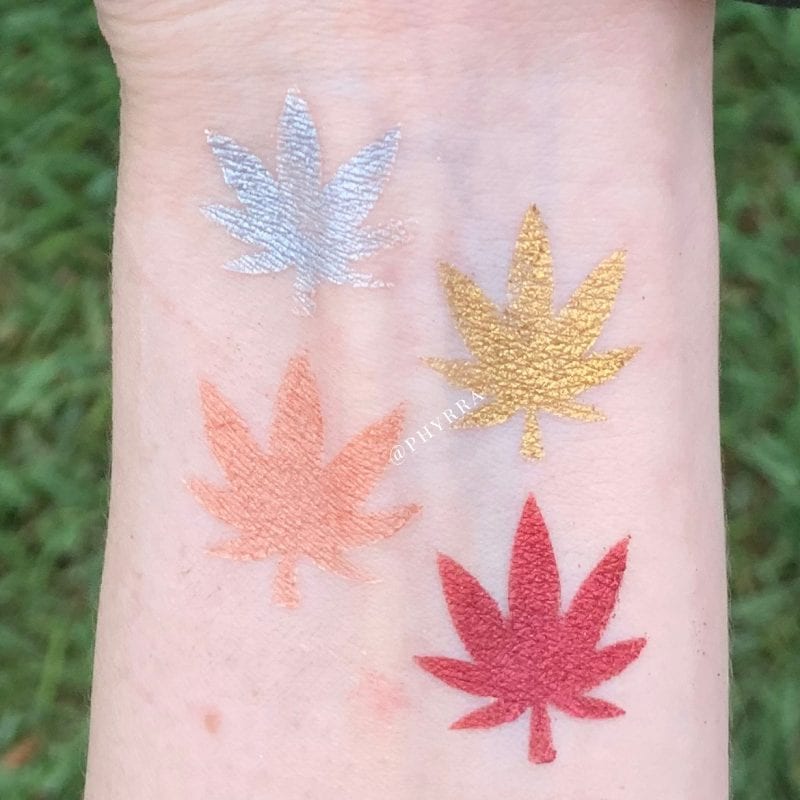 The Melt Haze Stack is a set of 4 pretty metallics. I love the silver in it but that's all I've ever worn. The gold is gorgeous too. I feel like the copper is just kind of meh.
Melt Radioactive Stack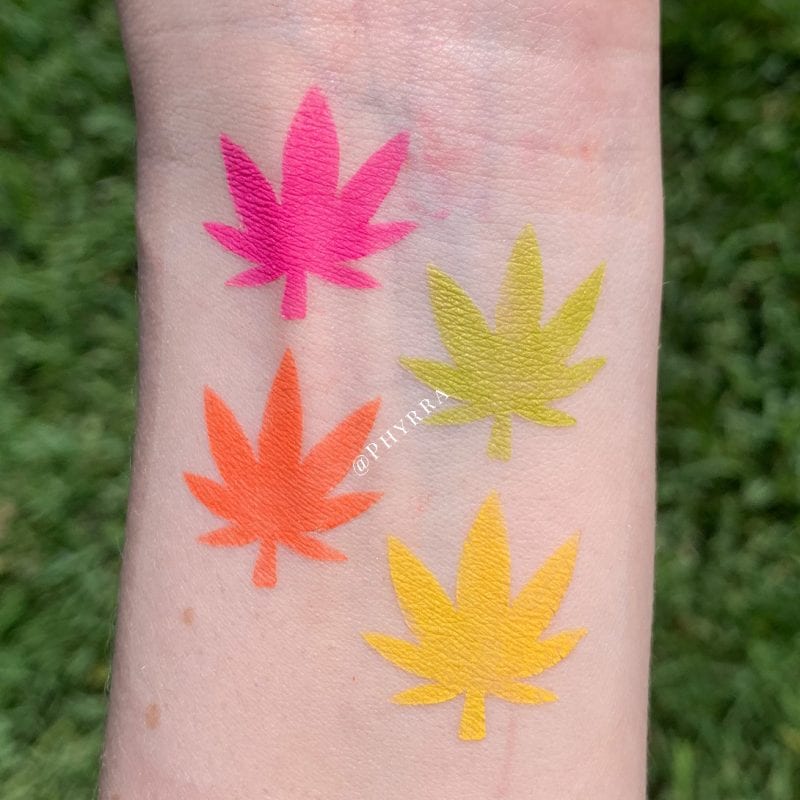 The Melt Radioactive Stack is stunning! However, Radon and Radioactive are not eye safe. This stack is vegan. Check out my Melt Radioactive Stack Review.
The Melt Radioactive Stack is currently sold out on their site.
 Melt Rust Stack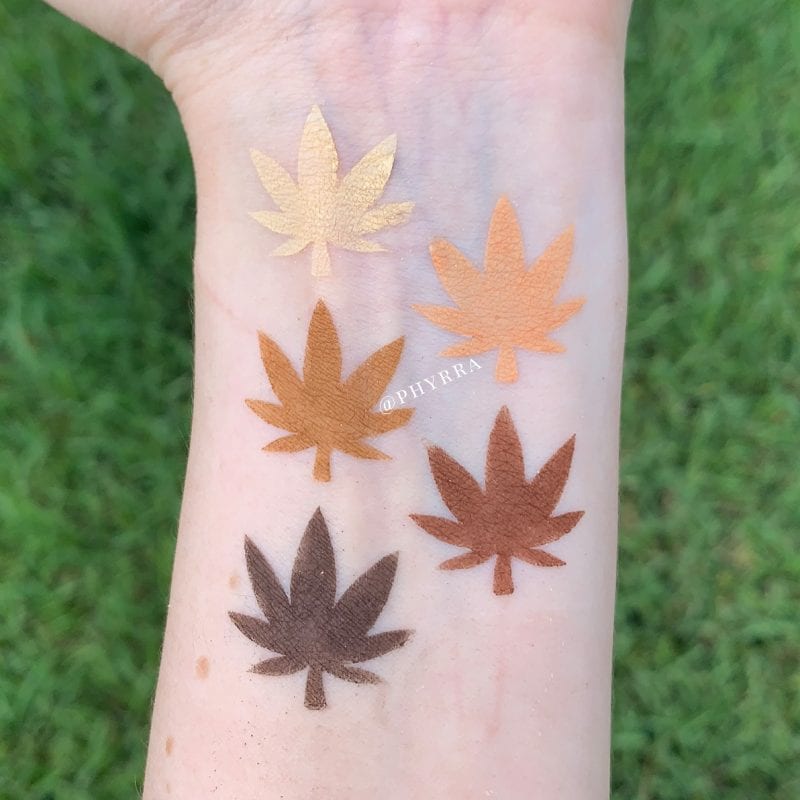 The Melt Rust Stack is Melt Cosmetics answer to a warm neutral palette. After swatching it again I want to wear the weird mustard yellow color. This is another vegan stack.
Melt Dark Matter Stack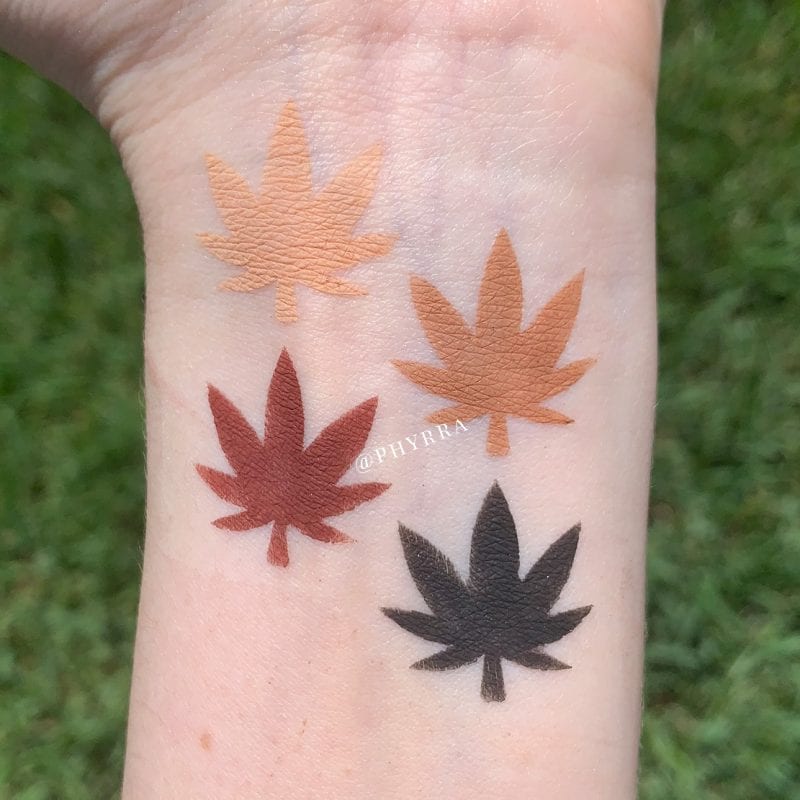 The Dark Matter Stack was one of the first that Melt Cosmetics ever released. Blurr, Unseen and Enigma are not vegan. Dark Matter is vegan. See my Melt Dark Matter Stack and Melt Love Sick Stack Review!
Buy the Melt Dark Matter Stack!
Melt Love Sick Stack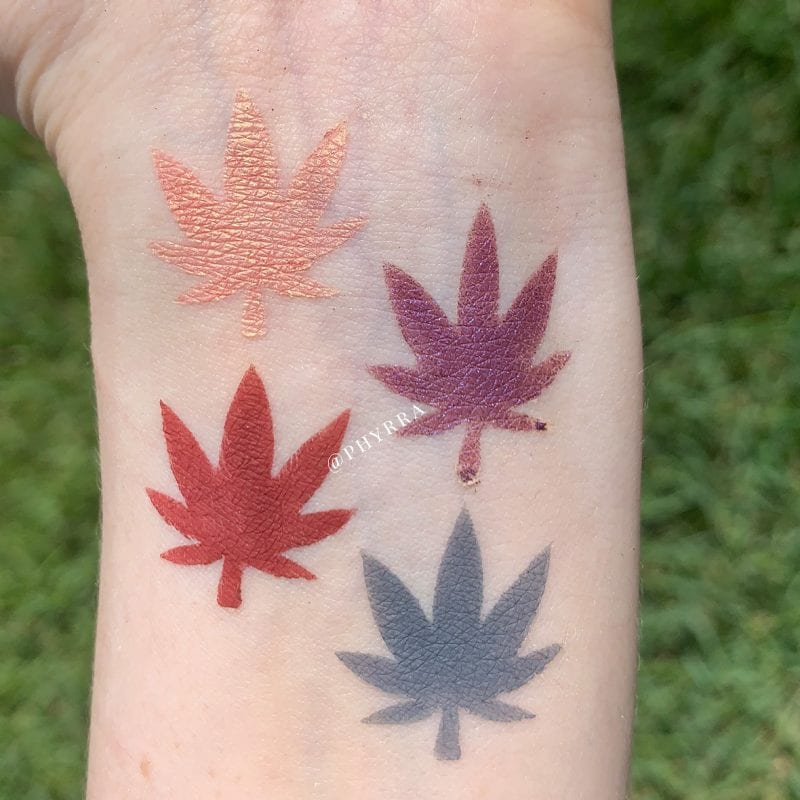 I adore the Melt Love Sick Stack colors! Promiscuous, Amelie, and Love Sick are not vegan. Fixated is vegan. Promiscuous and Amelie used to be vegan.
Melt She's in Parties Stack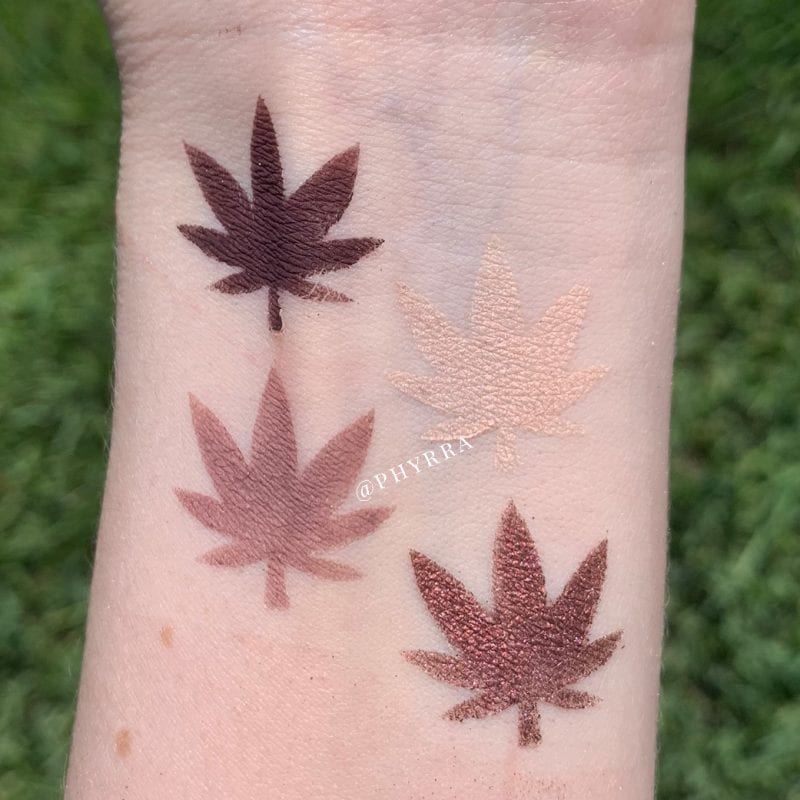 The Melt She's in Parties Stack is my favorite of all the Melt Stacks. It's stunning! Last Caress, Meanstreak and Skeleton Kiss are not vegan. She's in Parties is vegan.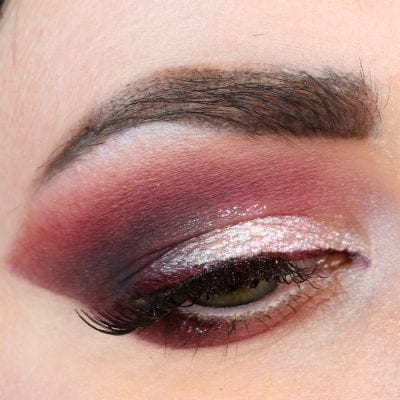 I created a super sparkly berry tutorial with this stack.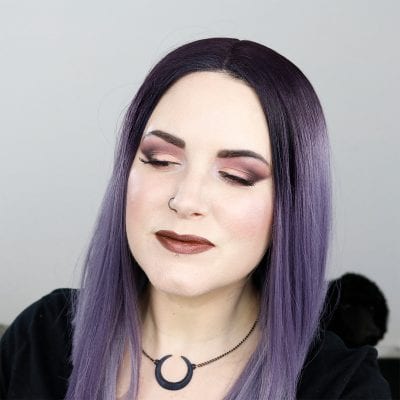 I love the way this She's in Parties look turned out! See the Melt She's in Parties Tutorial. My Melt She's in Parties Stack Review is one you might enjoy too.
Buy the Melt She's in Parties Stack!
Melt BluePrint Stack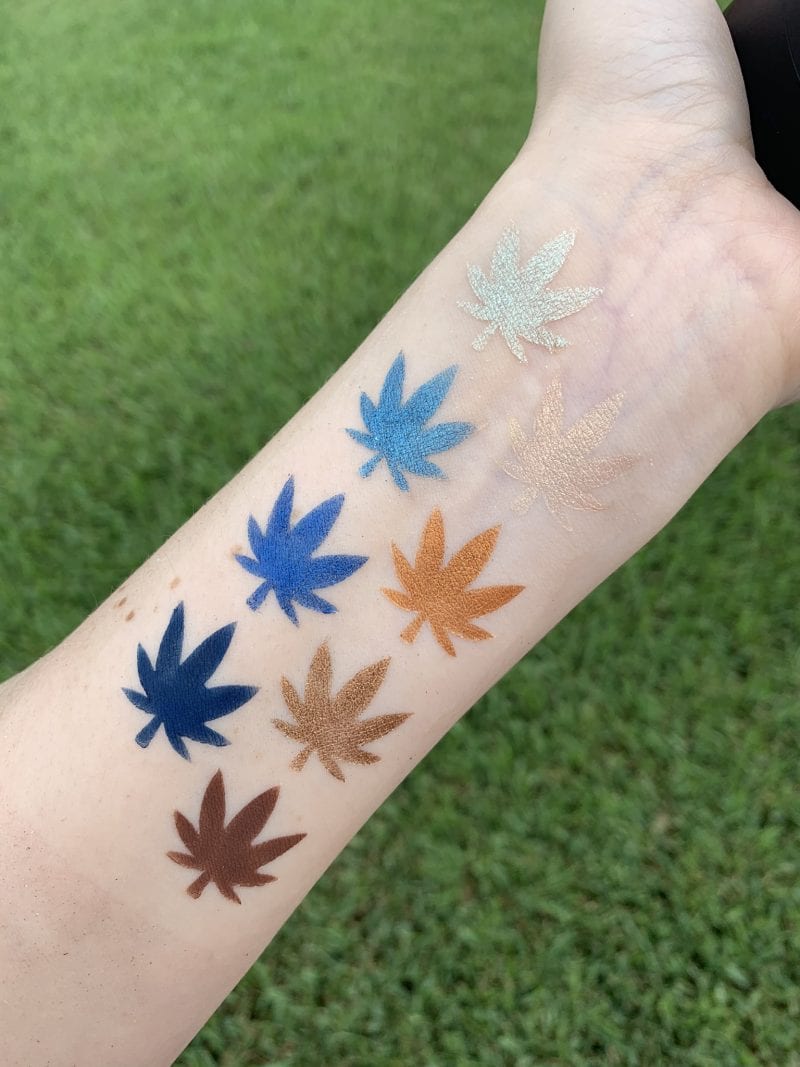 I just recently bought the Melt Cosmetics Blueprint Stack and it's so beautiful!
Buy the Melt Cosmetics Blueprint Stack!
Miscellaneous Melt Cosmetics Swatches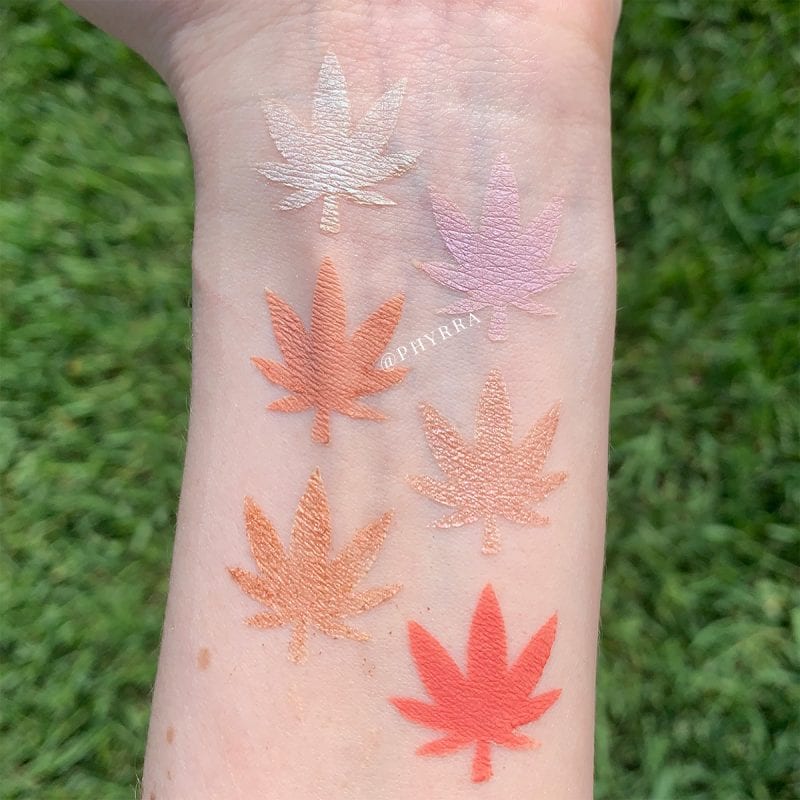 Row 1 – Shadowplay & Electra
Row 2 – Honey Thief & Pink Moon
Row 3 – Hopeless Romantix & Scammin
These Melt Cosmetics swatches are miscellaneous cheek products. I have two of the Melt Blushlight Blushes – Shadowplay (iridescent mint green) and Electra (divine lilac). There's also one normal Melt Blush – Honey Thief (neutral peach). I did buy Pink Moon (lavish rosé) from the Melt Digital Dust Highlight line too.
Pictured above are 2 shades from the Melt Baby Girl Stack too, in Hopeless Romantix (a yellow gold to hot pink shift) and Scammin (hot coral matte)
Melt Cosmetics Lip Products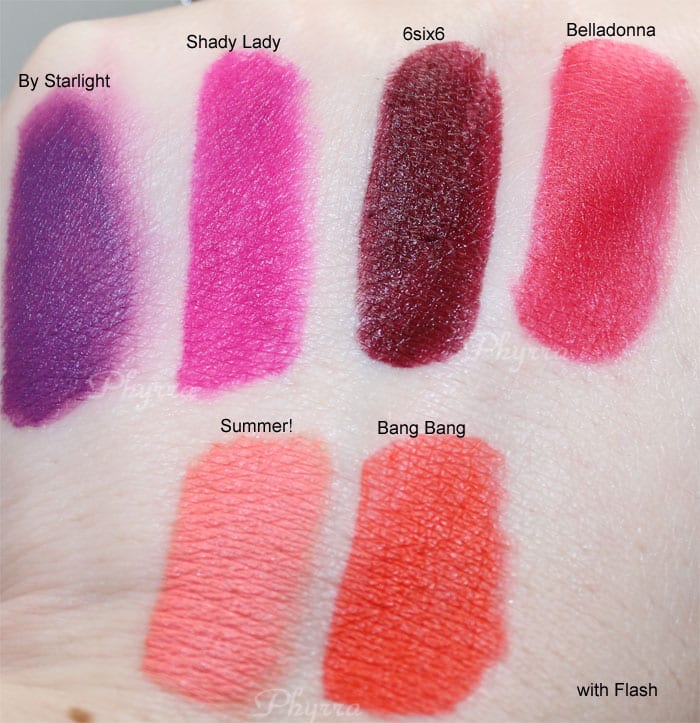 You can see one of my very first Melt Makeup Inspiration posts here. These are some of my Melt Cosmetics Swatches of lipsticks.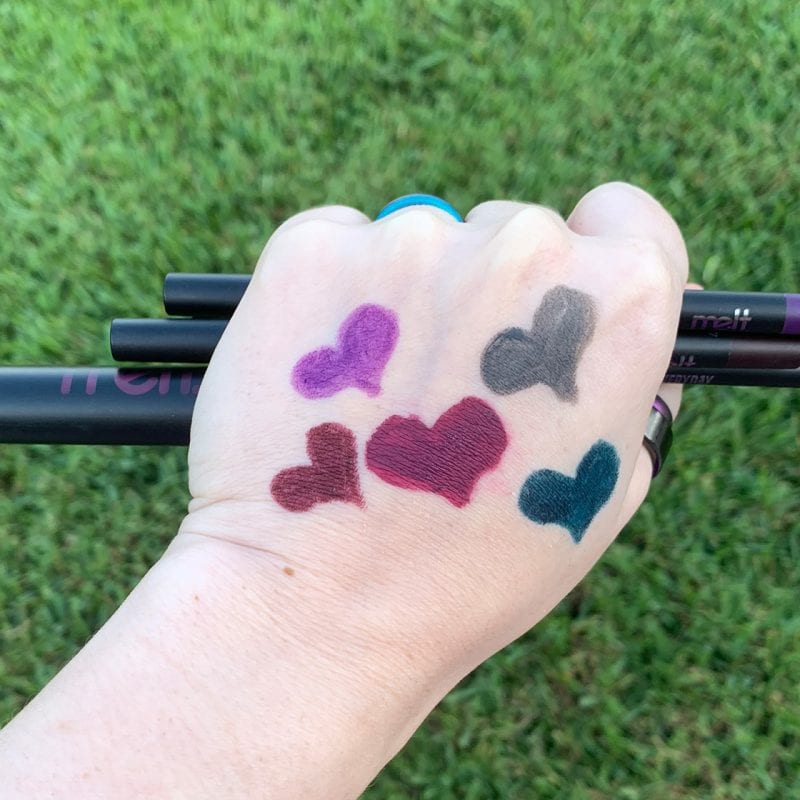 I've reviewed a bunch of their lip products in the past, mainly lipsticks. It's not my favorite lipstick formula (Urban Decay makes my favorite bullet lipstick formula, Marc Jacobs makes my favorite chubby lip crayon formula, and Black Moon makes my favorite liquid lipstick formula), so I've decluttered all but 2 lipsticks from Melt. I can't find one of them – Chick Habit. I have the other one called Sequel (liquid lipstick, deep plum) in the Melt Cosmetics swatches above. Edit: Since then I've added a few more liquid lipsticks to my collection.
I really love the Melt Lip Pencils that I have! They're so good! Swatched above are 1979 (royal purple), Santeria (blackened cherry), Handcuff (cool-toned grey), and Latex (hunter green).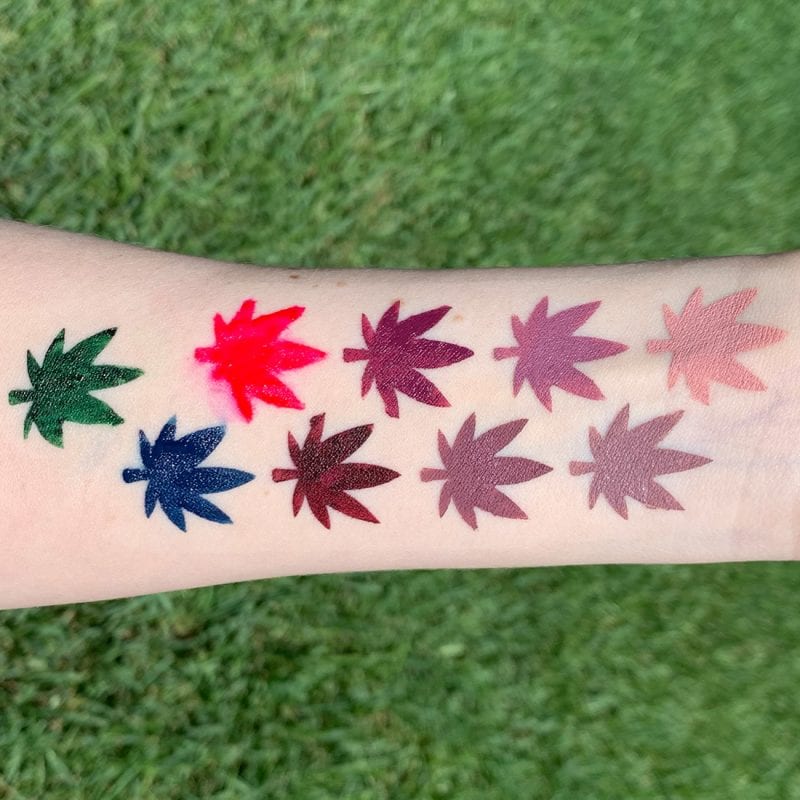 Here are recent Melt Cosmetics Liquid Lipstick swatches!
Buy the Melt Liquid Lipsticks!
What Products Will Be at Sephora?
The following Melt Cosmetics products will be available at Sephora to start.
What Melt Cosmetics products are on your wish list? Did you find my Melt Cosmetics swatches helpful?