This post is sponsored by Chrissy's Knee High Socks but the love is real. As always, all opinions are mine. Thank you so much Chrissy's Knee High Socks!
Affordable Thigh High Socks That are Cute AF
Do you love cute socks? Today I'm sharing affordable thigh high socks that are cute AF with you! I love Halloween themed stuff, as I'm sure you know by now, so Chrissy's Knee High Socks sent me a variety of fun and funky socks to show you.
About Chrissy's Knee High Socks
Chrissy's Knee High Socks is an indie fashion brand. They are made in the USA in partnership with mom and pop businesses across the USA and in their local Michigan facilities. The brand has affordable pricing for every budget and they even have awesome sales all the time. These thigh high socks have been featured in Teen Vogue, Lucky Magazine, She Finds and more.
Chrissy's Knee High Socks come in over 500 different designs. Some are quirky like the mustache socks, others are cute AF and spooky, and some are just lovely solid stripes. Pricing on these high socks is anywhere from $.99 to $19.99, with the most popular socks being around $7.99.
One of the really cool things about Chrissy's Knee High Socks is that if you need high socks for a costume or event ASAP, they can express ship them to you. If you've ever wanted custom socks, they even take custom orders for special events such as a bridal party or sports team. Whether you're into Tuxedo Cats, Paw Prints, Astrology, Halloween, Animal Print, Striped or Solids, you're sure to find something that fits your taste.
Where to Find Chrissy's Knee High Socks
The Chrissy's Knee High Socks website is the best place to shop. However, you can also find some of their socks featured on Amazon. They have super fast shipping, too, as most things ship in about 24 hours.
Fur Free Policy
Chrissy's Knee High Socks is part of the cruelty-free fashion group Born Free USA, the Humane Society of the U.S. and Animals Australia. They have a Fur Free policy:
We are against violence and cruelty toward animals, condemn the mistreatment of animals in any way shape or form and lend our support to all efforts aimed at promoting fur-free fashion.
We do not use genuine fur (including mink, coyote, sable, fox, muskrat, rabbit, and raccoon dog).
We do not use leather or skins in our manufacturing process and ensure that any adhesives used are not made with animal products.
We are strongly against any shearing processes that include the poor treatment of sheep and strive to ensure that any potential wool suppliers do not practice inhumane mulesing.
Our company is passionate about the preservation of endangered species and as such, refuses to purchase and sell any materials from animals that are classified as vulnerable or endangered.
We will not accept any leather, feathers or materials that have been made from animals bred for meat production, animals that have been force-fed, plucked live, poorly transported or treated in an inhumane manner.
High Sock Sizing
These long socks come in one size fits most. I had no issues getting these on my legs and over the knee or over the calves. However, if you're concerned about these fitting over your calves or knees, I would contact Chrissy's Knee High Socks directly to inquire. They can most likely create a custom size for you.
What I'm Wearing
Dave helped me take all of these photos. We looked up some cute pin up girl poses and tried to emulate those to show off these cute long socks. I wanted to let the socks do the talking in the photos because have such personality! I'm wearing:
Spiderweb Long Socks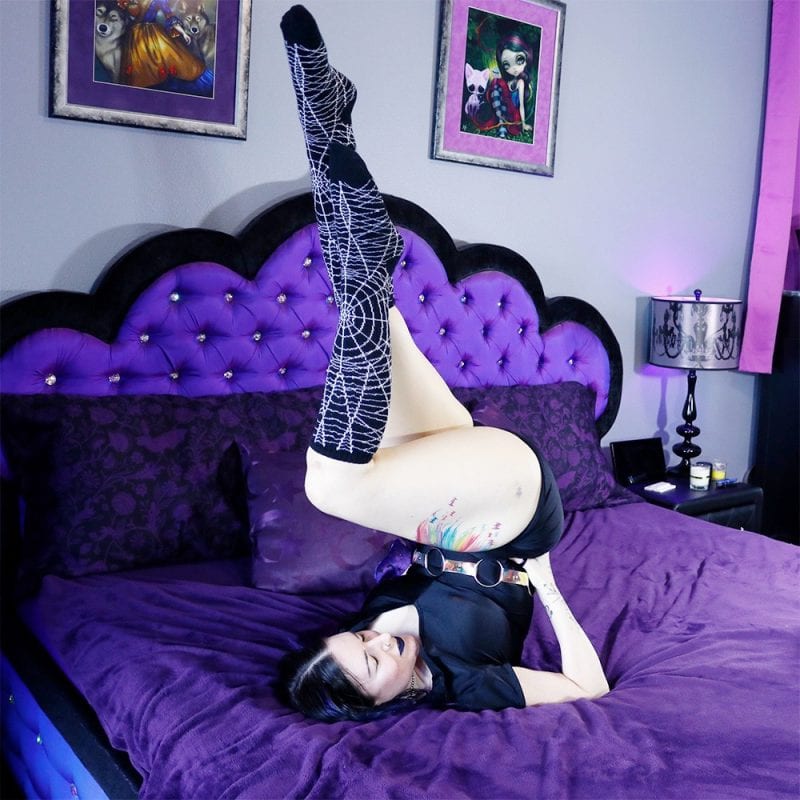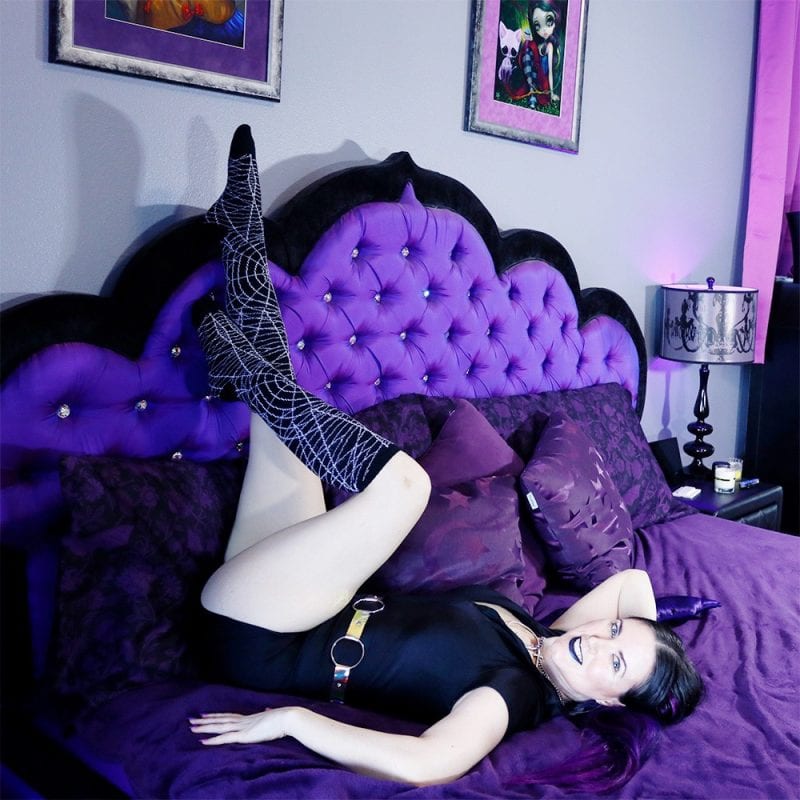 First we have Spiderweb socks. I love the spiderweb print! These are also available in black and red. The spiderweb print felt thick and cushiony, very comfortable to wear. These socks would have been perfect for my trip to Scotland! (Read about my Scotland Trip for my bestie My Beauty Bunny Jen's Wedding: Edinburgh, Glasgow, & Scotland).
Candy Corn Knee High Socks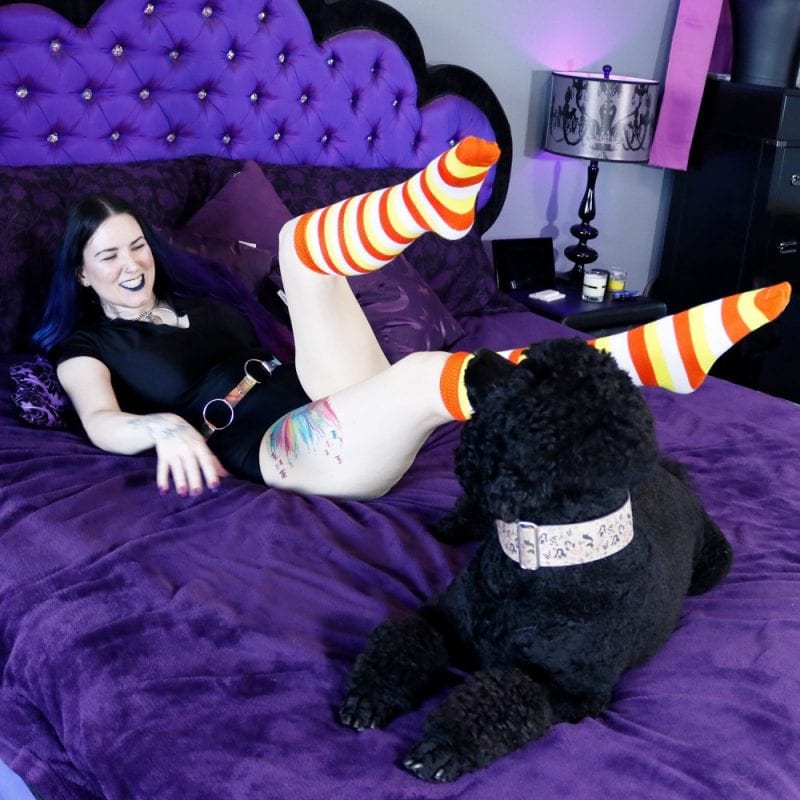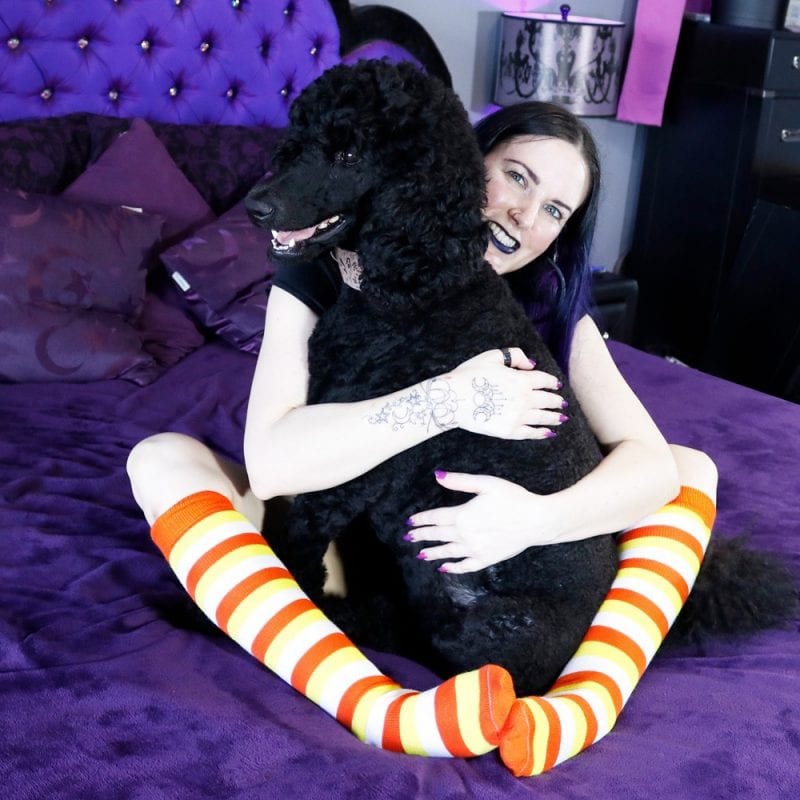 Second is the Candy Corn Striped Long Socks. These are cute and perfect for Fall. In fact, I could totally see a cute cornucopia cosplay outfit with these socks.
Nyx approves, as you can tell. Any time I'm doing anything, Nyx wants to be involved. She has an unerring ability to find the center of attention and insert herself there.
Skeleton Long Socks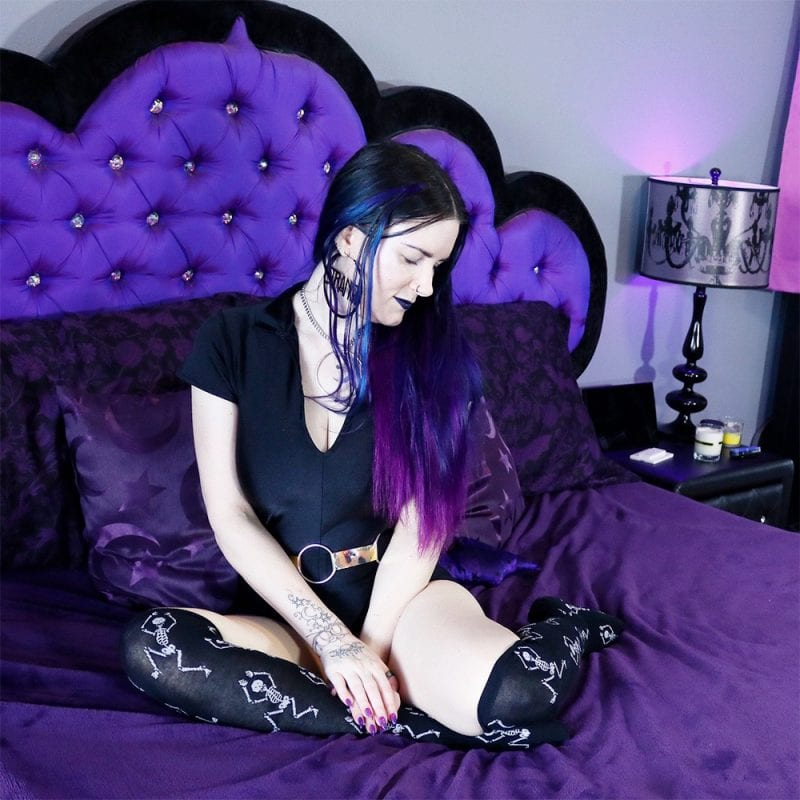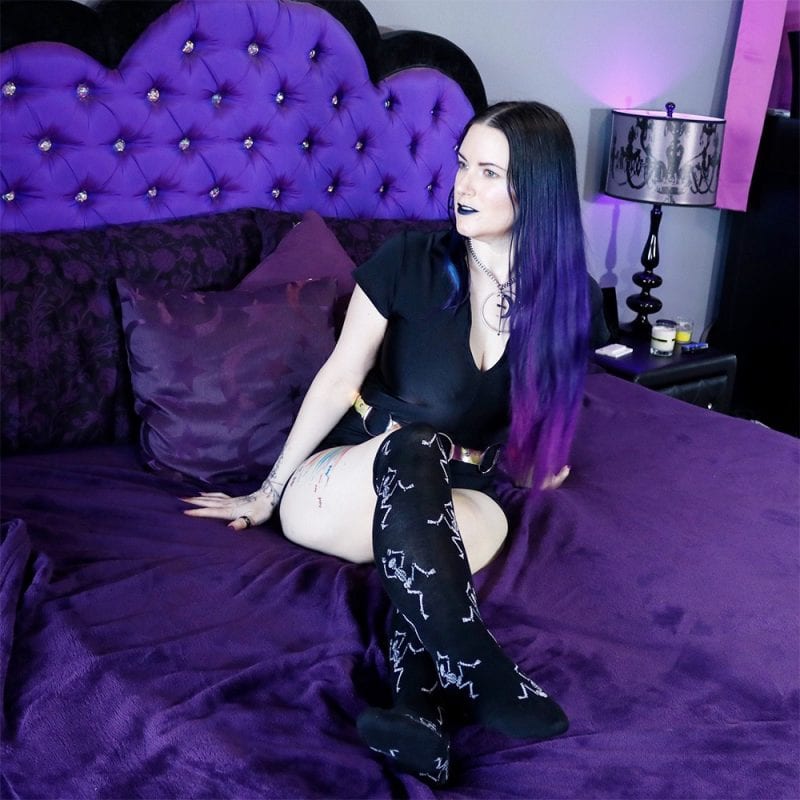 Third are the Dancing Skeleton High Socks. These knee high socks actually fit over my knee and they're a thinner knit, which I appreciate. Living in Florida I tend to prefer thin and lightweight socks, unless I'm traveling.
Halloween Socks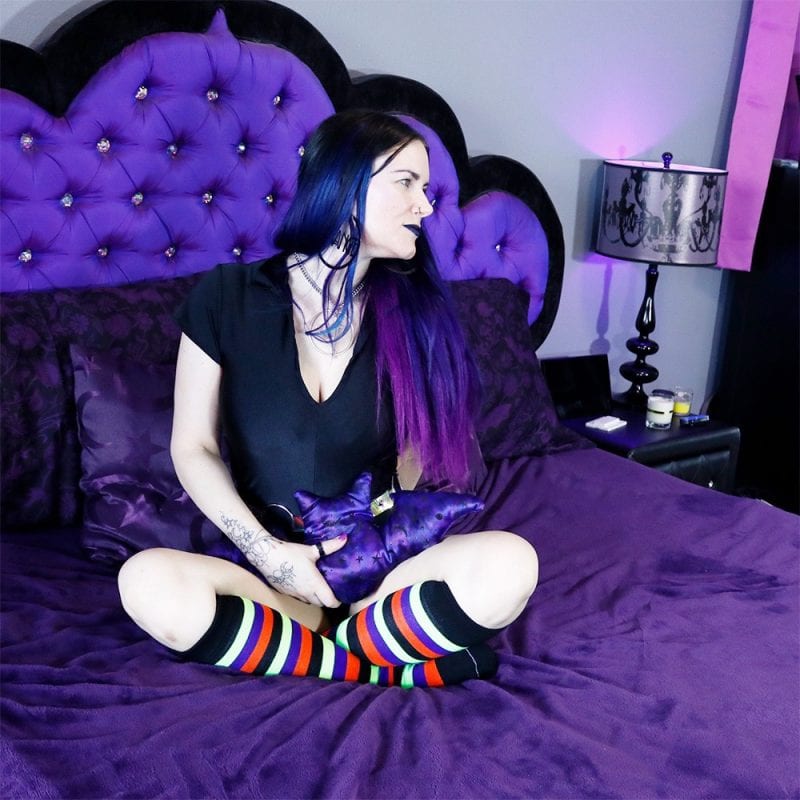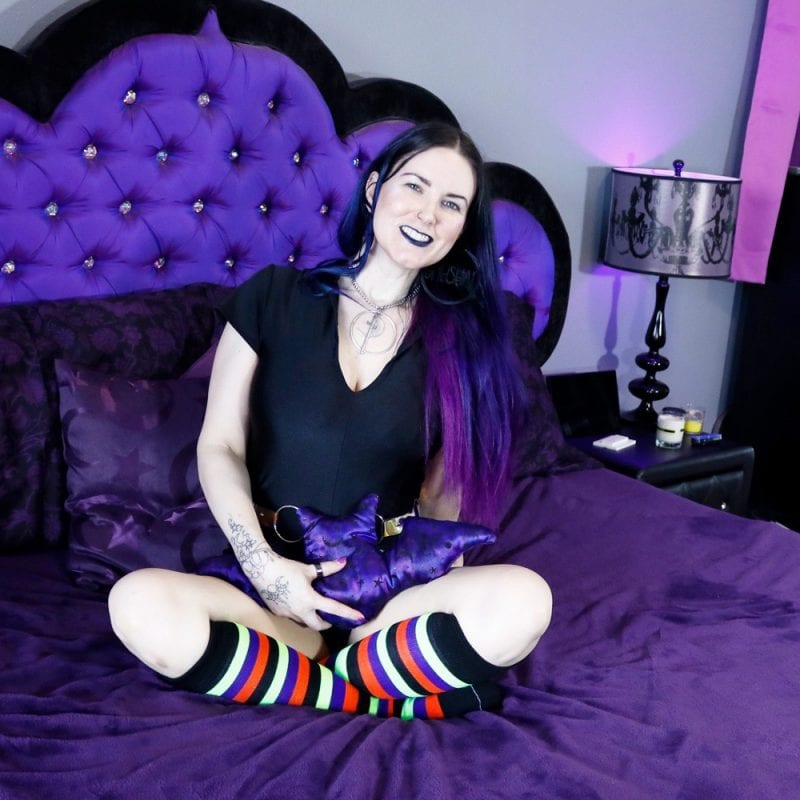 Fourth are the Halloween Striped Long Socks. I love the neon purple, neon green, black and orange colors together. It's a cute way to add a lot of color to your outfit.
Monochromatic Purple Thigh Highs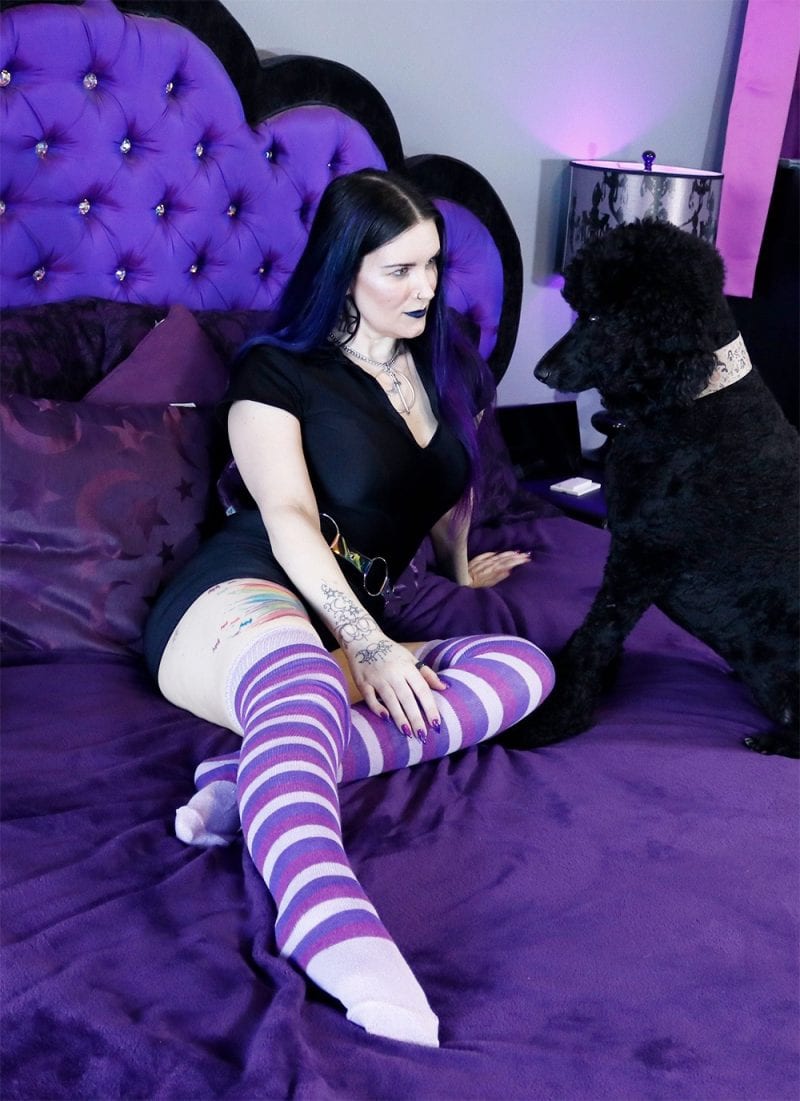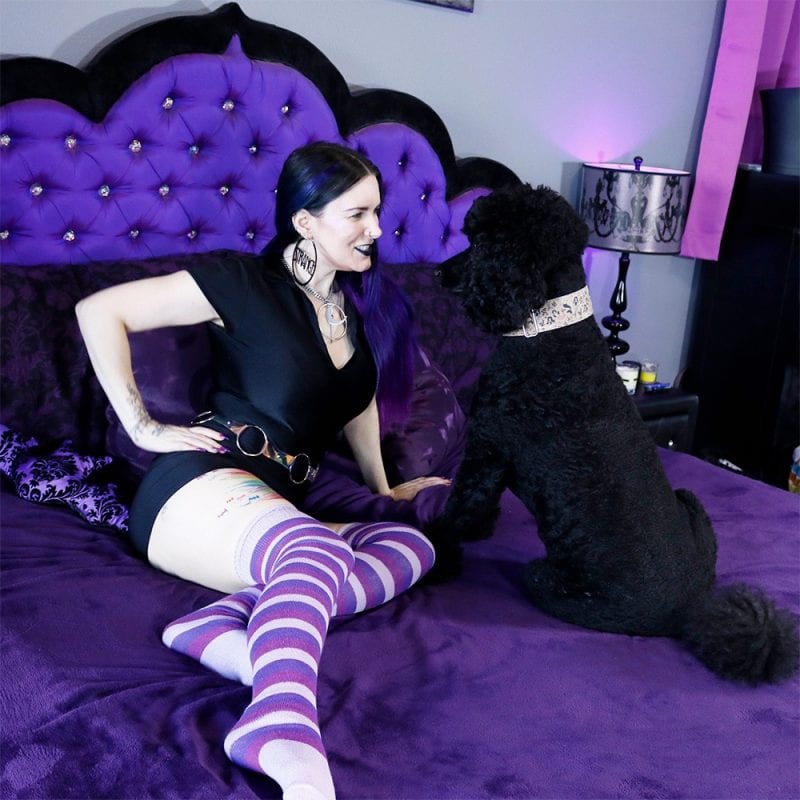 Fifth are these adorable Monochromatic Purple Thigh Highs. I'll take 3 shades of purple any day! The deeper stripes on this sock match my hair. Learn all about my purple gothic dream hair.
Black and Purple Striped Thigh Highs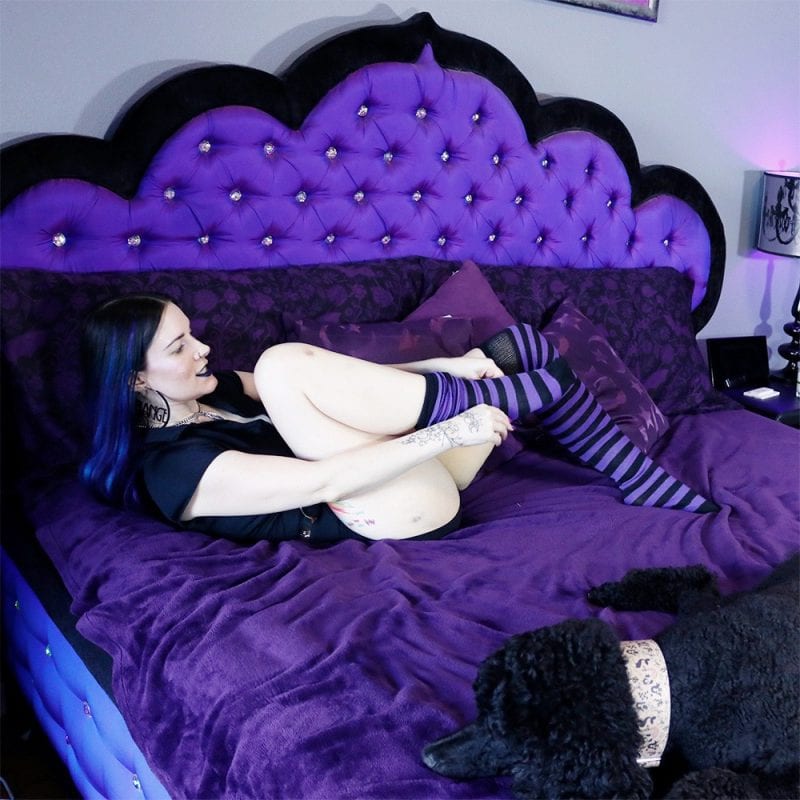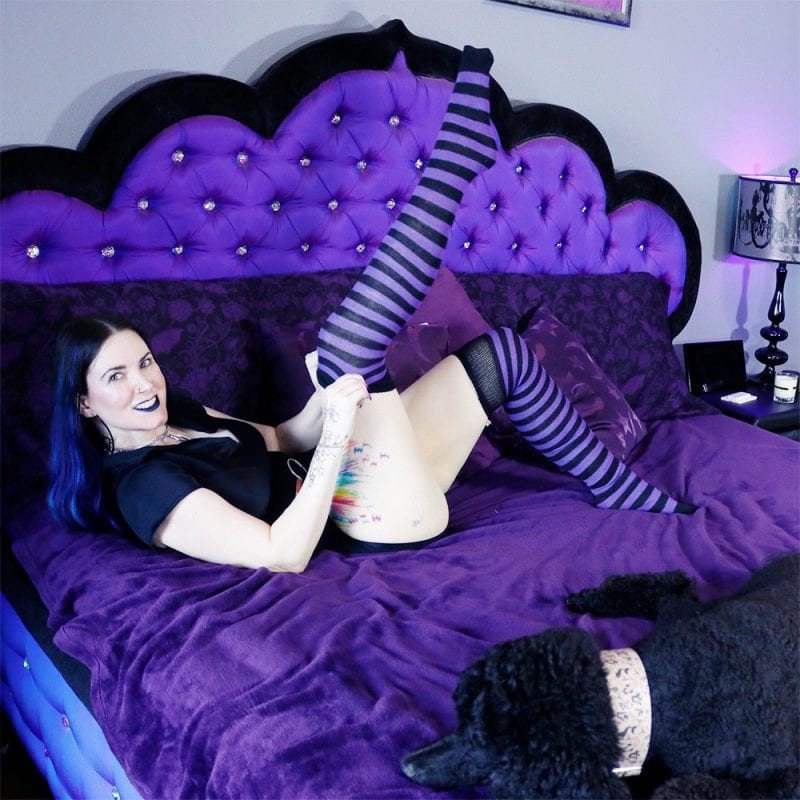 Sixth are the Black and Purple Striped Thigh High Socks. I LOVE these! Black with pops of color is always my favorite, so add purple and I'm in love. Honestly, these would look cute AF with any of my shorter black dresses & I loved it with the bodysuit.
Neon Pink and Purple Striped Socks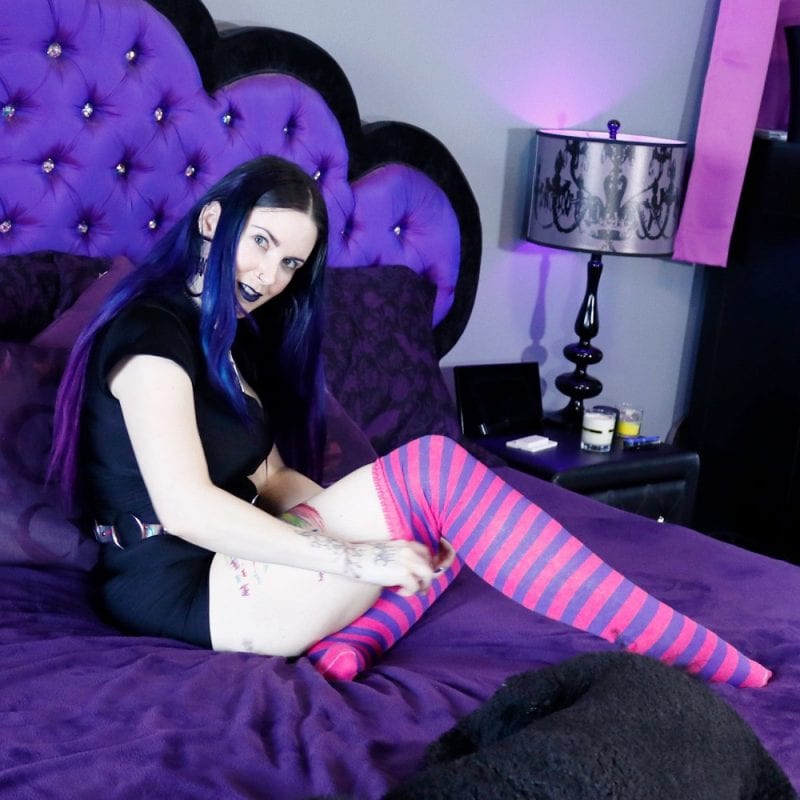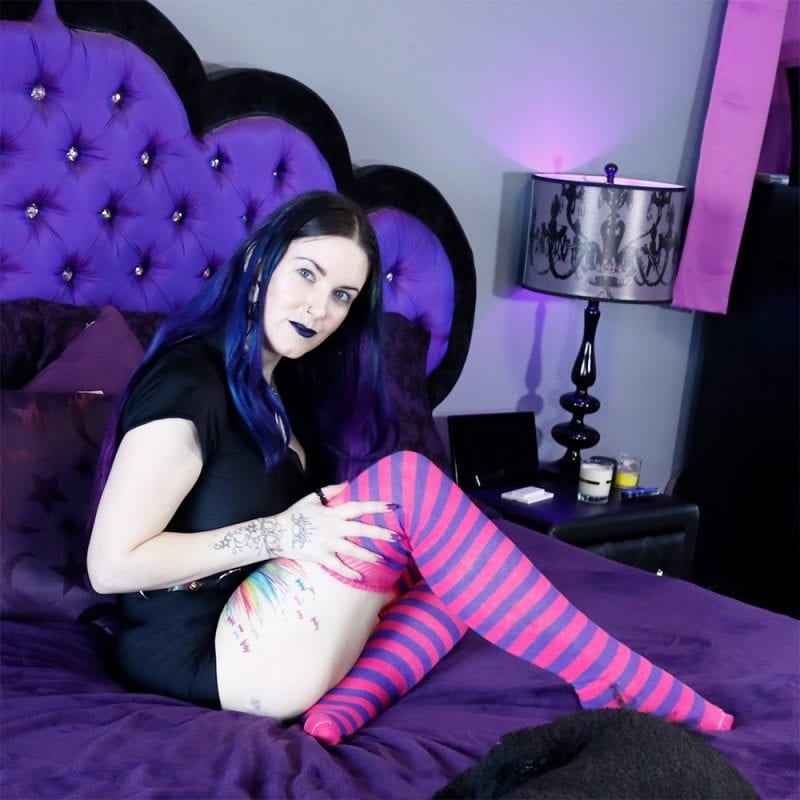 Seventh are the Neon Pink and Purple Thigh Highs, giving me Cheshire Cat vibes. You could wear these with a DIY Cheshire Cat Costume!
Black Thigh High Socks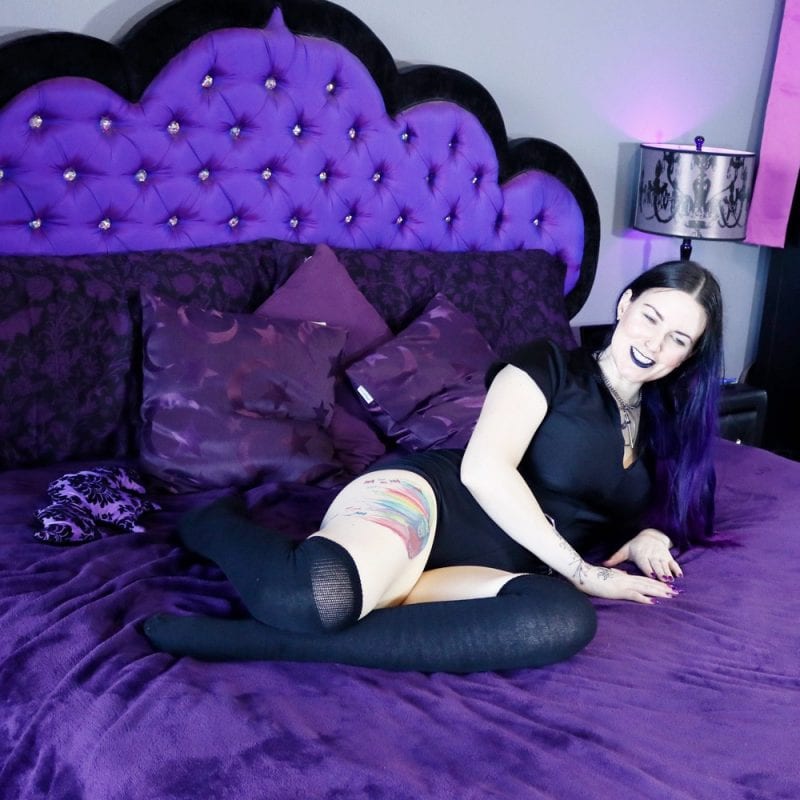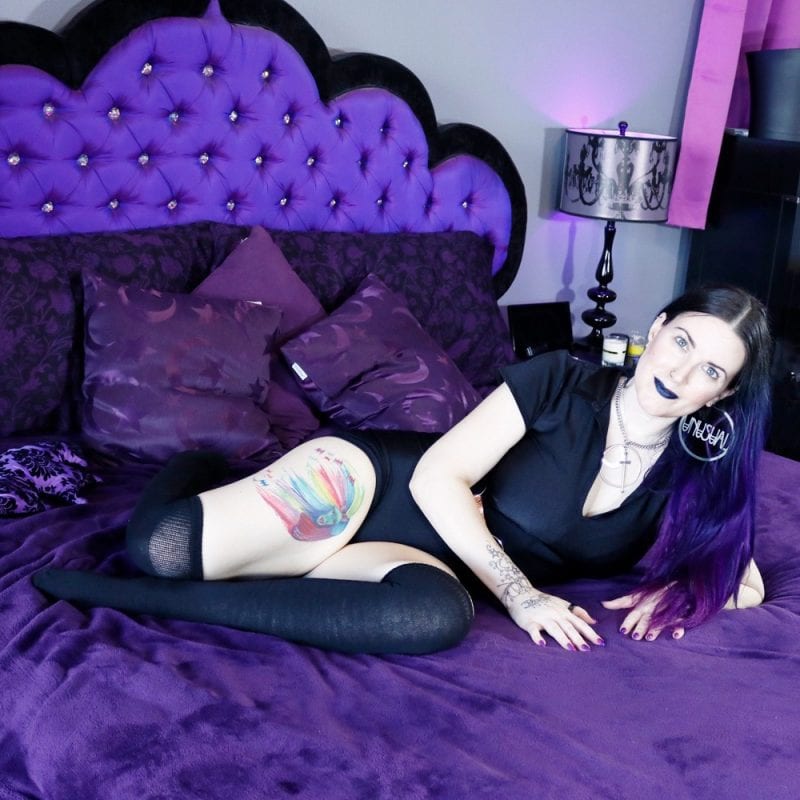 Eighth are the Solid Black Thigh Highs, which go with everything. Ray thought these were sexy & suggested that they'd look nice with lingerie. They were his favorites!
Black and Teal Striped Thigh Highs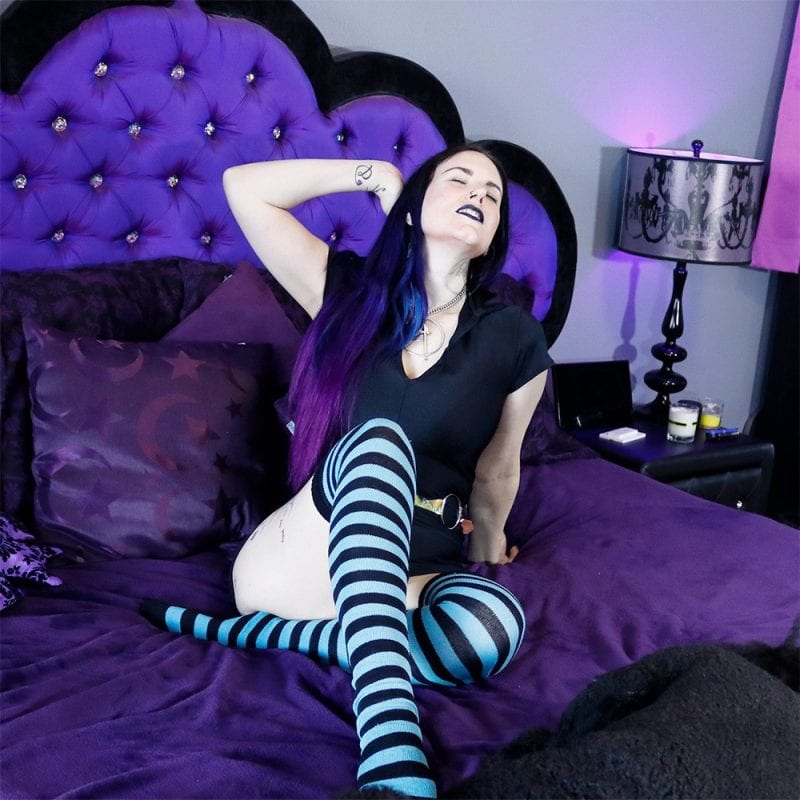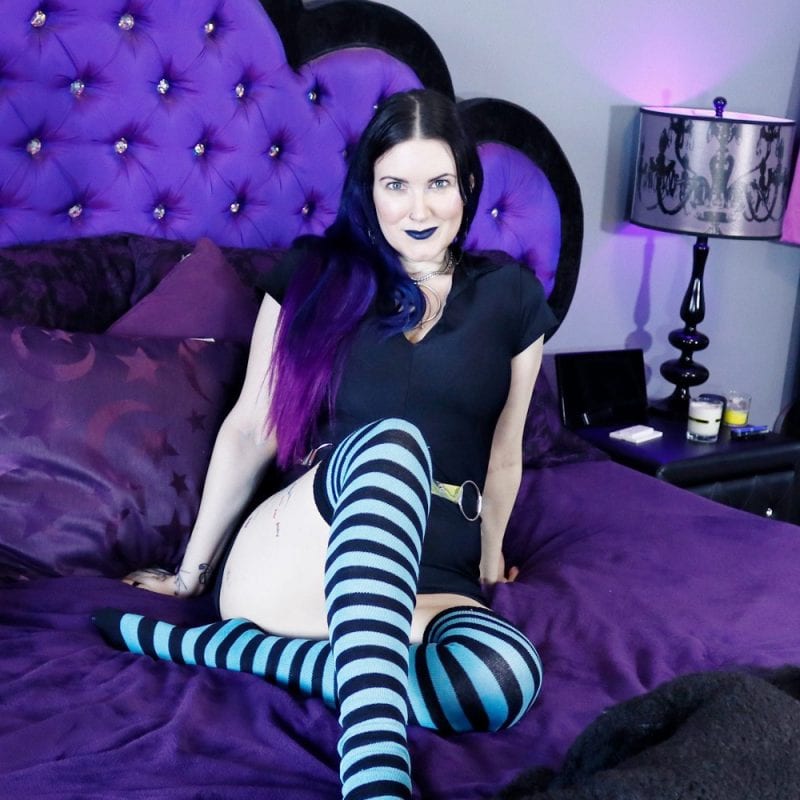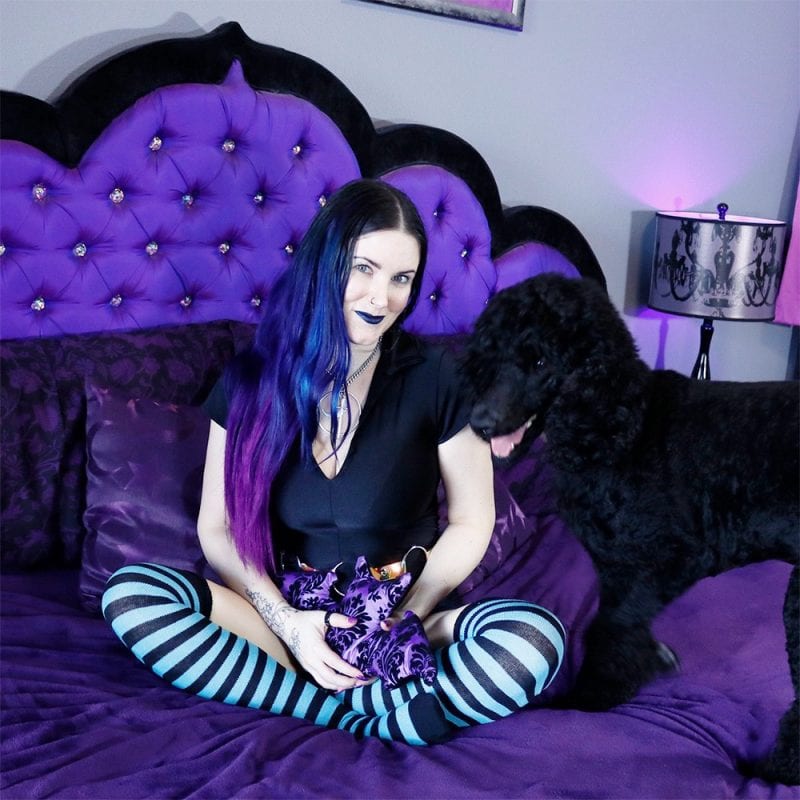 Nineth are the Black & Teal Blue Striped thigh highs! I adore these and feel like a Jasmine Becket-Griffith faerie in them! I love her artwork and 2 of  her prints are in my master bedroom. See my modern romantic gothic bedroom in closer detail.
Fox Thigh High Socks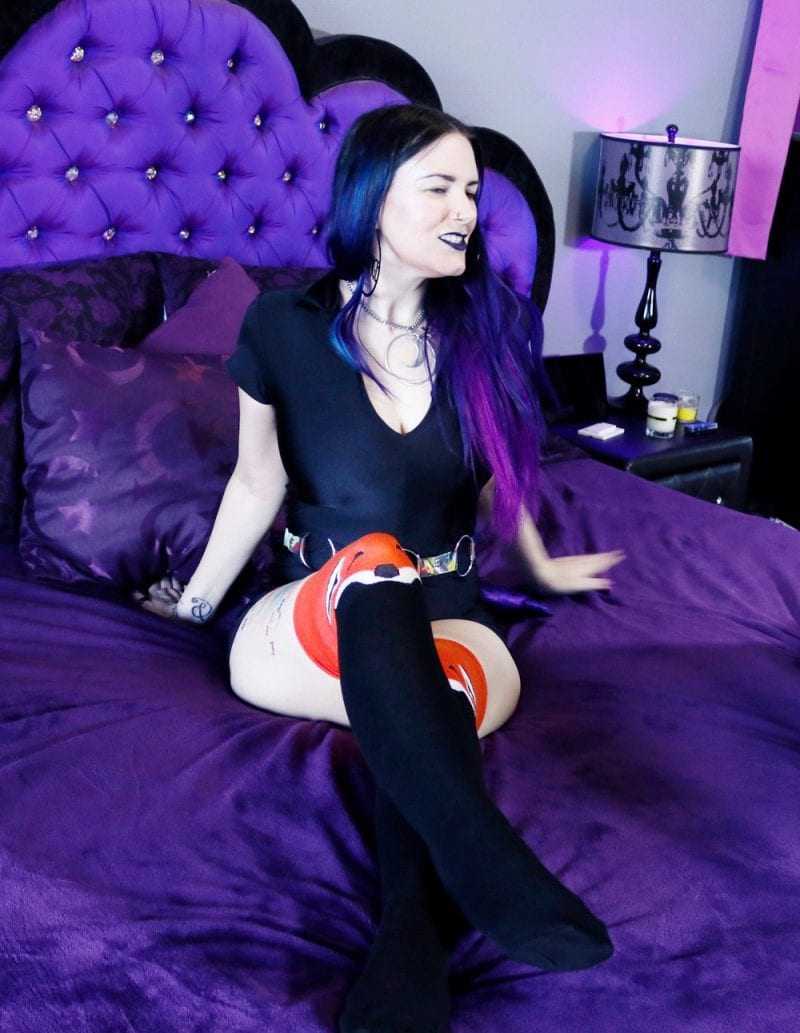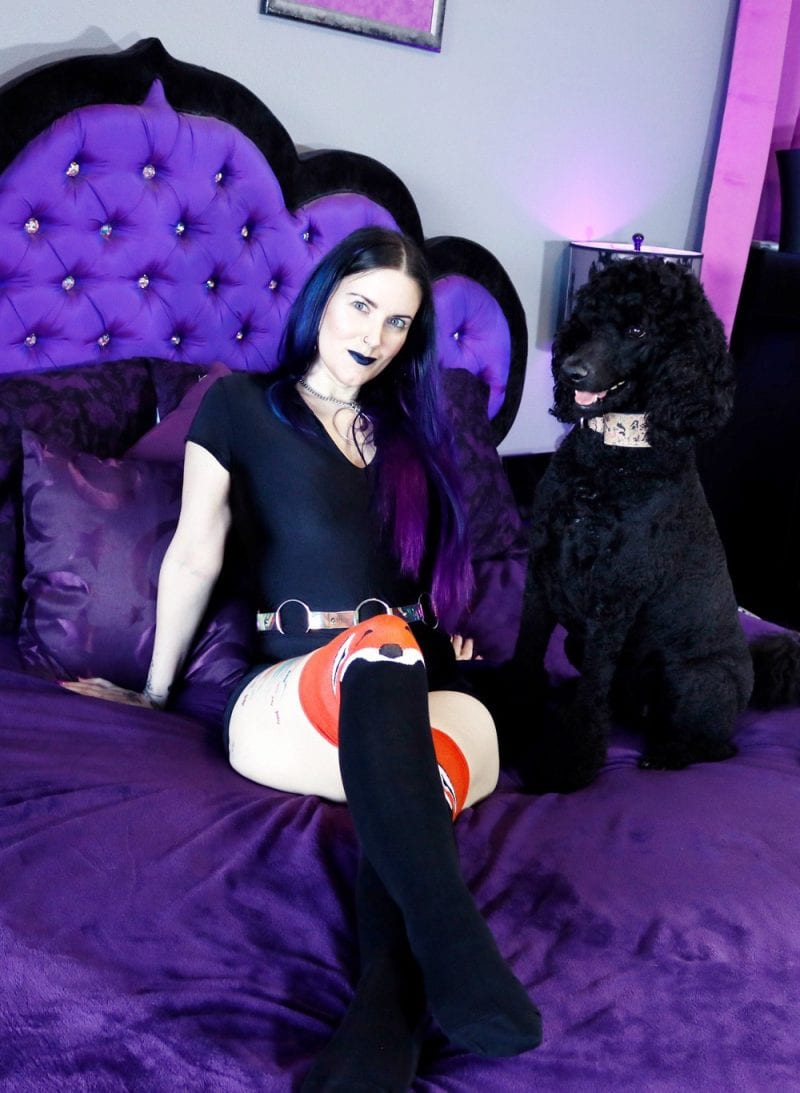 And last but certainly not least are the Fox Thigh Highs. These are cute AF and my current favorite way to wear orange. I bet these would look cute with a pair of boots that comes just below the knee.
Final Thoughts
Chrissy's Knee High Socks are extremely affordable, indie fashion brand made in the USA, and come in hundreds of designs. You can get them customized to your size or style. They're well made and helping lots of mom & pop indie businesses stay in business. Whether you like thick or thin, plain or patterned, you're sure to find something to fall in love with from Chrissy's. I'd love to see them make a pastel bat sock design! Add some personality to your wardrobe with fun and funky high socks. What sort of socks do you like best?