Crescent Moon Dress
Today I'm sharing how I style my Crescent Moon Dress.  I recently wore my crescent moon dress to my friend Carlye's Lunar Tea Party. She said to wear things that were blood moon themed, so red or  black and moons. As someone who loves moons and have a ton of moon inspired fashion in her closet, this was easy to do!
Lunar Tea Party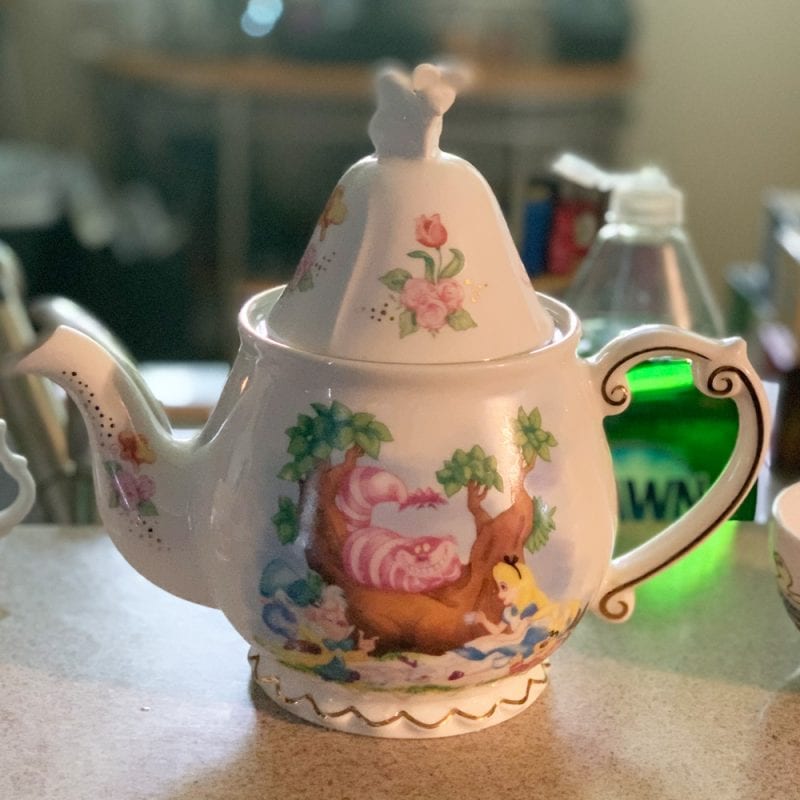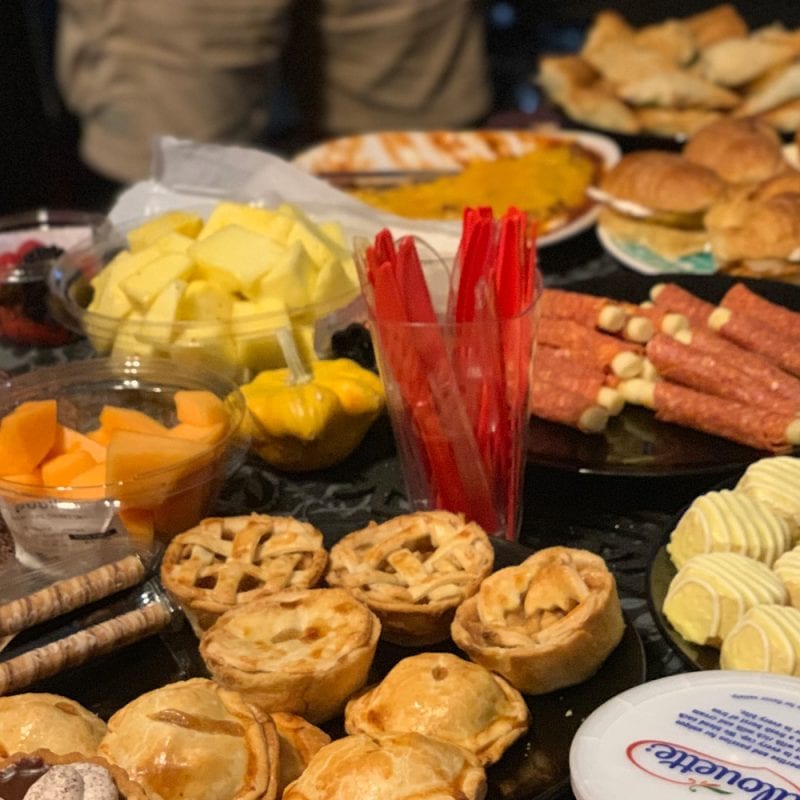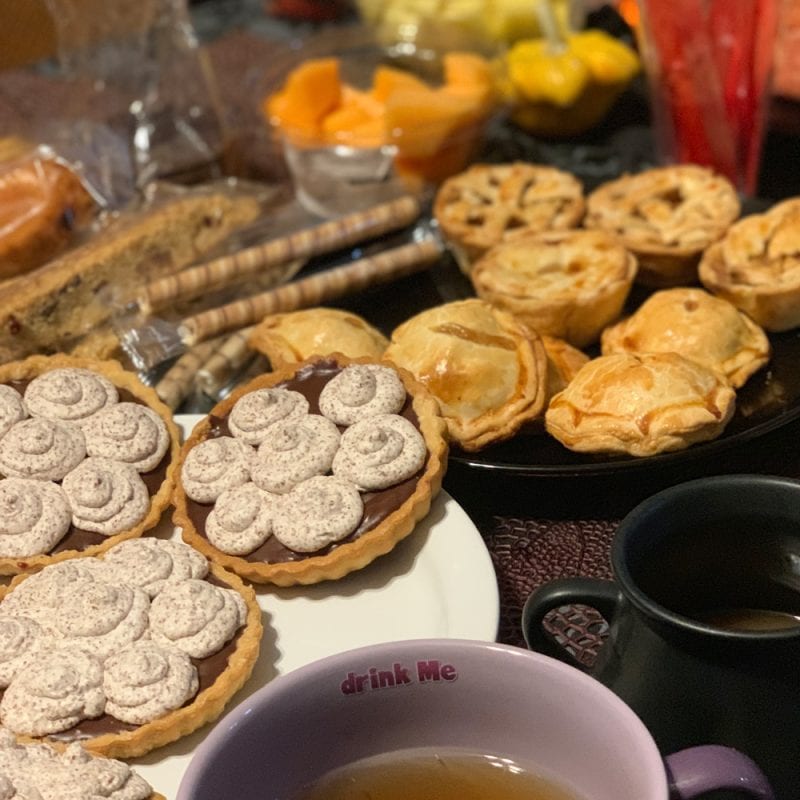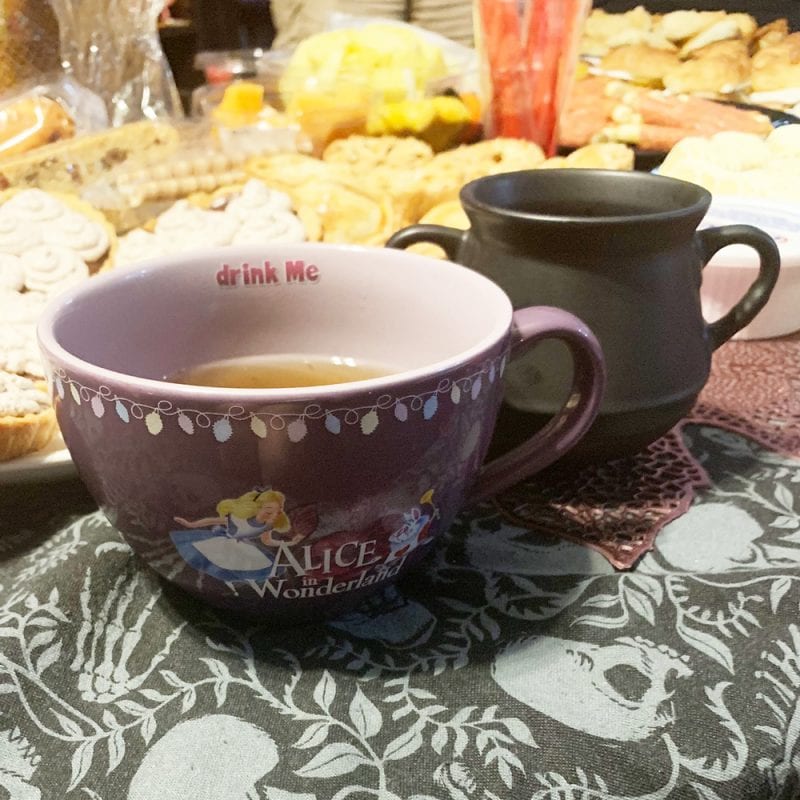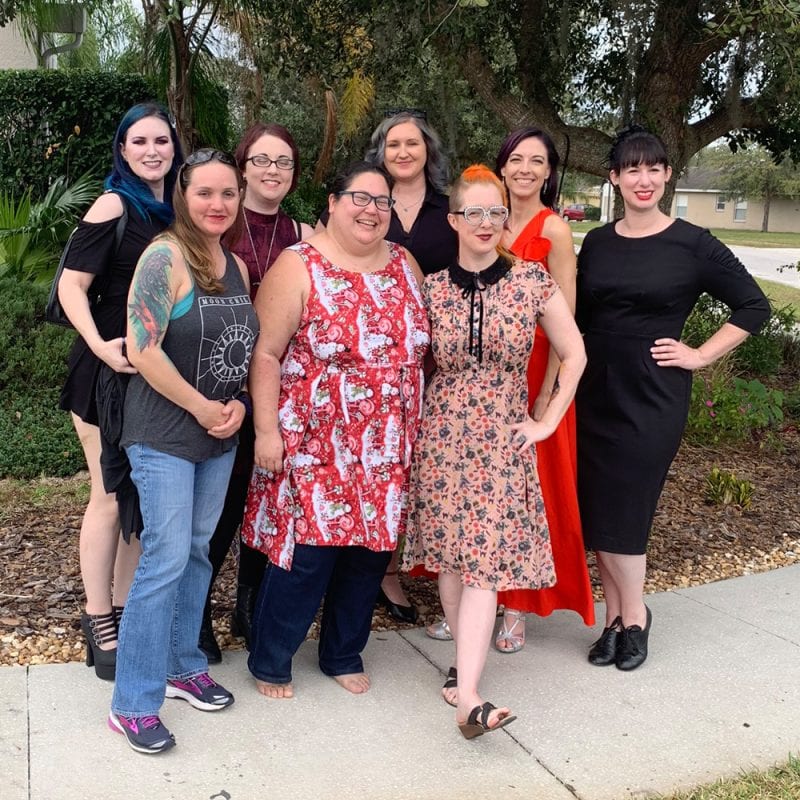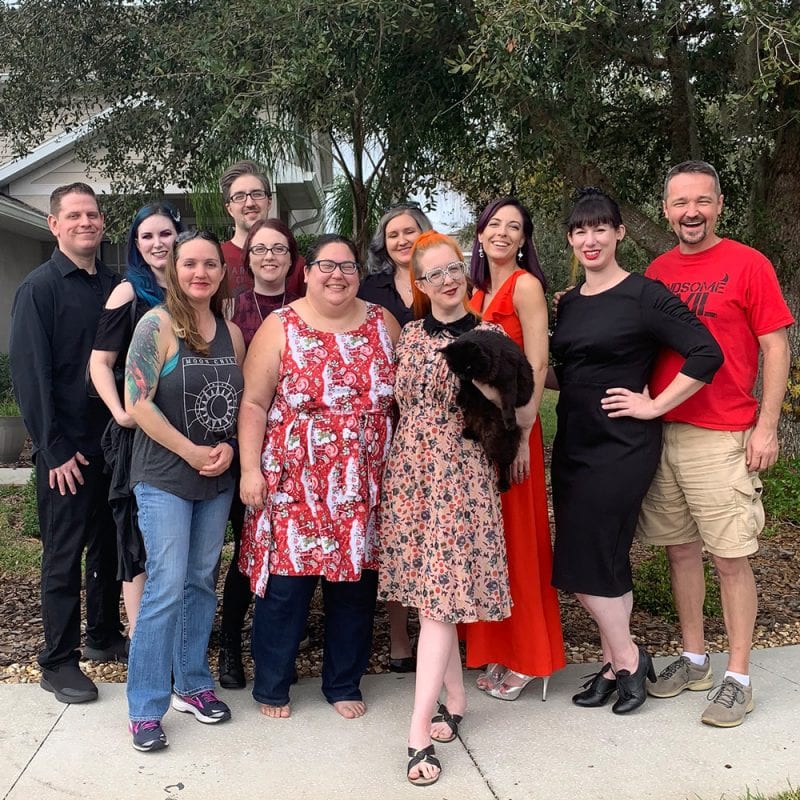 My friend Carlye had a Lunar Tea Party in honor of the Super Wolf Blood Moon that's happening on Jan. 20., among other things. It was good to get together with friends! I was especially happy to see Melissa and Stacia, since I rarely get to see them. We all wore black, red, or moons, as you can see.
Everyone brought finger foods to share. Carlye supplied many different types of tea. I mostly drank chai, but later switched to chamomile. You can see mine & Dave's mugs above. Dave went for the cauldron mug. I must have all the Cheshire Cat things, so I snagged an AiW mug.
Carlye runs Spellbound Stitches and is a professional fashion designer. She does a lot of horror couture, witch fashion, gothic fashion, cosplay and more! She is currently working on some custom pieces for me and I can't wait to show them to you! Her work is amazing. Follow Carlye on Instagram for amazing fashion inspiration!
Crescent Moon Dress
Every time I go to take photos, Nyx always wants to be in them. So as usual, lots of Nyx the standard poodle puppy in these photos. Also, all of the bruises on my legs? They're from Nyx. When you're pale like me and bruise easily, and you have an energetic, playful pup, you end up with bruises.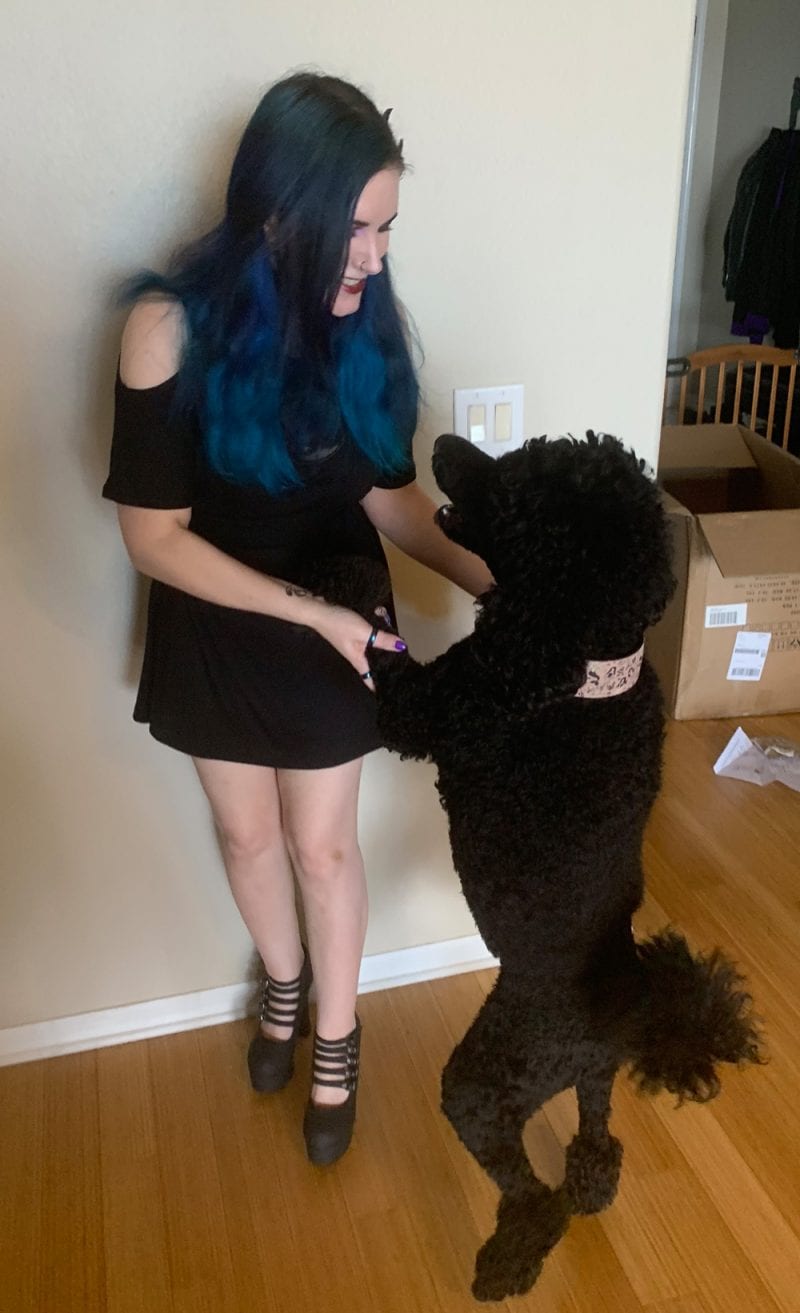 Excuse the boxes. Ray was in the middle of putting together 2 tufted chairs for me for a conversation nook.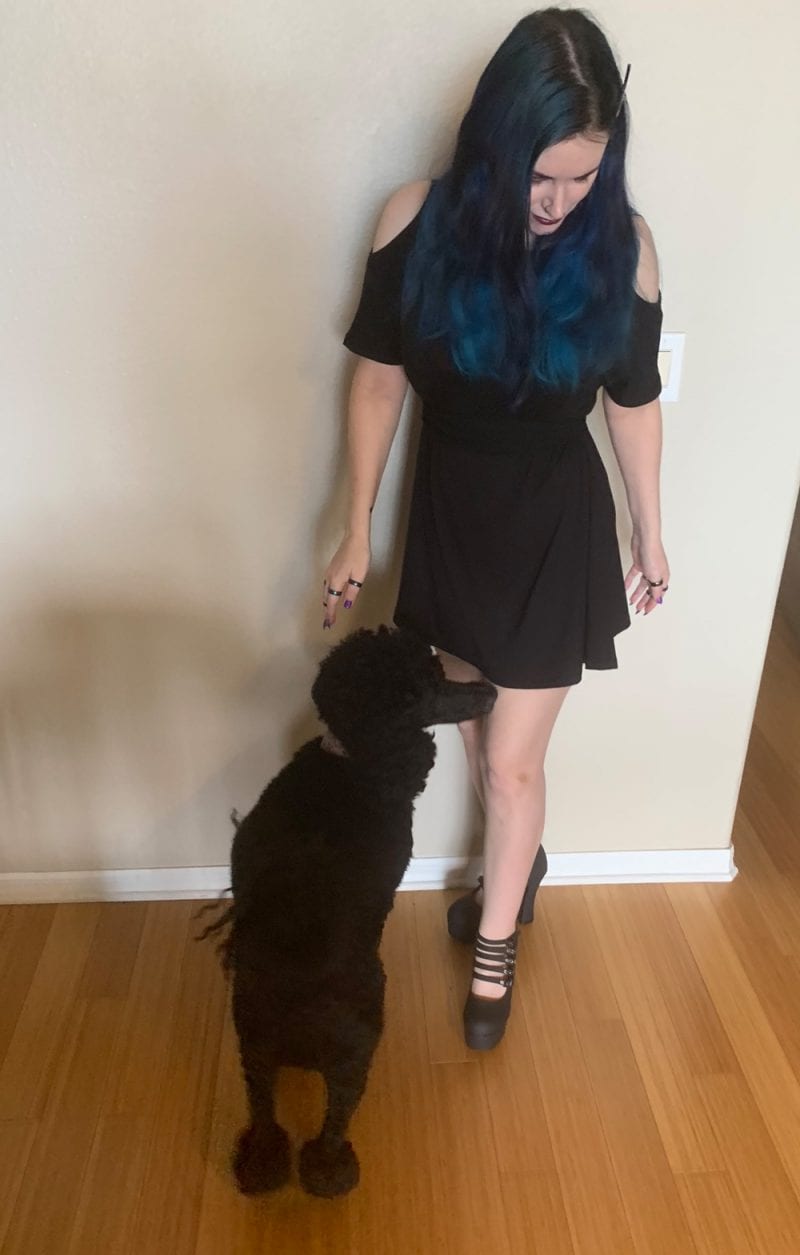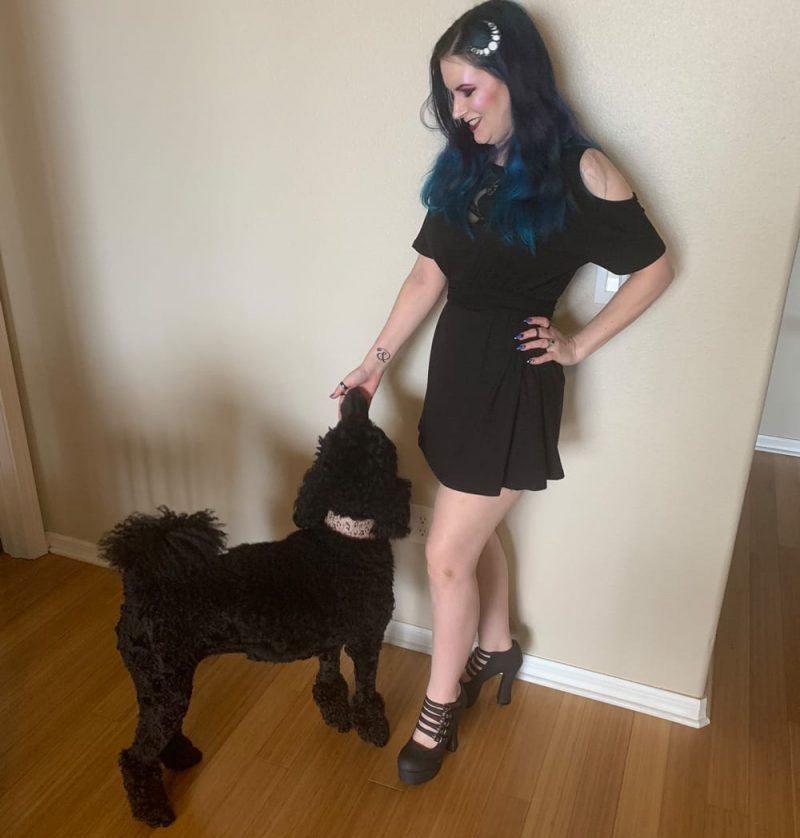 My tattoo is pretty much healed and I love how it looks. It makes me want more ink! Curious about the meaning behind my tattoo? Read more about it in my New Year, New Tattoo feature.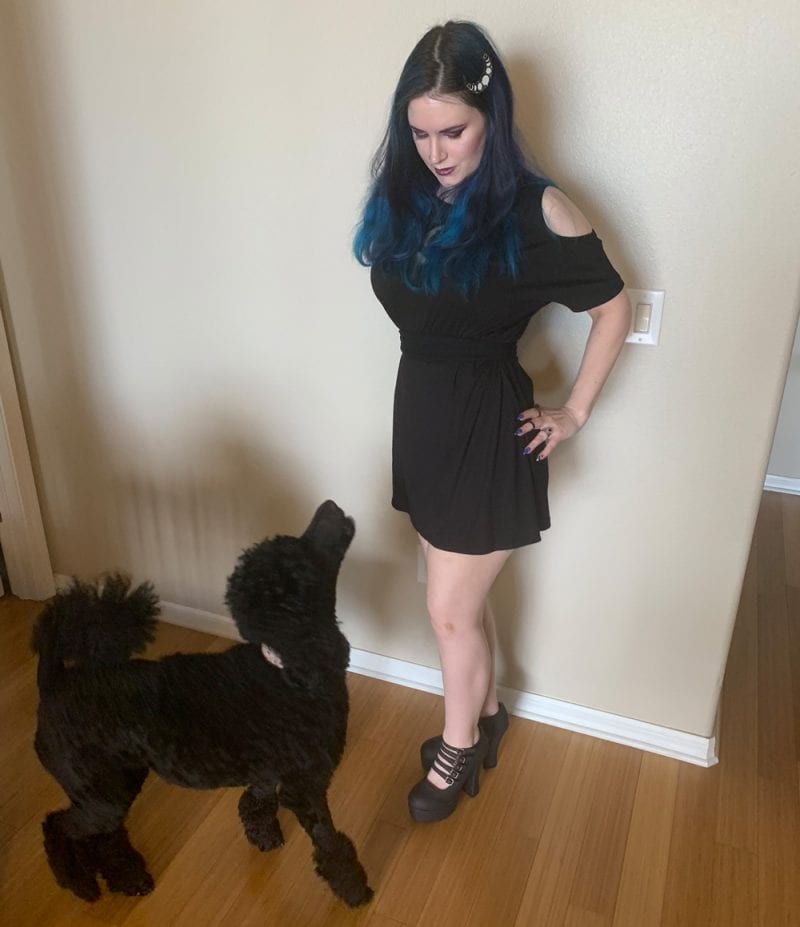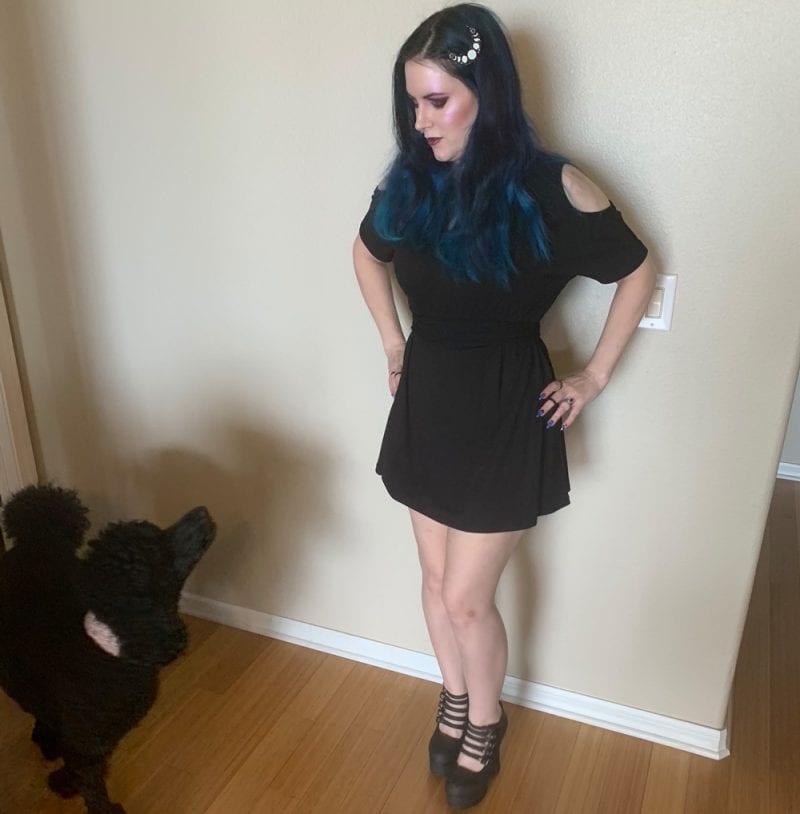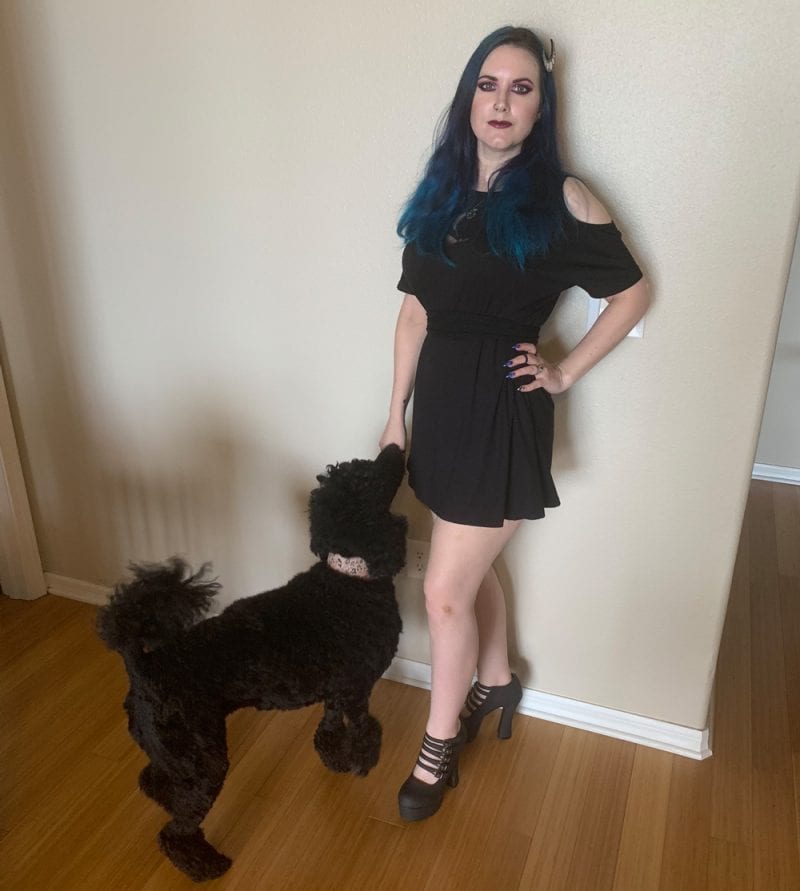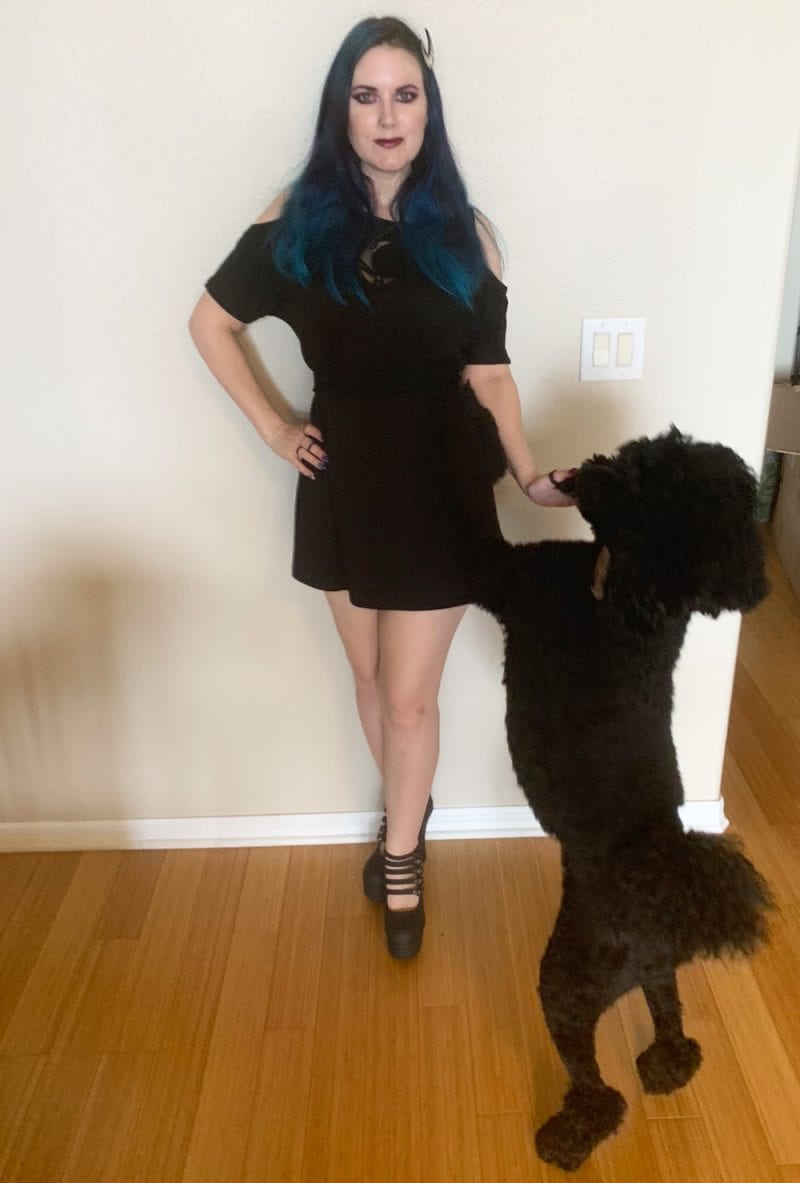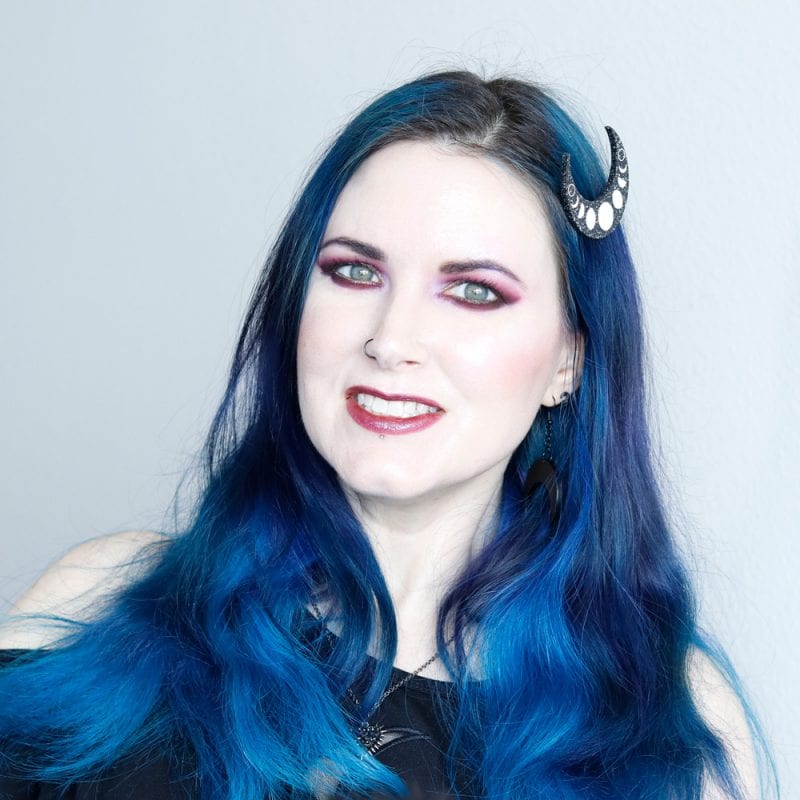 Want to see the makeup details on what I'm wearing? See my Lime Crime Venus XL Palette Look Details!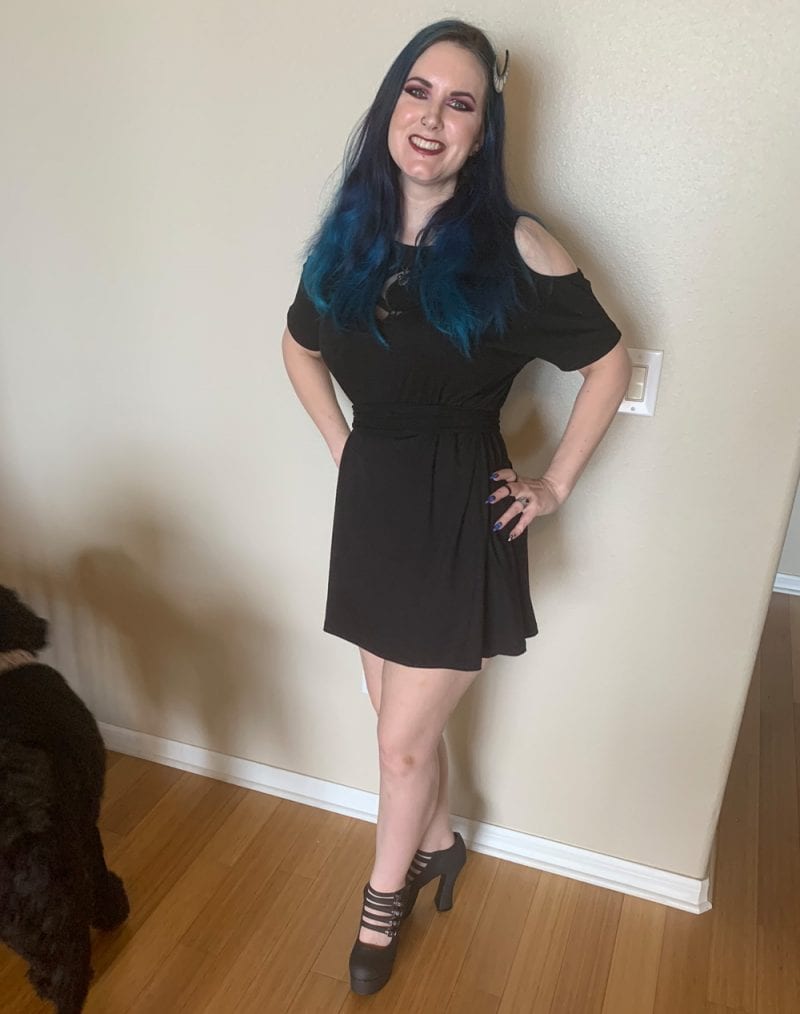 Dress – ReStyle Crescent Moon Dress (size L)
Belt – Black Mesh & PVC Eyelet Belt
Bra – Elomi Sachi Bra (32GG/32J)
Shoes – Tuk Strappy Spice Heels (size 8) (similar style with skulls, similar style with crushed velvet)
Necklace – Bunny Paige Dark Rainbow Micro Spiked Heart Necklace
Earrings – Betsey Johnson Black Moon Stud Earrings
Earrings – Curiology UK Lunar Phases Earrings
Hair Fascinator – Curiology Uk Lunar Phases Hair Clip
Rings – Enso Mermaid Rings, Black Pearl Ring, Silver Ring
Left Thumb – Oura Ring
Handbag – Widow Dark Dreaming Mini Backpack (discontinued, similar style, similar style, similar style)
Jacket – Black Craft Cult Triple Moon Cardigan (size M)
I think I've been using my Oura ring long enough that I can film a review of it soon. It's a sleep and fitness tracker that helps you with biohacking to improve your life and be the best you. I love the fact that it's waterproof and I never have to take it off, except when I charge it. My Oura ring is black, making it an excellent gothic fashion accessory.
The Curiology UK Lunar Phases Earrings and matching Lunar Phases Hair Clip were perfect moon inspired fashion accessories for this occasion. Don't expect the hair clip to actually hold any hair back, as the mouth on the clip is small. It does stay in very securely!
I'm still obsessed with my Enso rings! I have 5 of the Mermaid Rings. 2 size 4 that I use as midi rings, though I really wish they had size 3 for midis. 1 size 8 that I wear on my right thumb and two size 9 that I wear on my index fingers. The Mermaid Rings are truly gorgeous! I love that their black base shifts through blue and purple all the time, my favorite colors! They are my kind of gothic fashion accessories! I wear a Black Pearl size 6 on my right ring finger and a Silver size 6 on my left ring finger. If you haven't tried one, I highly recommend checking out Enso. Their rings are very comfortable to wear and even sleep in!
I really adore the ReStyle Crescent Moon Dress with the crescent moon cut-out on the chest. I bought size Large because I was worried about fitting my chest, and really I probably should have sized down to a Medium. Though who knows, if I'd bought a Medium I might not have worn this as a dress at all, because it's super short for me. Regardless, this dress needs a belt to make it look flattering. The belt I used is actually from another dress I own, and I don't like wearing it with that dress. I really love the see-through crescent moon on this dress a ton. I might see if I can find a pattern to make a shirt similar to this dress myself.
I love the look of my Tuk Strappy Spice Heels! I bought them for an upcoming gothic lookbook that I'm working on. They are gorgeous to wear and remind me of something that the Weird Sisters from Sabrina might wear (makes me also think of Shakespeare's MacBeth). While gorgeous, I don't often wear heels like this because my feet end up hurting. After about 5 hours my feet were killing me. I need to see if I can find some sort of gel insert to make them more comfortable. Do you know of any? I do love that these bring me from 5'4″ to about 5'9″. I commented to Dave that these shoes make me a good height for him (he's around 6'1″) and he responded that I'm always the perfect height for him.
How would you style this crescent moon dress?