Get Ready With Me Indie Makeup
You guys wanted to see a tutorial on this purple and burgundy look, so this is my get ready with me indie makeup video. I used Suva Beauty, Melt Cosmetics, Makeup Geek, Aromaleigh, LASplash, and Black Moon Cosmetics. I feature the Makeup Geek Porcelain Princess palette and share my frank opinions on it. While I list every product I use, I also use generic terms for the eyeshadows so you can shop your makeup collection for similar shades.
PR + purchased by me.
What I'm Wearing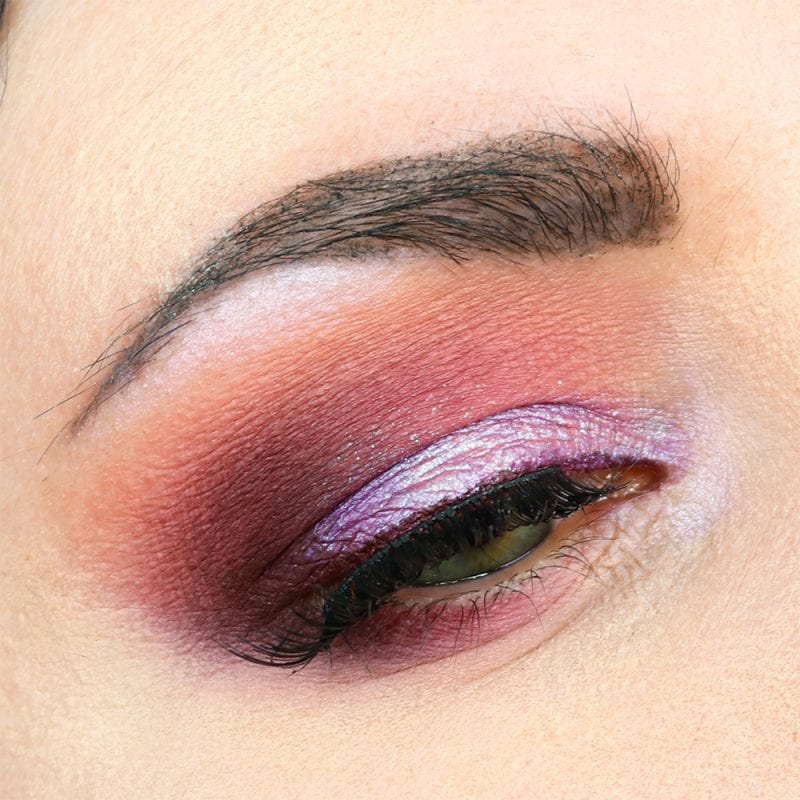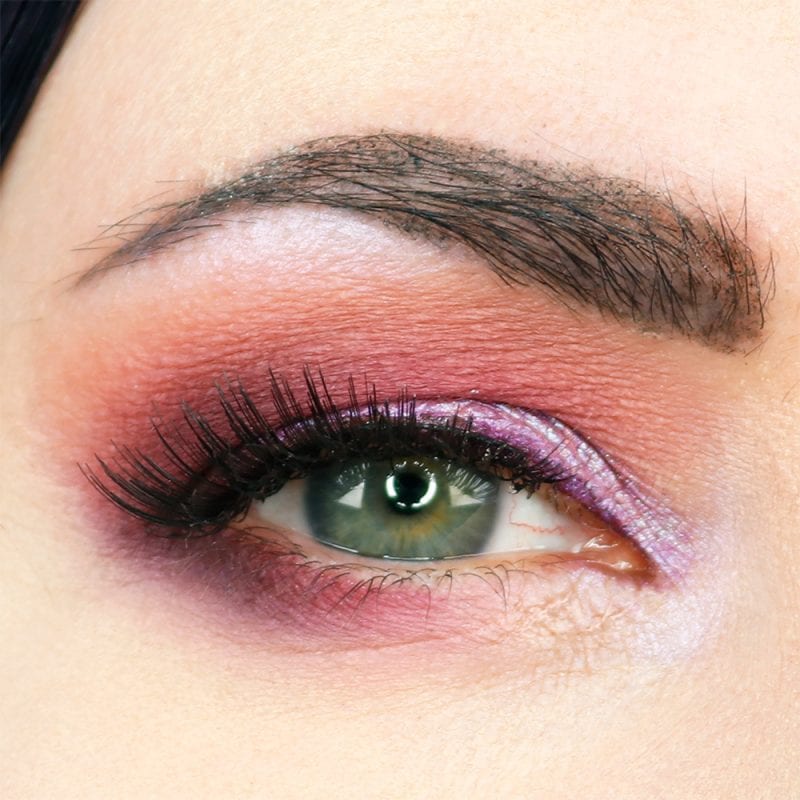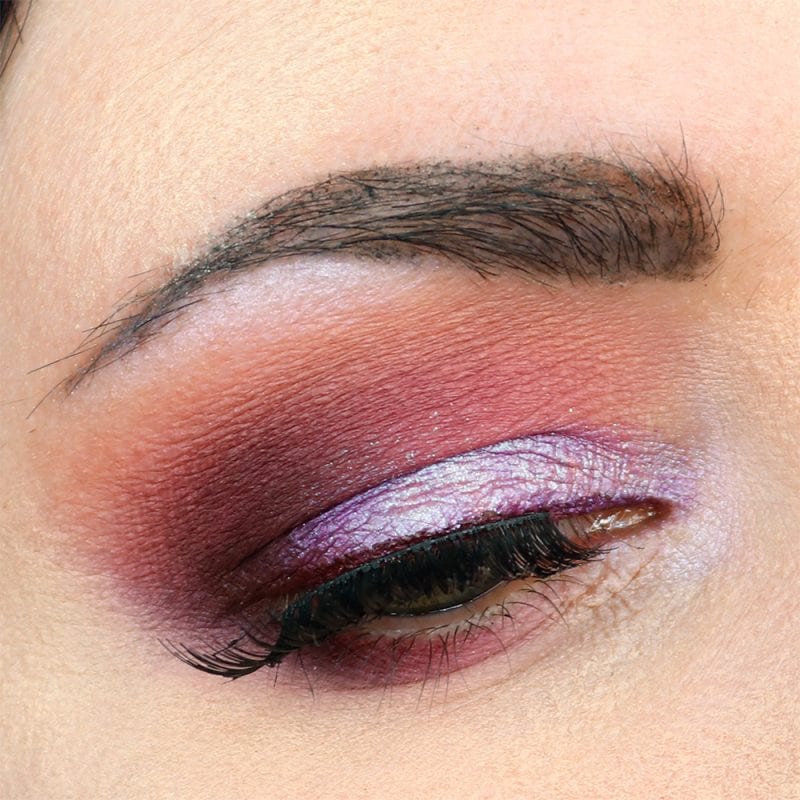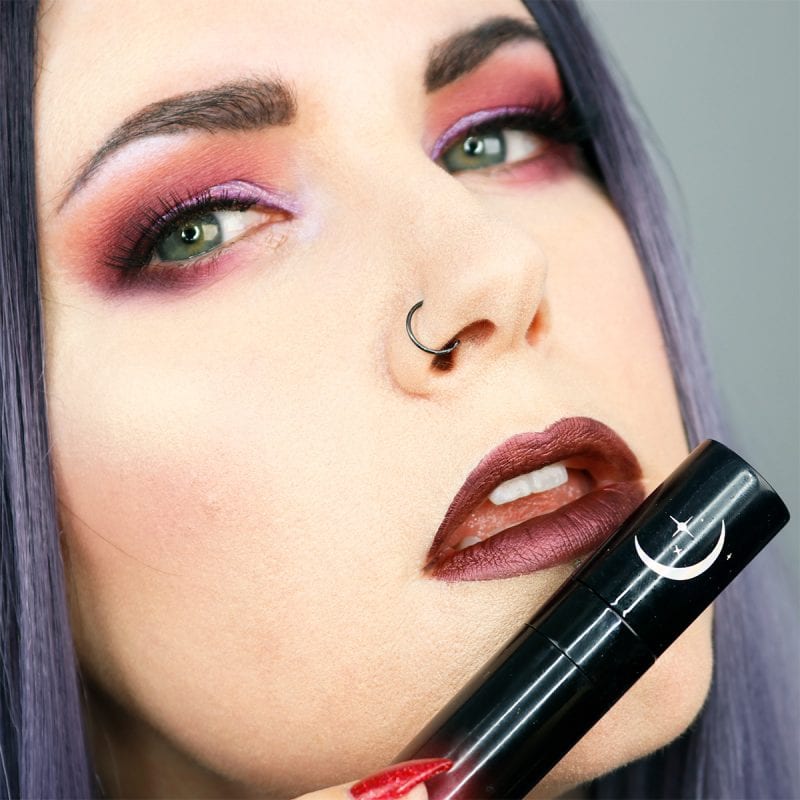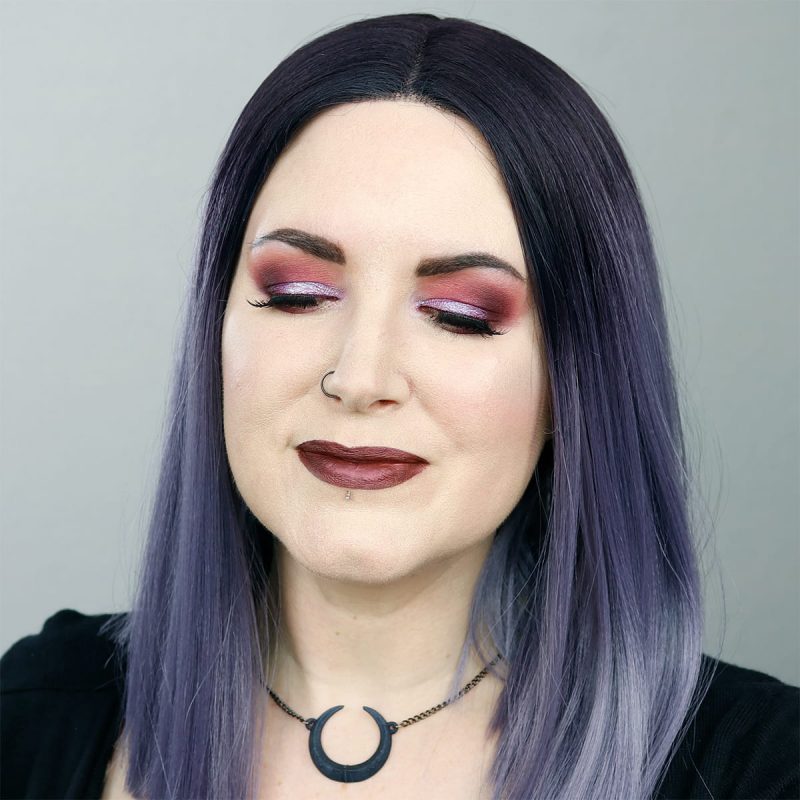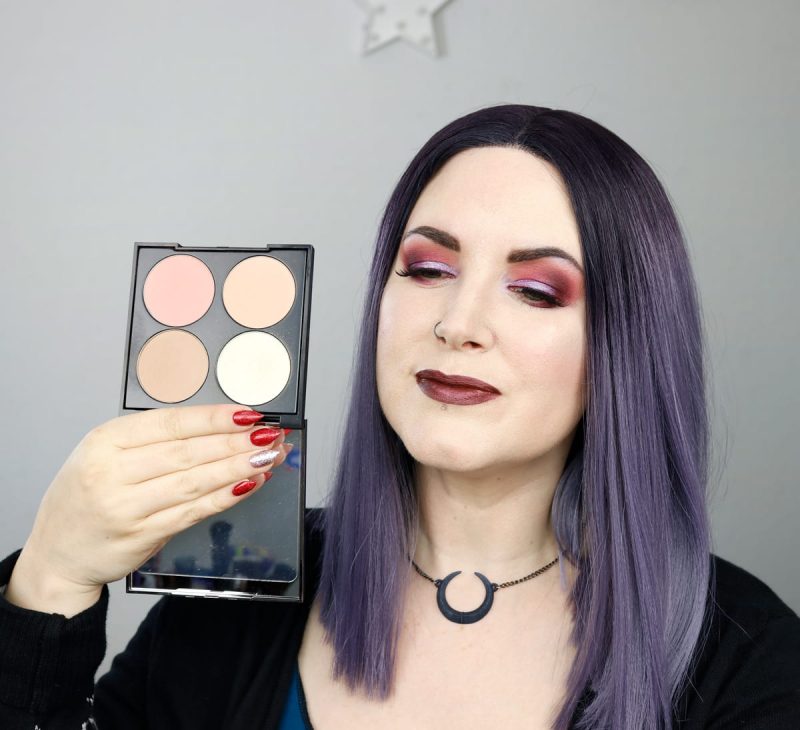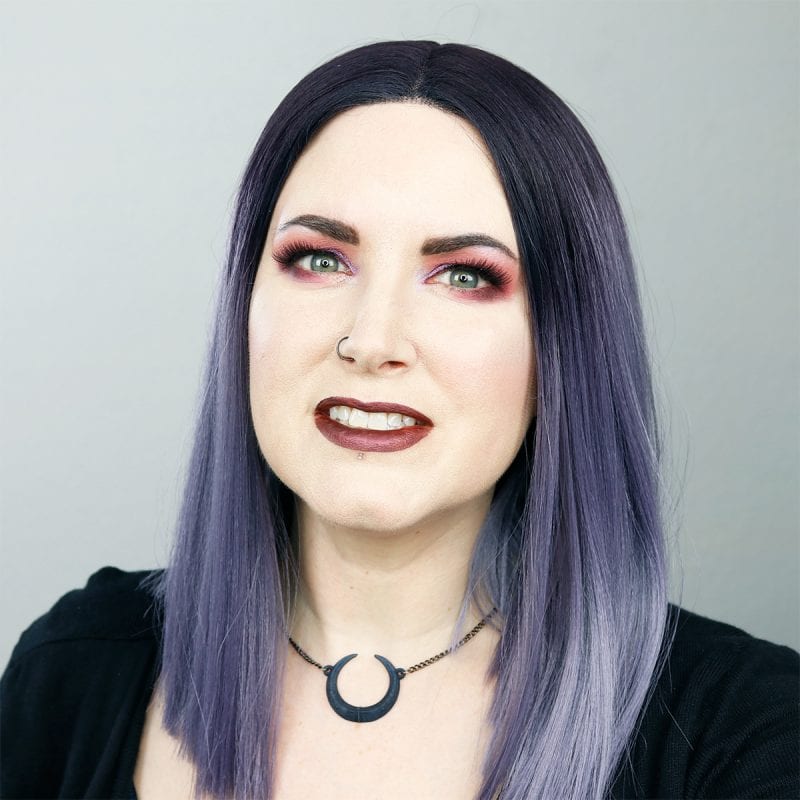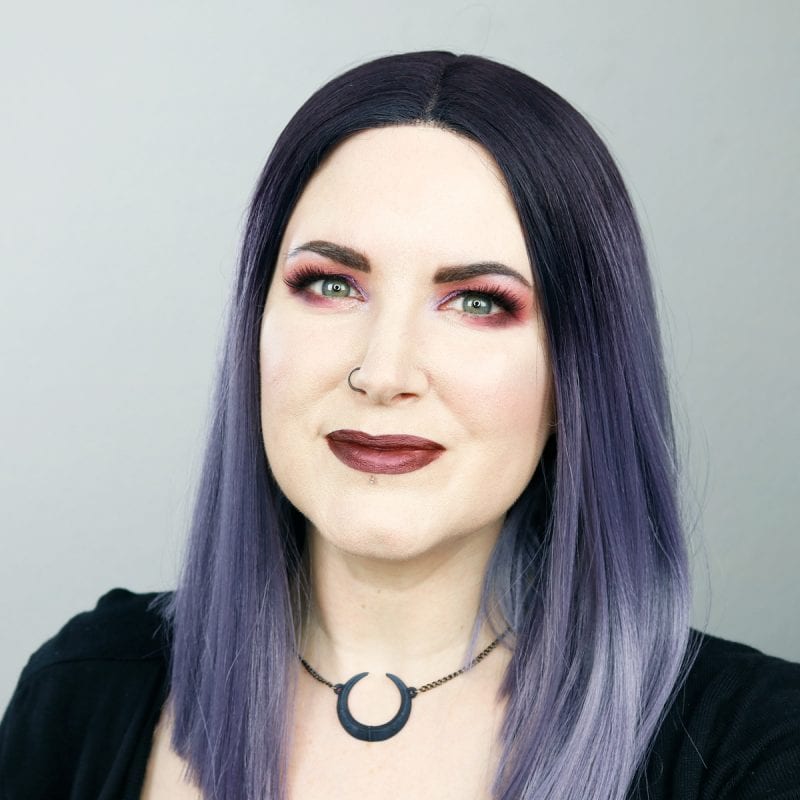 Fashion
Bobbi Boss Yara Wig
Rogue & Wolf Eclipse Necklace
Bellabeat Leaf Urban
Nightmare Before Christmas Cardigan (from Torrid, seems to be discontinued)
Eyes
Too Faced Shadow Insurance
Too Faced Glitter Glue
Milani Prep Set Go Powder
Suva Beauty Turkish Bath – transition and lower lid
Suva Beauty Denarau – crease and lower lid
Melt Meanstreak – accent and outer lower lid
Makeup Geek Masquerade – lid
Makeup Geek Blacklight – lid
Makeup Geek Celestial – highlight
Aromaleigh Inward Melodies – lid
Kat Von D L42 – inner lower lid
LA Splash Medusa – liner
It Cosmetics Superhero Mascara
Eylure 05 Accent lashes
Colour Pop Jet Set Black brow pencil
Face
Hourglass Veil Mineral Primer
LA Splash HD Creme foundation in Sesame
Besame Violet Brightening setting powder – under eyes
Makeup Geek Porcelain Princess Tryst – contour
Makeup Geek Porcelain Princess First Crush – blush
Makeup Geek Porcelain Princess Gleam – highlighter
Makeup Geek Electrify – highlighter
Tarte Stunner – highlighter
Milani Make It Dewy Setting Spray 
Lips
Black Moon Cosmetics Liquid Lipstick in Selene
Get Ready With Me Indie Makeup Video
Shop Your Makeup Collection for Similar Shades
Suva Beauty Turkish Bath – pinky taupe matte
Suva Denarau – cool-toned burgundy matte
Makeup Geek Masquerade – bright warm purple shimmer
Makeup Geek Blacklight – light purple with blue shimmer
Aromaleigh Inward Melodies – light peachy pink beige with blue iridescence and green and blue sparkles
Melt Cosmetics Meanstreak – deep plum matte
Makeup Geek Celestial – white with violet shift duochrome
Suva Beauty Thoughts
So far, I love what I see from Suva Beauty! I love the three eyeshadows I bought. I'll be keeping an eye on them to have more sales, because I want to pick up a few more of their mattes. I'm really glad I gave them a try during my Black Friday & Cyber Monday Hauling.
Makeup Geek Musings
If you read my post yesterday about the Worst Beauty Products of 2017, you'll know that I mentioned being unhappy with the Makeup Geek Porcelain Princess palette that I bought during the Black Friday sales week. In this video you can see why.
I know some of you have asked why I was removed from the Makeup Geek PR list and the truth is I don't know. My guess is that it's because they didn't like something I said. I'll still continue to buy the products I want from them, which is what I did before I was on their PR list too.
I still don't understand why Makeup Geek, who made amazing Porcelain highlighters that are white-based and work beautifully on my skintone, released a palette called Porcelain Princess with a highlighter that is NOT meant for porcelain skin. You can see my Makeup Geek Porcelain Highlighters swatches and review to see how beautiful they are.
I hate how Gleam looks on me! If they wanted to have a gold, it really needed to be a white-based gold, more like NARS Albatross. Plus I know people would LOVE to have a cruelty free dupe for Albatross.
I also feel like Tryst is warmer than it should be for a contour shade. The blushes are both nice, but with the $38 price tag, I feel like all 4 shades should be perfect for porcelain skin like mine, and they're not. I won't wear Gleam again. I will wear Tryst but it's not my favorite color for a contour on me. I'm really disappointed in this palette.
I feel like Makeup Geek is floundering right now. I love their eyeshadow and highlighters. I felt like their Plush Lip Mattes were ok though the shade range was a little odd. I didn't like the rest of their lip products, even though they had cool packaging. I preferred their original blushes to the revamped ones. I just don't understand what they're doing right now.
They've apparently been discontinuing eyeshadow colors without any warning, such as Blacklight. They haven't come out with any new colors in quite a while. The really popular duochrome eyeshadows that they made that I loved they only did a limited run for tradeshows, yet tons of people wanted to get their hands on them.
The Makeup Geek eyeshadows that I use the most are Kaleidoscope, Sugar Rush, Wildfire (these first 3 are pressed duochromes) Sorcery, Corrupt, Petal Pusher, Concrete Jungle, Sorbet, Barcelona Beach, Cherry Cola, Beaches and Cream and Creme Brulee. They're all solid shades. The pressed duochromes ALWAYS garner me compliments when I wear them, whether it's for a casual look, a night out, or cosplaying at a convention.
While I loved the MannyMUA palette and I'm glad Insomnia is now available in a pressed pan, I was surprised they discontinued it because it wasn't your average neutral palette. I was sad they didn't make Mars a permanent color. I know a lot of people wanted it.
The In the Nude palette felt like it was late to the palette party in a market already saturated with tons of neutral palettes. Yes there are some shades in there that I love like So Pale and Buffed, but there are a lot of repromotes, so if you're a die-hard Makeup Geek fan you have less incentive to buy it than someone new to the brand.
I really wish they would release the foundations and concealers they were talking about. Though, after this issue with the Porcelain Princess palette, I have the feeling that they wouldn't have a foundation shade light enough to match me. Thank goodness for Huda Beauty FauxFilter foundation in Milkshake and Idun Minerals foundation in Jorunn. I'm so tired of adding white to foundations to make a match.
If you want to hear me rant more, you should watch my Makeup Trends that Need to Die video. You might also enjoy my Worst Beauty Products of 2017 video.
Anyway, I hope you enjoyed my get ready with me indie makeup video! I love burgundy and purple together. Layering Inward Melodies with Blacklight and Masquerade turned out to be very pretty. What other combos would you like to see?