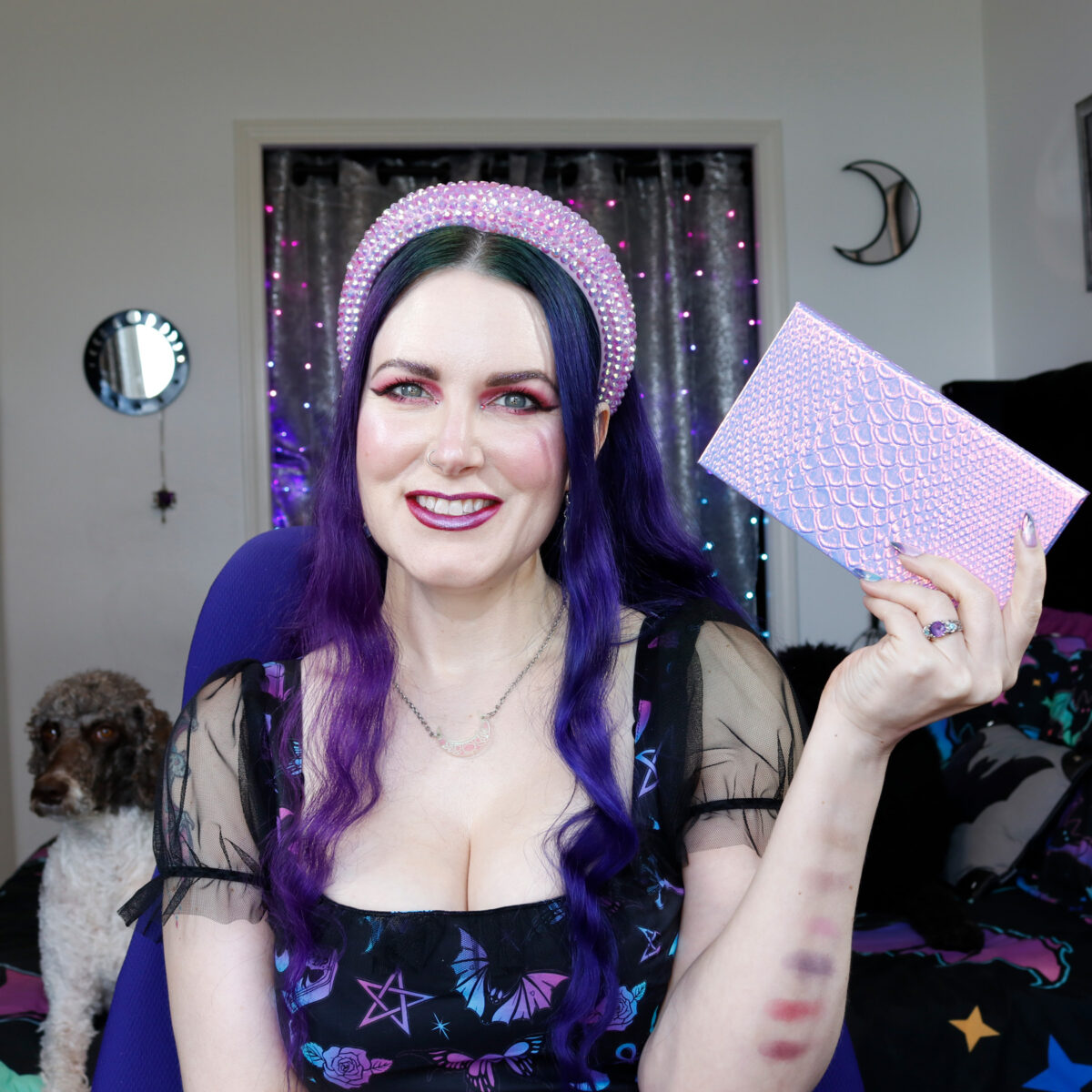 Hello, beautiful creatures! I wanted to share a gorgeous red Gothic Charm School Palette Look on hooded eyes. I love playing with this palette! These colors look amazing on my skin tone and help my blue-green eyes to pop! If you haven't yet, check out my DIY Gothic Charm School Palette and see how you can get your own!
Watch the DIY Gothic Charm School Video on YouTube with Closed Captioning!
Red Gothic Charm School Palette Look on Hooded Eyes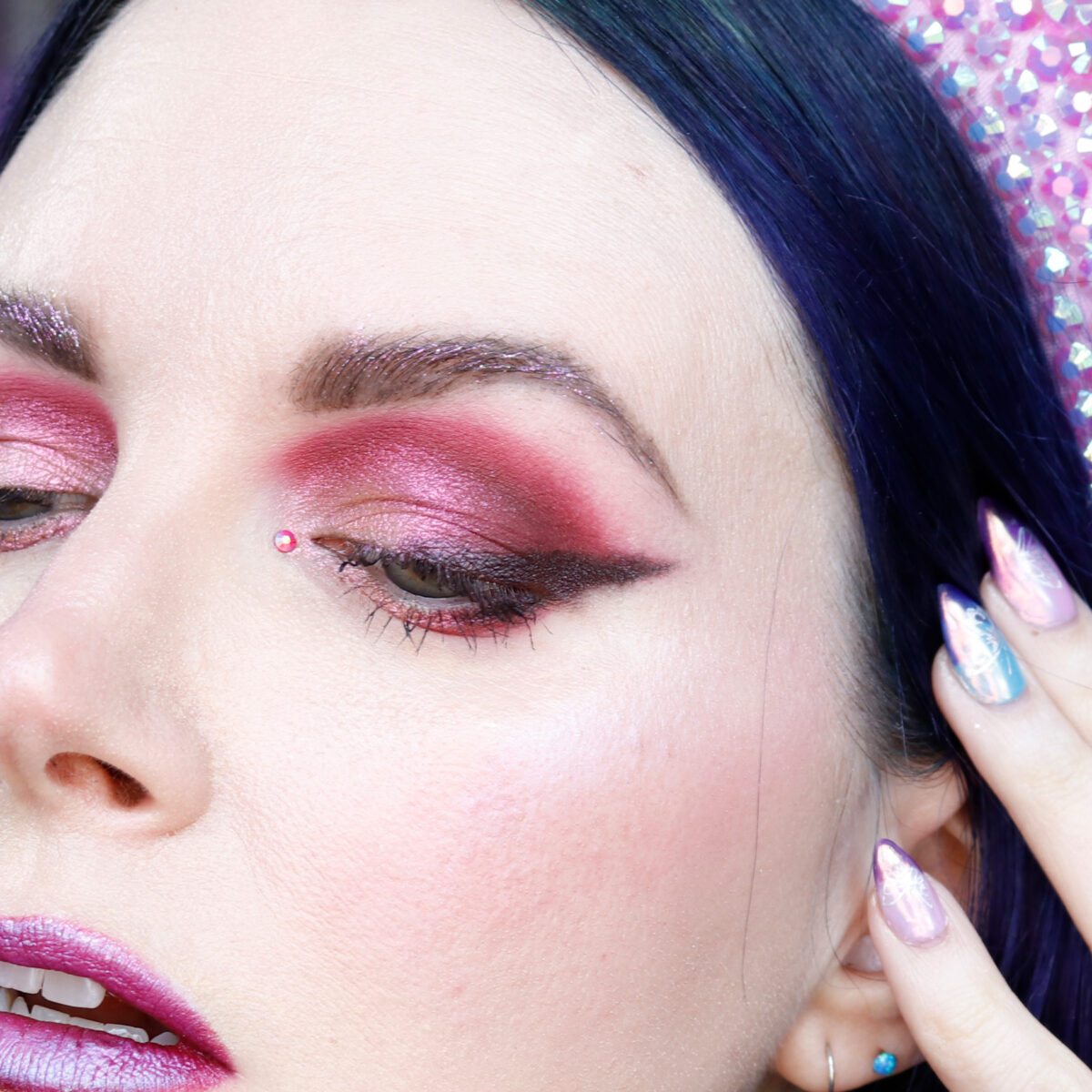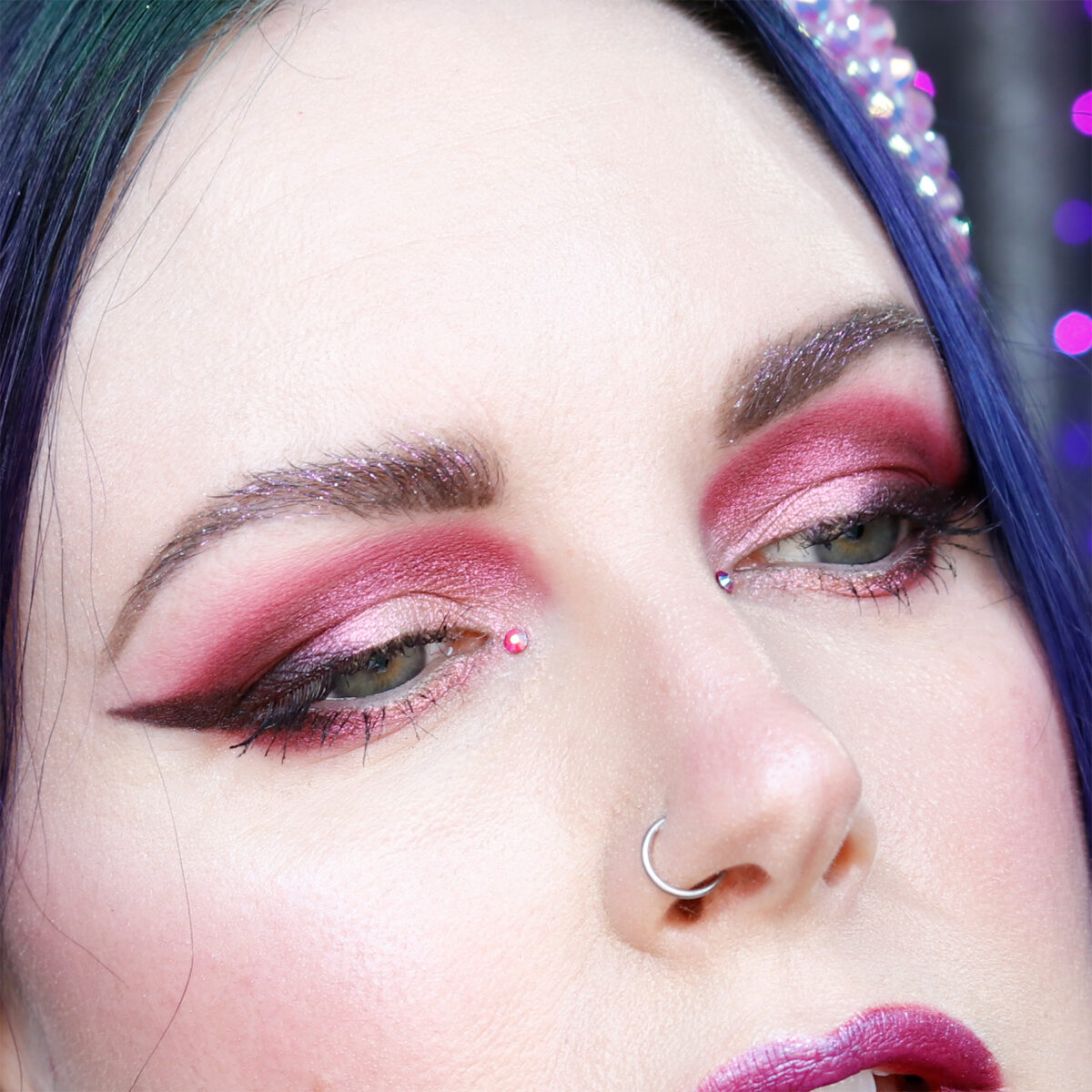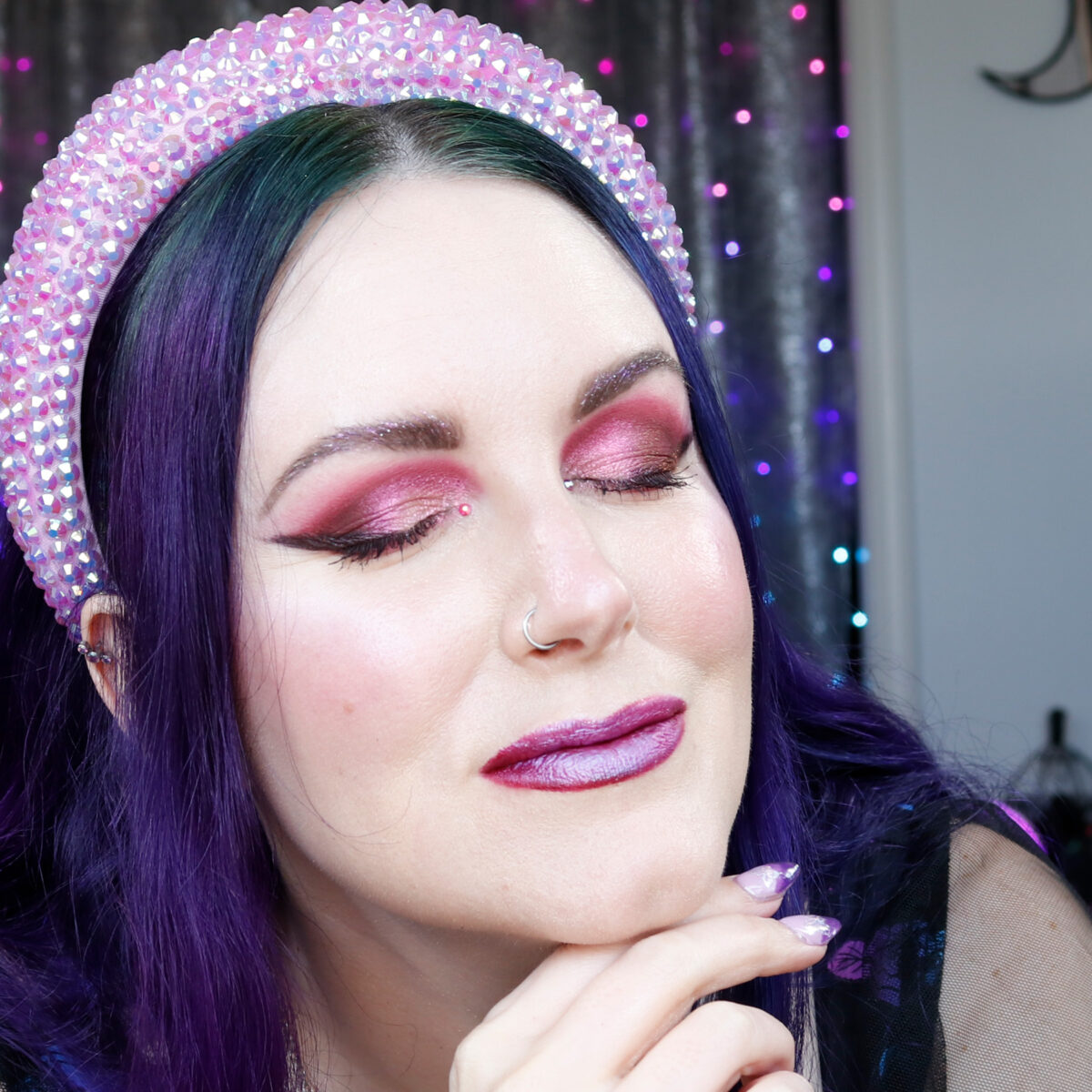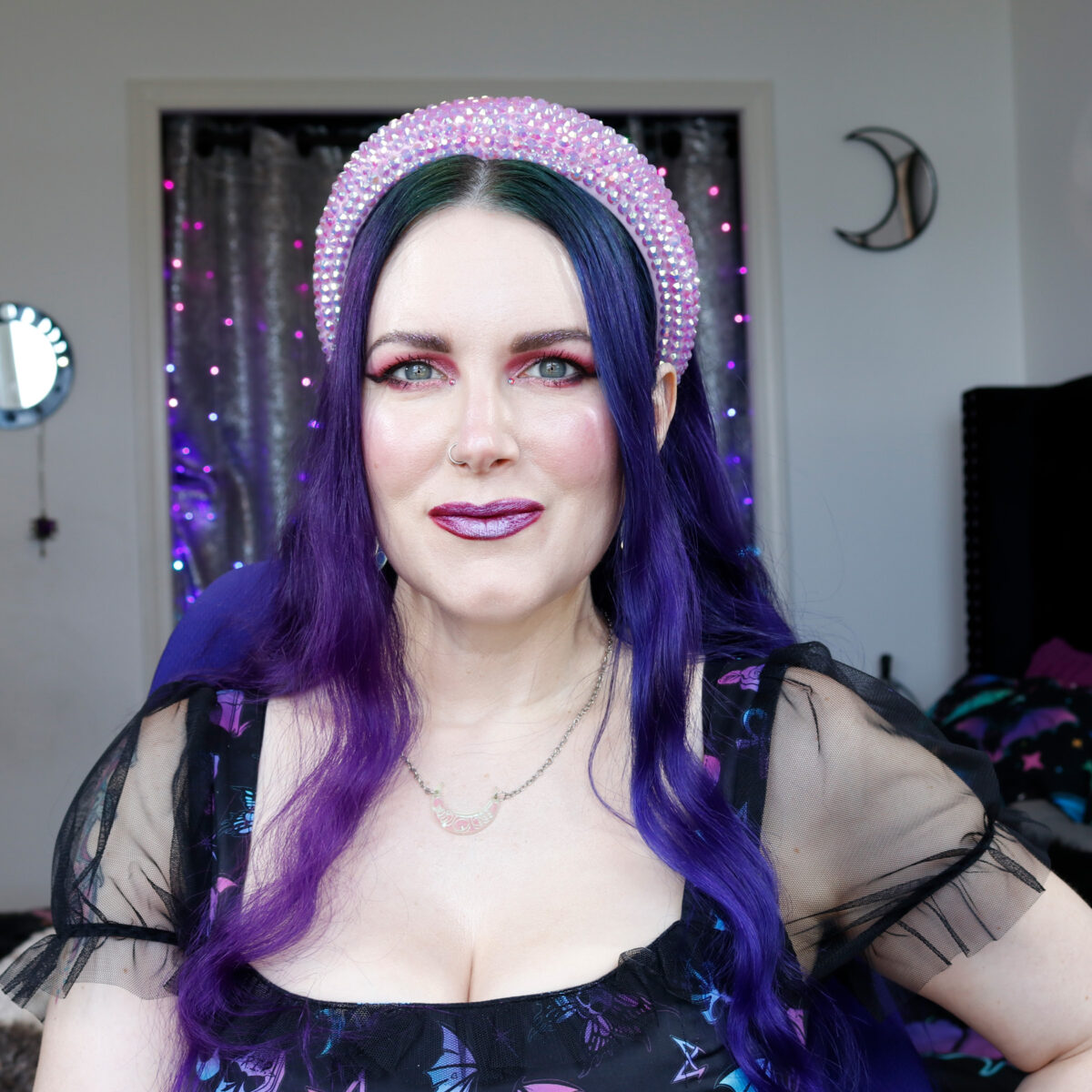 Yes, I desperately need a lash lift so that my stubborn stick straight lashes will hold a curl.
Brows
Lime Crime Sleek Black Pomade Pencil
About Face Interlude glitter brows
Eyes
Smashbox 24 hours photo finish primer (discontinued)
Lethal Cascade – all-over
Lethal Unity – to deepen the crease
Lethal Dahlia + Moon beam + Cascade – transition
Lethal Allure – lid
Nabla Black Cupid's Arrow – tight line and wing
Terra Moons Blood Moon – to smoke out liner
Thrive Causemetics Liquid Lash Extensions Mascara
Iridescent red gems (I believe I bought from this Etsy store)
Face
Auric Glow Lust in Morganite 2.0
Rituel de Fille Galatea to spot conceal
Danessa Myricks Blurring Balm in Shade 1
Rituel de Fille Intuition
Natasha Denona Bloom Puff Paint Blush
Black Moon Jellyfish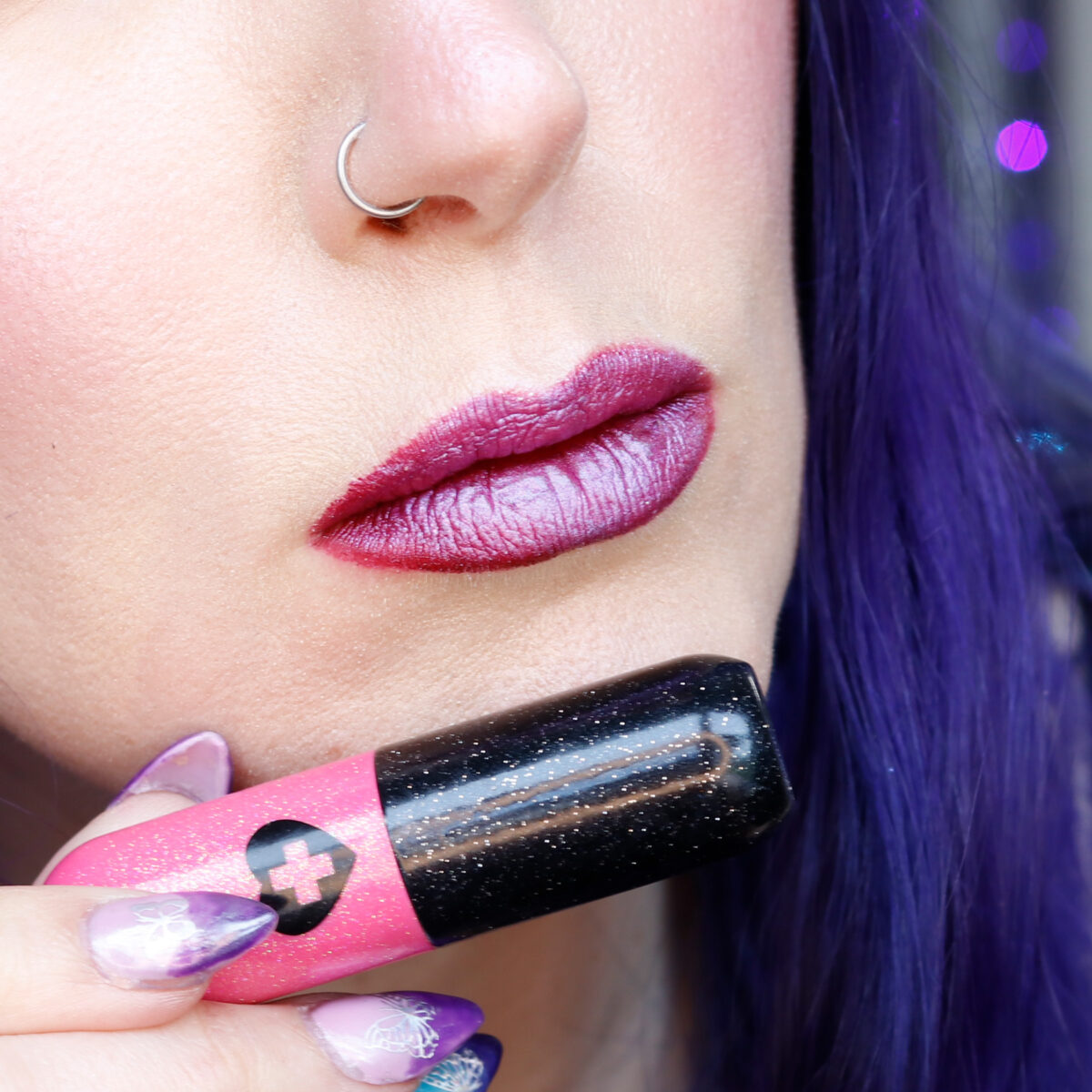 Lips
About Face 4 ever flame and lost time
Sugarpill Obscura bullet lipstick (discontinued)(still sobbing about this)
Black Moon Jellyfish
I'm begging someone to make this lip color in a liquid lipstick formula or in a moisturizing matte that doesn't transfer! It's a beautiful deep red with blue to violet shift. I love this layered lip look! If you know of this color, please share it with me! I would love to see Silk Naturals create this in their velvet matte formula!
How to Make Blue-Green Eyes Pop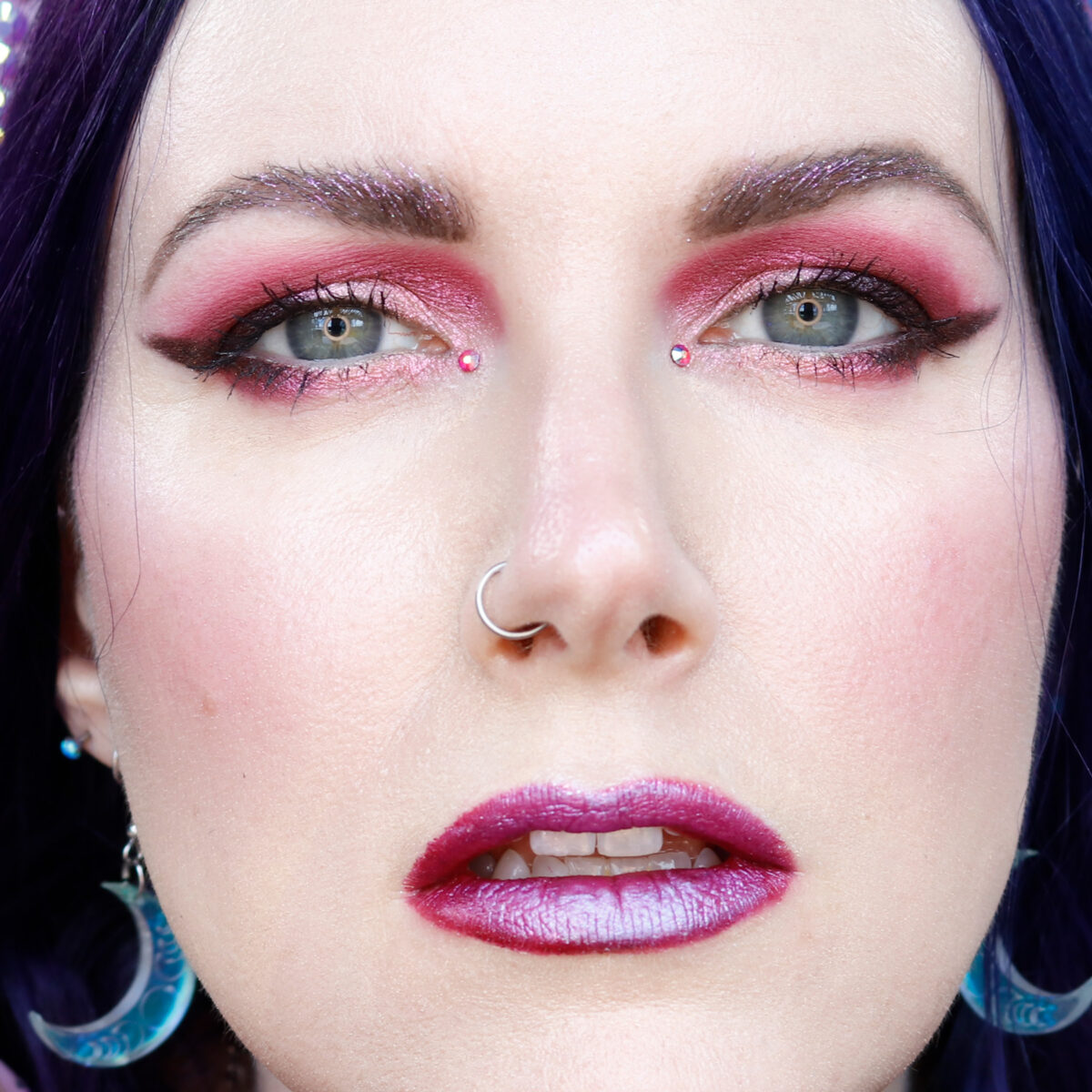 As you can see, I have blue-green eyes that are hooded and slightly downturned. The best colors to make eyes like mine pop are reds like Cascade, wines like Unity, deep violets, berry pinks, cool browns, and grey taupes. Learn more about how to make your eye color pop!
Find out if you have hooded eyes!
How to Apply Red Gothic Makeup on Hooded Eyes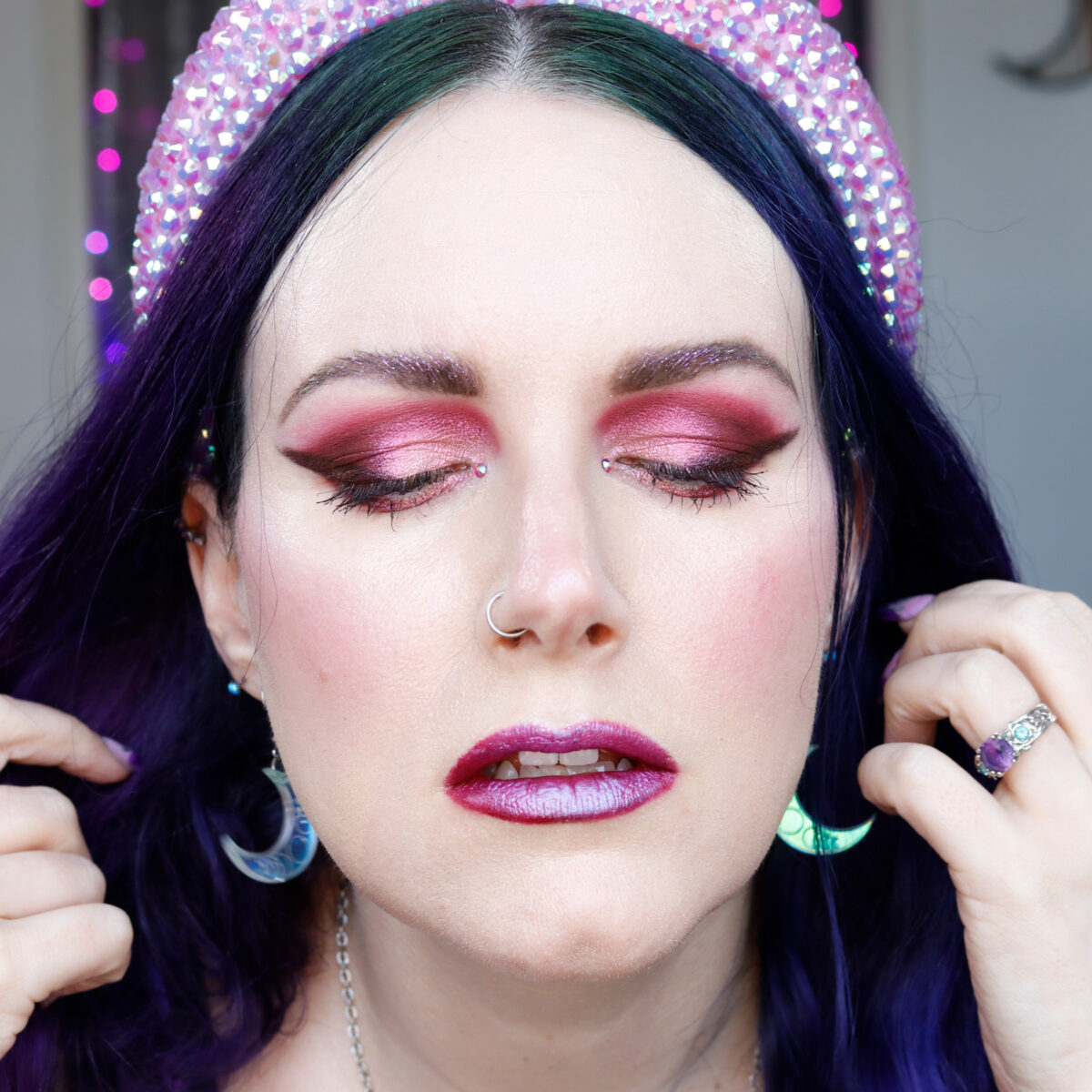 How to apply the red Gothic Charm School Palette Look on hooded eyes:
I applied 

Cascade

 to my crease, the outer 1/3 of the lid, and the outer 1/2 of the lower lid.

Unity

 deepened the crease to give me a bit of vamp without going too dark or losing the red hue.

Dahlia

, 

Moon Beam

, and 

Cascade

 mixed created my softer transition shade.

I pressed 

Allure

 on the inner 2/3 of the lid and the inner 1/2 of the lower lid.

Nabla's

 Black

 Cupid's Arrow tightlined the upper waterline and created the base of the wing.

I smoked out the liner with Terra Moons 

Blood Moon

.

Tiny 

iridescent red crystals

, applied with 

Velour lash glue

 (it's latex-free, yay!), to highlight the inner corner.

Finished with a coat of 

Thrive Causemetics Mascara

.
My red Gothic Charm School Palette look was effortless to apply. I was initially going to make it a red graphic liner look with Cascade and Unity, but then I saw Allure calling my name. No regrets! I'll do a red graphic liner look eventually!
Pastel Goth Fashion and Decor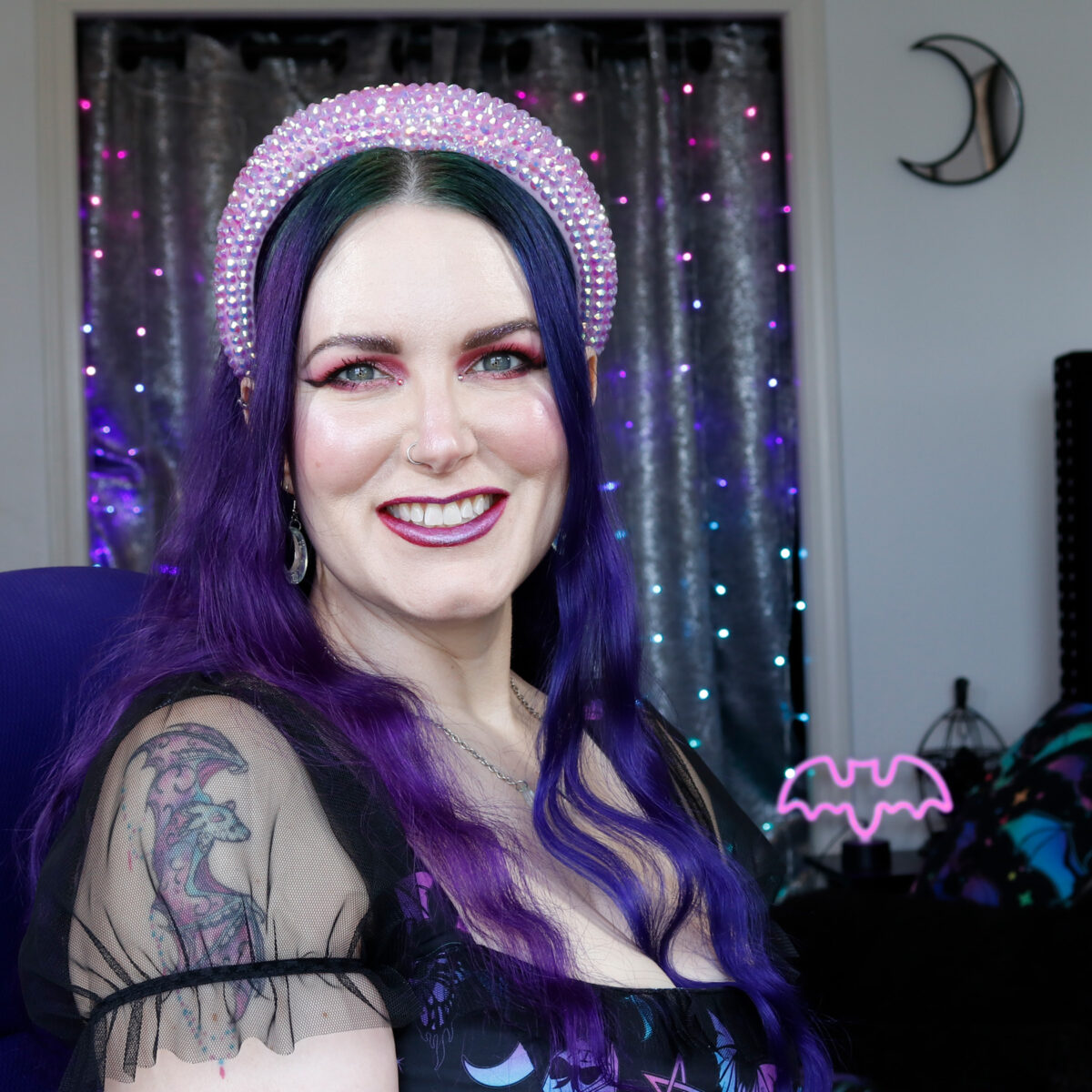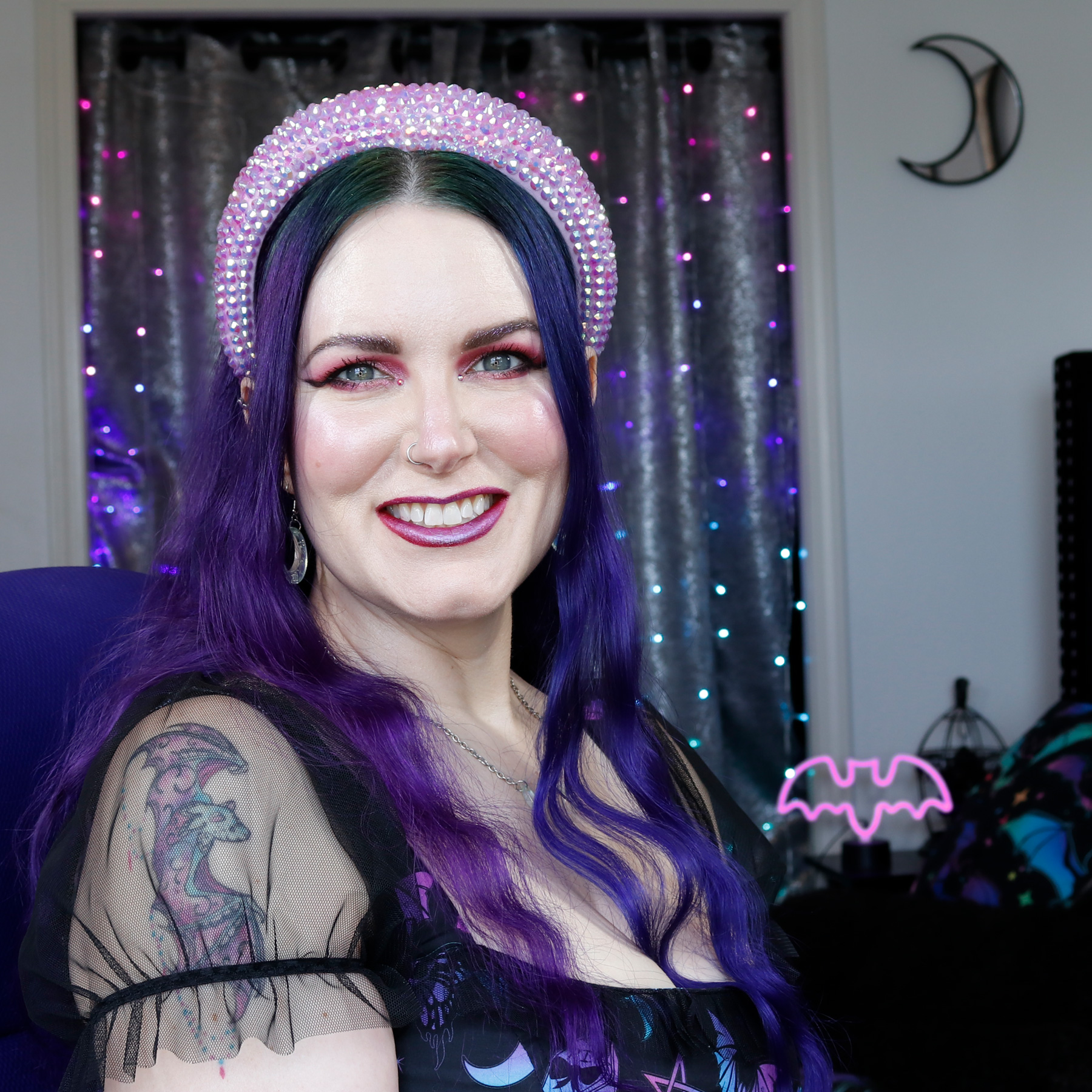 I've received many questions about the Pastel Goth Galaxy Bat Duvet in my office! It's cute, inexpensive, and from Amazon. Nyx and Amaya love it, although I think they love that I keep a bed in my office just for them.
What I'm Wearing
Lavender Iridescent Headband (I also have red iridescent, green iridescent, purple iridescent, and orange in this style)

The Grave Girls Mystical Aura Crop Top (one of the cutest pastel goth tops I've ever seen!)

Iridescent Moon Necklace and Earrings by Silver Cicada
What's in My Room
Final Thoughts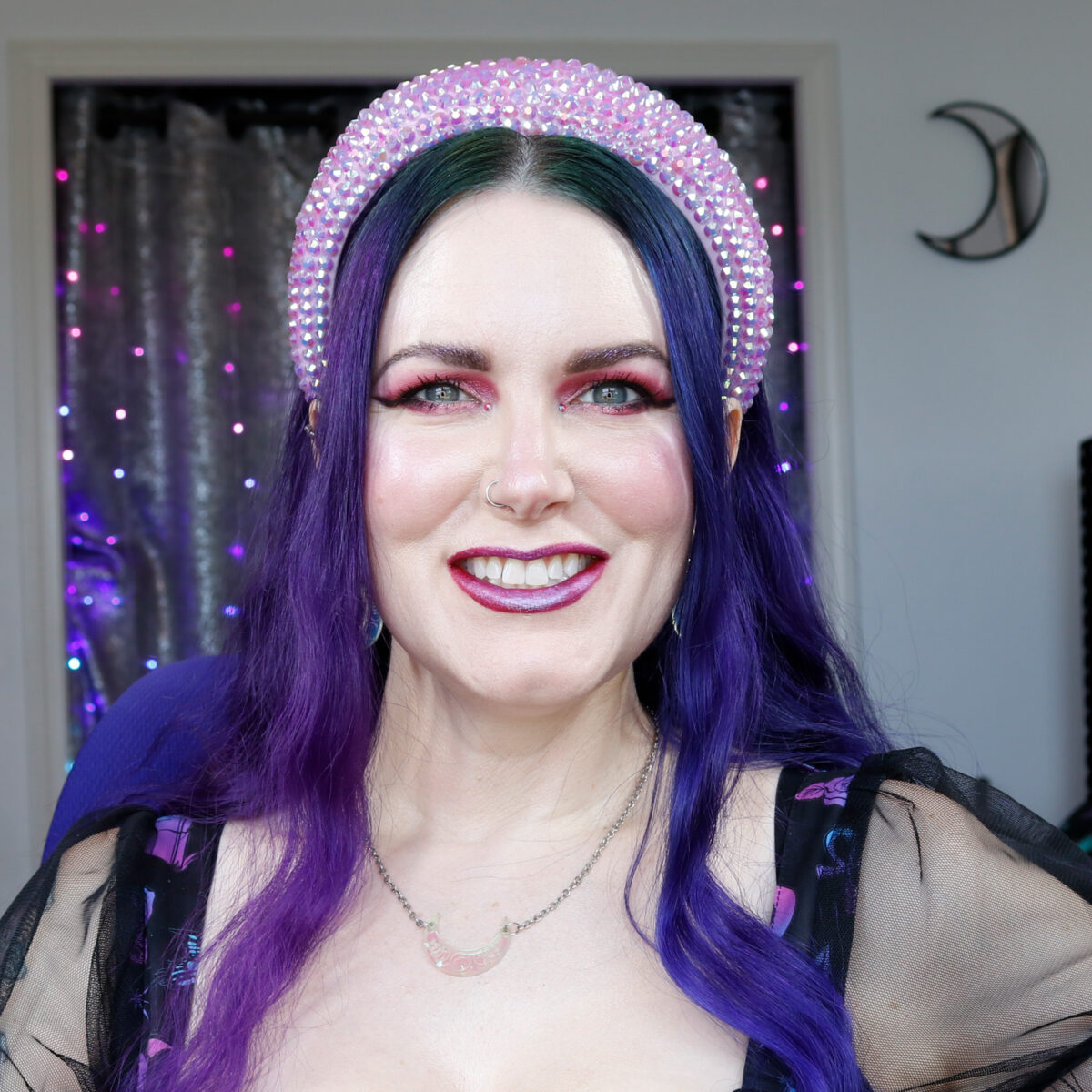 I'm on a makeup low buy for the foreseeable future because I have such an amazing collection, yet I'm having the time of my life shopping my stash. I loved creating this Gothic Charm School Palette so much, partially because all of these colors are so easy to work with due to their awesome formula.
Do you have any DIY Palette requests for me? Or any Gothic Charm School Palette Look requests?
More DIY Palettes I've Created