Best Eyeshadows to Enhance Blue Green Eyes
PR + purchased by me.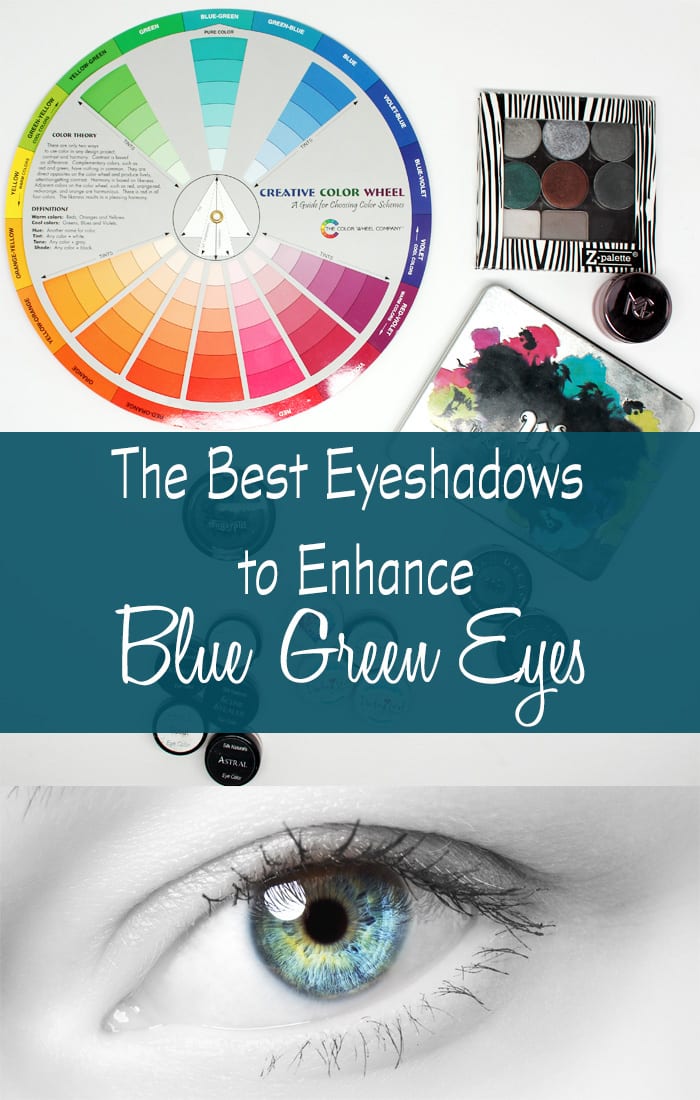 Happy Makeup Wars Monday! I'm back from visiting my grandma. Today I'm sharing the best eyeshadows to enhance blue green eyes. My eyes are blue green, so depending on what I wear they'll look more blue or more green. Ray claims that they sometimes look grey or teal, but I think it's all in what I'm wearing. As you know, I don't normally worry about enhancing my eye color when I wear eyeshadow because I typically prefer to go for fun or bright shades.
Check out my new tutorial the Pale Girl's Guide to Highlighting where I show you how to highlight, the tools to use, and the best products! If you love contouring check out my step-by-step video, the Pale Girl's Guide to Contouring!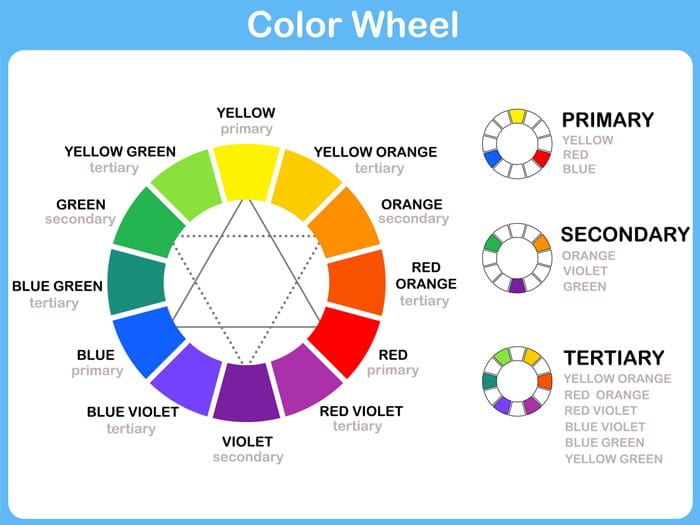 Here's a basic color wheel to refresh your memory on color theory. The primary colors are blue, yellow, and red. Secondary colors are orange, violet, and green. You mix primary colors to make secondary shades. So you would mix blue and yellow to make green, red and yellow to make orange, and blue and red to make violet (purple). To create a tertiary shade you mix a primary color with a secondary color. Tertiary colors are yellow orange, red orange, red violet, blue violet, blue green, and yellow green. When you think of the colors on the color wheel, I think it's pretty easy to see that the warmer shades are red, orange and yellow, while the cooler shades are blue, green and purple.
Some Color Theory Definitions
Hue – another name for color
Tint – any color plus white
Tone – any color plus grey
Shade – any color plus black
Cool colors – violets, blues and greens
Warm colors – reds, oranges and yellows
There are three main ways to pair colors that I'm going to share with you – complimentary, monochromatic and analogous.
Complimentary colors are two colors that are roughly opposite to each other on the color wheel. Since my eyes are blue green, their opposite would be reddish orange. Some other complimentary color combinations would be pink and green, blue and orange, violet and yellow. This is the way that I think most people are taught to make their eyes pop. If you have green eyes, for example, you're told to reach for red violet or plum eyeshadows.
Monochromatic colors share a single hue and they vary in tint and shade. So if I want to enhance my blue green eyes, I stick to a silver and grey palette. If I want to create a fun monochromatic look, I'll use teal, navy and icy blue. Monochromatic color palettes are my favorite way to wear eyeshadows lately. The Urban Decay Spectrum palette really lends itself to monochromatic looks. (See my review.)
Analogous colors are groups of three (sometimes four) colors that are next to each other on the color wheel. This usually involves one dominant color and two secondary colors. So for example red, red orange and orange would be one palette. Blue, blue green and green might be another.
While I've mostly focused on blue green eyes (my eye color) I've got tips for other eye colors too!
For Brown Eyes
blues, teals, greens, greenish golds and golden greens, purples, golds, deep cobalt blue (liner)
For Hazel Eyes
rich golds, greens, browns, bronze, eggplant, purple, deep navy (liner)
For Green Eyes
purples, plums, reds, dark pinks, warm pinks, darker greens (liner), coppers, burgundy, maroon, wine
For Blue Eyes
golds, light bronze, dark bronze, browns, copper, orange, terracotta, purple, light pinks, deep navy (liner), bright turquoise (liner)


Here are my eyes. They're more blue (or maybe blue grey) at the outside with some green at the inner ring. They're cool toned.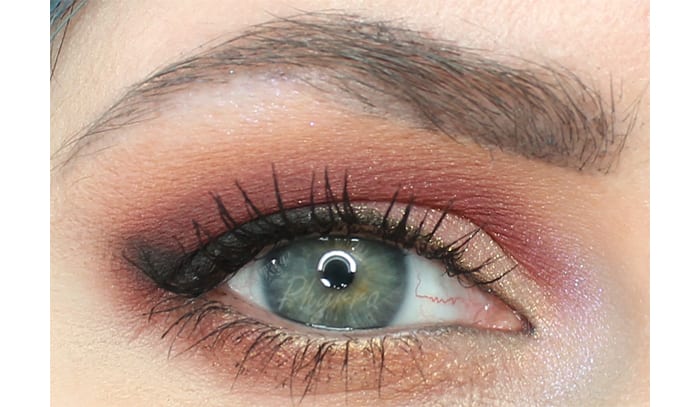 According to the color wheel and complimentary color theory, cool blue green is best enhanced by warm reddish orange. In the above look I used the Melt Cosmetics Love Sick Stack to bring out my eyes with Amelie (peachy gold) on the lid, Love Sick (burgundy red) in the crease, and Blurr (pale neutral from Dark Matter) to blend out the edges of shades. I feel like peaches, corals, coppers and burgundies work for this. True reds really bring out the blue. I also think orangey-bronzey-golds work well for warm shades too.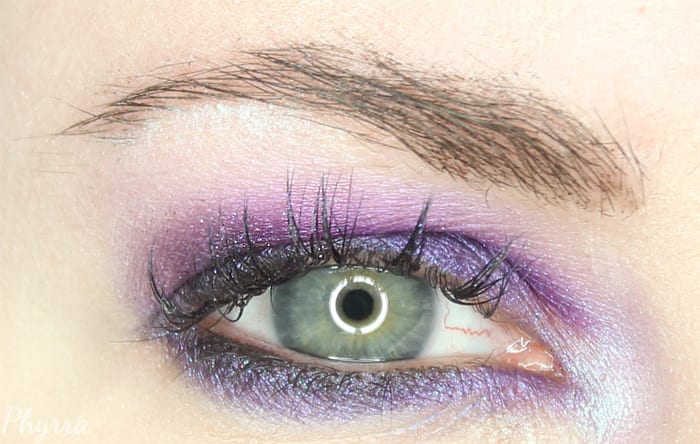 Purple is supposed to bring out the green tones in eyes. It's also supposed to help accentuate blue eyes.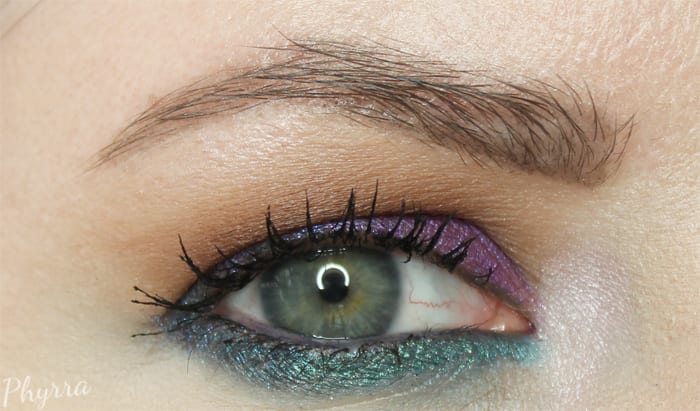 While so many people say that blues and teals are a no-no for eyeshadow, especially if you have blue eyes, I do think that navy and teal liner can really enhance them.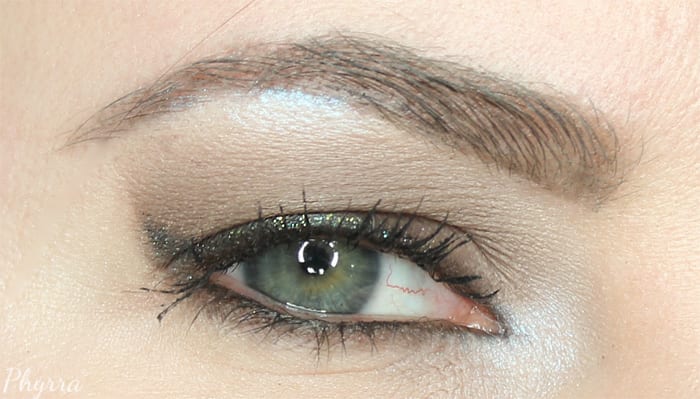 I also really like blue-green-gold eyeshadows like Urban Decay Zodiac or deep blue-black iridescent glitter like Urban Decay Spandex.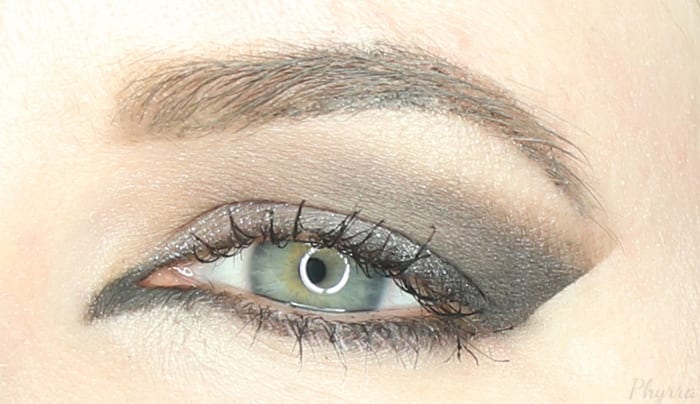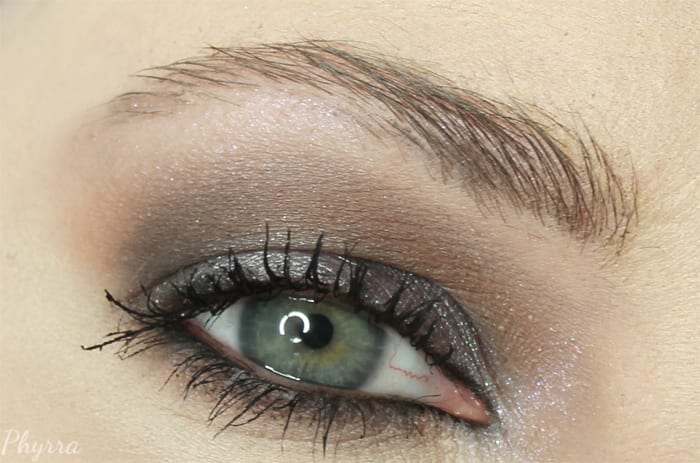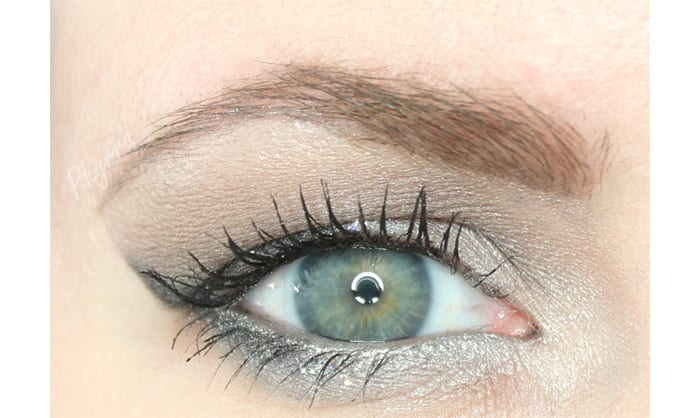 I find that silvers and greys seem to make my eyes pop better than anything else. I think they're the most flattering. So in my opinion, if you have blue-green eyes, you should try silvers and greys to bring them out.
I swatched some eyeshadows below for you. All shades are swatched on my bare skin (no primer) with a finger.


Sugarpill Soot & Stars – metallic gunmetal with prismatic sparkle
Makeup Geek  Galaxy – metallic gunmetal
Makeup Geek  Graphite – graphite grey with flecks of silver
Makeup Geek  High Wire – bright medium silver with blue undertones
Makeup Geek Mercury – metallic medium silver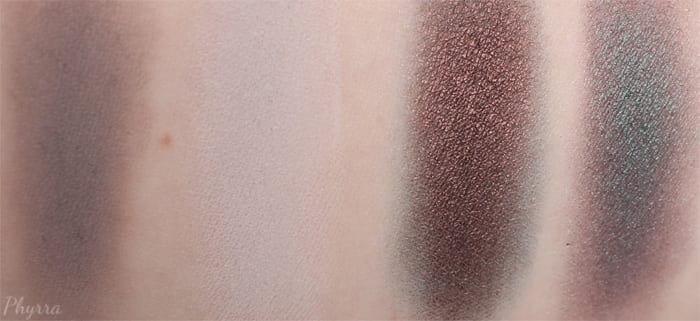 Blackbird Fiction – dark grey matte (vegan)
Blackbird Whisper – light grey matte (vegan)
Makeup Geek  Steampunk – black base with copper reflects
Makeup Geek  Secret Garden – deep espresso brown base with teal blue reflects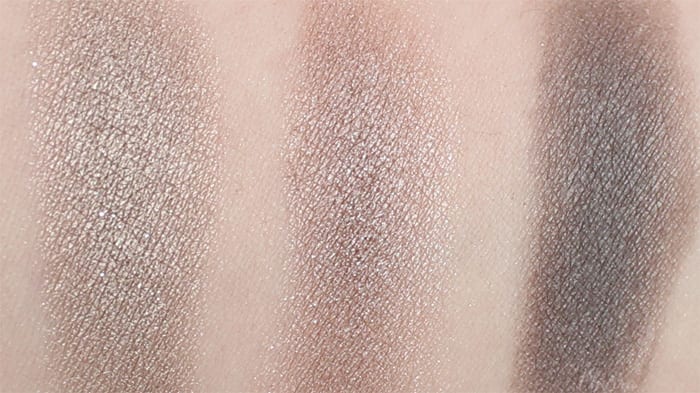 Urban Decay South – warm grey shimmer with silver micro-glitter
Urban Decay Rock – light oyster grey taupe (LE, discontinued)
Urban Decay Desperation – grayish taupe brown (vegan)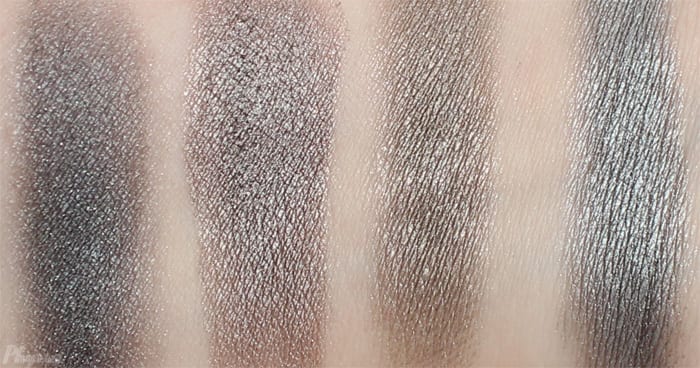 Urban Decay Gunmetal – dark metallic grey with silver micro-glitter (vegan)
Urban Decay Mushroom – warm pale grey (vegan)
Urban Decay Pistol – light greyish brown
Urban Decay S&M – steel grey shimmer with subtle taupe shift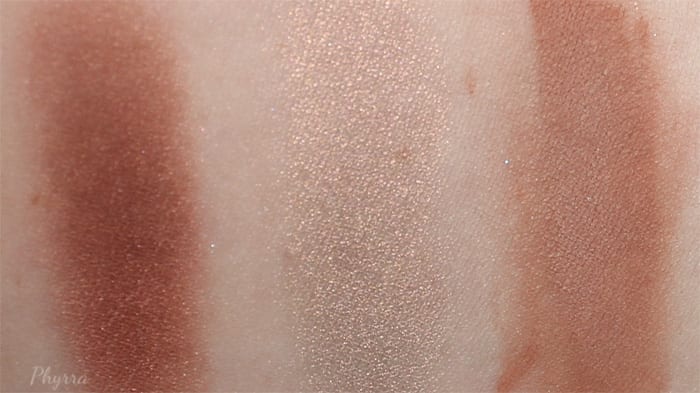 Silk Naturals Scene Stealer – deep burnished copper (vegan)
Silk Naturals Doubloons – light grey base with copper, gold and red iridescence (vegan)
Darling Girl Break The Internet – peachy brown matte. I use this as a crease shade. (vegan)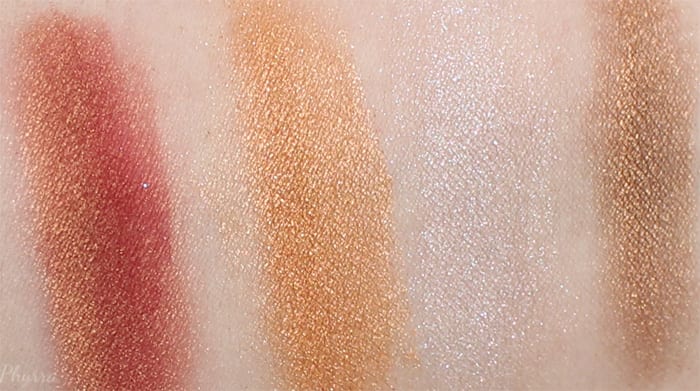 Darling Girl Hell's Belles – blue-toned red with golden iridescence
Darling Girl There is No Dana – bright coppery orange with gold shift and sparkles (vegan)
Darling Girl Tragic Death of Mr. Stay Puft – light tan with blue, red and gold iridescence (vegan)
Silk Naturals Scout – deep shimmering copper with hints of gold, similar to Urban Decay Smog. Amazing on a black base. (vegan)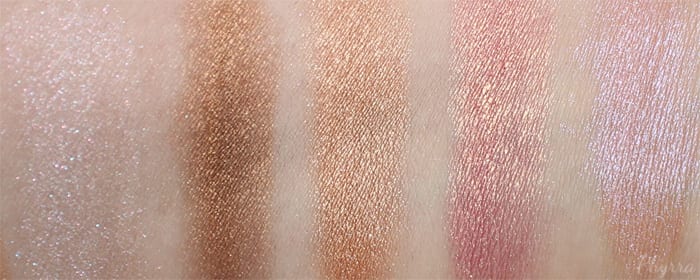 Silk Naturals Meteor – metallic bronzey-gold (discontinued) A good alternative would be Urban Decay Half-Baked.
Makeup Geek Wildfire – red-coral with gold reflects
Silk Naturals Astral – peach with pink-purple interference (vegan)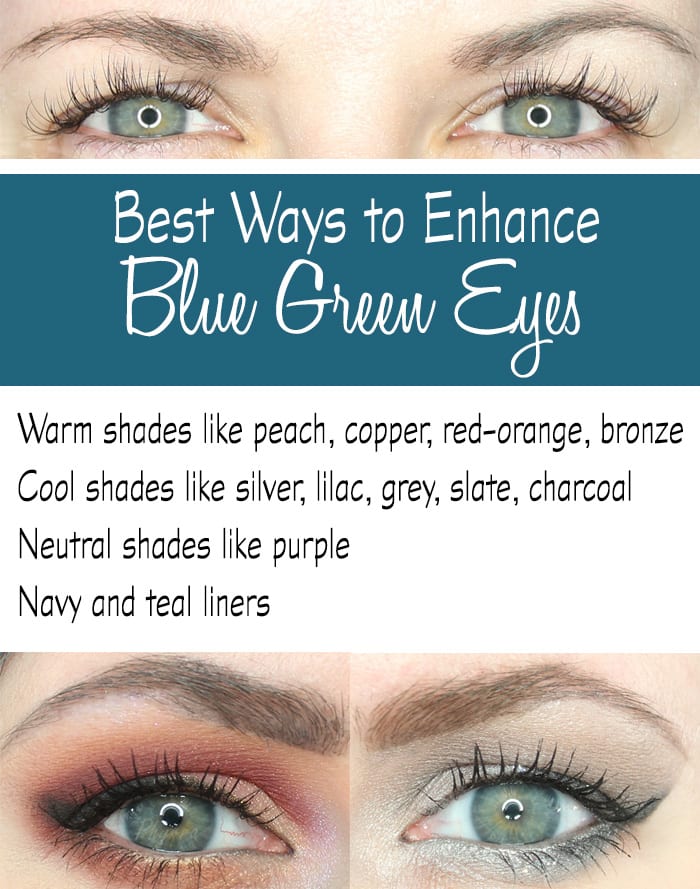 Make blue-green eyes pop with
– warm shades like peach, copper, reddish-orange, bronze, golden-bronze
– cool shades silver, lilac, grey, slate, charcoal
– neutral purples
– navy and teal liner on the waterline and lower lid.
Be sure you check out the 10 Life Changing Beauty Hacks You Need to Know!
Looking for more?
How do you make your eyes pop? Let me know!
[inlinkz_linkup id=571518 mode=1]