Life Hacks: Household Items to Make Life Easier

Hello beautiful creatures! Today I'm sharing some Life Hacks: household items to make life easier. These are things that I've found that are really helpful to me around the home so I thought I would share them with you.
Why Cooking At Home Can Make Life Easier
One of the best things about lockdown for me personally was learning how to cook things I love at home. You can have exactly what you want with ingredients you love that won't make you sick. Most people do not have the same food allergies that I do (soy, bell peppers, seitan, paprika, eggplant, some tomatoes, etc just to name a few), so being able to avoid foods that I know will make me sick and possibly trigger a seizure is important to me.
I love that cooking at home makes it easier for me to control my portion size and not feel the need to overeat to finish my plate. I swear that was one of the most unhealthy things we were forced to do as kids – finish our plates even when we weren't hungry.
I find that we save money by eating at home, even though we buy more expensive organic foods and we're able to eat higher quality food. I've improved my cooking skills tremendously over the past year and a half. I have fun cooking with Dave in the kitchen, which surprises me, as I never really enjoyed it in the past.
Beso Vida Silicone Bowls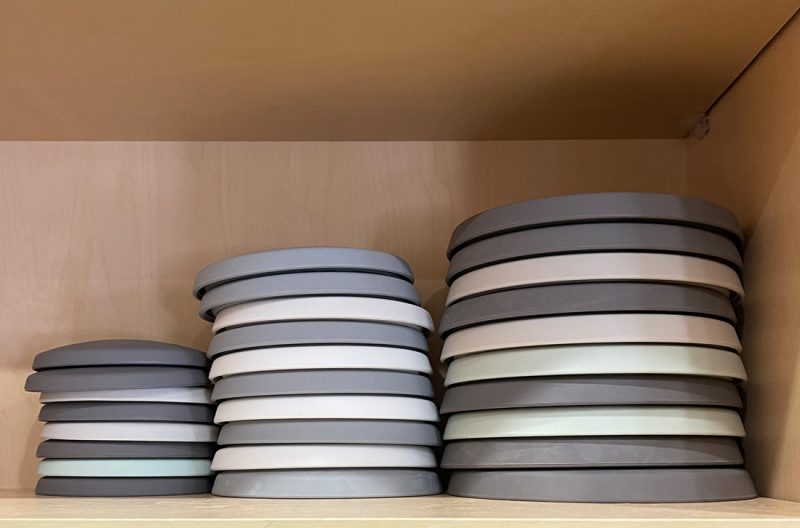 I don't know if you're anything like me, but I've tried countless tupperware and food storage solutions for leftovers. Nothing really worked well. I tried buying Pyrex glass storage containers, but nothing seemed to help me from losing lids, bottoms or both. I did see some moderate success with the Zip Top Reusable Silicone Food Storage Bags, though I mostly use these for dog food treats so that they don't go stale.
Fast forward in time a bit and Dave decided to kickstart the Beso Vida Silicone Bowls. The reason the Beso Vida bowls were so appealing to us is that these bowls are oven, microwave, freezer and dishwasher safe. You can prep, cook, seal and reheat all in one bowl. These are made of food grade silicone with no BPA, lead or PVC.  Beso Vida Silicone Bowls are stain resistant, but not stain proof. As you can see from the lids, we bought the grey toned sets, though I think we have a few random mint green lids. I think one of our sets came with some mint colors.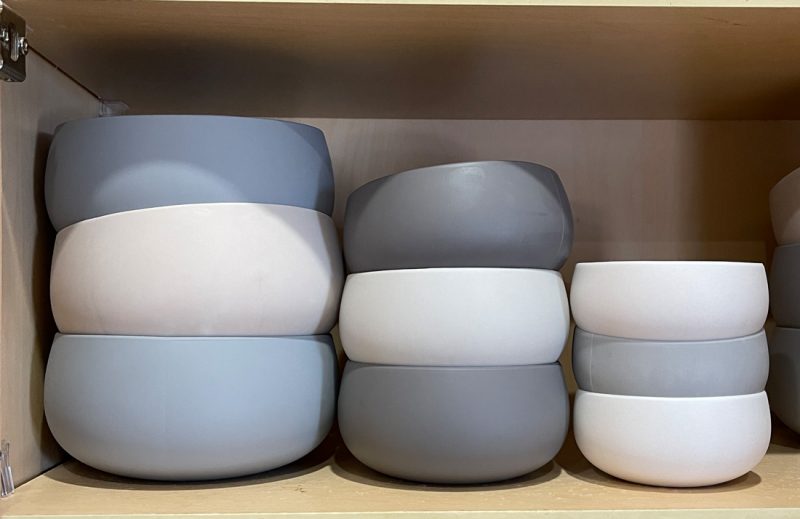 Dave and I completely redid our kitchenware because of the divorce. We chose all of the grey shades of the Beso Vida Silicone Bowls to compliment our black Villeroy & Boch Marmory Dinner Plates and white Villeroy & Boch Marmory Salad Plates. I also found a gorgeous purple knife set, purple silicone utensil set, and purple flatware.
Beso Vida's FDA approved silicone bowls claim to last for over 20 years. They're made entirely out of silicone and silicone material is mixed with Japanese ionic silver particle to provide superior antimicrobial property, reducing 99.99% of bacterial growth. The bowl sizes are as follows. The small bowl is able to hold about 9 oz, the medium bowl is able to hold about 19.3 oz and the large bowl is able to hold about 41.9 oz.
I typically use the smallest size bowl for fresh blueberries or raw macadamia nuts. The medium size bowl is perfect for making my lunch (Safe Catch low mercury tuna + Primal Kitchen Mayo) or a single mashed avocado in. We use the large size bowl for dinner frequently, as it can hold a ton of food! If I'm preparing food to bring with me to a friend's home I use the largest size bowls.
So rather than having to waste cabinet space on tupperware that I will inevitably lose, we switched to the Beso Vida Silicone Bowls. Now we have more cabinet space and I never lose the lids.
One of the best things about these bowls, as I mentioned, is that they convert from being a serving dish immediately to tupperware. I just slap a lid on whatever my dinner leftovers are and toss the bowl into the fridge. I either finish it later as a late night snack or for breakfast in the morning.
If you are someone who struggles with tupperware and the frustrations that go along with it, the Beso Vida Silicone Bowls might be for you. If you're looking for a great all in one storage product that can double as dinneware, these bowls might be for you. I love them and have no plans to ever return to a more traditional style of bowl or tupperware. I'm grateful to be able to invest in bowls that serve multiple purposes for me and will last multiple decades. For me, the Beso Vida Silicone Bowls are one of the best household items to make life easier.
Ninja Foodi Pro Air Fryer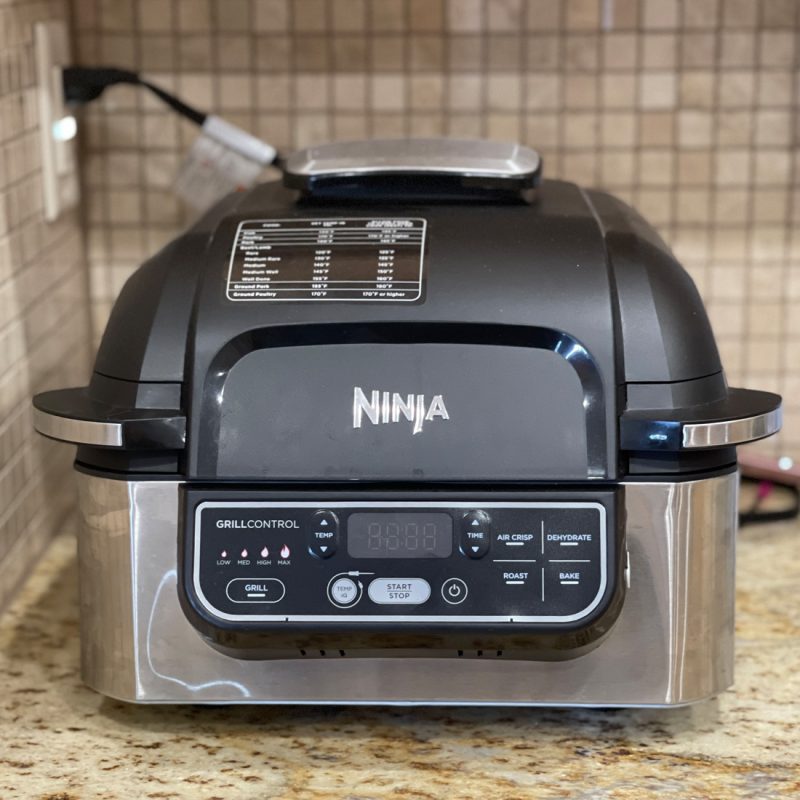 I've never made it a secret that I wasn't a great cook. I'm a good baker, but never put any effort into learning how to cook until late 2019. My friend Erin recommended that I pick up the Ninja Foodi Pro Air Fryer rather than invest in a grill because she thought I would get more use out of it than a traditional grill. She's right, and I've barely scratched the surface of what I can do with this thing!
The Ninja Foodi Pro Air Fryer works as not only an air fryer, but it also functions as a grill, you can crisp, dehydrate, roast and bake with it. I've used it to learn how to make both scallops and filet steaks perfectly. I need to learn how to make tostones in it.
What I love about the Ninja Foodi Pro Air Fryer is that it takes me less than 10 minutes to make dinner using it. I put in the grill attachment, turn it on, and wait for it to heat up, which only takes a few minutes. Then I put scallops on for 90 seconds a side or 3 minutes a side for steak. And did I mention that this thing is smoke free? It's vastly superior to my old George Foreman.
I really need to explore more of its capabilities with roasting, baking, and air fry crisping vegetables. It's definitely one of the coolest household items to make life easier for me.
We use Butcher Box for our 100% grass-fed beef, free-range organic no antibiotics ever chicken, and wild-caught seafood. I highly recommend using Butcher Box or your local butcher to avoid factory farming. Dave definitely feels like our Butcher Box subscription makes life easier.
Ninja Auto-IQ Blender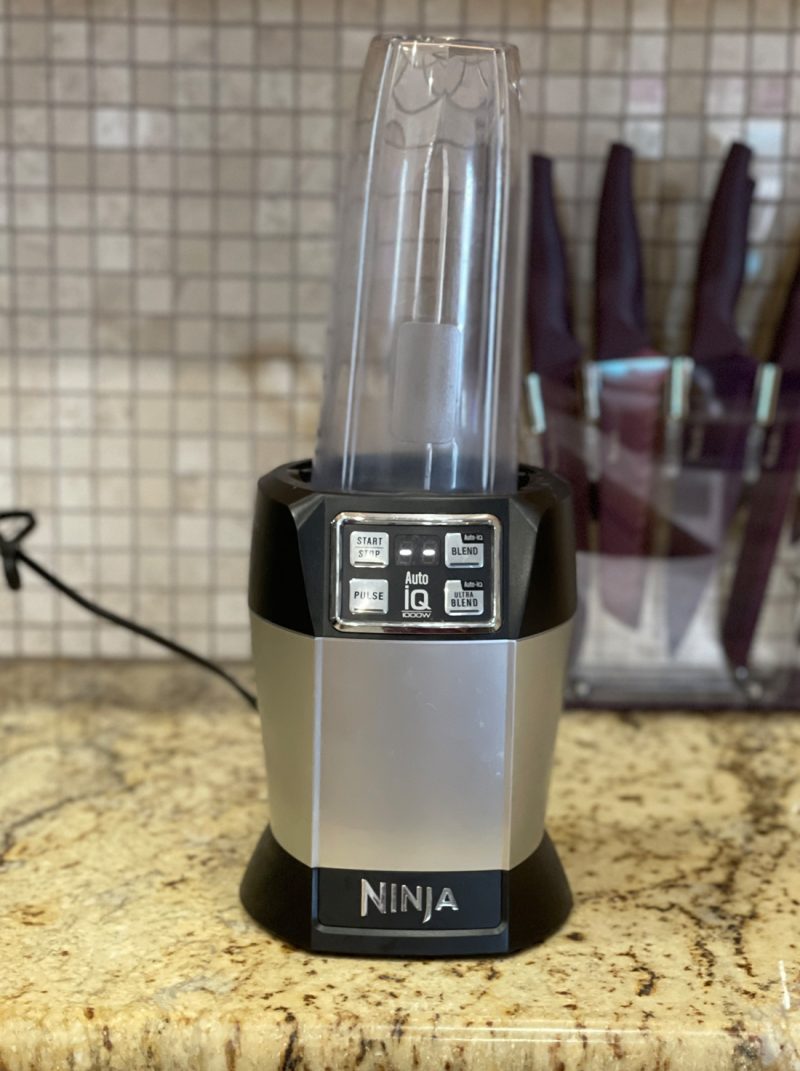 Back when Ray bought a Vitamix Blender, Dave opted to go another way and buy a Ninja Auto-IQ Blender. The Vitamix is heavy to lug out and put on the counter to use, while the Ninja is lightweight and easy to move. The Ninja Auto-IQ Blender has wormed its way into my heart based off of how easy it is to use, clean and maintain.
When I'm struggling to get in enough calories because of lack of appetite due to anxiety and stress, I often have to rely on smoothies or soups for nutrition. The Ninja Auto-IQ Blender makes it super easy for me to make quick protein shakes.
My current go-to protein smoothie recipe in a 32 oz cup is:
12 oz crushed ice
1 scoop of MyProtein Smooth Chocolate Whey Protein
1 to 2 tablespoons of PB Fit Peanut Butter Powder
1 to 2 whole avocadoes but if you're not low carb, try a banana, as they add great texture
Then I fill up to the max liquid line with unsweetened Cashew Milk
A few drops of Sweet Leaf Stevia Vanilla Creme Sweetener
I just hit the Ultra Blend button and 60 seconds later I have a perfectly blended smoothie. I pop the top off, rinse the blades immediately and dry them, and put the Ninja away. The Ninja Auto-IQ Blender is definitely one of the best household items to make life easier for me, especially when I'm struggling to eat.
KitchenAid Artisan Mixer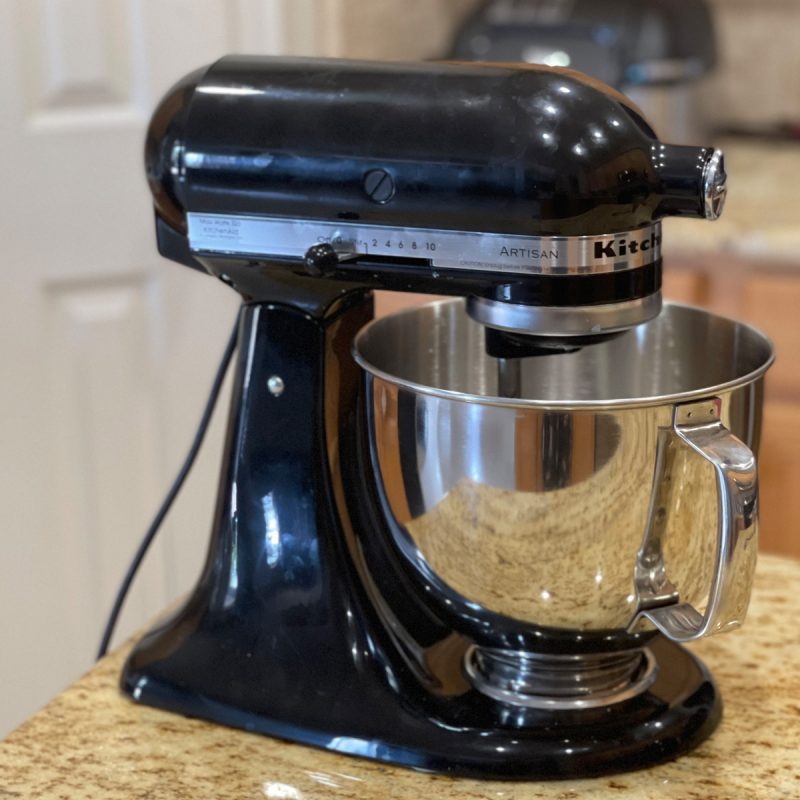 As a baker, I swear by my KitchenAid Artisan Mixer. There are very few models available currently on Amazon, but the one I own is the KitchenAid KSM150PSOB Artisan Series 5-Qt. Stand Mixer with Pouring Shield.
The KitchenAid Artisan Mixer makes it easy for me to create cakes, cookies, muffins, anything I want to bake. I've got multiple dough hook attachments so that kneading dough is easy. Whenever I'm asked to make a cheesecake for a party, this makes it so easy!
The biggest reason I love the KitchenAid is that it does all of the heavy work for you with mixing and kneading things. If you have mobility or hand issues, the KitchenAid Artisan Mixer is one of the essential household items to make life easier. You can basically 'set it and forget it' to make sure it thoroughly mixes batters for you.
Instant Pot Pro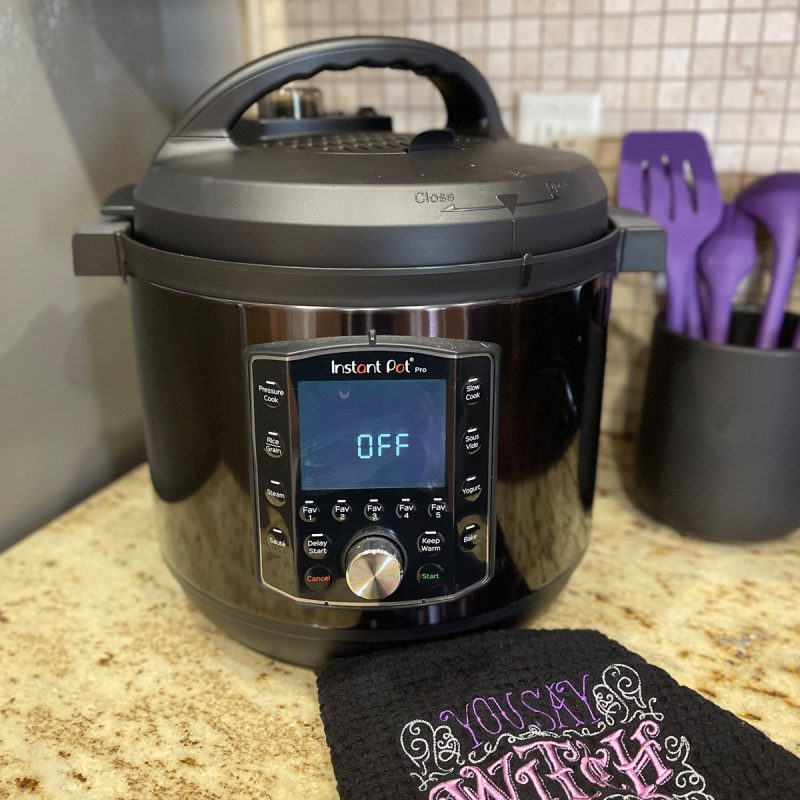 I love my Instant Pot Pro. As Ray got the old Instant Pot, I upgraded to the all-black Instant Pot Pro, 8 quart, since I use this to make dinner almost every single night of the week. This is a 10-in-1 device that allows you to pressure cook, slow cook, sous vide, sauté pan, sterilizer, yogurt maker, food warmer, cake baker and steamer. Much like with my Ninja Foodie Air Fryer, I've only scratched the surface on what I've made in my instant pot. I primarily use this to cook chicken at night.
What I love about the Instant Pot Pro model, aside from its sleek black profile, is that it has a nice gentle steam release that diffuses the steam. I know some people had issues where they might burn themselves on the steam. I've never had that issue but definitely was paranoid about it.
It's also very easy to make hard boiled eggs in the Instant Pot Pro. I love hard boiled eggs for healthy snacks. I get my eggs locally from my friend Steffie, who raises her chickens as pets for her kids.
Why do I love the Instant Pot Pro for dinner though? Like many of my favorite appliances, I can 'set it and forget it.' Typically after I finish work for the day, I'll start dinner in the Instant Pot Pro and set it for 22 minutes for frozen chicken. Then I'll get in a 45 minute workout. By the time my workout is over and I've taken a quick shower, the Instant Pot has been done for 20 minutes or longer and it is making my dinner tender enough to fall apart with a fork. To me, being able to get in that workout while dinner is being perfectly cooked is one of the biggest reasons why the Instant Pot Pro is one of the best household items to make life easier.
Household Items to Make Life Easier
Now you know my top 5 household items to make life easier. Never having to worry about finding the appropriate size of tupperware to put my leftovers away, nor having to worry about overeating gives me great peace of mind. Being able to throw ingredients into the Instant Pot Pro, then get in my workout makes my day so much more efficient. I love that I'm able to cook scallops and steak perfectly every single time in the Nina Foodi Pro Air Fryer. And for days when I feel like baking, the KitchenAid Artisan Mixer means everything is perfectly whipped up for me, I just need to stick it in the oven.
What are some of the household items to make life easier for you? What do you rely on?