Keto Gluten Free Blueberry Muffins Recipe
Hey friends, happy Sunday! Today I decided to make and share my Keto Gluten Free Blueberry Muffins Recipe with you. Since Dave has to eat gluten free, and we both stick to low carb / keto, I knew I needed to take an old favorite and revamp it for us. We love easy low carb breakfasts and these keto muffins fit the bill.
I didn't have baking powder on hand, so I used baking soda instead. I personally prefer to use monkfruit sweetener, because I think it tastes the most like 'real sugar' when you use it for low carb baking. However, I know that some people prefer Stevia, Erythritol, or other keto friendly sugars. Most people prefer almond milk, but I love the extra creaminess of cashew milk, so I used that instead.
I love my silicone muffin tray for making keto muffins. It's super easy to pop the muffins out, the muffins don't stick, and you don't have to use paper liners. I do like to put the silicone tray on top of a metal baking tray for stability and ease when pulling it out of the oven.
While blueberries are my favorite low carb keto friendly fruit, you could do this with your favorite berry if you don't like blueberries. This is a really good keto muffins base for keto recipes for breakfast.
Dry Ingredients
2 1/2 cup Blanched Almond Flour
1/2 cup Monkfruit
3/8 tsp Baking Soda (or you can use baking powder)
1/4 tsp Sea salt
Wet Ingredients
3 Large Eggs
2 tsp Vanilla Extract
1/3 cup Coconut Oil (measure this solid, then melt it in the microwave to make it liquidy)
1/3 cup Cashew Milk (you can use Almond Milk or another milk you love)
3/4 cup Fresh Blueberries
Baking Instructions for Keto Gluten Free Blueberry Muffin
Preheat the oven to 350 degrees F (about 177 degrees C).
Use a silicone muffin tray. Or you can use a regular muffin tin and line the inside with paper.
In a large bowl, combine together the almond flower, baking soda, sea salt, and monkfruit.
Mix the eggs, cashew milk, coconut oil and vanilla extract into the large bowl.
Fold in most of the blueberries with a silicone spatula. The batter will be on the thick side. Save a few to top the muffins.
Distribute the batter into the silicone muffin tray. Top the muffins with the remaining blueberries.
Bake for 24-30 minutes. The top will be golden brown. When you insert a toothpick and it comes out clean, you know they're done. I have a convection oven and mine needed to bake for 30 minutes.
What it Looks Like to Fold in the Blueberries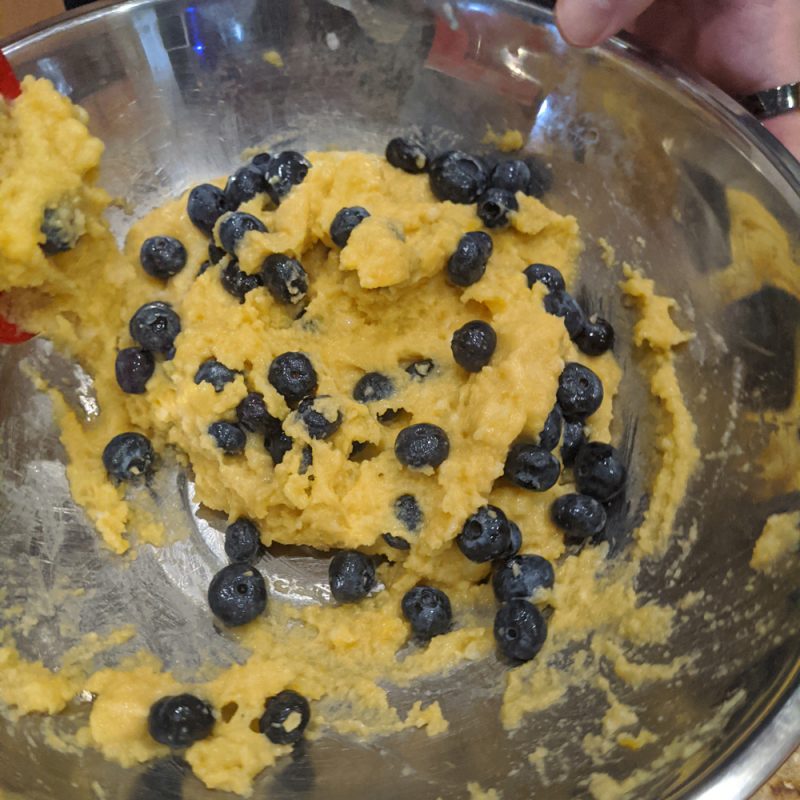 What the Muffins Look Like Before Baking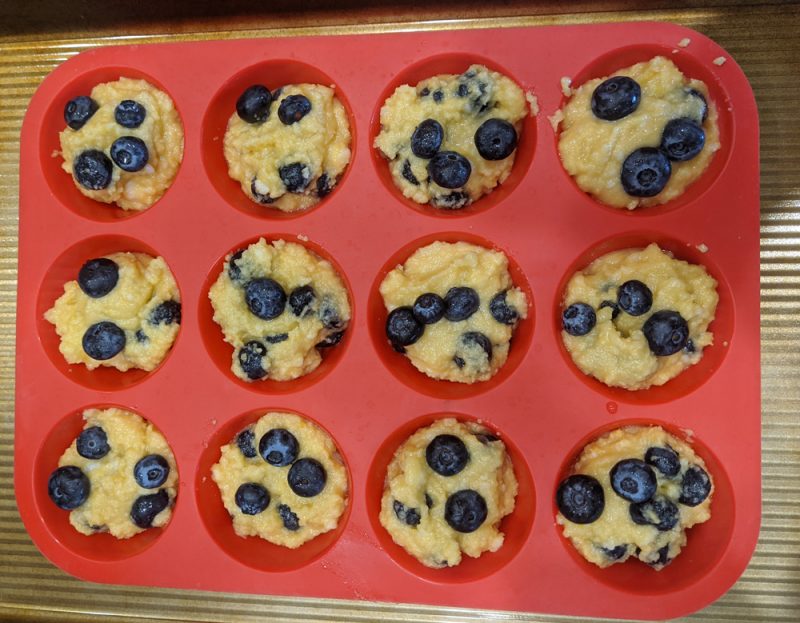 After I have the muffin batter divided into the 12 cups, I take the few blueberries I saved to put 3-4 on top of the batter before I bake it.
Baked Gluten Free Blueberry Muffins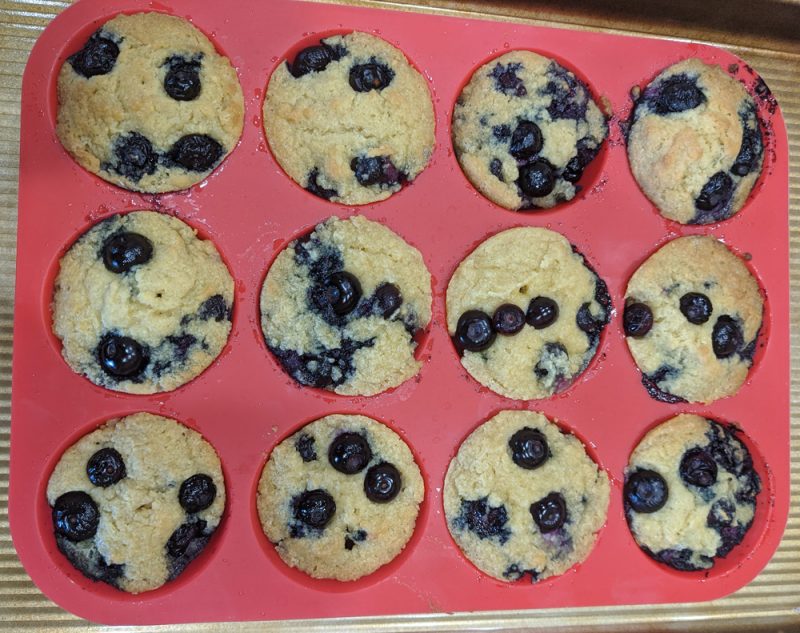 As you can see, these keto muffins have a light golden brown top.
Gluten Free Blueberry Muffins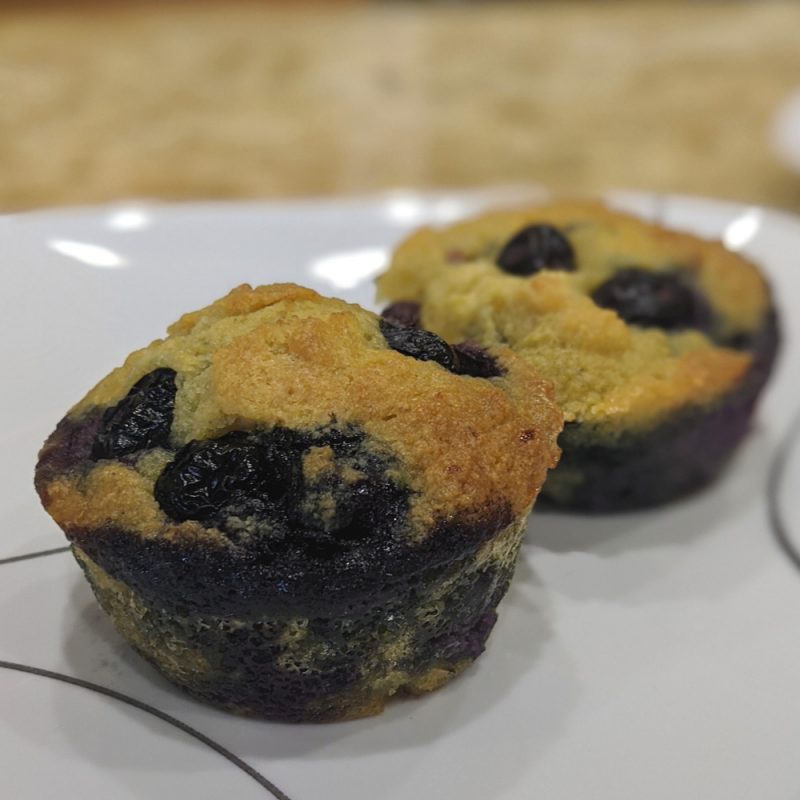 Here's my delicious homemade keto gluten free blueberry muffins.
Have you ever tried to make muffins from scratch? What do you use? What's your favorite low carb sweetener? Let me know in the comments below or join in the conversation on Facebook!