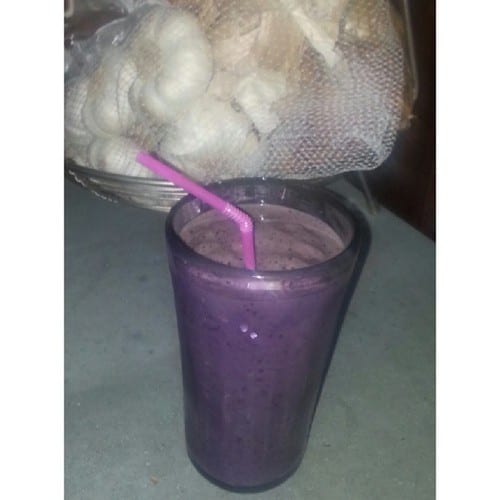 Pinterest Smoothie – Pineapple Kale Blueberry Smoothie
Today was a 'Try a Recipe from Pinterest' day for lunch. I tried this smoothie recipe called the Pineapple Kale Blueberry Smoothie. It's supposed to help fight belly fat and reduce bloat. According to the original article on FitSugar, you won't be able to taste the kale, blueberries banish belly fat, and pineapple eases digestion and banishes bloat. Since I already drink water all day, every day (thanks to my Sodastream), I used unsweetened almond milk instead of water in this recipe.
Now, the way I made it:
3 oz Vanilla Nonfat Greek Yogurt (Chobani)
1 tablespoon Almond Butter (Barney Butter)
1/2 cup frozen Blueberries (Publix)
1/2 cup frozen Pineapple chunks (Dole)
1 cup baby Kale (this was actually an I love baby kale mix of baby kale, tango, baby spinach, baby green chard, green romaine, baby green oakleaf lettuce.)
3/4 cup unsweetened almond milk (Silk)
Unfortunately, I have to call shenanigans on the 'you won't be able to taste the kale'. All I can taste is green and yogurt. It's not bad, exactly, but it's definitely not sweet. I call this recipe a fail! Though it's not enough of a fail that I couldn't finish the smoothie. I've made a few that really tasted like grass clippings and I couldn't finish. I was able to choke this one down.
Still, it's nice to try a different sort of smoothie. I really need to do more green smoothies. I just need to figure out what I can add to counter the bitter flavor.
Do you do green smoothies? Have you tried Pinterest recipes?