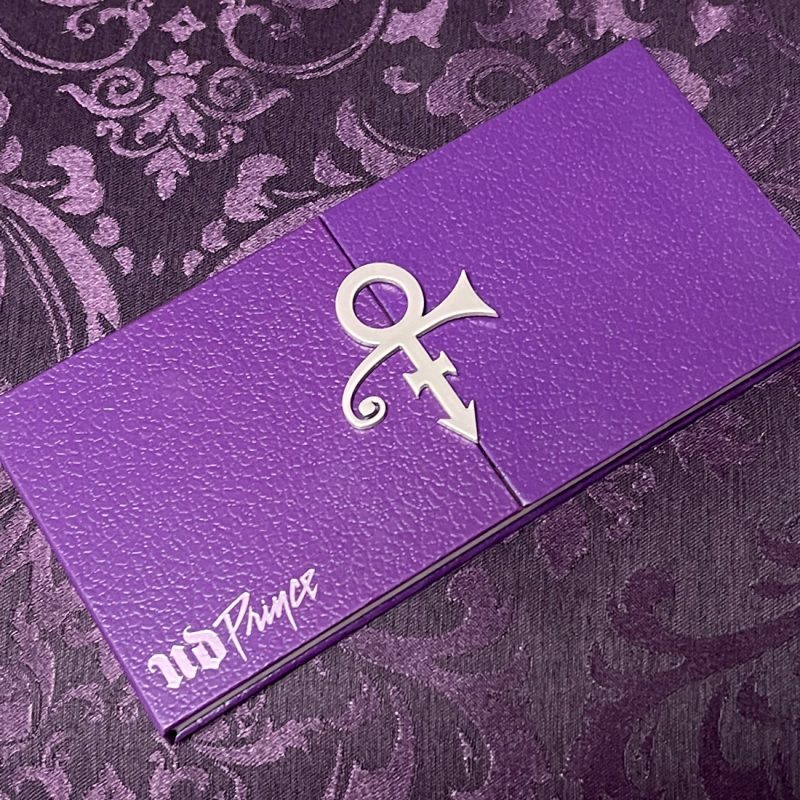 Hello beautiful creatures! Today I'm sharing the Urban Decay Prince Let's Go Crazy Palette with you. I have been a huge Prince fan since I was tiny. There was something alluring to me about Prince from the moment I first saw him. Prince wrote his own rules and redefined what masculinity could be through his music. He did so much by bending gender norms and identity expression. I fell in love with men wearing makeup and great fashion thanks to Prince (and Bowie).
Some of my favorite Prince songs include: Gett Off, Cream, When Doves Cry, Little Red Corvette, Raspberry Beret, Diamonds and Pearls, I Would Die 4 U, 1999, Sexy M.F. and I'm sure I'm forgetting dozens of others.
Thank you so much to Urban Decay for sending me the Prince collection. Urban Decay sent me the Prince Let's Go Crazy Palette, the Prince U Got the Look Palette, So Dark Kajal pencil, When Doves Cry Kajal pencil, Prince Liquid Highlighter, Prince All Nighter Setting Powder, and Prince Multitasker Brush.
Where to Buy
Urban Decay, Sephora
Price
$55
This palette is a 100% cruelty-free and 100% vegan palette from Urban Decay.
About Urban Decay
For those of you who don't know, Urban Decay is a cruelty-free beauty brand. They are PETA certified and used to be Leaping Bunny certified. Urban Decay is owned by L'Oreal. They are a part of the Responsible Mica Initiative, which means they care about getting their mica from places that don't hire child labor and put children in danger.
About the Packaging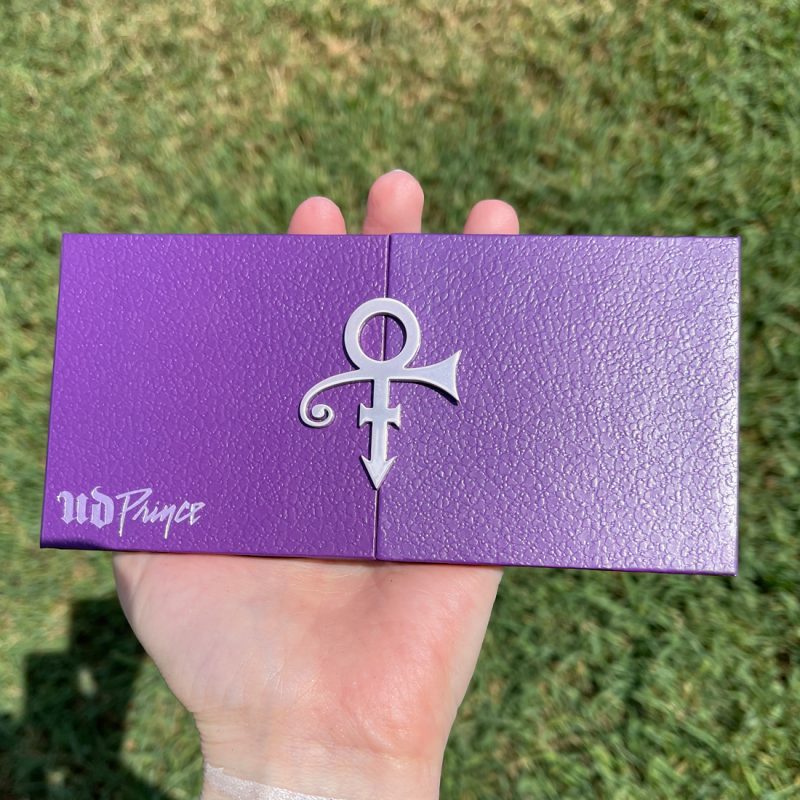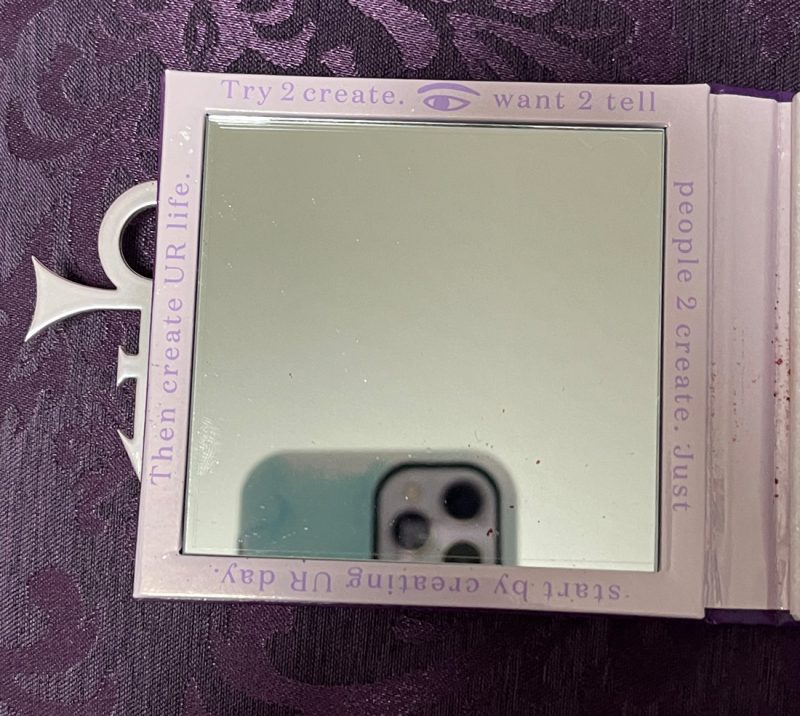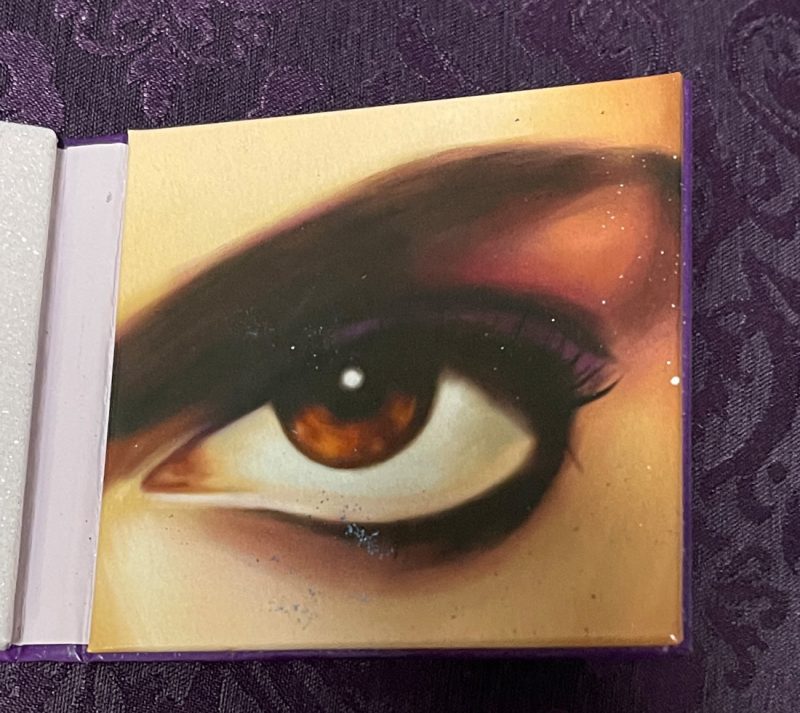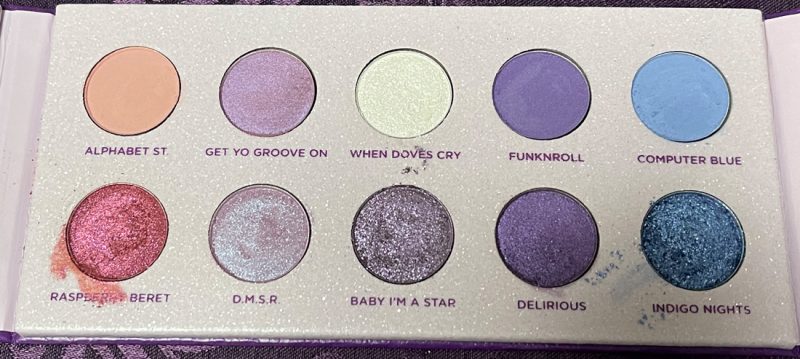 While I like the concept behind the Urban Decay Prince Let's Go Crazy Palette packaging – purple, with the Prince symbol on it – in practice it is a bit clunky to open. I'm not someone who cares about having a mirror in the palette, so it doesn't bother me that it only has a tiny mirror on one side.  I applaud Urban Decay for thinking outside of the box with this packaging. I just wish it didn't feel so flimsy.
And as you can tell from how messy my palette is inside after only a few uses, the eyeshadows in the palette are a softer press, so they kick up a lot of excess product that can smear inside.
My Skin Tone
I have very fair neutral to cool yellow undertone for my skin tone. My current best matches currently are as follows:
How I Swatch
I swatch on my very fair neutral to cool yellow undertone skin using eyeshadow primer and stencils. I typically take my photos outdoors in direct sunlight and indoors in indirect natural light. I feel these two lighting conditions most accurately represent the colors you'll see in real life.
Urban Decay Prince Let's Go Crazy Palette Swatches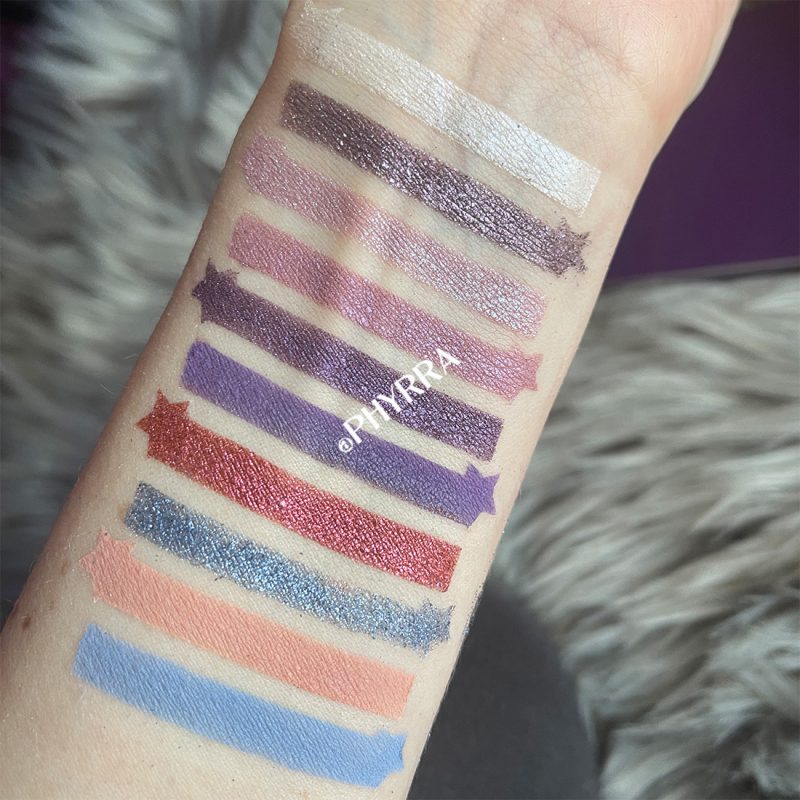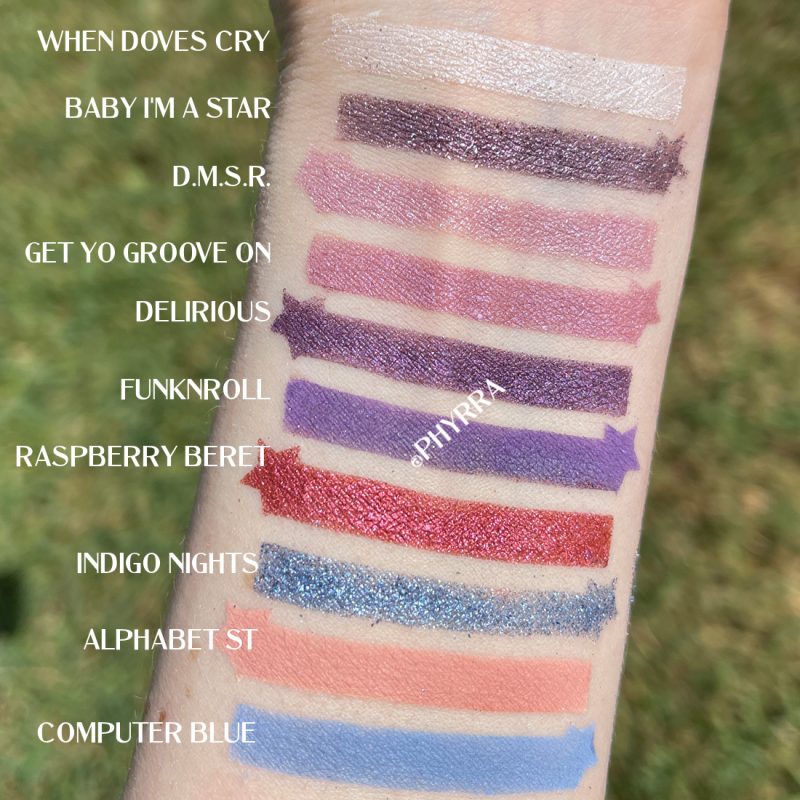 Here are my swatches of the Urban Decay Prince Let's Go Crazy Palette.
Shade Descriptions
When Doves Cry: White shimmer with violet reflective shift and purple + blue micro-pearl
Baby I'm A Star: Purple shimmer with multicolor micro-pearl
D.M.S.R.: Light purple shimmer with light blue reflective shift + microshimmer
Get Yo Groove On: Lavender metallic with blue shift + micro-pearl
Delirious: Purple metallic with pink microshimmer
Funknroll: Violet satin with microshimmer
Raspberry Beret: Rich pink metallic with violet microshimmer
Indigo Nights: Baby blue metallic with silver microshimmer
Alphabet St.: Light peach matte
Computer Blue: Baby blue matte
Let's Go Crazy Palette Eyeshadow Color Thoughts
Here's what I think about the Urban Decay Prince Let's Go Crazy Palette eyeshadow shades and how I like to use them.
When Doves Cry is a very pretty iridescent white highlight for at the inner corner, under the brows or at the center of your lids.
Baby I'm a Star is a gorgeous semi-sheer purple with lots of multicolor micro-pearl and I personally think this shade looks better and more intense when layered on top of Funknroll.
D.M.S.R. reminds me of the old UD shade Asphyxia. It has a lilac base with strong blue shift. Get Yo Groove On is like the satiny version of D.M.S.R. and I think D.M.S.R. looks great when layered on top of Get Yo Groove On.
Delirious is the most pigmented and potentially complex of the purple colors in this palette. I love the warm and cool sparkles in it. Funknroll is a gorgeous purple satin.
Raspberry Beret looks like a metallic red with an orange undertone with pink shift to me. It's ultra pigmented compared to everything else and reminds me a tiny bit of Gash.
Indigo Nights is an ultra sparkly metallic blue. Alphabet St is a nice light peach matte. Computer Blue is a soft baby blue matte.
The eyeshadows that are described as having micro-pearl are the prettiest to me. Satiny shades like Funknroll and Get Yo Groove On are both colors that I use for my crease or to build up the opacity for this palette. You can use Alphabet St or Computer Blue as crease colors or to blend out the edges of other hues.
Urban Decay Prince Let's Go Crazy Palette Review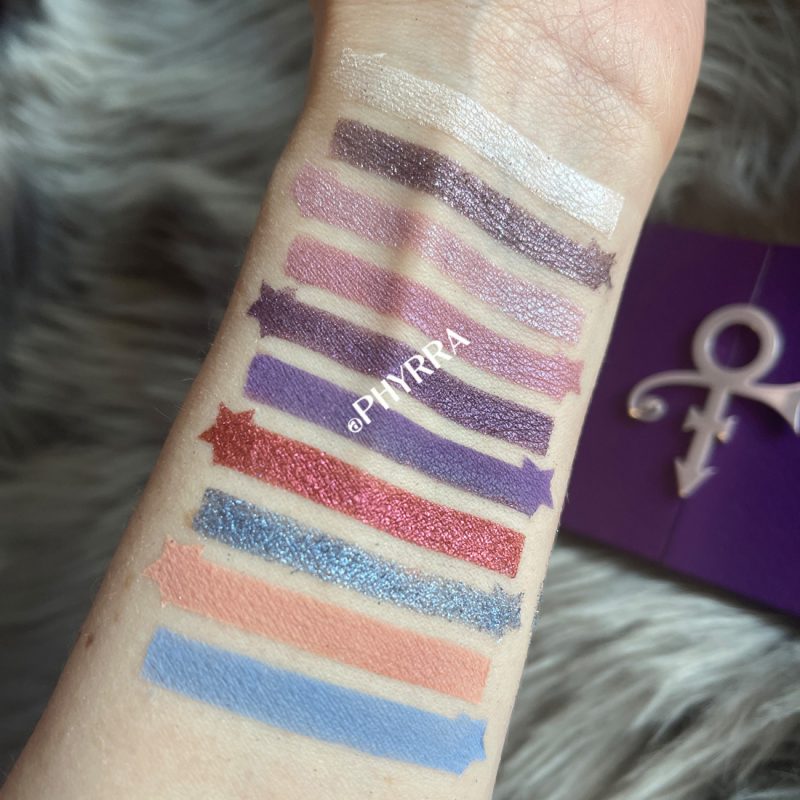 The Urban Decay Prince Let's Go Crazy Palette eyeshadows were not as bad as I had anticipated, after the disaster that was the UD Wild West Palette, but they're still not up to the standard that I know Urban Decay can make. Urban Decay has made AMAZING eyeshadows in the past that were extremely pigmented, yet easy to blend, in a formula that would cling to the skin.
I would describe the Prince Let's Go Crazy Palette eyeshadow formula as anemic. This dusty formula applies better with my finger tips than with a brush for the more shimmery, complex colors. I suspect this is because of the natural oils in our finger tips making the eyeshadow perform better. Unfortunately, I have hooded eyes and limited lid space. I do not find it easy to apply eyeshadow with my finger tips. I'd rather use a brush. I prefer eyeshadow formulas that work with brushes.
I absolutely would not wear this eyeshadow formula without an eyeshadow primer. Yes, I always wear primer because I have oily, hooded eyelids with a lot of excess skin thar rubs together. However, I strongly suspect if you wear this eyeshadow formula with no primer it will be gone within a few hours. You will definitely see the best color payoff if you use eyeshadow primer and a UD's All Nighter Spray on a damp brush.
I don't know what Urban Decay did to their winning eyeshadow formula, but this new formula does not look or feel the same to me as the formula I fell in love with. This formula appears very dull and dusty in the pan, like it has a bunch of junk fillers in it. It looks so disappointing in the pan to me that I was surprised it performed better on my eyes.
Yes I am personally disappointed by the last few palettes that Urban Decay has put out. Sure, I can make Ultraviolet workable and I loved the Stoned Vibes palette formula, but I was not impressed with the Wild West. The Prince eyeshadow formula isn't very standout to me. I wanted to love it, I really did. I don't think Prince would have approved this ashy, dusty, muted purple palette. Oh Urban Decay, why did you get rid of your great eyeshadow formula and replace it with this?
From my perception, Urban Decay tried to create some unique finishes in the Prince Let's Go Crazy Palette that you would find in indie eyeshadow brands, which I love. I just found the execution lacking. In my opinion these eyeshadows would benefit from more pigmentation and something else to help with the adhesion/blendability, like carnauba wax.
Do I recommend that you buy this palette? If you're a Prince fan, and you liked the formula of Ultraviolet and Stoned Vibes, I think you will like this palette. However, I would wait for it to go on sale. I would buy this palette on sale, but not full price, for a collector piece.
What do you think of the new Urban Decay Prince Let's Go Crazy Palette? Will you be picking it up? What's your favorite Prince song?