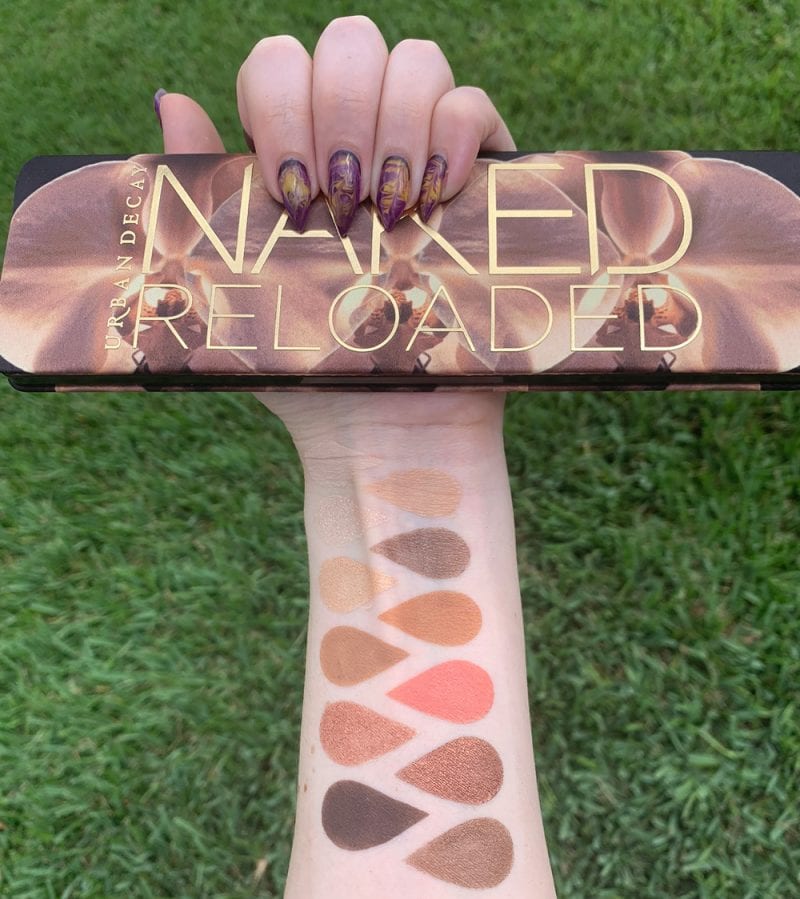 Urban Decay Naked Reloaded Palette
Today I'm sharing my Urban Decay Naked Reloaded Palette review with you. I was happy to see Urban Decay come out with a new, updated neutral palette because I didn't find the original flattering on my skintone. The new one has more colors I find wearable. In case you don't know, Urban Decay is proudly cruelty-free. They were Leaping Bunny certified for many years and are PETA certified. This palette is not vegan.
Urban Decay sent me this palette to review.
Where to Buy
Urban Decay, Sephora, Ulta, Nordstrom
Price
$44 for .492 oz
Urban Decay Naked Reloaded Palette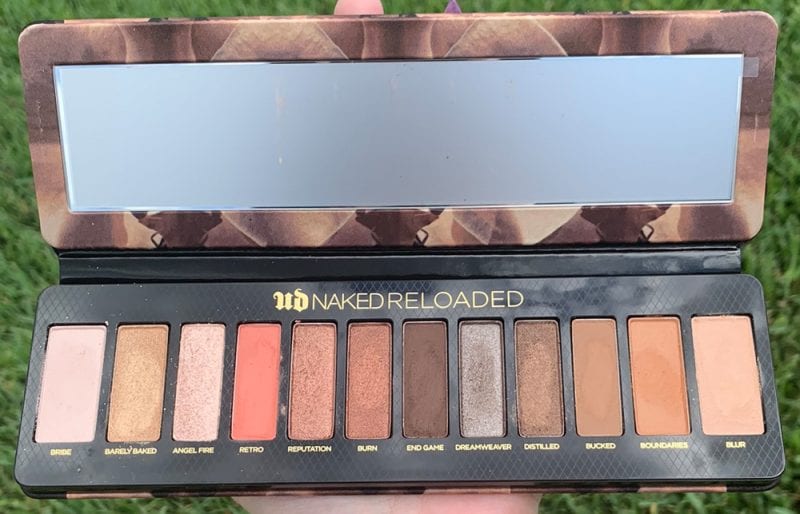 UD says this is a palette with 12 all-new shades. One of the colors, Angel Fire, is from the Heavy Metals Palette. I loved that color and palette but hated the packaging so I'm happy to see it make another appearance.
What UD has to say about the palette:
Reinvent. Redefine. Rethink neutral. Meet the Naked Reloaded Eyeshadow Palette, with 12 all-new, universally flattering shades designed for everyone—any age, gender, and skin tone. The new neutrals are here, and they're anything but ordinary. Naked Reloaded is the essential palette with the nudes you'll always need, all in one place. Bonus: We made the four outer pans in the palette bigger for the shades you'll use the most. From silky mattes and metallics to iridescent micro-shimmers, these 12 versatile shadows contain our mind-blowing formula, with its velvety texture, rich color, and extreme blendability. Created with every makeup bag in mind, Naked Reloaded is a game-changer. Start with Bribe, a warm ivory matte, as the perfect base, and add depth with dimensional metallics like Burn or Distilled. We're addicted to Dreamweaver, a cool brown with iridescent 3D sparkle, and Retro, an unexpectedly bright peach matte.
Urban Decay Naked Reloaded Palette Swatches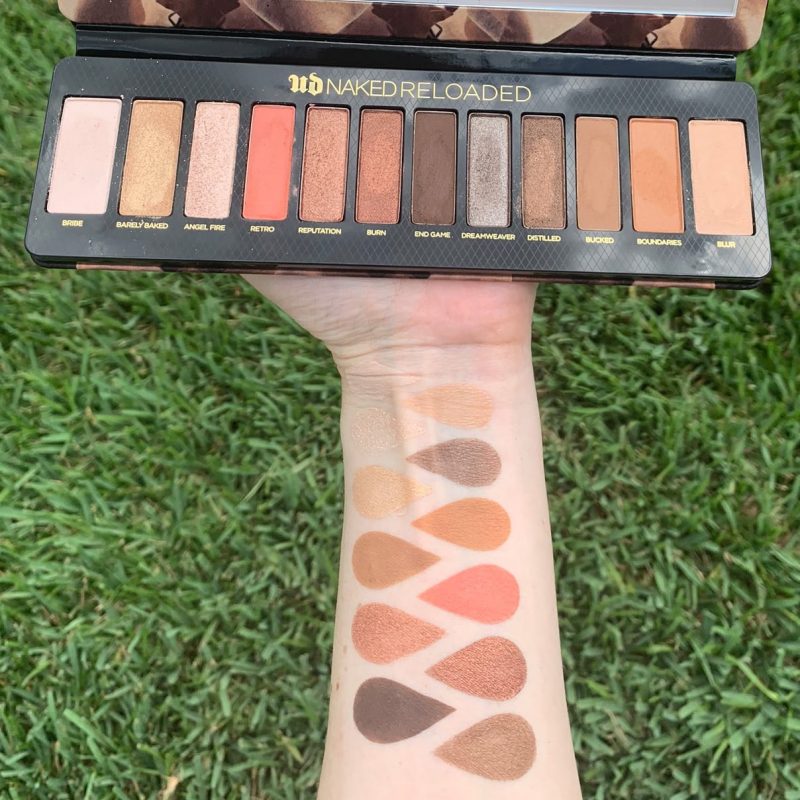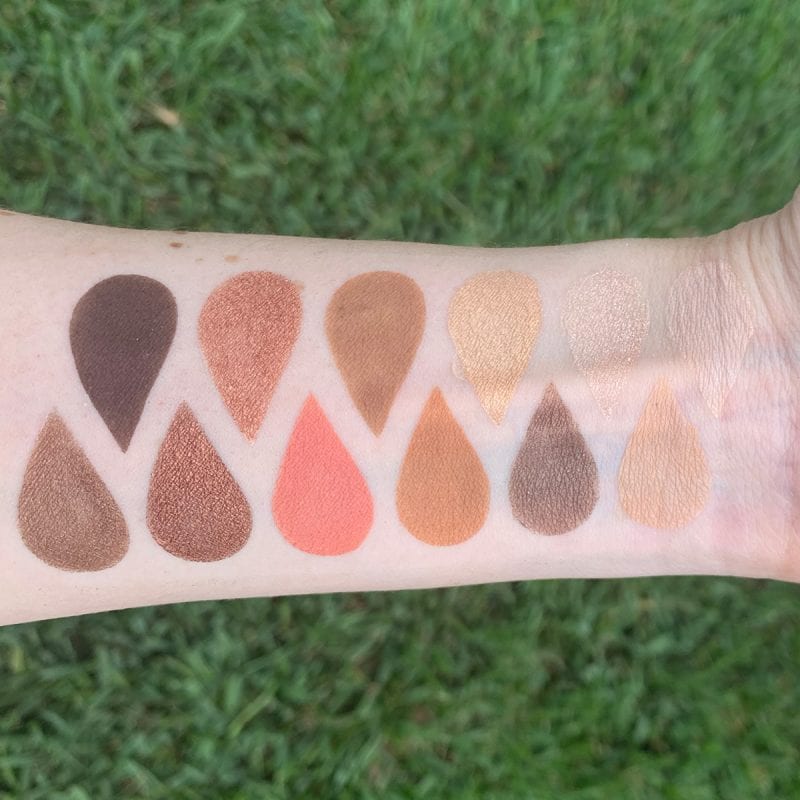 Row 1 – End Game – Reputation – Bucked – Barely Baked – Angel Fire – Bribe
Row 2 – Distilled – Burn – Retro – Boundaries – Dreamweaver – Blur
End Game is a chocolate brown matte. It's a shade of deep cool brown that works on my skintone. (.038 oz)
Distilled is a metallic bronze. This is a shade I will never wear. (.038 oz)
Reputation is a deep rose-gold with iridescent micro-shimmer. I love this one! (.038 oz)
Burn is a metallic copper-burgundy. I don't see any burgundy in here, I just see copper and brown. (.038 oz)
Bucked is a midtone brown matte. It looks more neutral than warm toned on me. (.038 oz)
Retro is a bright peach matte. It's so peachy-coral to me! It looks pretty on deeper skintones. (.o45 oz)
Barely Baked is a metallic light gold. This color is so flattering with blue green eyes. (.o45 oz)
Boundaries is a warm terracotta matte. This is a warm brown but I don't see much in the way of terracotta tones to it, I feel like I see some yellow. (.038 oz)
Angel Fire is a pale rose-gold with iridescent micro-shimmer. I love the  hell out of this color! (.038 oz)
Dreamweaver is a cool brown with iridescent 3D sparkle. I like this one but wish the iridescent 3d sparkle was more intense. (.038 oz)
Bribe is a warm ivory matte. This color blends into my skintone nicely. It's a great base shade for me and it works to erase blending mistakes. (.049 oz)
Blur is a light nude matte. I like this for a soft transition shade. (.049 oz)
Urban Decay Naked Reloaded Palette Review
First, let me tell you what I don't like about the palette. I don't like the new soft cloth packaging because I think it will get dirty easily and be difficult to clean. If I stick it into my zuca bags for travel it will undoubtedly get powder or something on it and drive me nuts. I'm also disappointed that with this new neutrals palette we don't see any taupes or greys, which are definitely neutrals. While there are a few shades in here that I adore, I feel like overall you don't get much variety with the Urban Decay Naked Reloaded Palette. And I guess, honestly, I shouldn't complain about that because that's probably the point of buying a naked/neutrals type palette.
Second, I do want to point out that the amount of product in this palette is less than previous Naked Palettes, but the price is also lower. $44 for .492 oz vs. $54 for .6 oz for the Naked2, for example. 8 of the individual shades are slightly more than a half-sized eyeshadow at .038 instead of .05 oz, and 4 of the shades are very close to .05.
The eyeshadow formula is buildable and blends out easily, which Urban Decay is known for. Since I have hooded eyes and have to wear eyeshadow primer or my eye makeup will be gone in a few hours, I got all day wear on primer with this palette. My current favorite primers are the Urban Decay Sin Primer & the Original Primer Potion.
Now, let me tell you what I love. I love seeing Angel Fire in a new permanent palette! I love this sparkly lid color. It really brightens my eyes. I prefer to pair it with a deep burgundy wine crease. Not gonna lie, after the Huda Beauty New Nudes palette I expected to see a burgundy wine matte in here. I love Dreamweaver, which is this multi-dimensional cool brown with silver shimmer, I just wish I had a grey or taupe to pair with it, like Desperation.
Retro makes me smile because it is so bright in my crease! I'm not typically an orange fan, but I do love peach. This is a peachy coral to me and it makes me think of spring and summer. It's really gorgeous. I love Barely Baked because it reminds me of Half-Baked. So pretty! And I love Reputation, it looks beautiful with Angel Fire too. Burn is a stunning color. End Game is one of those cool deep browns that I rarely see in a palette (last deep cool brown like this that I can recall was from the Anastasia Beverly Hills Maya Mia palette).
Boundaries is actually a fun crease shade for me. I think the reason I like it is that I sort of got into how mustard-toned shades can look on me in that Cruelty-Free One Brand Tutorial with Black Moon Cosmetics.
With shades like Angel Fire, Reputation and Dreamweaver, I recommend using a sticky base or damp makeup brush for best results. They're super sparkly but have a thin consistency and won't adhere to the lids otherwise. (see my tips for how to wear Urban Decay Moondust eyeshadows).
If you're in the market for a new neutrals palette that is filled with peach, copper, rose gold and brown I think you'll love the Urban Decay Naked Reloaded palette. If you don't like to wear peachy neutrals, skip this one.
What do you think of the Urban Decay Naked Reloaded palette?