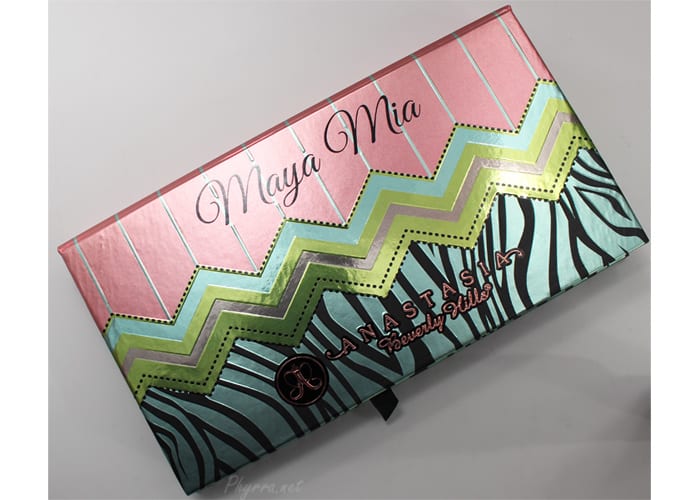 Today I'm excited to show you the new Anastasia Beverly Hills Maya Mia palette. This is a stunning palette created in collaboration with Maya Janeska (@maya_mia_y from Instagram). I also compare it to the Amrezy palette, since they both contain some similar or identical colors.
Anastasia Beverly Hills Maya Mia Palette Review
Anastasia Beverly Hills is cruelty free.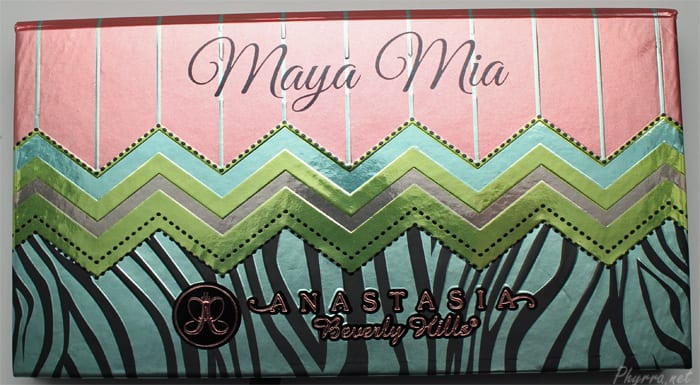 Maya Mia is a press sample. I purchased Amrezy and the Catwalk palette myself. See my reviews of Amrezy and Catwalk. You can also see my reviews of the Lavish Set and Hypercolor Brow Powders.
About the Anastasia Beverly Hills Maya Mia Palette
The Maya Mia palette, designed in collaboration with world famous blogger and makeup artist Maya Janeska (@maya_mia_y) contains 10 shades that coordinate flawlessly. These refreshing neutral hues combine with two pops of color to create the ideal palette for summertime looks with a hint of mod style.
Essential palette for makeup artists
Wear wet or dry
Intense color payoff
Velvet-smooth finish
Long wearing
Blendable
Cruelty free
Price
$29 for .025 oz each x 10
Availability
Sephora, Ulta, Macy's, Nordstrom, Dillard's, Anastasia.net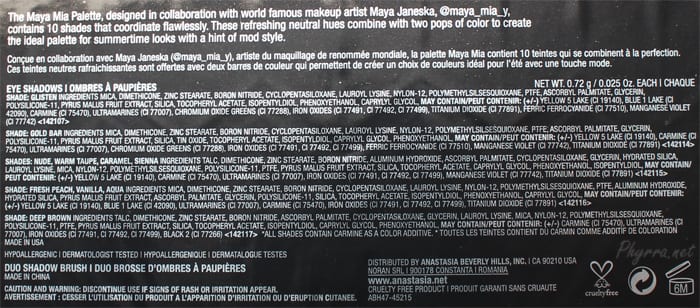 This palette says it may contain carmine, so it is not vegan friendly.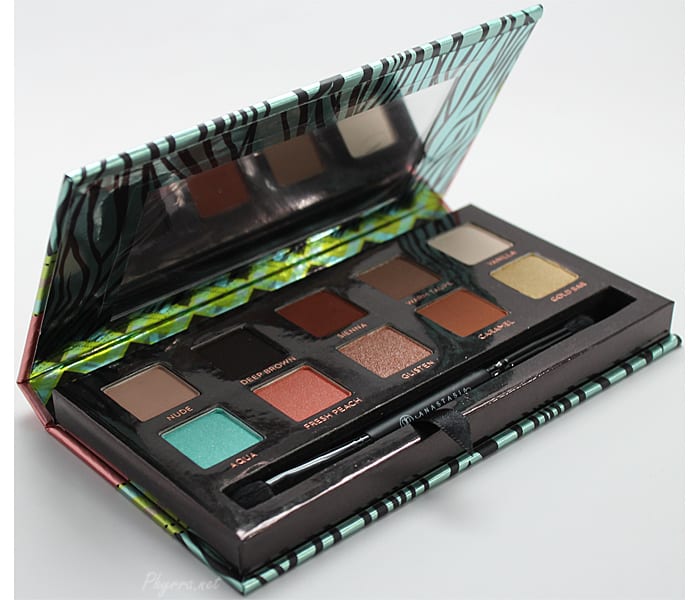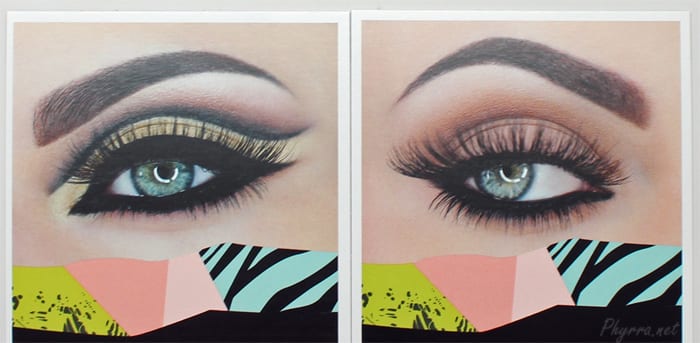 The Maya Mia palette comes with 5 'Get the Look' cards. Please remember that you may not have the same eye shape as Maya Mia, so when you're trying to recreate the looks, you need to take your own eye shape into account.
Cut Crease Gold Bar – Uses the shades Vanilla, Caramel and Gold Bar
Fresh Peach – Uses the shades Warm Taupe, Caramel, Sienna, Fresh Peach, Aqua and Glisten
Deep Brown Taupe – Uses the shades Vanilla, Warm Taupe, Sienna and Deep Brown
Warm Taupe – Uses the shades Vanilla and Warm Taupe
Aqua – Uses the shades Aqua, Glisten, Sienna, Deep Brown and Caramel
All eyeshadows swatched on eye primer. I have hooded eyes and I never wear eyeshadow without eye primer.

Nude
light satiny peachy tan. this makes for a great soft crease shade on my skintone (less pigmented than I expected)

Deep Brown
deep brown matte, reminds me of the outside of a coconut (insane pigmentation)

Sienna
deep brown with strong orange undertone matte (very similar to Morocco from the Amrezy palette, but this shade has slightly less orange, super pigmented)

Warm Taupe
midtone taupe brown matte. I can see taupe lovers going nuts over this shade (nice pigmentation)

Vanilla
pale creamy vanilla with a hint of sparkle, this is on the sheer side (less pigmented). It's perfect for layering with other colors, to highlight, or blend out shades (also from the Amrezy palette)

Aqua
light aqua shimmer (less pigmented than I expected, but still easy to work with)

Fresh Peach
gorgeous peach shimmer (less pigmented than I expected). This was actually a pain to build up to opacity on my lid.

Glisten
rose gold metallic (very pigmented, this also appeared in the Anastasia Amrezy palette, see my review)

Caramel
warm brown with slight orange undertones, matte (very pigmented, appeared in Amrezy palette)

Gold Bar
light yellow gold shimmer (similar to Legend from Amrezy palette, but Legend is more of a lighter shade, less pigmented than I expected)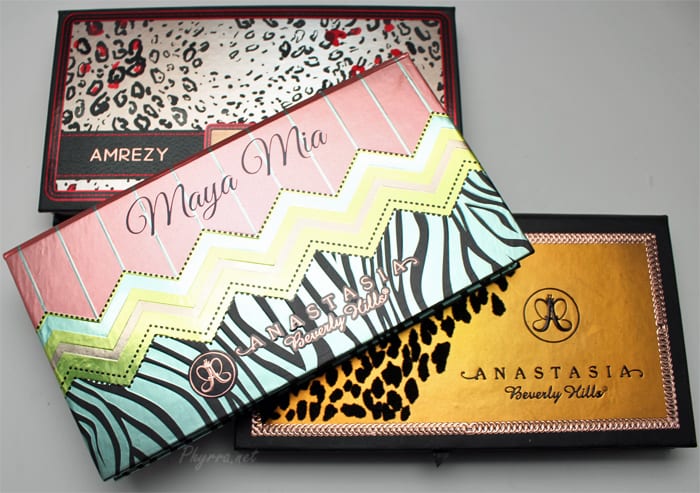 You can see the Maya Mia palette on top of the Amrezy and Catwalk palettes. All three are gorgeous.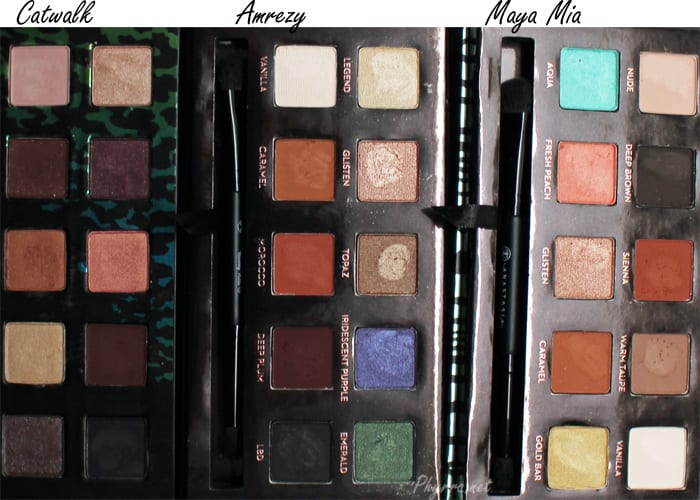 I do compare some of the Maya Mia and Amrezy shades for you.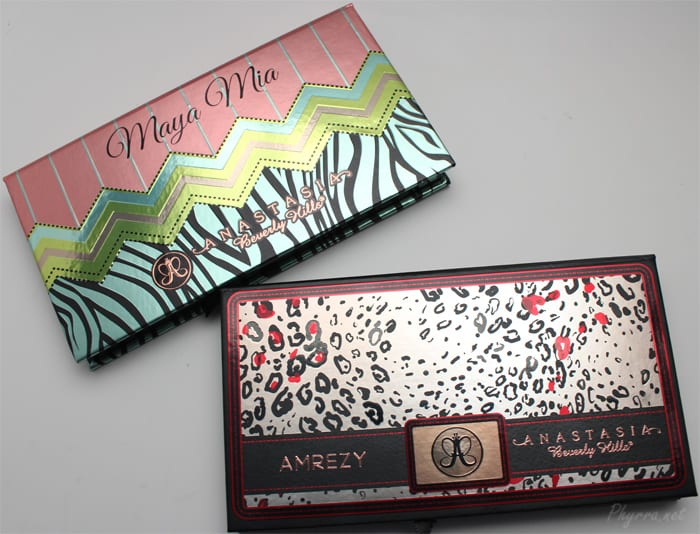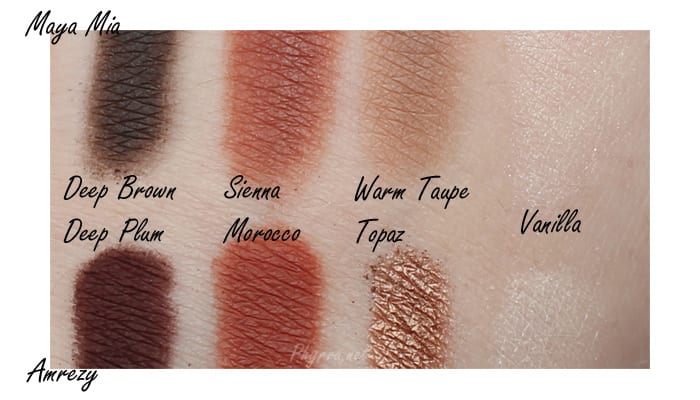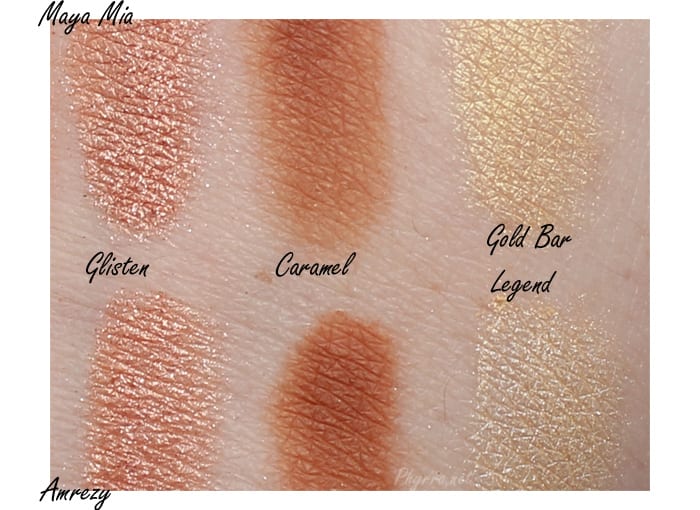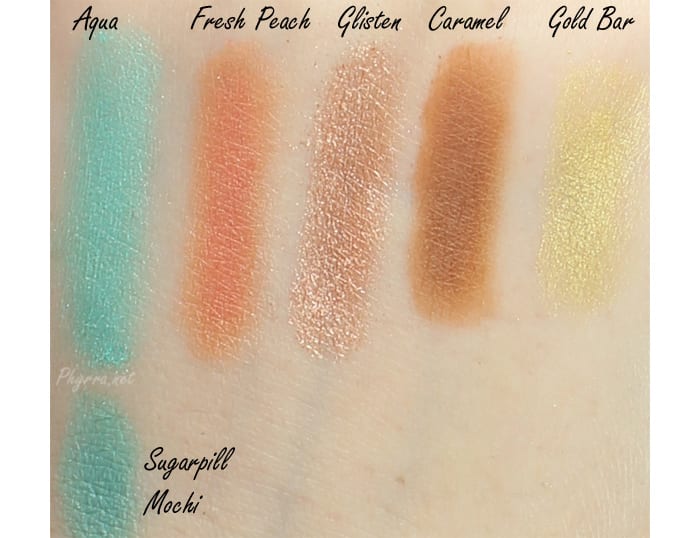 Sugarpill Mochi is deeper in tone than ABH Aqua. It's also more pigmented and more matte.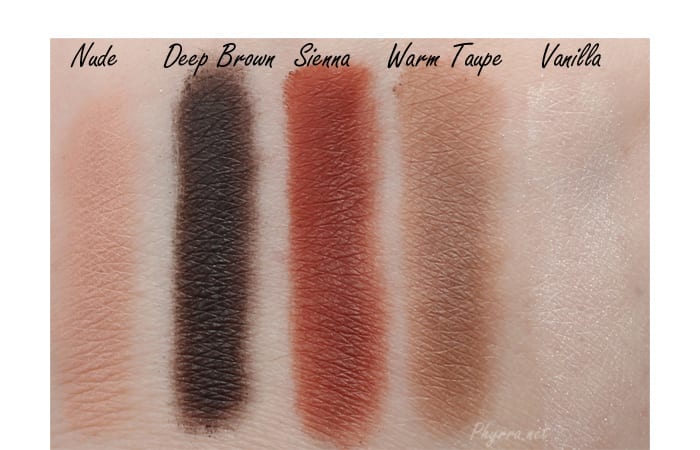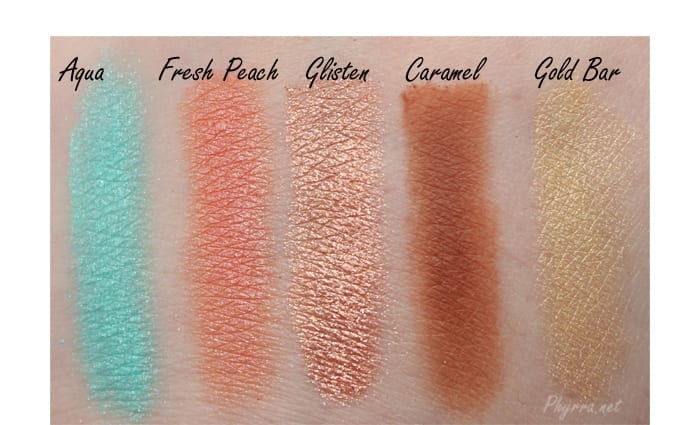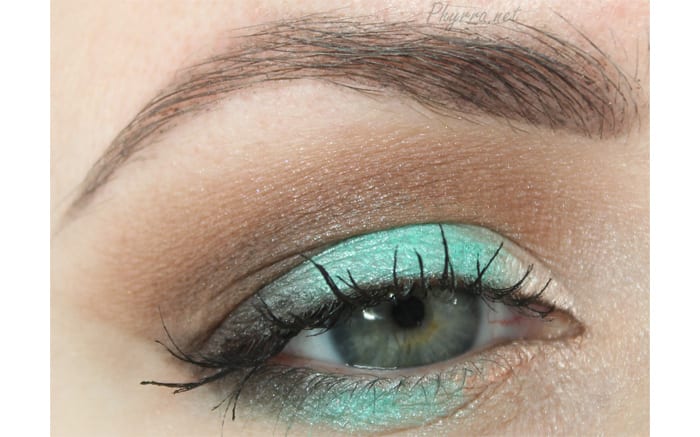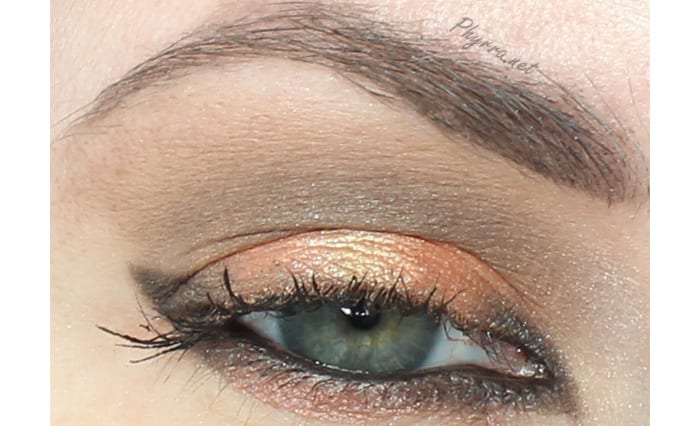 I created two tutorial videos featuring this palette.

My Aqua and Deep Brown Tutorial

My Peach and Deep Brown Tutorial

If you like my video review please subscribe!
The packaging for the Maya Mia palette is amazing. I thought the Amrezy palette was lovely but the Maya Mia palette is stunning. It's my favorite packaging design that Anastasia has ever released (yes it even tops the Catwalk!). It's just so gorgeous! I love the animal print. I also love that the palette has the names of the eyeshadows printed on the inside.
Anastasia has included a nice double ended brush. The bristle are soft. You can use one side to apply shadow to the lid and the other for the crease.
I find the colors in the Maya Mia palette to be more flattering on me than the Amrezy palette, but both are beautiful. Both work well together too, with so many useful matte shades! I have to say, I'm kind of in love with Deep Brown. And I really like Deep Brown paired with Aqua or Fresh Peach.
You're paying $29 for 10 eyeshadows that are .025 oz each. A typical Urban Decay eyeshadow is .05 oz for $18. You're getting .25 oz of product for $29. To get .25 of Urban Decay, that's 5 eyeshadows and you would pay $90. For the same amount of MAC refill pans (which are $10 each) you would pay $50 for 5. So I feel that this palette is a pretty good deal for the price, even though some of the shades aren't as pigmented as I like.
While I do note that a few of the shades have less pigmentation than expected, they're relatively easy to work with and most of the shades have good to great pigmentation. Nude, Vanilla, Aqua, Fresh Peach, and Gold Bar had less pigmentation than I expected. To improve the pigmentation of these shades I would recommend using a mixing medium like Fyrinnae Pixie Epoxy or Darling Girl Glitter Glue.
You can buy this palette now at Ulta or at Sephora.
Pros
Cruelty free
Nice mix of colors, leans warm (but not as warm as Amrezy)
Perfect for travel
Cons
Mixed formula (some shades were great, some were less pigmented)
Some repeat shades from Amrezy, so you may not want both palettes.
What do you think of the Maya Mia palette?

[inlinkz_linkup id=438610 mode=1]
Last Updated on