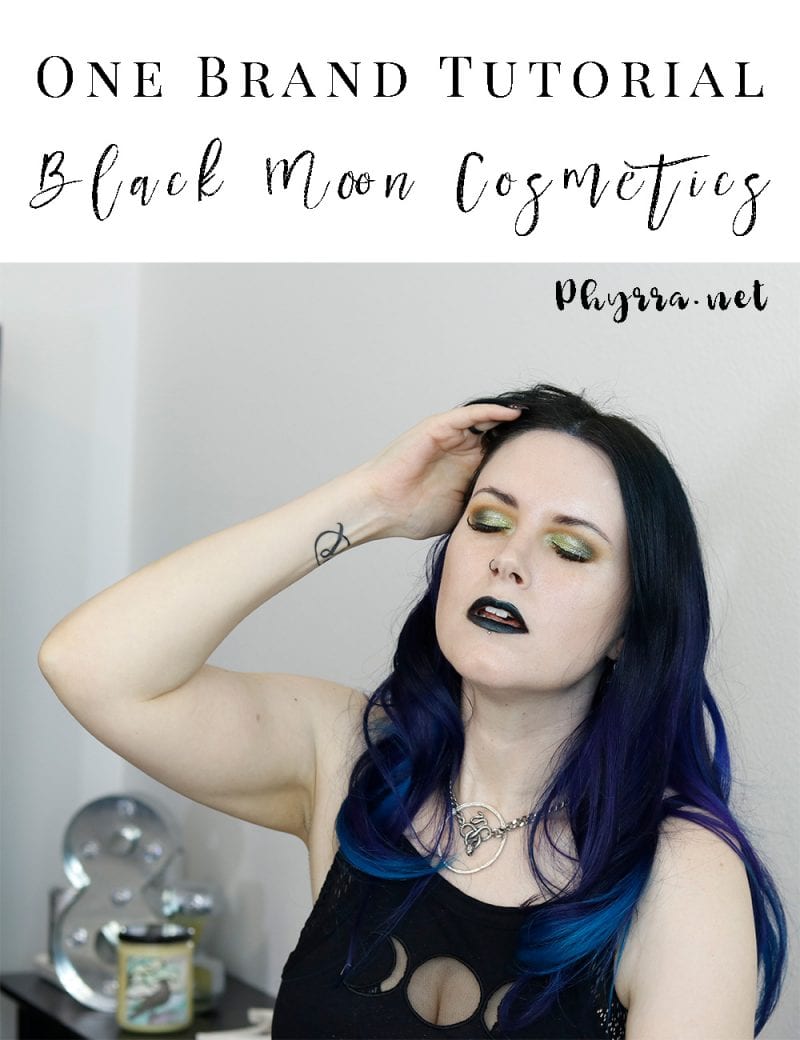 One Brand Tutorial Black Moon Cosmetics
Hey friends, happy Monday! I've got a One Brand Tutorial Black Moon Cosmetics to share with you today. I stepped outside of my comfort zone in putting this look together. Black Moon Cosmetics is a cruelty-free and vegan indie beauty brand that is coming to Ulta! Everything I'm wearing is vegan except for the eyeshadow primer, black eyeliner, and waterline pencil.
PR + purchased by me.
One Brand Tutorial Black Moon Video
Love the eye palette I featured? See my Black Moon Orb of Light Palette review.
Black Moon Cosmetics Hooded Eyes Makeup Tutorial Look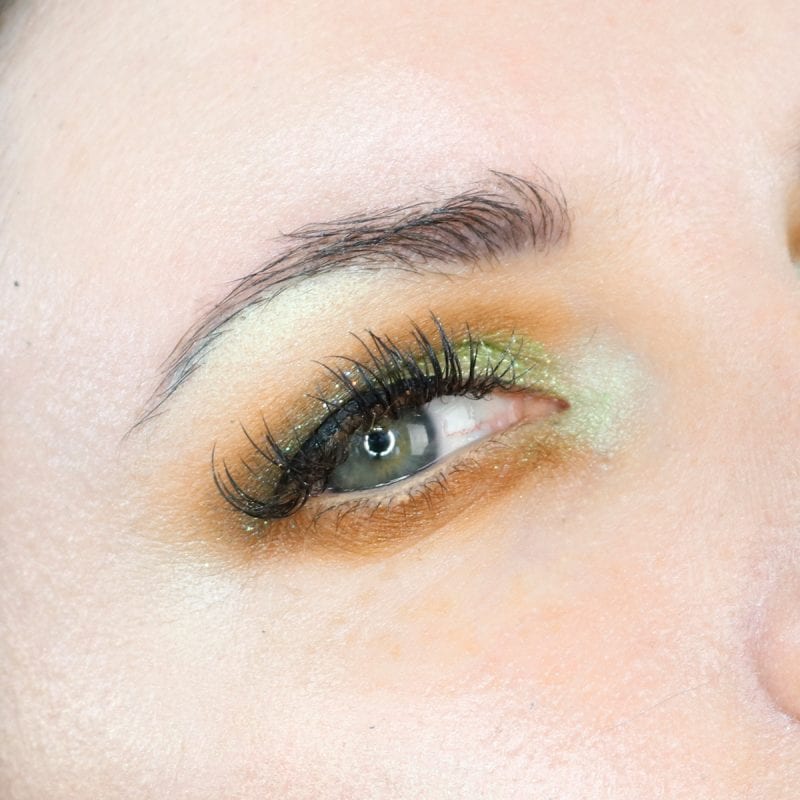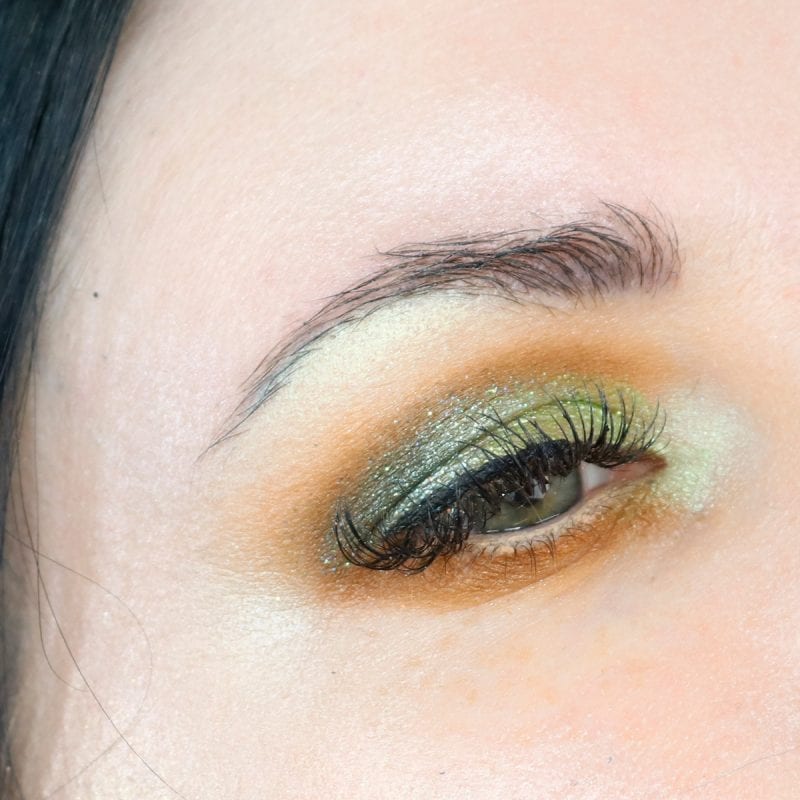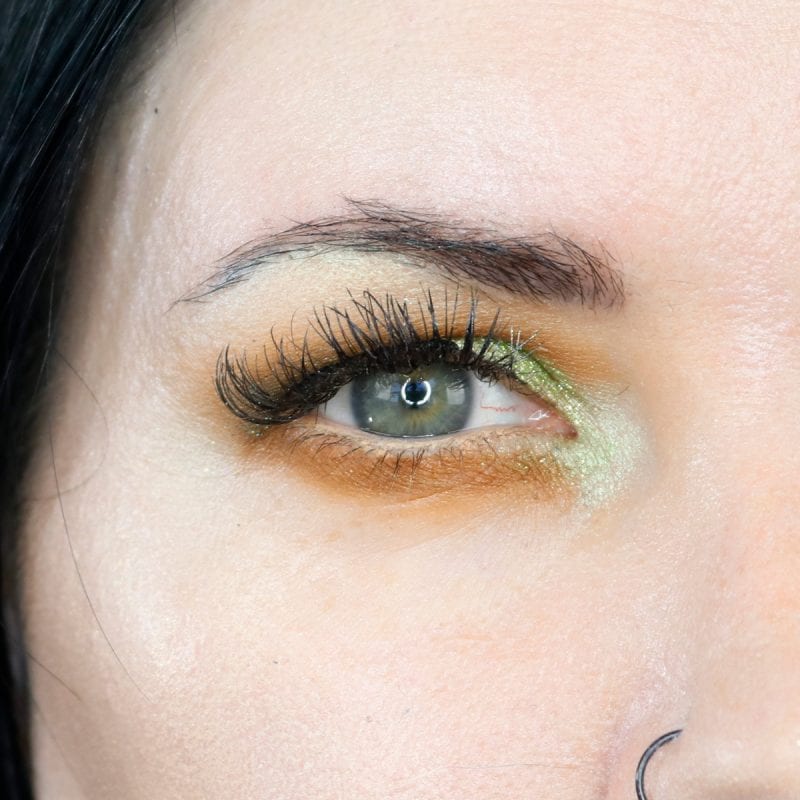 As you can tell, my eyes are quite hooded. My hood crease extends down past the edge of my lower waterline. Wearing eyelash extensions really helps to open up my eyes, especially since I can never get the same results when I try curling my lashes and using mascara. Want to know more about eyelash extensions? Check out my Beginner's Guide to Eyelash Extensions.
Full Face of Black Moon Cosmetics Makeup Tutorial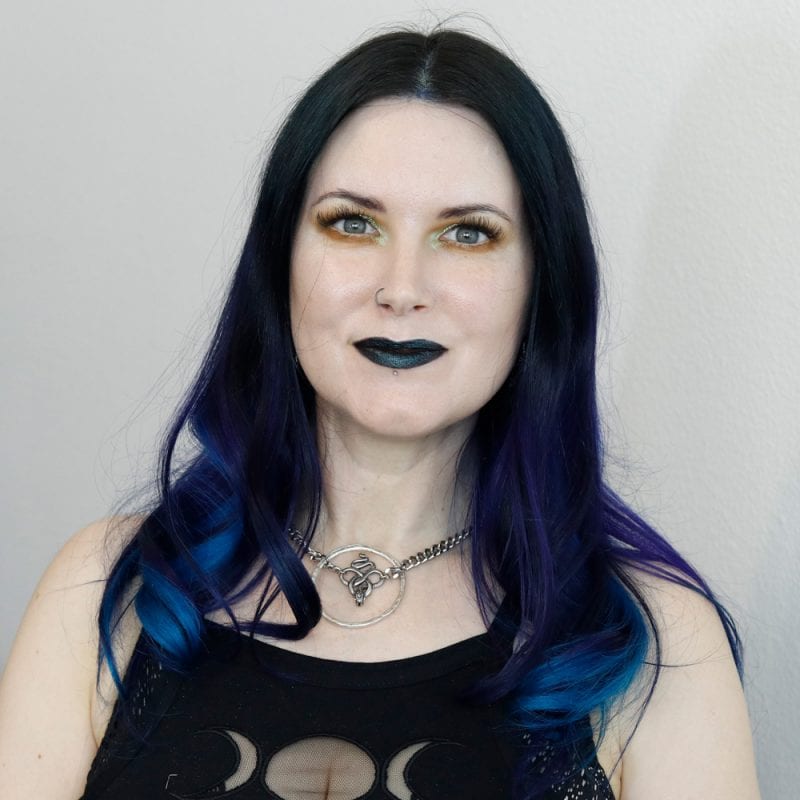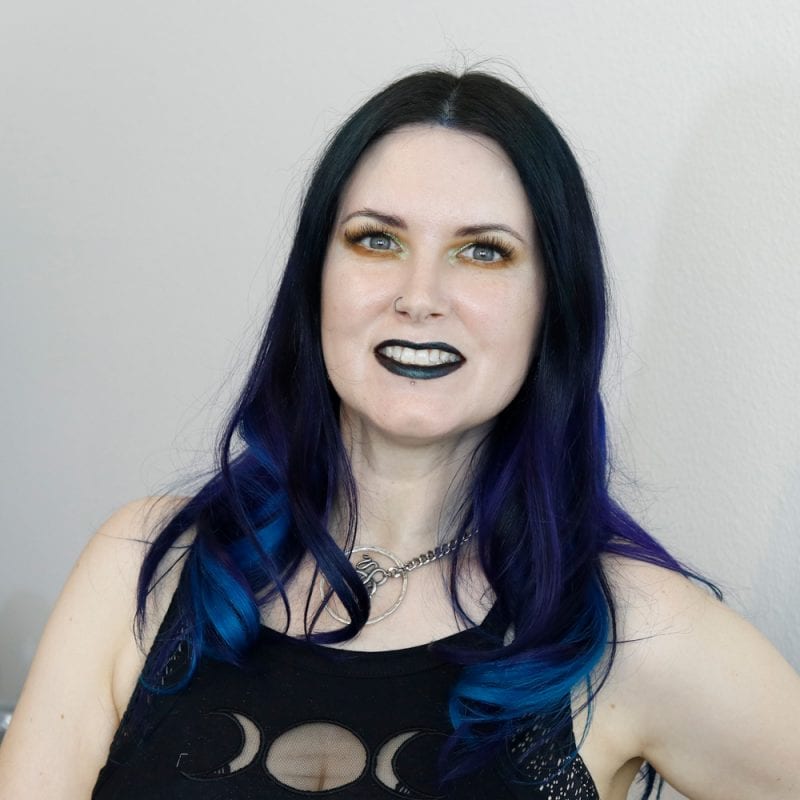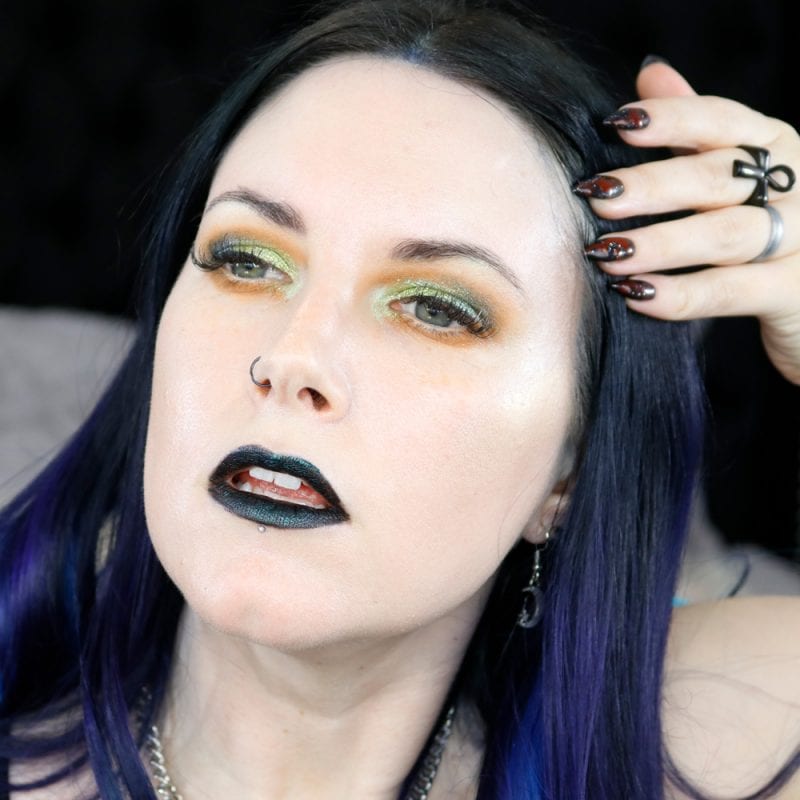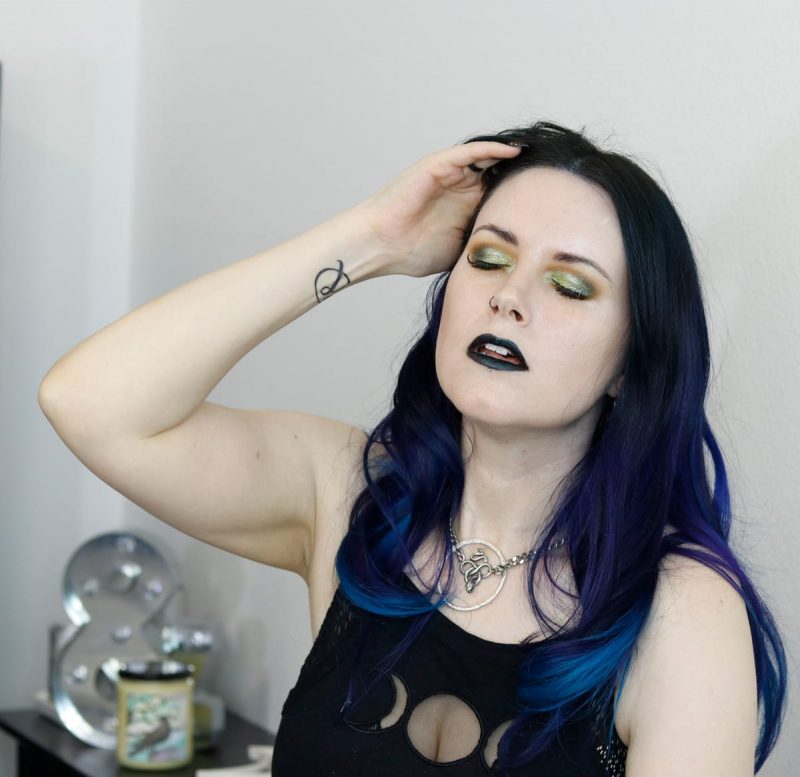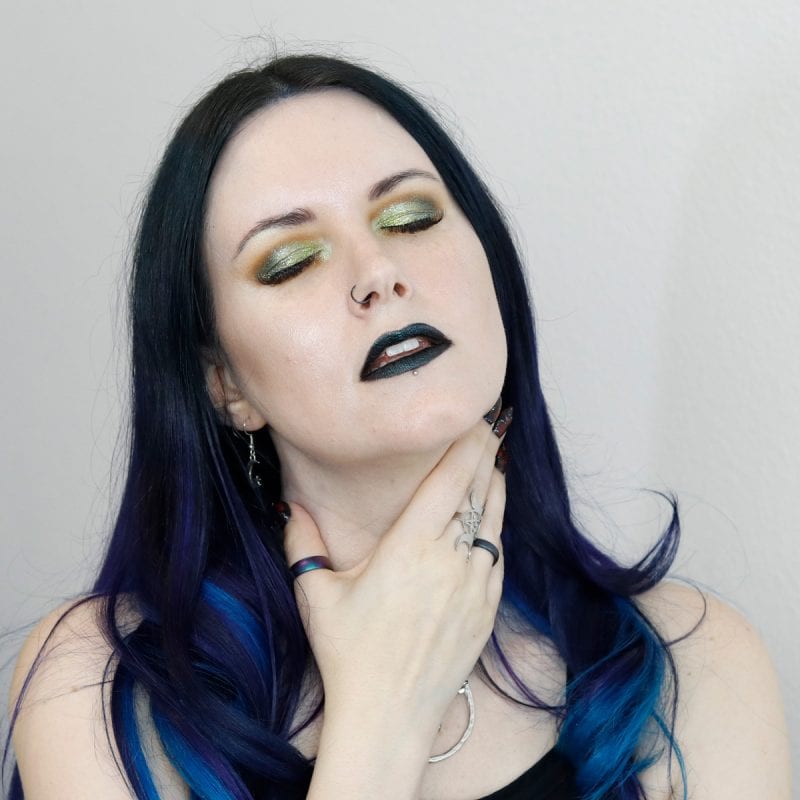 What I'm Wearing

I am in love with this outfit! My ripped leggings go with everything!
Fashion
ReStyle Triple Goddess Top
Open the Cellar Door Medusa Choker
Black Ripped Leggings
Kreepsville 666 Bat Belt
Taos Crave Combat Boots 
Enso Mermaid Rings
Oura Fitness Tracker Ring
Killstar Trinity Ring
Lashes
Lash Extensions by Thisha at Polished Lash Spa
Nails
Kiara Sky by Nail Queen Diamond. See my nails up close!
Hair
Pulp Riot Noir, Jam & Nirvana hair by Cliff at iStyle
Eyes
Urban Decay Primer Potion in Sin
Cozzette Essential Powder in C1 (v)
Black Moon Worm (Orb of Light Palette) – crease, lid, lower lid (v)
Black Moon E.T. – lid and inner v (v)
Black Moon Hydrogen – lid and lower crease (v)
theBalm Schwing Liner – upper lash line
Black Moon New (Orb of Light Palette) – blend out edges (v)
Black Moon Black (Orb of Light Palette) – to contour the eye (v)
Idun Minerals Dark Perfect Brows (v)
Urban Decay Walk of Shame pencil – waterline
Face
Danessa Myricks Prism FX Lotion (v)
Osmosis CC Cream in Porcelain (v)
Nudestix Sculpting Stick in 1 (v)
Black Moon Shroom – blush (v)
Melt Cosmetics Shadowplay – highlight (v)
Black Moon Squid – highlight (v)
Black Moon Cold (Orb of Light Palette) – contour (v)
Lips
Tarte Blackberry lip pencil (v)
Black Moon Murmaider lipstick (v)
As you can tell, I really love Black Moon Cosmetics! Their liquid lipstick formula is one of my favorites. See my Black Moon Cosmetics Liquid Lipstick swatches!
I love how this one brand tutorial with Black Moon Cosmetics turned out. I took a color I was afraid of – mustard yellow – and turned it into a pretty look on my hooded eyes! I really feel like my blending looks great too. And I loved how well the eyeshadows layered and blended with the blue, green and black.
How do you feel about these weird colors together? I don't think mustard yellow is going to be my favorite any time soon but I'm pleased I can make them work on my hooded eyes.
The Best Hooded Eyes Makeup Book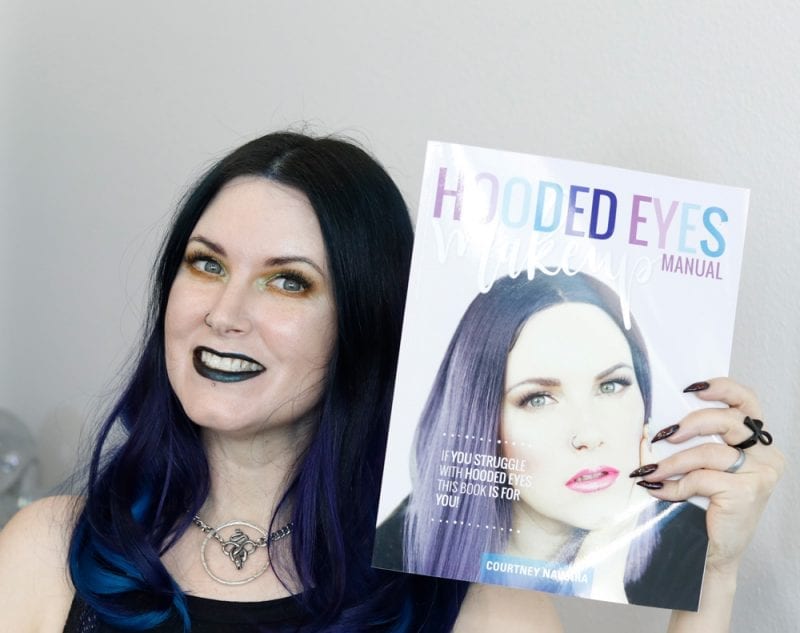 In case you're new, I wrote and published a book 2 months ago. It's the best hooded eyes makeup book out there! It has tips, tricks, and tutorials, a brush guide and more. Hooded Eyes Makeup Manual is perfect for any makeup lover! Get your copy today!