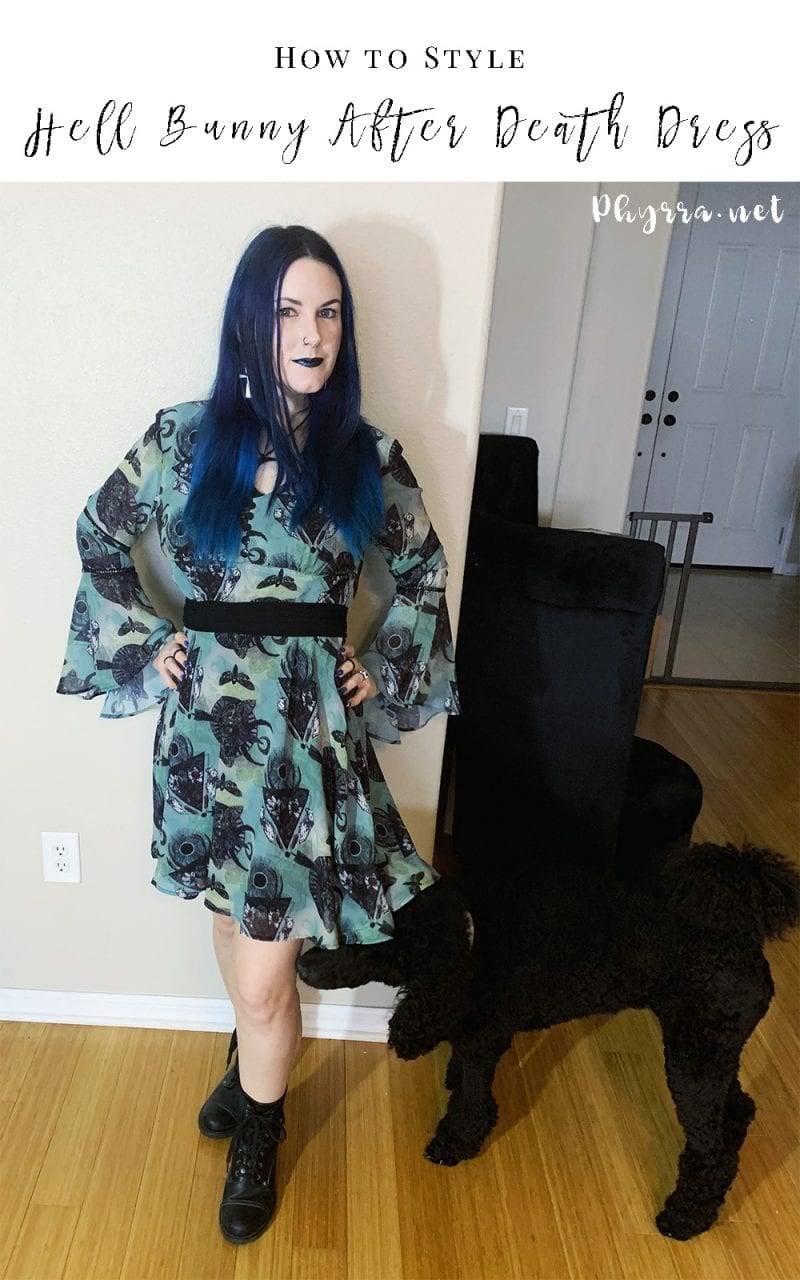 How to Style the Hell Bunny After Death Mini Dress
Hey friends! Hope your week is going well. Today I'm sharing how to style the Hell Bunny After Death Mini Dress with you. It's a gorgeous watery blue-green-teal dress with skull, moth and stag print. I'm OBSESSED with this pattern! I also have the matching leggings (see how I style the After Death leggings here) and blouse (see what I wore with the After Death blouse).
Gothic Music Inspiration
Need help understanding what is goth? Start with gothic music like the Sisters of Mercy, Bauhaus, Joy Division, Collide or the Crüxshadows. Check out my gothic music playlist for more! You may find Voltaire's book, What is Goth? helpful. And there's always Jillian's Gothic Charm School!
Gnostic Mass
Have you ever been to a gnostic mass? Last Sunday my friends and I went to the Serpent & Lion Ordo Templi Orientis. This is how I styled my Hell Bunny After Death mini dress for mass. If you've never heard of OTO (Ordo Templi Orientis), it's a spiritual religion that reads as a mix of Gnostic Catholic Church and magick. It was founded by Aleister Crowley. It's recognized officially as a religious organization in the USA. No, it's not Satanic or anti-Christian.
It was very interesting to witness a mass, as well as confirmations to the church. There are so many tiny little things that stood out to me as being a part of organized religion, which I'm not a fan of. I urge you to try new things (even if you don't know if you'll like them) to open your mind to new experiences and unique people.
Cruelty-free Makeup Inspiration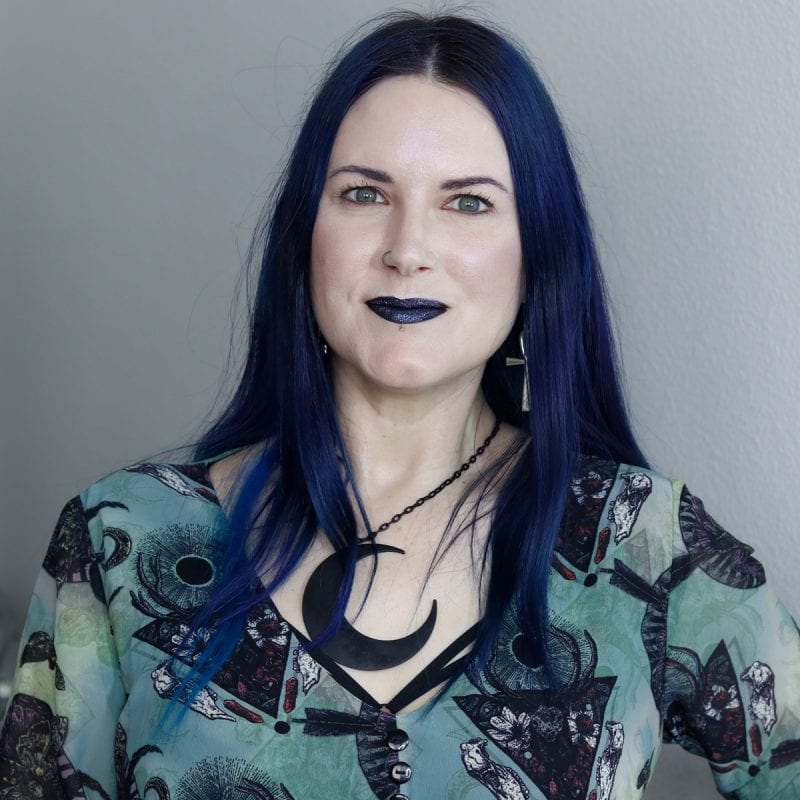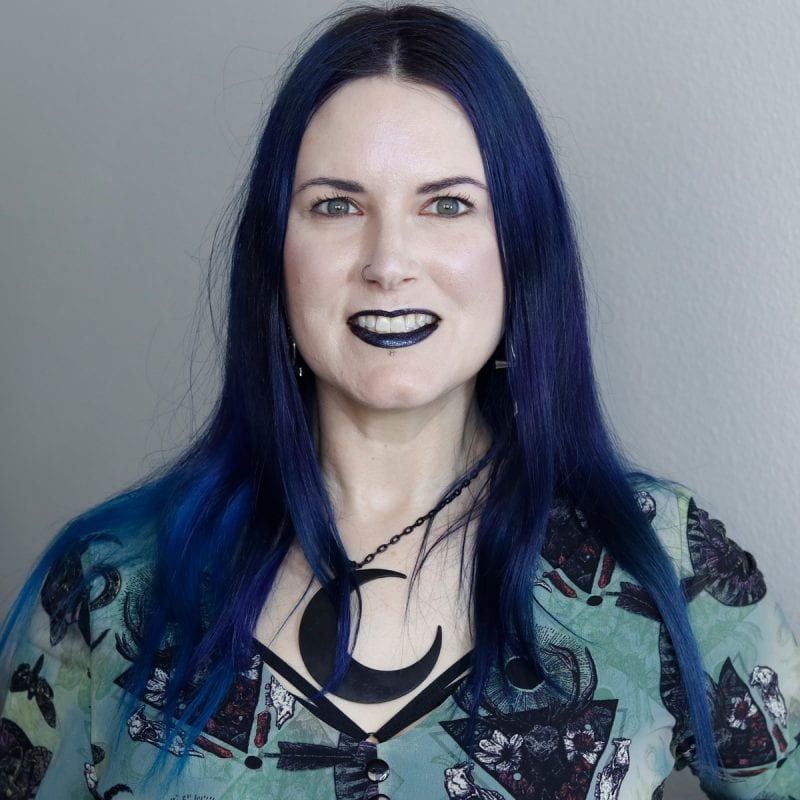 I did very minimal makeup with my green gothic witch dress outfit. You can see how my Elomi Sachi Bra shows through the top. I literally have been unable to find any bra that is my size 32J US / 32GG UK that is low cut enough for the majority of my tops, so I've decided to embrace it and always wear something strappy like this.
Eyes
Urban Decay Brow Primer
Pixi Soft Black Brow Duo
Tarte Burgundy Liquid Eyeliner (LE, discontinued)
Tarte Burgundy Pencil Eyeliner (LE, discontinued)
Smashbox Super Fan Mascara
Face
Danessa Myricks Prism FX Lotion
Smashbox Hydrating Foundation in .1
Glamour Doll Eyes Skeletina – contour (LE, discontinued)
TheBalm Balm Beach – blush
Black Moon Catshark – highlighter (LOTS!)
Ofra Makeup Setting Spray
Lips
Urban Decay Perversion Lip Pencil
Lime Crime Black Unicorn Diamond Crusher
Hell Bunny After Death Mini Dress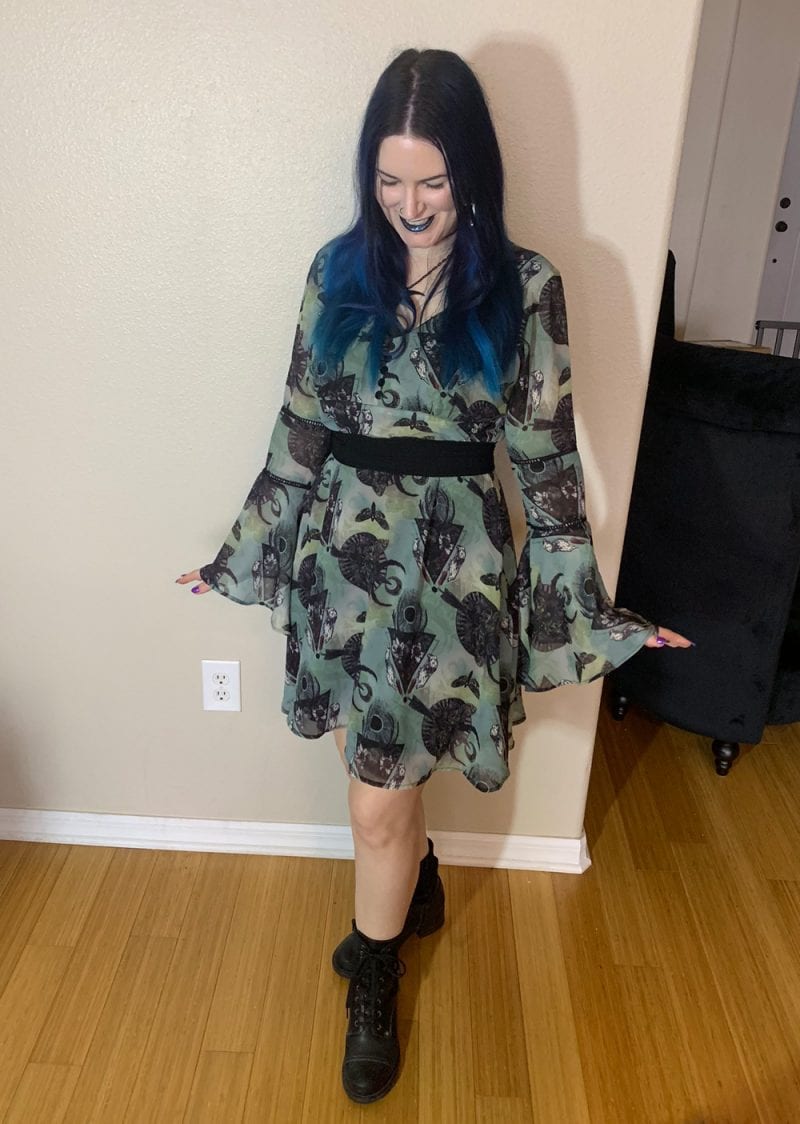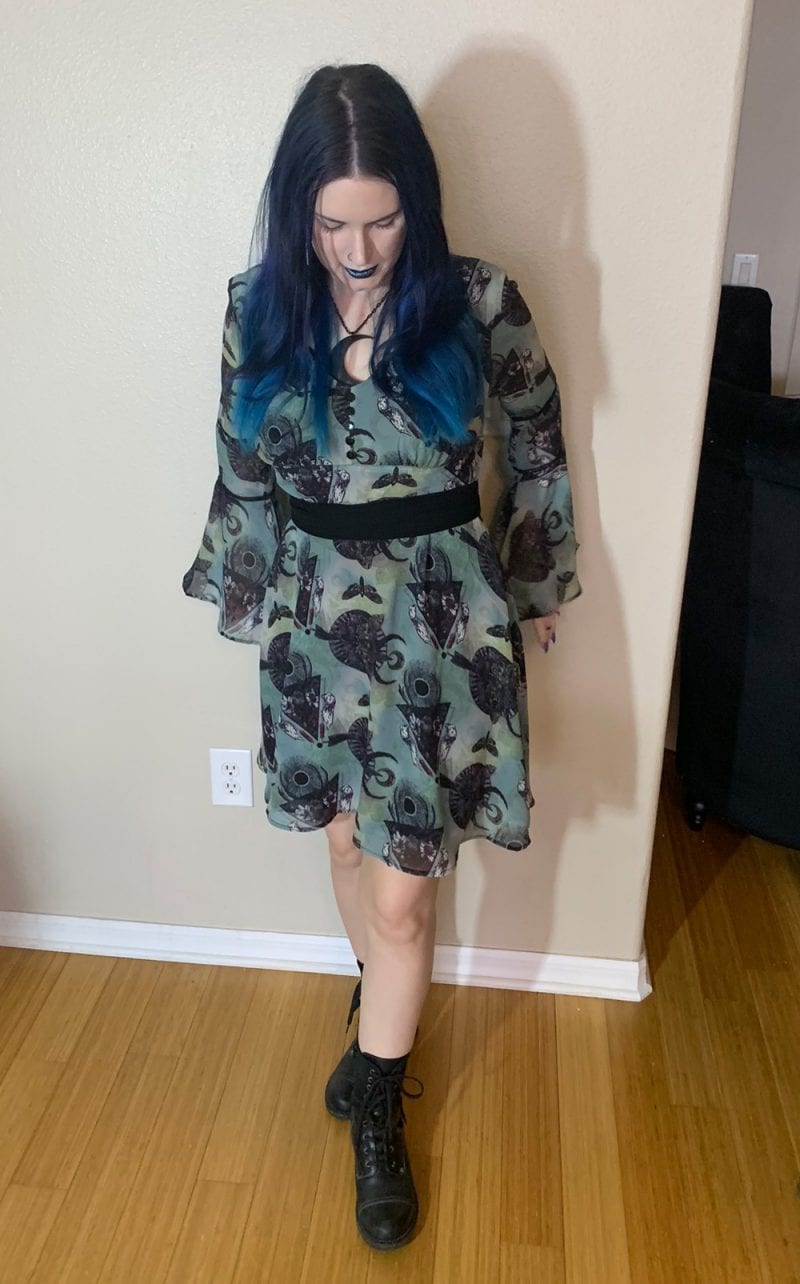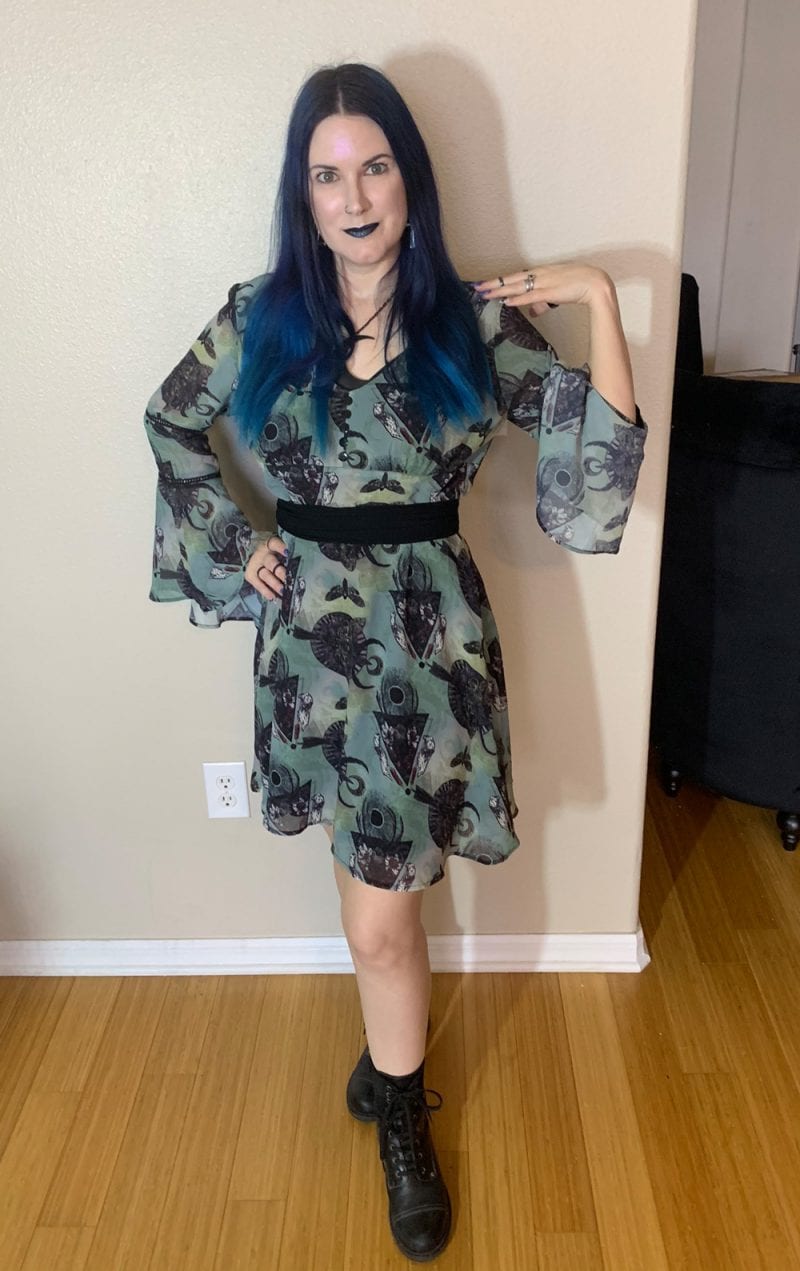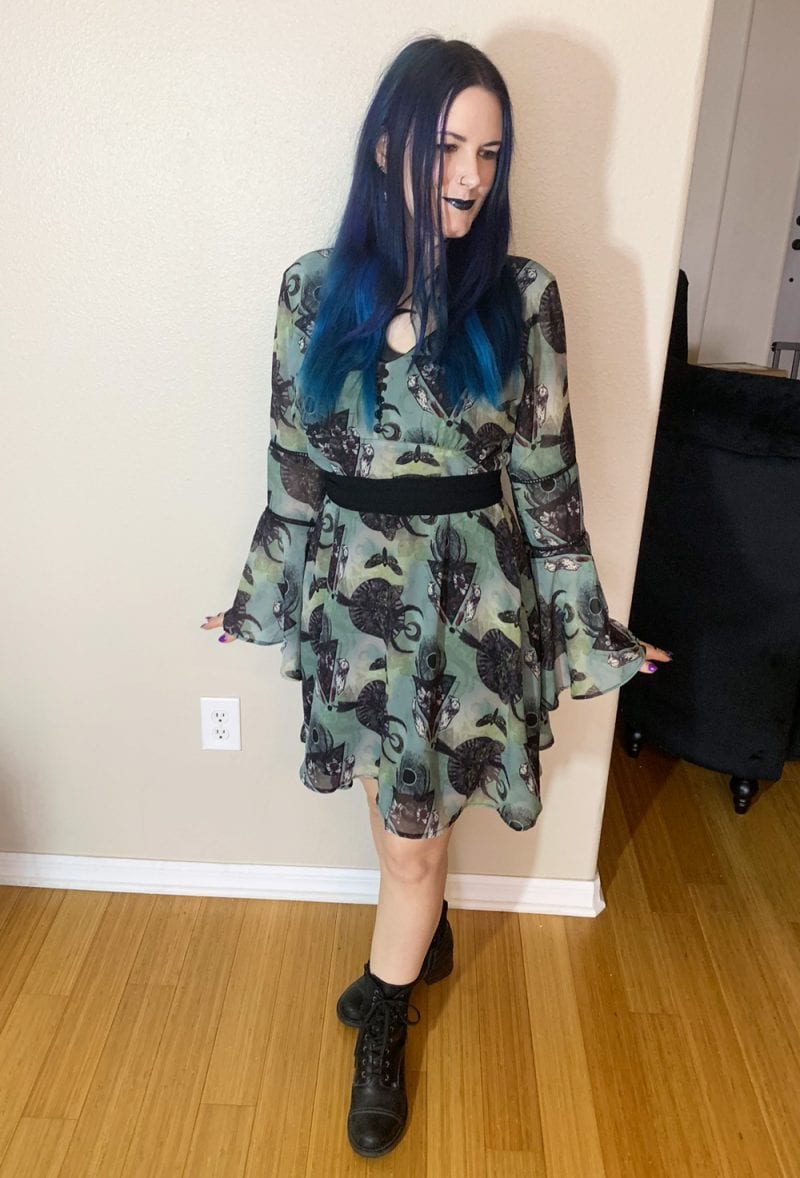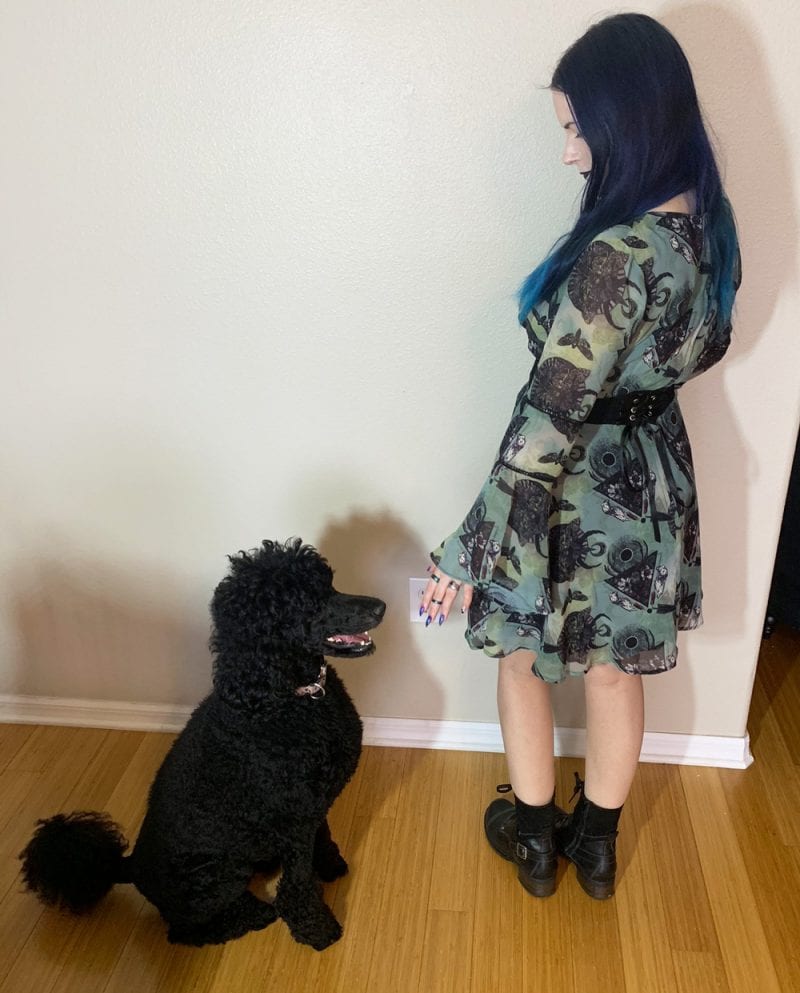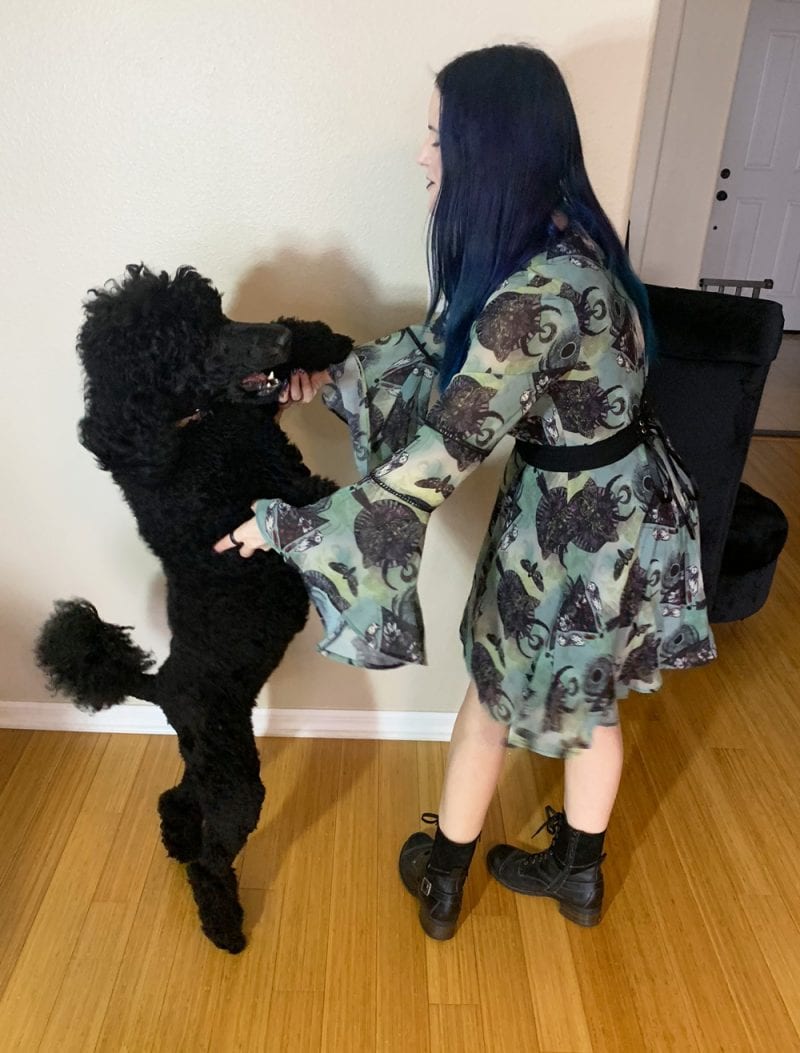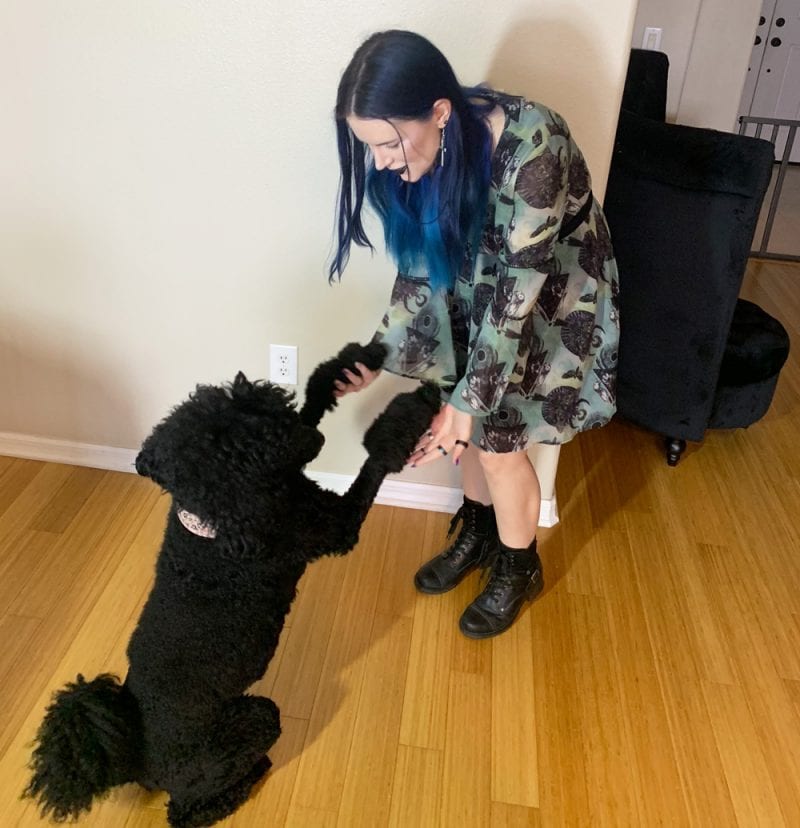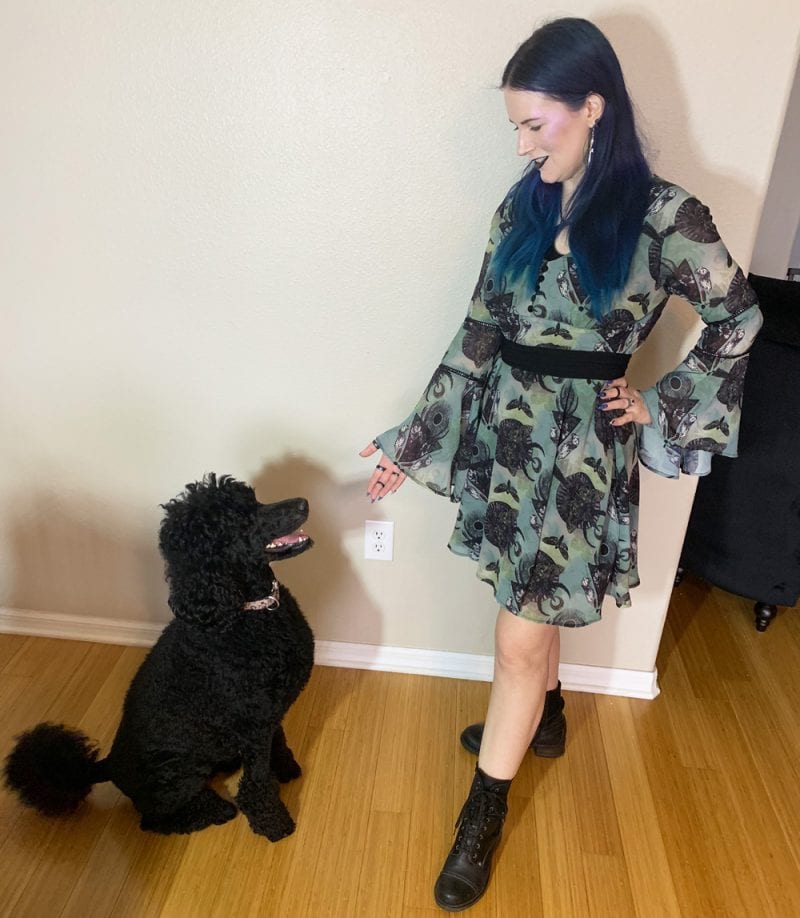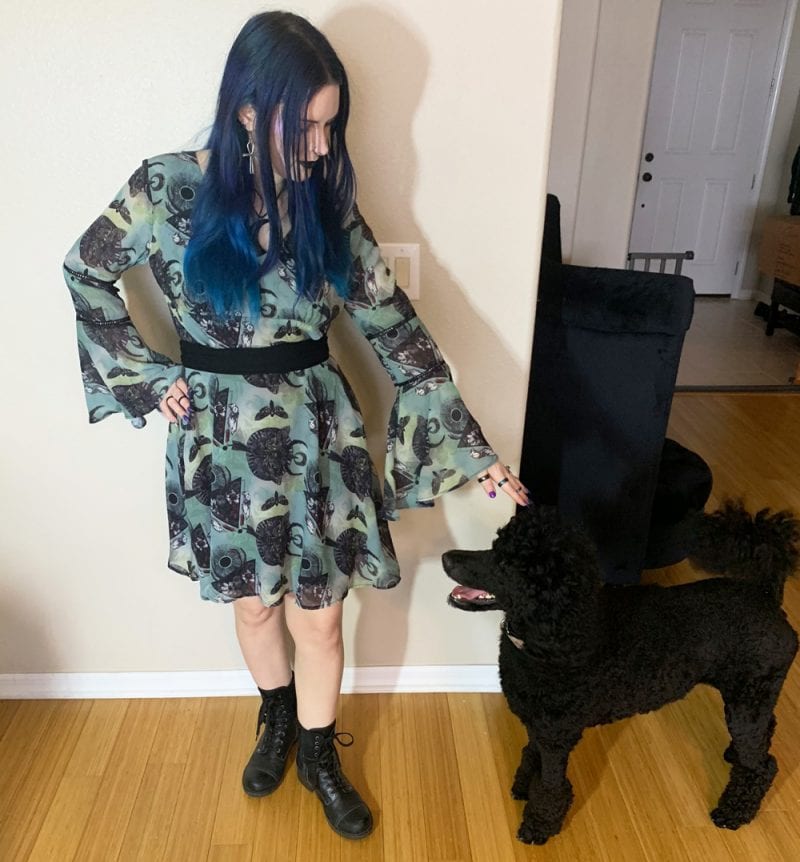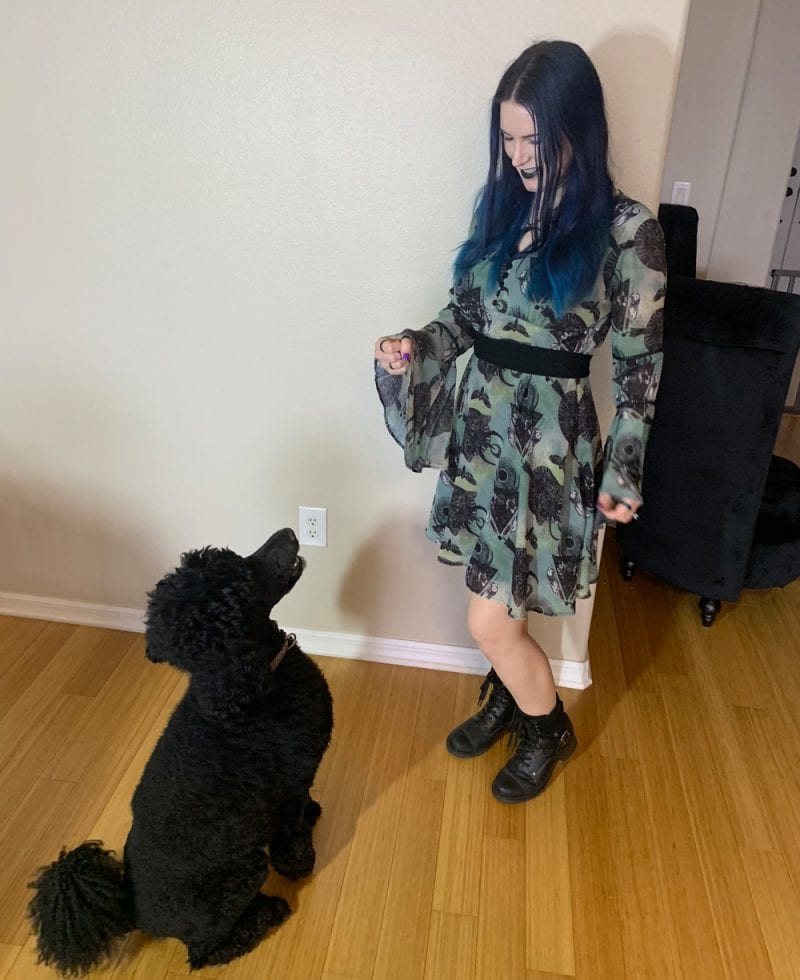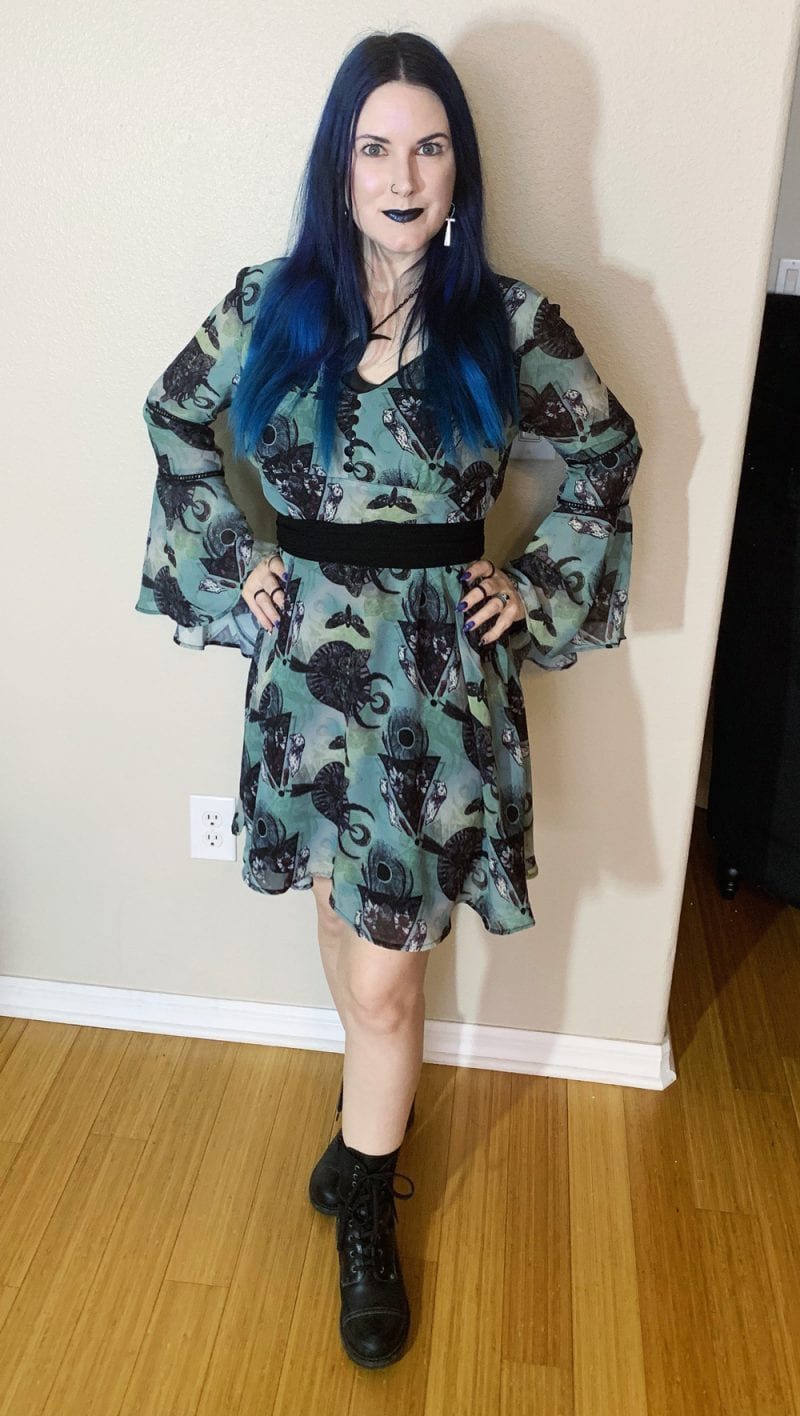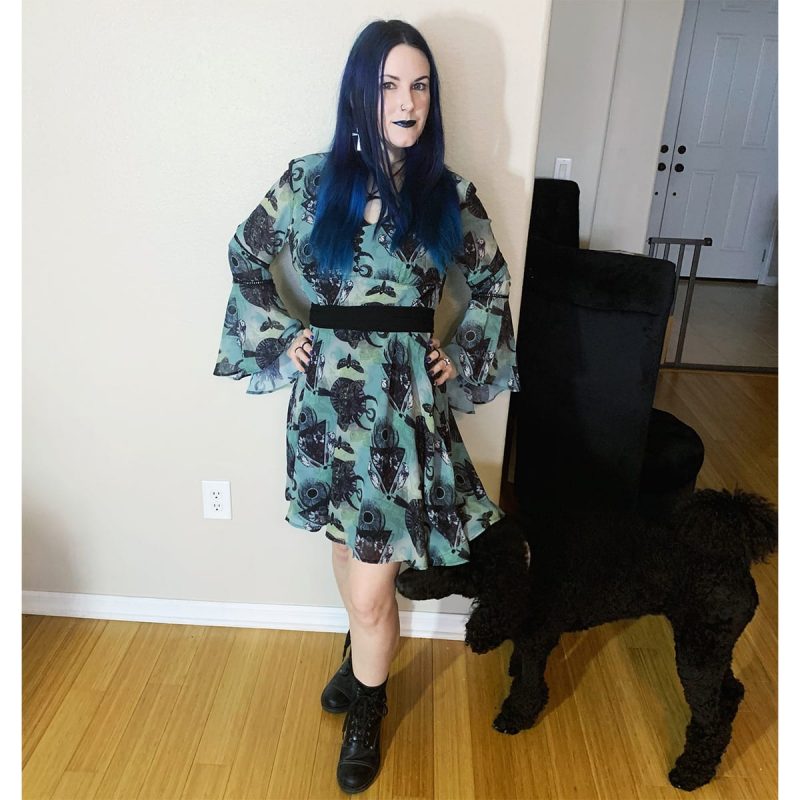 Dress– Hell Bunny After Death Mini Dress
Bra – Elomi Sachi Bra 
Belt – Handmade Chiffon Corset Belt
Shoes – Taos Crave Boots
Earrings – Silver Ankh Earrings
Earrings – Betsey Johnson Black Moon Earrings
Rings – Enso Mermaid Rings, Black Pearl Ring, Silver Ring
Thumb Ring – Oura Ring
Necklace – Black Moon Necklace
Taos Crave Boots
What more can I really say about my Taos Crave Boots that you haven't heard? You already know that they are 'the one' for me. They're my daily wear comfortable boots and they go with everything. I rave about the boots more in my Girl's Night Out.
Elomi Sachi Bra
Shopping for bras when you're my size – 32J US / 32GG UK – is a pain in the butt! I'm currently 28 inches around my rib cage and 38 inches around the fullest part of my breasts. The Elomi Sachi Bra has been the most comfortable bra that I've found so far. I love how the straps look when they peek through my top. If you are struggling to find bras with large cup sizes and smaller bands, this is a good one.  The Elomi Plunge is also very nice. Read more about bra size changes here!
Handmde Chiffon Belt
As you know, I shop on Etsy a lot, and I often buy pieces that are custom made to my size. I bought a tunic that came with this belt and I wear it more than the tunic!
Earrings
I swear these simple Silver Ankh Earrings are my favorite earrings to wear lately because they go with anything and they're easy to see through my hair. With having such long hair I feel like I need wear something this size to be visible. I also love my Betsey Johnson Black Moon Earrings, which I wear in my second ear  hole. Both of my ears are pierced three times on each side and I have two additional piercings on my right ear. For all the rest of the holes I wear hoops.
Black Moon Necklace
I rarely get a chance to wear my Black Moon Necklace. The big moon is such a statement piece. Since I normally wear more black than any one color, it only gets worn if I'm wearing a lighter colored outfit like this.
Enso Rings
My gorgeous Enso Mermaid Rings have become a wardrobe staple. I have 5 of them (2 midi, 3 large) because I love how they look. they have a black base and flash between purple and blue. They're stunning and very comfortable to wear. I also have an Enso Silver Ring that I wear, as well as an Enso Black Pearl Ring.
Oura Ring
I love my Oura Ring! It's part  sleep tracker, part fitness tracker and part biohacking device. It tracks your activities, calories, and sleep to help you optimize your daily activities. I have never regretted investing in fitness tracking devices, and I'm glad I found this one. The Oura Ring is superior to my Fitbit and Bellabeat. Just the fact that it's waterproof and you never have to take it off (except to charge it), makes it heads and tails better than trackers currently available.
Hell Bunny After Death Mini Dress
Forever grateful for finding the Hell Bunny brand because their prints are gorgeous and unlike anything I've worn in the past. I used to avoid big prints but I adore their designs and I love how they look on me. This After Death Print, which has skulls, stags and moths, is my favorite from the company so far. I had ordered this dress in a size L but I could definitely size down to a M and I still need to get the dress taken in at the sides. Despite that, with the right belt, I love the After Death Mini Dress on me.
What do you think of the Hell Bunny After Death mini dress? Where would you wear it? How would you style it?