Gunas Luxury Handbag Rant
Gunas Luxury Handbag Rant!  How long should a luxury handbag last without tearing? I had my Gunas Naomi luxury vegan handbag for 15 months before it ripped at the clasp. I rotate between at least 5 bags (the Gunas Naomi, 2 different Gunas Koi, Gunas Madison, and Gunas Rockstar) so that I'm never stressing one bag too much. I'm also very gentle on my handbags. I was shocked to have my luxury handbag rip, but even more shocked to find out that Gunas doesn't offer a warranty, unlike companies such as Coach, Kate Spade and Dooney and Bourke. After spending over $500 with Gunas, I won't be purchasing from them again. I share all the sordid details in this video.
PR + purchased by me.
Gunas Luxury Handbag Rant Look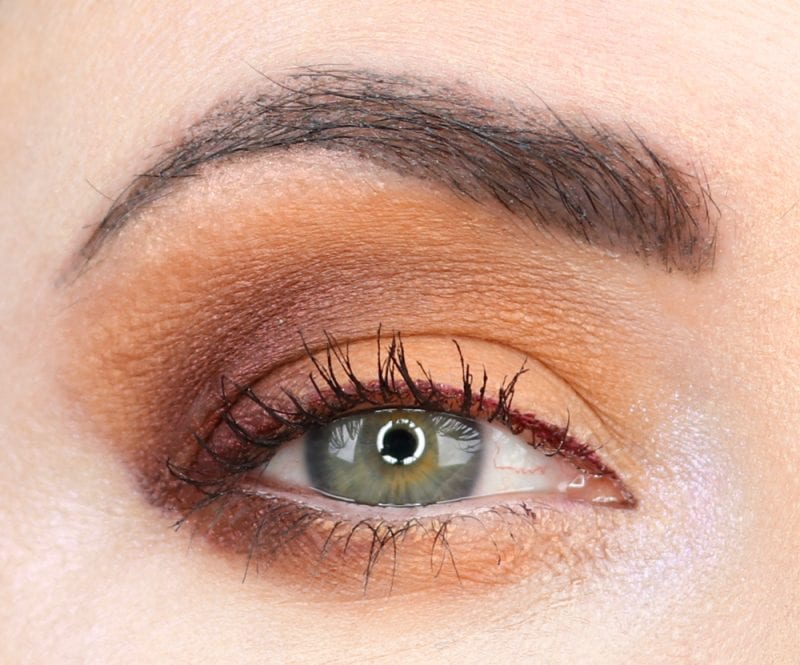 I used Too Faced Peach Tea as my base shade, blended out with Too Faced Peach Butter. I contoured the eye with Melt Meanstreak. I added depth to the  outer crease and outer lid with Melt She's in Parties. I highlighted under the eyebrow with Melt Skeleton Kiss. I highlighted at the inner corner with Juvia's Place Tart. I lined the upper lashline with LASplash Medusa. I used Sigma Final Touch on the lower waterline. My eyes were watering a ton so the color wore off at the outer corner of my eye.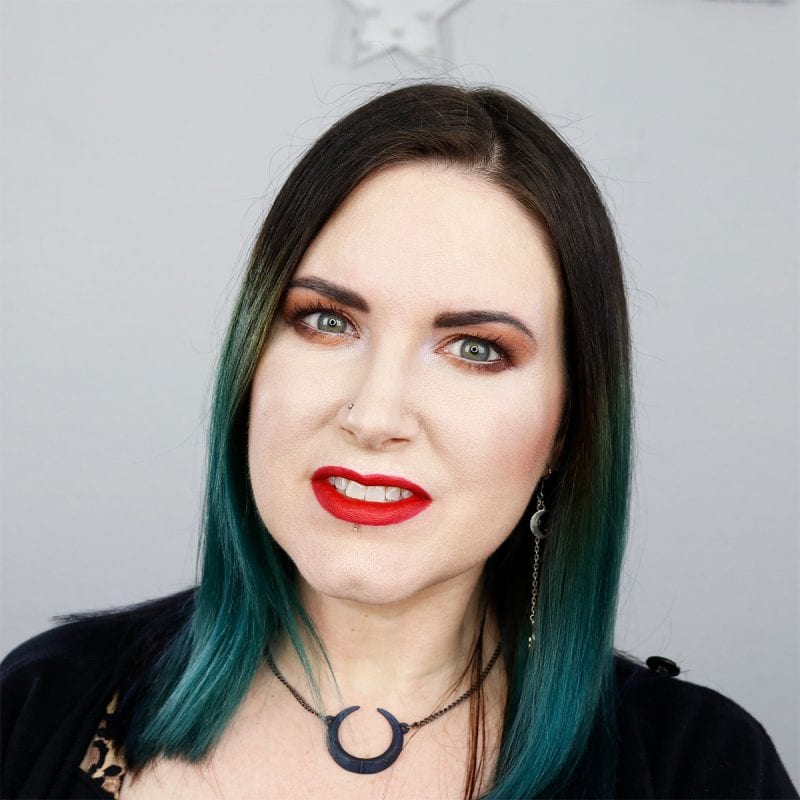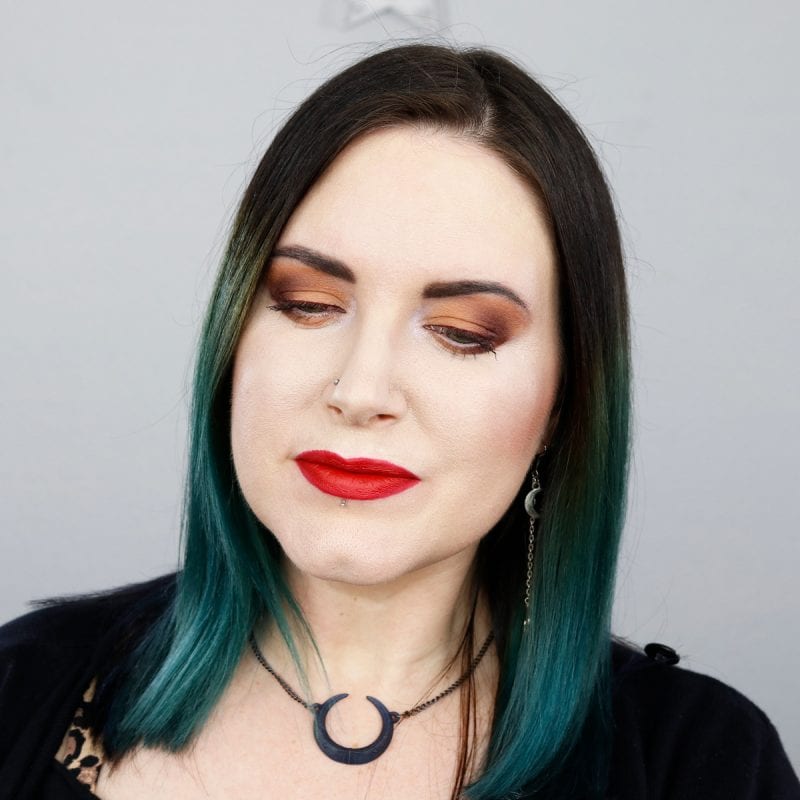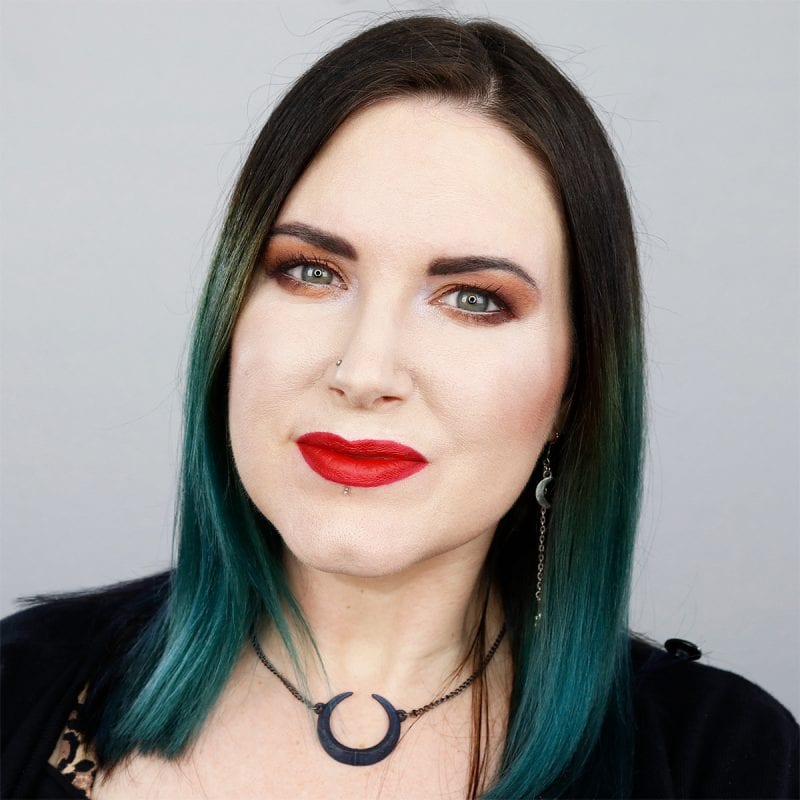 Eyes
Too Faced Shadow Insurance
Too Faced Just Peachy Mattes Palette
Melt She's in Parties Stack
LASplash Medusa liner
Sigma Final Touch – lower waterline
Eyeko Black Magic Mascara
Colour Pop Jet Set Black brow pencil
Glossier Boy Brow in Black
Face
Too Faced Hangover Primer
LASplash HD Creme Foundation in Sesame
Laura Geller Balance-n-Brighten Foundation in Porcelain
Kat Von D Lock-It Concealer in L1
Colour Pop Aphrodisiac – blush
Melt Skeleton Kiss (She's in Parties Stack) – highlight
Juvia's Place Tart (Douce Palette) – highlight
Lips
Urban Decay Bad Blood lip pencil
Urban Decay Doubt vice lipstick
Gunas Luxury Handbag Reviews
Gunas Luxury Handbag Rant Rip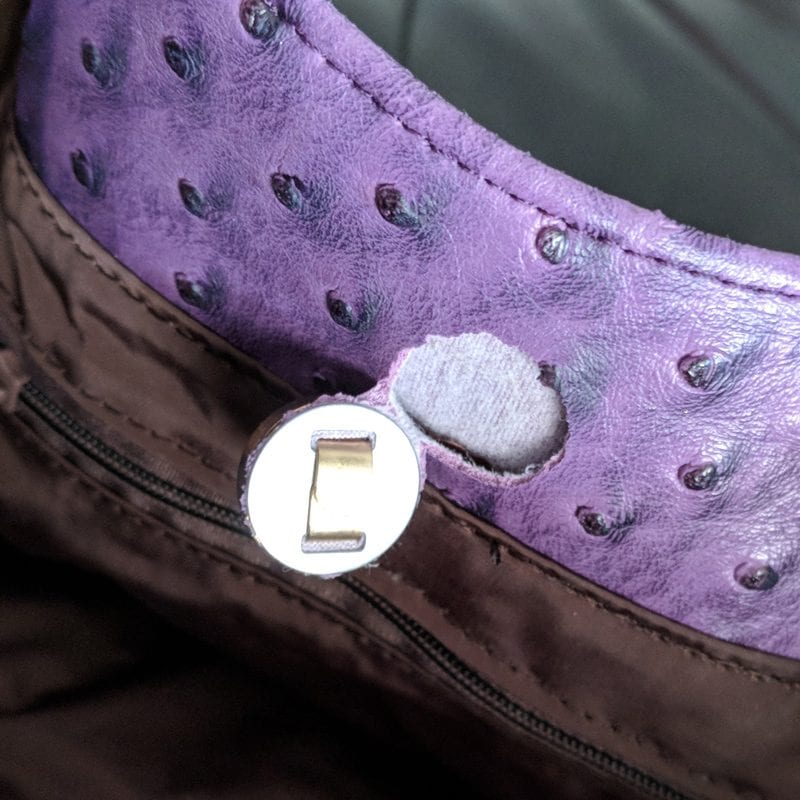 Here's my Gunas Naomi 'luxury' handbag where it ripped at the clasp.  You can see that it was not properly reinforced. It literally only ripped where the button clasp was located. So upsetting. It's my opinion that it's a design flaw or manufacturing defect, aka it was not put together properly.
Gunas Owner's Response on Facebook Screenshots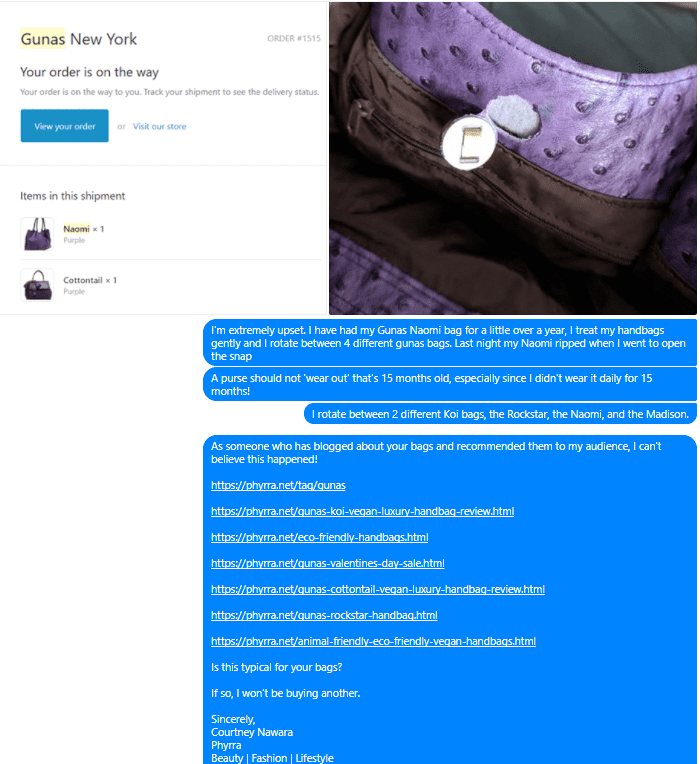 (my first message that I sent complete with my order # and the ripped bag)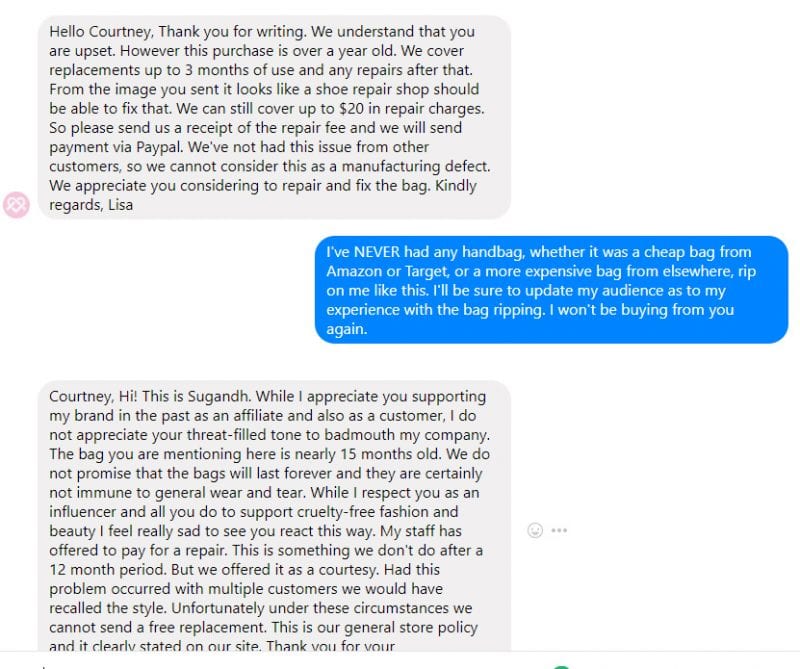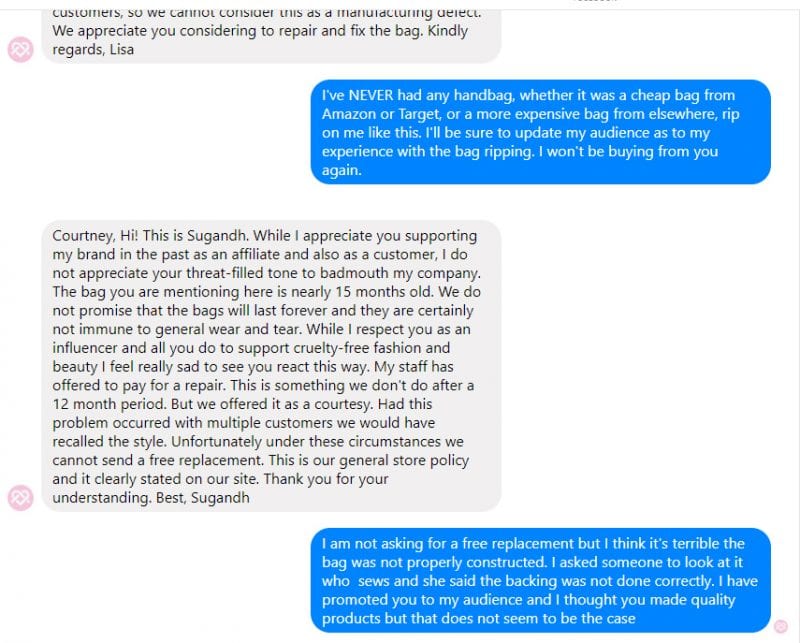 Gunas Luxury Handbag Rant Video
I'm sure you can tell in the photos and video that I got my hair trimmed on Thursday. All the dead ends are gone. I'm transitioning to a blunt cut, but Cliff only cut off about two inches of hair because I didn't want to go as short as my shortest layer.
Phaedra had surgery on Thursday too. She had a cyst removed and we're waiting to find out if it was benign or malignant. I hate waiting to find out.
I'm honestly so disappointed in my experience with Gunas. I'm very disillusioned about vegan handbags at this point. From the research I've done, I feel like leather is more eco-friendly than vegan handbags for a few reasons, but namely that leather lasts longer, is more durable, and won't end up in a landfill in a year or two. I want eco-friendly that's a good value that will last, not something that will break so soon. My friend Jessica from English Lass in LA wrote a little bit about leather in her Love It or Leave It article.
So what do you think of my Gunas Luxury Handbag Rant? How long should a luxury handbag last without tearing?