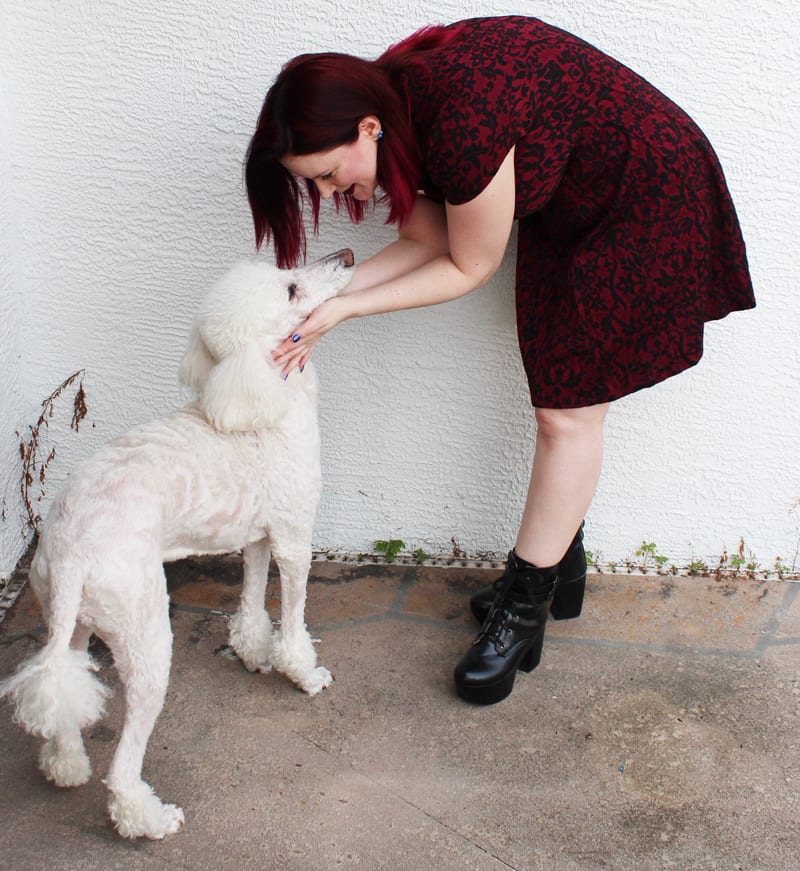 I wanted to share some of my Fall Fashion with you. I go back and forth between wanting to talk about fashion and avoiding it because I feel like I'm an awkward size and I'm not always comfortable with myself. I wear size 10 to 12 petites (I'm 5'4″, 154 lbs, 36DDD), depending on the brand. I'm not quite big enough for plus size, but I'm at the end of 'normal' sizing for most brands. So in an effort to feel more comfortable with myself, I thought I'd share today.
Update January 2018 – I do not recommend Gunas! Click Here to find out why here!
Fall Fashion
I've been an advocate of health at every size for years, but I've also spent a fair amount of time hating my body because I 'feel' fat. I've worked out for 2.5 years lifting weights. In that time my weight has gone from 150 all the way up to 168 and then down to 154.
I've changed my eating habits. I quit Vanilla Coke Zero and caffeine. I quit soda on a daily basis, though occasionally I will have a lemon lime soda because I love the carbonation. I've been drinking lots and lots of water. These Live Infinitely Infuser Water Bottles have been life changing for me. I fill them up 3-4 times a day and I've been infusing my water with everything from lemons to gumdrop grapes to pineapple to strawberries.
I've made a ton of changes to improve my health, keeping the long-term goals of feeling better and being healthy in my mind. I'm more confident and stronger; more self-reliant. But sometimes, I get caught up in the day to day of feeling like I'm not doing things right because I'm not at my goal weight. So I have to remind myself that I'm making progress with my long-term goals, even if I'm not where I want to be weight wise.
Eco Friendly Fashion on Etsy
I don't typically like a lot of what I see in department stores, as I feel like it's hard to find things that I like that fit my body. For the past several years I've gotten clothing custom made from Etsy because I felt like it was the only place to find clothes that catered to my taste and build.
Stores like Herban Devi, Mo West Creations, Aurora Wear, Accentuates Clothing, KMK Designs, Deranged Designs, and the Kawaii Machine are ones I've shopped at. Herban Devi has gotten my business more than anyone else. They make insanely comfortable tops that I highly recommend.
While they're not on Etsy, I'm also a fan of PattyBoutik. They sell through Amazon. I've loved every single shirt I've ever bought from them and I highly recommend them.
Bunny Paige Handmade Jewelry
Wearing my Volcano necklace with a burgundy top by HerbanDevi.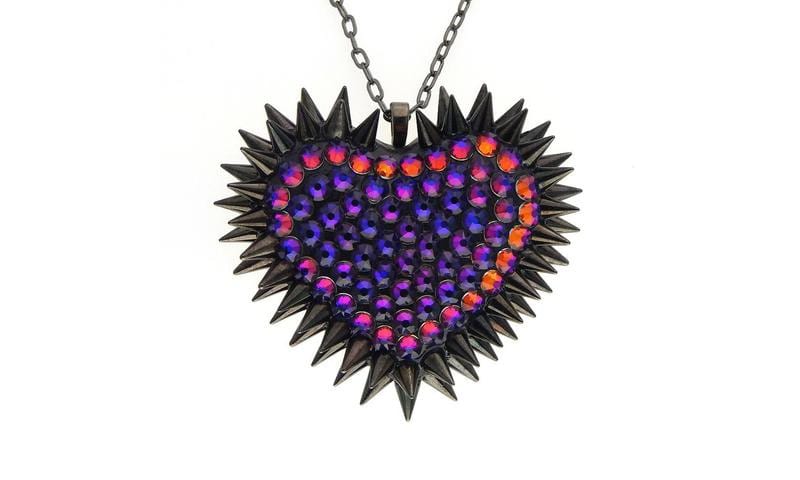 What all of the below pieces need is one of my Bunny Paige spiked heart necklaces. I was in a hurry to take these photos before I lost all the daylight so I forgot to put on my Volcano necklace. Volcano shifts through purple, red, orange, and yellow, making it perfect for Fall in my opinion. You can find this and other colors at BunnyPaige.com or Bunny Paige on Etsy.
Fall Fashion from JCPenney
A few weeks ago my friend Cin said that she'd gone into JCPenney to visit their Sephora and saw the Worthington Faux Leather Eyelet Hem Skirt and thought I'd love it. So she told me to check out JCPenney. I hadn't shopped there in quite a while. I was pleasantly surprised by what I saw in their petites section. I snapped up that faux leather skirt skirt, 2 dresses and another skirt. I got a really good deal on the 4 items from JCPenney. Including tax, I paid $111.24 and I got free shipping.
Here in Tampa, Florida the weather is just starting to cool off a bit. No more days of above 90 degrees. It's been as high as 88 and will hopefully be getting down to 60 soon. That means I might need a light jacket or an infinity scarf. I really love Fall weather.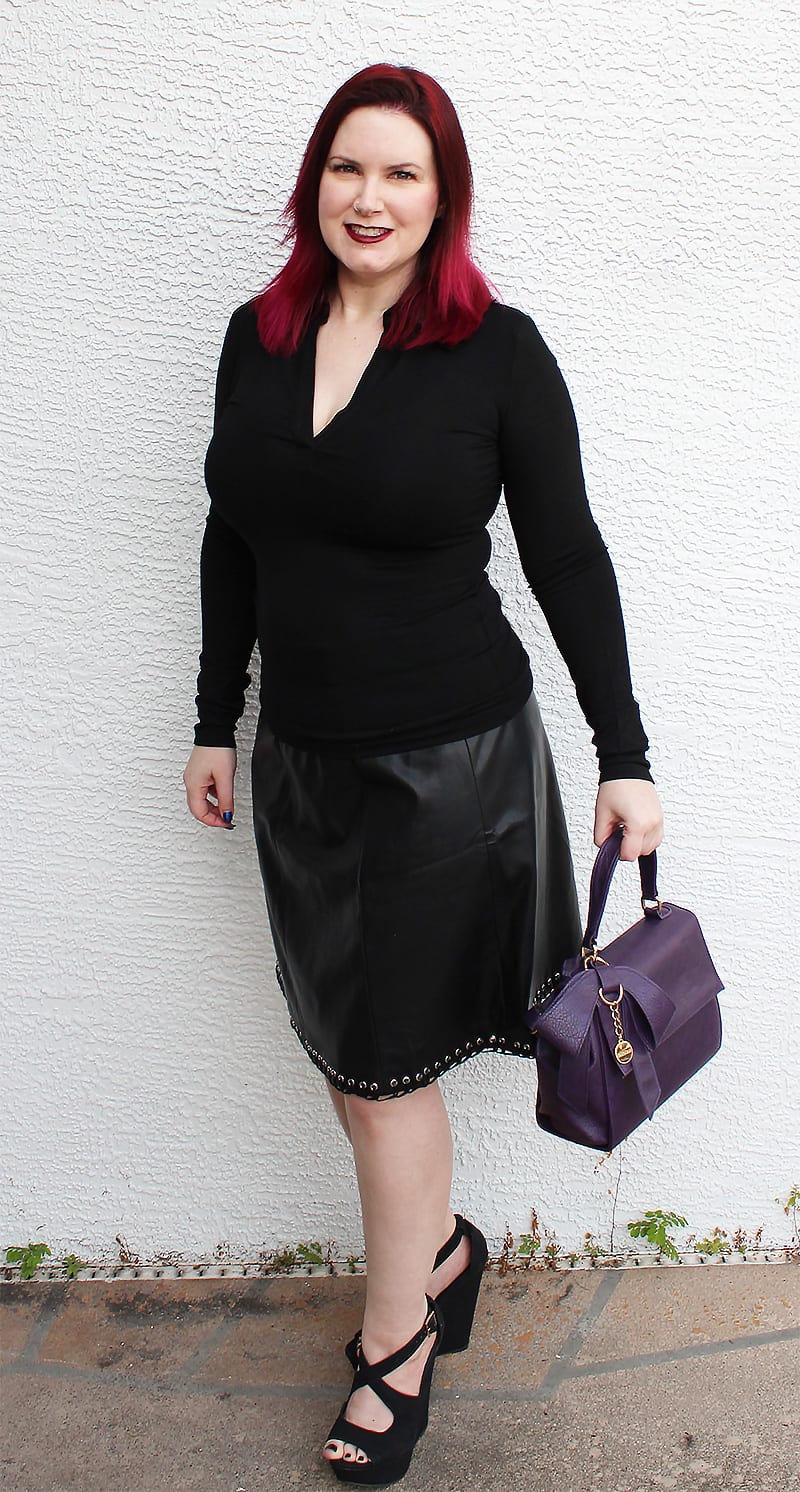 Worthington Faux Leather Skirt (size 10 tall) | Patty Boutik Long Sleeve Polo (medium) | Gunas Cottontail Handbag | Steve Madden Heels
I bought the faux leather skirt in a size 10 tall to get the length I wanted in the skirt. Normally I would buy a petite. I think it's a really cute skirt. If you live in a cooler climate, it would be perfect to pair with opaque tights and short chunky boots.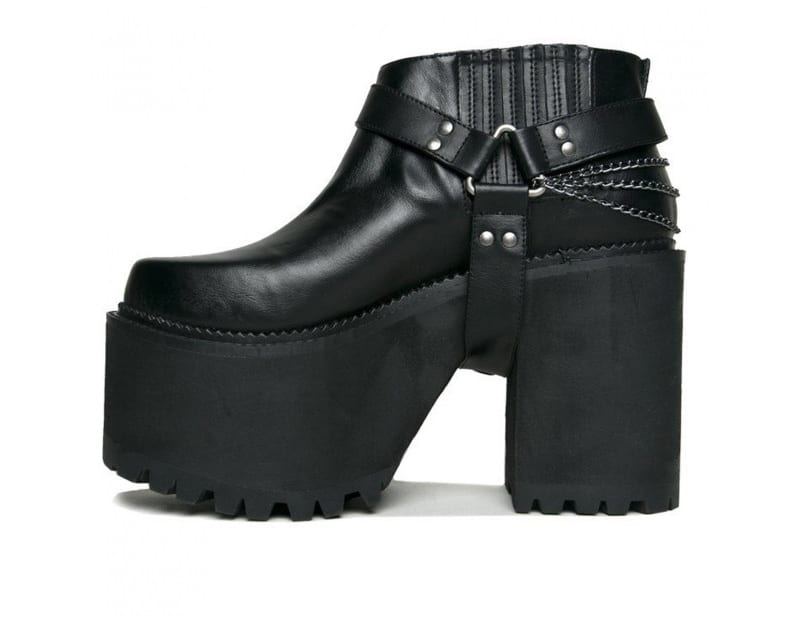 The Steve Madden shoes above aren't really comfortable for me, so I don't recommend them. You can probably find similar style platform sandals if you like them. I think these YRU Platform Boots are much cuter and I'm waiting for them to go on sale.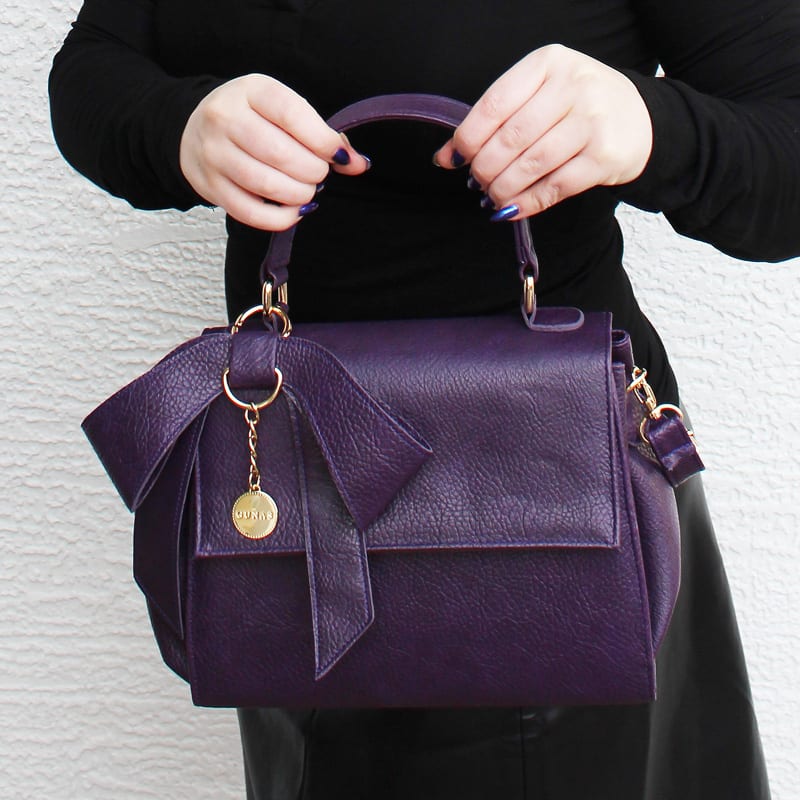 I'm in love with my Gunas Cottontail in Purple. It's such a cute structured bag! I picked it up during the Gunas Labor Day sale. This bag was originally $189, marked down to $75, and then I got an additional 20% off. For a bag that's 'small' compared to what I normally carry, it can hold a surprising amount of stuff! I can fit my makeup bag, kindle, wallet, and keys inside it. It also has a tight pocket on the back that I can slip my phone into.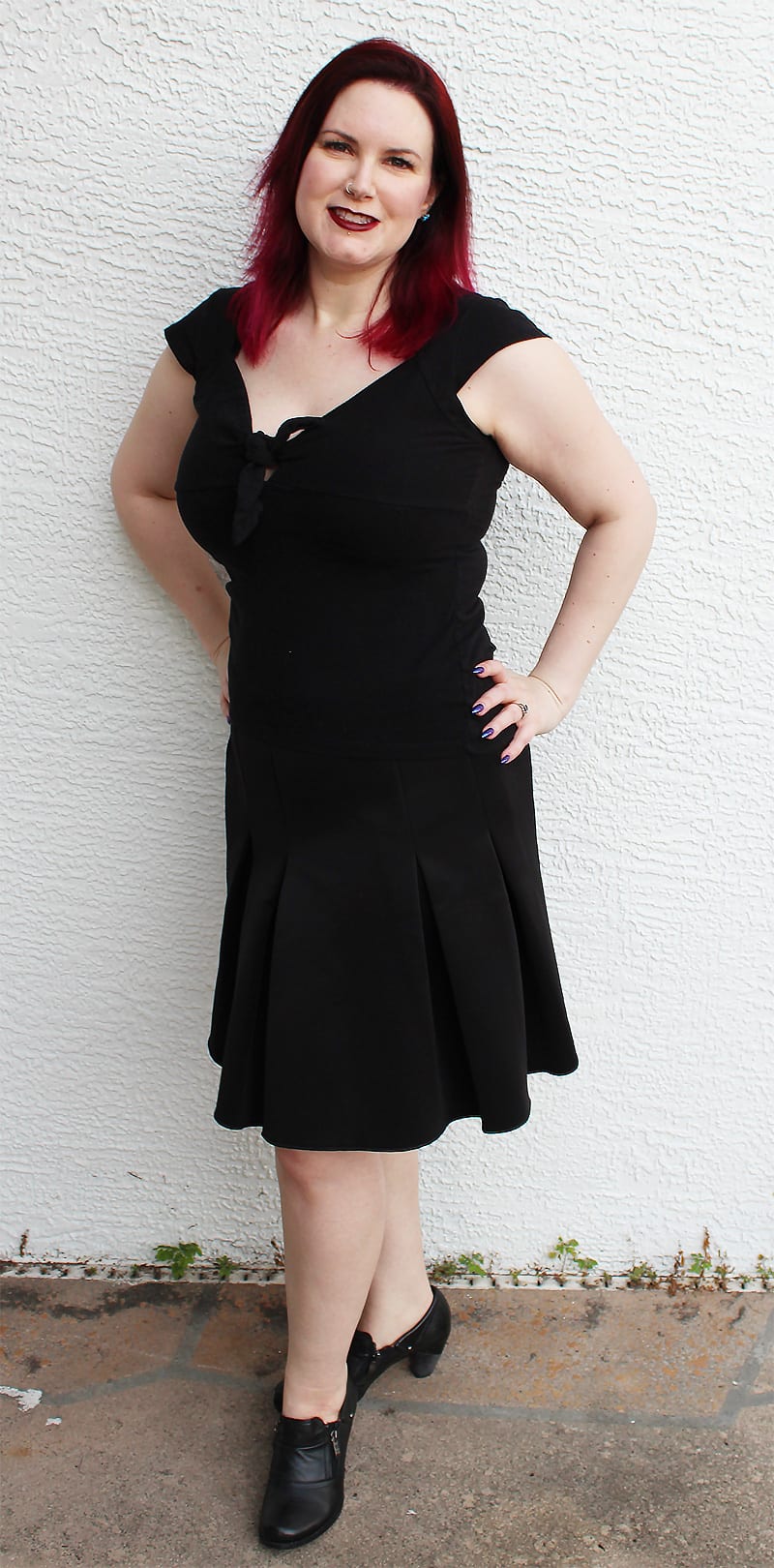 Worthington Circle Skirt (12 petite, sold out online, similar style) | Switchblade Stiletto Dame Top (large) | Spring Step Bach Pumps
This circle skirt was on clearance and they only had a 12 petite left, which I bought. I really probably needed a 10 petite, but it fits nicely, if a little lower than anticipated. I paired it with my dame top and pumps. This is what I wore out the other night when I had dinner with Heather from Crazy Beautiful Makeup.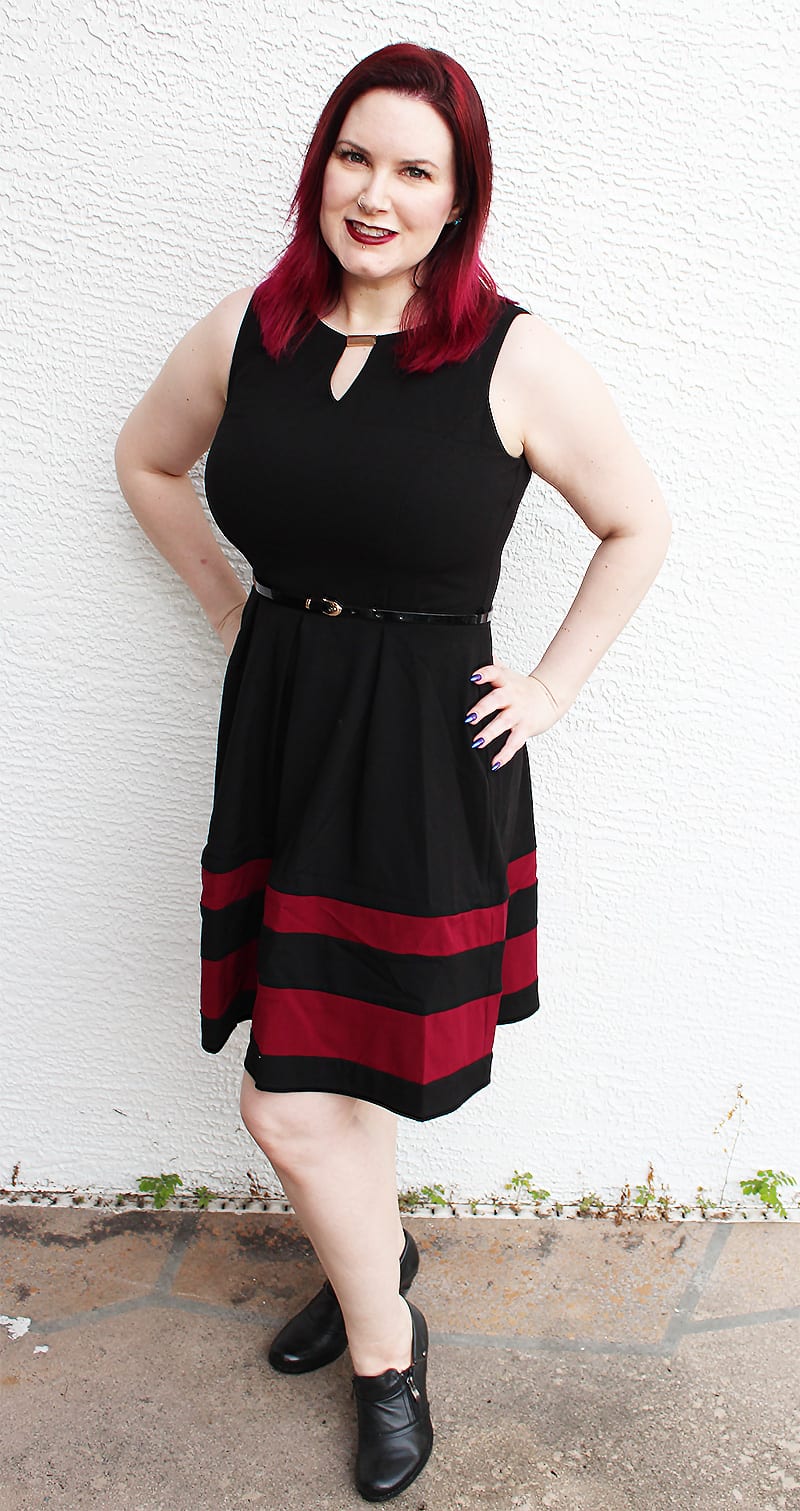 Alyx Colorblock Fit and Flare Dress (10 petite) |  Spring Step Bach Pumps
I've been burgundy obsessed since I dyed my hair red. When I saw this colorblock fit and flare dress I knew it had to be mine. It fits perfectly and I really love it.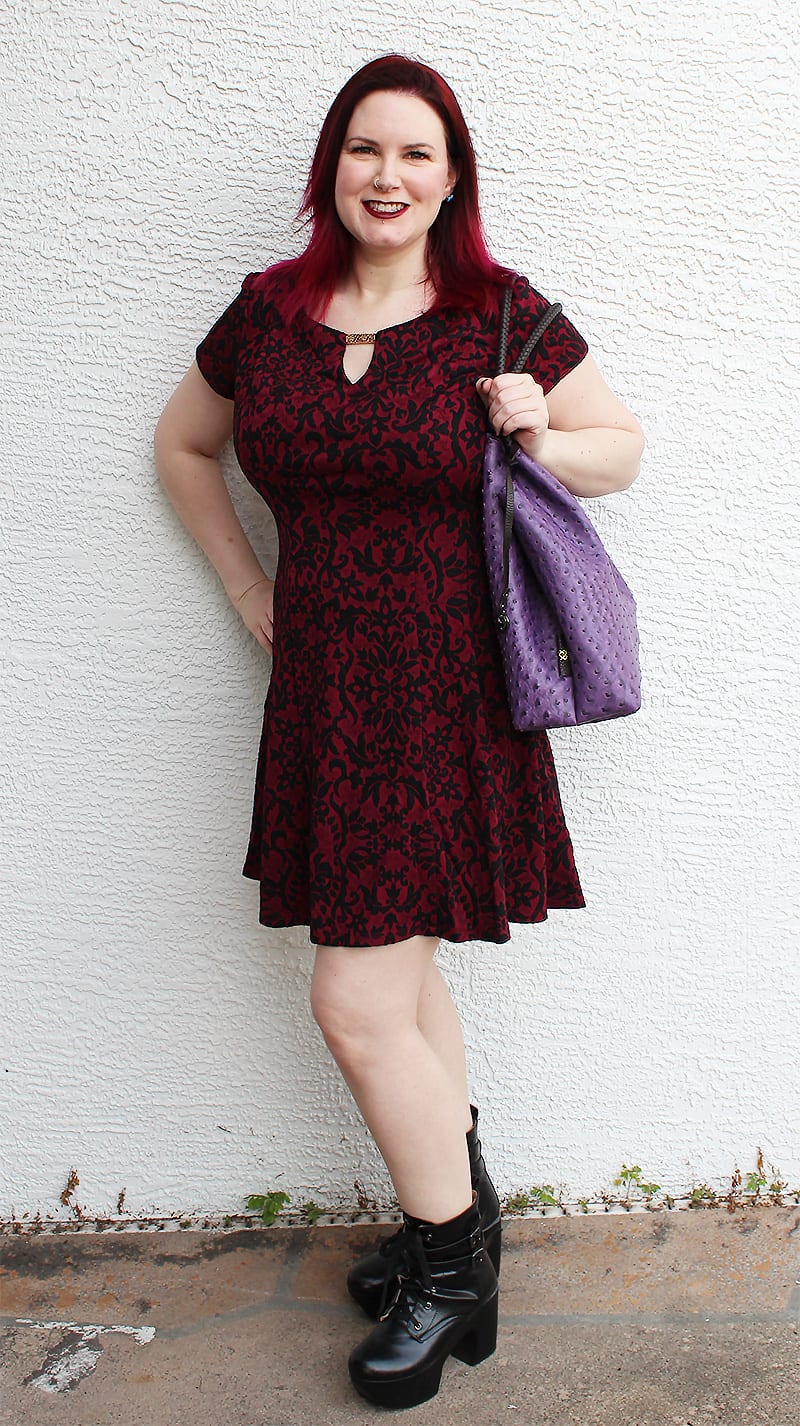 I picked up the Gunas Naomi during the Labor Day sale too. It was too good a deal to pass up at 20% off! This is a really great bag because it has several pocks and dividers in it. I think the faux ostrich vegan leather feels very luxurious. I promise I'll have review videos for the Naomi and Cottontail soon. They're fantastic handbags. Yes I'm a Gunas convert!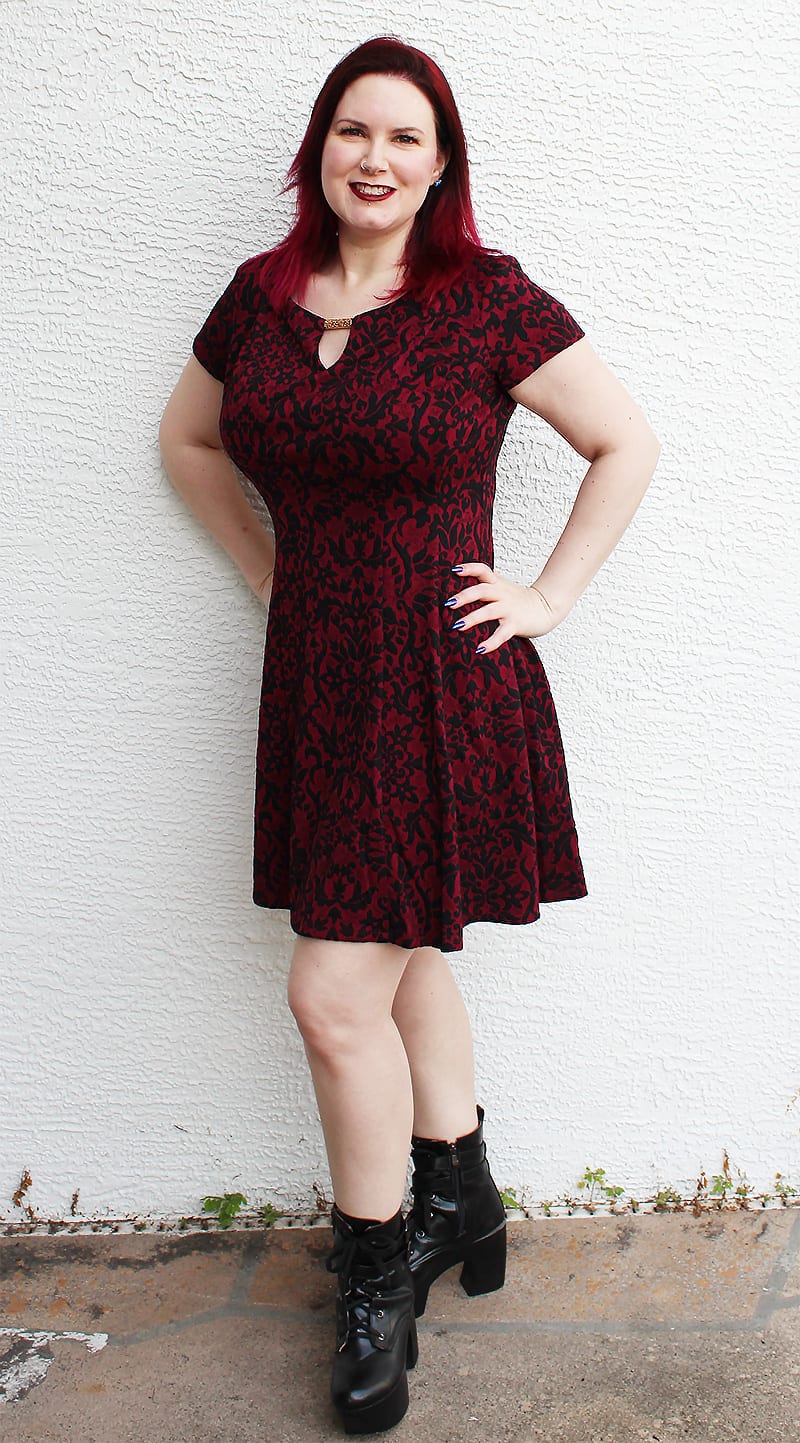 Alyx Keyhole Jacquard Fit and Flare Dress (10 petite) | Gunas Naomi in Purple | Chunky Platform Boots
This burgundy wine fit and flare dress is my favorite piece out of everything that I picked up from JCPenney. I love the color and design. The shape fits me perfectly too. I don't feel like I need to hide my middle while wearing it. It's sort of gothy, sort of 90s inspired, and I love it. When I'm wearing it, I feel gorgeous and confident.
These are also my favorite boots. They're comfortable to wear and they give me a lot of extra height, which I appreciate. I've had them for 2 years and they're still not showing signs of wear, which makes me happy. I was a little nervous about buying them because they're made in China, but so far they've been great. The way the platform is designed makes them easy to walk in. It's almost like I'm wearing sneakers.
I always love black and purple, as I'm sure you've guessed by now. I'm also incorporating a lot of burgundy into my daily looks this Fall, either through my outfits or my lipsticks (UD Hex is stealing the show!). I know some of you loved this burgundy shirt I was wearing in a recent video, too. I keep wishing Gunas would make a burgundy bag with their next release, but so far it doesn't look like it will happen.
Overall, the two dresses and two skirts I picked up are great staples for my wardrobe. I can pair them with a variety of tops in my wardrobe to dress them up or down. They look great no matter what color I choose to wear with them.
What colors are you wearing the most this Fall? What are you drawn to?
More to See