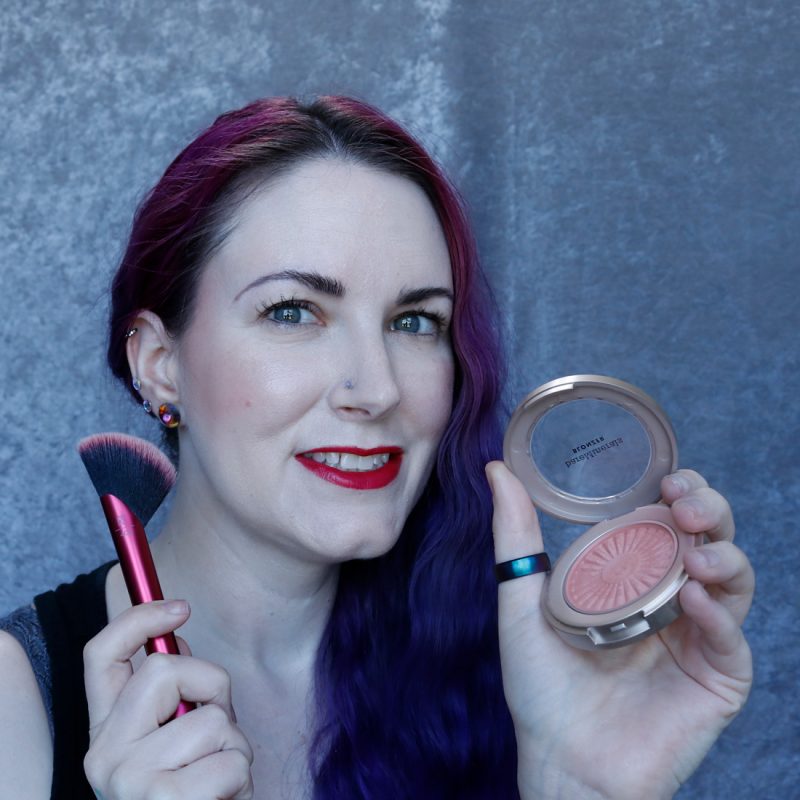 Hello beautiful creatures! Today I'm bringing you my BareMinerals Gen Nude Blonzer review. This has quickly become my favorite blush for an effortless glow. I love this formula! Kiss of Pink is the only blonzer/blush I brought with me on my recent trip to Indiana to visit my family.
Where to Buy
BareMinerals, Sephora
Price
$25 for .13 oz
About BareMinerals Gen Nude Blonzer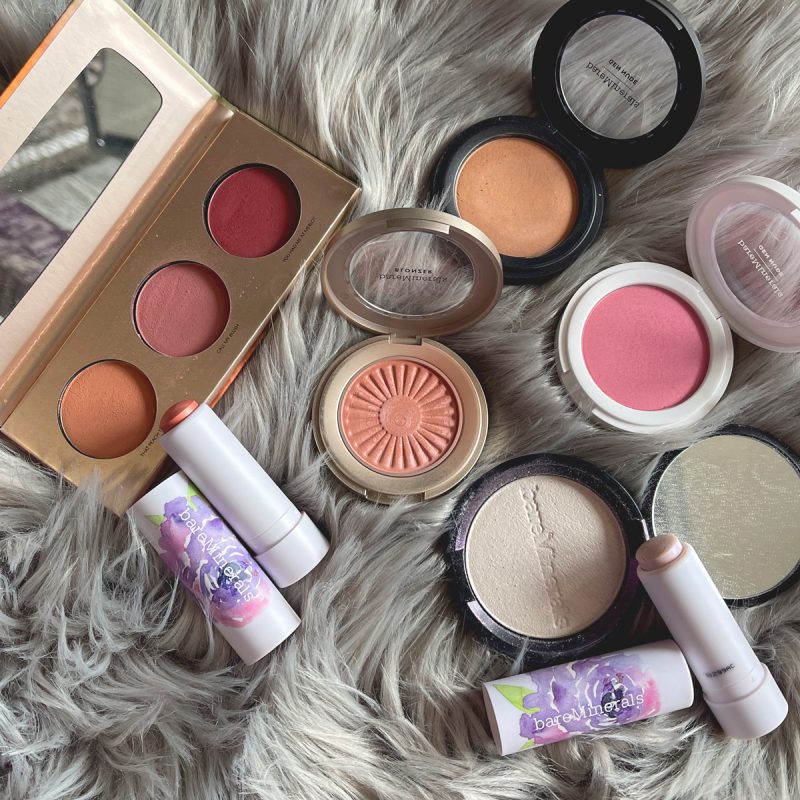 BareMinerals says that their Gen Nude Blonzer gives you an effortless, fresh-from-the-beach glow in just a sweep across your cheeks. It's supposed to feature a silky textuer that blends seamlessly and builds color effortlessly. Available in 3 different rosy-bronze shades to flatter a wide variety of skin tones. This is a talc-free, gluten-free, cruelty-free and vegan formula.
BareMinerals is a cruelty-free beauty brand. They do not test on animals or work with manufacturers that do animal testing. BareMinerals is a member of PETA's Beauty Without Bunnies list. They are owned by Shiseido (non-cruelty-free parent company) and they are a part of the Responsible Mica Initiative.
BareMinerals Gen Nude Blonzer in Kiss of Pink Swatch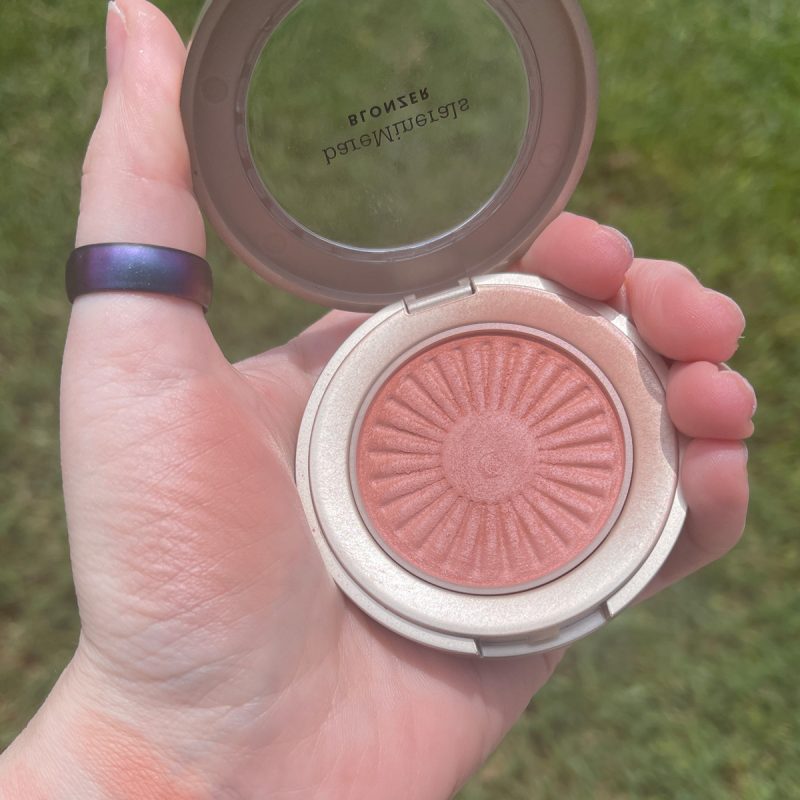 Here I am holding bareMinerals Kiss of Pink Gen Nude Blonzer Blush. I've got Kiss of Pink applied to the palm of my hand to the left of the blush. Kiss of Pink blends out like a dream!
Wearing bareMinerals Kiss of Pink Gen Nude Blonzer Blush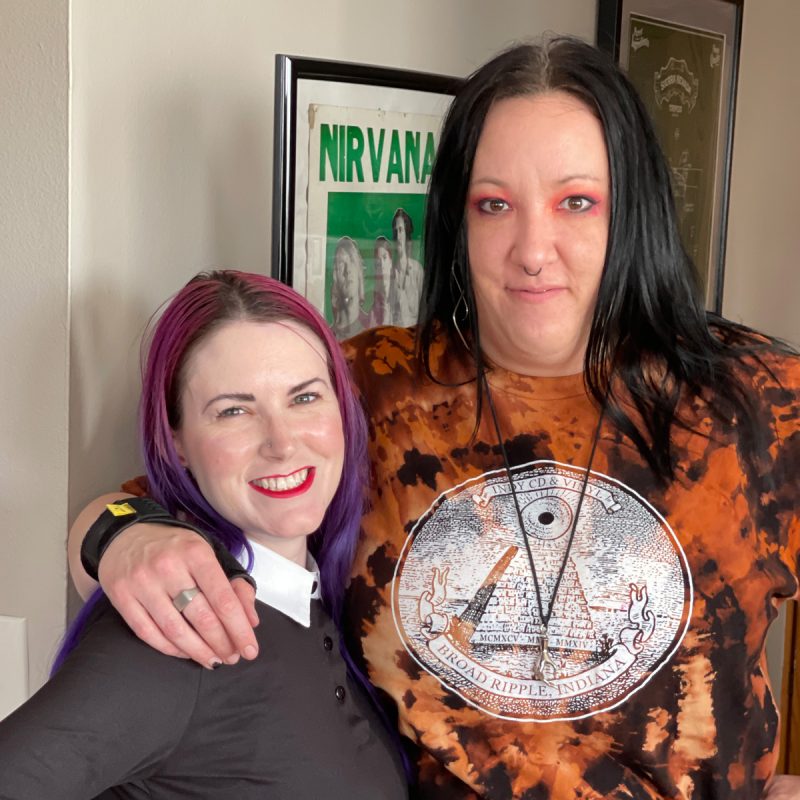 I'm wearing bareMinerals Kiss of Pink Gen Nude Blonzer Blush in the photo above of me with my bestie Krissy.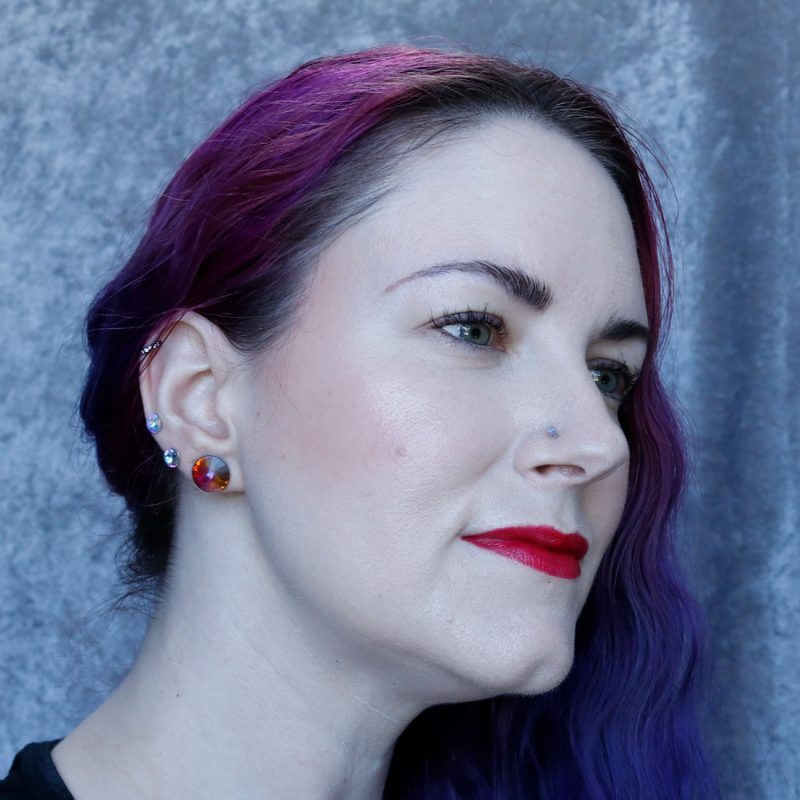 See my quick everyday makeup look tutorial featuring Kiss of Pink.
 BareMinerals Gen Nude Blush Swatches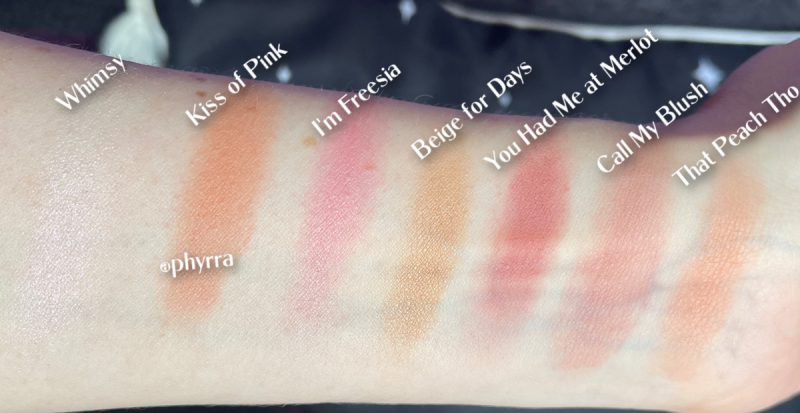 The photo above was taken indoors and the photo below was taken outdoors.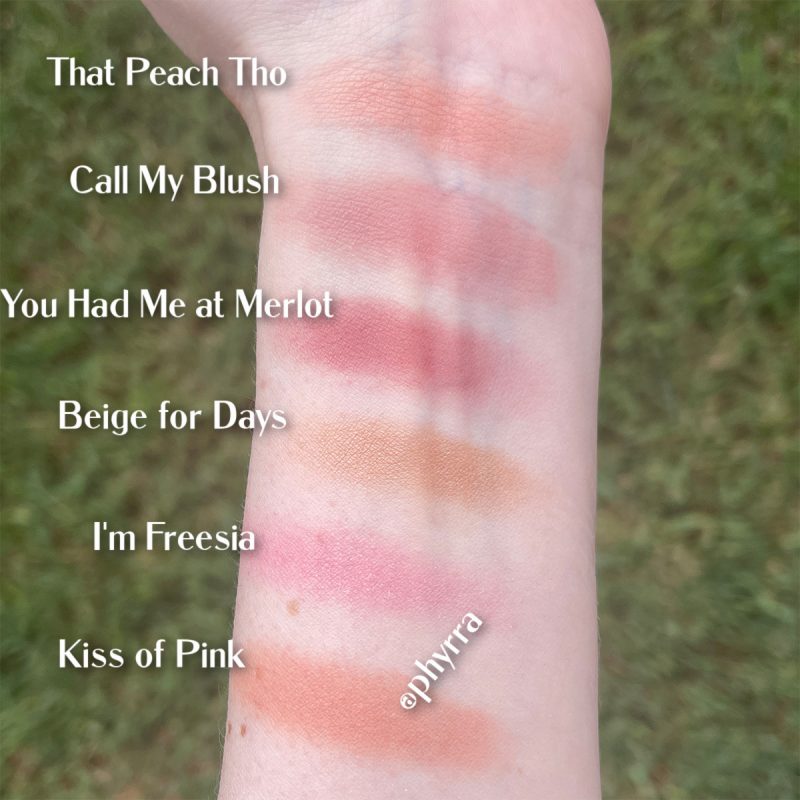 I happen to love the silky soft formula of the bareMinerals Gen Nude blushes, which is why I took a chance and bought the Kiss of Pink Blonzer. I'm not typically a fan of bronzer on me, but I loooove a good highlight or blush. This blonzer combo is surprisingly flattering to my taste.
That Peach Tho – soft peachy pink. I feel this is warm and peachy on my skin tone.
Call My Blush – delicate pink mauve. I feel this is a slightly neutral warm pink.
You Had Me at Merlot – rich berry wine with gold pearl. I feel this is a lovely warm berry hue, great for Fall.
Beige for Days – soft beige. I like to use this as a contouring blush shade.
I'm Freesia (LE, discontinued) – midtone cool pink. This was limited edition. I don't understand why bareMinerals doesn't offer more cool toned blush hues.
Kiss of Pink Blonzer – warm pink. This is a light rosy bronze hue on my skin tone. It blends out effortlessly.
I sincerely wish that bareMinerals would add more cool-toned blushes to their lineup.
BareMinerals Gen Nude Highlighter Swatches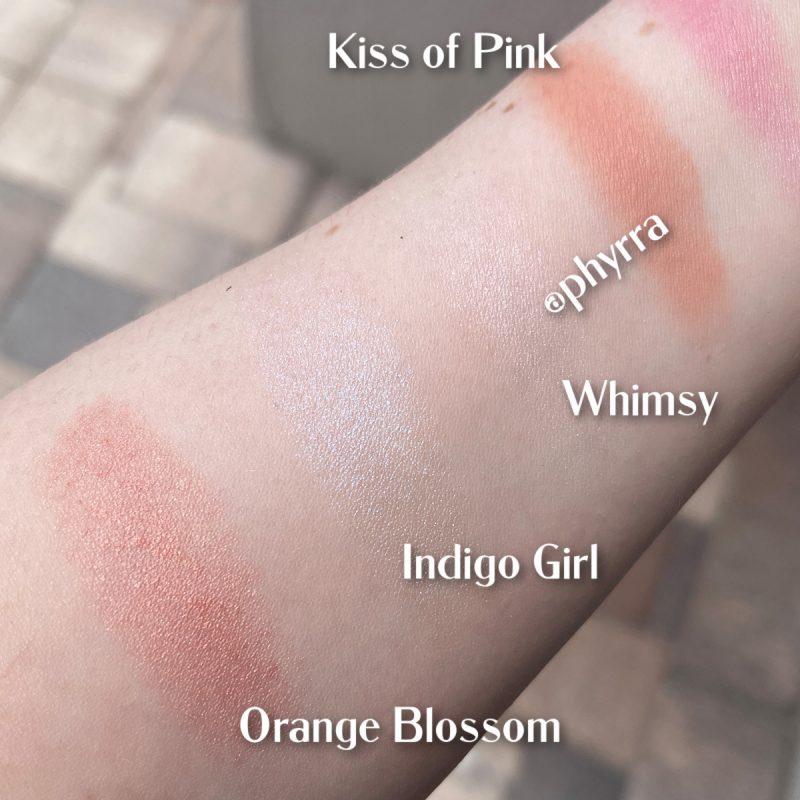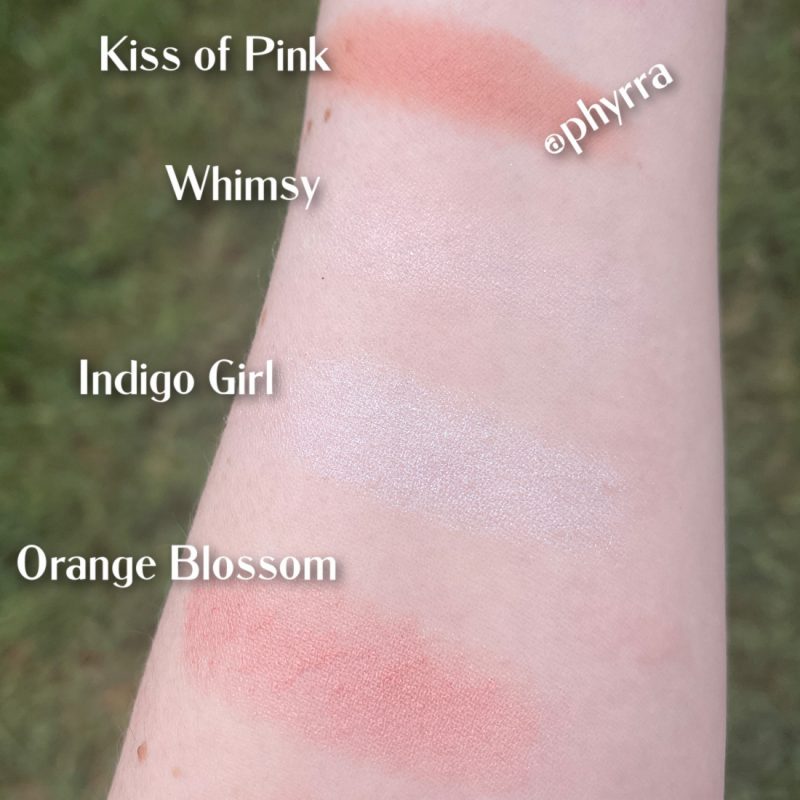 BareMinerals Gen Nude cream highlighter stick in Orange Blossom reminded me a bit of Kiss of Pink, so I wanted to include it in these swatches. While Orange Blossom is a highlighter for some people, I prefer to use it as a highlighting blush.
Whimsy (powder highlighter) – iridescent pink highlighter. I've seen people consider this cool-toned, but I feel it's neutral or neutral leaning warm on my skin tone.
Indigo Girl (LE, discontinued) – cool-toned blue-violet highlighter. I love this! It's a true cool-toned highlight on my skin tone.
Orange Blossom – soft golden coral. It makes a beautiful summer blush.
Comparison Swatches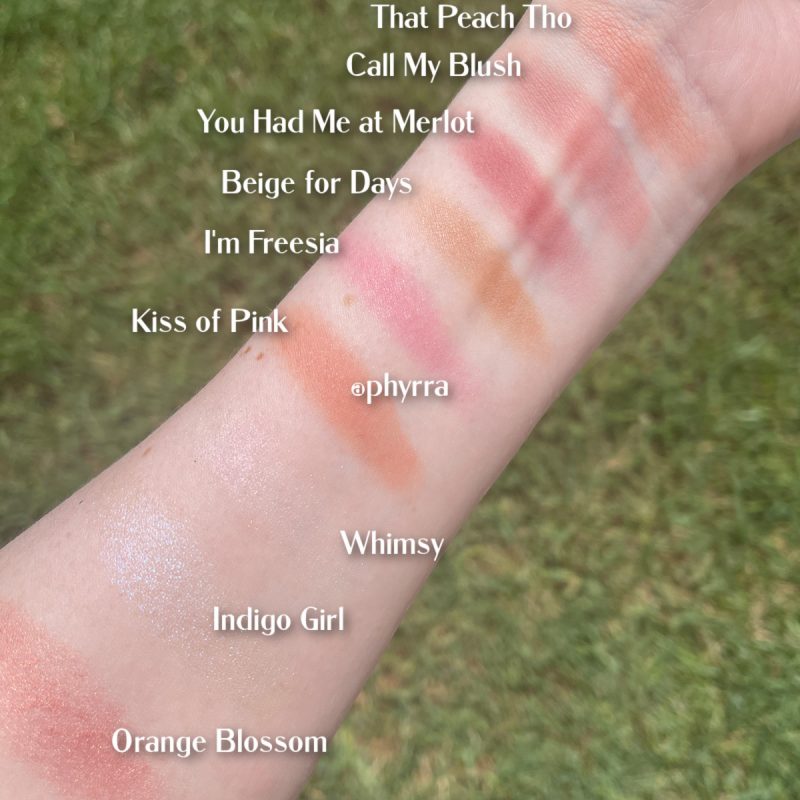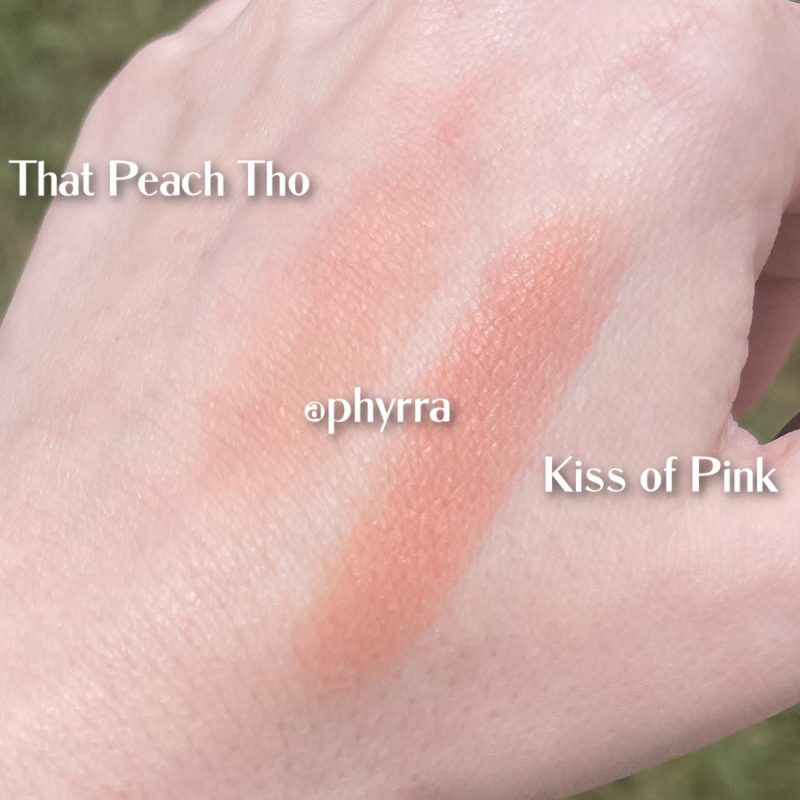 Out of all my Gen Nude blushes and cream highlighters, bareMinerals Kiss of Pink Gen Nude Blonzer Blush reminded me the most of That Peach Tho Gen Nude blush and Orange Blossom cream highlighter stick.
What I Don't Love About the Blonzer
Here's what I think you won't like about this blonzer. The $25 price tag is only bringing you .13 oz of product, vs the typical .21 oz of product from the normal Gen Nude Powder Blushes. This doesn't bother me a ton as I rarely ever pan a blush, but I think the price and amount of product you're getting is something that may bother some people if they don't know about it. The last blush I panned was theBalm Balm Beach.
The packaging is only ok. It's gold, which isn't my favorite, but it's small, solid and compact enough to fit into any makeup bag. I traveled to Indiana and back without any issues, so the Kiss of Pink Blonzer doesn't seem to be a soft press. Honestly, the packaging feels a little cheap and makes me think of some of the bulkier options at the drugstore that I don't care for.
What I love about the Blonzer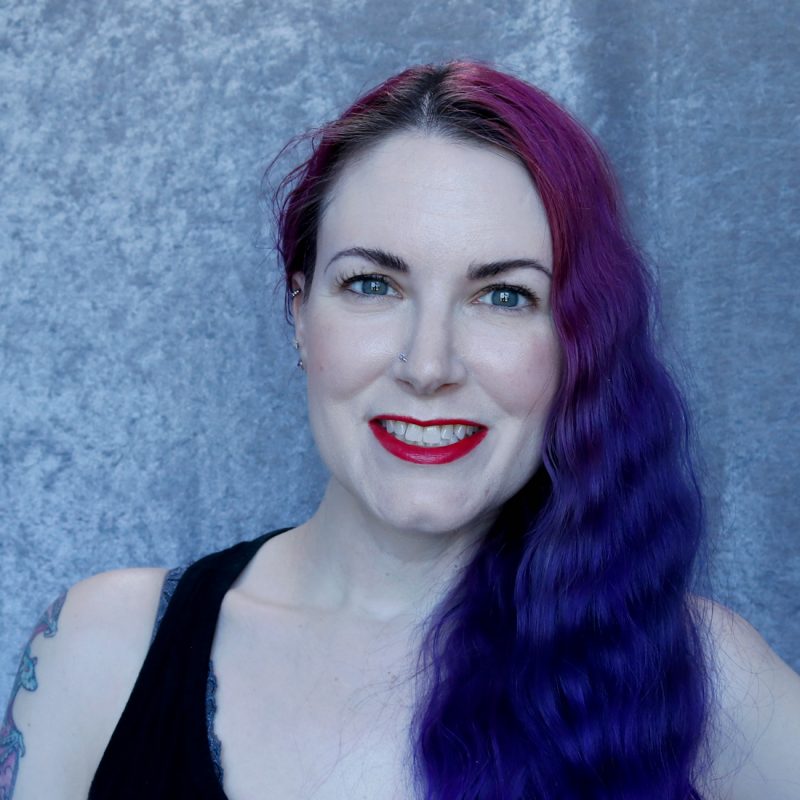 Now that we have what I don't like about this product out of the way, let me tell you what I love about Kiss of Pink Blonzer. The formula is fantastic. I don't feel like it emphasizes my pores or fine lines in the slightest. Kiss of Pink is very easy to build up or blend out. I apply it with a fairly light hand and feel it's flattering on my very fair neutral to cool yellow undertone skin tone. Kiss of Pink looks to be flattering on fair to light skin tones. The second hue, Kiss of Copper, looks like it will be perfect for medium skin tones. Kiss of Rose, which is the most pigmented of the three, looks like it will be flattering on deeper skin tones.
I love to glow, so glowy blushes like Kiss of Pink Blonzer work well for me. I even like to dust a bit of this across the bridge of my nose. Overall, I rate the BareMinerals Gen Nude Blonzer as a 4 out of 5 stars. I'm taking off 1/2 a star for the cheap-looking packaging and 1/2 a star for less product compared to the Gen Nude blush line at the same price. I feel that Kiss of Pink is beautiful on my fair skin, so I love the color and formula.
What do you think of the bareMinerals Gen Nude Blonzer? Do you like the bareMinerals Gen Nude line? How would you rate this blush?
More BareMinerals Gen Nude Features