Hello beautiful creatures, today I'm sharing my Madam Glam Hear Me Roar! mani with you. Thanks to Madam Glam for sending me this gorgeous gel polish. Madam Glam Hear Me Roar! is a blindingly bright warm neon purple nail polish. Neon purple is perfect for summer in my book!
PR + Purchased by me.
Where to Buy
Madam Glam
Pricing varies based on whether or not you are a Madam Glam VIP. If you are a VIP, gel polish is typically $9.98 to $12.48. For non-members, gel polish is typically $19.95 to $24.95.
About Madam Glam
If you're new to Madam Glam, let me tell you about them. Madam Glam is an indie nail polish brand that is taking the gel polish scene by storm! They're 100% cruelty-free, 100% palm oil free, gluten-free, 21-free formula, and they're certified vegan. Madam Glam also offer hema free nail polish. And did I mention that they're Leaping Bunny certified too?
About Madam Glam's VIP Club
Madam Glam has a VIP club that you can join for $29 a month. It gives you 50% off everything sitewide. You also get early access to new arrivals, you can try things for free, get free shipping and exchanges, and you can pause or cancel it at any time. The store credit you build up each month does not expire and you can use it whenever you want, for up to 12 months.
How to Shop Madam Glam
Now, if you're like me, you may have initially not given Madam Glam a second glance because of the very… well, in my opinion, terrible product photos that don't accurately show the colors, to my eyes.
However, I've found the BEST way to shop Madam Glam is to either:
Use YouTube to look up the gel nail polish color you're interested in so you can see a real swatch.
Scroll to the bottom of the photos for the gel polish you're looking at. At the very bottom of the photos for each gel nail polish, you will see real photos mixed in, which are more color accurate than the initial first 5 or 6 photos.
Madam Glam Hear Me Roar!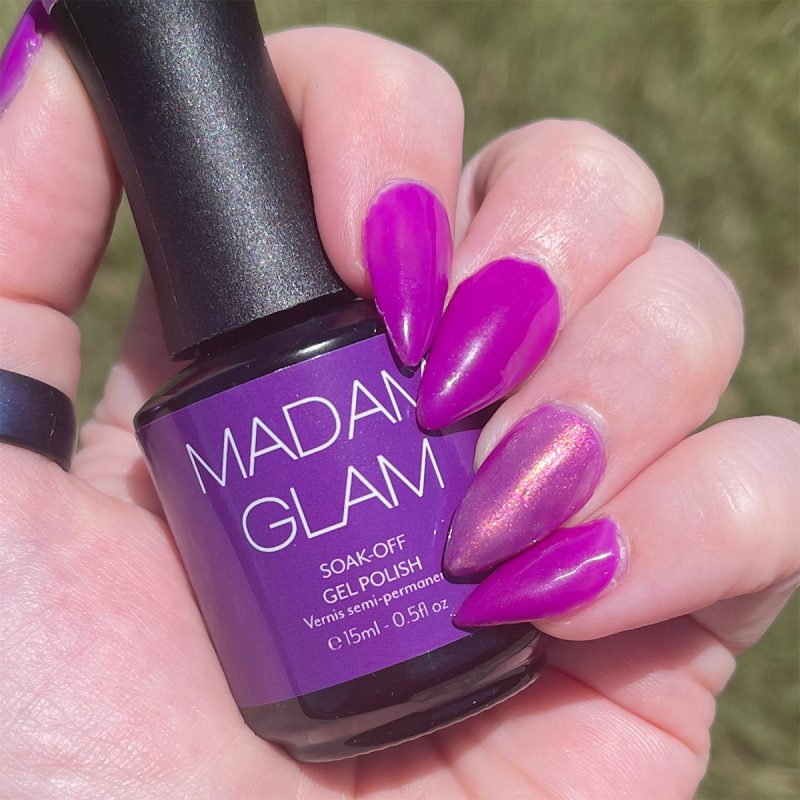 I love this bright neon purple creme on me! Madam Glam Hear Me Roar! certainly lives up to its cheeky name. It's such a great summer shade and looks fabulous with my new purple ombre hair.
Here's how I created my Madam Glam Hear Me Roar mani. Want to watch a step-by-step video? Check out my How to DIY Gel Nails at Home.
Madam Glam's entire line of neons is calling to me this summer. If you're craving brights like I am, be sure to check them out! I'll be featuring more brights from Madam Glam, too. My next mani will be featuring Madam Glam Bright Barbie Pink, which is a great classic neon pink shade.
If you're looking for other Madam Glam recommendations, I recommend Perfect Black, which is an amazing pure black gel. However, the Madam Glam One Step Gel in Black is the One is great too. I sometimes use the one step gel polishes on my toes for a quick, long wearing pedicure. Earth Day Everyday is another gorgeous color I love by Madam Glam. It's a silvery beige glitter.
Have you heard of Madam Glam? What colors are you wearing on your nails right now?