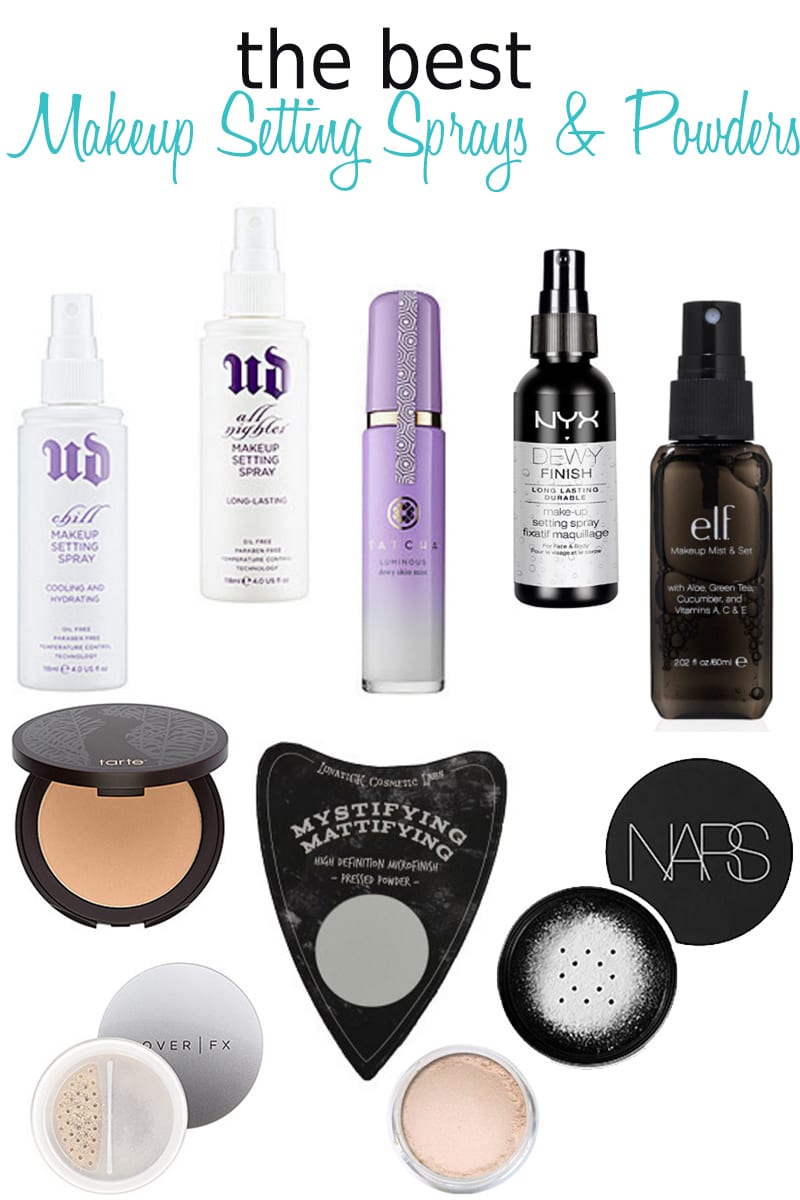 It's a top ten Tuesday! Today I've got the 10 Best Makeup Setting Sprays and Powders to share with you, with options for every budget. All cruelty free and many are vegan, of course.
10 Best Makeup Setting Sprays and Powders
This post contains a mix of products purchased by me and press samples.
1. Urban Decay All Nighter Spray (vegan) – $30
This vegan formula is famous for keeping your makeup in place for up to 16 hours, no matter the weather conditions. You just need to shake it well, then apply your makeup, then mist your face 4 times, in an X shape, then in a T Shape. Not gonna lie, sometimes I mist it a few more times.
2. Urban Decay Chill Spray (vegan) – $30
This vegan formula is less famous but still quite formidable, as it works for up to 12 hours. I recently bought it to try it out since it's made with time-release cooling ingredients. It's supposed to be ideal for dry skin like mine. You apply it the same as All Nighter.
3. Tatcha Luminous Dewy Skin Mist – $48
This is a super lightweight mist that will hydrate the skin, softening and smoothing things without streaking your makeup.
4. Nyx Dewy Setting Spray – $7.99
I like this spray! This is the budget friendly version of the hydrating UD Chill Spray. Nyx recommends closing eyes and spraying in a downward motion over your face 3 times.
5. e.l.f. Studio Makeup Mist & Set (vegan) – $3.00
This is the ultimate budget friendly makeup spray. It's got skin soothing, moisturizing ingredients including green tea, Vitamins A, C & E, aloe and cucumber. It's alcohol free (making it ideal for sensitive skin). It helps your makeup to meld together, prevents it from streaking, and to last longer. I love this spray, though I hate the container it comes in. I recycled an old MAC Fix+ bottle and put this spray in it. I use it to dampen a brush to work with eyeshadow too. It's a cruelty free dupe of MAC's Fix+.
6. Lunatick Cosmetic Labs High Definition Microfinish Pressed Powder (vegan) – $20
I LOOOOVE the packaging on this item – it's like a ouija board planchette. It can be used on bare skin to blur imperfections, or to set your makeup for a matte finish. It can be used to mattify lip products too. The powder works wonders, too.
7. Silk Naturals Illuminating Powder in Flattery or Close-Up (vegan) – $9.95
Flattery and Close-Up both perk up a dull complexion and adds a bit of shimmer. Close-Up is a cruelty free dupe of MAC's Lightscapade. I love both of these and find them flattering on me.
8. NARS Light Reflecting Loose Setting Powder & Pressed Setting Powder – $37
This has been a holy grail product for me.This is great for blurring fine lines, wrinkles, pores, etc. It has microfine particles loaded up with Vitamin E and glycerin, making it comfortable for dry skin like mine to wear. Make sure you use a puff, tap off the excess, and then roll it onto the skin.
9. Cover FX Illuminating or Matte Loose Setting Powder (vegan) – $32
I love the illuminating! The Illuminating powder is filled with antioxidants to help reduce redness, soothe the skin, moisturize it and extend foundation wear. The matte helps to minimize shine and extend wear.
10. Tarte Smooth Operator Pressed Finishing Powder – $34
I bought this in Fair. It contains Vitamins A and C, antioxidants and soothing ingredients to help the skin and blur imperfections.
Bonus
Nyx HD Setting Powder – $9.99
I haven't tried this one but it's on my wish list. Available in translucent, banana or mint, this works before or after foundation. It can set concealer without caking, too.
Be sure to check out 10 Life Changing Beauty Hacks You Need to Know!
More to Read