Hello beautiful creatures! Today I'm sharing my swatches and thoughts on the Urban Decay Prince U Got the Look Palette. Thank you so much to Urban Decay for sending me the Urban Decay x Prince collection. The U Got the Look palette is a 100% cruelty-free and 100% vegan eyeshadow palette.
I've been a lover of Prince's music since I was a teen. I love his songs like Get Off, Diamonds & Pearls, 1999, When Doves Cry, Cream, and countless others. Prince, David Bowie, Leonard Cohen, and George Michael all died in 2016, making it a sad year for many music fans. Prince died of an accidental fentanyl overdose at the early age of 57. I know I was shocked when I heard the news.
Where to Buy
Urban Decay, Sephora
Price
$55
Packaging

I want to applaud Urban Decay for thinking outside the box and doing a non-traditional layout with the Prince U Got the Look palette. I do really enjoy their outside the box attempts, even if they fall short of their mark for me. This black packaging features the Prince symbol on the front and it opens like a book. In practice it's a bit clunky to open. There's a small mirror on the left 1/2 of the palette. The right 1/2 of the palette has Prince's eye. Unfortunately to me, this packaging feels very flimsy. I also think it's unfortunate that it doesn't bear the name of the palette anywhere on it.
My Skin Tone
I have very fair neutral to cool yellow undertone for my skin tone. My favorite foundation matches are:
How I Swatch
I use eyeshadow primer and stencils for my swatches. I take my photos outdoors in direct sunlight and indoors in indirect natural light. I feel these two lighting conditions most accurately represent the color variations you'll see in real life.
Urban Decay Prince U Got the Look Palette Swatches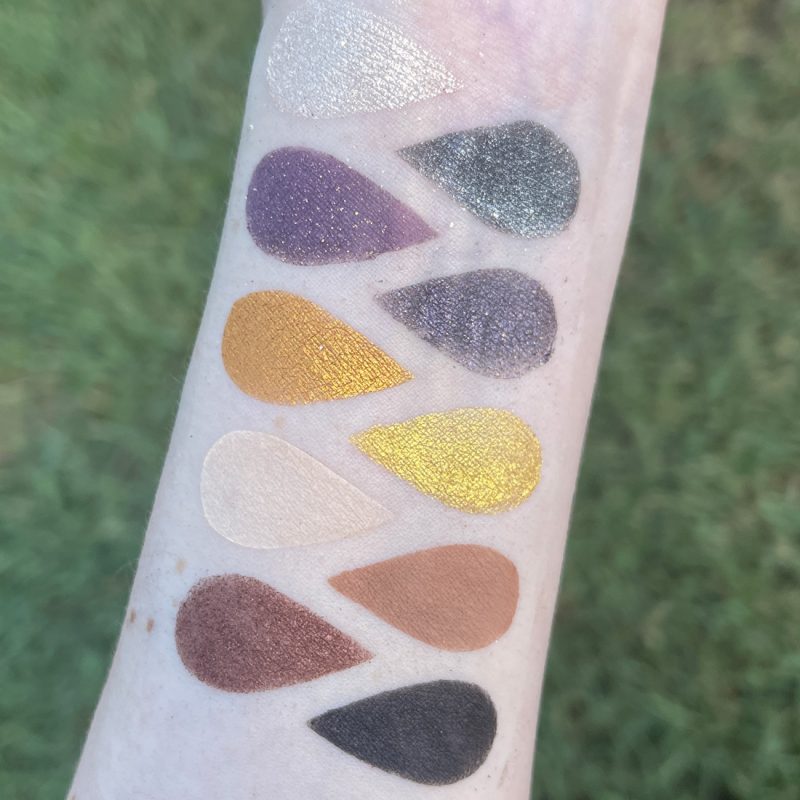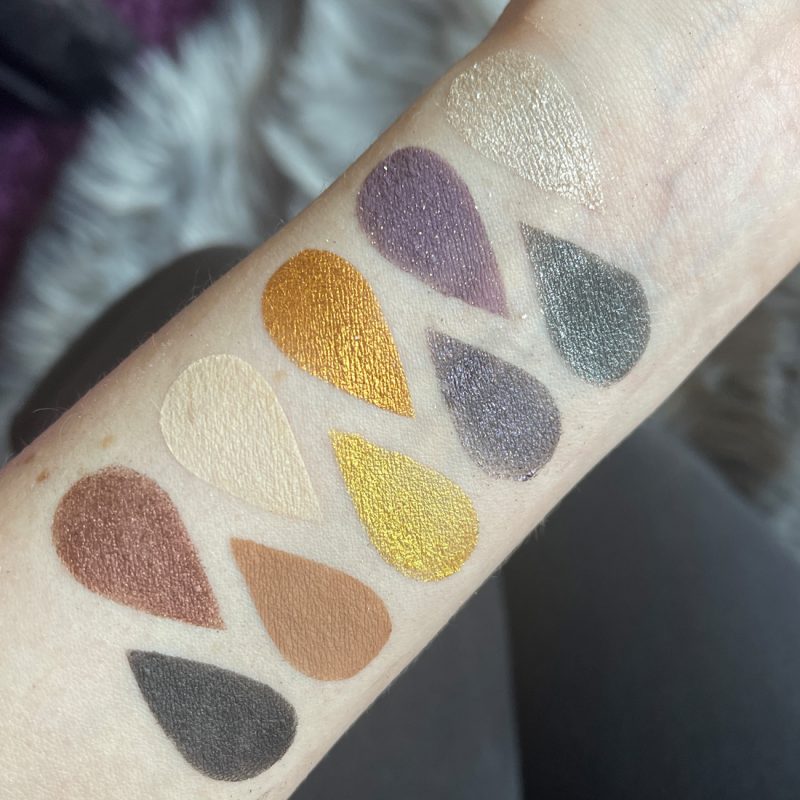 Left side top to bottom – Crystal Ball, Groovy Potential, Gett Off, Sexy Dancer, Shockadelica
Right side top to bottom – Bold Generation, The Artist, Endorphinmachine, Love 2 the 9's, So Dark
Above are my swatches of the Urban Decay Prince U Got the Look Palette. The outdoor photo was taken on a slightly overcast day where clouds were overhead partially obscuring the sun.
Crystal Ball: Ivory shimmer with gold + ivory micro-pearl
Bold Generation: Black matte with silver micro-pearl
Groovy Potential: Deep ultraviolet matte with gold micro-pearl
The Artist: Purple-indigo shimmer with gold, silver + magenta micro-pearl
Gett Off: Rich bronze-orange metallic
Endorphinmachine: Rich gold metallic
Sexy Dancer: Ivory matte
Love 2 the 9's: Warm mocha matte
Shockadelica: Red bronze metallic
So Dark: Rich black metallic
Crystal Ball is a very pretty shimmery color that I would use as a highlight or at the center of the lids. Bold Generation is a pretty black with silver pearl overlay. Groovy Potential is a purple matte with gold micro glitters scattered throughout it. The Artist is a gorgeous cool-toned blackened purple with multi-colored micro-pearls. Gett Off is an eye-catching flashy bronzey gold metallic. Endorphinmachine is a stunning gold metallic. Sexy Dancer is a staple ivory matte that can be used to blend out the edges of other colors or as a matte highlight. Love 2 the 9's is a warm brown matte that can be used as a crease color. Shockadelica is a metallic red-toned brown. So Dark is a pretty metallic black.
Urban Decay Prince U Got the Look Palette Thoughts
Much like my thoughts on the Urban Decay Prince Let's Go Crazy Palette, I feel like the U Got the Look Palette eyeshadow formula needs more pigmentation and more of a binding agent. The shades like Groovy Potential, Crystal Ball, Bold Generation, and The Artist are filled with pretty micropearls that would adhere better rather than turning into fallout in a different formula. These colors make me think of indie eyeshadows, except the indie eyeshadows perform better.
These eyeshadows did not perform as badly for me as the  UD Wild West Palette, but they're not up to par with what I've come to expect from Urban Decay over the past decade. I don't know what Urban Decay did to their winning eyeshadow formula, but this new formula does not look or feel the same to me as the formula I fell in love with. This formula appears very dull and dusty in the pan. And sure, it's vegan, which is great. But there are so many indie brands out there making vegan shadows that perform amazing and aren't dull or dusty. The Prince eyeshadow formula isn't very standout to me. I wanted to love it, I really did. I don't think Prince would have approved of this eyeshadow formula.
Do I recommend that you buy the U Got the Look Palette? If you're a Prince fan, and you liked the formula of Urban Decay's Ultraviolet and Stoned Vibes palettes, I think you will like this palette. However, I would wait for it to go on sale. I would buy the Prince collection on sale, but not full price, for a collector piece.
What do you think of the Urban Decay x Prince collection?