Hello beautiful creatures! I wanted to share my Madam Glam Bright Barbie Pink Nails. This is a recent manicure that I did. Normally I like to put on full coverage tips, but I went for a more traditional gel manicure this time around.
I painted my nails neon pink and black in honor of my friend Nattie's birthday. She is better known as the WWE's Natalya Neidhart, a title taker in the ring. Outside of it, Nattie is a generous, kind soul. Her colors in the ring are normally neon pink and black, just like her dad and uncle's tag team, the Hart Foundation.
PR + Purchased by me.
About Madam Glam
Madam Glam is a 100% cruelty-free and 100% vegan gel nail polish brand. They're also hema-free (their 1 step gel line specifically), 21-free, palm oil free and gluten free. They're fairly unique in that they will not keep a product available if more than 2% of their customers are not 100% satisfied with it.
Madam Glam gel polishes are usually $9.98 to $12.48 to VIP members. Non VIP membes pay $19.95 to $24.95 a polish. VIP members get 50% off every polish + free shipping. You can always become a VIP and then manage your membership to pause it for an amount of time.
Madam Glam Bright Barbie Pink Nails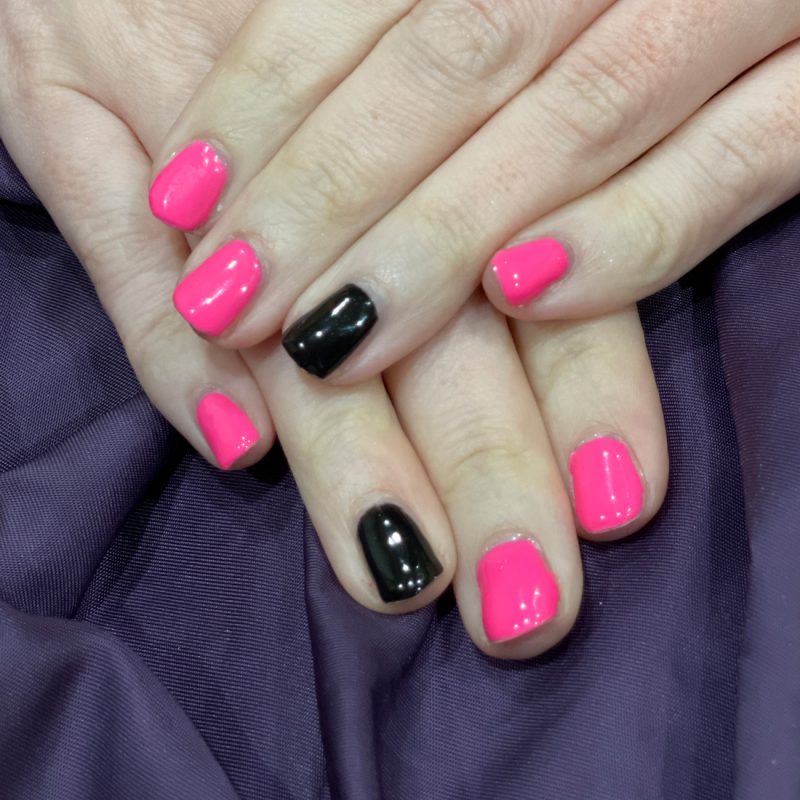 I did two coats of Madam Glam Bright Barbie Pink. For my accent nails I used one coat of Madam Glam Perfect Black.
DIY Nails At Home
If you're wanting to learn how to do your nails at home, check out my how to DIY gel nails at home video tutorial. I've been practicing doing my own full coverage gel nail tips at home for about a year now. I love doing my own nails.
My favorite gel nail polish brand is Madam Glam and I highly recommend checking out their gel nail polish. Their Perfect Black actually lives up to its name. I find the self-leveling formula to do a good job of evening itself out. I personally did find that gel polish had more of a learning curve for me than regular polish. If there's one thing that I definitely recommend you check out, it's no-wipe top coats. They're a real game changer for me with gel nails.
What do you think of my Madam Glam Bright Barbie Pink Nails?