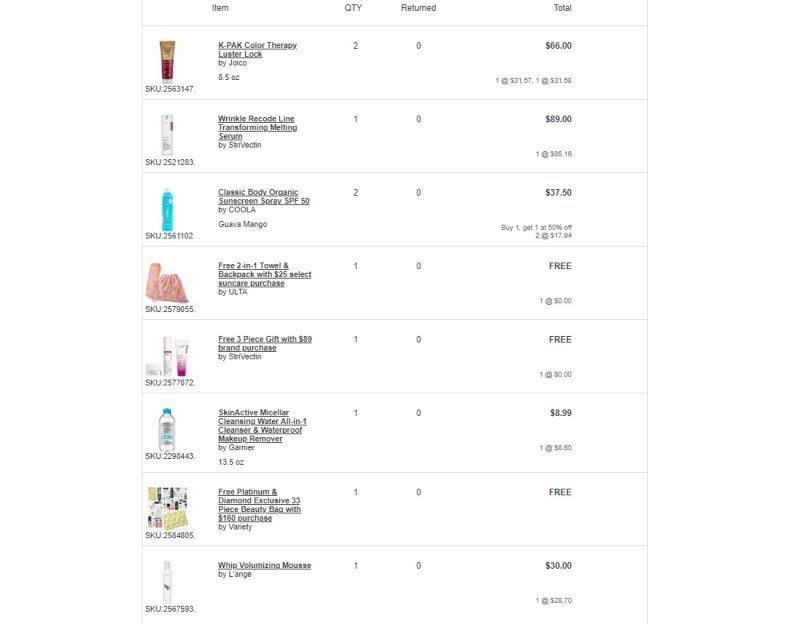 Hello friends! Today I wanted to ask you, do you take advantage of Ulta's point multipliers? When I'm debating a large purchase from Ulta, or replenishing my staples, I always try to time it so that I'm making a large purchase during one of Ulta's 21 days of beauty or during a beauty event so that I get the biggest bang for my buck and am able to take advantage of Ulta's point multipliers.
Bonus Offers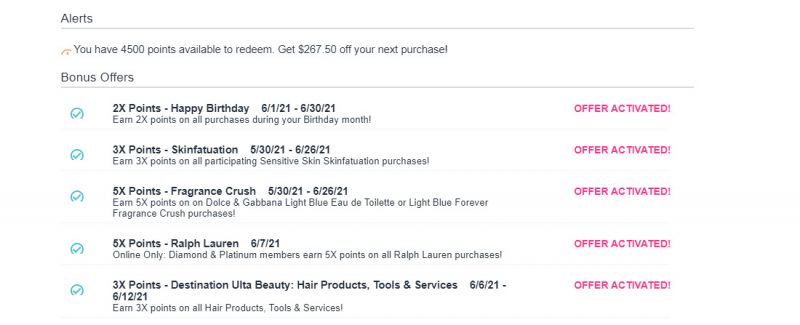 Right now, for example, Ulta has a 3x point multiplier on all hair products, tools and services from now until June 12. I've also got a 2x point multiplier from it being my birthday month. That's right, it's Gemini season. Ulta has 3x point multiplier on participating Sensitive Skin purchases, 5x on Dolce & Gabbana Light Blue Eau de Toilette or Light Blue Forever Fragrance Crush, and 5x points on Ralph Lauren purchases. If you've been waiting to make a purchase from one of these categories, right now will let you get the most out of taking advantage of Ulta's point multipliers.
Diamond Offers, One Day Only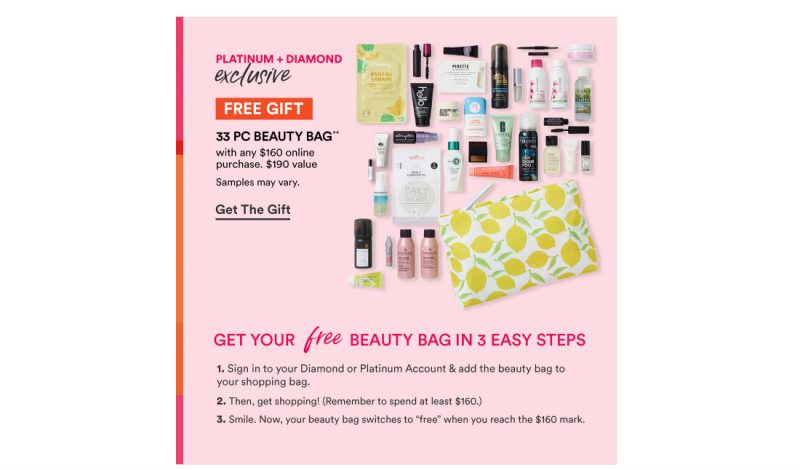 Ulta sends out a lot of emails, but one of the emails I received today was on bonuses for Platinum and Diamond members, which included a sampler bag worth $160. I made sure to add that to my cart. While I'm sure I won't use everything in it, I will give away whatever I don't use to friends.
If you're signed up for these emails, you may see other sampler bags you're interested in that you can add to your order. If you're not signed up for these emails, you can still get the weekly Ulta coupon on their coupon page. It's usually a $3.50 off coupon with a minimum order of $15 and it usually has restrictions on what qualifies. I'm signed up for the Ulta emails and like the occasional 20% off coupons they sometimes send out. I find these emails helpful for me to take advantage of Ulta's points multipliers.
Free Gifts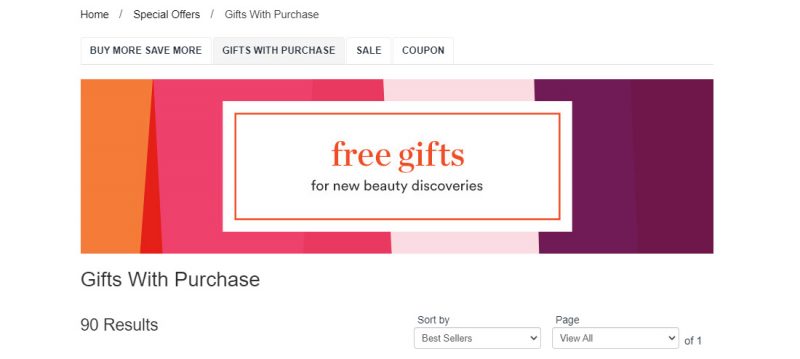 Before I place an Ulta order these days, I always like to check the Gifts With Purchase (GWP) page to see if there's anything there I'm interested in. If I see anything that I might like for myself or to gift to someone else, I'll be sure to add those qualifying products to my cart as well to better take advantage of Ulta's point multipliers. You can check the Buy More Save More page for more deals, too.  Or just go straight to the Sales page.
My Birthday Haul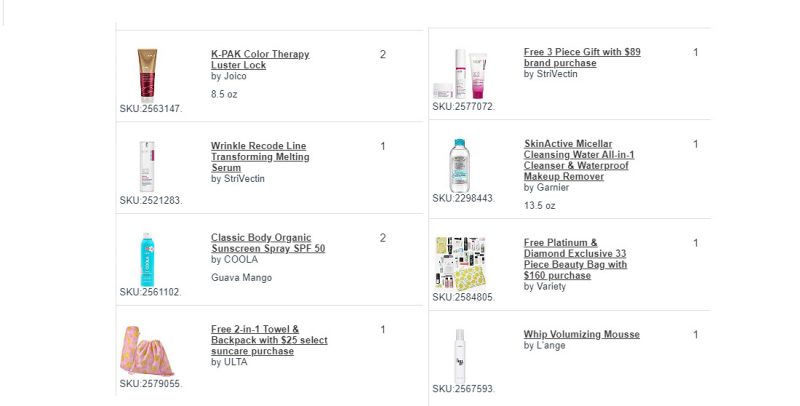 I was waiting for Ulta to have another hair event so that I could stock up on my Joico K-Pak, since I'm getting low. I also threw in a volumizing mousse because I need to find something to help my stick straight locks hold a heatless curl.
I'm getting low on my body SPF and picked up two bottles of the Coola SPF 50 spray, which qualified me for the Ulta towel + backpack.
I'm currently addicted to StriVectin and PCA Skin Skin Care brands. I've been rotating through different serums and received a sample of the StriVectin Wrinkle Recode Line Transforming Melting Serum and loved it, so decided to order a full size. This came with a 3 piece gift set from StriVectin. I also qualified for the Platinum & Diamond 33 Piece Beauty Bag since my purchase was over $160.
I ordered the Garnier Micellar water because I really like micellar waters and am out. I wanted to give Garnier a try since they went cruelty-free.
For my birthday order, I spent $237 and earned a total of 737 points. My current points value of 4500 is worth about $267.50 from Ulta. This is one of the biggest reasons I prioritize shopping at Ulta over Sephora, because every dollar spent is worth points that actually mean something. Unlike my Sephora points that are worthless.
So tell me, Do You Take Advantage of Ulta's Point Multipliers? Do you ever shop for GWP at Ulta? Let me know!