Tarte Chrome Paint Shadow Pots
I'm sharing swatches of my Tarte Chrome Paint Shadow Pots collection with you. The only color I couldn't find for this swatch fest was Caramel Apple, which just came out for Fall 2019. I'm sure it's in my disaster of an office somewhere. My favorite color in my Tarte Chrome Paint Shadow Pots collection is Frose, followed by Wild at Heart, then Fire Dancer.
Where to Buy
Tarte, Ulta, Sephora
Price
$22 for .1 oz
How to Use the Tarte Chrome Paint Shadow Pots
Tarte recommends using your finger tips to apply the Chrome Paint Pots to your lids because the warmth of your finger tips make the formula melt into your skin. Tarte also claims these don't need eyeshadow primer, but if you have hooded eyes like me, you will need primer.
Do you have hooded eyes? Click here to find out! 
In addition to wearing as eyeshadow, Tarte recommends using this formula on the high points of the face or to layer on top of lipstick. You can also easily mix the colors together to create custom shades. Layer on top of other eyeshadows to add extra dimension and shine. Apply with a damp brush to intensify the chrome paint colors.
If you need help with how to apply loose eyeshadows, check out my video!
Tarte Caramel Apple Look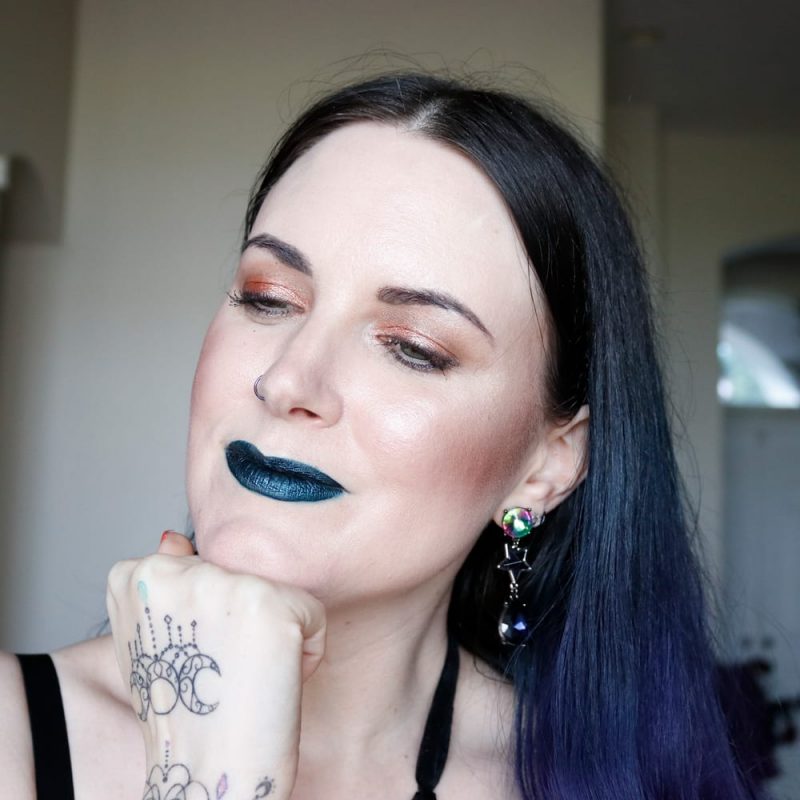 Here's what Tarte Chrome Paint Shadow Pot in Caramel Apple looks like on me. I paired these warm colors with a blackened-teal blue lipstick.
Tarte Unleashed Look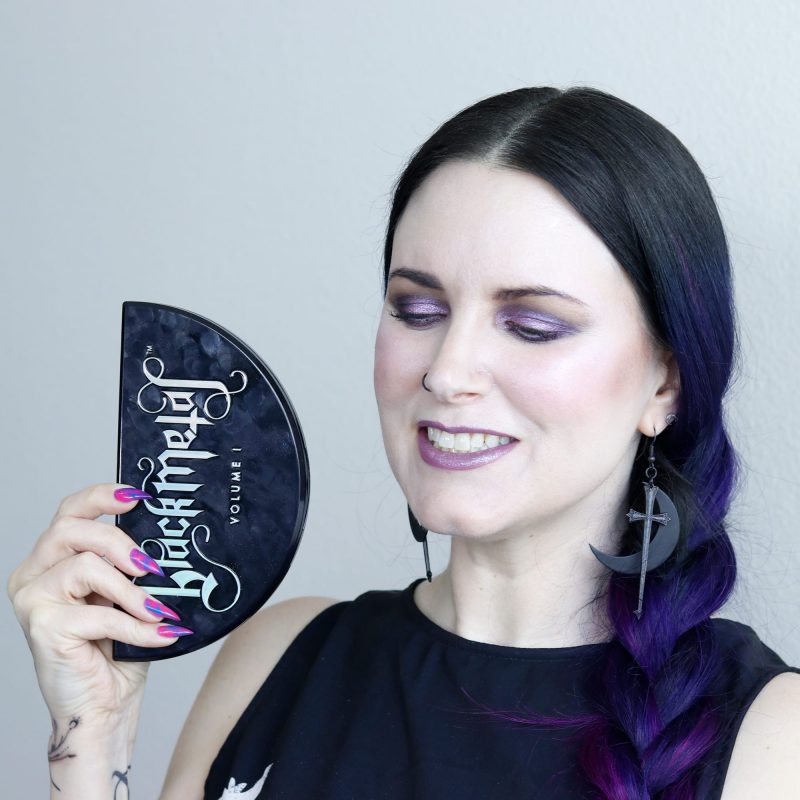 I'm wearing Tarte Unleashed on the lid in the look above. Watch the cruelty-free makeup favorites video!
Steel the Show Chrome Accent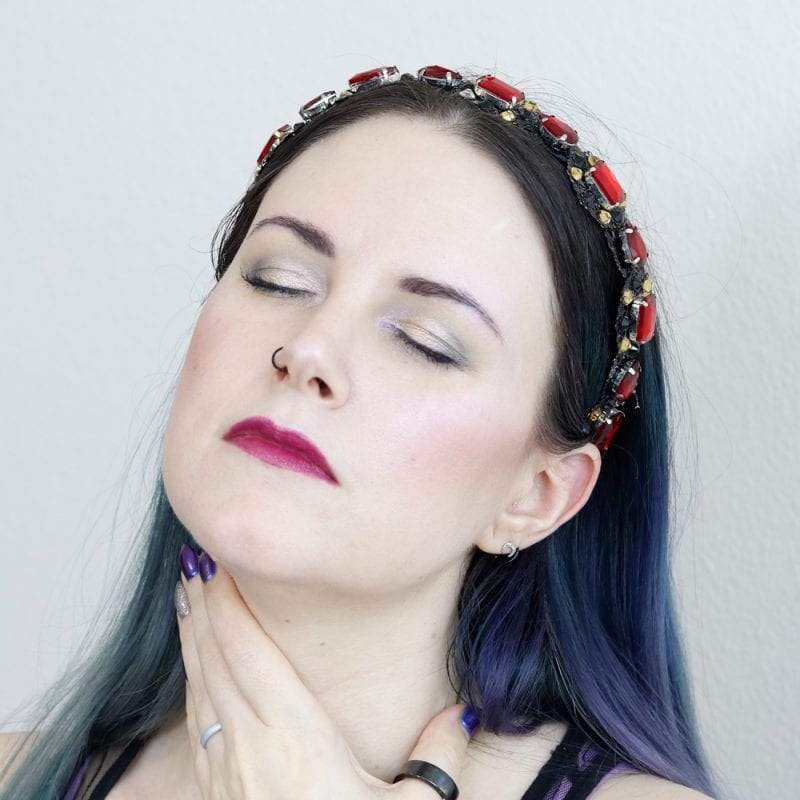 I used Tarte Steel the Show as the outer v color for the look above. See my Nyx Bare With Me Tinted Skin Veil Tutorial.
Tarte Chrome Paint Shadow Pots Swatches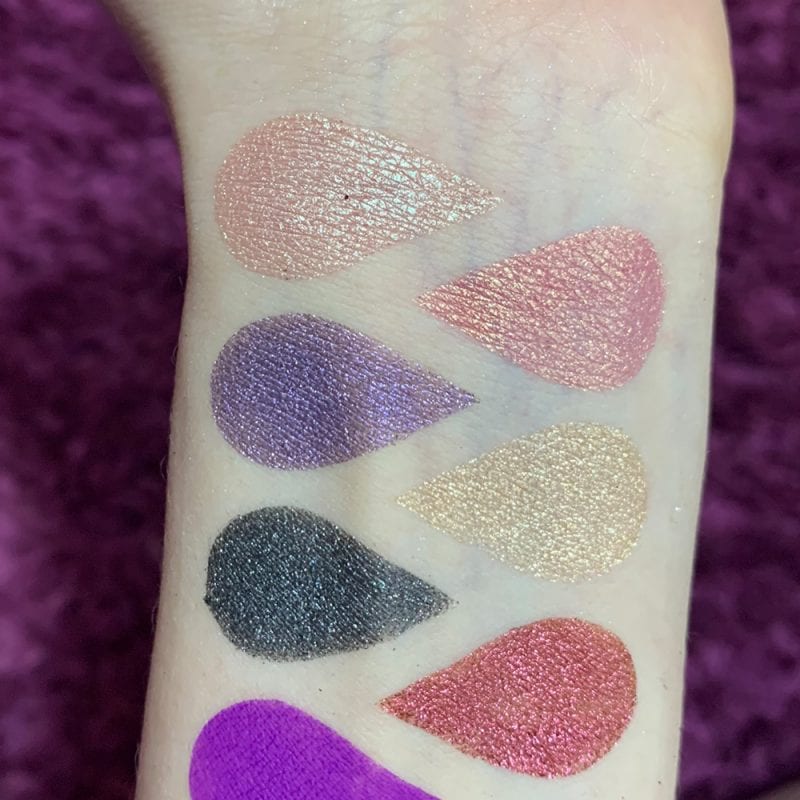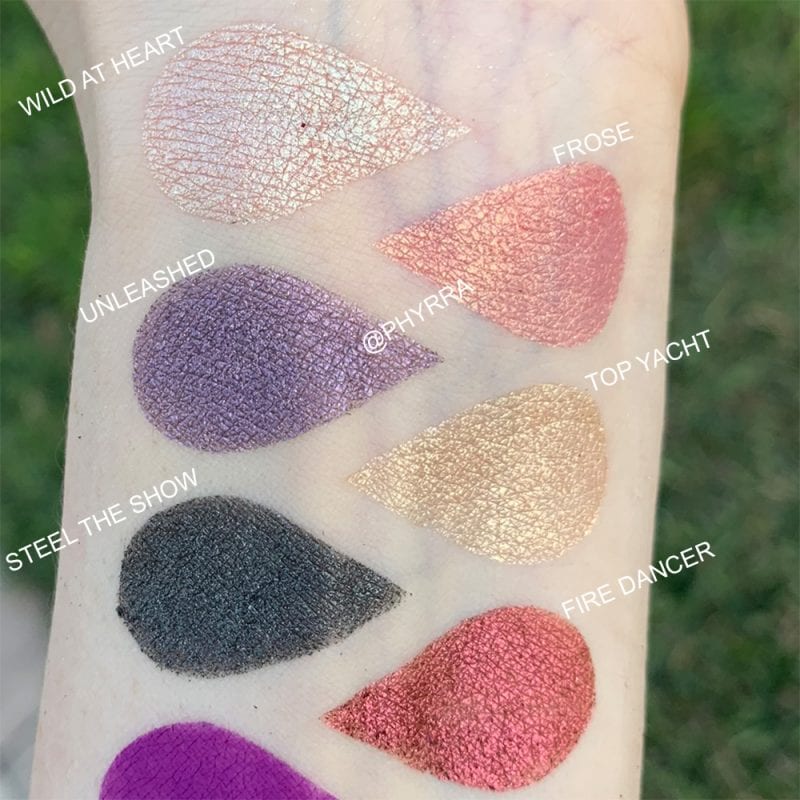 Wild at Heart – pale metallic pink with subtle green shift
Frose – metallic rose gold
Unleashed – metallic purple
Top Yacht – metallic champagne
Steel the Show – metallic steel navy
Fire Dancer – metallic burgundy
Originally I thought this was going to be a cream to powder product. In reality, it is a very shiny, loose eyeshadow formula. There have been two colors that I missed out on that I signed up to be notified when Tarte restocked them and they just never restocked – a teal and a blue. I was disappointed they never came back into stock.
Tarte Wild at Heart Chrome Paint Shadow Pot is a pale metallic pink with subtle green shift. It's a great eye-brightening lid color or unusual cheek highlight on my fair skin. Frose Chrome Paint Shadow Pot is a beautiful metallic rose gold with hues of pink, peach, and gold. Fire Dancer is a complex warm metallic burgundy. I see reds with flecks of copper and gold. Tarte Unleashed is a light metallic purple. Top Yacht Chrome Paint Shadow is an eye-brightening metallic champagne. This might also be nice as a highlight with a light hand. Tarte Steel the Show is a deep greyed-out charcoal with a hint of cool undertone. I don't really see navy.
If you're looking for some easy one and done eyeshadows Wild at Heart, Frose and Top Yatch are great choices.  Fire Dancer and Caramel Apple both scream Fall.  You can pick up Tarte Chrome Paint Shadow Pots at Tarte, Ulta, or Sephora. Which color do you like best?