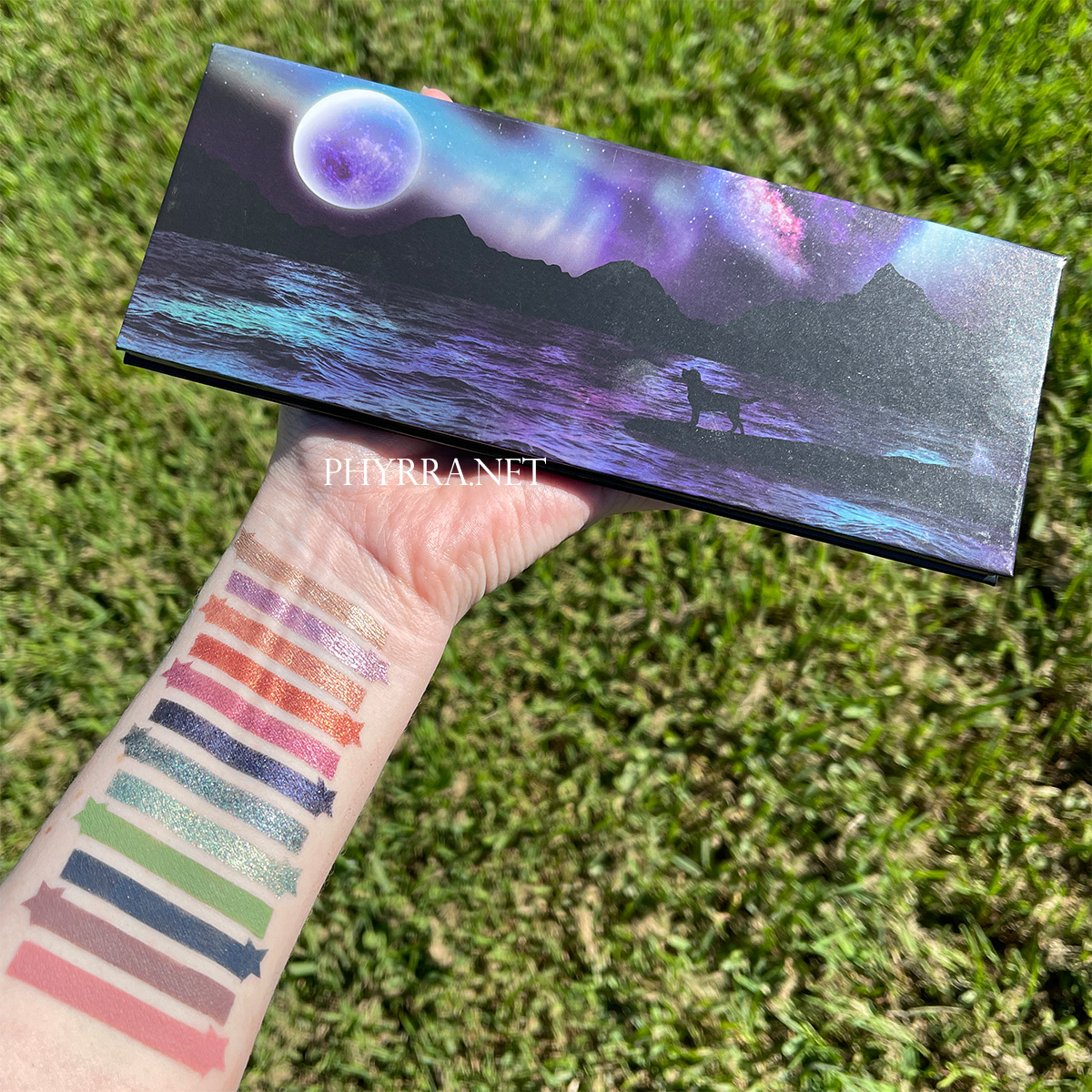 Hello beautiful creatures! In this post I'm sharing the Sydney Grace Co On the Horizon Palette, which is a collaboration between Temptalia and Sydney Grace Co. Sydney Grace Co is a 100% cruelty-free indie makeup brand with tons of vegan options.
About Temptalia
In case you don't know, Temptalia is one of the OG bloggers, and probably the biggest beauty blogger that's still around. I love that Temptalia chose to do a collaboration with the indie brand Sydney Grace Co, who is well-known for making high-quality, affordable eyeshadows.  In my humble opinion, Temptalia x Sydney Grace Co is the best influencer collaboration to have ever happened.
I haven't had a chance to wear this eyeshadow palette yet, but I wanted to get the swatches up as soon as possible for you.
Where to Buy
The Sydney Grace Co x Temptalia collaboration palettes are launching June 18 at 9 am PT / 12 pm ET on www.sydneygraceco.com. These palettes are $40 individually or $100 for the set of 3. These are not limited edition.
About the Palette
Come back down to earth from a voyage through space with grounded, grungy neutrals that are intertwined with murmurs of color designed to inspire and complement your favorite neutral palettes.
My Skin Tone
I have a very fair neutral to cool yellow undertone skin tone. My current favorite foundations to wear are as follows:
Check out how these foundations look on me at Marc Jacobs Extra Shot Caffeine Foundation.
How I Swatched the Sydney Grace Co On the Horizon Palette
I swatch using eyeshadow primer and stencils. I typically take my photos outdoors in direct sunlight and indoors in indirect natural light next to a window. See more eyeshadow palette swatches.
Sydney Grace Co On the Horizon Palette Swatches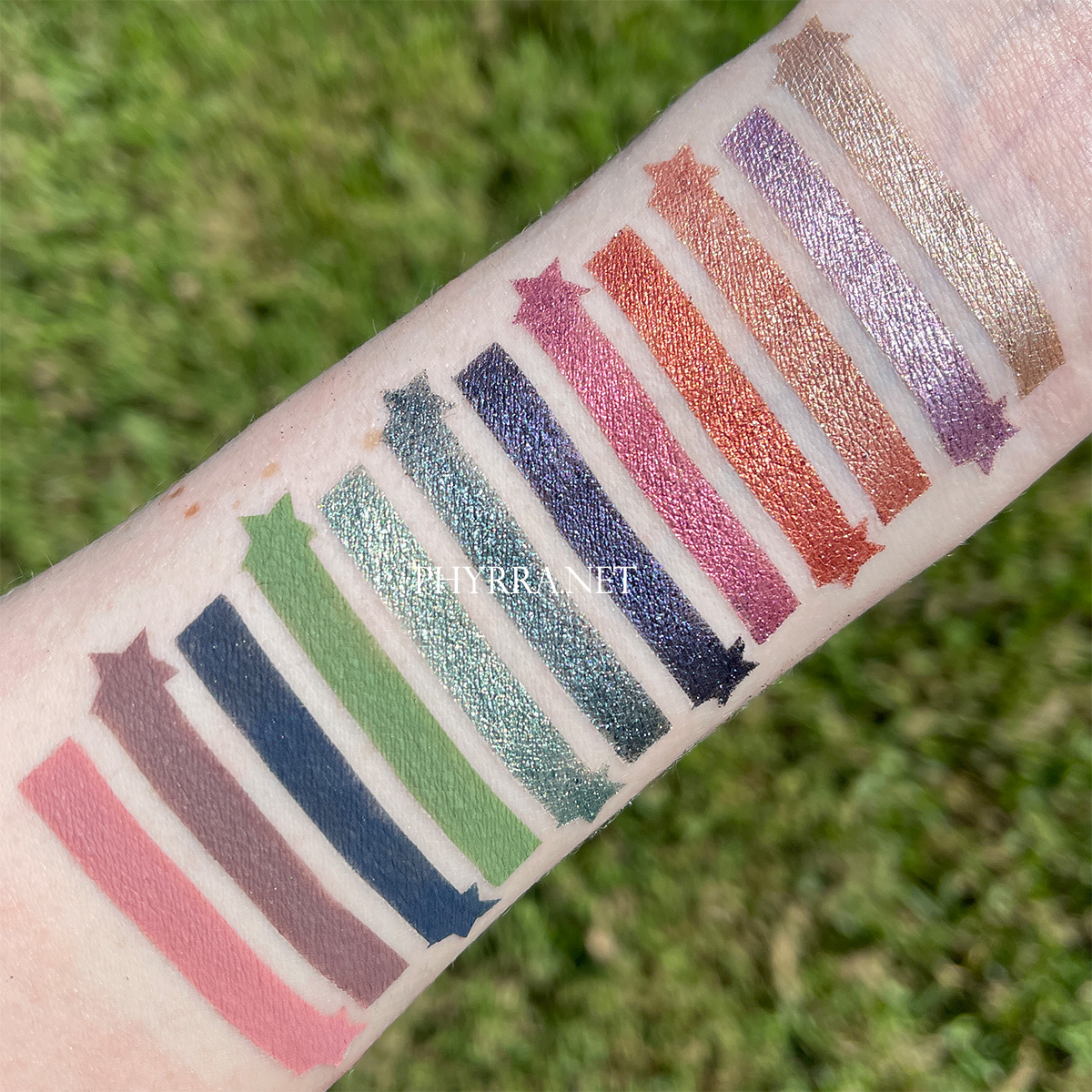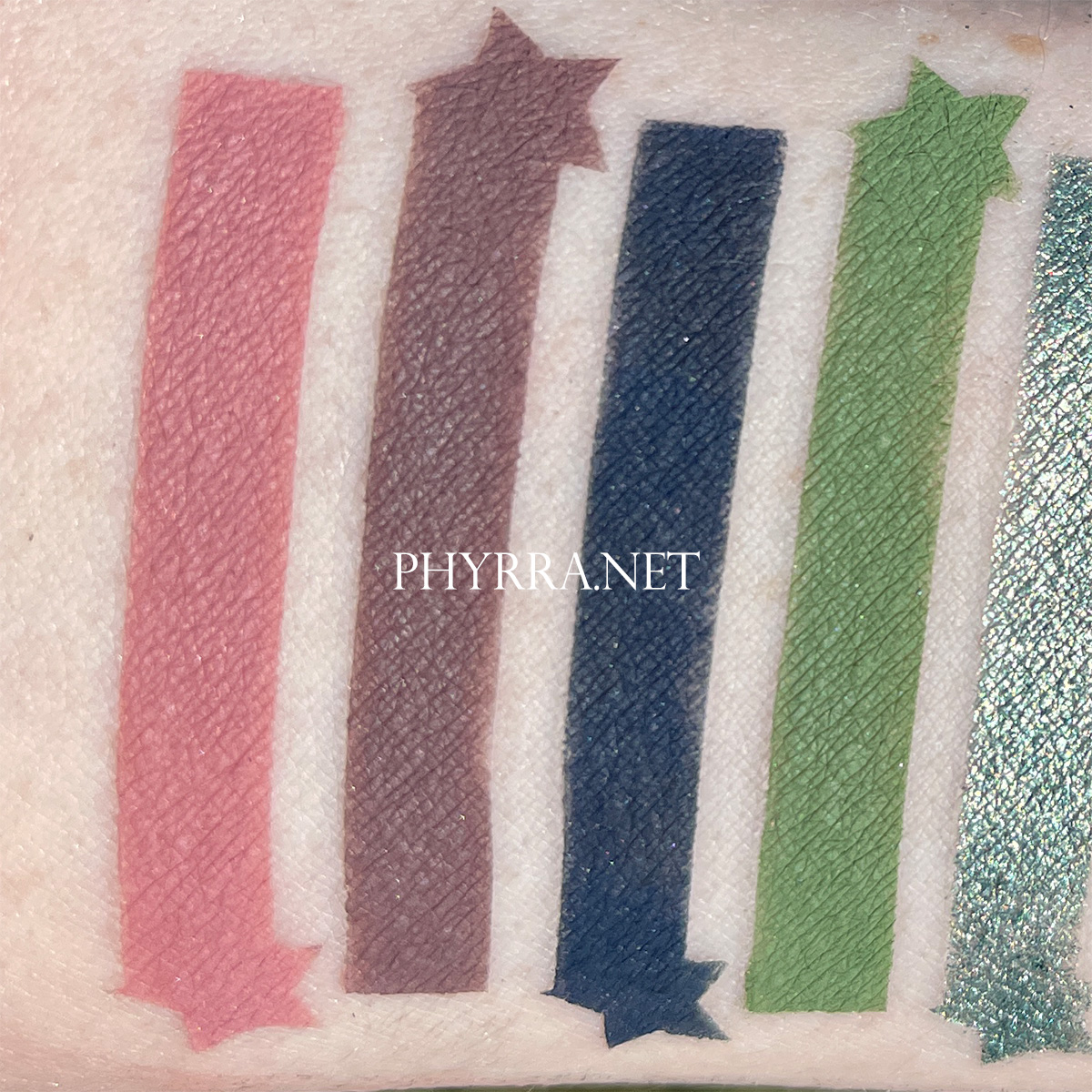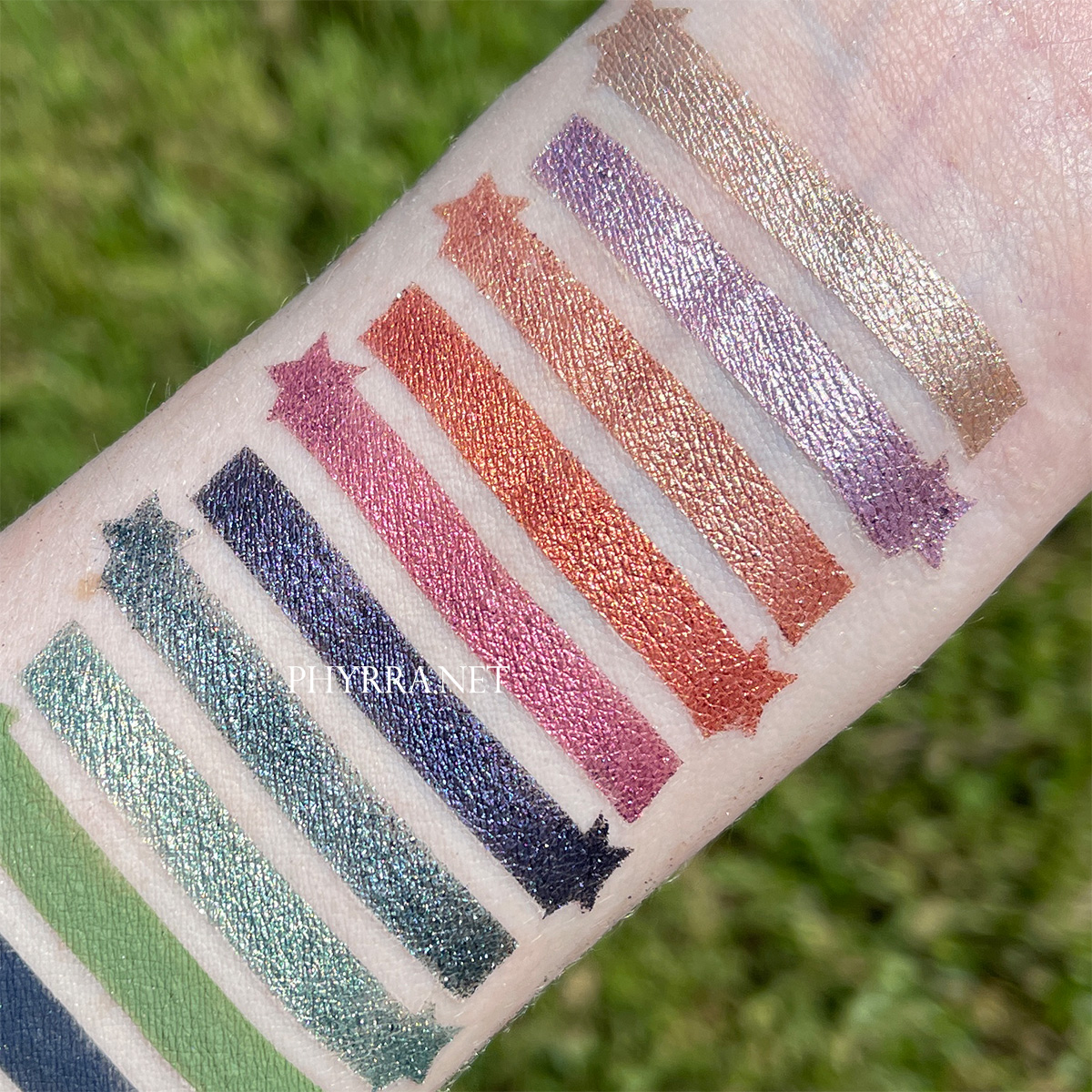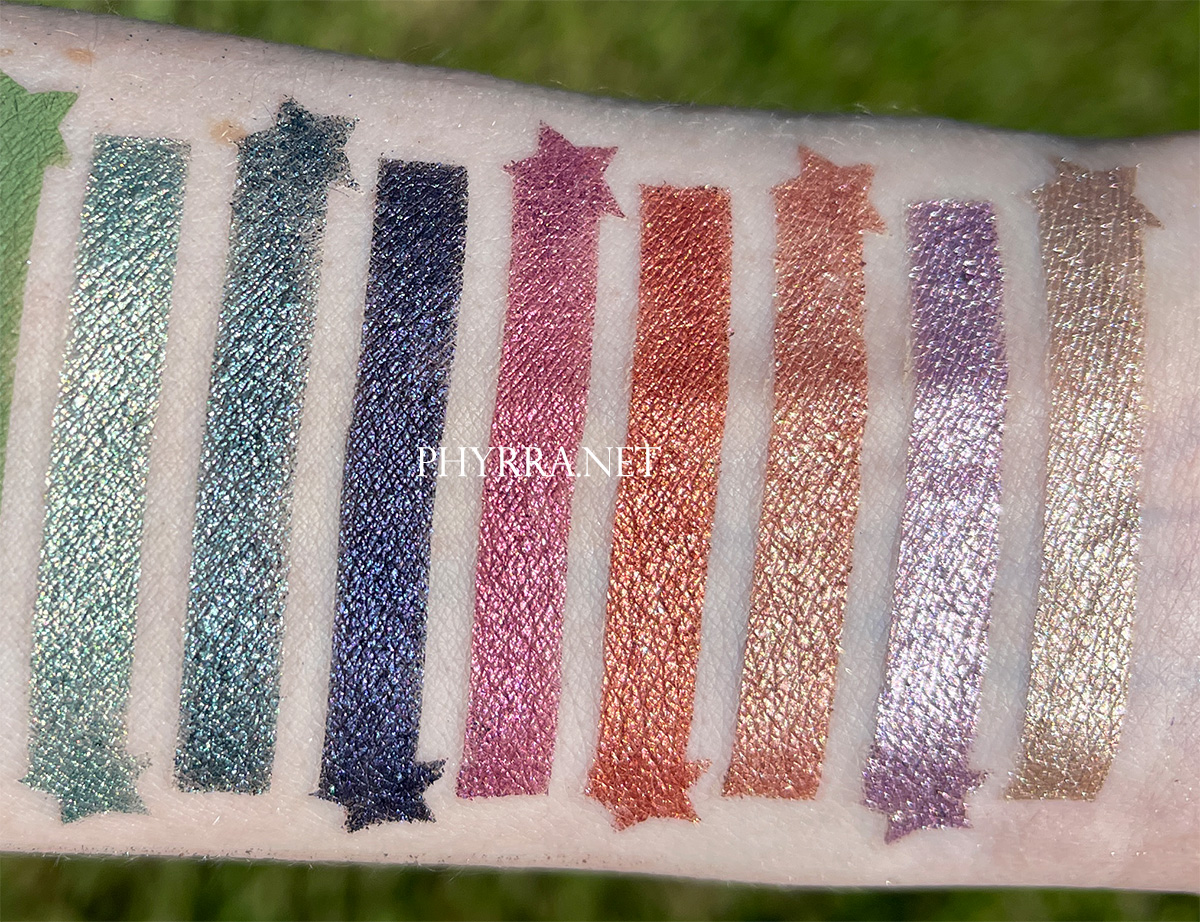 All the swatches are in order from top to bottom starting with Heart-Dog, Lunar Illumination, Magellan's Light, Phoenix Awakens, Sakura Glow, Calming Presence, Flying High, Earthbound, Desert Spoon, Midnight Courage, Infinite Echoes, October Odyssey.
Shade Descriptions
Heart-Dog – metallic high-shine golden pewter
Lunar Illumination – metallic high-shine lavender with a golden sheen
Magellan's Light – metallic copper with gold and green sparkles
Phoenix Awakens – metallic deep copper
Sakura Glow – metallic plum
Calming Presence – metallic blackened violet with blue pearl
Flying High – metallic blackened blue-teal with multi-colored sparkle
Earthbound – metallic sage green with golden pearl
Desert Spoon – midtone grass green matte
Midnight Courage – intense navy blue matte
Infinite Echoes – midtone purple taupe matte
October Odyssey – warm midtone rose pink matte
Final Thoughts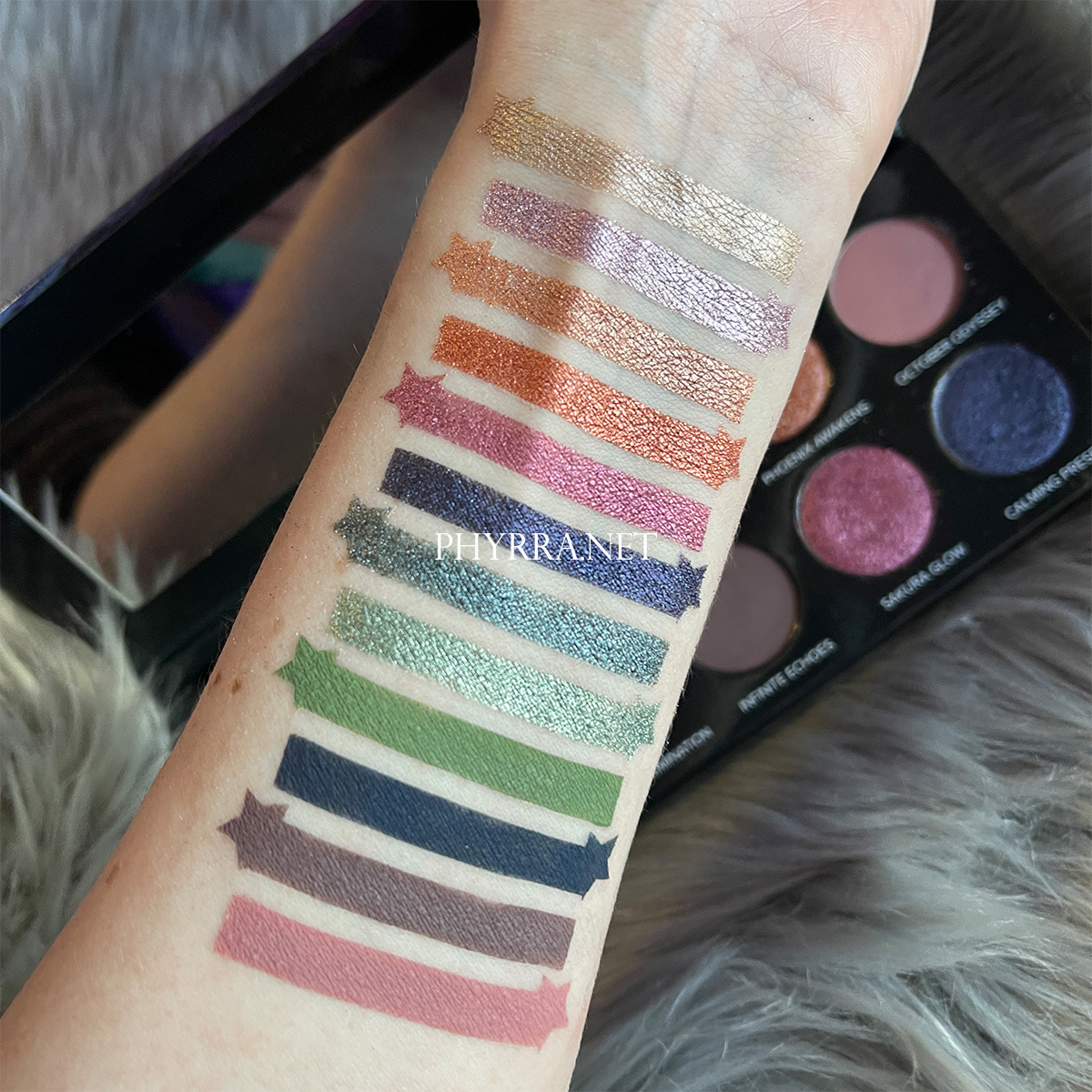 I can't lie, when I saw the Heart-Dog eyeshadow name, I cried a bit. I still miss Phaedra so much. I don't know what it is about standard poodles, but I feel like they bond so closely to their families. Read Phaedra's Celebration of Life Story. Watch Amaya's Adoption Story.
I love this unusual, slightly grungy eyeshadow palette. I find the mix of mattes are very appealing to me. You rarely see cool-toned taupes with purple undertone. The only one I can think of that is similar is Urban Decay Tease, which I believe was discontinued. The blues and greens in here are phenomenal to me. Flying High is my absolute favorite color from this palette.
What do you think of the upcoming Sydney Grace Co On the Horizon Palette? Be sure to check out my thoughts on the new Sydney Grace Co Quintessence Palette.