Hello beautiful creatures! I wanted to bring you swatches of the new Temptalia collaboration – Sydney Grace Co Quintessence Palette. Temptalia, along with Musings of a Muse, Makeup and Beauty Blog, Vintage or Tacky, and Leesha (xSparkage), was one of the first beauty blogs I ever read and helped encourage me to start blogging in 2008. I'm thrilled to see Christine of Temptalia's collaboration with Sydney Grace Co. Thank you so much to Sydney Grace Co and Temptalia for sending me the Quintessence palette.
Be sure to check out the Sydney Grace Co On the Horizon Palette!
Where to Buy
The Sydney Grace Co x Temptalia collaboration palettes, including the Quintessence Palette, are NOT limited edition. They're launching June 18 at 9 am PT / 12 pm ET on www.sydneygraceco.com. These palettes are $40 individually or $100 for the set of 3. One thing that makes these palettes somewhat unique are that they are offering each palette in a light and dark version. The light version is for lighter skin tones and the darker version is for deeper skin tones. I love that Christine and Sydney Grace Co put so much thought into this collection to make it wearable for as many people as possible.
About Sydney Grace Co
Sydney Grace Co is a cruelty-free indie makeup company. Most of their products are vegan. They make beautiful pressed eyeshadows, liquid eyeshadows and more.
What the Quintessence Palette is About
A celestial fantasy through a constellation of vivid tones and otherworldly finishes. It is inspired by all things space: the twinkling of stars and the dreams of nebulae on an endless journey through the galaxies and beyond.
How To Use the Sydney Grace Co Quintessence Palette
Temptalia's palettes are arranged so that the left 6 are one set and the right 6 are one set. These sextets can be divided in half vertically or horizontally. You can also break it into quads, as well as L shapes, and duos. See Temptalia's post here for more details.
My Skin Tone
My skin tone is a very fair neutral to cool yellow undertone. My favorite foundation matches are as follows:
You can see swatches of how these foundations look on me at Marc Jacobs Extra Shot Caffeine Foundation.
How I Swatch
I swatch using eyeshadow primer and stencils. I typically take my photos outdoors in direct sunlight and indoors in indirect natural light next to a window. See more eyeshadow palette swatches.
Sydney Grace Co Quintessence Palette Swatches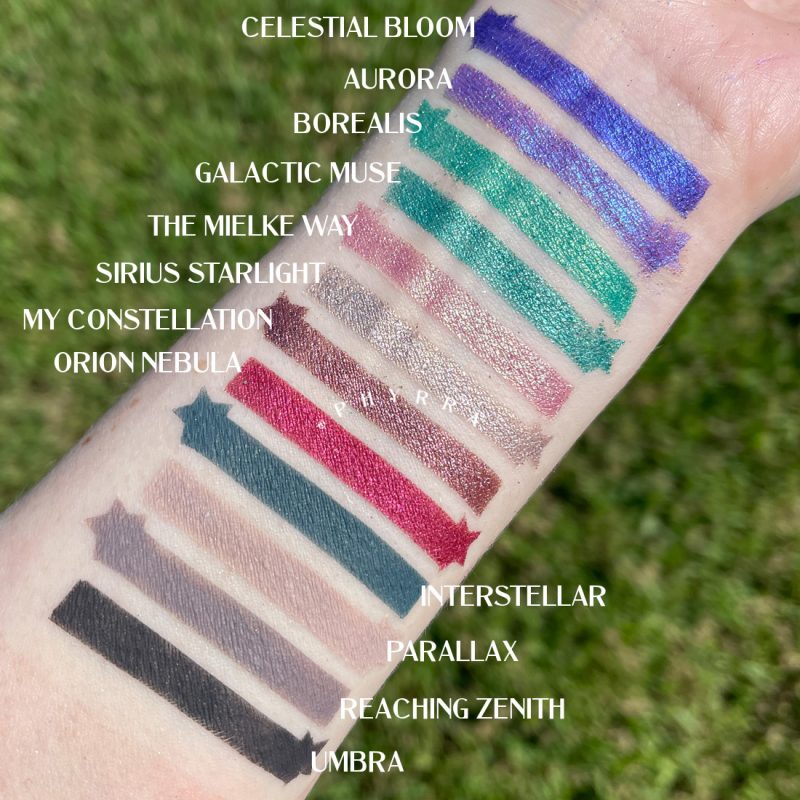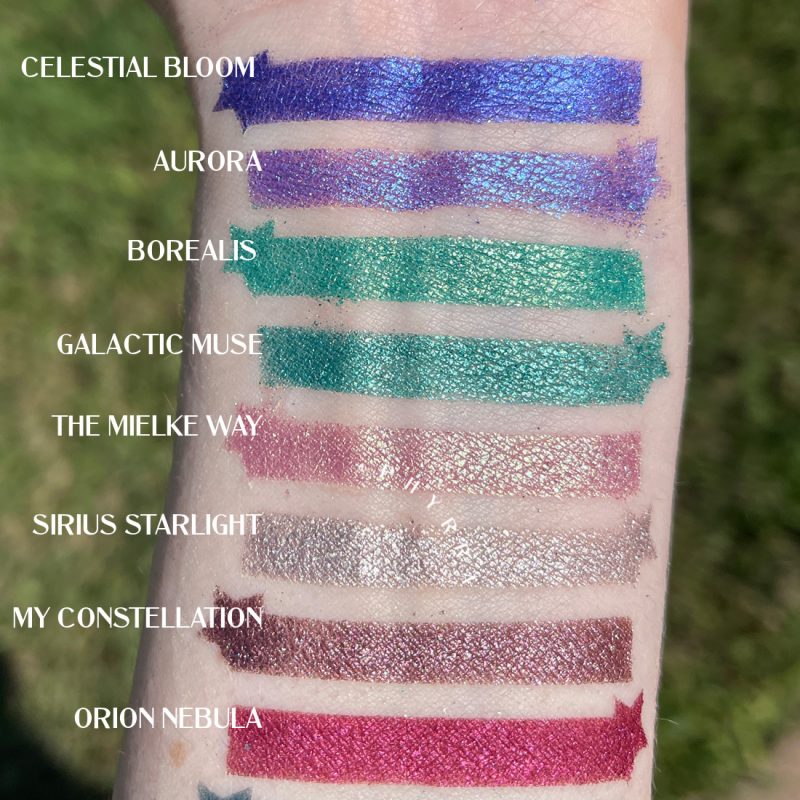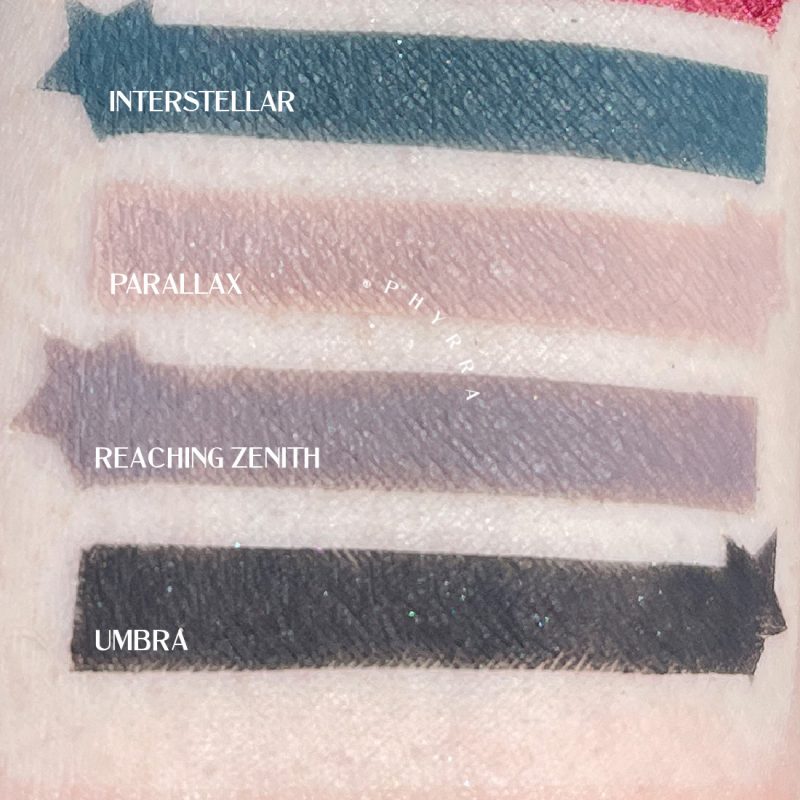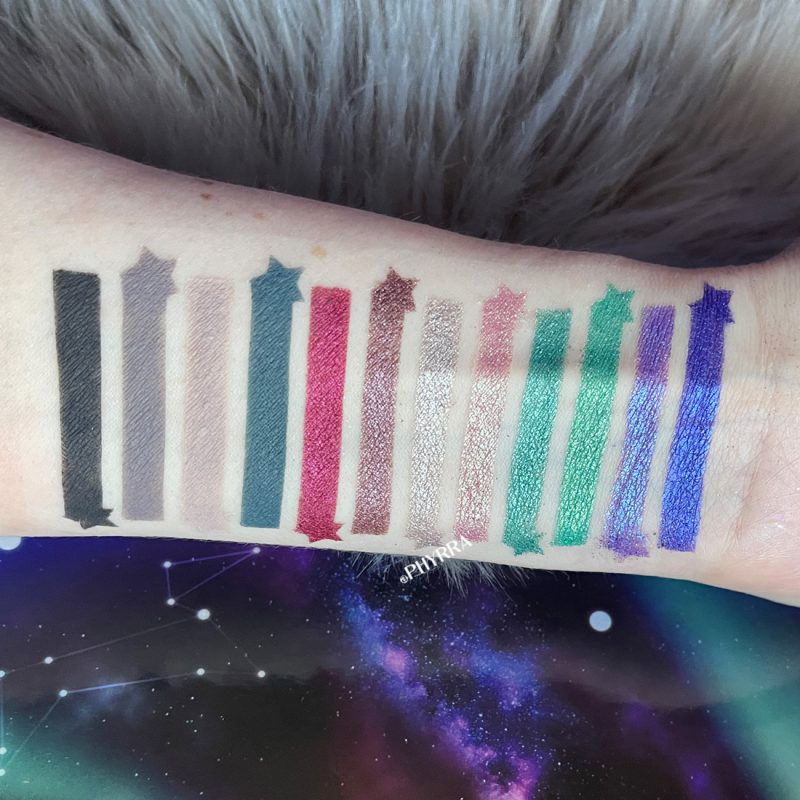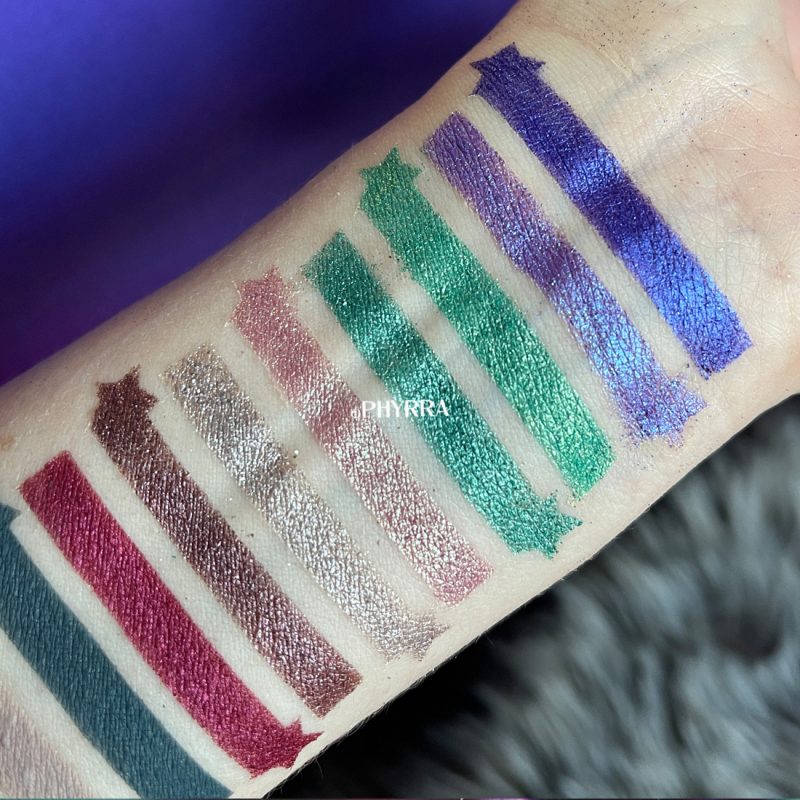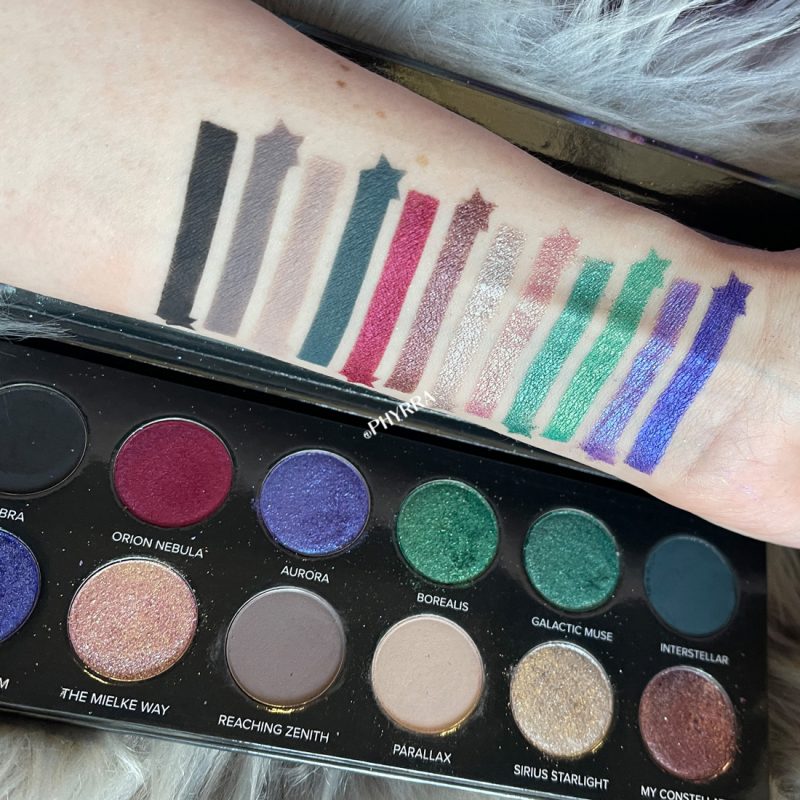 Quintessence Palette Eyeshadow Swatches Top to Bottom
Celestial Bloom – intense metallic violet purple
Aurora – vibrant violet with blue-violet shift
Borealis – metallic mint green with gold shift
Galactic Muse – metallic teal blue
The Mielke Way – metallic soft pink with gold to green shift
Sirius Starlight – metallic light silvery taupe
My Constellation – metallic plum with blue reflects
Orion Nebula – raspberry red pearl
Interstellar – deep teal blue matte
Parallax – grey with lavender undertone matte
Reaching Zenith – medium neutral grey matte
Umbra – deep black matte
Celestial Bloom is an intense metallic violet purple. I have the ends of my hair dyed this color because it's a beautiful cool-toned shade. I use Celestial Bloom color on the lower lid, the outer v, or as liner.
Aurora is a shimmery vibrant violet with blue-violet shift. This is one of the most gorgeous duochromes on the planet! I love the blue-violet shift on top of the vibrant violet base. Aurora is one of my all-time favorite lid colors and I wear this as a one and done on my hooded eyes.
Borealis is an eye brightening metallic mint green with gold shift. It's so pretty.
Galactic Muse is a stunning metallic teal that is cooler-toned than Borealis. It makes a beautiful bold one and done.
The Mielke Way is an alluring soft metallic pink with strong gold to green shift. Complex light to medium duochromes like this make awesome one and done eyeshadows.
Sirius Starlight is a captivating metallic silvery taupe and looks wonderful with Reaching Zenith for a super quick cool-toned neutral look.
My Constellation is a metallic plum that leans brown on me. It's a staple neutral hue with a twist thanks to its blue reflects.
Orion Nebula is an enticing raspberry red pearl. I love wearing reds!
Interstellar is a deep teal blue matte that looks great when paired with Galactic Muse.
Parallax is a delightful grey with lavender undertones matte. I love this as a transition shade.
Reaching Zenith is an elegant neutral grey matte. I love grey hues with my blue-green eyes.
Umbra is a deep black matte. It's a very nice, easy black eyeshadow that's super blendable.
Final Thoughts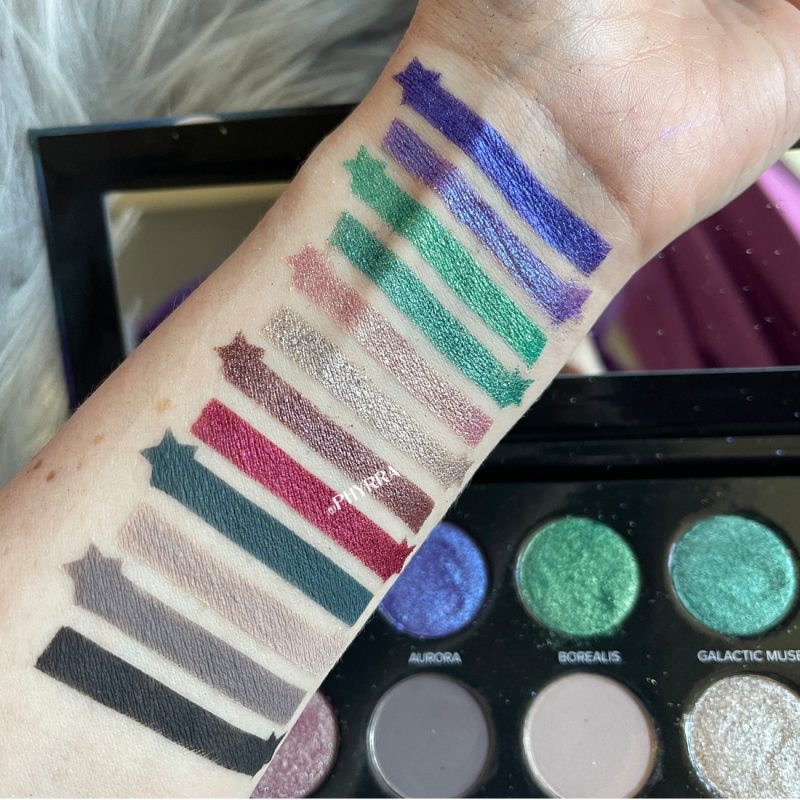 First, I love that Temptalia included so many cool tones in this palette! There are not enough cool-toned palettes in the world, so I love that Christine took the time to create some.
Second, I treasure both of the purples in this palette, Aurora and Celestial Bloom. I love purples, but especially cool-toned purples. Aurora is such an amazing eyeshadow if you love duochromes.
Third, you know I'm addicted to teals and greens. I love having a deep teal matte like Interstellar to compliment Borealis and Galactic Muse. Borealis is such a fun, eye brightening green and Galactic Muse is so pretty and moody.
Fourth, when I reach for neutrals, I gravitate towards greys like Parallax and Reaching Zenith.  These two shades, along with Umbra, make it super easy to create a dazzling smokey eye with any of the brighter, more complex colors.
I adore the Sydney Grace Co eyeshadow formula. I find it very easy to blend the colors in the Sydney Grace Co Quintessence Palette. They last all day on my hooded eyes with eyeshadow primer. Without primer, my eyeshadow is gone in 20 minutes or less.
When trying to determine which colors were my favorite for this palette, I found it easier to determine which one color I wasn't that into based on my personal tastes, which is My Constellation. In other words, I really do enjoy them all.
I love the way Christine put together the colors in the Sydney Grace Co Quintessence Palette. If you're a fan of indie makeup, cool tones, and duochromes, I highly recommend you check this out! What do you think of the new Sydney Grace Co Quintessence Palette?