A Celebration of Phaedra the Standard Poodle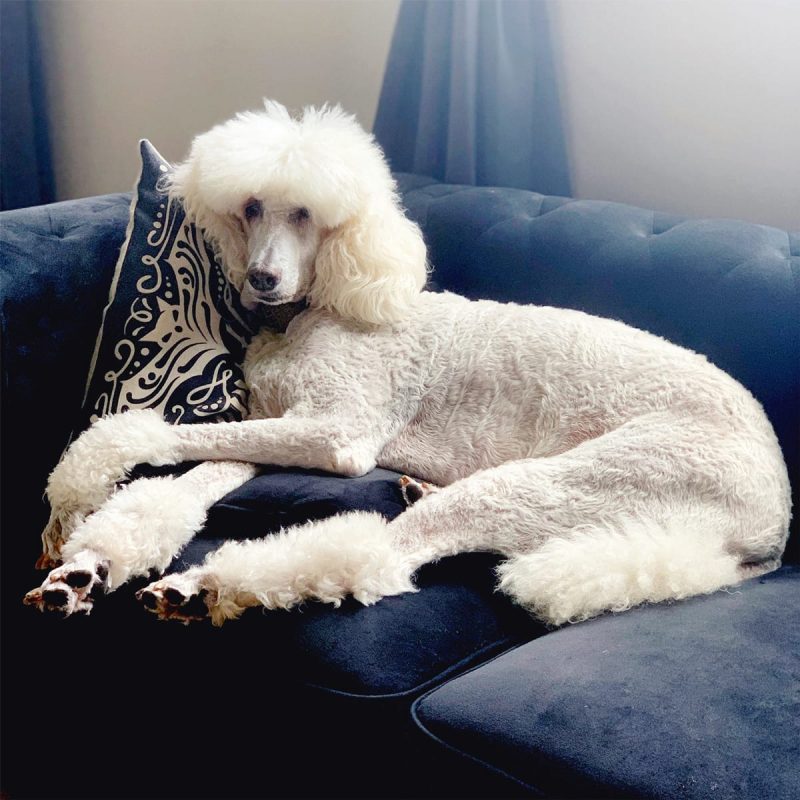 Phaedra the Standard Poodle
Yesterday, my baby girl passed away. Phaedra the standard poodle left this realm for the next. I wanted to create a celebration of Phaedra the Standard Poodle to share with you. It hurts so much to type these words out, but I am desperately trying to think of all the happy memories I have with her. If you follow me on Instagram, Facebook or Twitter, you'll already know that my baby girl is gone. My heart dog is gone.
Phaedra lived a full, happy life with us, even though she had Addison's Disease. I was heartbroken when she got the diagnosis as a pup. I always feared the disease would take her from us early, but she was able to live out a normal (if on the short side) lifespan thanks to the DOCP medication we gave her. She was diagnosed with Addison's Disease at about 2.5 years of age. She nearly died many times before we figured out that she had Addison's. She had to take Prednisone every other day once she was diagnosed to keep her appetite up. The DOCP shot helped controll her Addison's Disease, but that gave her other side effects. At about age 4 or 5 she had to go on Estrogen pills (they kept her from being incontinent).
Birth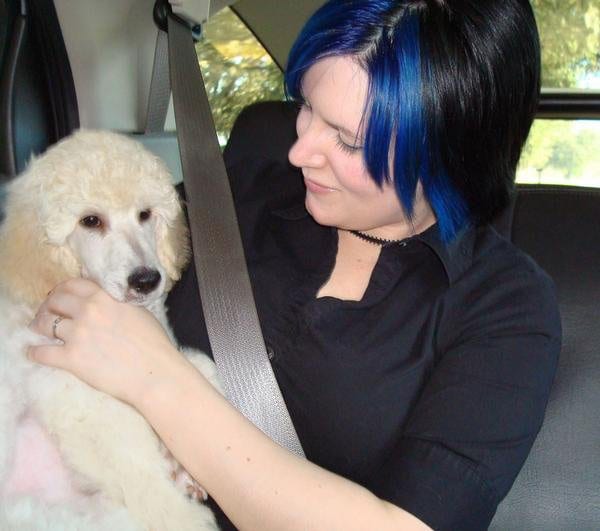 Phaedra was born on August 21st, 2007. We took her home in November 3, 2007 after meeting her and falling in love. She was so cute when we met her. Fearless! She also had such polite manners. She walked up to me with her entourage (her two brothers flanking her, she was clearly in charge) and offered me her paw to shake. My heart melted.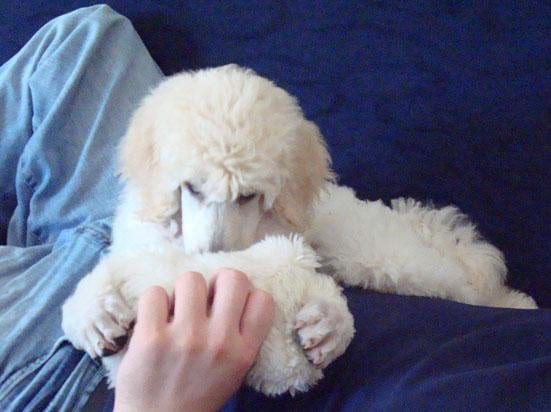 One of her favorite toys as a puppy was this big white fluffy bone. She loved big white fluffy toys.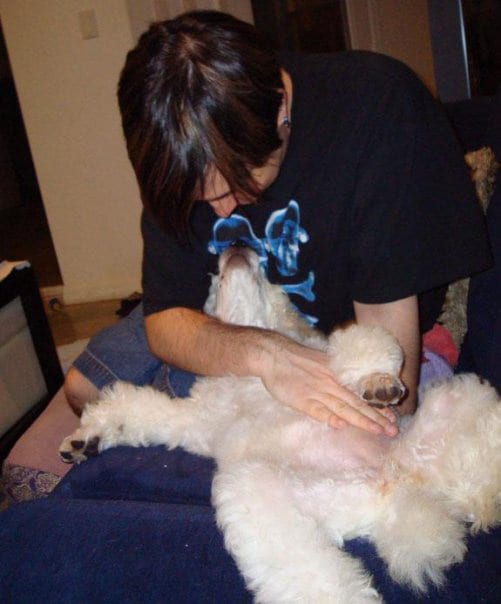 Ray fell in love with her immediately. We all did. She was too cute all the time!
Adult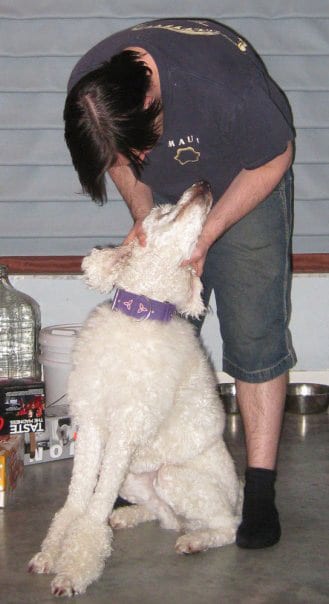 Phaedra grew into a very sweet and loving member of our family.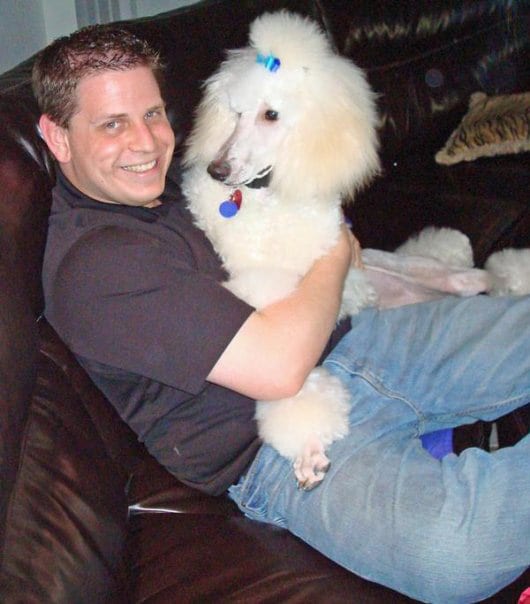 Anyone who tells you that standard poodles are foo foo dogs and not for men are being silly. Dave and Ray both loved her as much as I did.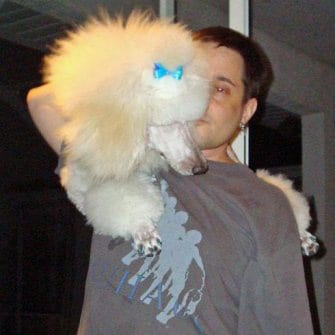 Any time Ray took Phaedra anywhere, he'd have tons of women coming up to coo over her and talk to him. He said if he was a single guy looking for an easy way to meet women, owning a standard poodle would be top of the list!
Phaedra's Different Looks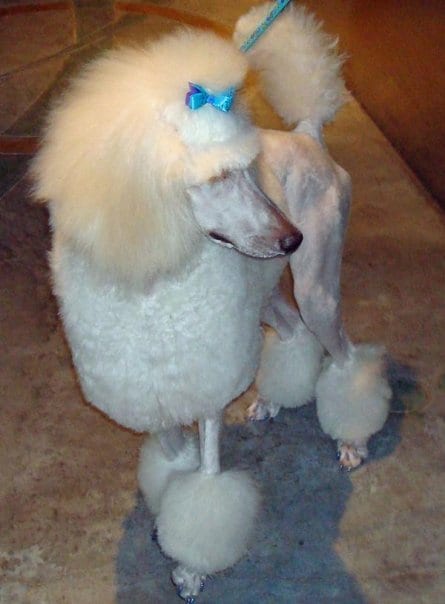 The modified continental clip was my favorite for Phaedra for years.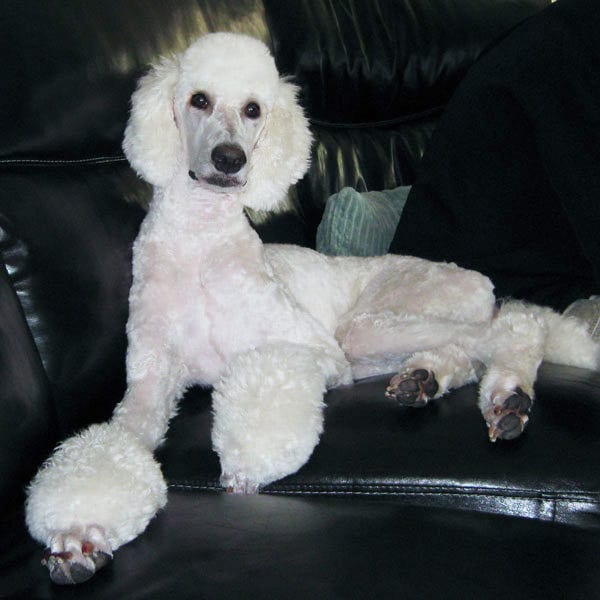 However, she often rocked the Stripper Cut / Miami Cut, whatever you want to call it during the hottest parts of the year.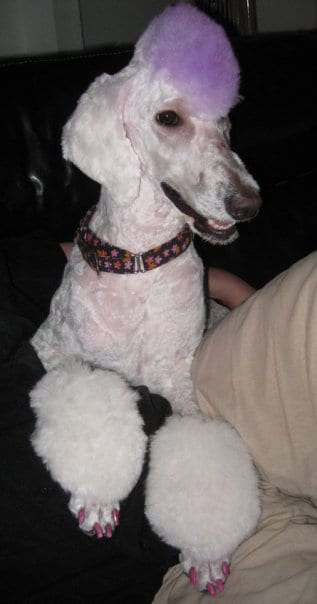 Phaedra had a purple mohawk a few times.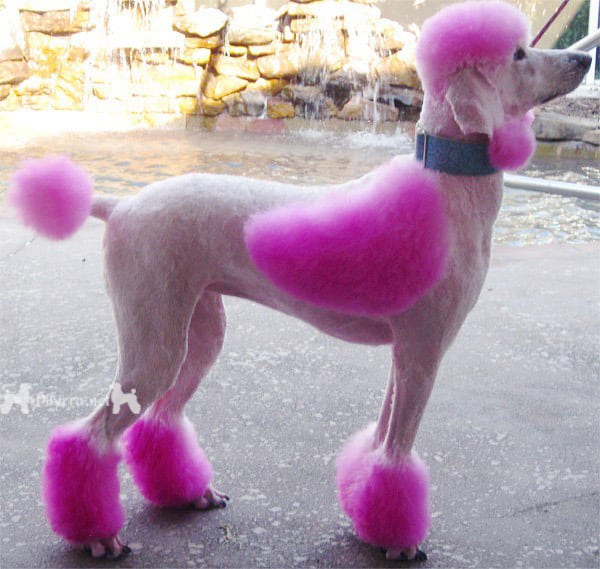 For my 32nd birthday Phaedra went pink! She had angel wings and gold glitter nails. All of this is doggie safe.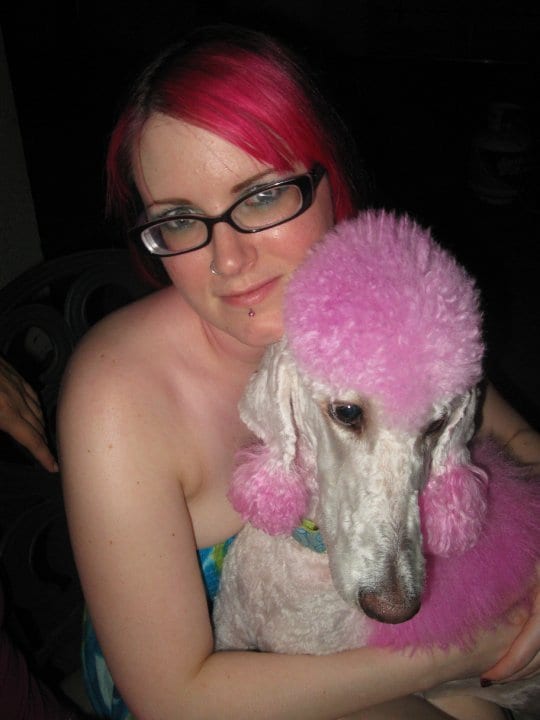 A picture of me with Phaedra on the night of my 32nd birthday.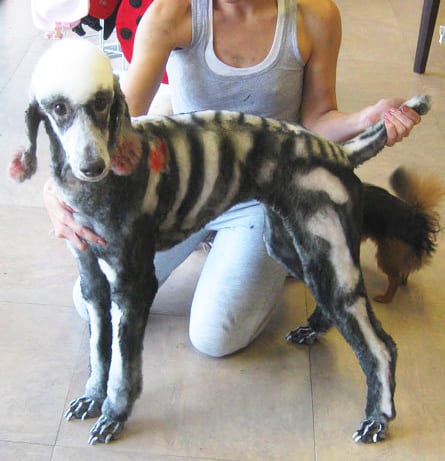 Phaedra was a skelepoodle one year for Halloween.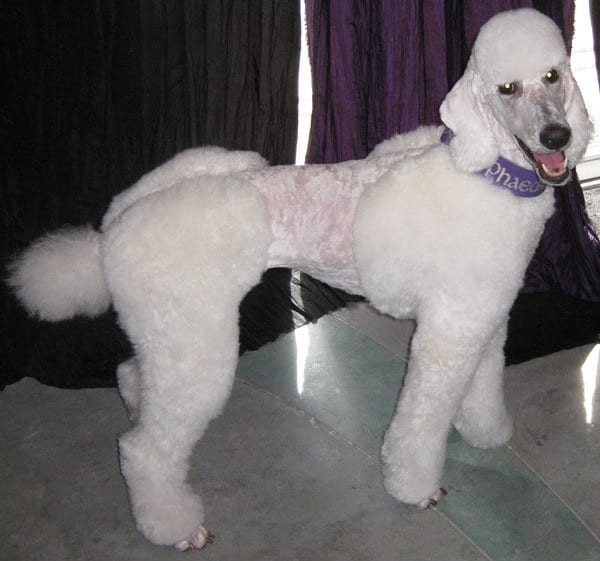 She tried a Town and Country clip once.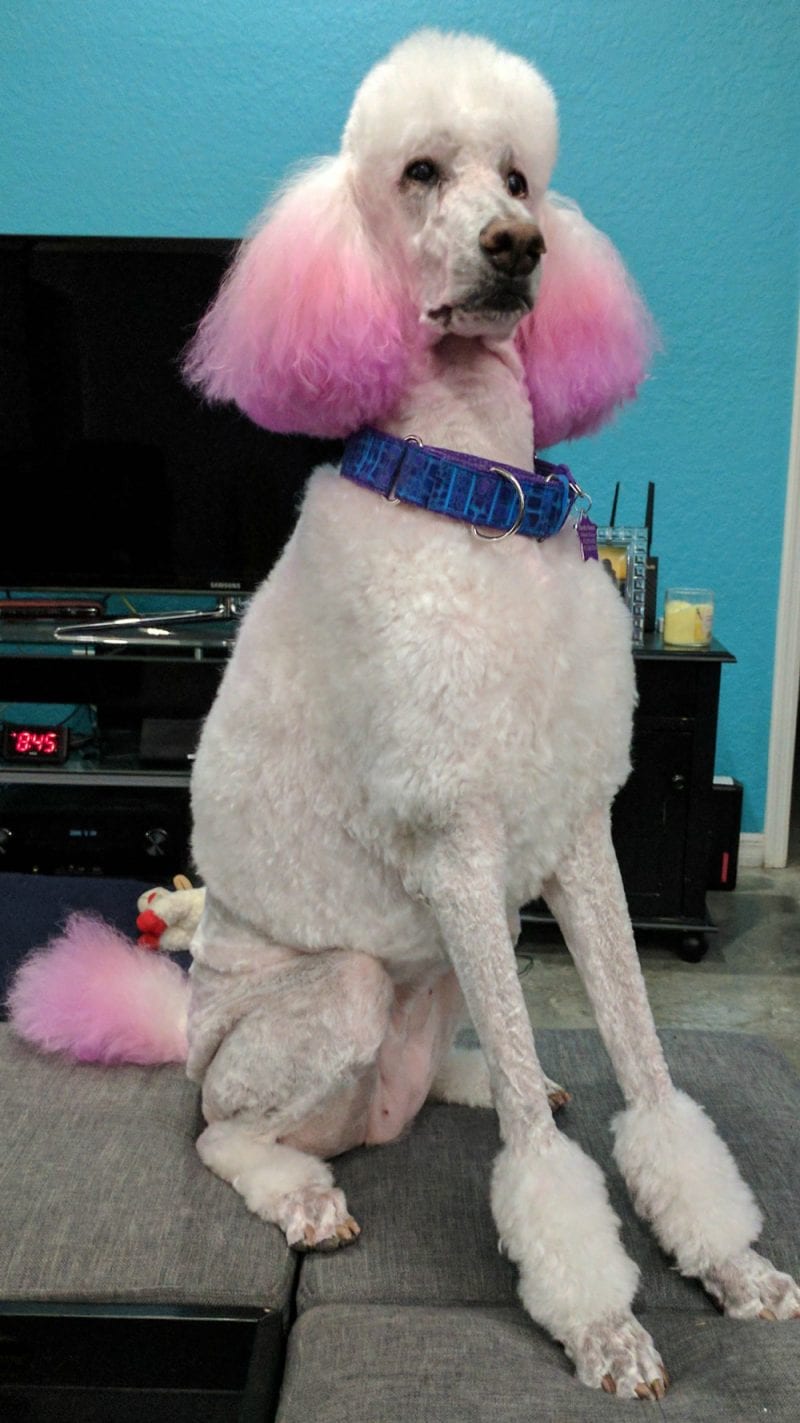 I loved the pink to purple gradient she had on her ears and tail right before we moved into the new home.
Angel Phaedra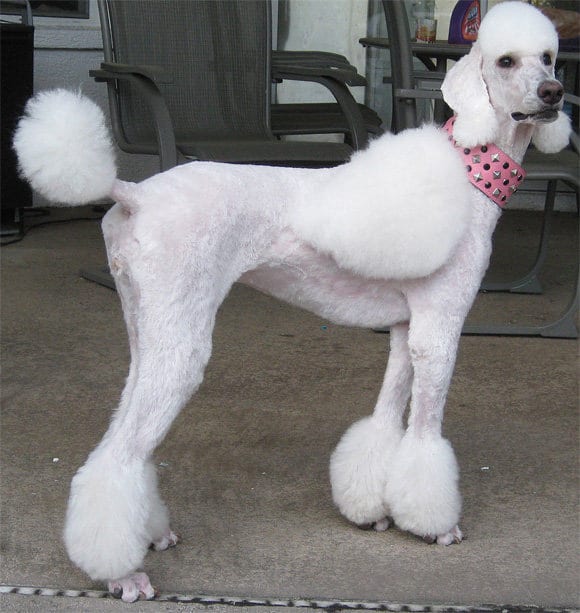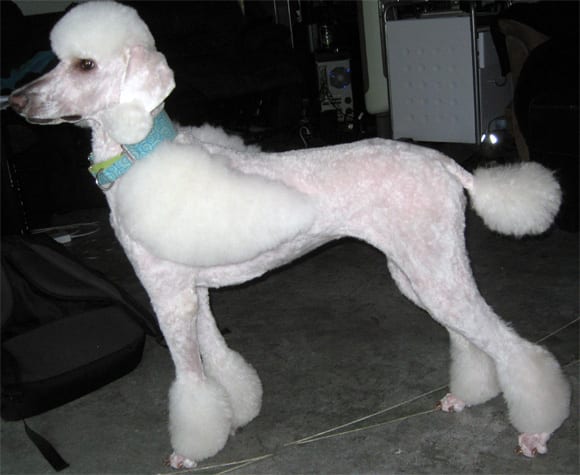 This clip that we called the Angel Clip was my favorite for her for years. Though now I'd probably leave the ears long.
Christmas Phaedra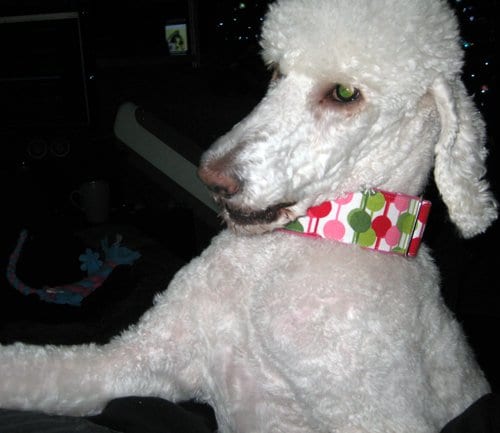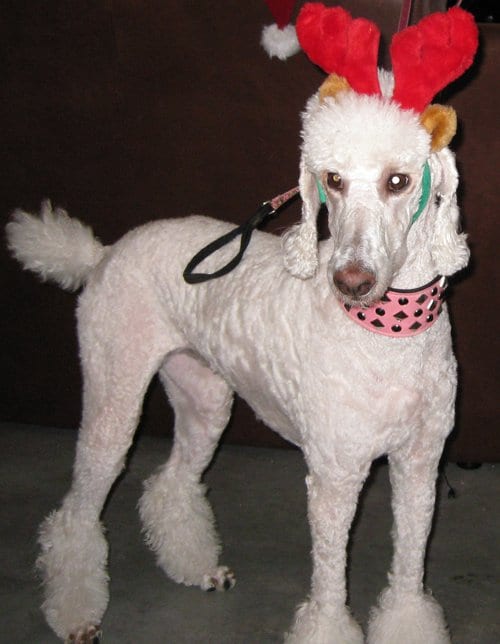 She was always so tolerant of me dressing her up.
Random Beautiful Moments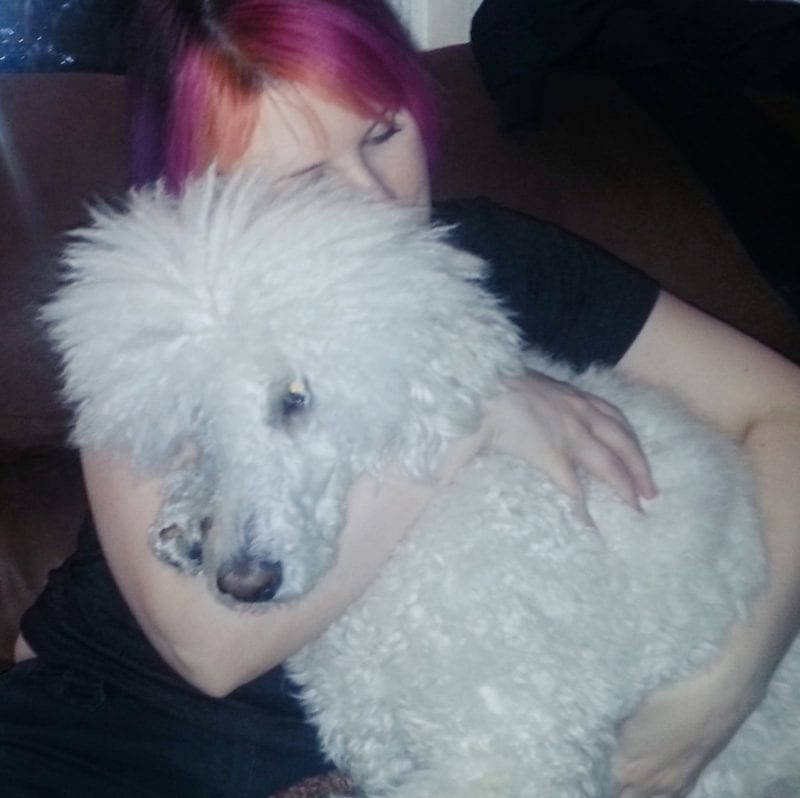 In 2013 I was gone for about a month while on a road trip. When I came home, Phaedra was overjoyed and would not leave my arms. She missed me as much as I missed her!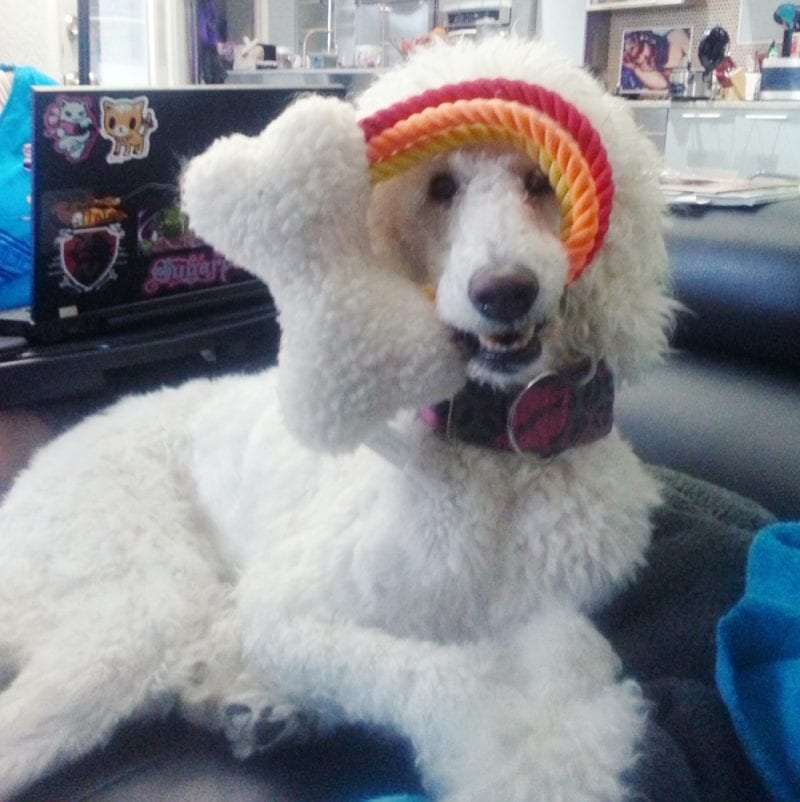 This was just a random silly photo of her with a rainbow rope toy she loved forever.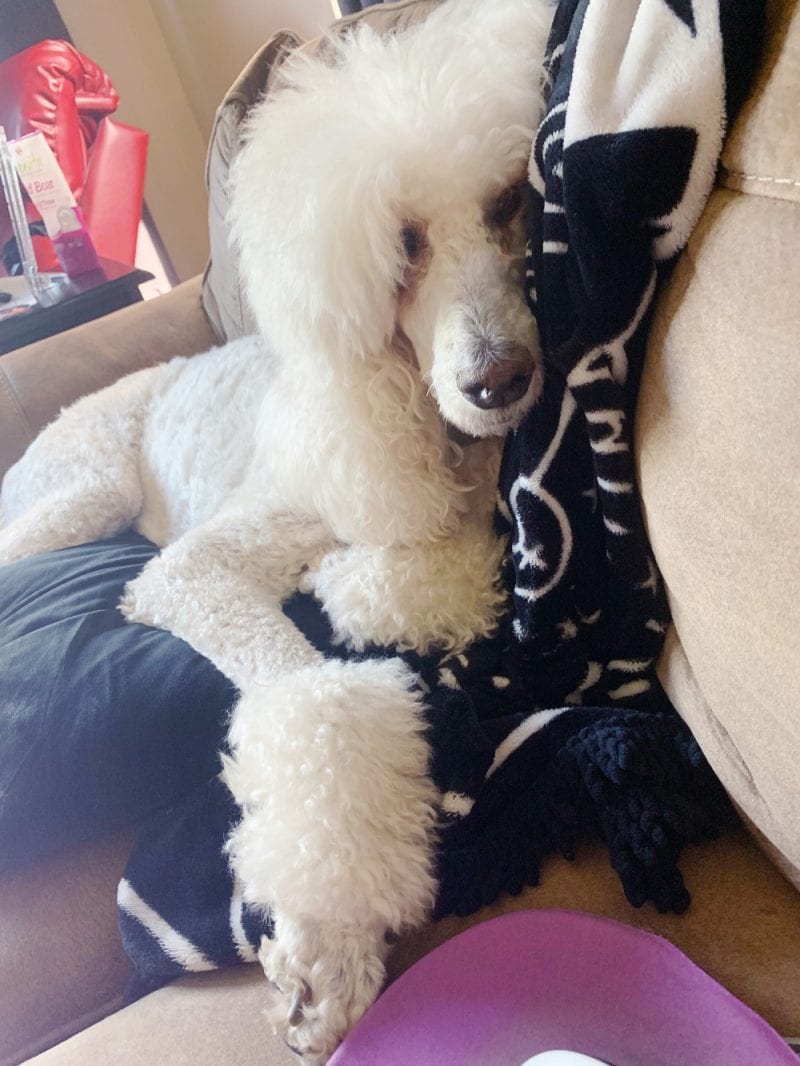 She loved to lounge near me, just touching me for comfort.
Cult Nails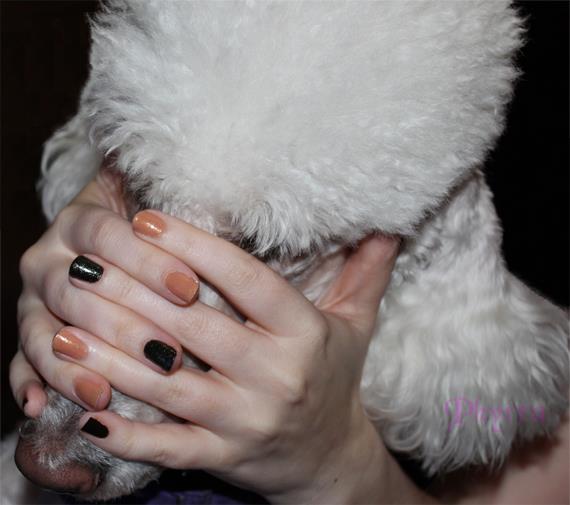 When Cult Nails was still around, I took this photo for Maria and if I recall correctly, it used to hang in the Cult Nails office. I was wearing Cult Nails nail polish, of course.
AdventureQuest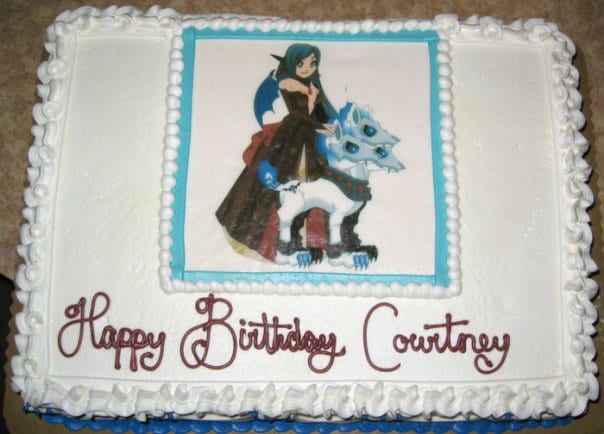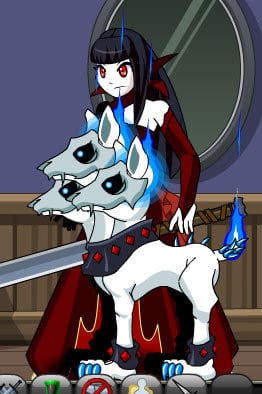 Phaedra is immortalized in at least one video game from AdventureQuest. As I am Safiria the Vampire Queen from the Artix Entertainment game series, she is Phaedra, the 3 headed Hades Hound. When I worked in video game development, she came into the office with me daily. She was the darling of the office and loved all the people there. They would sneak her treats and bacon.
Big Sister Phaedra
At age 8, I started looking for a little sister to adopt for Phaedra. We didn't find one until 2 years later when Phaedra was 10. She loved Nyx, but never hesitated to remind her that Phaedra was in charge! She loved to cuddle and play with 'her' puppy.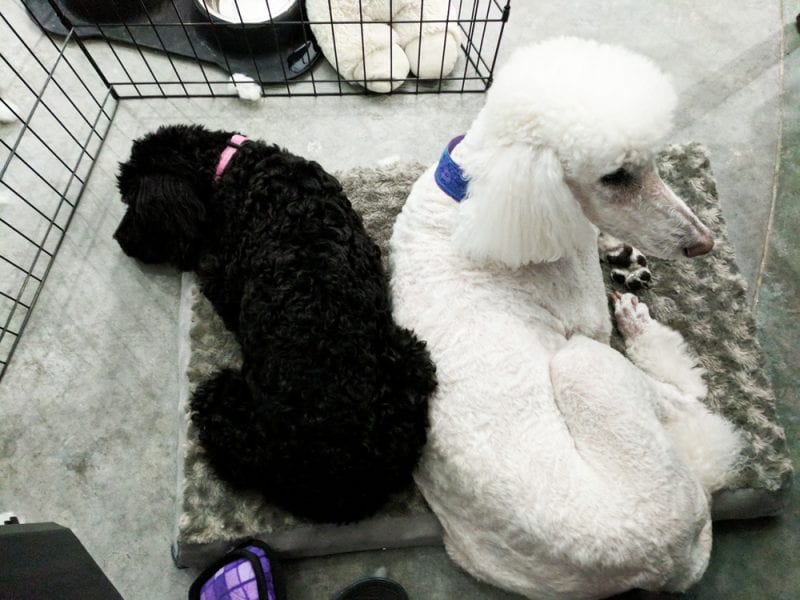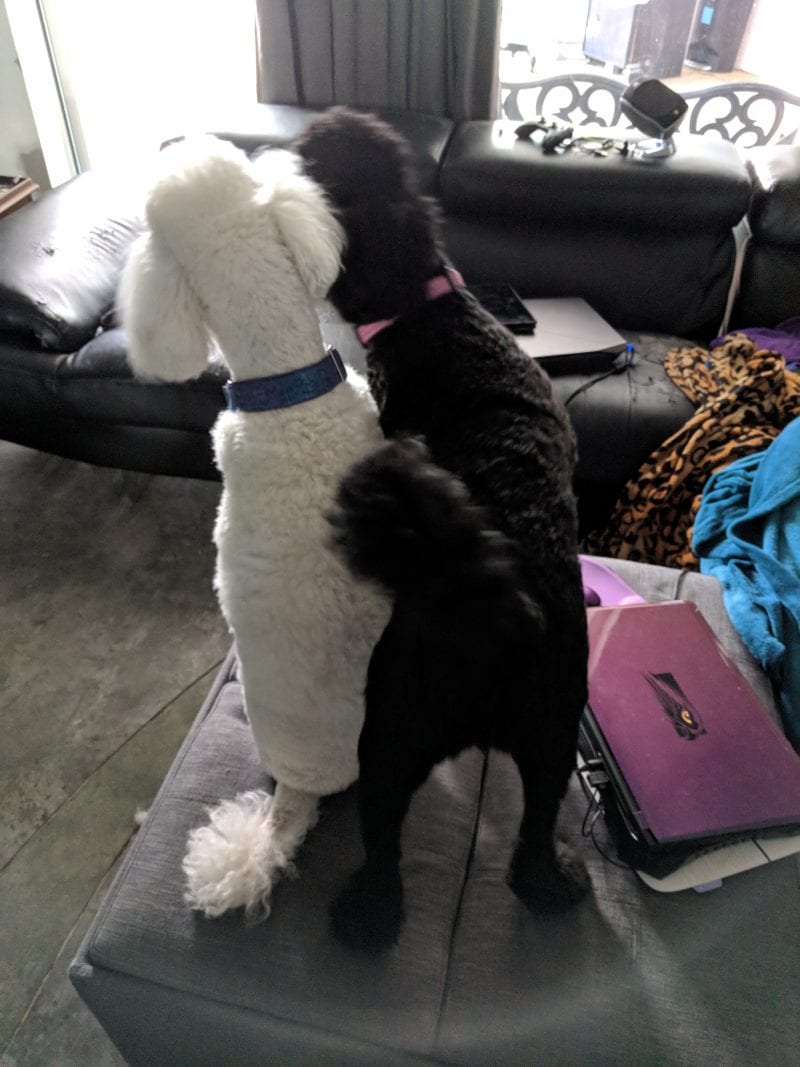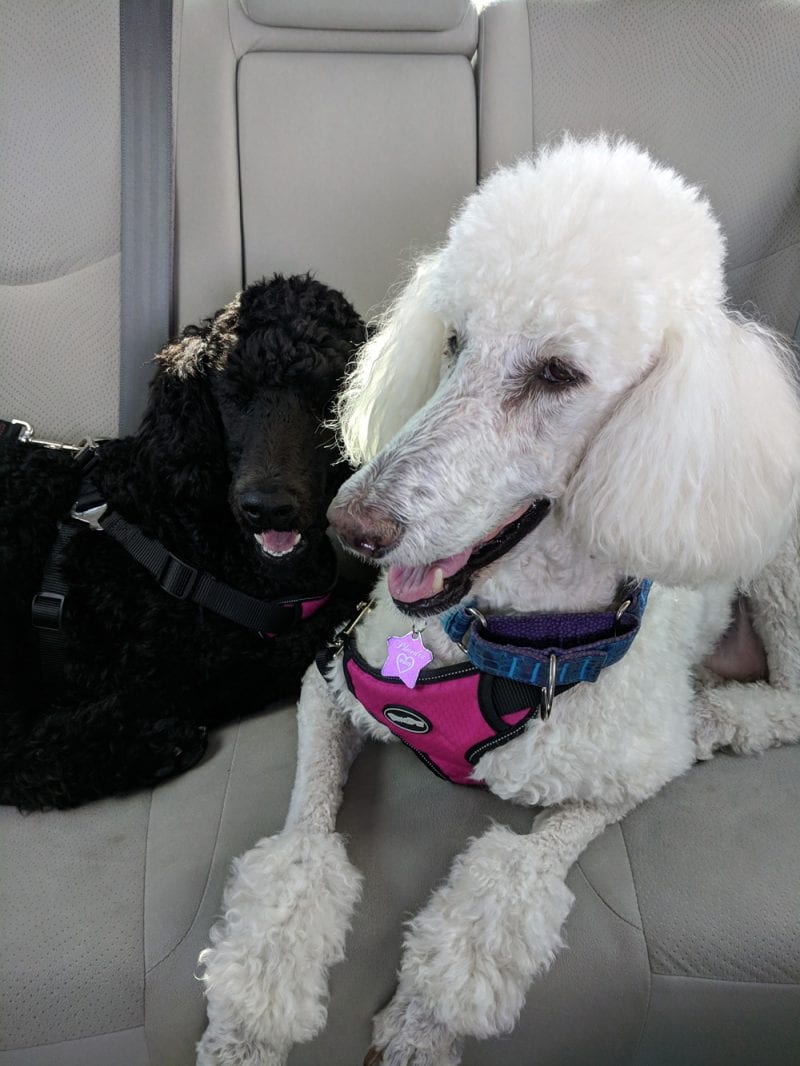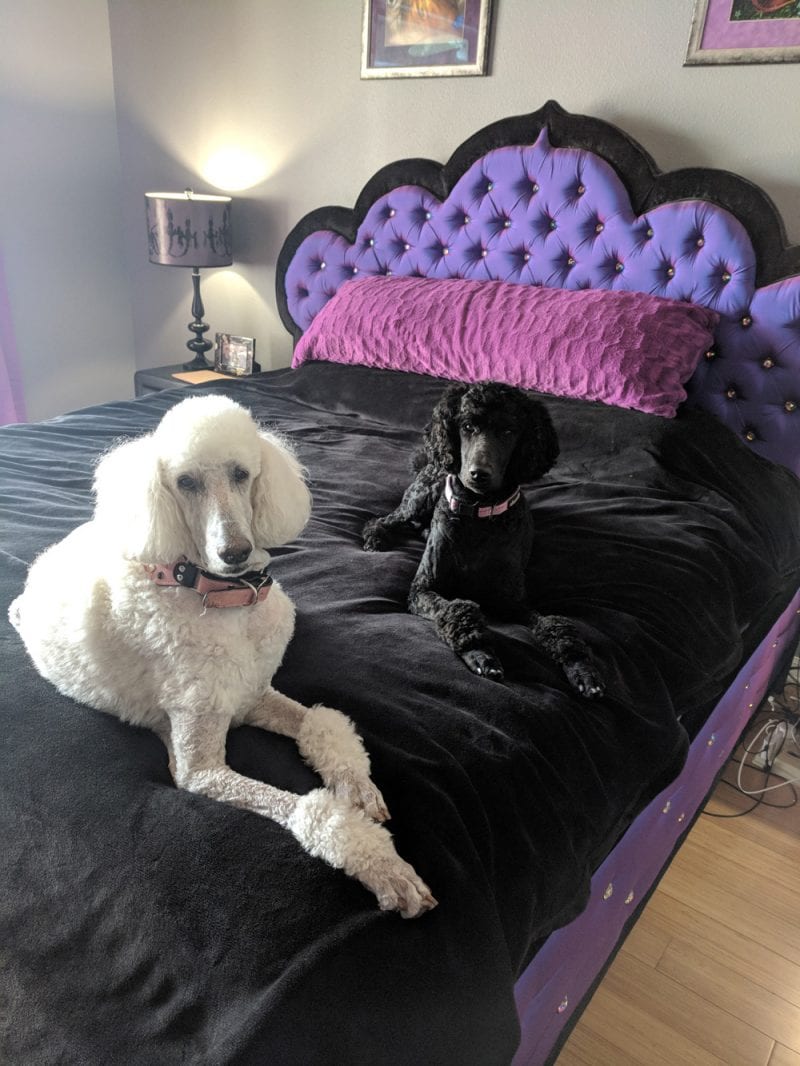 She was a wonderful big sister to Nyx.
A Celebration of Phaedra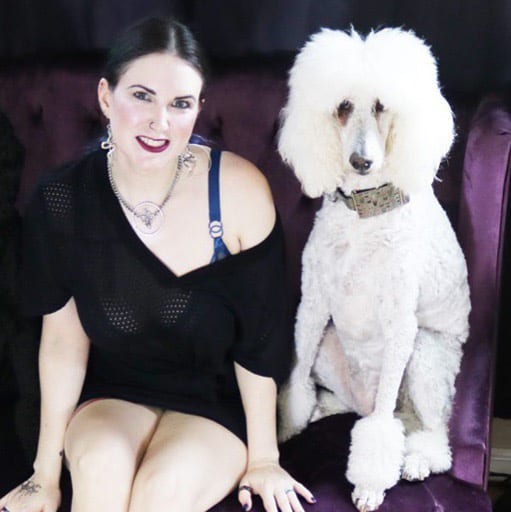 Phaedra was a soothing balm with my anxiety. So many days and nights she would comfort me through the worst of my panic attacks and when I was suicidal. She was my protective best friend. I loved how she sounded 3 times the size she is. Phaedra's bark terrified many people who came to the door. Her sweet nature won them over once she decided they were friendly.
I wanted to share this celebration of Phaedra with you all because I thought you would love it, but also because it's giving me some peace and comforting during this time. My life is richer for having loved her. I love Phaedra with every fiber in my being. She will live on in my heart and memories, as well as in yours. Phaedra is immortalized in a video game, even! I'm going to miss her but I am so grateful she went quickly and without suffering. She knew she was loved and was held in arms. That's all any of us can ask for when we pass. I know I will see her again some day.